Ricky Martin is a Puerto Rican actor and singer whose talents has earned him a place in the entertainment world. The good-looking singer who started his career at the age of twelve has released several albums in Spanish but he gained worldwide recognition following the release of his number-one hit song Livin' La Vida Loca which is part of his self-titled English language album Ricky Martin.
The Pop artist is also known for his acting roles in The Love Boat, Dancing with the Stars, Nuestra Belleza Latina 2015, and The Assassination of Gianni Versace: American Crime Story. Let's see more amazing facts about the Spanish singer, actor, and author.
Ricky Martin Bio (Age)
To start with, Ricky's full name is Enrique "Ricky" Martín Morales. He was born on December 24, 1971, in Puerto Rico's capital San Juan. He is the second youngest of six children born to Enrique Martín Negroni a psychologist, and Nereida Morales, an accountant. Ricky has four brothers – Fernando Morales, Ángel Fernández Morales, Eric Martin, Daniel Martín; and one sister – Vanessa Martín.
Martin had an unstable childhood as he grew up with his father who lived in the suburbs of University Gardens (after divorcing Nereida) and his paternal grandmother. His love for lyrics is partly gotten from his musically inclined maternal family. His maternal grandfather was a poet, this could be why Martin can easily pen-down his songs by himself. He also gained inspiration from people like Celia Cruz, Gilberto Santa Rose, and others.
His Acting and Singing Career
Ricky began appearing on screen at the young age of nine. He was seen on commercial adverts for products like toothpaste and soft drinks. While doing this, he auditioned to become a member of a Puerto Rican boy band – Menudo. He eventually became a member at the age of twelve. Despite the busy schedule of the Latino boy band which almost robbed-off his childhood life, Ricky still remained with the band, going on several musical tours until he was 17 years of age. This was when it dawned on him that he must change location.
Ricky recorded about eleven albums with Menudo before leaving for New York in 1988 and in the city, he began taking acting and singing classes. While pursuing his acting career, he released his first solo album, Ricky Martin, in 1988. His second album Me Amaras came in the following year and the third, A Medio Vivir was released in 1997. That same year, he lent his voice to the Spanish version of Disney's animated feature, Hercules.
His tv features include American Dad!, Glee, Minions, and The Assassination of Gianni Versace: American Crime Story, to mention a few. His hard work and dedication to his career as a pop musician and an actor have earned him the required fame as well as a good fortune. The young Pop singer is worth $60 million.
See Also: Hilaria Baldwin Age, Children, Height, Facts About Alec Baldwin's Wife
Ricky's Kids, Boyfriend or Husband, Is He Married/Gay?
Ricky's personal life, particularly his sexuality became a matter of major discussion after the success of his song Livin' La Vida Loca. At that time, he was rumored to be gay. Ricky chose to remain quiet on the matter until March 29, 2010, when he announced via his official website that he's gay. He specified that he's proud of being gay and would later disclose on The Oprah Winfrey Show that he was in a relationship.
Prior to this time, Ricky had been in a relationship with a good number of women, including the Mexican model and tv host, Rebecca de Alba. The pair were in an off-on relationship for over 14 years and were even making plans to make their union legal but unfortunately, they broke up secretly.
Ricky welcomed his twin sons Matteo and Valentino, who were born by a gestational surrogate mother.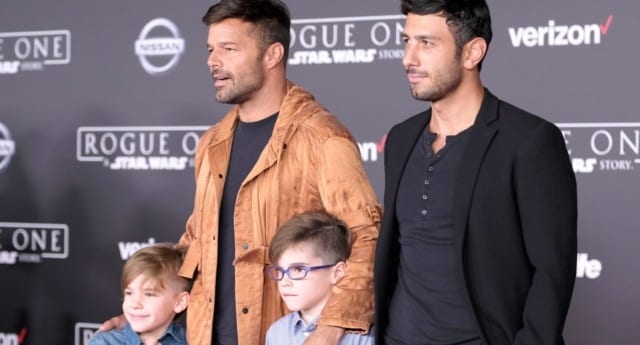 After being open about his sexual orientation, Ricky began a relationship with Carlos González Abella, an economist. By 2014, the two were separated and by April 2016, he was already hooked up with a Syrian-Swedish painter Jwan Yosef who belongs to Kurdish and Armenian descent. In November the same year, they both announced their engagement and in January 2018, Ricky publicly announced that he and Yosef are married.
The two live together with Ricky's two sons. They are yet to reveal if they would have additional children but Ricky is hoping his two sons would become gay like himself.