Short curly hairstyles have become quite popular in recent years. There are various styles of short curly hairstyles including short curly pixie, natural hairstyles, edgy, low maintenance, and updo short curly hairstyles. A lot of celebrities now prefer to go with short curly hairstyles. If you're looking for the latest trendy hairstyles, you won't go wrong with short curly haircuts which are the ideal solution for most modern women.
We have taken the time to come up with a list of hairstyles and haircuts that will help you look trendy and elegant. It is important to note that the best versions of this style are usually hairdos which have sufficient room for play and that is exactly what this article offers.
Short Curly Haircuts and Hairstyles You Should Try
Get the right inspiration you need from this list before you go for your next hair treatment and hairdo. There is a perfect style for everyone!
1. Layered Short Curly Haircut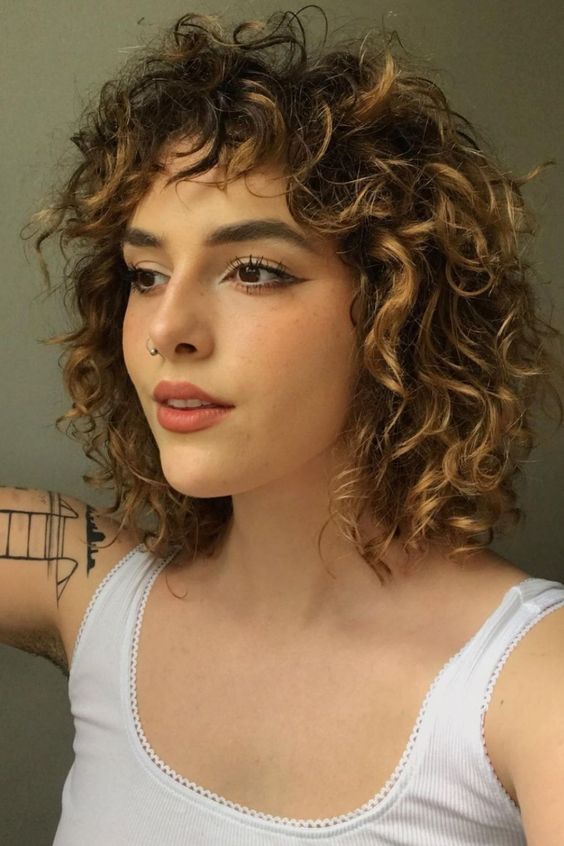 You can never go wrong with curls. Whether you have naturally curly hair or you worked them into curls, you can still make it more fashionable by giving it a layered cut. The layers of this style are not clearly defined; they are scattered in a way that gives you a carefree appearance.
Leaving all the curly strands free is the best way to wear this look. However, if you want a more corporate appearance, you can hold down the curls on the side with a fancy barrette. This hairdo is common and it best fits oval and oblong faces.
2. Chubby Face Short Curly Hairstyles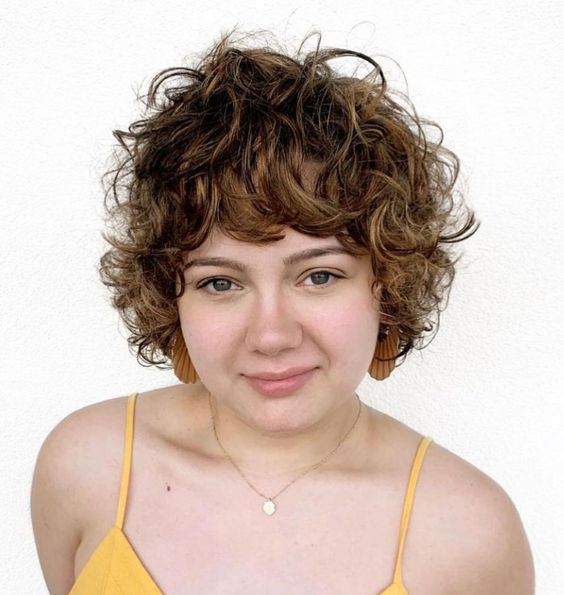 This short curly hairstyle for a chubby round face ends just before the nape of the neck from behind. On the sides, it covers up the neck, and falls towards the face, ending just above the eyebrow. This hairstyle looks best when the hair is allowed to fall freely while you only trim the ringlets when necessary. It is a common hairstyle among chubby people and of course, it fits them the most.
3. Pixie Short Curly Hairstyle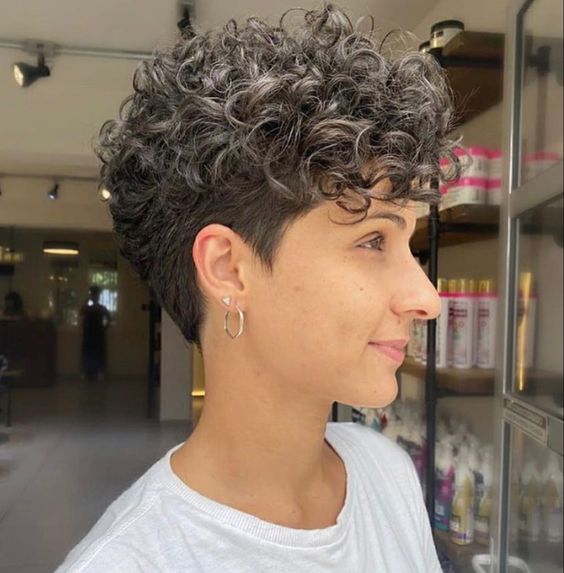 Pixie haircuts and curls are always a perfect match. It brings out your feminine energy when you have to wear a low cut. Simply cut the back low and leave the one in front at a decent length so that you can curl it and style it into any fashionable pattern that you desire.
The best way to rock this hairstyle is by allowing the curls to drop freely, especially just above your eyebrow. It gives you a trendy touch. This hairstyle is very common and is a good fit for every face type
4. Short Curly Bob (Stacked Short Curly Bob)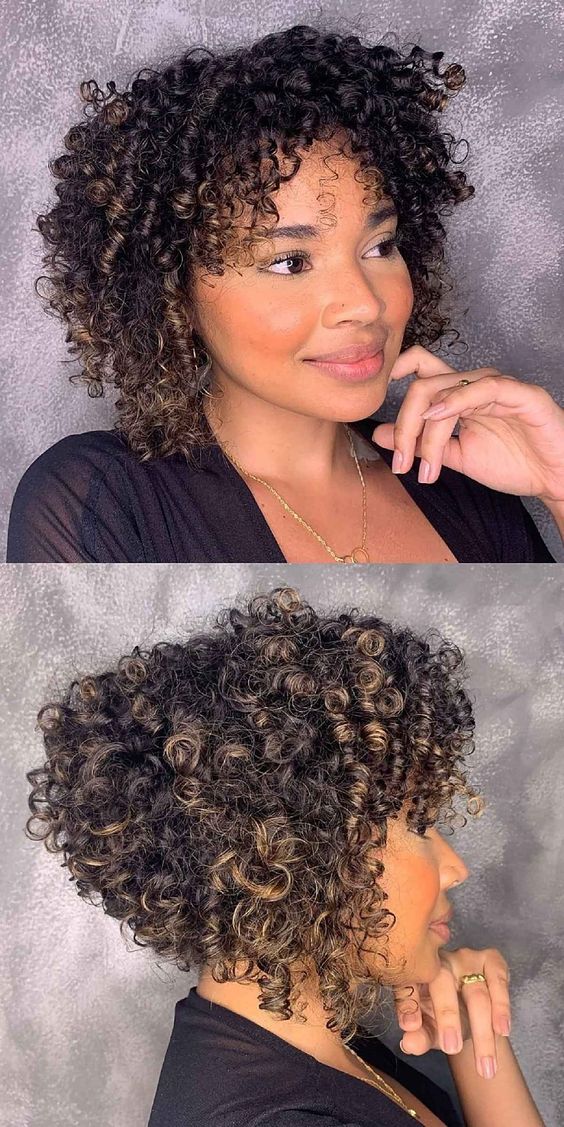 Get the best out of your natural curls with this stacked short curly bob hairstyle. The curls drop freely around your face, giving you a natural and feminine look. You can highlight the tip of your hair as seen above, or you can rock your hair in a single color.
Another thing you can do to get an extra effect on your hair is to pull back one side of your hair and hold it down with a hairpin. It gives a new dimension to the style. This short curly bob is a common hairstyle that fits oval, oblong and round faces.
5. Short Curly Hair With Bangs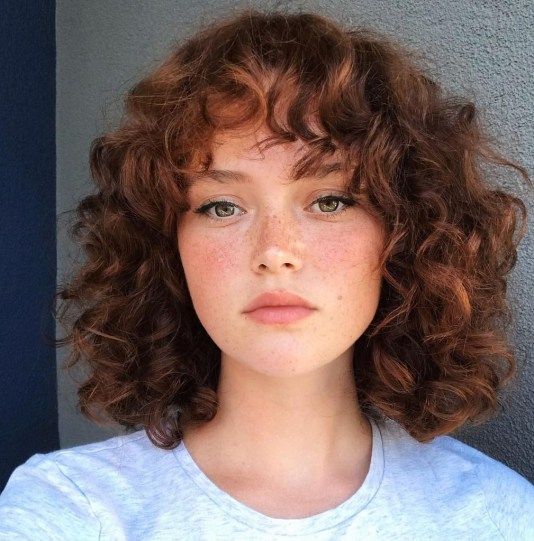 Cheeky is not bad if it's saying I am unapologetically bold and endearing. So, dare to look cheeky with this banging hairstyle that gives you that girly touch. This hairstyle allows you to rock your natural curls with less stress.
You can add more highlights to your hairstyle by wearing a hairband just above the curly fringe. The prettier your hairband, the better. The gorgeous hairdo is common and it is a good fit for any face type.
6. Edgy Short Curly Haircut
Looking to try something new and interesting? This edgy short curly haircut is a good option to consider. It is one of the short curly hairstyles and haircuts won only by women who are bold and endearing. Part of the hair is cut very low to leave just enough hair to the scalp. The remaining part is left with enough hair that you can make into fashionable styles.
One of the ways to wear this haircut is by hot-combining the hair such that the strands stand straight and have a spiky look. Another way is to do the opposite and let the strands lie on one side. Either way, you get to look gorgeous. This hairstyle is common and it best fits oval and oblong faces.
7. Natural Short Curly Hair
As the name implies, this hairstyle allows you to look very natural while still looking stylish. The curls are loose and glossy such that it gets lots of attention even though it is not dramatic compared to other hairstyles. The natural short curly hair is also good for women who want to make a statement without necessarily using words. Their elegant look says it all.
If you want to go the natural route, but still leave some extra highlights, try tinting your hair. It's one of the best ways to wear this hairstyle. Playing around with the edges of your hair using edge control gel is also a way to add some extra touch to it. This hairstyle is pretty common and it always looks good on every face type.
8. Short Curly Blonde Hair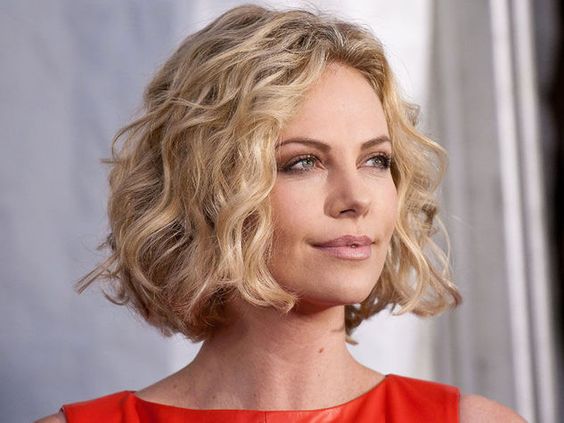 Rock your blonde hair in short curls that are simple and captivating. This hairstyle does not require you to do much. It only involves trimming your hair and making it into loose curls. The result is a gorgeous hairstyle that can be made to fit into any occasion, from casual to corporate.
To get the best out of this hairdo, you can style it with hairpins or barrette. There are a variety of styles to try out depending on your choice, or the occasion you are preparing for. This hairstyle is common and is not face-selective.
9. Low-Maintenance Short Curly Hairstyle
If you are in need of a hairstyle that costs little, but still gives you the jaw-dropping beauty you deserve, then try out low-maintenance short curly hairstyles and haircuts. They are not stressful to take care of either. With just a little touch, you get well-textured curly hair that glows.
A good way to wear this hairstyle is to make a side parting and stretch out part of the front hair so that it lies flat on one side while the rest of the hair retains the curly texture. This beautiful hairstyle is common and it best fits oval and round faces.
10. Short Curly Wavy Hair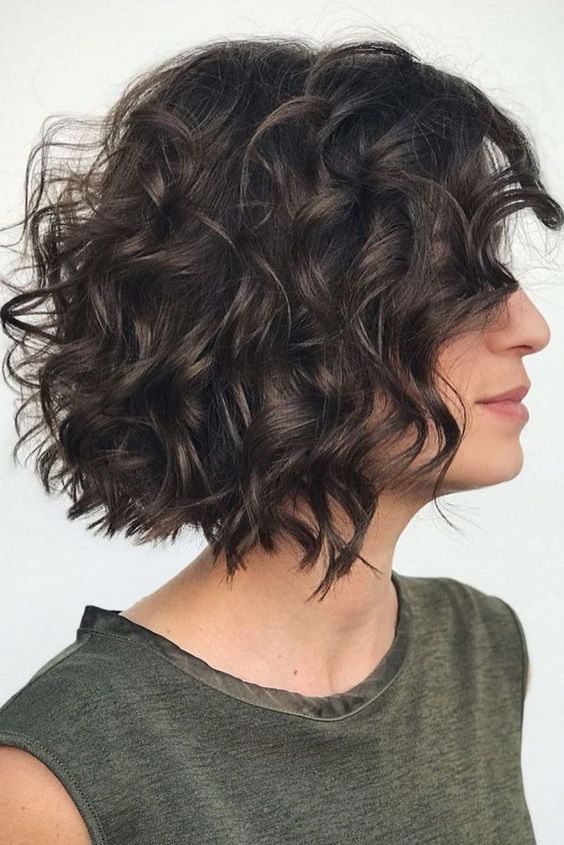 Wavy hair is one of the most common types of curls. It is simple to make and easy to maintain. For short curly wavy hair, all you need to do is to ensure that the waves are well textured; apply appropriate hair products when necessary. Also, trim the tip of the strands so that they look neat and tidy.
Curly wavy hair is fun because you can easily style it into any pattern you like. One of the best ways to rock this hair is by pushing back one side of your hair and holding it down with hairpins. This hairstyle always looks good on every face type.
11. Short Haircuts for Thick Curly Hair
Having naturally curly hair puts you at an advantage, and you do not have to do so much before you look good. When it is not just curly, but thick as well, then you are double blessed. A simple stylish haircut and you are good to go. Although there are different ways to cut your thick and curly hair, this pattern gives you the advantage of making it into different styles.
One of the best ways to style it is by using a hairband or barrette to give it a fashionable touch. This haircut for short hair is common, but people style it differently. It best fits people with oval faces
12. Short Curly Sew-In Weave Hairstyle
A sew-in weave is a good way to give your natural hair a break from daily maintenance. They come in different lengths and textures. Short curly sew-in weave is one of the best options that allow you to switch up your look. You are just one weave away from all that gorgeousness. The center-parted style is good, but you can try the side parting if you want to look your best in this hairdo. This hairstyle is common and it looks good on oval, oblong, and round faces.
13. Short Curly Shag
Join the latest trend of one of the most fashionable haircuts of all time. Try out this creative and deliberately messy shag haircut to give your hair a different touch from the conventional hairstyles you are used to. This haircut is patterned to give you full hair around your crown while it narrows down towards the fringe and sides.
There is no better way to rock a short curly shag than to intentionally leave it as messy as possible. This is what actually gives the hair its uniqueness. This hairstyle is a modern trend, and it is slowly becoming common among women. It best fits people who have round faces.
14. Double Chin Short Curly Hairstyles for Round Faces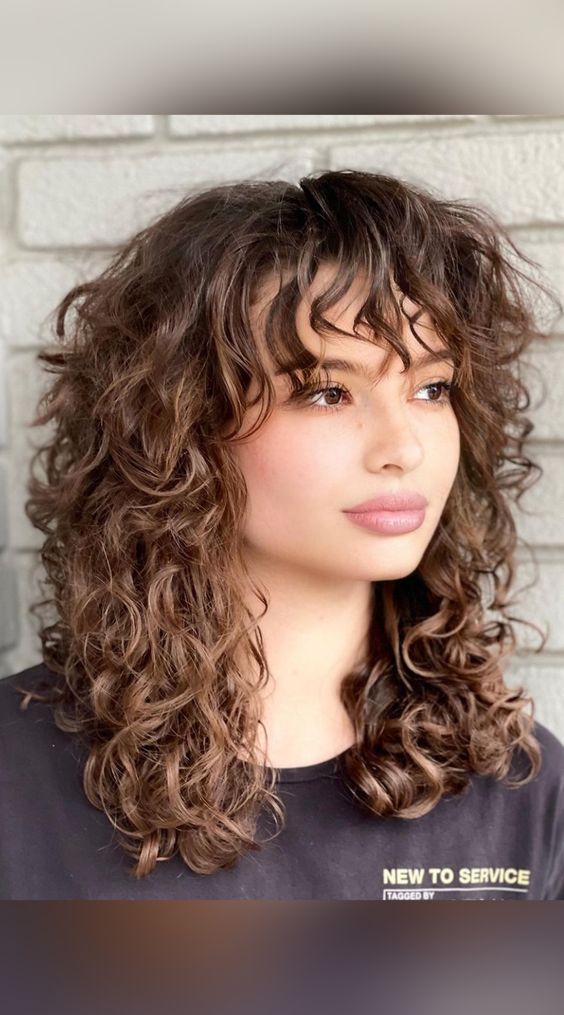 If you were just wondering which hairstyle will be the perfect match for your round face, here is one for you. This hairdo not only covers up your face on both sides but also drops curly fringes that get to your eyebrow. This beautiful hairstyle is common and perfect for round faces, but you can also try it out even if you do not have a round face. You can also highlight your hair with a different color to look even better.
15. Short Curly Pixie Cut
Here is another pixie cut option you can try. Retain your feminine touch while rocking trendy short curly hairstyles and haircuts. As with other pixie haircuts, the back of your hair will be tapered to your skin. With this style, the front hair is made into super curls that drop to cover your forehead, ending just above the eyebrow.
Combing the front curly hair to the side is another fantastic way to rock this hairstyle. Although a common style, people wear it differently and it is a perfect fit for every face type.
16. Updos for Short Curly Hair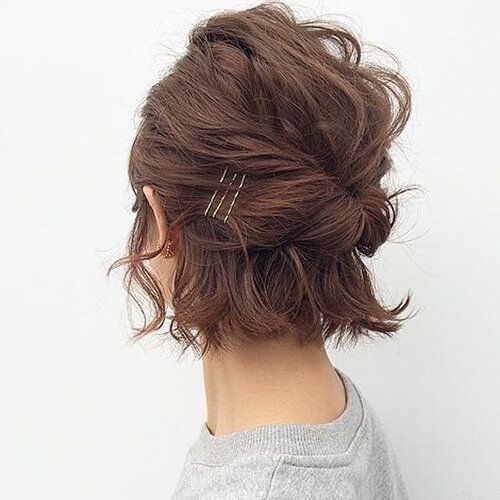 Who said short hair can't have updos? Try out this ultra-trendy updo for your short curly hair. Simply pack your front hair towards the back, leaving the rear to drop underneath it. The magic is in deliberately leaving the hair a little messy.
You can make it more fashionable by tying the packed hair with a bow to give it a girlie touch. This trendy updo is becoming more popular and is definitely a good option for any face type.
17. Short Curly Afro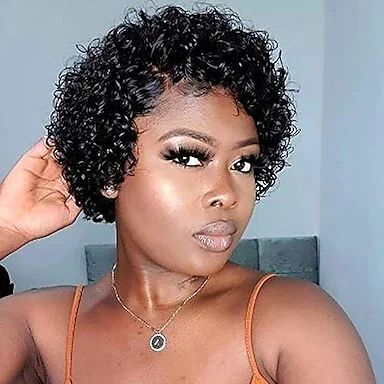 Black women who want to make a statement with their hair should try out this short curly afro hairstyle. You can take it a step further by making a side parting, stretching the hair on each side of the parting, and holding it down with hair gel. This hairstyle is common among black women and it fits every face type.
18. Low-Maintenance Short Curly Hairstyles for Round Faces
People with round faces can now enjoy low-maintenance short curly hairstyles with a classic air. It allows you to stay trendy, simple, and fiery. This hairstyle is common and looks its best when it is worn simple and natural without any extra adornment or highlights.
19. Round Face Short Curly Hair
This is another short curly hair option for people with round faces. If you do not like the low-maintenance hairstyle, you can try this one. You will definitely love it. This hairstyle is common and as you may have guessed from the name, it best fits people with round faces. Do you want to make it more fashionable? Try using a simple hairband or you can tint your hair and look even better.
20. Short Curly Braids
If you think you've had enough with the haircuts and styling your natural hair try this curly braid for a change. You still get to rock your natural hair, but this time, you will be making it into attention-grabbing braids.
You can also rock the hair better by packing up part of your front hair and leaving the rest to drop freely. This hairstyle is common, but people style it differently based on personal preference. It is a good option that any lady can try.
21. Partial Fringe and Short Curly Hair
Part of the hair in front is styled into fringes that cover less than half of the face. Other strands are beautifully curled and allowed to drop on the side of the face and on the back, just above the nape of the neck.
Using a fanciful hairband to separate the curls a little from the fringe while pushing the curls on the other side behind the band will give you a stunning appearance. This is a common hairstyle that people with chubby faces love to make, and it fits them the best.
22. Thick Lifted Short Curls
This is a perfect curly hairstyle for the summer season, when you need all the fresh air you can get and you do not want hairs falling over your face and ear. The edges of the hair are carefully lifted on all sides so that you are not bothered by even a single strand of hair. It makes you look simple and smart.
If you want a little extra on your hair, you can style the front edges of your hair with hair gel. Though simple, this hairdo is not so common, probably because it is best styled on very short hair. It best fits people with round faces.
23. Low Maintenance Short Curly Hairstyle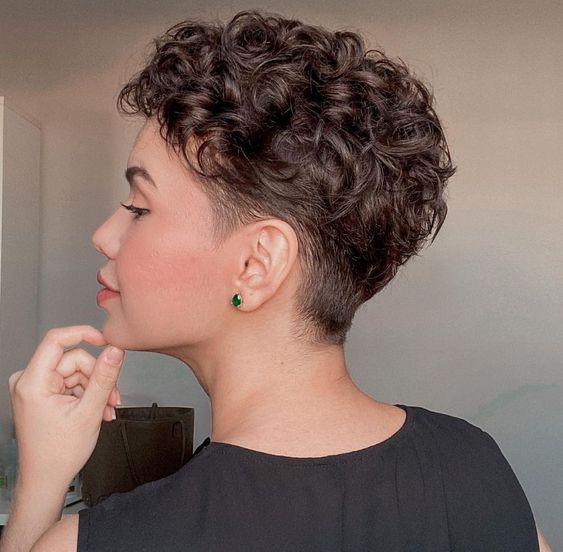 A short curly hairstyle and haircut that always get heads turning. The hair around the ears and back of the head are cut very low, almost close to the scalp while the hair around other parts of the head is trimmed to a decent length. The short curls are then allowed to drop stylishly on the forehead.
There is no better way to rock this hairstyle than making sure that you get the cut right. That is where the beauty lies. The hair must be cut from front to back to get that perfect look. This style is very common, although people may make slight adjustments to suit their hair type. It is also a good fit for every face type.
24. Pixie Short Curly Hair with Fringe
This hairstyle is very simple and classy altogether. If you want a hairdo that gives you just about a little of everything, you should try this out. You get to have the curls, pixie cut, and fringe all in one hairdo.
The curly fringe is what sets this hairstyle apart from other styles that are similar to it. Ensuring that the fringe is properly trimmed and styled helps you get the best out of your hair. This hairstyle is not very common and it best fits oval faces.
25. Short Curly Brazilian Weave
Lovers of Brazilian human hair wigs can try this black hair with wavy curls. It is simple, beautiful, and natural. You can also try out other colors aside from black if black isn't your preferred color. This hairstyle is common and fits oval, oblong, and chubby faces.
26. Short Curly Bob Hairstyle
What better way is there to rock that bob hairstyle than in short curls? This hairstyle allows you to show off your bold and spunky personality without feeling sorry. A perfect blend of beauty and class.
You can tweak it a bit to get the best out of it by brushing the hair on one side down and clipping it with fancy pins or clips. It is better to hold down the side of the hair that is farther from your face. This hairstyle is popular and it fits every type of face.
27. Trendy Layered Curly Bob Hairstyle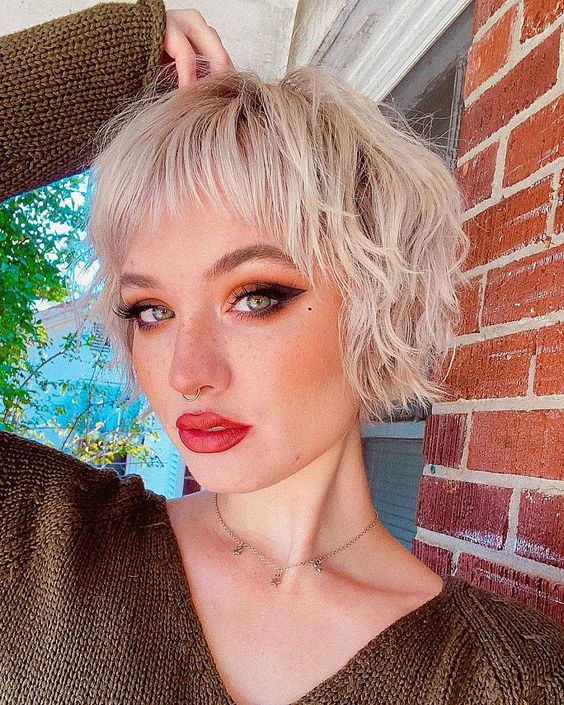 Touch up your fine haircut and look even prettier and more endearing with this trendy layered bob hairstyle. It makes your hair look fuller and finer. Stand out of the crowd with this sassy hairstyle that brings out the best of you. Tint your hair to any color you prefer to give you an even more dramatic look. This trendy hairstyle is perfect for round, oval and chubby faces.
28. Simple Lifted Curly Hairstyle
Stylish, confident, daring are the three words that best describe this unique hairstyle. If you don't want to do what everybody else is doing, try out this simple lifted curly hairstyle. It is beautiful and easy to maintain.
Although lifted curly hairstyles are common, this unique touch of pink dye makes this style outstanding. You should try it too as there is no better way to rock this hairstyle. This hair is best for oval and oblong faces.
29. Afro Kinky Short Curly Hairstyle
This hairstyle has been around for a while and is going to stay for a longer time. It spells class and confidence and is not among the most common hairstyles. However, women who wear them can never go wrong. It is a perfect fit for oval-faced ladies who love the afro culture.
30. Short Spiral Curly Hairstyle
Having a fierce look can be a good thing, especially when it has to do with rocking gorgeous hair that stands out in the crowd. It tells people about your boldness and strength. Get the best out of this look by adjusting one side of your hair a bit over your face and pushing the other side backward. This is not a regular curly hairstyle and it best fits oblong faces.
31. Short Layered Elegant Curls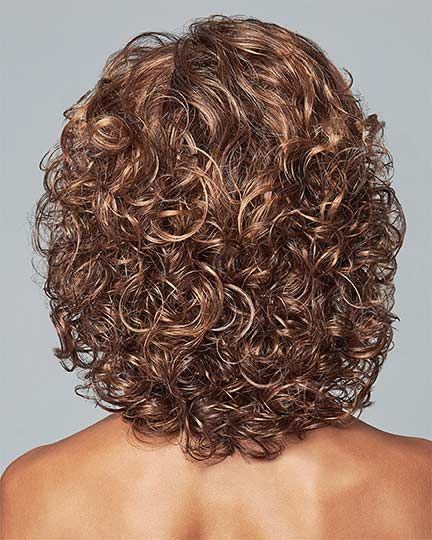 This gorgeously layered and tightly curled hairstyle gives you a killer look that turns heads. A good hairdo adds a lot to a woman's appearance and with these elegant curls, you have nothing to worry about. Styling this hair with beautiful barrettes makes it look even more stunning. This hairstyle is not very common and is a good fit for oval and oblong faces.
32. Short Curly Hairstyles
There is a wide range of short curly bobs to choose from, with asymmetric hairstyles such as A-line bobs, angular reverse bobs, and stacked back bobs which always look absolutely fantastic on naturally curly hair. This set of curly hairstyles is popular and is a safe place for ladies with oval and round faces. The A-line bob is one of the best options you should try.
33. Retro Short Curly Haircuts
There are also lots of retro hairstyles which look amazing on short curly haircuts. For instance, you can try out the finger wave (which is also known as the head wave) which creates an amazing wavy pattern all around your head, without adding any extra volume.
The retros are not an everyday type of hairstyle, but whenever it is worn, it speaks of class and elegance. It is a perfect fit for oblong faces and no one rocks it better than a pretty bride.
34. Textured Short Curly Haircuts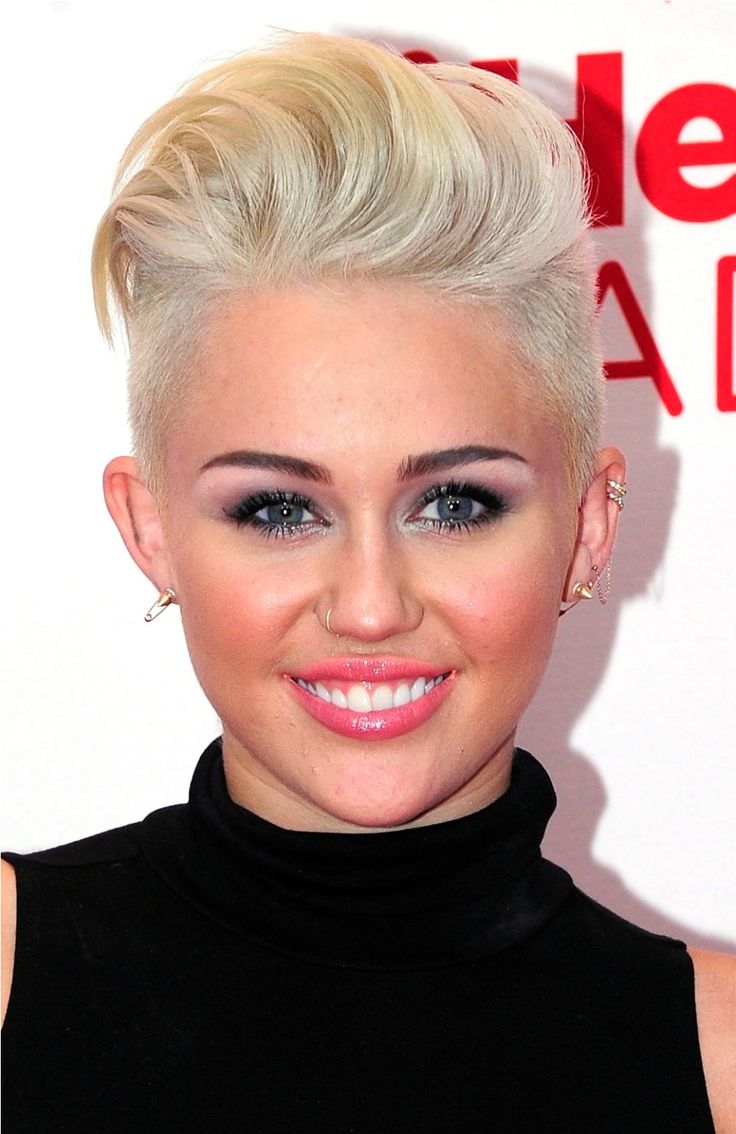 This short curly hair is very easy to style and design into textured pixie cuts, which do not have the traditional round curls. For instance, with all that natural volume that curly hair normally gives, one can achieve some spiky strands for a more contemporary look that is hot, and only requires a light touch of a styling product, followed by a finger styling.
Despite being so simple and easy, this hairstyle is not very common. Combing your hair to the side is another interesting way to wear this style. This haircut best fits oval, round, and oblong faces.
35. Pixie Curly Hairstyles
This is a rather popular easy short curly hairstyle. It produces a very lovely and fascinating look that is youthful, yet very flattering for girls or women of all ages. The current top styling trends include; the casual and tousled finish and the defined, separated petal short curls which are perfect on the short curly hair, especially for special occasions.
Nonetheless, they are generally very common and are often worn by women with oval and oblong faces. Keeping it down to a single color is what adds class and elegance to this style.
36. Pixie Cut for Round Face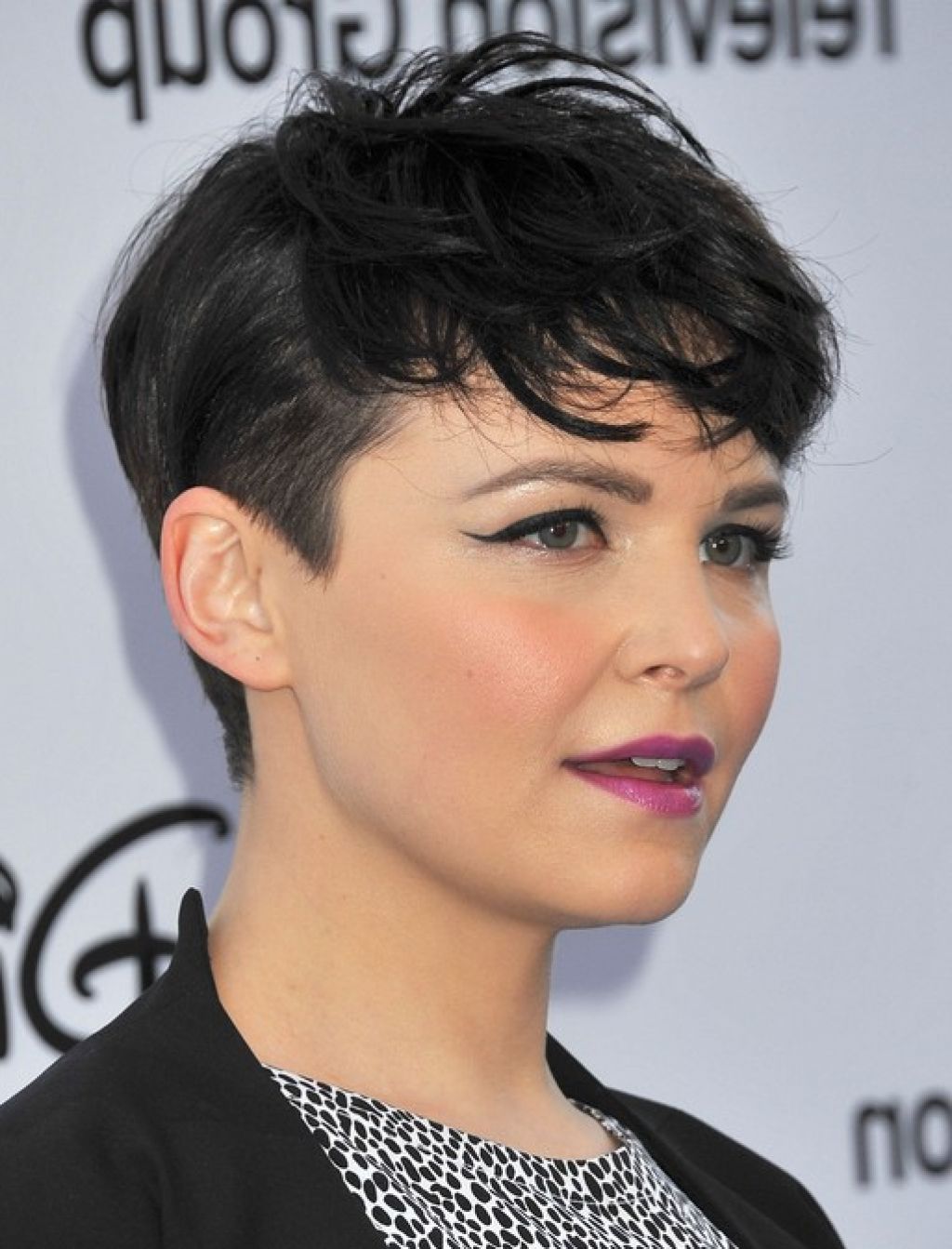 If you have a round face, here is another one for you. You can also enjoy this amazing short curly hairstyle. One of the most amazing and flattering hairstyles to those with slim chubby cheeks is the pixie cut which features a lot of textured volume of hair at the top and then tapered down to the sharp points on the sides. This haircut is also one of the popular latest hairstyles and a perfect pixie cut is the secret behind the stunning look that it gives.
37. Balayage Highlights on Short Curly Hair
Balayage highlights always look very attractive on curly hair since they can easily create different effects which are designed to properly accentuate your mouth, eyes, and cheeks. To soften the facial features, you can have some strands lightened so as to make a more gentle frame around your face. This simple and popular style is perfect for ladies of face types.
38. Curly Vintage Hairstyle
This curly hairdo is so trendy right now. Everywhere you look, you will see your favorite celebrities donning the curly vintage style, especially those who are blessed with all-natural curls. To keep the 40's style in full glamor, skip highlights, and stick to one solid color. If you follow the rules, you can't go wrong with this hairstyle regardless of your face type.
39. Thick Short Curly Hairstyles
This is another magnificent short hairstyle for curly hair as it gives you a natural look that is lowkey but with a lot of personalities. For a hairstyle that looks brilliant on thick wavy hair, you can choose layered cuts with some side-swept bangs. You should also add definition to your locks with styling pomade and it will get you all the attention you need.
A lot of women love to make this hairstyle and those who rock it best are those who know how to take proper care of their curls, keeping it defined and glossy. This haircut fits oval and oblong faces best.
40. Cute Curly Bob Hairstyles
Being blessed with some natural spirals usually comes with lots of maintenance. However, if you choose this cute short curly bob hairstyle, you will be able to easily maintain your hair. Keeping the front a bit longer, and the top full of volume basically makes this style quite easy to pull off. Allowing it to drop freely on every side gives you the coolest look you can imagine. It is a common hairstyle among people with curly hair and a perfect fit for round and oval faces.
41. Short Formal Hairstyle for Curly Hair
This is perfect for women with short haircuts, especially during corporate events. For more glamor, the curls can be crafted artfully so as to create a more decorative look that can be complemented with some nice earrings. It is a common hairstyle but reserved for special occasions and it always looks good on any lady that dares to try it.
42. Side Parted Short Curly Hairstyles
This short sassy curled hairstyle is full of playful curls at the back and is very smooth on the bangs area. This hairstyle is perfect to go from school to work and even out and about. It is most common among mature ladies, especially those with oblong, chubby, and oval faces. An updo will bring the best out of this hairstyle.
43. Short Layered Curly Retro 70s-80s Hairstyles
Think Footloose or Flashdance or any of the classic TV shows and movies that came out in the 70's-80s. This hairstyle is big with curls, accompanied by dramatic bangs and a little feathering. It is the right option for old-school lovers. This style is not so common and does not need any additional highlights to look its best. Oblong faces always look good in it.
44. Short Curly Hairstyles with Side Bangs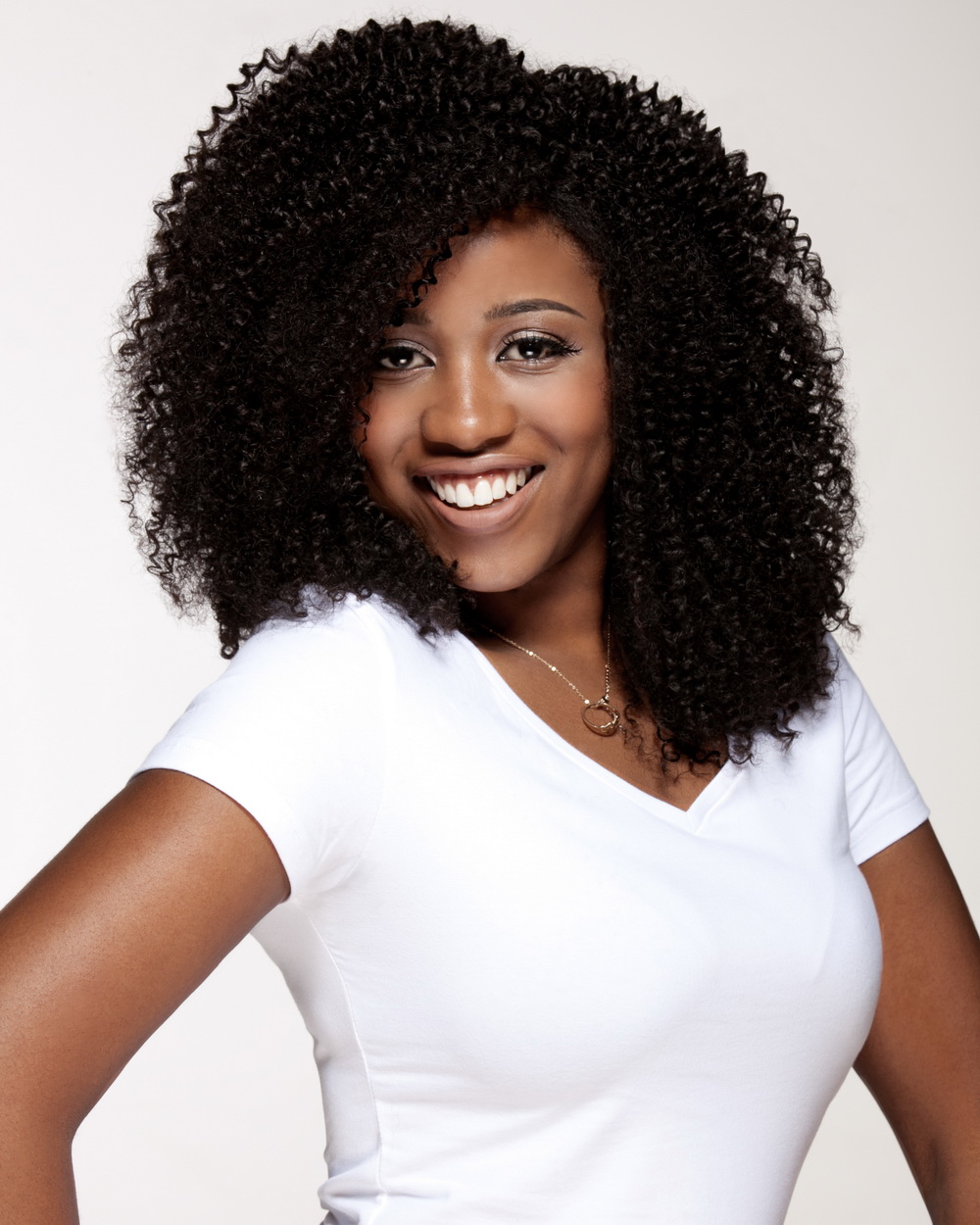 These curls can easily be styled and maintained beautifully. Using a very good quality hair oil or hair serum will do the magic every morning in bringing out the shine and beauty of this hairstyle. The tiny springy curls come together to make your hair look full and lovely. This common hairstyle is not selective of face types and it is beck rocked by giving it a side parting as in the one above.
45. Lifted Wavy Bob
Women who have thinner hair usually wonder how to go about styling their waves. Well, short elegant S-waves will provide lots of lift to a simple curly bob. With a medium-sized barrel curling iron, you can add S-waves to both the upper and under layers for the hair.
This style is not difficult, and it is also common. A perfect fit and safe option for just any face type. Using a barrette to hold the lower side of the hair adds a burst of glow to the style.