Some people believe that you can only look attractive and sexy if you have long hair, but that is not always the case. Short hairstyles make black women look more gorgeous, bold and daring. They are also exemplary for those women who are always busy as they require little maintenance. Most of them are easy to style, manage and even switch colors. Here is a selection of the cutest short hairstyles for black woman
Short Hairstyles for Black Women
1. African American short curly haircuts
You can keep your natural kinks short and give them the accent you want. Grow them out and get the assistance of a professional stylist to provide them with a surreal look.
2. Edgy short haircuts for black women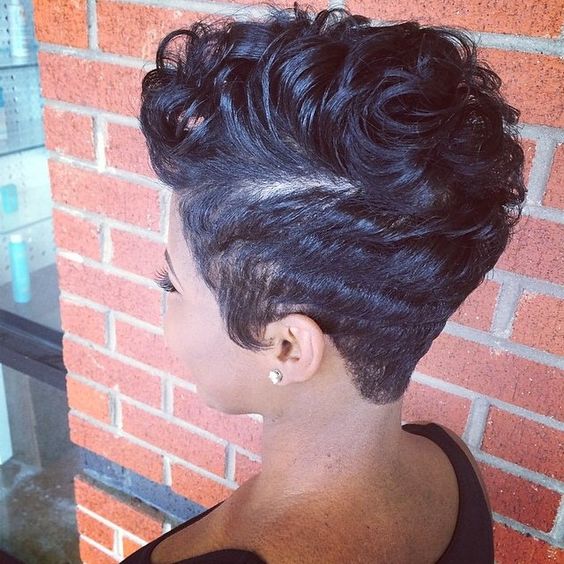 If you want an overly bold hairstyle, then you can go for the edgy hairdo. The stylist spikes up the top layer of your hair to give it a trendy flair. To make the hair look elegant, the stylist will need to add a few curls at the top and use high-quality styling products.
3. Short pixie haircuts for black women
To break the monotony of the common pixie cut, you can consider going for the pin curls. All you need to style it is some bobby pins and to wet your hair. The best part is that this hairstyle does not require heat styling.
4. Bobby Brown Short hairstyles for black women
This hairdo involves placing highlights strategically and is ideal for any hair texture and ladies with oval faces. To get a Bobby Brown hair style, it takes sectioning off your hair on the preferred side, flat ironing bone straight and adding shine to polish it up.
5. Inverted Curly short hairstyles for black women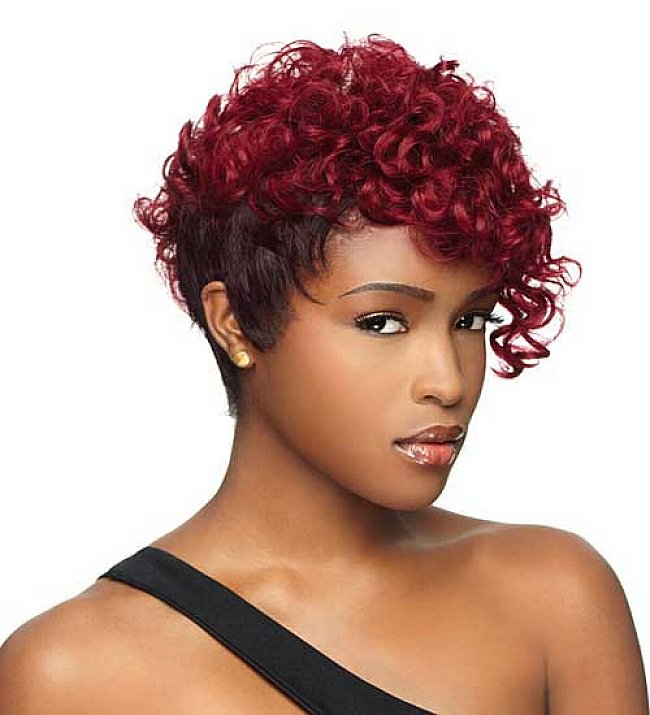 You only need to focus on the crown and ensure that you use hairspray for ultimate hold with this hairstyle. To style it, make a side part, use half an inch curling iron to crisp both sides towards the side part and use sheen for the final touches.
6. Mohawk short natural haircuts for black females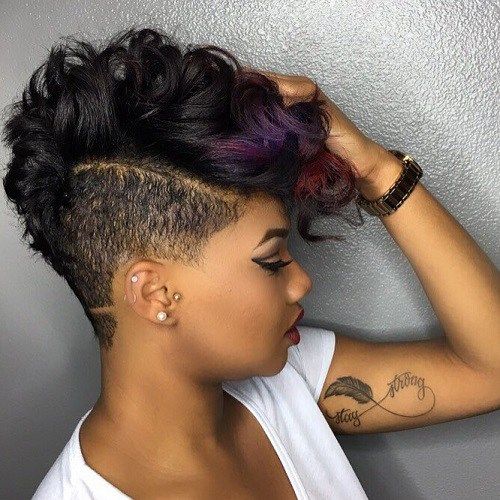 A Short Mohawk is a modern style that can give you various unique looks for different occasions. If you brush your hair backward, you will get a professional look. By combing forward, you acquire an edgy look.
7. Side-swept spiral short hairstyles for black women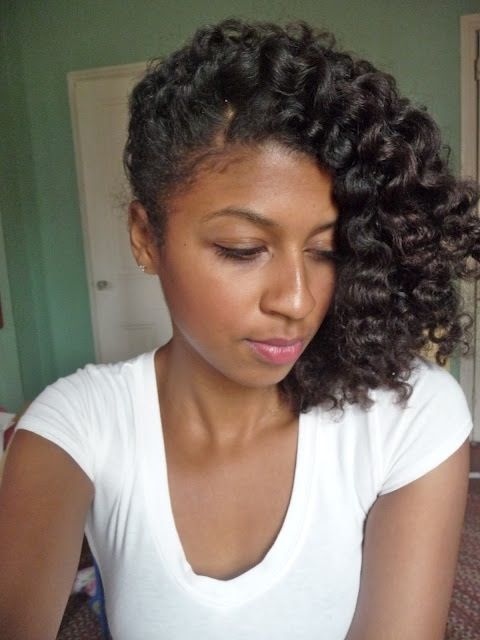 To get the Side Swept Spirals, you need to style your short and natural curls in an asymmetrical shape with the side that you are comfortable with. In case you don't have curls, you can use spiral rollers to give your hair some kinks.
8. Classy short bob haircut black hair with brown highlights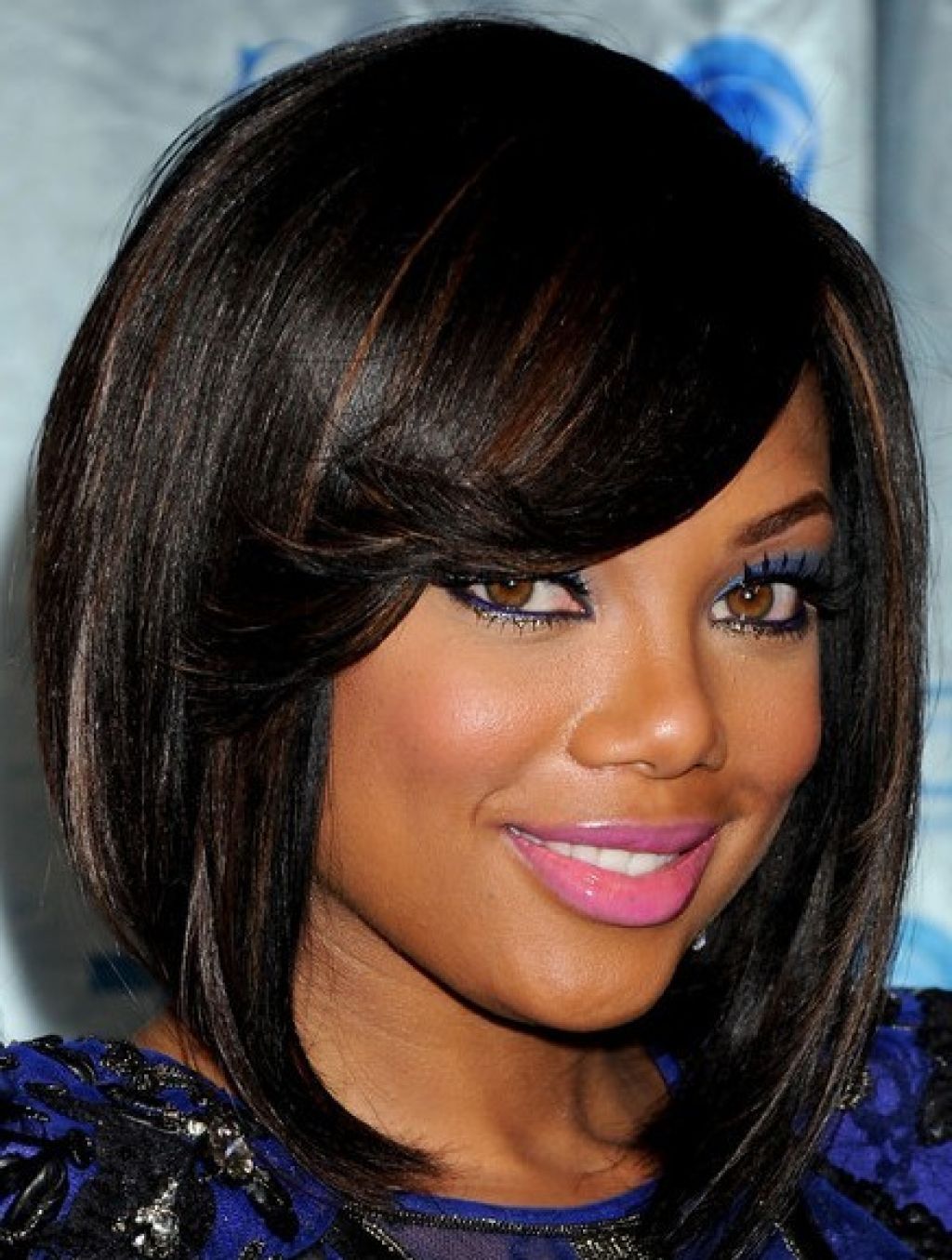 With this hairstyle, your soft wave curls lie gently over your eye lashes to give you a fresh and classic look. Styling it involves parting the hair as desired, flat ironing it, bending its bottom towards the centre and using serum to make it soft and shiny.
9. Short natural haircuts for black females
You can get a professional and urban look by just trimming your unruly curls. A stylist can cut them short on the sides and bottom so that the volume builds up at the top of your head.
10. Bouncy Curly hairstyles for black women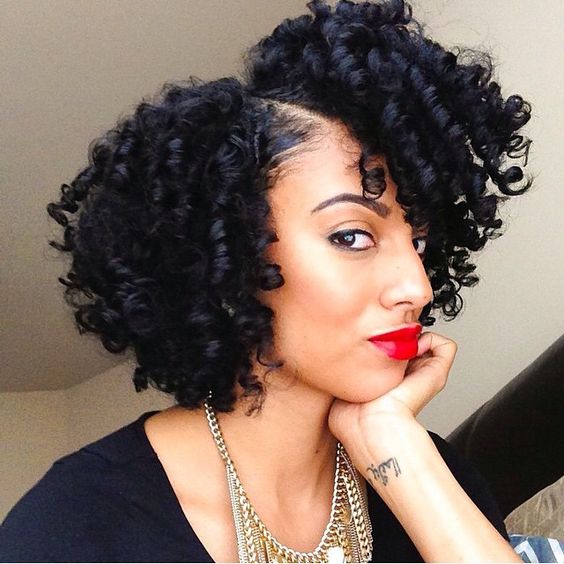 Bouncy curls are easy to pull off because you only need to get the right layers with a little more focus on the top. It involves building volume upwards using rollers and you can do it on your own or get a stylist to do it.
11. Short bob haircuts for black women
This type involves giving wispy ends to an asymmetrical bob hairdo. You will then need to keep the asymmetry and the wispy layers in shape with the help of a good styling product.
12. Short haircuts for black women shaved on sides
This short hairstyle is long lasting and best suits those with round and oval faces. To style a Peacock Priss. This very unique style can go for a formal as well as an informal party look.
13. Geometrical haircut for black women
If you want a hairstyle that will give you a soft and feminine look, then a Geometrical Cut will do. With a simple bob, this cut can offer you perfect angles and edges.
14. Blond beauty short hairstyle for black women
This is one of the easiest and low maintenance hairstyles. You first need to wet your hair with water, apply curl activator, leave it to air dry or use a hooded dryer and then use sheen for the final touches.
Short hairstyles for black women say a lot about their character. They show how edgy and how much they can risk in order to stay trendy and fashionable.
Short hairstyles for black women appear stylish and are usually well out of the box fashion. Generally, they make women appear elegant and very smart looking. The hairstyles normally look their best when they are left naturally short but if someone wants to take it over the edge it is safer to let a professional do it as it is usually delicate to handle and any little error could change the intended appearance.
15. Short Curly Pixie Haircut
This hairstyle depicts class especially for black women. This is because it is not only discreet but also very neat. It also shows a lot of sophistication. This hairstyle works best for women with thick hair texture, this is because medium or long hair would appear unflattering and if given the right colour and cut this hairstyle can make heads turn in amazement.
16. Blonde Flame – Short Hairstyles for Black Women
This hairstyle is for women who want to make a statement. Like the ancient bird of the legend this hairstyle rises above all other hairstyles with avian names. The hair appears to be on fire which makes the statement that the woman is unleashing her inner beauty and style.
17. Messy Pixie Cut with Flame Effect
This hairstyle is for black women who are daring. It is mostly hair that is elevated to an elite status by being dyed white or blonde and it gives a twist on the modern day curly pixie.
18. Asymmetrical Short Hairstyles for Black Women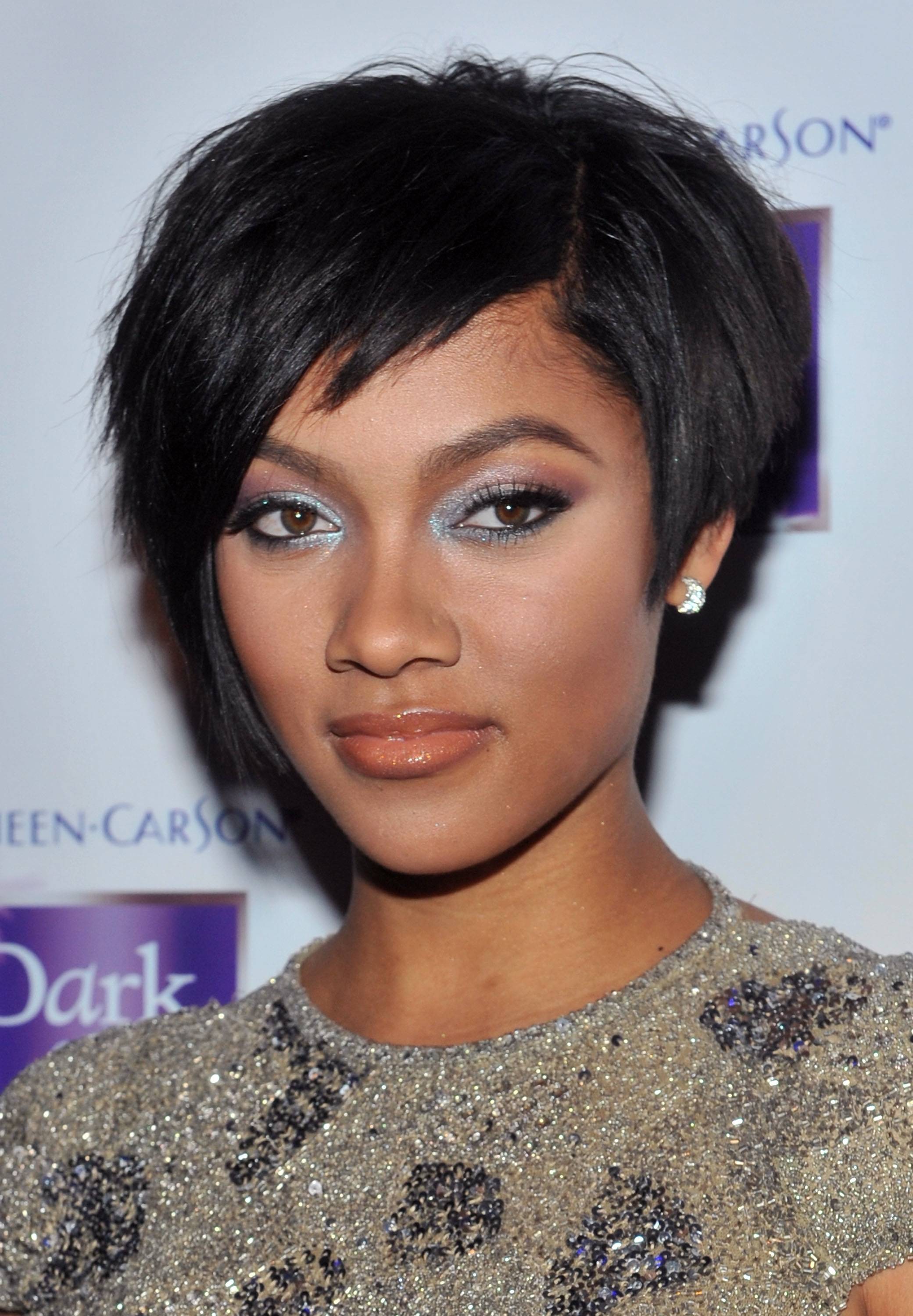 This hairstyle is a bit safe and is hard to go wrong when someone has it. It is simply elegant but not edgy. One may give it a twist by changing texture. This can be done by trying spikes, waves, feathers so as to make it look different at different times
19. Short haircuts for African American women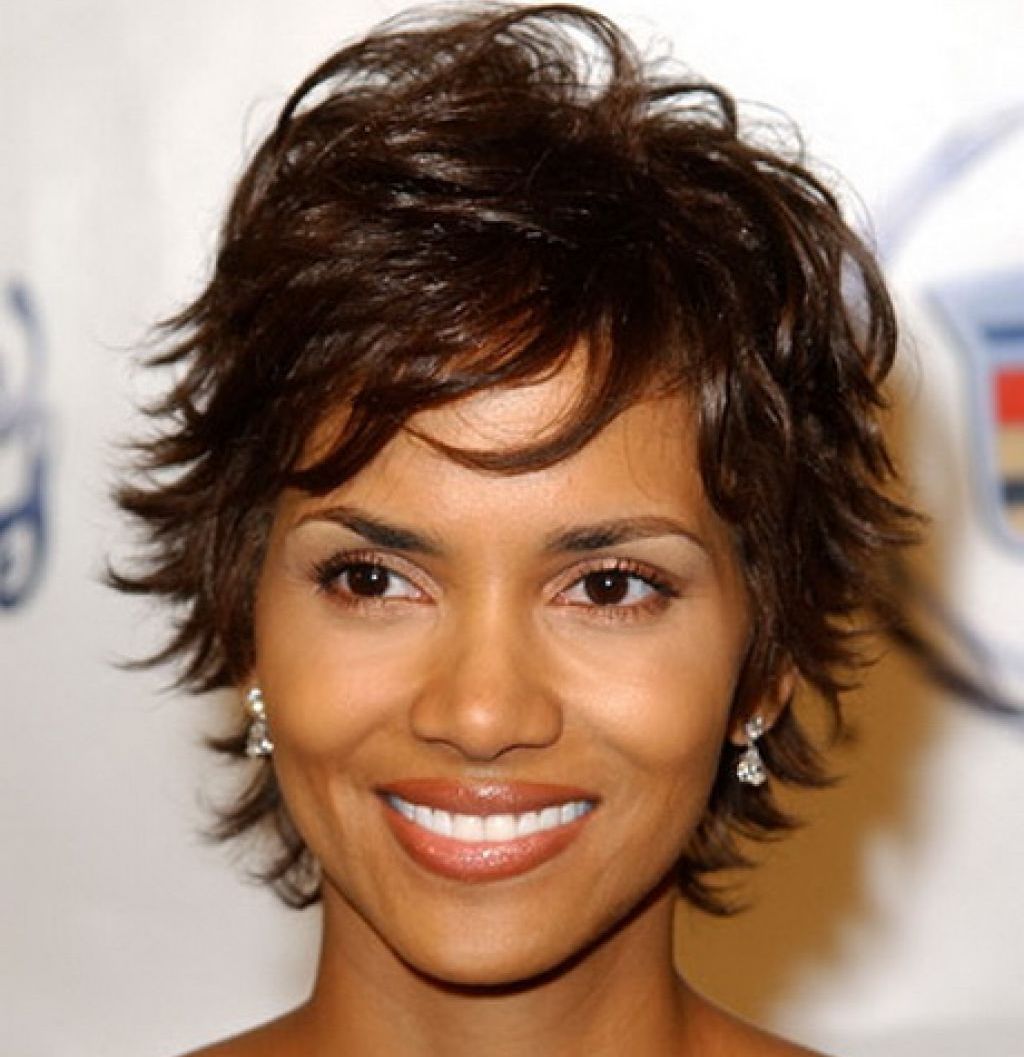 This hairstyle makes the an average black woman appear exotic and it looks great for both formal and casual occasions. The windswept tresses will defy gravity as well as hold the attention of everyone around.
20. Short Spiral Hairstyles for Black Women
This hairstyle is fiery hot and its phenomenal texture makes it stand out from every other type of short hairstyles for black women. The good thing about this style is that it very well suits different face shapes including ranging from oval to round.
21. Short Maroon Tresses
This hairstyle can be simply described as spunky. The maroon colour sets the hairstyle apart and makes it unique. It has tapered silhouette that are often preferred by women with thick hair.
22. Black and Blond Short Haircuts for Black Women
This hairstyle involves ebony and blonde strands that are outstanding, especially when black ladies have them. This style is edgy and shows an exceptional fashion sense.
23. Peacock Tresses Hairstyles for Black Women
This hairstyle dominates the hairstyle trend, it is an undercut style with Peacock inspired bangs. There are a lot of colours, like a peacock's in this style and this gives it that extra glow that makes it stand out. This style gives a woman a sense of pride and confidence.
24. Low maintenance short natural haircuts for black females
This hairstyle is basically for black women with busy lifestyles. This is a classic haircut that will take this lady throughout the day. It depicts both class and style, and is convenient since it does not require a lot of work. Simply brush and you are ready to go.
25. African American Short Lavender Hairstyles for Black Women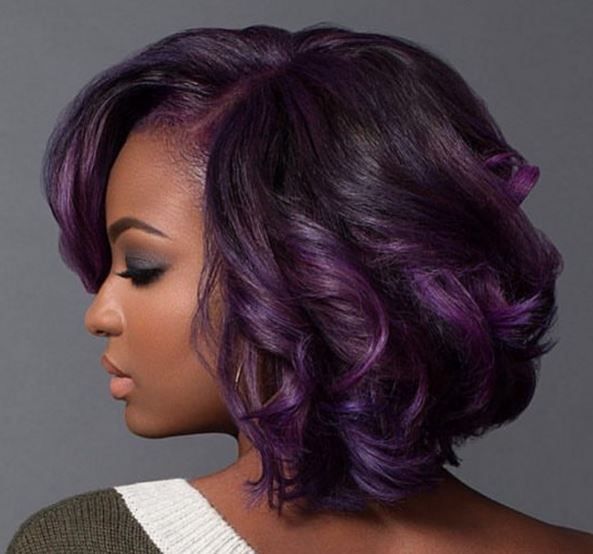 This lavender colour shows a very nice contrast with the black woman's chocolate skin tone. This hairdo is not for the faint hearted but is for the bold and fashionable when it comes to hairstyles.
26. Short Curls for Black Women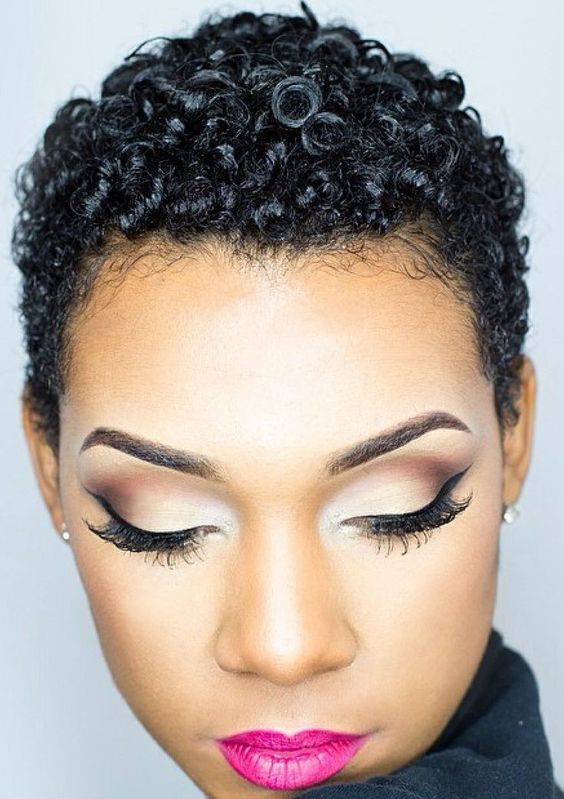 When black women who have relaxed hair have a heavy dose of texture it adds volume to their hairstyles and if the hair color is jet black, you are bound to see every single curl as it blends into one another showing off every curve in her waves
27. Spirited Spiral Short Hairstyles for Black Women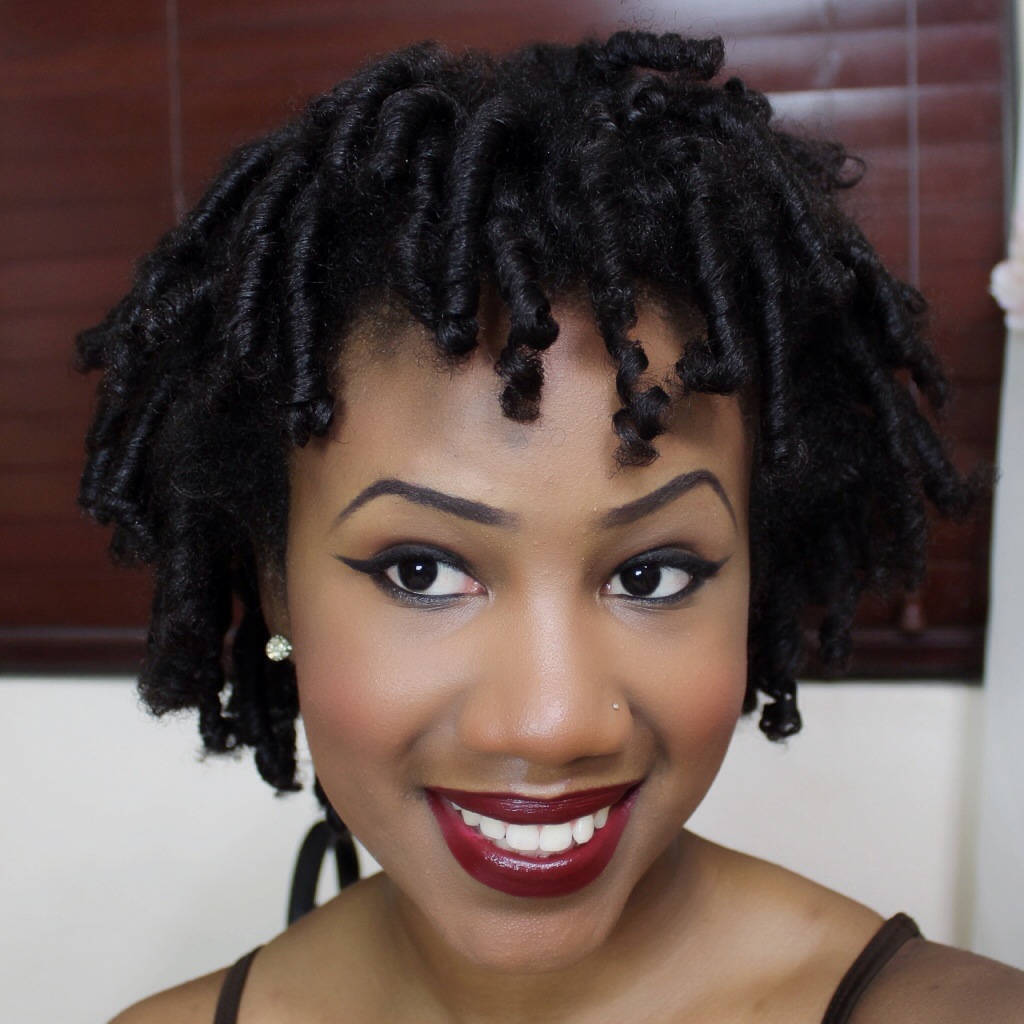 This is for black women with short hair who want to get defined curls they should use flexi-rods. Spirited spirals stand out and make the woman seem to have a fun personality
Generally, black women have a very wide variety of styles to choose from and because of the natural texture of their hair, it can be manipulated to create a hairstyle that suits any ongoing trend.
These are just some of the best short hairstyles for black women. To get the perfect look, you should consider getting a professional hairstylist to do your hair.