Hairstyles for short natural hair are just as versatile as the long ones, if not more. With mostly the base care of moisturizing, conditioning, and oiling, short hair can be done in stylish afros, shaves, tapers, undercuts, twists, mini locks, frohawks, teeny weenies, and much more. They are now more trendy, make more statements, and are more exciting, covering almost all face shapes, addressing all ages, and can be worn to a variety of functions.
There are a lot of great styling options for short natural hairstyles that you can use to get that unique look with a personalized finish. Keeping it natural is the simplest way to stay classy and trendy. These examples show you how to rock effortlessly glamorous short natural hair.
Short Natural Hairstyles for Black Women
Having the wow factor does not only come from the inner self but a cute short natural hairstyle can give you the desired beauty on the outside. The decision to go, or remain, natural is no longer seen as strange or greeted with skepticism. For most women with shorter natural hair strands, styling can seem quite a task from the start, leaving them feeling limited as to style choice. However, we present you with a list of beautiful short natural hairstyles that will give you that wow factor for all events
1. The Curly Top "Teeny Weeny Afro"
If you have shorter strands and wouldn't mind something a little bold, really chic, and young, this "Tweeny Weeny" take on your afro is not only pretty, it is rockable. The Tweeny Weeny Afro (TWA) is a name given to a style with shaved sides and back, with the top having hair that's just about 2 or 3 inches in length.
TWA has its origin from men's hairstyle and has been adapted to become unisex with women adding several feminine twists to it. Although it may take some boldness and fierceness, anyone can absolutely own a TWA look.
2. Natural spiral on a short haircut
When it comes to going all-natural with your African-American short hair, moisture will be key. You'll need to condition your hair often with natural products like olive oil and coconut oil.
Opt for a springy shortcut that features shorter sides to keep a round shape at the top. For such curls, use hair products that offer moisture without weighing them down, so they don't lose their bounce. Ask your stylist for a trendy design on the side to glow up your face.
3. Bubble braid updo
If you have a special event and want to play simple but gorgeous, then try this eye-catching and unique natural African American hairstyle. The bubble braid with accurate geometric sections will draw many admiring glances.
To get this look, you must keep your hair scalp, and strands neat and well moisturized with a deep conditioner. Use a preferred hairband or a rope to tie down every section of the hair you've carefully cut out.
4. Finger waves
Okay, this hairstyle may appear easy but it is one of the hardest hair techniques to master. Finger waves are the ultimate classic style for short hair. It is timeless and a go-to staple for every naturalist.
To get this hairstyle as a beginner, you must begin by saturating your hair with water and a styling product. Comb through and start with a deep side part if you desire to have an asymmetrical design with strong, sculpted waves. It is, however, very important to note that the finger wave set must be completely dry to achieve a hundred percent dryness, you will need to sit under a hood dryer for at least an hour.
5. Short Pixie Cut for Natural Hair
Here's a simple but stunning pixie cut, which most black women can rock the best! If you have an oval, square, diamond, or heart-shaped face with thick or thin hair. Getting this look is quite simple, especially when you have your hair moisturizer and a few essential oils. Get your side fades at your barber's shop. You could choose to keep your hair dark and natural or give yourself a more stunning look with a little gold tint.
Beginner Easy Natural Hairstyles for Short Hair
Sometimes not everyone becomes a short hair styling expert right off the bat. Starting out on a short hair journey can be tricky for several people, especially when it comes to styling. It also can be very 'committing' if all styles you ever come up with demand a lot of effort to get done.
Styling your natural locks shouldn't however be complex. Here are easy beginner short hair looks you can recreate at home, in little time, with almost zero fuss, and still step out looking and feeling great.
6. Very Short Undercut with Shaved Designs
This is a very short natural hairstyle for black ladies with about three to four inches of hair. To achieve the natural twist you will need a leave-in moisturizing lotion and a curl sponge. Feel free to add shaved lines to carry out an eye-catching finish for just a fade for a low-maintenance hairstyle.
7. Starter Locs
Who doesn't love starter locs? They're low maintenance, cute, and versatile. Starting your dreadlocks on shorter hair makes growing out full locks much easier later on. You can either create your locs with a brush or you can twist dreads with a comb.
Also known as "baby" starter stage of the loc process, it can last anywhere from three to six months, depending on your hair type and how fast it grows. Check out the video showcasing how you can begin to style starter locs.
8. No-Fuss Front Roll Short Natural hairstyle
There is a reason we termed this no fuss. If you want to give an otherwise average afro some edge, take a handful of your hair sectioned above the forehead, give it a light roll, and secure with pins, comb out the rest of your moisturized locks just once basically leave it undisturbed. Take a bit of your sideburn hair and give it a nice finger twist.
The 'messiness' of the look is what makes it chic. Almost any short hair length can be styled this way and it works best on a heart-shaped and oval face. Sometimes, a mildly round face may attempt this due to its high front roll.
Flaunt this style at parties, on a date, and everywhere else. Consider tinting the ends lightly with some warm brown hue.
9. Finger Twist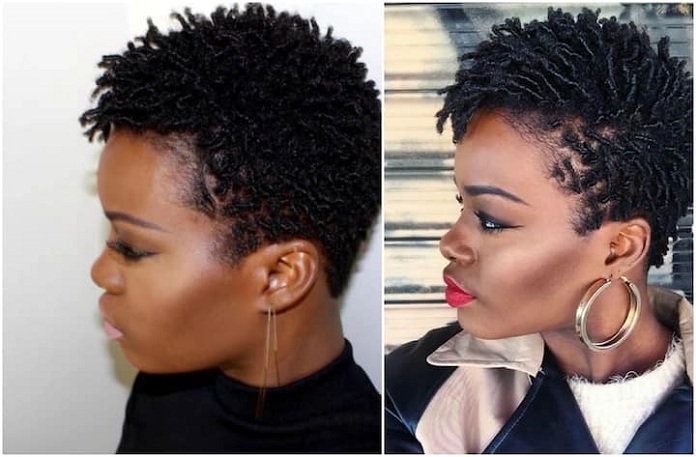 More like one strand twist, the finger coil twist is a perfect hairstyle you can try on your short hair as a beginner. It is easy and requires a few styling kits. As its name implies, a finger coil hairstyle basically needs your finger as a styling tool. You simply have to use your fingers to curl, twirl or coil your hair.
While this sounds quite simple, finger coils require patience as it requires using only your finger. Divide your hair into multiple sections and twirl them around your fingers to create these coils. A curl-enhancing cream or gel or a setting lotion will also help make your coils to last up to 2-3 weeks. Use a curl-refreshing spray to eliminate frizz and a hooded dryer to dry your hair quickly.
10. Straw Coil hairstyle
Imagine having such a beautiful hair rollout with just a staw! More like your finger coils, straw coils hairstyle is another trend most black ladies follow to become more appreciative of their African hair. The most important products for this hairstyle are the setting lotion and conditioner. These two will help determine the end result of your curls and how long they will last.
On a well-washed and conditioned hair, apply your setting lotion and with your picking comb, cut-outs a small section of your hair. Gently curl your hair around a well-cut straw almost the length of your hair. Once you've carefully curled your hair, allow the hair to dry properly using a dryer. So, if you choose bouncy, defined curls as your short natural hairstyle, go to your kitchen and grab some plastic straws.
Short Natural Curly Hairstyles
Curly short natural hairstyles are a beautiful sight to behold, especially when they're accentuated accordingly. If you want to make the most of your curly locks to flatter your face shape, think about chopping them.
Having naturally curly hair is still largely considered a blessing even when it is sometimes tiring to struggle with the curly structure of your hair on a daily basis, especially in wet weather. There are more convenient curly hairstyles that can save you lots of hair-related stress, and make you look your best. Check out the best curly short natural hairstyles for your short hair.
11. Ombre Curly Bob
This messy stack of curls is one of the most popular hairstyles for short curly hair. It has both small and big curls, giving you that stunning look. This one is an attention grabber and would make you stand out in the crowd. If you are looking for hairstyles for oval face shape, then this can be a good fit as well. Moreso, if you're the type who yearns for pops of color, you can always try a dip dye ombre for your ends.
12. Natural Curls with Side Crown Braids
Your naturally curly hair gives you every opportunity to look your best even with little or no effort. Give yourself a gorgeous look with a single cornrow braid just by the side of your well moisturized curly hair. This TWA short natural hairstyle fits just any hair color of your choice but to look dapper, you could give the tip of your short curl a blonde or golden brown touch.
13. Short Natural Kinky Curls
These one-length curls make for a classy, chic look that can go with just about facial type. To make the style extra special, brush the hair partly sideways or you can add some fancy pin if your hair is shorter.
14. Straw Curls with Undone Ends
For those preferring to stay away from braids, knots, or other more confined styles, staw curls are for you! The style has a flirty, enthusiastic vibe sure to brighten your mood.
15. Short Ringlet Curls
The ringlet hairstyle is another lovely one you can rock on your short natural hair, especially when you have curly hair. You can achieve this ringlet style with the use of small flexi rods. You can go ahead and give your hair its best look by applying some firm-hold hairspray of your choice.
If you choose to curl your hair with no heat, you can achieve a similar curl like the ringlet but you may not have a perfect curl as you see above. You can secure your mini ringlet curls by using scrunchies—not regular elastics—so you don't get that annoying dent in your hair. You can also get this style done with the use of straws but this might take longer to achieve.
Natural Short Afro Hairstyles
Afros have made authentic style statements over the years not just because more women are embracing natural hair but also because they have become creative and expressive.
With just the right care, afros are easy to maintain and anyone can rock them now without worrying about versatility. Like longer, fuller, natural afro, short natural afros can be styled in almost any way and still offer the wearer an elegant, modern, and chic appearance. If you adorn a short afro and are unsure of what short natural hairstyles to try it in, the following should inspire you towards an idea.
16. Afro hairdo – short natural hairstyles for black women
Sometimes you just need to comb your hair and be on your way and this can also be achieved with afro hair. This gorgeous short natural hairstyle is a perfect styling option for quickly fixing your hair in a simple but stylish fashion. This basic hairdo borrows from the classic pinup hairstyle in that you can also use a headscarf to give it a uniquely styled look.
Add some product for sheen and structure, but for the most part, this style is low-maintenance and high glamour. You can use accessories like earrings and hair clips to emphasize the beauty of the style.
17. Half Puff Afro
This natural chic hairdo is perfect if your hair length isn't enough to make a single neat puff. All you need is to keep your hair moisturized. Comb and section the hair equally from one ear to the other. Brush the first hair section sleek into the top. You can achieve that with a hair elastic band. Give the hair a complete look by sleeking hairline and sideburn with a styling gel. Wear this to any function and try it on if you have an oval or diamond-shaped face.
18. Short Natural Haircut Styled As Fauxhawk
Short natural hair doesn't set you any particular limitations. You can go sleek or frizzy, choose braiding or twists, make an updo or wear your cute coils loose.
If your hair length is not long enough to make even an afro puff, there are still creative ways to style your hair in a beautiful way. Pinning the sides with delicate combs or clips will give you a desired afro visual interest.
19. Natural frohawk hairstyle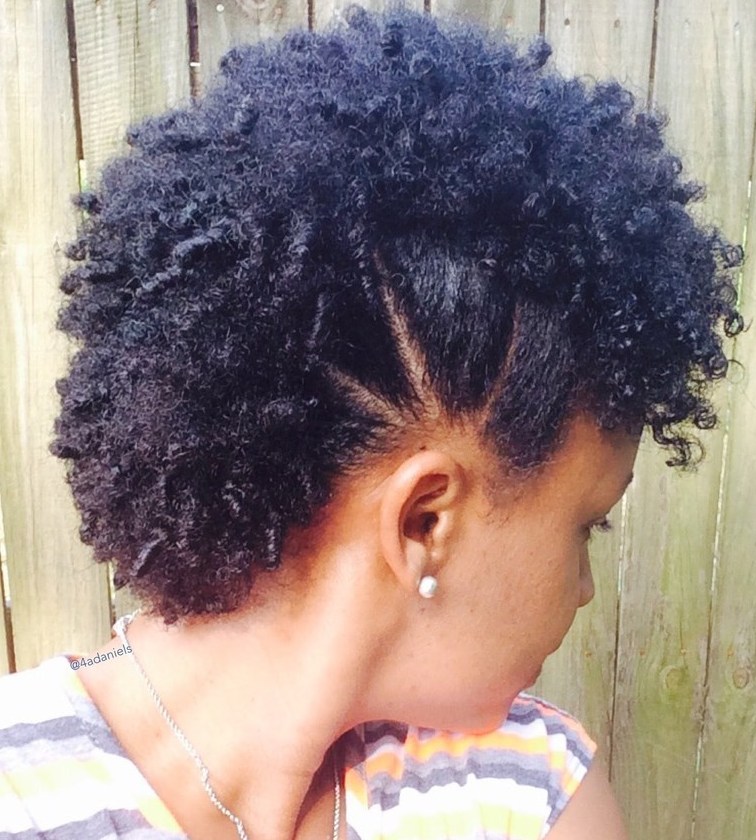 This carefree look exudes confidence and feminine appeal from the lengthy curls at the top to the shortened sides and back. The short natural curls look sexy when worn messy and draped over one side of the brow in a great natural forelock.
If your hair is too short to pull into a ponytail, pinning it into a mohawk at the middle of your head will allow you to get the best look then get it out of your face without trying to force it into a tiny bun or ponytail.
20. Kinky Curl Fro
You don't always need to bother about the next style to give your hair when you can just comb it out and move. Giving your hair a cool parting might be all you need to upgrade your look and still keep your hair natural. To ensure that your afro hairstyle stays in place, set your hair with a flexible-hold hairspray. use big a big comb to make combing easier and achieve that fluffy look and you are good to go.
Tapered Natural Hairstyles For Short Gray Hair
Gray hair may make you feel like styling options are limited. But regardless of how old you are, you can't go wrong by making a lot of styles with your natural gray or silver hair. Tapered hair, like the Tweeny Weeny Afro, was originally associated with men's hairstyle, however, it's been successfully adopted in female hairstyling and given a feminine twist for a softer finish.
The feminine style usually consists of shorter sides and back, and a top with some height that can either be curled or straightened, that tapers off lightly or sharply towards the nape. They can be worn anywhere and to any occasion and can be manipulated to suit a variety of face shapes effortlessly. Tapered hair is also low maintenance, comfortable and convenient. Here are some mind-blowing styles you can rock on your beautiful gray hair.
21. Tappered Fade Haircut
Gray just keeps getting sexier and classy ladies, both young and old are embracing it. A leave-in conditioner, foam styler, and shine glosser are all you need to get this platinum hairstyle for your short hair. Tapered fade haircuts are perfect for women who want short hair that requires little to no maintenance. A fade is a variant of a tapered haircut where your hair at the middle is cut shorter and the sides are buzzed down.
22. Tapered Silver Natural Hair With Flattened Sideburns
This tapered look is all you need to look all-level chic. With your short natural silver hair, recreate this look almost effortlessly by leaving the top of your hair in tight defined curls with sideburns and some frontal hair brushed out straight and flattened to the scalp and temple.
The flattened fronts and sideburns give your hairstyle a soft feel and it fits all facial types –  oval, round, oblong, and heart/diamond face shape. Wear this to all social functions and to an office and relish the accompanying complements with ease.
23. Afro with Shaved Undercut
While some women would try to hide their gray hair, many others are rocking it with pride. Like every other afro hairstyle, you can rock this simple but chic hairstyle. Just visit your barber's shop to give your natural hair that shaved undercut. Whether straight or curly hair, you will need a good moisturizer to keep the hair shiny and well kept.
You can still achieve gray hair with artificial colors if you don't have it naturally. Just be sure to go for the best products to protect your hair from breakage.
24. Natural pixie haircut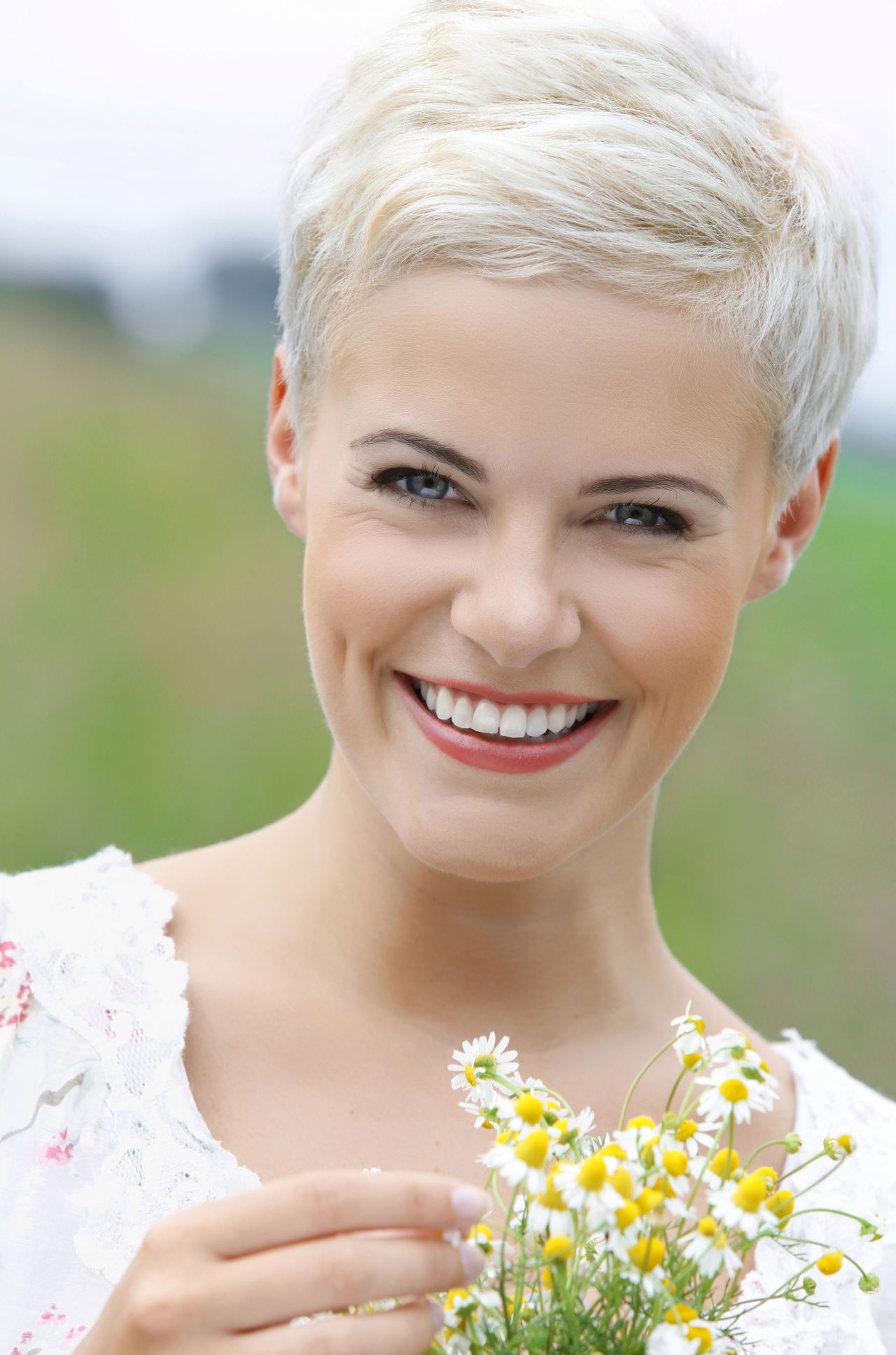 Give your pixie cut a fashionable twist by adding a glorious platinum blonde hue. Pixie can be fun to wear and there are many ways to personalize the style to suit your mood so why not play with the colors? The textured look features sexily tousled locks and a side-swept fringe that covers one side of the head. Depending on the shape of your face, your stylist will give your hair the right undercut that fits while the rest of the hair at the top is chopped asymmetrically to form a tussled look.
25. Short  Straight Asymmetrical Hairstyle
This is one of Rihanna's best hairstyles even though she preferably wears a darker hair color. In fact, in some places, she has the style named after her and many ladies are rocking it with pride. Notwithstanding your color preference, you can rock this hairstyle even with your beautiful silver or gray hair.
This concave bob cut features very sharp pieces falling towards the front, giving you a sleek and adorable feminine touch. The nature of this hairstyle draws easy attention and is best suitable for women with round, oval, heart, or diamond faces. Some of the necessary styling tools you will need are your moisturizer, wax, sculpture lotion, smoothing shine, hair spray, and blow dryer. The style is easy to get ready for any kind of event and place.