A quick weave is a great way to change your hairstyle whenever you want and can give you the short hairstyle you are looking for, or make short pixie cuts look voluminous. The best part is that you don't need to cut your hair short to get the look you want. They come in various styles such as short bob and curly hairstyles and are mostly suitable for blacks and African Americans.
Short quick weave hairstyles can be cut and styled just like natural hair. It doesn't matter if you are not well versed in styling, weave extensions that look natural can be a great way to have a new look without spending too much money on an expensive hairstyling routine. Think of your own hair as the canvas for a painting. The weave will serve as the tools and paint. Short quick weave hairstyles require less hair than the long version, therefore, short hair extensions can easily be added to create a unique and truly amazing look.
African American Short Quick Weave Hairstyles
Over the past two decades, different kinds of short quick weave hairstyle techniques have emerged among African-American women. Many of these styles were popularized by celebrities. The following are some African-American short quick weave hairstyles that will keep you classy and on the go:
1. Wavy Short Weave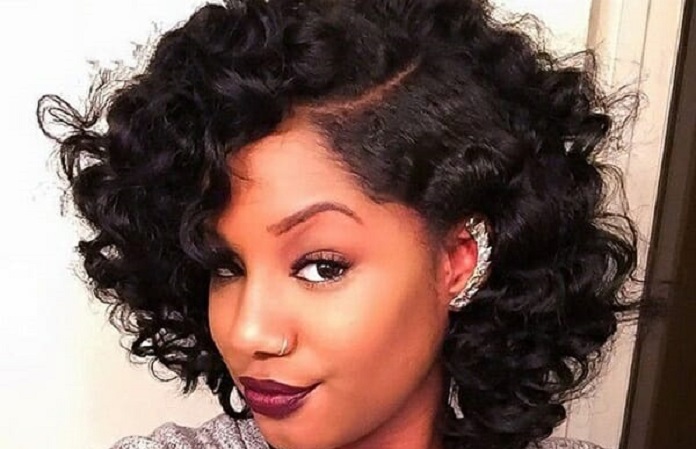 Nothing can give you more confidence than a simple yet stylish hairstyle. Weaves come in different styles and bob is one of the options that you need to look into. It is simple, easy, and can be styled with or without any hair accessories. A wavy short weave is perfect for women who want to maintain sophistication while still looking young and hip. The hair is perfect for any occasion and it is easy to style. One can go on any type of makeover depending on their choice and any matching accessories to stun in the hairstyle. All face shapes fit in perfectly in the hairstyle as it has a way of projecting face shapes.
2. Bob with Bangs
Bob is a popular haircut that is perfect for people with the oval and oblong face shape that wants a low-maintenance hairstyle and to embrace every aspect of modernity. If you want the trendiness but have short hair, visit a good stylist to give you this haircut. You can have the stylist leave it with bangs or have them cut the bangs in layers to make it messy. The hair is made with a few hair tools and doesn't need much to appear shiny daily. Studs and light makeovers with wild lip color help in giving one the great appearance they need with the hairstyle.
3. Short Black Round Curled Pixie
The weave is a perfect choice to spice up your hair. Even when you love short hair, a weave can spice it up, especially if you are over 40 and would like a style to suit you then maybe you should try this one. This is one of the best ways you can make sure that your hair stays protected. The simplicity and the cute factor of the hair make people who wear them look simple and classy. This style requires a good stylist to get it right. It is best for ladies with diamond and heart-shaped faces with high cheekbones. Bold, dangling earrings with any matching makeover and hair color give the best dazzling appearance with the style.
4. Curly Short Pixie Weave With A Feather Bang
The highlights of the fluffy bang create a unique and sweet look that is not common but elegant. The feathery bang often looks like a messy style of hair, but it's not messy. The style is short and easy to maintain, mainly because the pixie curls also appear messy. Since it goes to cover your eye, an introvert can hide behind this style. With the help of a good stylist and proper daily maintenance, it will give elegant and classy vibes and still keep you sitting pretty. The hair is perfect for an oval face as it helps to showcase one's attractive side and personality. Any type of accessories and makeover can go with it.
5. Backswept Feathers Weave
The weave on this hairstyle creates a very natural and soft look, but it also has some more style than a standard side-swept. Since the browns are close to each other in shade, it contrasts them to create the dips and swishes. The hair is easy to style, requires less maintainance, and is suitable for any occasion. All face shapes stuns in this style with the right accessories and matching makeovers. This is a trendy look that any advanced African-American woman can try on.
6. Pixie Weave With Buzzed Sides
There are moments when we like to try something new and the pixie weave with buzz sides is one to start with. The weave on the side can make your hair appear great even if your stylist isn't that good. The main idea behind this look is to preserve length while enhancing the sides using an auburn color. Be sure to consider this very well before you go ahead with it. Most African-American women take up this low-maintenance weave to maintain their sassy look while looking simple. Round, oval, and oblong faces appear bold in this hairstyle. It goes with makeovers and accessories of your choice.
7. Short Straight Bob Weave With Side Parting
If you have short hair and have always longed to have beautiful, straight hair, then this weave is the answer to your desire. It's simply a clip-on device that you can use to make your hair look like it has been ironed or heat styled. It requires the help of a good stylist to get the curves right. The major advantage of this weave is the fact that when you are wearing this bob, no one will be able to tell that it is not your natural strands.
The sleek straight hair with side parting is a trend that looks classic and elegant. You may use this style for different types of occasions and also for professional functions. If you are feeling bored by the black color, you can change it to a more exciting one. Make sure to wear makeovers with suds, dangling, or bold earrings to make jaws drop.
Short Bob Quick Weave Hairstyles
Short bob weave hairstyles have a way of giving one the classy and elegant vibes yet keeping you simple. It is best for all face shapes, depending on the style. Below are some inspiring and trending short quick weave hairstyles in bob shape. Feel free to try out any to gain the unique look that suits your personality.
8. Alternative Hues
A simple and fun sew-in, this style is a great way to add some brightness to your natural or colored weave hair extensions. Both the weft and the base are made of a resilient material that will keep this weave vibrant for many months to come. More experienced stylists can use their creativity and have fun with various hues in order to add even more vibrancy and color variation. The hair has a way of announcing one at parties and events because of the color mixtures. All face shapes can rock the hair with studs and good makeovers to add more flavor to the hairstyle.
9. Straight Bob Short Weave
Snug short bob weave is cut around the ears, front, and nape to reduce width and add volume on the sides. The center part is left loose toward the nape. Bangs are pulled back and off the face. This is great for ladies with round faces that wish to keep it simple, bossy, and classy. The hair needs the services of a good hairstylist to get the cuts well and is easy to maintain. The color mixture makes it fit for black and fair skin tones. You can go with a natural face look for the hair or with a light makeover and studs.
10. Wild Color Quick Short Bob
The weave hairstyle is a blend of different shades of colors on the simple layered bob-style haircut. The secret is, however, to make sure you chose the colors that blend well with your skin tone. If you are looking for an update, color is a good place to start. For those with similar coloring and looking for a less permanent option than a full head of highlights, colored tips work well. To wear them, part your hair down the center, starting from your forehead and working back. It is great on all face shapes with light makeovers and accessories of your choice.
11. Quick Short Layered Bob
This is a dressier, classic cut that suits oval, oblong, and round faces with low maintenance. It would work best in front of an audience, like at a round table meeting, or during an interview. This would also be useful in a very formal setting such as the red carpet at the Oscars. The short, layered hairstyle is easy to care for, and the bounce and volume add to the eye-catching appearance. When you opt for this cute style, you will be certain to receive many compliments if you go with makeovers and the right accessories.
The versatile style of side-swept bangs allows you to cover one side of your face, leaving the front hair to be free and stylish. This weave is specifically designed for face-framing to make it as natural as possible. It is easy to wear and take off. The European heat-resistant fiber makes it perfect for any season.
12. Short Faux Bob Weave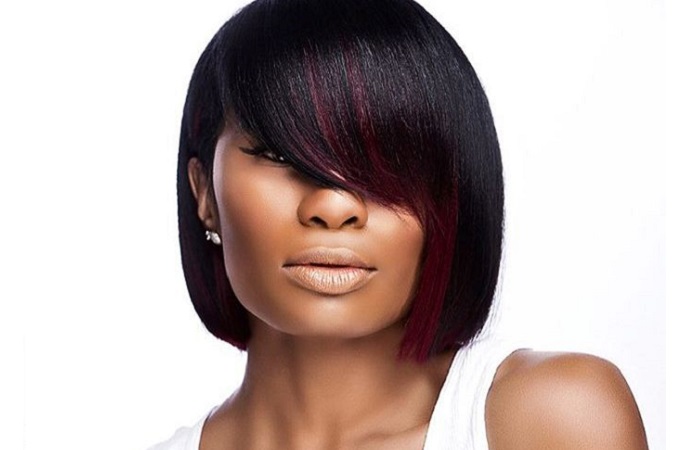 For any face shape that wishes to dazzle in a simple, classy, and bold hairstyle, the short faux bob weave is the best with a good color blend. The style is great and needs the services of a good hairstylist to get it done and keep you on the go. To maintain the hair is equally easy and can be done with good hair cream, brush, and stretcher. The faux bob hairstyle will stand out from the rest and allow you to turn heads wherever you go. The interesting part about this hairstyle is that it looks normal with black hair and will still look great with a weave, so it doesn't matter whether you create this look using your hair or choose to use a weave. A light or nude makeover fits perfectly on the hair with studs, bold or dangling earrings.
13. Short Stacked Bob Weave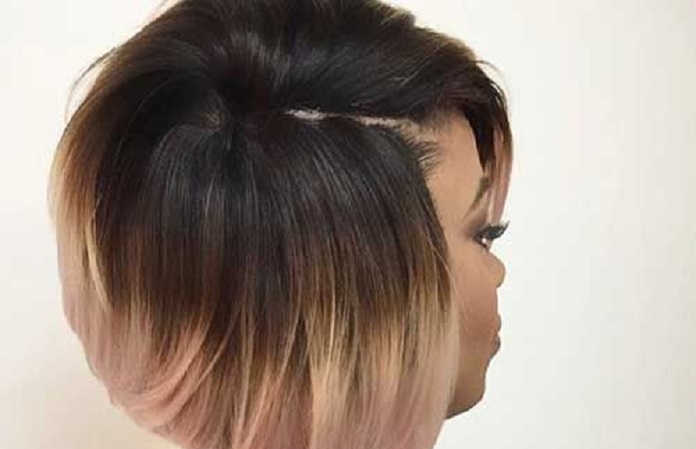 A stacked bob is currently one of the most popular hairstyles, thanks to celebrities and fashion bloggers who do not hesitate to appear in the hairstyle. This trend is fabulous as it provides two different colors for more style. What's also good about this style is that it gives an edgy and classy look to the wearer. The nape part of the hair is one of the most subtle but charming highlights of this particular hairstyle. It's a new twist created from Marcela's previous bob cut. This bob is also what makes it possible to minimize or maximize the volume of your hair. With the right hair color mixture that gives a perfect look with ones skin, the hair is best on light makeovers and studs.
14. Short Thick Wavy Bob Weave
The short thick wavy bob weave is one of the most trendy haircuts for black women today and defines any face shape. The best thing about this type of haircut is that you can make use of it for different occasions, since it comes in different variations, making it comfortable, as well as beautiful. This bob weave is ideal for giving fine hair a fuller appearance because it draws focus to the top layers of your hair. The layers should be about an inch long as it has a way of adding height to a person. Layering creates the illusion that the hair is thick and healthy. You can layer with straight or wavy strands to make your hair appear even fuller. Light makeovers with any accessories of your choice come in handy with the hair.
Black Short Quick Weave Hairstyles
Choosing a hairstyle that suits your taste and personality is important. Black is a color that gives boldness and can fit any facial look. With the following gallery of black short quick weave hairstyles as a guide, choose one that will bring you your desired look:
15. Black Weave With Bangs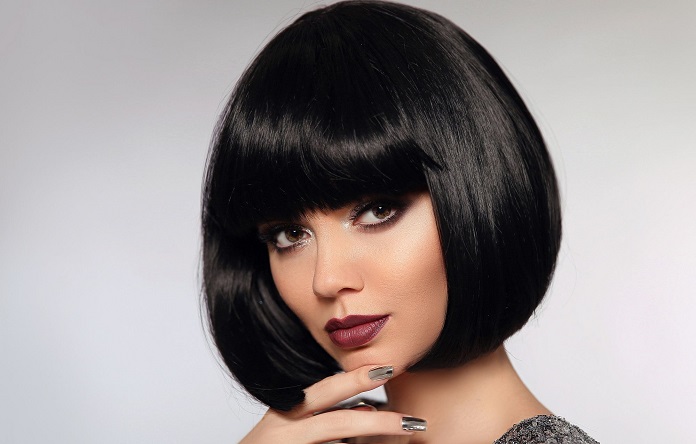 The black weave with bangs is a classic and strict cut that is always in demand. The hairstyle reveals beautiful waves, a high volume, and a natural shine. If you don't want something complicated, this will be your choice of hairstyle for sure. The black color is perfect for all skin tones. The bangs define a chubby oval, round, and oblong face shape, making it slimmer. With the help of a good stylist, you can wear the hair perfectly for a long time because of its low maintenance cost. A soothing makeover with studs makes anyone rocking the hairstyle dazzle and classy.
16. Black Asymmetrical Bob
The color black is timeless and is the perfect starting shade for just about any weave, especially if you're looking to switch up your hair color. The dark hue will pair perfectly with lighter extensions and won't draw too much attention to itself. It's a pretty common color among weaves and isn't too vibrant. The hair requires lots of maintenance to keep it straight, smooth, and glossy. With the perfect makeover and accessories, it makes all face shapes appear bold.
17. Layered Bob
Keep your hair looking neat and easy-to-manage with this classy look. Short crops like this are great for short quick weave hairstyles, because they maintain the professional polish you need, without sacrificing that laid-back ease you're after. With just a few strands of hair, you can create an effortless style for easier mornings. It keeps all face shapes pretty with makeovers, bold, or dangling earrings.
18. Layered Shoulder-Length Weave
This style can also be layered at the front and brushed back for a whimsical finish. The front is textured with weave, creating a loose curl that adds volume and texture to the hair. This texture is then brushed back with a little product to enhance the movement and shape. The hair helps in adding height to anyone wearing it and needs daily maintenance to keep it smooth and shiny. You can rock the hair on a natural face or makeover with studs, and dangling earrings.
19. Straight And Curly Combination
The straight and curly combination hairstyles for women help you achieve a variety of looks that's more flattering than a pixie cut because they work with your strong features. This one is all about the face-framing curls and long straight sideburns. The wisps around the ears keep this style modern, fresh, and give all face shapes the bossy vibes. Light or nude makeovers with any accessories brings out the sassy look on any wearer.
20. Short Black Bob Weave
This is a popular method used to add length, thickness, and even natural-looking highlights to the hair. The technique works especially well on those who have damaged or unruly locks, as the weave can be worked seamlessly into the natural hair for a polished look. The razored ends can go wrong if the stylist is not good. It has low maintenance and is best for diamond and square shapes. You can add more glamour to the hair with heavy or light makeovers, studs and dangling earrings.
21. Black Short Weave Tousled Layers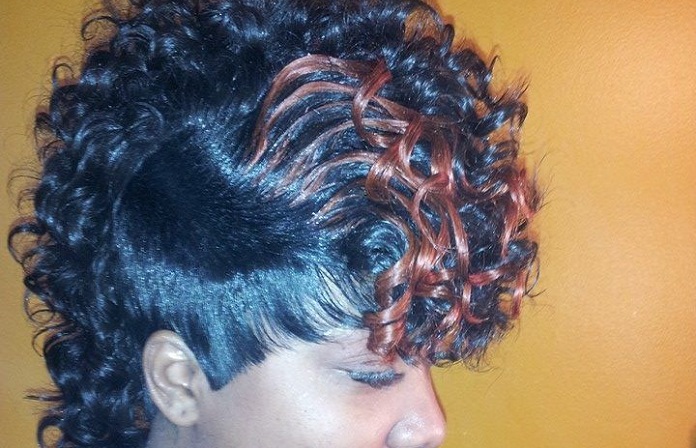 If you're looking out to shake up your look, try this new hairstyle that's got serious girth. Worn on the side with a deep part and crown-like waves, this hair features lots of layers. It needs the assistance of a good stylist to get the edges, layers, and curves. Good hair cream and gel are needed to make the hair shine and maintain the curls. Pair it with chunky accessories and bolder makeup than you would normally wear in order to finish the look.
22. Black Concave Bob Weave
Women look beautiful and mysterious with the black concave bob weave. The tone looks great on black women, giving them a bright and bold look. With a length sitting on the neck, the bob fabulously shapes the face and can be styled to an updo as the case may be. The hair requires steady maintenance with the right hairbrush and cream. It looks great on all face shapes with a matching makeover and accessories of your choice.
Short Curly Quick Weave Hairstyles
The great thing about short weaves is that they don't require a lot of maintenance, and they're relatively affordable. Many women choose to have weaves as a way to make sure they never go too long between hair appointments. With some effort and creativity, you can easily flatter a short weave hairstyle with products of your choice.
Whether you are looking for a bold new look or a quick and affordable way to add some length and volume to your hair, short weaves are a perfect choice. Since they are quicker to style and require fewer products and styling steps, short weaves are also ideal for those who lead busy lives. Here are some beautiful short curly quick weave hairstyles that will give you the best look:
23. Curly Top Short Quick Weave Hairstyles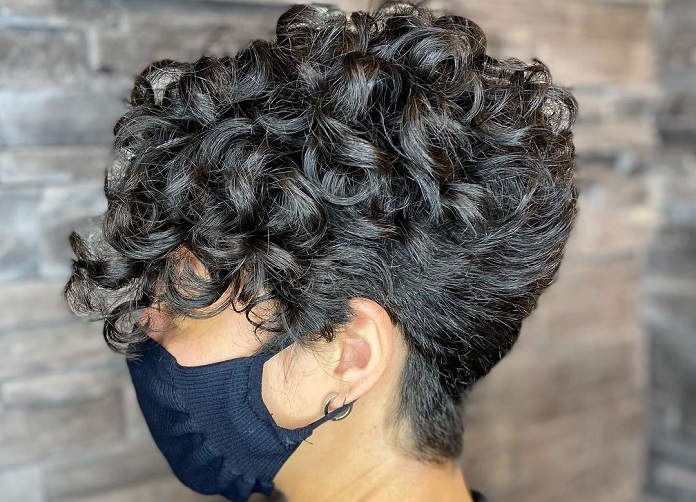 If you want to add a new flair to your look, this short quick weave hairstyle from any expert stylist salon is exactly what you need. Chunky waves are created all over the head, creating that beachy look that every woman wants to recreate. You can go on two-toned colors to add just the right amount of contrast, giving you a head full of sexy locks. The look is perfect for any occasion, whether you're just lounging and drinking wine with friends or going out on the town with your man. You can spice it up with makeovers and cool accessories.
24. Cinnamon Short Weave
A sexy short hair weave style will get you more than second looks, it will be eye-catching and stand out in the crowd. This flame-like hairstyle with a perfect weave bob is the way to go if you want to make a statement. The gorgeous look creates long layers with tight curls, leaving you feminine by day and ready for a gig by night. To keep the hair looking good all day, use hair cream to maintain the shiny look and curl cream to keep up with the curls. Heavy makeovers with bold and dangling earrings are a perfect fit for the hair.
25. Cherry Red Ringlets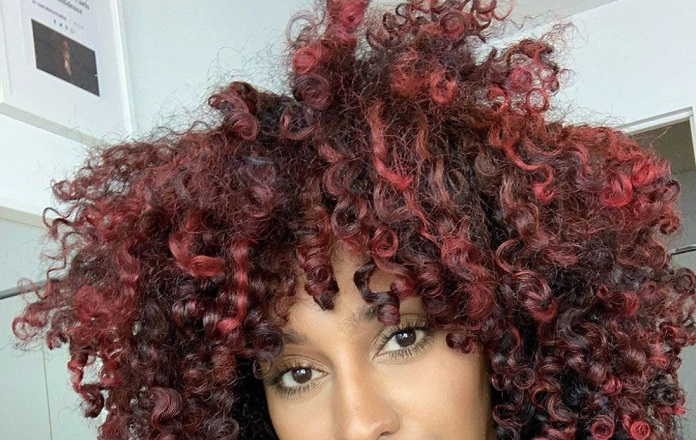 With its bright red hue, this curly volume is sure to catch attention. Weave the longer pieces of hair through medium-sized foam flex rods before going to bed each night, and remove the rods in the morning for a simple wave. The silkier your strands, the better the result, so apply a hair mask treatment every week. You can go with a light or no makeover with the hair. Studs are perfect for rocking the hairstyle.
26. Short Weave With Highlights
Edge up short weaves with platinum blonde highlights. The high-contrast colors look especially cool against jet black curly hair, and you can easily add in cut-through layers at the same time to create a full, well-defined style that gives you enough height to play around with some messy waves or curls on top. The hairstyle looks good on all face shapes and can be worn for any occasion. Light makeovers and studs give a sophisticated and sassy look to anyone on the hairstyle.
27. Electric Curl Weave
Whether you are headed to a red carpet gala or a date with a darling, there is no room for error when you have decided to make such an impact with such a bold color. Not only will you be in the spotlight because of your daring choice, but your gorgeous curls deserve all of the attention that they can get. Be extra careful when styling your hair into this look, the more voluminous, the better. Ensure to keep the curls rolling with a good fit in spray or gel. Light, heavy or nude makeover with studs goes well with the style, depending on the color of the weave.
28. Emerald Curls
Weave cuts offer a fun alternative to your standard shortcut, but with the same reliable performance. These jewel-toned coils bring out the best in any color while adding extra height to any style. Though it looks simple, it requires lots of care to keep the curls. The hair can come in other colors and is great for all face shapes. It goes well on any makeover and accessories of your choice.
29. Layered Weave with Bright Highlights
When it comes to hairstyles, most women consider tonal highlights as the safest option to style. On the other hand, leaving your locks natural or solely accenting the hue of your backdrop is somewhat similar on the coloring spectrum. It is easy to maintain as far as the right hair accessories are available. It can go with any makeover and accessories of your choice.
30. Cropped Weave With Curls
In order to define the curls of the weave and give it an almost silken quality, light blonde highlights are placed in the braids. These light tones also create the illusion of added sheen and help make the weave look like natural hair. The free-flowing texture looks carefree and perfectly complements the soft body of this style. To keep stunning with the hair, maintain the curls and rock with makeovers and accessories.
FAQs About Short Quick Weave Hairstyles
What Is Hair Weave?
A hair weave is more like a hair extension method that demands that hair wefts be sewn into braided hair. It is a popular practice, and great when done correctly. A hair weave will look like you have twice as much hair as you naturally do. One will not be wrong to classify a hair weave into artificial hair for women.
What Is The Difference Between Weave and Wig?
Most people tend to refer to these two hairstyles as if they are the same. The fact remains that they are quite different hairstyles. They take a very different method. But they both appear to be under the artificial hairstyle. The weave is a hairstyle that has a procedure that demands the braiding of the natural hair first before fixing the artificial hair on the braided trail in order to give the required style. The weave is styled on the hair. In order to create short quick weave hairstyles, this tends to be the perfect option.
Wig goes with a very different pattern that involve a customized hairstyle that fits one's face. It is done by sewing the hair wefts into a wig cap in order to have a complete wig hair fitting.
Steps For Installation of Short Quick Weave Hairstyles
Get your natural hair prepared before making use of a protective style. This helps you to protect your hair.
Blow-dry your hair after conditioning.
Braid the natural hair or smooth it down.
Wear a wig cap and ensure that no part of your hair is out of the wig cap. This will ensure that no part of your natural hair is affected by the glue in case you are to make use of glue.
Start with a strand of hair that's as wide as your natural hairline, wrap it around your head to the nape of your neck, and tuck in the end. Then continue cutting along the same line until you have about a half-inch of your own hair showing at the nape.
Try not to get the glue too close to your scalp. Using a hair bonder, attach the weft sections by applying a thin layer of glue. Blow-dry the area after gluing.
Place the weft onto the wig cap at the nape of your neck, avoiding your skin. Thread the weft through and around the adjustable tabs of the cap.
Use even tension as you go, making sure to keep all loose wefts up and off your body. Secure the weft using a wig comb to avoid cutting or breaking it.
Make use of any style you want.
Best Way To Maintain Short Quick Weave Hairstyles
Covering your weave with a silk scarf or satin bonnet while you sleep helps reduce hair tangling and matting. If you have a curly weave, use rollers or pin on the hair.
You can oil-rub your quick weave, but be careful when applying oil-based products. Rubbing too much will loosen the glue in weaves and tracks, causing them to slip out.
Quick weaves can be taken out relatively easily by applying oil and an oil-based conditioner on the hair, leaving it in for a few minutes. The oil will cause the glue bonds to loosen