Taper fade haircut is a classic, cool, and clean-cut for men where the hair is trimmed down from the top to the sides, with the hair progressively shortening towards the sides until it fades out into the skin and a smooth finish.
Taper fade haircuts have become increasingly popular in recent years. They are versatile, edgy, and timeless, so they never go out of style. There are many ways to fade your hair for a stylish finish and some of the variations include Low fade, high fade, mid fade, curly fade, bald fade, skin fade, afro fade, and curly fade.
These days, most men want a high-impact style that's still really easy to get. Thankfully, taper fade haircuts smoothly blend hair length with smooth faded sides, making them perfect for the modern guy who wants a stylish but low-maintenance hairstyle. Here, we will focus on the most creative taper fade haircuts you will ever see.
Low Taper Fade Haircut
The low taper fade haircut is one of the most popular and trendy haircuts for men. This cut is short and stylish on the sides and back but leaves some length on top so you can style it any way you like. The low fade features a gradual cut from top to bottom, with a sharp taper at the nape of your neck.
The clipper steps determine the size of the low taper fade haircuts. The taper fade sides are lowered with clipper steps four and five to moderate the haircut.
1. Slick Back Taper Fade
A slicked-back haircut is ideal for those with long faces because it can elongate the shape of the skull. This type of haircut is also great for clients who want to look more professional and mature. When rocking a slick-back haircut, many people go for full hair coverage on the sides and back of the head. This style is most popular among those with straight hair.
A lot of people like to wear these types of cuts because they're simple and easy to maintain and are practically foolproof. The slick back taper is a classic look that involves a long side part, followed by short hair on the sides and back of the head. This makes the hair very easy to manage and cut with precision but still gives some length up top.
2. Man Bun Taper Fade
The man bun taper fade is one of the taper fade haircuts that gives a classic look. It's a hairstyle that doesn't take any more effort than combing your hair over and tying it up, but it looks nice enough for you to wear it to a business meeting. The key to achieving the look is to style your hair to have the volume on top and tapered toward the back of your head. In addition, it would be best to ask your barber for some light fading on the sides, which will bring out your jawline and make you look more masculine.
This hairstyle is best paired with a sleek beard or clean-shaven look. If you are a person with thick hair, we advise you to consider using a leave-in conditioner to keep your hair manageable. This style looks great with both formal and casual clothing, but you should take care not to overdo it with large accessories or flashy clothing—a simple t-shirt and pair of jeans will do just fine.
3. Crop Taper Fade
The best way to style a crop top taper fade is with a fresh undercut and slick, slicked-back hair. This is one of the taper fade haircuts that gives one a trendy look fit for all events. For those who aren't sure how to get this ultra-chic hairstyle, go to your local barbershop and ask for an undercut with a high and tight on top and a fade on the sides.
Multiple face shapes can rock a crop top taper fade, but it's best suited to those with a strong jawline. The cut is simple, but the right product and styling will add serious style points.
4. Taper Fade Curly Hair
If you have naturally curly hair and like it getting shorter on the sides, the curly taper fade is the hairstyle for you. The cut features short hair on the back and sides that gradually tapers from short to shorter, pulling attention to your curls and making them the main focus of your look. If a classic but modern style is what you are after, this might be right up your alley. Feel free to rock it with different beard options for more contrast.
5. Taper Fade Afro with Twist
The taper fade afro with a twist is another great hairstyle that you can sport. In this hairstyle, the base of your hair is left thick, but it fades to nothing as it reaches the sides and back. The longer twists on top have also emphasized this hairstyle. Make yours genuinely personal by customizing the color on one side.
However, you can go for bright rainbow highlights or more subtle with a two-tone color application. The best way to rock them is by keeping them simple with funky jewelry for a bolder look. Afro-twists will fit anyone who wants an easy-to-manage hairstyle that can be worn anywhere.
6. Short Low Taper Fade Cut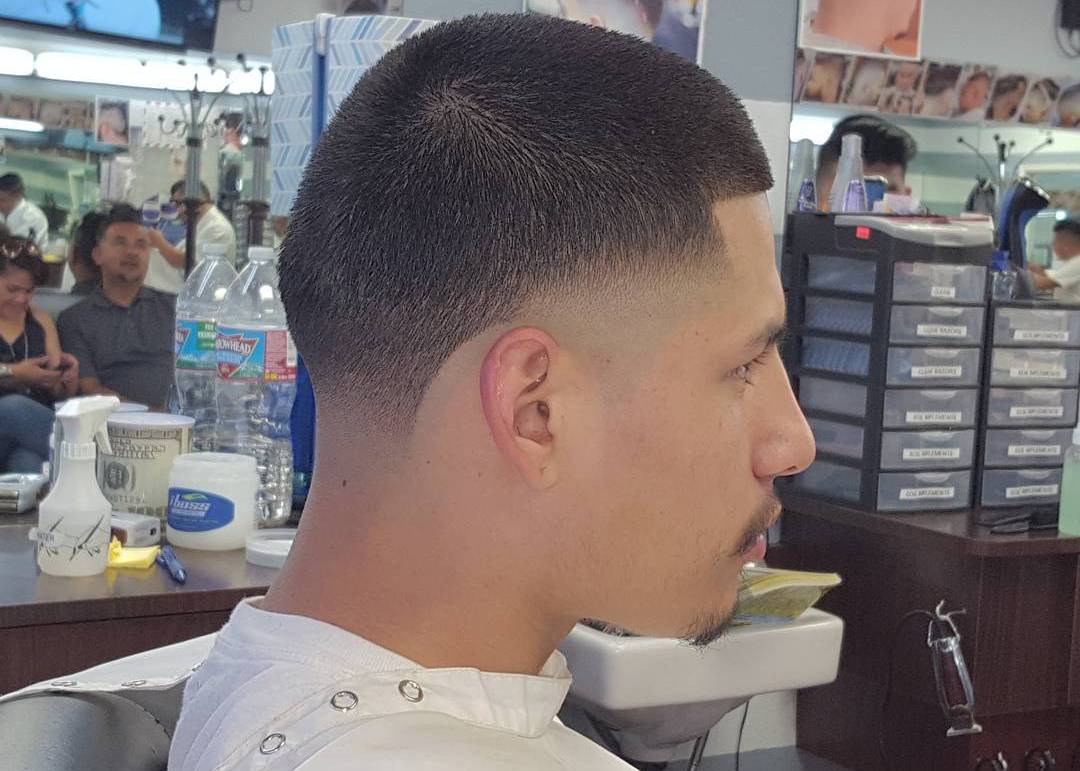 Short, low taper fade cuts can make even the most basic haircut look trendy. Here, we see that the haircut is short and neat on the top. The taper starts on the sides and ends close to the hairline in a bald skin fade. We also see that the back of the head has been given a slight taper to make the outline clear.
The hairstyle is perfect for official purposes, and it is the kind of hairstyle that makes you look smart and young irrespective of your age. It is best rocked with neatly shaved beards for a young face.
7. Taper Fade Comb Over Haircut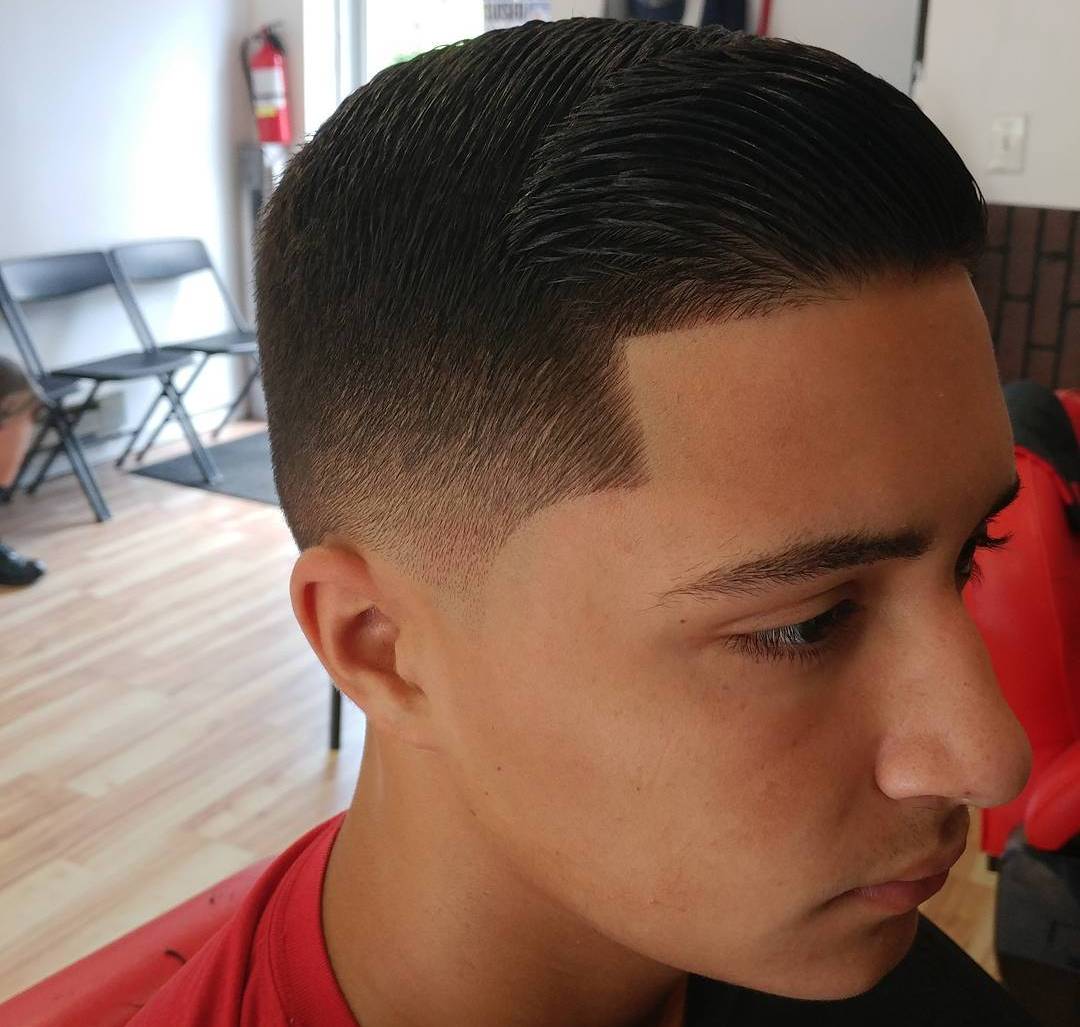 This edgy hairstyle is medium length and the top is combed over to one side of the hair with a precise fade down the back and sides. The sharp razor fade gradually tapers as it edges towards the hairline with fine consistency before finally fading out into skin at the edge of the hairline. You could allow comb outlines for added design.
This is one of the taper fade haircuts that look great on men who have oval faces. Men with round faces might want to avoid this style but it is still great on them.
8. Taper Fade Afro
The taper fade afro is a haircut whose hair length gradually decreases from top to bottom. It is commonly used on African American men. The cut can be styled in many ways, including box braids, cornrows, dreadlocks, etc.
The hairstyle can fit men who are physique conscious and want a hairstyle that will make them look big. This haircut is common to black men who want to show off their natural hair.
9. Blowout Afro Taper Fade
The blowout afro taper fade is a haircut with a round, voluminous base that transitions into a tapered fade at the neckline. This style is a natural evolution from the blowout afro, which uses twists and kinks to create volume while minimizing the head's hair. Blowout afro tapers are great for people who want to show off their natural curl pattern while simultaneously adding height and dimension to their existing hairstyle.
This hairstyle is pretty standard, so it's not too hard to find an expert who can help you make it happen. The best way to rock a blowout afro taper fade is by dressing up in a simple suit or shirt and tie. It's a good choice if you're going out on a date or need something formal for work.
10. Nappy Afro Taper Fade
The nappy afro taper fade is a classic hairstyle that will fit anyone with hair on their head. This hairstyle will work for anyone with an oval or round face shape. It will emphasize your features, drawing attention to your cheekbones and jawline.
The best way to rock them is by going to a professional barber or stylist and having them give you the look you want. If you don't have time for that, you can do it yourself by getting the right tools for the job (which include clippers, combs, shears, and scissors).
11. Drop Taper Fade Haircut
The drop taper fade haircut can be styled in a number of ways. The most common way to style the drop taper fade is to slick it back or wear it over for a more casual look. The drop taper fade haircut is a combination of the taper and drops fade hairstyles. It best fits men with angular faces, but it will also fit round and oblong faces.
To style this haircut, all you need to do is apply some matt pomade or clay to your hair, rub it in between your hands so that it gets a bit warm, and then apply it to your hair. Once you have spread the product evenly throughout your hair, use a comb to style the small waves of your hair towards the front of your head. You can also use a bit of hairspray if you want to keep the hairstyle fixed in place. Finally, to make sure no stray hairs are sticking out around your face, use a small brush to sweep them into place gently.
12. Mullet Taper fade
The mullet taper fade is a hairstyle that features the classic mullet cut—shorter in the front and longer in the back—with a taper on each side of the head, leading to a long and tapered part. The mullet taper fade will look good on most men with medium to thick hair types and who want a hairstyle that gives them more volume at the back.
This hairstyle has a high probability of fitting into almost any situation you could find yourself in. It's also low-maintenance, making it the perfect option for any young man who has no time for haircare but still wants to look great. It is common in the working class, and they're especially popular with people who work outdoors in America.
Mid Taper Fade Haircut
The mid taper fade haircuts are the best hairstyle you can rock on any occasion. We have varieties of men's hairstyles for you to choose from, with different levels and lengths. This haircut is categorized as level 3 low taper fade because it has a high hair density at the top, and it gets slower as you move down to the neck area. It becomes skin close at the nape area.
It's a good idea to begin by thinking about what level of length your taper fade will have. Level 2 is when the hair is approximately 1/8 inch long, and level 3 is when it's 1/4 inch long. Depending on your taste, both levels are equally appropriate for a mid-taper fade haircut. However, if you're searching for something closer to a low or high fade, then you'll want to opt for either Level 1 (1/16 inch) or level 4 (1/2 inch).
13. Taper Fade Braid haircut
The taper fade braid haircut is a hairstyle that has become increasingly popular over the last few years, especially among men in the fashion industry. It can be adapted to fit every face shape, including oval, heart-shaped, oblong, square.
The primary look of the haircut is achieved with a razor fade at the sides and back of the head. Then the hair on top of the head is pulled up into a high ponytail and braided. This creates an elegant look that gives off the appearance of long natural hair growing out of short hair. The straight and curly hair can be used together to achieve this look, though straight hair makes it appear more natural.
14. Taper Fade With Dreads
A taper fade with dreads is a hairstyle that includes medium-length hair on top, a shorter cut on the sides, and long, textured, twisted dreadlocks on the back. This combination of length and texture adds interest to the front of your face while keeping the back short enough to be professional. They are common among those in the music industry, Rastafarians, and people who value their natural beauty.
You can rock this hairstyle in two ways: in an up-do or down. Up-dos are fabulous if you're going out somewhere fancy or somewhere where you need to look very put-together. In any other scenario, you can make do with the normal down way.
15. Taper Fade With Waves
This trendy look features a one-length taper on the sides, gradually becoming longer as it approaches the top of the head. The hair is then topped off with some carefully placed waves, giving the style a carefree and natural appearance, making it a perfect hair for both formal and informal settings.
To achieve this hairstyle, begin by parting your hair in the center and straightening it out with a flat iron. Next, cut your hair using a number two clipper with an adjustable blade attachment. Then take a small section of hair from the part and twist it around into a loose coil. Finish by adding a little bit of mousse or gel when your hair is still damp to give your locks some shine while keeping them soft and easy to handle throughout the day.
16. Skin Fade Taper Haircut
It's a layered hairstyle that combines a skin fade into a taper, which gives it its unique style. With this haircut, your hair will be short on the sides and long on top, and the fade starts at about your cheekbones. You can rock a skin fade taper any way you want: keep your hair natural or add some product for some texture; put in some long dreads or keep it clean-cut; go for braids or keep it simple, the possibilities are endless.
This hairstyle is excellent for almost everyone, it is not too long but not too short, making it versatile and easy to manage. In addition, the taper adds an edgy touch to your style, so it's perfect if you want to make an impression while still looking professional.
17. Curly Taper Fade Haircut
The best way to rock this hairstyle is to brush your hair and use some gel or pomade to hold the hair to achieve your desired look. We recommend using a 2-inch curling iron to achieve this look at home. After blow-drying your hair with a round brush, use small sections of hair to curl them in alternating directions away from your face. For example: on the left side of your head, curl toward the back; on the right side, curl toward the front.
18. Parted Taper Fade Haircut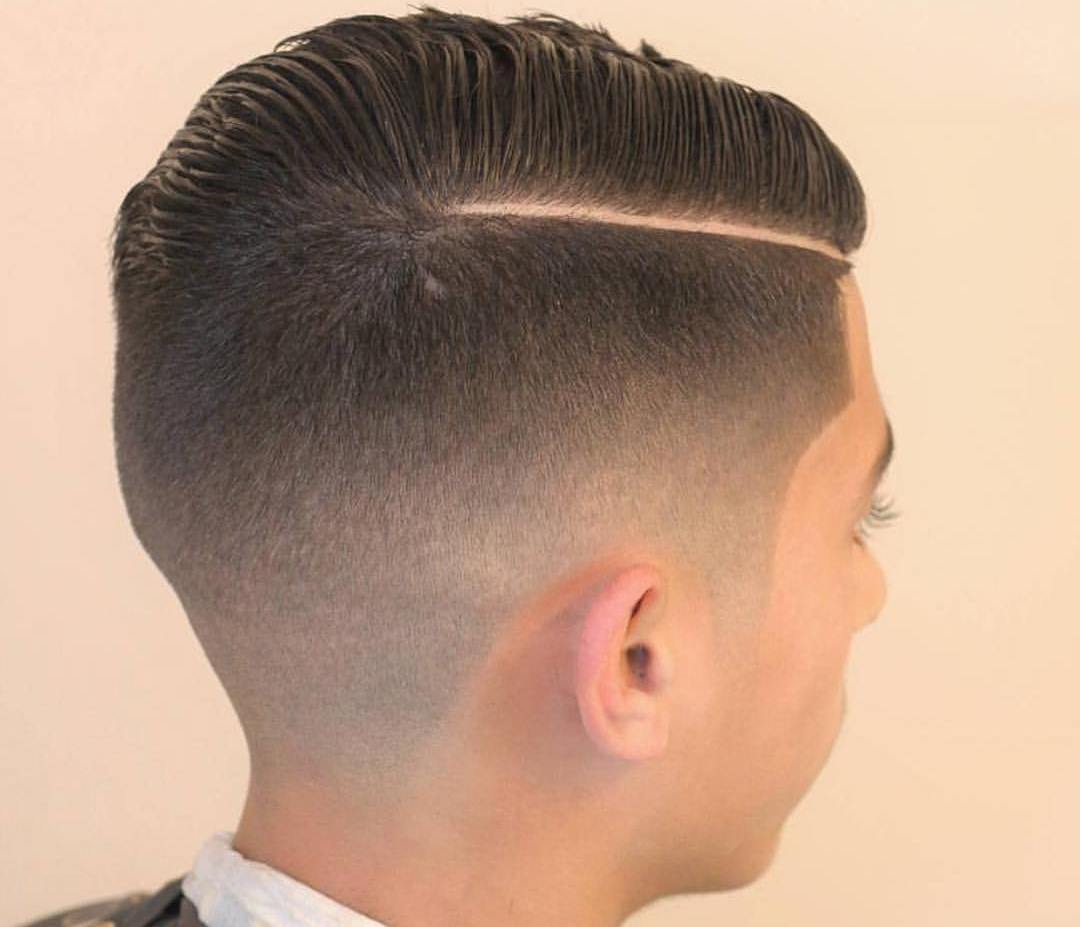 This is one of the taper fade haircuts that is classic for guys who have short hair on the sides but a longer top. Although hair that's short on the sides and back with a longer top has been trendy for a long time, there are many different ways you can wear this look.
One of the most popular versions of the style is the parted taper fade. Also referred to as a part cut with a taper, it involves cutting your hair so that you can part your hair and blend it into medium length on the sides with a fade. The hairstyle works with any hair type, including straight, curly, or wavy.
Start by asking for a short taper fade haircut with a medium length on top to get this look. Once your barber gives you the taper, they will then cut your top so you can part it to either side. Since they're cutting medium length on top, you can style your hair in many different ways by combing it over or slicking it back with pomade.
19. Classic Side Swept Taper Fade Haircuts
Longer hair looks even better when given a slight fade towards the edges. Furthermore, you can still style the hair on the crown in whatever fashion and top it off with a sleek fade on the sides. This hairstyle features elements of the classic side-swept hairstyle at the top with a razor fade at the sides that tapers nicely into the sideburns and rugged beard. The razor fade is also applied to the back for a nice, uniform look.
20. Low Taper Fade with Beard Disconnect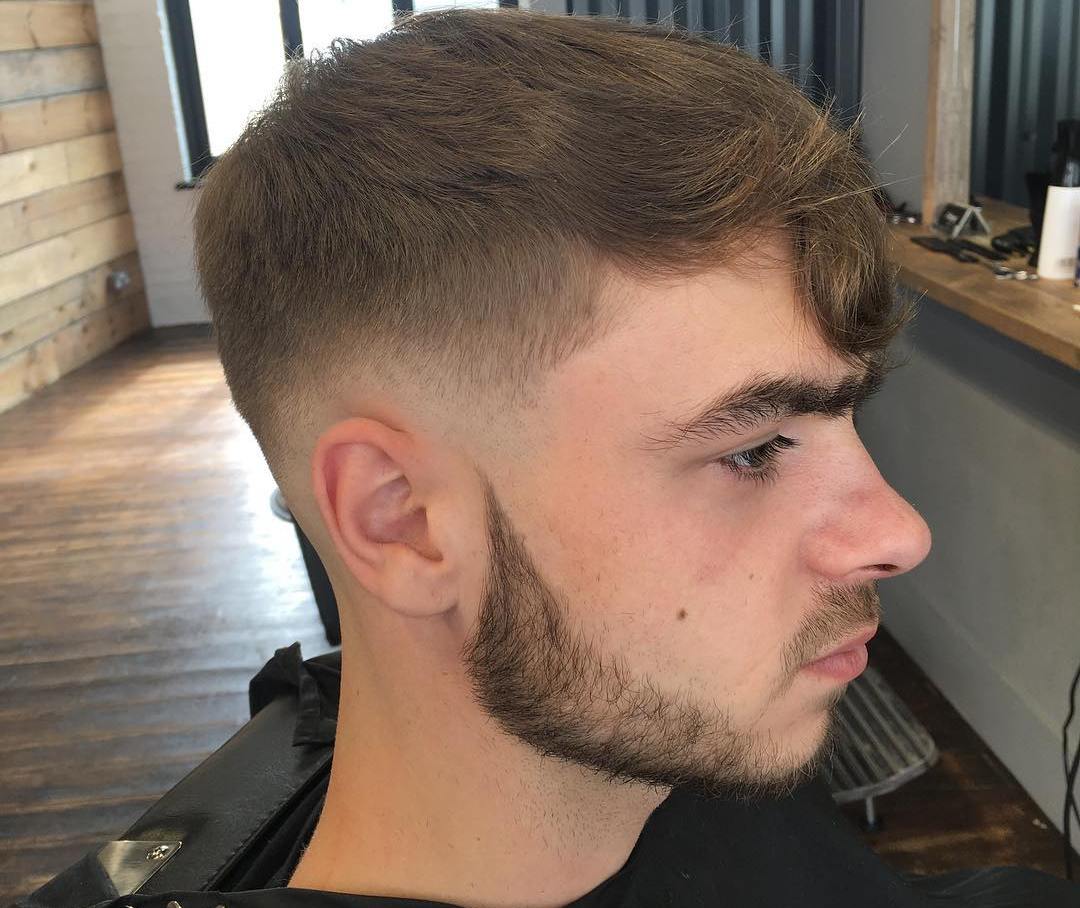 There is nothing like a good contrast to really make a haircut pop. This edgy fade uses a disconnect to enhance the extent of the taper down the sides. The full-haired top is thick and wavy, with the taper starting at the sides and fading into the skin about an inch from the ear. The bald fade leaves the sideburn and beard looking distinct and separate, making them unique.
21. Classic Slicked Back Hairstyle with Low Fade
A gentleman's favorite. This hairstyle features a well-slicked-back top that brings out the dapper in any look. Add to that a low hairline fade that is just enough to outline the sleek hairstyle, and it becomes one sharp look. The classic slicked back hairstyle with low fade is a cut that's perfect for men who can grow their hair long enough to slick it back and don't mind the commitment of a high maintenance style.
22. Curly Top Taper Fade Haircuts
Whether you are one of the lucky few with naturally curly hair or you've had to have a little tweaking done to get that look, a curly top looks sharper when accentuated with a nice fade. This tangled mess of black curls looks very prominent because of the sharp razor fade down the sides. The look's appeal is how the messy hair on top contrasts with the disciplined fade down the sides towards the groomed sideburns and beard.
It is a sizzling look once you can pull it off nicely. The best way to wear this style, some recommend applying a small amount of gel while your hair is still damp to give it a little extra shine. The hair looks good with square or round faces, although any man can rock them.
23. Taper Fade Mohawk
This is one of the taper fade haircuts with tapers at the sides leading into longer hair on top that ends in a point or a taper fade Mohawk. You can also get this style as an undercut with hair on top that follows the same pattern: long in the middle and gradually getting shorter toward each side. This is an excellent look for guys who don't want to fuss too much about their hair but still want something eye-catching and a bit rebellious.
You should rock your taper fade Mohawk whether you're going to work or just hanging out with friends. It looks different from other hairstyles because you can wear it short enough to be more versatile than other cuts; you can change up the style depending on the occasion because it's super easy to maintain.
24. Messy Taper Fade Haircut
If you have a round face and some thick wavy hair, then we've got the hairstyle for you. The messy taper fade haircut is an undercut with long bangs that help to balance out your face's proportions and make your cheeks look fuller.
The great thing about this hairstyle is it looks good when you get your hair up and messy, then cut it into a tapered fade. It can be styled in several ways: straight, curly, slicked back, or even in a topknot. It looks best on people with thick hair; if yours is thin, you might want to stick to something else.
High Taper Fade Haircut
In high taper fade haircuts, the hair is cut very short near the top of the head and gets longer as it goes down. This style is also known as a high skin fade haircut or a soft shadow fade haircut because it is usually right around the level where you can see the scalp.
High taper fade haircuts have a shorter length and shorter sides for an overall cleaner look with high contrast between the top and sides. A high taper fade can be achieved using a clipper with the guard set of about step 1 or 2 to lower the sides.
25. Taper Fade For Long Hair
The taper fade for long hair is a type of haircut that keeps the hair long on top but has the sides and back tapered down to a skin fade. In this haircut, the hair progressively gets shorter as it goes down the head until it blends in with the skin. It made a good fit for long faces and rocked with sports attire.
The bald taper fade hair cut is excellent for any facial structure, making it even better for people with different faces. This is because it will fit any face without worrying about it looking out of place.
26. Mexican Taper Fade
A skin fade cut, which shaves the sides of the head or neckline and leaves low-cut hair on top, is a popular style in Mexico and has been dubbed the 'Edgar' or 'Mexican Caesar.' If you want a short, low-maintenance look that is modern and masculine, try a buzz cut with a low skin fade. To give your cut some dimension, your barber can provide you a burr, rather than a whole buzz, cut. Plus, your barber can adapt the style to work with your face shape and hide any bumps or scars on the hair.
27. Bald Taper Fade Hair Cut
Some barbers will use clippers to taper the hair down to the scalp for a skin-close or bald fade. However, full bald fades require a straight razor to give the fading process a clean edge. The top of the hair can take any shape you want. The main focus is on the tapered faded sides, which must take a skin cut effect. It can also be rocked with any outfit that suits your look.
To get the bald taper fade haircut, you'll need to go to your local barber and ask them for a haircut. The barber will tell you what kind of face you have and give you some tips on styling your hair. Once you're finished, you'll be ready to rock the look.
28. Vintage Slick Back with High Taper Fade
The vintage slick back hairstyle is perfect for a heart-shaped face that loves the classic look. They're also best suited for a professional environment, where people count on you to look good and be in charge. You can wear these styles at home or work and maybe even on a date, but we recommend getting them cut by someone who knows what they're doing.
The hair on the top is carefully styled in the classic comb-over slick-back design. The fade starts high, nearly at the crown, and comes down heavily towards the temple, ending in a skin fade. The taper is the same towards the back, culminating in a gradual skin fade at the hairline.
29. Highlighted Locks with Taper Fade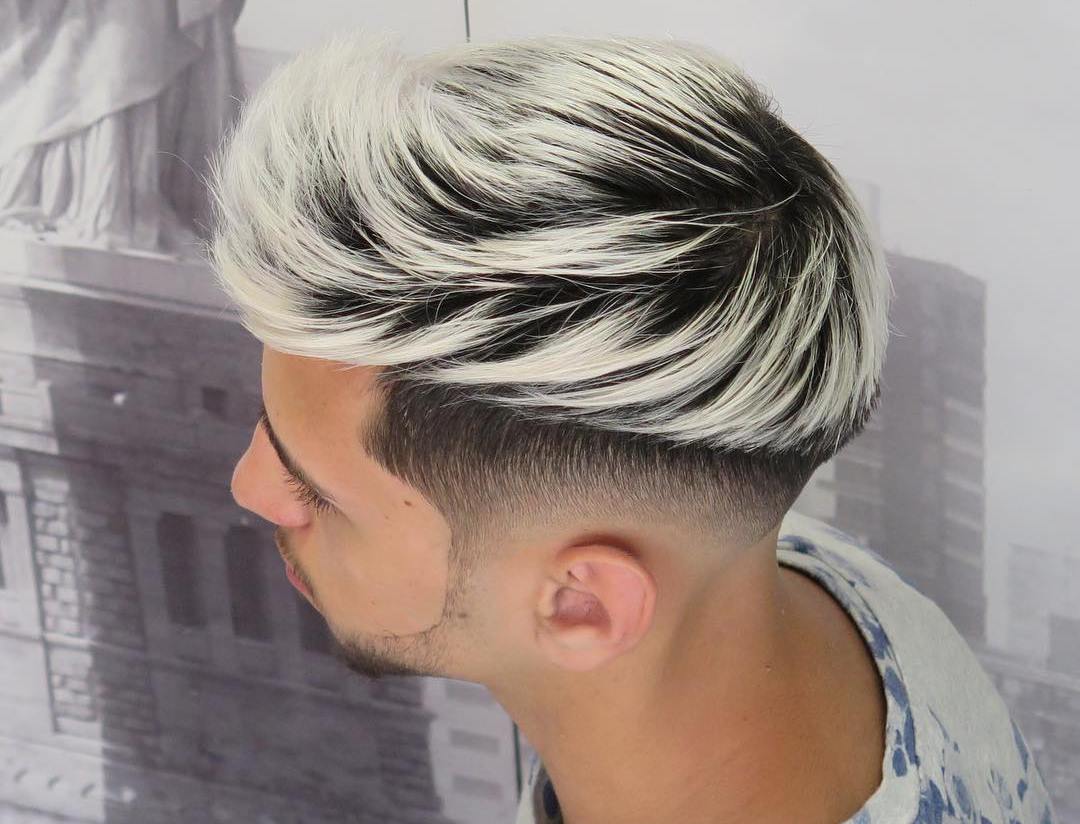 People with a round face should try the highlighted locks with taper fade haircuts. This cut has been popular for years and looks great on most faces. It's simple to maintain and suits most hair types. Tapered sides on a thick-haired crown make the head shapelier and also accentuate the hairstyle you have on top.
This flashy hair on the top fades down in a sleek razor tape up down the sides and into the sideburns and groomed beard.
30. Low Cut with Side Parting Taper Fade
The low-cut with side parting taper fade is a perfect choice for guys who want to wear their hair short without looking too casual. This style will suit men with thick or thin hair. The hair on top is expected to be short enough to form a side part but not so short that it exposes your scalp. The hair length should be maintained through regular trims every 4-6 weeks.
The best way to rock this style is with some light texture cream and a bit of hair spray or gel, depending on your hair type. It looks very simple on the wearer.
31. Rugged Men's Taper Fade Haircut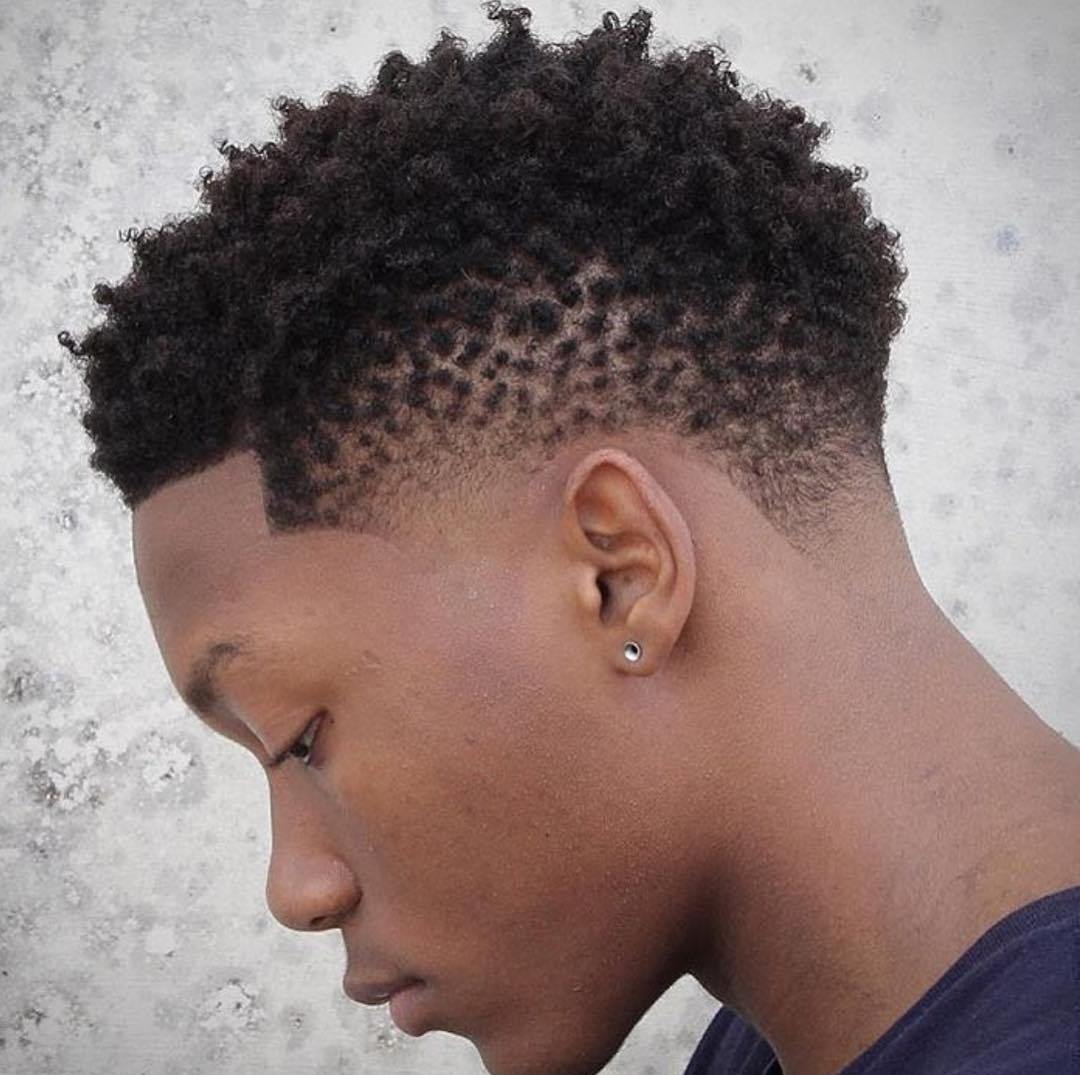 The rugged man's taper fade haircut is for the rugged man. It goes well with a face on the chunkier side, and it's pretty standard, so you're sure to run into it every once in a while. The best way to rock this style is with a nice beard. You can get this hairstyle by going to your barber and asking for it by name.
If you have a face on the chunkier side and want to be the kind of rugged dude who has the rugged men's taper fade haircut, this cut is right up your alley.
32. Spiky High Top with High Taper Fade
This classic cut is worn by celebrities such as Skrillex and Leonardo DiCaprio. The high hairline in the front and the high fade on the sides make this style a head-turner. The top can be slicked back or worn forward; either way, it will have others looking at you from across the room. It's also common on African American men with natural hair, who prefer to wear their hair in its natural state.
This hairstyle is perfect for oval faces and those who have a round face shape but want to appear more angular. Because this hairstyle adds height, it also works well for those who have a long forehead.
33. Taper Fade With Design
These are classic hairstyles that anyone can wear. The design is something you put in yourself. But usually, the best way to rock this hairstyle depends on the client who decides what type of design they want (e.g., tiger stripes, butterfly wings, etc.). Because they are so classic and common, they can be worn in any setting. They start at the nape of the neck and gradually get longer towards the forehead until they reach a full fade.
The hairstyle fits any face shape, but attention should be paid to the client's design to achieve a good look.
34. Undercut Taper Fade
Undercut taper fades are popular because they go well with almost every face shape, especially round faces. The critical piece to this cut is the transition between the longer top and the gradually tapering sides and back. So it's no surprise that they're also common—they're easy to style, look good in all kinds of weather, and work for most casual or formal occasions.
You can rock this haircut on any face shape—it's versatile enough for all of you out there. The only challenge is picking a length and style. You can rock this cut long or short, slicked back or loose, messy or clean—the options are endless.
35. All Around Taper Fade Haircut
All-around taper fades are a type of fade cut that is very common. They fit most faces and can be worn in many different ways. The best way to rock this haircut is with the rest of your hair styled the same way. They are perfect for guys looking to make a style statement, but they will also work on anyone with thick hair.
However, the best way to wear this style is with corporate dressing, if possible with a nice Italian suit. It will help the hair project your smart look.
Commonly Asked Questions About Taper Fade Haircut
What Is A Taper Fade?
A taper fade has a great way of adding character and flair to your overall look, with a minimal amount of upkeep. The top of the hair will retain its length and volume, while the sides and back are blended shorter until "faded" into the scalp. A taper fade haircut can be achieved through a series of different hair clippers, and because it is a very "low maintenance" cut, many men like the clean, squared-off look.
To better understand what taper fade is, we decided to split the two words to provide a better answer to the above question. First, note that taper on its own is a haircut style; likewise, fade is also a haircut style of its own.
What is a Fade Haircut?
It is a haircut in which the sides and back are shaved down to the skin, almost giving the appearance of being bald and then blended higher up on the side of the head. The hair is long on the top but fades out as you move towards the back of the head.
What is a Taper Haircut?
A tapered haircut is a classic men's hairstyle where the hair on the sides and back remains intact, but the length of the hair decreases in an orderly manner as one looks down towards the scalp. The hair at the top of the man's head is often longer than the sides and back hairs, down to a predetermined line of hair (hairline).
What Does a Taper Fade Haircut Look Like?
The taper fade, also known as a skin fade, is a style where the hair grows longer on top and gradually becomes shorter as it goes down. The hair becomes shorter until it blends into the scalp. A taper fade looks sharp and neat without any messy or unsightly edges.
How To Ask For a Taper Fade at The Saloon?
Use these tips and tricks to make sure your hair looks exactly how you want it. When you go to the salon, it's essential to know precisely what you want your stylist to do. When you're hoping for a particular cut or style, make sure your stylist has a clear idea of what you want.
Men's styles are often easier to mess up if your barber doesn't understand what you're talking about, so this post will focus on making sure you get the perfect cut every time.
How Long Does A Taper Fade Last?
A taper fade can last as long as you want it. It just depends on how fast your hair grows and how often you get a haircut. For example, if you go to the barber every week and your hair grows pretty quickly, you might be able to go for about two weeks without having to get a haircut. Likewise, if you go to the barber every month and your hair grows pretty slowly, you may only be able to go for about a week before getting a haircut.