Teen boy haircuts are a collection of trendy haircuts specifically styled to appeal to teenagers and they include hairstyles for short, long, straight, and curly hair. Before deciding which one suits you best, you need to take care of a few things, including the type of face you have, if the hairstyle will go well on your face shape, and the dressing that matches this particular style. This is important as the latest hairstyles don't only develop a new trend but also bring an alteration in your personality.
Popular Teen Boy Haircuts
The popular teen boy haircuts include different hairstyles that suit distinct face shapes. Enjoy these options for your next visit to the barber's shop.
1. Layered Faux Hawk Teen Boy Haircuts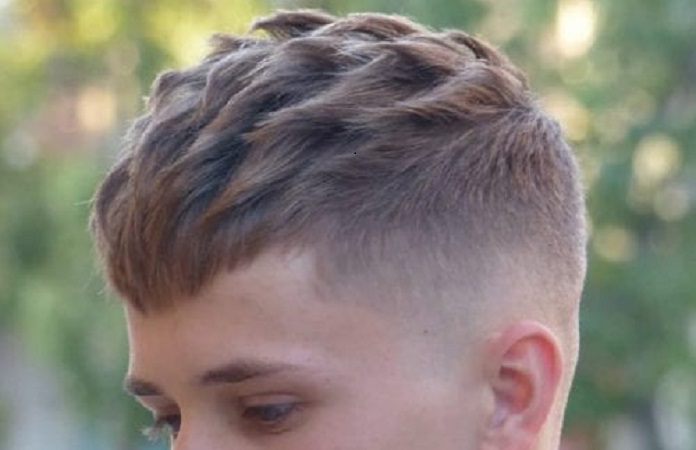 This is the perfect style for a round face. The style will help elongate your face and make it look slimmer. The sides are cut short but with a slight fade. The top is layered and styled into a faux hawk to add height to the head. You can also add some highlights to your hair for a stylish look. This is an excellent choice for boys who want to stand out from the crowd, as it is edgy and very easy to manage.
It is one of the teen boy hairstyles that fit most face shapes but will look best on round, square, and diamond-shaped faces. If you are a teen with a long face, you may need to grow out the sides and back even more, so it doesn't make your face look longer.
2. Undercut Teen Boy Haircuts

Undercut teen boy haircuts are stylish, can be styled up or down, and allow you to show off your personality. This cut suits most face shapes and works with any hair type. It is an excellent choice if you want low maintenance that will take little time to syle.
If you're looking for something more dramatic, try pairing your undercut with a buzzcut on top. This look will fit best if your head shape isn't too round because it can make your face appear overly full.
3. Ivy League Teen Boy Haircuts

The ivy league teen boy haircut is a stylish haircut that has been around for over a decade. It is very easy to style, and you can be sure that you will always look presentable with it. You will need to part your hair on one side and trim the sides and back short to get this look. You should then comb the top section of your hair forward and trim it evenly to give it a sleek look. You can also include some layers if you like.
When choosing this haircut, make sure that it fits your facial shape and structure to look great on you. For example, if you have a round face, this haircut will work well for you.
4. Traditional Brush Cut Haircuts for Teens

Having the right haircut can make you feel more confident and comfortable, especially for traditional brush-cut haircuts for teens. If you have an oval face, then this hairstyle is perfect because it covers all areas without being too long or short.
The styling of this haircut is easy as it takes less time. The first step is to use a blow dryer with a comb attachment to blow dry the top part of your hair and then use a beard trimmer to cut off excess hair till you achieve your desired length. After that, please switch off the blow-dryer and use the comb attachment to comb your hair back, and then use styling glue or gel to hold it in place.
5. Short Spiky Teen Boy Haircuts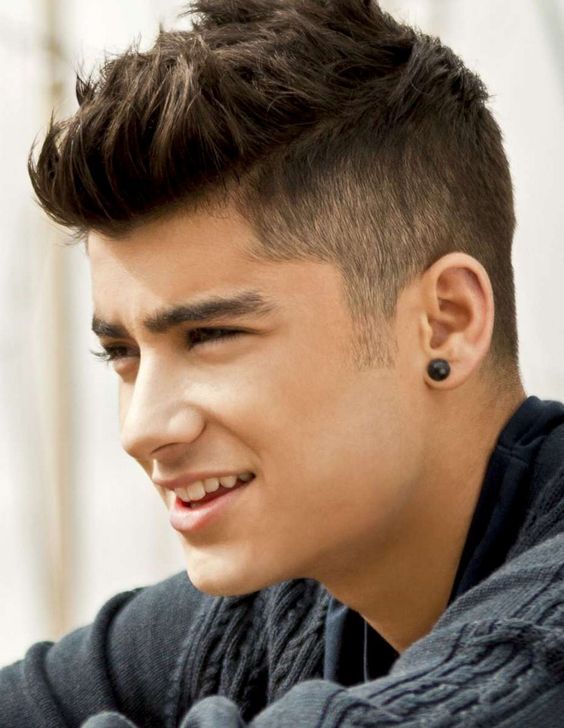 This is a unique haircut that most teen boys with round faces can wear. This cut features a top that is layered and sides with a fades haircut. To give the hair a spiky look, add some product to the top and spike it slightly upwards to get this look. You can style this haircut with any dressing code, including casual and formal outfits.
6. Soft Taper Teen Boy Haircuts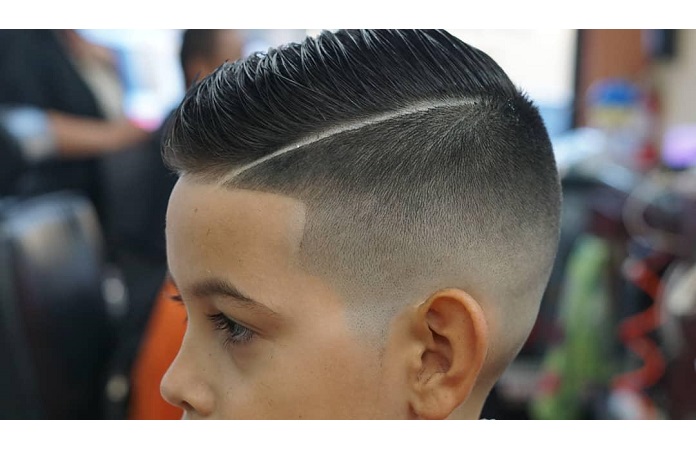 The soft taper teen boy haircuts will look better on a person with an oval face. The hairstyle perfects thinning hair and makes the head appear less bulky and more slender. The term 'taper' refers to the gradual transition from hair that is longer to hair that is shorter. Here, the sides are cut short gradually, and so are the top and front parts of the head.
The soft taper teen boy haircut can be rocked with any dressing, from casual wear to formal wear.
7. Mohawk – Teen Boy Haircuts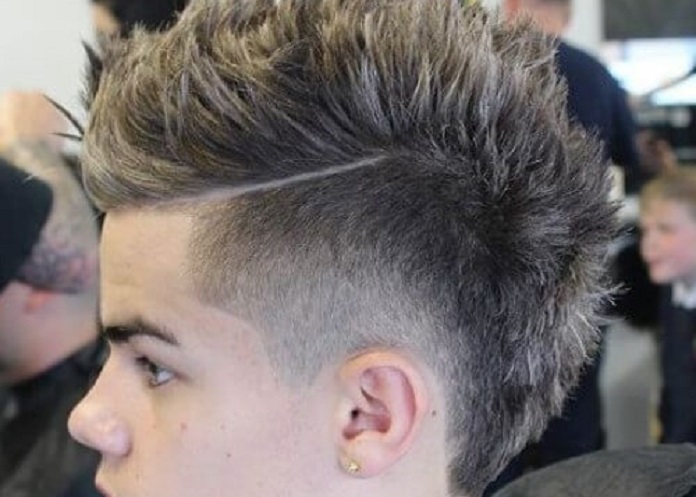 Teen boy hairstyles are usually a reflection of their personality. They want to make a statement with their hair, and the mohawk can be just the way to do it. It is a bold hairstyle that makes a statement. It does not matter your face shape; this mohawk will fit. The cool thing about it is that it can be styled with short or long hair. So, if you have short hair, you can get it styled into spikes, or if you are the type with long hair, you can style it into different patterns.
If you will rock this hairstyle, then make sure you know how to take care of your hair properly. If you don't treat your hair properly, it will thin out and become damaged over time. You should constantly wash your hair every day, use good shampoo and conditioner, and use heat protectant sprays when styling it with heat tools like curlers or flat irons.
8. Cool Boys Pompadour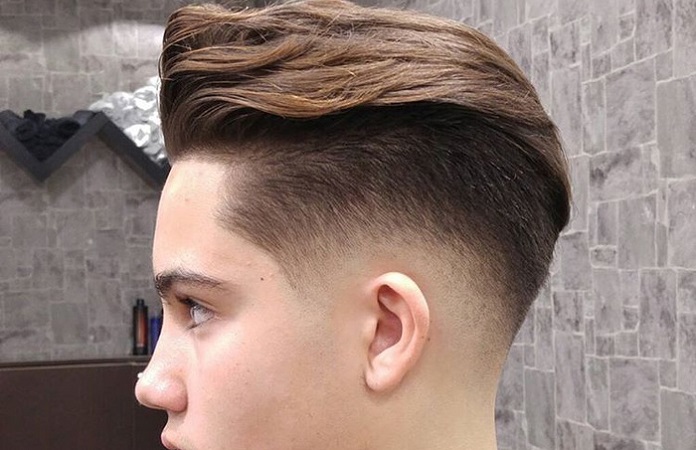 The cool boys' pompadour is a hairstyle perfect for people with heart-shaped faces. This hairstyle will give a fuller effect to your face. This hairstyle is very easy to style. Using the right hair products will make it even easier. First, get your hair wet and apply a generous amount of pomade. Next, comb the hair backward, then use your fingers to lift the hair at the front. Once you are satisfied with your look, use some hairspray.
To rock this hairstyle, wear anything that makes you feel confident and comfortable. For example, you can wear jeans and a t-shirt or a suit for formal events. You can rock this hairstyle on many occasions, be it casual or formal.
Short Haircuts For Teen Boys
Short haircuts for teen boys are the simplest hairstyles. These are some styles you might want to consider for your next haircut while paying attention to your face shape.
9. Side Combed Lowcut
The side combed lowcut is a cute hairstyle that's great for all occasions. It will fit any face shape and has many different styling options, so you can make it your own. To style the hair, comb your hair to one side and part it by the side. Your haircut will last 3 to 5 weeks before you need to get it cut again.
This is one of the teen boy haircuts that can be rocked with any outfit and style you like. We especially love it with a t-shirt and jeans.
10. Half Shaved Curly Pompadour
The haircut is ideal for long faces, making them appear moderate. You should use a holding gel to keep the hair in place and use a moisturizing product if you have frizzy hair. Once you have achieved the desired look, you can use hairspray to keep it in place. When rocking this hairstyle, you can wear any dress code, but it is best paired with semi-formal outfits such as jeans and a t-shirt or a button-down shirt with chinos.
11. Low Taper Fade With Curly Punk
Low tapered fade with curly punk is an excellent choice for anyone who wants to look hip, cool, and stylish. It gives you the "James Dean" appeal full of swag and attitude. You can get this haircut to work or school and be sure to get plenty of compliments. Likewise, if you want something different from anything else out there, then this may be the style for you.
Use a curl-enhancing gel in your clean, wet hair to style this look. Let it air dry until it's about half dry, then scrunch your hair with a blow dryer to enhance your curls. The result will look natural and have volume.
12. Skin Fade Haircut
This is one of the teen boy hairstyles that men can rock with any face shape as it comes in many variations. However, it is best suited for people with thin faces. The haircut can be dressed up or down depending on the occasion. Some outfits that can go well with this hairstyle include jeans and a t-shirt, polo shirts and khaki shorts, and other casual wear options.
It is important to use the proper dressing when you rock this look. In addition, a good outfit will help your hair look stylish and healthy.
13. Brown Taper Fade With Punk
The brown taper fade with punk hairstyle is a super-short style for boys with a nice hair texture. The sides and back are cut short with the top looking longer. Then, the hair on top is styled to go forward, and the ends are chopped off to look like spikes.
To make sure this style fits you, you need to have a round face. You will look good if you have curly or wavy hair. This hairstyle will not fit those with a square or oval face.
14. Curly Low Haircut
If you have been looking for an easy haircut to maintain, the low curly haircut is your best option. They are easy to style and can fit people with any face shape. It is an excellent choice for teen boys who want to keep their hair low without appearing too old-fashioned.
It is simple to style and care for. You only need to apply a heat protectant to damp hair, then blow-dry it straight with a flat paddle brush. After drying your hair, apply a dime-sized amount of styling cream starting at the roots and working it to the ends. Then blow-dry your hair again with a paddle brush while pulling it smooth and straight. Although you can style this look with a curling iron, we recommend using a flat iron for the best results.
15. Thick Wavy Hair Haircut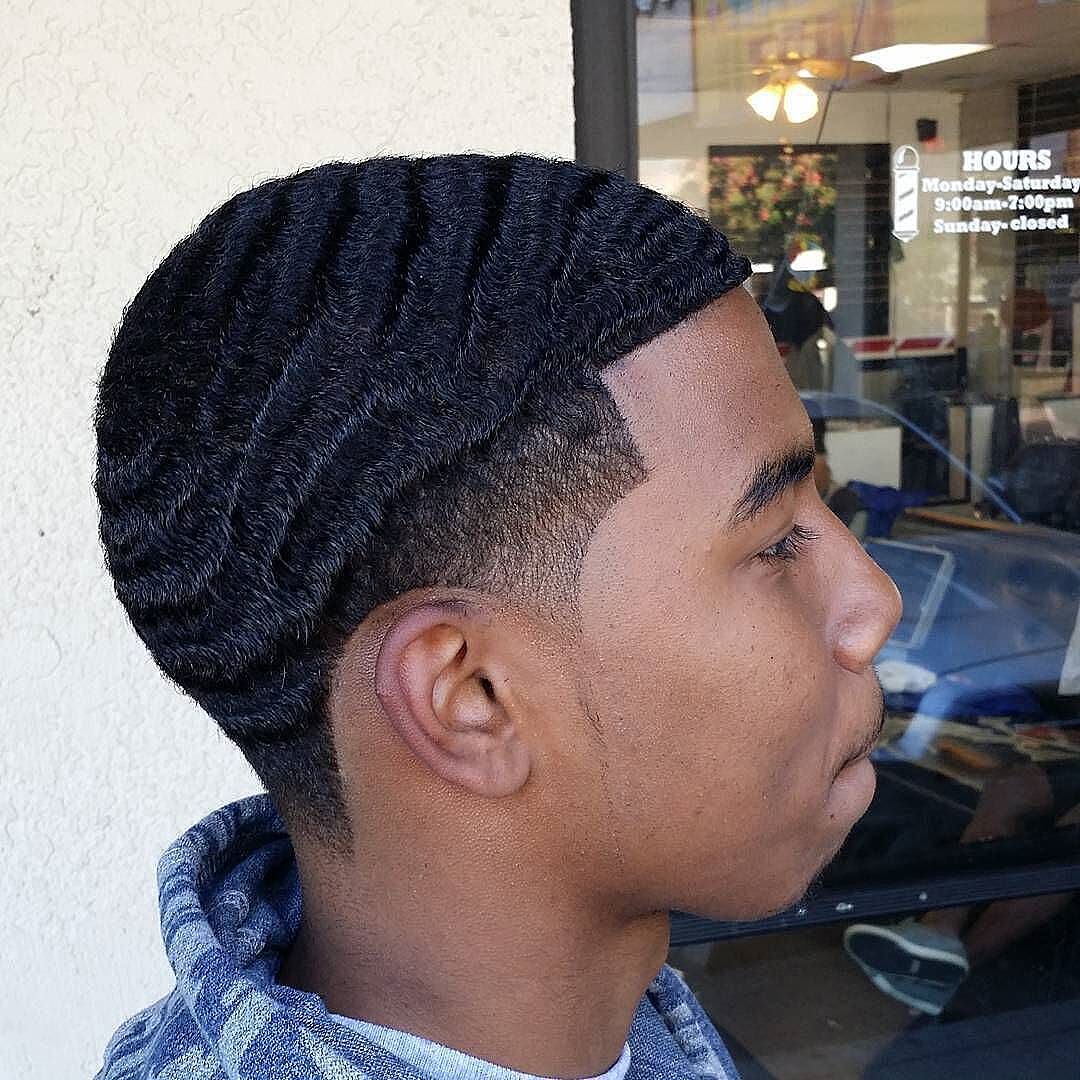 The wavy nature of this hairstyle makes it easy to style. You can care for it in many ways, including simply washing it and letting it dry as you would with any other short haircut. If you want a more stylish look, you can add some styling product to your hair and use your fingers to change its direction such that it forms the shape of waves.
You can wear this hairstyle with anything, from casual to formal wear.
16. Low Cut With Dreadlocks Updo
If you want to style your hair in a low cut with dreadlocks, you first have to consider what kind of face will fit. If you have a round face, this style will not look good. A person with an oval face shape should try it out.
Curly Hairstyles For Teenage Boy
Featuring a cute and neat appearance, curly hairstyles for teenage boys always look stylish. If you are fond of wearing natural and wild hairstyles, then you will find many ideas to choose from, including face-framing options, short or long styles, and many others.
17. Golden Curly Afro
The golden curly afro is a hairstyle that fits the square and round face. You can style the hair by trimming down the sides, then washing and blow-drying your hair. Next, you should apply afro cream to your hair to prevent it from breaking. You can then twist your hair up using a rat tail comb. Once your hair has dried, you can untwist it and use a pick to fluff it out.
18. Textured and Curly Undershave Haircuts

This hairstyle is the perfect fit for any face shape. It sits low, so you won't have to worry about it being too distracting from your face. You can style it with a curling iron, but if you don't have one, you can make this with a straightening iron or even just gel in your hands to scrunch it up! We suggest using a light hairspray designed for curly hair to keep it in place.
19. Curly Low Cut With Side Bangs
This haircut is for anyone who wants a short haircut that is low-maintenance. A round or oval face will fit this style the best, but any shape face can rock this look. You may add long bangs to soften your features if you have a square face. For those with a long face, you can ask your stylist for more layers in the back to give it more fullness and volume.
This look can be finished with any hairspray you prefer, but we recommend a light hold and a fantastic smell.
20. Curly Punk On Low Cut
The curly punk on a low cut is an attractive hairstyle that many will love. It's a look that works well for those with significant facial features, as it highlights the jawline and cheekbones. It's also one of the teen boy hairstyles suitable for formal events, as it gives a very mature appearance. This hairstyle is a classic and can be worn by anyone. It's great for people who have curly hair but are also fine with straight hair.
21. Curly Punk With Low Taper Fade
The curly punk with a low taper fade is a hairstyle that teen boys can quickly adapt to with round and long faces. This is one of the teen boy hairstyles that work best with wavy or curly hair.
The fade and taper will keep the sides looking neat while you let the curls on top grow out. You can have a great curly crop if your hair is short by getting a close fade and cutting it into the top.
22. Mid Parted Lowcut Pixie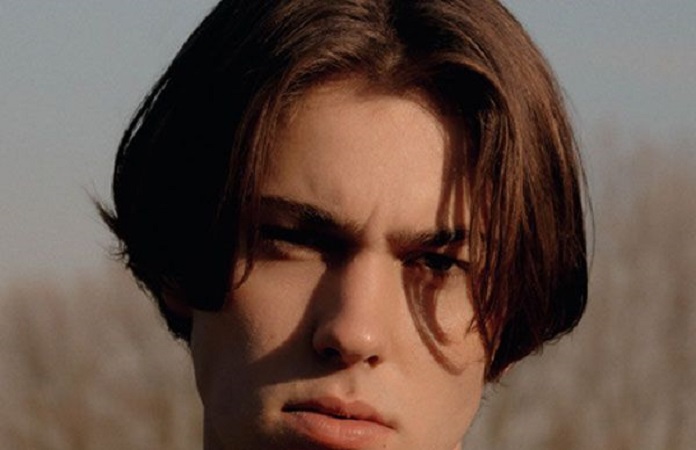 The mid-parted lowcut pixie is an excellent hairstyle for teen boys with a round face, as it adds volume to the hair and gives the face a more elongated look.
To style, start by wetting your hair and applying a reasonable quantity of hair oil from the roots to the tips. Next, use a blow dryer on high heat to ensure your hair is completely dry. Once you've dried your hair, use a flat iron to create straight edges for your look. Finally, after you've gotten the straight edges you desire, add some hair spray for a glossy finish.
23. Wavy Pixie With Bangs
If you have a round or heart-shaped face, this style is for you. However, if your face is long or square, consider a different style (like long waves with bangs). To make this hairstyle work for you, it's best to keep it simple—this means no gel or heavy products, as these will weigh down your hair and give it an artificial appearance. Instead, just use texturizing spray and let those natural waves shine.
Use a small quantity of hair oil to damp hair and blow-dry using a vent brush to style the hair. Flip the ends of your hair up at the chin. Once you finish styling your hair, apply hairspray to your locks to ensure that your new look stays in place.
24. Curly Messy Short Haircut
Curly messy short haircut fits teen boys with oval, square, and diamond-shaped faces. This is one of the teen boy hairstyles that will also fit teens with round face shapes, but you need to be careful when styling it so that you do not widen your face. The general rule is to go for bangs that fall on the sides of your forehead and avoid the ones that fall straight down to your eyebrows. Most times, the bangs look as if it goes around the head.
The curly messy short haircut is best styled when the hair is still wet. First, use a mousse with a good hold like Fudge Urban Matte Styling Mousse, then use your fingers to finger dry the hair as you style it. It would be perfect if you made sure that the curls are not uniform in size or direction but rather random. This will add texture to your hairstyle.
Teen Boy Long Haircuts
Finding a hairstyle to complement your face becomes an arduous job with the numerous hairstyles around. Even the most dedicated stylists find the task daunting. The task is made worse when you are looking for teen boy long haircuts but you can find the right style below.
25. Voluminous Wavy Long Haircut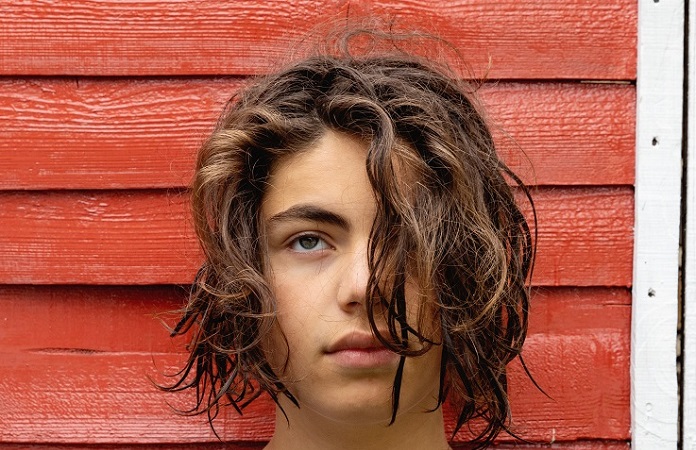 The voluminous wavy long haircut is great for teens who want to show off their natural volume. This cut works best on hair that's at least shoulder-length, but the longer, the better. Also, it's a great style for people with oval or oblong faces.
To style, apply a curl-enhancing product to damp hair and let it dry naturally. A small amount of volumizing mousse can be used if your hair tends to fall flat as it dries, or you can try clip-in extensions if yours isn't quite long enough to rock this look. Once dry, use a large-barrel curling iron on loose sections of hair to add more natural-looking waves.
26. Bob With Side Bangs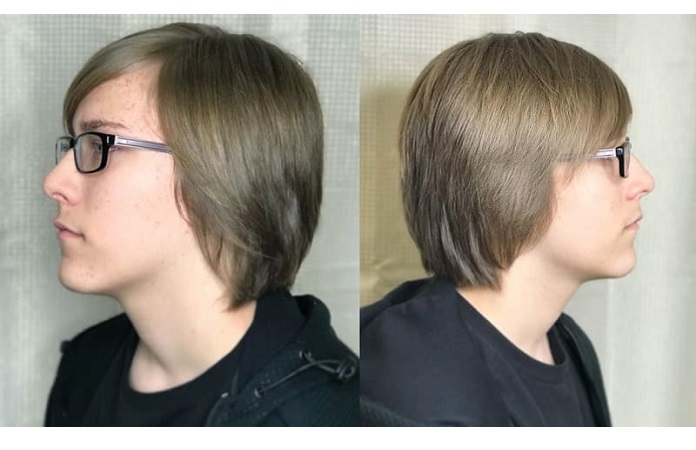 The bob with side bangs will fit every face, whether oval, round, heart-shaped, or square. This is one of the teen boy hairstyles that can be rocked in different colors depending on the concept the wearer desires to depict.
You will need to shampoo and condition as usual to style the hair. Then wrap a towel around your head until your hair is mostly dry. Then you can use a round brush to dry your hair thoroughly. While styling on one side, use a flat iron to straighten the part from the ear going forward. Then roll this section into a curling iron so that it flips inward.
27. Multicolored Pixie Haircut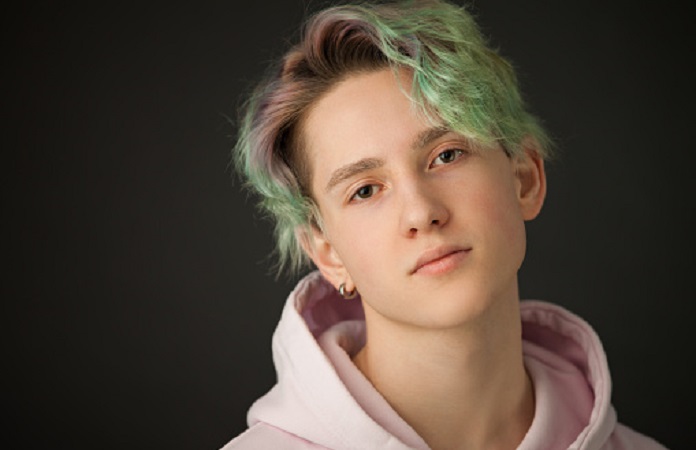 The multicolored pixie haircut is a great way of showing off your personality. It is also a great way to show off your hair at the same time. This style is suitable for all face shapes. You can find it in many different colors and styles. It is a good option for those who have oval faces. This is one of the teen boy hairstyles that enhances the chin area, giving you that edgy look.
If you want to get the maximum impact out of your color choice, then you need to use high-quality hairspray or dye.
28. Curly Bob With Bangs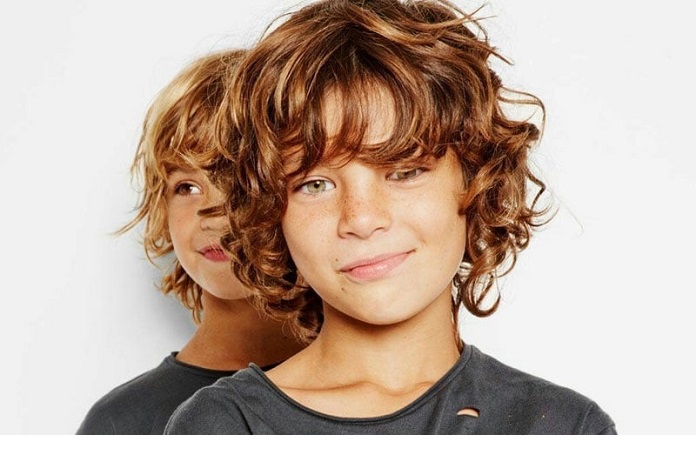 Curly bob with bangs will be a great fit for your face if you have an oval-shaped or square-shaped face. However, if you have a round-shaped face, this hairstyle might not work well for you. But even if this is the case, you can easily modify it to become a wiglet with bangs.
You can rock the haircut by applying any hairspray. However, if you want the spray to last longer than one day, we recommend using an alcohol-free spray that won't dry out your curls. Just make sure it doesn't contain any ingredients like glycerin or propylene.
29. Centre Parted Bob Styled Haircut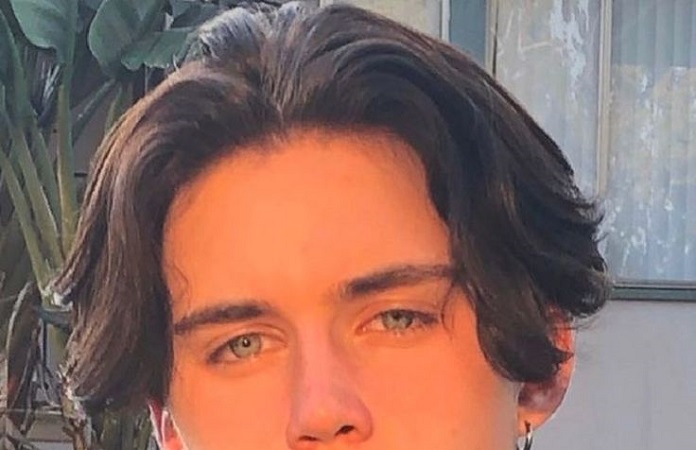 This haircut is an excellent fit for most faces. The only face it may not be a 'great' fit for is the round face since it has the ability to make your face look even more circular. But that doesn't mean you can't rock it.
You can wear this haircut with almost anything—with bangs or without bangs! If you have bangs, you don't even have to worry about styling them too much—just let them do their thing. If you don't have bangs, you may want to use some gel or mouse so that your curls don't fall into your eyes while you're at work/school.
30. Wavy Bob With Short Bangs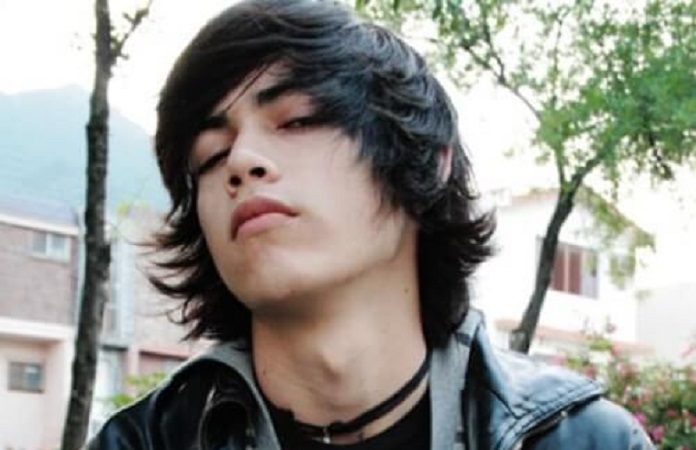 This is one of the teen boy hairstyles that is cute, flirty, and easy to style. This look will fit faces of any shape, so you can feel confident rocking it no matter what your features are like. To style this look, apply a volumizing mousse to damp hair, and then blow-dry the hair using a diffuser attachment. If dry, use a curling iron to create loose waves throughout the hair. Finish with some light hairspray to hold the style in place all day long.
31. Ombre Curly Bob With Straight Side Bangs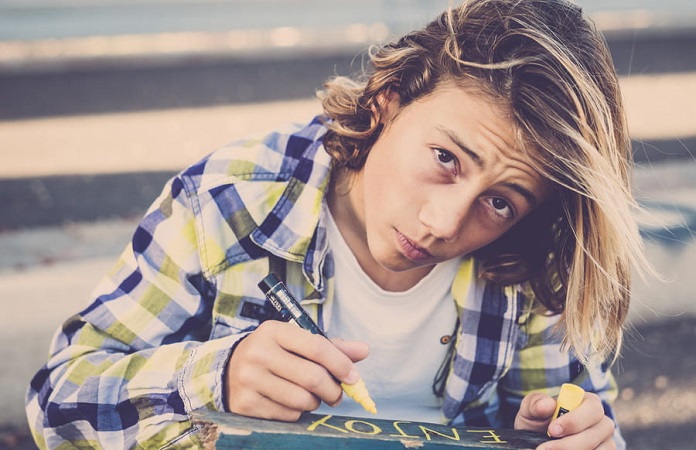 If you like a stylish and classy look, you might consider getting this. This hairstyle is excellent for teen boys who have a square face as it lengthens their face and looks great with accessories. In addition, the ombre color makes the hair look longer and fuller. The curls are also a great addition to the style, making it better.
You can have this look in a few different ways. You can try using an angled razor or a curling iron to make your bangs, or you can buy pre-cut ones online. Either way, you'll want to start by parting your hair down the middle and then combing it backward from your forehead. Next, cut the ends of your hair to even out any unevenness in length and shape.
32. Natural Side Parted Curly Long Hairstyle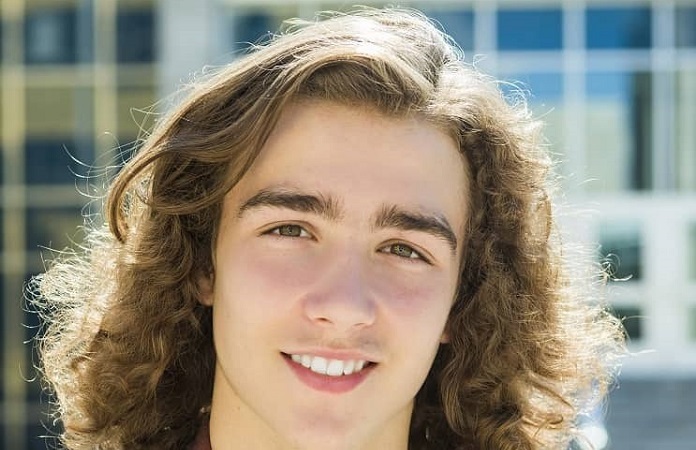 A natural side-parted long hairstyle is a great way to show off your naturally curly hair. It is a good hairstyle for any occasion. From work to prom, this classic look will always look great. It is a beautiful hairstyle that is best rocked by teen boys with voluminous hair. The side part makes it look like you are wearing a weave, but the loose curls give you a natural look.
Black Teen Haircuts
If you are into black teen boy haircuts, you have a lot to choose from. However, with such a wide variety of hairstyles available, it becomes quite difficult and confusing to opt for one that is exactly right for your hair. Here, you will know what kind of face shape these hairstyles fit and more importantly, how to style them.
33. Mid Taper Fade With Curls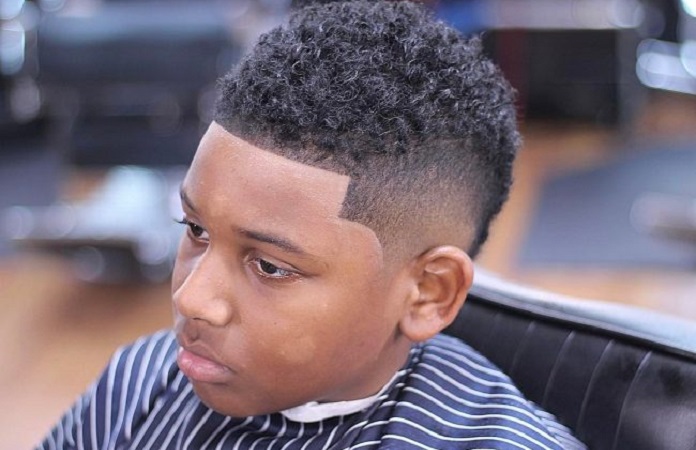 The mid taper fade is a hairstyle specifically created for boys with curly hair. The hair is reduced at the back of the head and becomes longer as you move toward the top of the head. The mid taper fade works with any hair type, from short to long and straight to curly. You can wear this hairstyle with anything from jeans and T-shirts, hoodies, sweaters, blazers — anything that makes you feel comfortable!
If your son has a round face, you can use the mid-taper fade to make it look more masculine and sculpted. If he has an oval or rectangular face, you can create more definition and shape by cutting off the sides and leaving longer hair on top. If his face is square or triangular, you can use it to give him more volume and a softer look by cutting off some length on top and leaving it longer toward the bottom.
34. Messy Punk With Mid Taper Fade Haircut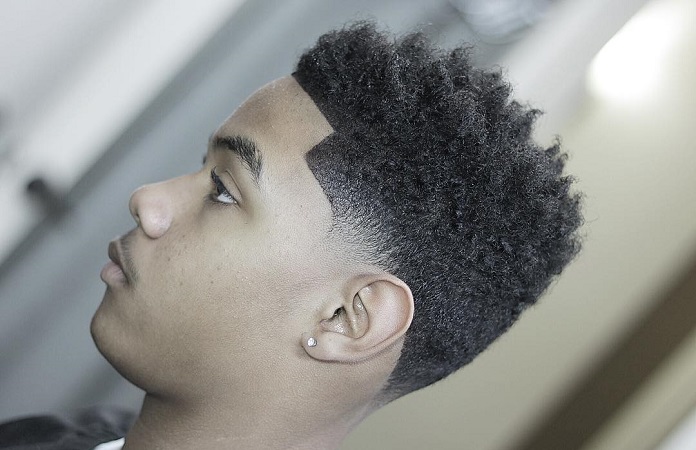 This messy punk hairstyle with a mid taper fade is an excellent choice for black teen boys who are just entering their teens or who haven't been there quite long enough to know what they want.
Use your fingers to pull your hair up into spikes and then back down into random curls. This classic cut will fit any face shape, so whether you have angular features or round ones, this haircut will look great.
35. Side Styled Curly Mohawk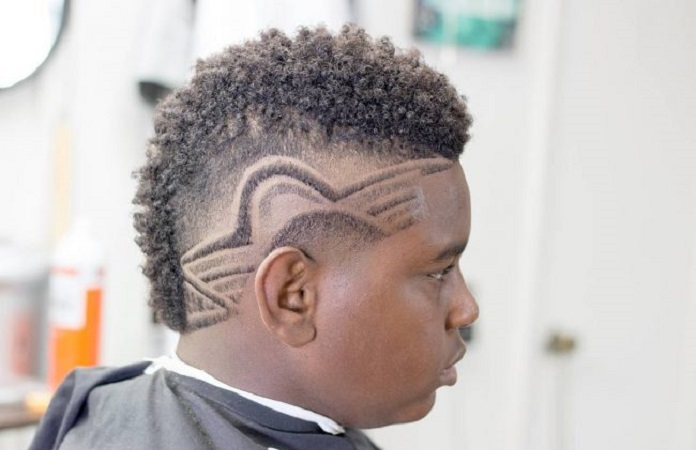 The side-styled curly Mohawk looks best on boys with round or oval-shaped faces. It's also an excellent choice if you have medium-length hair. The curls at the top can be styled in various ways. You can keep it flat or add a little volume to it. Wear skinny jeans or chinos with a plain T-shirt and some sneakers to rock this style.
36. Braided Punk With High Taper Fade Haircut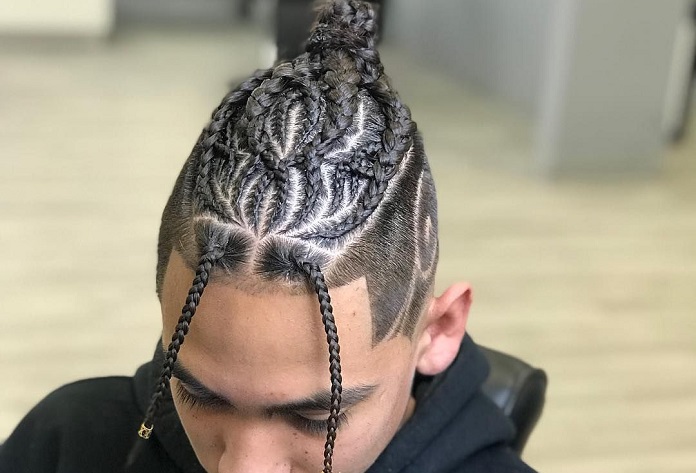 A braided punk with a high taper fade haircut is the ultimate style for a black teen boy. The braids disappear on the sides and back, making this an excellent choice for boys who want to show off their faces. It's a great look for any face shape, especially if you have a square or round face. The braids on top with long hair will help elongate your face and give you a more angular look that can be flattering.
You can rock your braided punk hairstyle with just about any outfit, but we think it looks best with a simple T-shirt and jeans or a button-up shirt.
37. Braided Updo Lowcut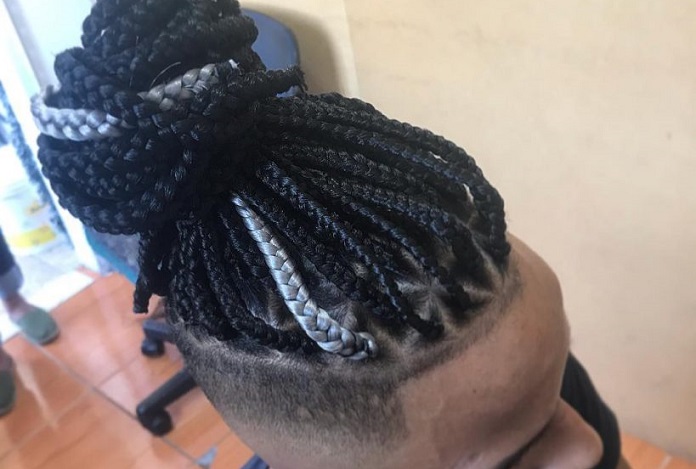 This is one of those teen boy hairstyles that are just as awesome. It is an excellent option for any occasion and fits all face shapes. With that said, it's essential to keep in mind your hair type and texture when you're picking out this style.
38. Side Styled Lowcut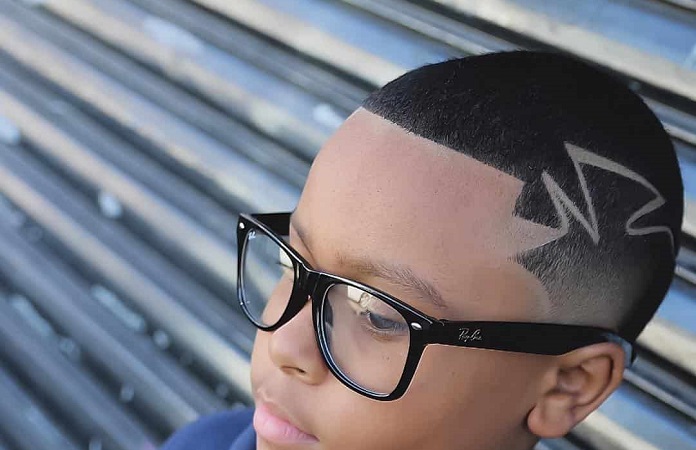 The style is for you if you are a black teenage boy with a round, diamond, or heart-shaped face. To achieve this hairstyle, you need a skilled barber that will give you the best. This is one of the teen boys' haircuts that can be rocked in any way. It fits a sports outfit and any official or casual outfit.
39. Blonde Mohawk With Mid Taper Fade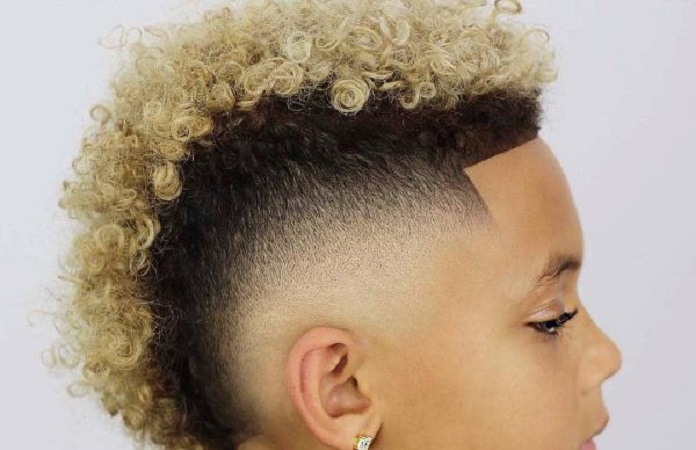 Teen boys have many options when it comes to their hair. They can go with a short, clean style or a more extended look. There is no shortage of cool haircuts for teenage boys. One of the most popular teen boy hairstyles is the blonde mohawk with mid-taper fade. This look combines two different hairstyles to create one awesome look. The top half of the hair is cut short and styled in a Mohawk-like fashion, while the bottom half is long enough to be left natural or styled into an afro or even braids if desired.
This style can be adapted to fit whatever vibe you're going for—you could go super sporty by gelling up the top portion or slick it back like James Dean for a classic look.
40. Lowcut Dread Mohawk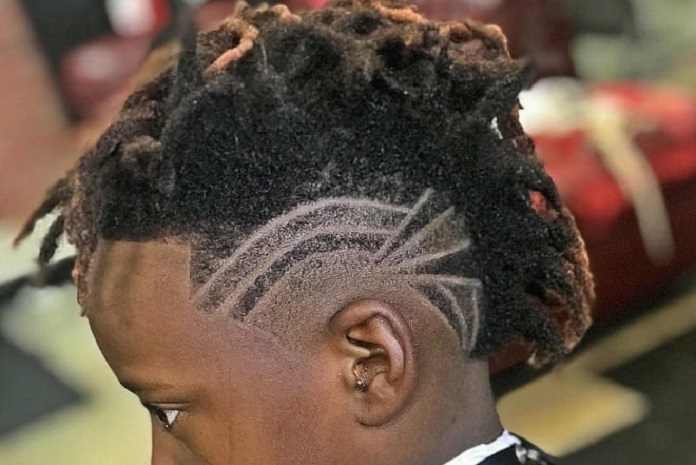 The lowcut dread mohawk is one of the black teen boy hairstyles that can work on any face shape. This style is a low-cut, skin fade with dreads on top. The sides and back are cut very short and fade from the top of the head to the skin. The hair on top is styled into short, free-standing dreads worn in a mohawk pattern.
To style this look, apply a moisturizing pomade to damp hair and divide it into two parts using your thumb and forefinger. Twist each part, which will lead to dreadlocks as your hair dries (if you don't have dreads already). Create a mohawk pattern with these dreadlocks by cutting them at an angle on both sides of your forehead and the nape of your neck.