Serena Williams has been accused of having undergone plastic surgeries including liposuction to get her toned muscle without exercise, breast implants and butt implants, and rhinoplasty, otherwise known as a nose job.
Various pictures have been published to back up these claims, but no actual proof has been provided, making it all look like the usual internet speculations. The athlete herself has not given credence to the rumors by addressing them, thus leaving them as what they are; rumors.
When Did the Rumors of Serena Williams's Plastic Surgery Start?
Rumors of Serena Williams getting plastic surgery began around the time she started dominating the sport of tennis in the late 2000s and 2010s. She began to garner attention in the late 1990s alongside her older sister Venus as they were considered a breath of fresh air in tennis, a sport that did not have many black people playing at a high level.
The duo would go on to break onto the scene and dominate it for many years to come. Everyone who saw Serena play admired her for her talent. She never garnered plaudits for her looks, as it was generally thought that she did not meet up with the stereotypical standards of beauty.
However, as the years went by and the tennis star won one championship after the other, the world started paying attention to her, and comments about her body and looks came to the forefront. Serena began appearing more frequently on the front pages of magazines, which put her much further in the spotlight, with people taking note of any changes that occurred not just in her body but in her life.
Did Serena Get a Nose Job?
Sometime in 2010, Serena Williams made an appearance on the cover of Hamptons Magazine. While she looked prettier than ever, people noticed that the shape of her nose changed. Her nose appeared slimmer than before, thus prompting rumors of her getting a nose job.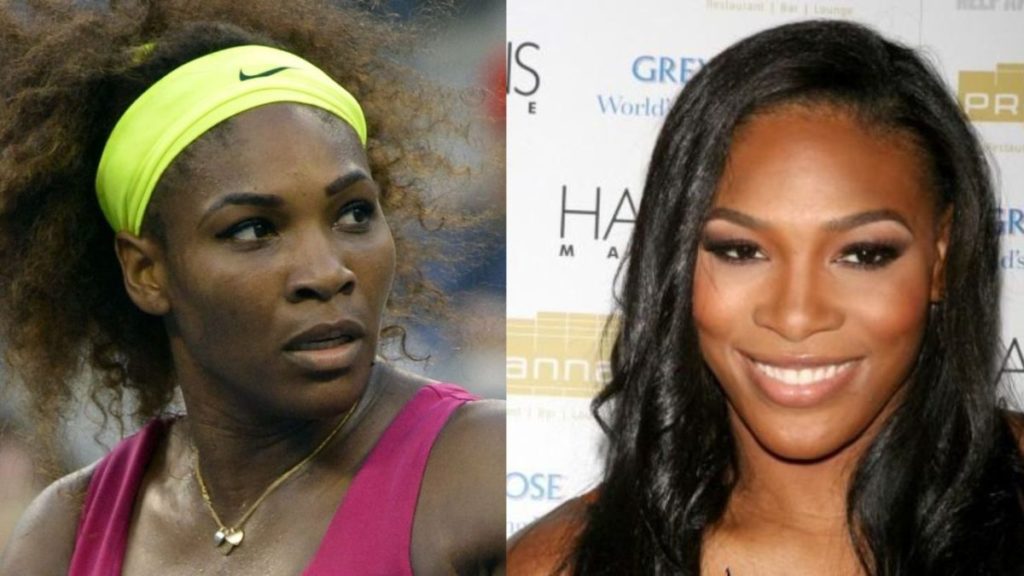 Serena has not addressed these claims even though some reports have come to her defense, suggesting that make-up may have been used to get this effect without her going under the knife.
Whatever the case is, the athlete has not commented on whether or not she got her nose done. You would have to be the judge of this by looking at her photos from yesteryears and now.
She Has Reportedly Received Breast and Butt Implants
In addition to speculations that Serena Williams has undergone a nose job, she has reportedly received breast and butt implants. Rumors of her breast implants began around 2015 when her breasts started looking thicker and perkier than they ever did in the past.
Around that same time, her butt began to look fuller and more defined, prompting more rumors. To prove this, old photos of her were put up against more recent ones, but this did not do much to convince people that the 23-time Grand Slam singles titles winner had gone under the knife to work on herself.
What Has Serena Had to Say About the Plastic Surgery Rumors?
Serena Williams has not paid any attention to rumors of her getting plastic surgery to improve her looks. For many years, she was described as having a masculine body, and she chose not to comment on the reports. To her, talks about her getting a nose job or breast and butt implants come from the same place as those that thought she did not look feminine, so commenting about it would only give more credence to such opinions.