Did Doja Cat have plastic surgery? There have been rumors that Doja Cat has undergone plastic surgery, however, the 27-year-old has totally refuted the claims.
Amala Ratna Zandile Dlamini, popularly known as Doja Cat, is among the most remarkable pop stars at the moment, with her third studio album titled Planet Her dominating the music chart globally. Judging by the pace at which she is going, there is no gainsaying that Doja is on her way to becoming an international superstar.
But the more famous and successful the Say So singer gets, the more she becomes a topic of interest to the media. Most recently, she made the headlines for her changing appearance, and a lot of people were made to believe that she recently underwent cosmetic surgery following comparison of several of her before and after photos. Here's the full detail.
What Surgeries Did Doja Cat Have?
In the entertainment industry, appearance matters a lot as it plays a major role in determining how far an entertainer goes in his/her career. As a result, it has become normal for a lot of people in the industry, including actors and singers, among others, to resort to plastic surgery to fix whatever parts of their bodies they feel need to be fixed.
However, there are still some people in showbiz who are comfortable and confident enough in their own natural bodies to let things be just the way they are, and among them is Doja Cat. Yes, the singer has said severally that she has never done any surgery to alter any part of her body.
Rumors About Doja Cat Plastic Surgery Started on YouTube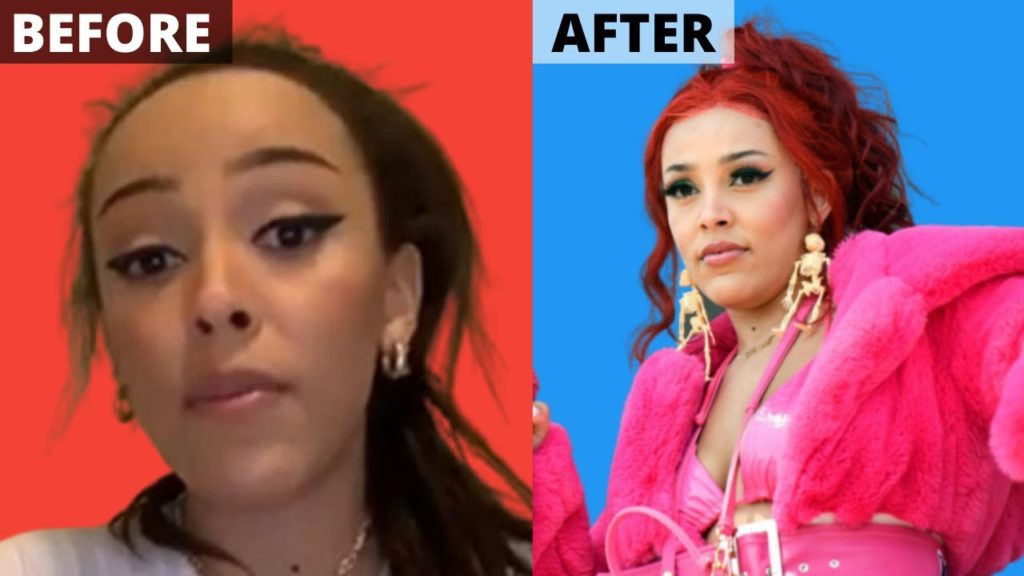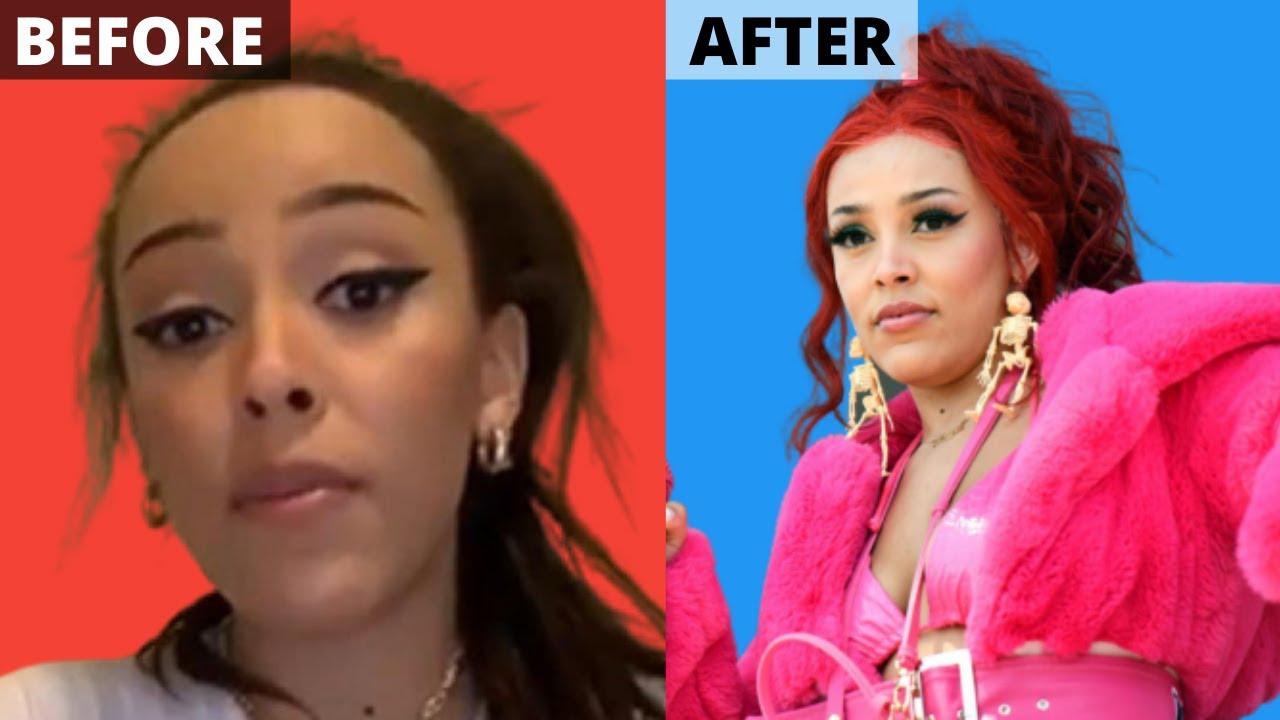 Speculations about the rapper and singer going under the knife started making the rounds in early 2022 after a YouTuber named Lorry Hill posted a video claiming that her body wasn't all natural. She made the claim in a video captioned, "Doja Cat Looks Different Than Before: Here's Why?"
In the video which she posted on her self-titled YouTube channel, Hill compared Doja Cat's looks from 2014 when she was still trying to find her feet in the music industry to 2020 when she had become known. Based on that, she came to a conclusion that the singer may have had a rhinoplasty (nose job) as there was a noticeable difference on that part of her body judging by her before and after pictures.
It's not difficult to see why people would wonder whether or not Doja has done gone under the knife to enhance some parts of her body since she once mentioned that she was open to it. On May 23, 2021, she told her fans on the platform that she wants to get surgery. See the tweet below:
I wanna get surgery so bad. My whole life I always wanted to be different and now that I got money I feel like I can finally make my knees 8 inches long and wet.

— DOJA CAT (@DojaCat) May 23, 2021
While it's obvious that she was joking about the ending part of the tweet, it might not be out of place to assume that the rap star was not really trying to make a witty remark when she said she wanted to get plastic surgery.
How Did Doja Cat React to the Rumors of Her Plastic Surgery?
Upon coming across Lorry Hill's video, Doja Cat couldn't keep calm as she felt offended by the allegation. Thus, she decided to address the matter immediately. She took to her Instagram Live on the night of Friday, February 25th, 2022, to explain that she looked different in her 2014 pictures because she "had little to no money" at the time and was "depending on boyfriends" for food.
Meanwhile, the Grammy-nominated hitmaker had previously denied ever having any work done on her body during an interview with VladTV, posted on YouTube on May 27, 2020. However, she revealed that there were some little things she would like to do, such as getting eyelash extensions, which she had considered at one point but didn't think would be worth it.
She then went further to state that she would never get her lips and her nose done. In line with that, Doja Cat, while addressing Lorry Hill's video, made it clear that she never had a nose job.
.@DojaCat addresses Lorry Hill's misleading and untruthful plastic surgery video.

— Doja goes on to defend @theestallion's natural body as well as her own. pic.twitter.com/RCJjWzN7FQ

— Doja Cat News (@DojaNews) February 26, 2022
Speaking to her fans on Live, Doja, who was visibly pissed off, began by saying, "200,000 views on this video, and it's called 'Doja Cat Looks Different Than Before: Here's Why.'" She went on to tell her fans that that was what the live session was about.
"It's about plastic surgery. It's about this bitch, Lorry Hill, talking about people's bodies, talking about people's surgery," the "Say So" rhymer continued. She went further to berate Lorry for making a plastic surgery video on Megan Thee Stallion, who, according to her (Lorry), went under the knife to achieve her perfect looks.
According to Doja, the YouTuber sits in her "f**king" chair, talking about different girls who got this and that done without noticing that she herself got work to do on her body…"And I won't say more," she added.
However, she wasn't done yet, so she continued, "You're welcome. You're welcome for the clout. It's not good clout. But it's clout. It's what you asked for. It's what you get when you make lies up about people. When you talk shit about people."
Doja further made it clear that she built her career off her body and the way her body looks, and also by making her fans feel positive in the way their body looks. According to her, the moment she she begins to lose weight, "bitches like you, Jack Skellington, bitches like you wanna talk about the way that I look."
Lorry Hill Eventually Pulled Down the Video
Following the rapper's reaction, Lorry Hill pulled down the video. She also released a statement on her Instagram explaining to her followers that she removed the video from her YouTube channel after Doja made it known that she felt hurt by it. She also stated that the singer never asked her to remove it, adding that it is never her intention to hurt celebrities by her videos.
Further addressing the situation, Hill wrote a post on her YouTube community page saying that she wasted no time in removing the video because it seemed to have "hurt" Doja Cat.
Doja Cat's Height, Weight, and Body Measurements
Even without surgery, Doja Cat has an amazing body with all the right curves in the right places. She is about 5 feet 5 inches tall (165 cm) and weighs 55 kg (121 lbs.) Additionally, her bust measures 33" / 84 cm while her waist measures 24" / 61 cm, and her hips 38" / 97 cm. She also wears bra size 38B (US) / 85B (EU) in cup size B (US).