Did Kaitlin Olson have plastic surgery? Kaitlin Olson has been rumored to have undergone plastic surgery in 2018. Although she has not openly confirmed if she had surgery, she admitted that she's had reconstructive surgeries following a bike accident at age 12 that left her with a hole in her head.
Kaitlin Olson made headlines after she appeared in the 13th season of the American sitcom, It's Always Sunny in Philadelphia. The actress wasn't looking the same on the show, making fans think Kaitlin Olson had undergone plastic surgery.
Kaitlin began her career in The Sunday Company, an improvisational theatre in Los Angeles, California. She has starred in several TV shows and films, including The Mick, Flipped, Vacation, The Heat, Arizona, etc. Since 2015, she plays the role of Deandra Reynolds in the FX comedy, It's Always Sunny in Philadelphia. But what is the truth about Kaitlin's plastic surgery? Find out below.
Did Kaitlin Olson Have Plastic Surgery? Fans Think So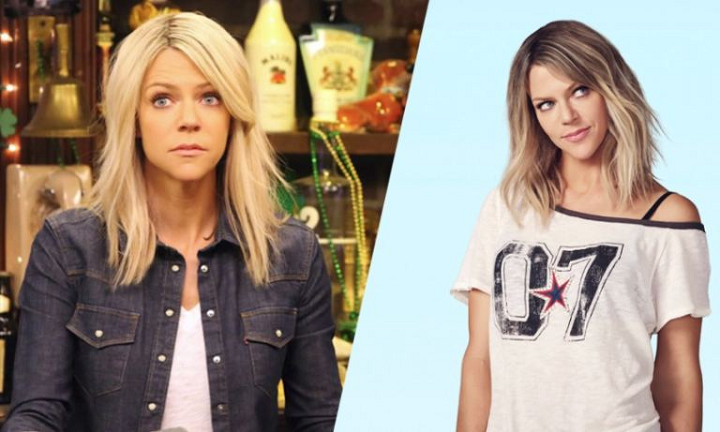 In the 13th season of the FX show, It's Always Sunny in Philadelphia, Kaitlin Olson appeared differently, creating a buzz on social media. While some believe the actress must have gotten a facelift, others say it was disheartening seeing Kaitlin Olson unable to change her facial expression.
Olson's looks on the show raised eyebrows in different quarters, and many fans shared lots of comments on social media. A Reddit user uploaded a video, saying, "Is it just me or did Kaitlin Olsen do something to her face? She looks like a Wendy Williams and Caitlin Jenners plastic surgeon patient."
IS IT JUST ME OR DID KAITLIN OLSEN DO SOMETHING TO HER FACE? SHE LOOKS LIKE A PATIENT OF WENDY WILLIAMS AND CAITLIN JENNERS PLASTIC SURGEON.
by u/bigbadredditman in IASIP
Through many comments, many Reddit users who joined the conversation believed that the actress had cosmetic surgery. Although her new looks didn't sit well with some, others appreciated the actress for her great looks after the procedure.
Despite the uproar in the media, Kaitlin Olsen neither refuted nor confirmed the claims. She has never come to accept or deny having any facelift or butt enhancement. If that is true, it wouldn't be surprising as it is not the first time the actress has undergone plastic surgery.
Why Did Kaitlin Olson Have a Surgery at 12?
Kaitlin Olson was involved in a fatal bike accident, which left her with a hole in the head when she was 12. As a result, she needed to undergo a couple of reconstructive surgeries to fix the hole in her head. In an interview with Glamour in 2017, Olson disclosed how difficult it was for her to get used to the aftermath.
According to the actress, it was the highest thing that ever happened to her, as she was left with a scar and a swollen face. At the time, she was in junior high school and got to a point where she had to shave her hair completely. She said the experience was too difficult for her to handle for a 12-year-old.
In the Aftermath, Kaitlin Suffered Bullying at School
The accident and reconstructive surgeries affected Kaitlin Olson's look, thus, making her a hotspot for bullying at school. According to her, some were kind to her, while others were mean. This got to a point where a kid threw beans at her. In her own words:
"I remember standing in a lunch line once, and this kid, Casey Johnson, was somewhere behind me in line, throwing beans at me and trying to get them to land in the hole in my head."
Despite all she suffered, the actress said it took her many years to fight the adversity and recover from the trauma. That singular experience has helped Olson learn how to cope with tough times. Even to date, Olson has become conscious of her children.
She got hitched to her It's Always Sunny in Philadelphia costar, Rob McElhenney, in 2008, and they have two sons, namely Axel Lee and Leo Grey McElhenney. Kaitlin and her husband care so much about their children. However, Olson seems more conscious as she tries to teach them to be aware of their surroundings and keep themselves safe.
How Did Kaitlin Olson React to the Rumors of her Plastic Surgery?
Since the rumors of Kaitlin Olson's plastic surgery surfaced on the internet, the Heat actress has never come out to confirm or refute the claims of any enhancement procedure or facelifts. However, from the available information, Olson had previously hinted to fans about the reconstructive surgery she did as a child.
When compared to her old photos, you could deduce that it is possible she might have done plastic surgery or undergone an enhancement procedure with her recent photos. However, she is yet to come out clean on the issue. So whether she did surgery or not, it's left for you to be the judge.
Quick Facts About Kaitlin Olson's Plastic Surgery
Did Kaitlin Olson have plastic surgery? There has been speculation among fans and on social media that Kaitlin Olson may have had cosmetic surgery. These rumors started after some viewers noticed changes in her appearance during the 13th season of "It's Always Sunny in Philadelphia". However, as of now, the actress herself has not confirmed these speculations.
What changes have fans noticed about Kaitlin Olson's appearance? Fans have noticed potential changes in Kaitlin Olson's facial appearance, particularly concerning her eyebrows and facial expressions. Some have suggested she may have undergone procedures such as Botox or facelifts, but Olson has not confirmed these claims.
What has Kaitlin Olson said about cosmetic procedures? Kaitlin Olson acknowledged that she had reconstructive surgery following a serious bike accident when she was 12. However, she has not publicly addressed the rumors about her having undergone cosmetic procedures as an adult.
What happened in Kaitlin Olson's childhood accident? When Kaitlin Olson was 12 years old, she had a serious bike accident that left her with a fractured skull and a hole in her head the size of a lime. She underwent multiple reconstructive surgeries to repair the damage. Olson has described the experience as incredibly challenging, but ultimately one of the most significant events of her life.
How has Kaitlin Olson's childhood accident influenced her life? Kaitlin Olson has said that her accident was "probably the greatest thing that ever happened" to her. The accident and its aftermath were very challenging, particularly as she faced bullying at school due to her injuries. However, it appears to have shaped her resilience and perspective on life.
How has Kaitlin Olson's accident influenced her parenting style? Kaitlin Olson's traumatic childhood accident seems to have made her a more conscious and cautious mother. However, she also believes in not instilling fear in her children, so she avoids constantly telling them to be careful