Abel Makkonen Tesfaye, popularly known as The Weeknd, is a Canadian R&B/pop/hip-hop singer whose height is 1.73m (5'8″). The eccentric singer is also known for his distinct sense of style; notably, his hairstyles, which he confessed are a deliberate measure to stand out.
The Weeknd is no stranger to controversies; the award-winning singer has been rumored to be gay despite having dated several popular female artists. His career has been marked with accusations of plagiarism, and some of his lyrics labeled homophobic. Indeed The Weeknd is unique in his concepts regarding life and music; he has constantly found a way to keep reinventing himself, his music, and his style.
How The Weeknd's Hair Has Evolved
The Weeknd first rose to fame in 2010 when he started uploading his music anonymously on Youtube. In his early days, the singer's identity was shrouded in mystery as he rarely made public appearances nor granted interviews. However, his persona was ingrained in his music and in how he styled his hair.
The 'Star Boy' hitmaker is known for – among other things – his angular, high-top hairstyle. There's no refuting that his hairdo has been the subject of controversy and an interesting talking point. But what is the real motive behind Abel Tesfaye's iconic hairstyle?
Well, according to US Weekly, The Weeknd admits that this hairdo is motivated by the need to be remembered as different and un-average. And as far as this goes, The Weeknd's album releases have all been matched to his then hairdos. For instance, he cut his hair deliberately to unveil his latest album in 2016.
The Weeknd on Short Curly Hair – 2012
At the Coachella in April 2012, The Weeknd kept his hair short but curly. This look is paired with a trimmed beard. At the start of his career, this hair was his signature look for a considerable length of time, even though he varied it a bit as the curls grew.
By July 2012, though still short, his curly hair had begun to grow into short dreads, and his soon-to-be iconic dreadlocks had also started taking shape. However, it was not until 2013 that he showed off his new hairstyle.
The Weeknd Dreadlocks with Faded Sides – 2013 Hairstyle
At the Ultra Music Festival in 2013, we saw The Weekend with much longer and tied-up locks for the first time. But the hair wasn't at its best then. At the 2013 MTV Music Video Awards, The Weekend was seen walking the red carpet in full-blown locks with faded sides. He appears to have let the locks grow 'wild.'
The Weeknd on Long Dreadlocks – 2014
By 2014, The Weekend was still rocking his wild locks, which had grown longer and thicker. He also opted to have his facial hairs become more prominent even as he still maintained his neat carving around this goatee. He debuted this hairstyle at the 56th Annual Grammy Awards in 2014.
The Weeknd on Choppy Dreadlocks – 2015 Hairstyle
By June 2015, at the iHeartRadio Much Music Video Awards in Toronto, his locks had grown to start hanging down from the front and sides. Although choppy, he still maintained a neat look by shaving the sides.
At the AMA in November 2015, The Weeknd had his dreads neatly tucked away, a departure from his former looks. His top locs were no longer straight as they were bent to the side, creating what looked like a side bang.
The Weeknd's Tight Matted Dreadlocks – 2016
February 2016 saw him Moving away from the wild look. At the 88th Annual Academy Awards, the locs were gathered in a few tight matted locs, and the look was completed with a very neat side shave.
At the 2016 Oscars Award, his dreads have been relatively tamed, and he still maintained the clean shave and carving on the side of his head, which made this hairstyle distinct from his 2015 style.
The Weeknd on Short Afro – 2016
With the launch of his Starboy album in 2016, The Weeknd decided to go for a drastic change, shaving off his locs entirely and flaunting a short afro. With this hairstyle, he looked more like he used to be at the beginning of his career, and fans couldn't get enough of him.
The Weeknd's Twisted-up Curls – 2017
At the Met Gala in May 2017, he has a cleaner cut, with his hair growing out a bit in a high top.
On a casual outing with his then-girlfriend in 2017, The Weeknd had a slightly messy high top with faded sides. His hair was left in its natural curly state. Looking at the hair critically, once could tell that he was possibly on his way to getting back his dreads, but his hairstyles that followed next showed otherwise.
December 2017, while on tour in Australia, the singer still wore his high top with faded sides. However, his hair was visibly more curler than before.
The Weeknd's Short Dreadlocks – 2018
By June 2018, it seems he is going for another dread hairstyle as his curls are getting more defined. He still had the hair longer at the top with the sides faded.
At the NRJ Music award 2018, he ditched the definition and went for a neater look while maintaining the high top.
The Weeknd's Cornrows – February 2019
February 2019 saw the singer with a surprising new look; he spotted a cornrow on the red carpet at Tao Downtown in New York City.
The Weeknd's Afro Hairstyle – December 2019
By December 2019,  the singer was rocking his full head of hair in an afro. His hair, which was longer, was cleanly shaped.
The Weeknd's Braids – September 2020
September 2020, the singer featured on one of Time Magazine's 100 most influential people in braids and a neat shave.
He sometimes styles his braids with a beanie, which is a total shift from his usually known style.
The Weeknd's Afro Hairstyle with Curls – December 2020
December 2020, a fresh-looking Tesfaye casually rocked an afro with slightly defined curls that look natural and not made with curling wands or irons. The front of his head looked neatly carved down to his goatee.
The Weeknd's Curled Afro Hairstyle – 2021
At the Billboard Music Award in May 2021, The Weeknd, still in his slightly curled afro, completes his look with a neatly groomed beard.
The Weeknd again spotted his afro in July 2021 for a live performance of Off the Table with Ariana Grande for VEVO's official live performance series.
In October 2021, the singer appeared in West Hollywood as the goodwill ambassador of the UN World Food Programme. He spotted an afro and a full beard.
For his latest album Dawn FM, The Weeknd went grey. He still maintained his mini afro. This aged look though temporary, has added to his assemblage of over-the-top looks.
What Is The Weeknd's Current Hairstyle Called?
The Weeknd has since switched from his signature palm tree dreadlocks. Now, the multi-award-winning artist spots a nappy Afro with a lineup. This look is complemented by his beard, worn full or sometimes trimmed.
How Tall is The Weeknd?
Standing at 1.73m (5'8″), with weight pegged at 75kg, The Weeknd has an enviable body proportion. Though he is still shorter than a good number of celebrities in America's entertainment industry, his dreadlocs sometimes make him seem taller than he is as they often draw attention away from his height.
The Weeknd's Height Compared to Bella Hadid's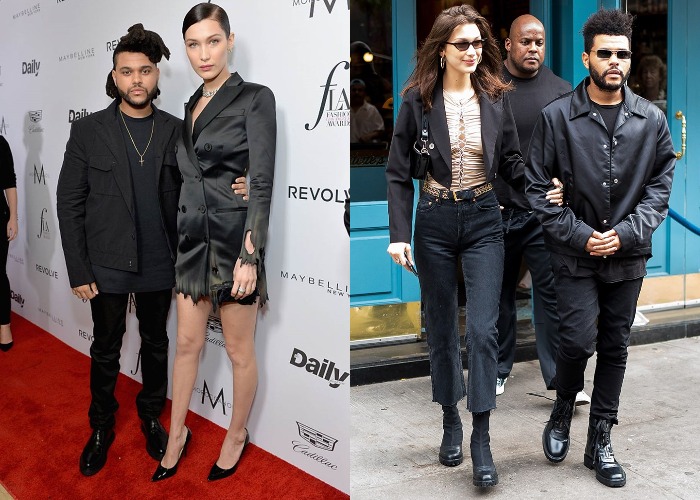 No, The Weeknd isn't taller than Bella Hadid. While The Weeknd stands at 1.73m, Bella is 1.75m tall, making for a difference of merely 0.02m. So he is shorter than her by a very negligible point. While dating Bella Hadid, who was slightly taller (1.75m), he isn't dwarfed by the supermodel's height even when Bella was in high heels. His palm tree dreadlocks no doubt added some extra inches.
How Tall is The Weeknd Compared to Bruno Mars' Height?
Interestingly, compared to Bruno Mars' height (1.65m or 5 feet 4 inches), The Weeknd isn't super short at all. With his height at 5 feet 8 inches or 1.73m, he is taller than Bruno Mars with not less than 4 inches.
Drake's Height Towers Above The Weeknd's Height by at Least 5 Inches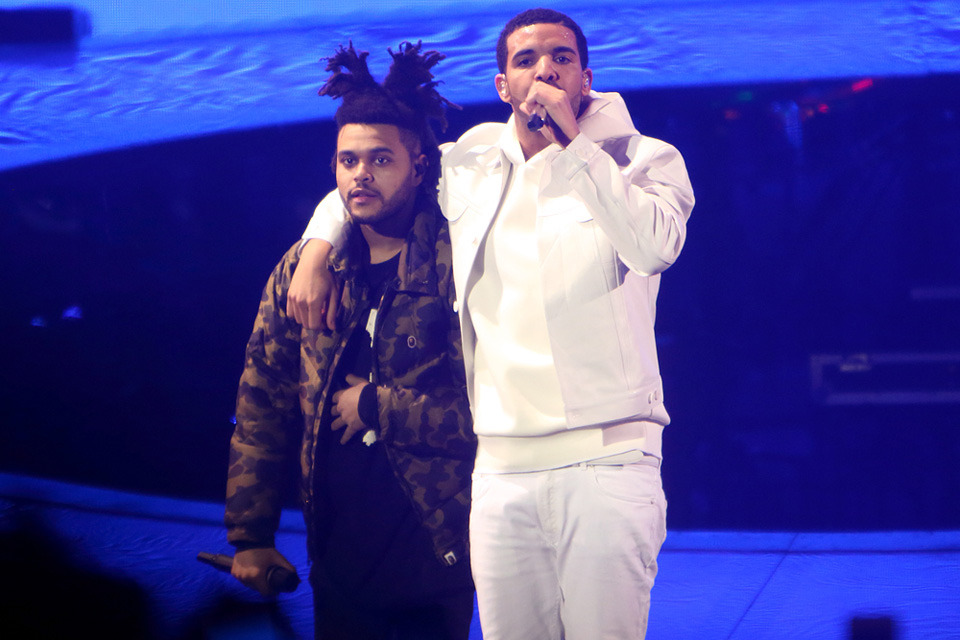 Although shorter than rapper Drake (1.82m or 5 feet 9 inches), his charismatic persona makes up for whatever he may lack in height. Drake is taller than the weekend by at least 5 inches though their body frame/structure might look almost the same size.
Is The Weeknd Gay?
As far as his public profile goes, The Weeknd is as straight as an arrow, as his numerous relationships have confirmed. The "I-can't Feel-My-Face" ballad-maker has dated a string of beaus, including Selena Gomez – Justin Beiber's ex-girlfriend. If anything, Selena Gomez once confirmed that she was in love with Abel Tesfaye in an exclusive TV interview.
Most importantly, in one of his most recent interviews in January 2018, The Weeknd confirmed to Miami's Power Radio FM 96.5 that "he is now taken," although he did not delve much into the details. For starters, the singer loves beautiful lasses just as the next man. Secondly, Abel Tesfaye values his privacy.
As an artist of his caliber, The Weeknd is no stranger to raging controversies. Just last year, Joe Budden wanted to know whether The Weeknd is indeed gay or straight after the latter supposedly commented on Drake's photo suggestively. According to Budden, there's no way a straight man would comment about a fellow man's hairdo.
The Weeknd's Controversial Lyrics and Accusation of Being Homophobic
The Weeknd faced a major backlash in January 2019 due to some of the lyrics in his and Gesaffelstein's single Lost in the Fire. The second verse of the song goes as follows;
"You said you might be into girls, said you're going through a phase / Keeping your heart safe / Well, baby, you can bring a friend / She can ride on top your face / While I fuck you straight" "Well, it is obvious that these lines can be termed problematic. The Weeknd and his co-star were accused of being homophobic, fetishizing bisexuality, and perpetuating the falsehood that a person who identifies as part of the LGBTQ+ community can be "turned straight."
Opinions are, however, divided on the real meaning of these lines. At the same time, some fans suggested that the lyrics were referring to a sex position and is even a plus to the "might be" lesbian to explore her sexuality. However, they think that the singer was outright vile and should be canceled.
This is not the first time The Weeknd has sang or produced promiscuous and raunchy lyrics, many of his previous work has included mentions of group sex, but it seems that this time, he had crossed the line. The Weeknd, on his end, chose to address these "accusations" in his fourth studio album, After Hours. In the song Snowchild, he sang, "very month another accusation / Only thing II'mphobic of is failing."
Despite The Weeknd's Gay Rumors, the Singer Has a Rich Dating Profile
Despite the gay rumors surrounding our mesmerizing singer, his dating profile so far seems to favor the opinion that he is as straight as they come. Although he has only been officially involved in two high-profile relationships, rumors of supposed secret relationships with other artists and actresses in the industry are forever adrift.
The Weeknd and Bella Hadid (2015 to 2019)
Away from all the rumors, this is one of The Weeknd's well-known relationships. The Weeknd and supermodel Bella Hadid dated on and off from 2015 to 2019. The couple first met at Coachella, and The Weeknd had then asked Bella to feature on the artwork for his album Beauty Behind the Madness. Their relationship was confirmed in early 2015 when they were first spotted together at Coachella that year.
They made their red carpet debut as a couple at the 58th Annual Grammy Awards, and in December, she starred in The Weeknd's music video In The Night. However, the couple went their separate ways in November 2016, allegedly due to their conflicting schedules.
The Weeknd and Selena Gomez (January 2017 to May 2018)
Two months after his first split from Bella Hadid, The Weeknd and American singer-actress Selena Gomez began dating in January 2017. They were pictured getting close at Coachella in April and made their red carpet debut at the Met Gala in May. Taking their relationship to the next level, the pair moved in together in September in Greenwich Village, New York.
But unfortunately, the high-profile relationship was not meant to be as they split up a month later. The Weeknd, who isn't shy about referencing his relationships in his songs, heavily referenced his relationship with Gomez in his 2018 EP My Dear Melancholy. The Weeknd and Bella rekindled their romance in May 2018 but unfortunately ended up splitting up once again in August 2019.
The Weeknd and Yovanna Ventura (2017)
The Weeknd was spotted with model Yovanna Ventura in November 2017, shortly after his split with Selena Gomez. The two were spotted at French Montana's birthday bash holding hands and being intimate through the night. The next day, they were once again photographed sitting in the back seat of an SUV as they left Hyde nightclub together. However, it is unclear if things were serious with them or where it was just a friendly gesture.
The Weeknd and Chantel Jeffries (2018)
The Weeknd allegedly and casually dated model and DJ Chantel Jeffries in 2018. They were spotted at Coachella in 2018, where The Weeknd had his arm around Chantel's shoulders. However, the rumored relationship fizzled out as he got back together with Bella Hadid soon after that.
The Weeknd and Rosalía (December 2020)
The Weeknd and Spanish singer-songwriter Rosalía were linked together towards the end of 2020 after the two collaborated on the remix of his hit single Blinding Lights. The rumors started flying after their promotional shots and artworks were revealed; the pair were pictured in intimate and suggestive postures.
However, it might have all been the concept of their shoot as neither party commented on the rumors. It is safe to assume that whatever they had was just a professional relationship. We all know The Weeknd can get immersed in his music personas.
The Weeknd and Angelina Jolie (July to September 2021)
As surprising as it might sound, The Weeknd has been romantically linked with actress Angelina Jolie. Of course, Angelina is now a single woman after her divorce from Brad and is free to mingle, so we wouldn't blame her if she wanted to hook up with the younger Abel. However, their relationship was never confirmed to be true. The two were spotted on some alleged dates.
For example, in July 2021, The Weeknd and Angelina Jolie were spotted enjoying a cozy dinner together in Los Angeles. In September 2021, they were also spotted leaving Giorgio Baldi in Santa Monica moments apart from one another and weeks later were again spotted at a concert in LA.
Angelina's son Pax was even reported to have met The Weeknd on a recent family trip to New York. Despite all these sightings, the pair might as well have been on a business meeting or just a social outing.
The Weeknd Began Dating Simi Khadra in April 2021 to Date
The Weeknd is officially single as of now, although he has been romantically linked with Simi Khadra, half of the twin DJ duo Simi and Haze. he Weeknd, and this is not without reason. After being first linked in April 2021, the pair were again spotted enjoying dinner at Sunset Tower in West Hollywood in February 2022.
DJ and socialite Simi Khadra was close friends with model Bella Hadid, who had once dated The Weeknd. Bella had since unfollowed both The Weeknd and Simi on Instagram, adding fuel to the rumor. Footage of Khadra and the Weeknd kissing during his birthday party recently surfaced on TikTok, but neither is yet to confirm or deny their relationship.