Tom Hiddleston is not yet married as he only recently got engaged to his girlfriend Zawe Ashton. The duo's engagement was confirmed on March 17, 2022, a few months before they welcomed a baby together.
Zawedde Emma Ashton is a British actor, narrator, and playwright best known for her roles in the comedy dramas Fresh Meat and Not Safe for Work, as well as the Netflix horror thriller Velvet Buzzsaw and as Joyce Carol Vincent in Dreams of a Life.
With the success Tom Hiddleston has enjoyed in his career, it is only natural that there has been great interest in his love life. The London native has not disappointed in this department as he has made headlines with his relationships. He notably dated people like American singer-songwriter Taylor Swift and English actress Susannah Fielding.
Zawe Ashton's Profile Summary
Full Name: Zawedde Ashton

Nickname: Zawe
Gender: Female
Date of Birth: 25 July 1984
Place of Birth: Hackney, London, England
Zawe Ashton's Age: 39 Years Old
Ethnicity: Mixed
Nationality: British
Zodiac Sign: Leo
Sexual Orientation: Straight (Heterosexual)
Religion: Christianity
Relationship Status: Dating
Zawe Ashton's Boyfriend: Tom Hiddleston
Zawe Ashton's Parents: Victoria (nee Muwanga) and Paul Ashton
Siblings: Two (Artist Sam Ashton)
Zawe Ashton's Height in Inches: 5 Feet 11 Inches
Zawe Ashton's Height in Centimetres: 180 cm
Zawe Ashton's Weight: 58 kg (128 lbs)
Zawe Ashton's Net worth: $5 million
Famous for: Actress, Playwright, Director, Narrator
Who is Zawe Ashton?
Zawe Ashton is a British actress, playwright, and narrator born in Hackney to her Ugandan mother, Victoria, and English father, Paul. From a very young age, Zawe began to work towards becoming an actress. By the time she was six years old, she was enrolled at the Anna Scher Theatre School and was a member of the National Youth Theatre.
In her teenage years, Zawe also had an interest in poetry. She notably won the London Poetry Slam Championship in 2000. Years later, she would bag a degree in acting from the Manchester School of Theatre.
She Launched Her Acting Career After Graduating University
Like every other aspiring actor out there learning their craft in school, Zawe Ashton began doing what she loves as a student. She took small roles in different television series and also appeared in numerous school plays before getting a chance to launch her career professionally. Some of the shows she appeared in in the early 2000s include In Deep (2002), Holby City (2003), The Bill (2008), etc. In 2006, she was Young Writer in Residence at the Contact Theatre in Manchester.
After graduating, Zawe began doing a lot of theatre work. She appeared in plays like Rhinoceros, Gone Too Far!, Othello, All The Little Things We Crushed, This Wide Night, Abi Morgan's Splendour, John Genet's The Maids, Salome, etc. For her classical performance in Salome, she was awarded 2nd prize at the Ian Charleson Awards in 2010.
As the 2010s rolled in, Zawe Ashton appeared to try to switch focus to the small and silver screen. In 2011, she began playing the role of Deborah Arnold in Case Histories (2011-2013), a TV show based on the Jackson Brodie novels by Kate Atkinson. That same year, she landed a main cast role in the British comedy-drama series Fresh Meat. Zawe featured in about 30 episodes of the show between 2011 and 2016. The actress's film credits during this time include St. Trinian's II: The Legend of Fritton's Gold (2009), Blitz (2011), Weekender (2011), Dreams of a Life (2011), Nocturnal Animals (2016), Greta (2018), and the Dan Gilroy-directed Velvet Buzzsaw (2019).
Zawe Ashton and Tom Hiddleston's Relationship Began While Working Together on The 2019 Broadway Play Betrayal
With both Tom and Zawe being actors from London, it is believed that their paths might have crossed a few times. However, it was in 2019 that they reportedly began dating. This happened after they worked together on the play Betrayal. The two played a married couple, and it appears that their on-screen chemistry was able to translate into something strong off-screen.
After the play's run, Tom and Zawe began hanging out often in New York City. Tom was notably spotted at his girlfriend's book launch in April of that year, where they appeared cozy. The actress published her first book titled Character Breakdown in 2019. The book is described as a fictionalized memoir based on her experiences in the movie business. In 2020, reports said that the pair were living together in Atlanta, Georgia, where the Loki actor had made home during the Coronavirus lockdown.
But while tabloids continued to speculate about their relationship, neither Tom Hiddleston nor Zawe Ashton confirmed the relationship. They were also barely spotted in public together enough times to have truly been considered to be an item. This all changed on 26 September 2021 when they made their first official public appearance at the 2021 Tony Awards in New York. Zawe was there to support her partner, who was nominated for Best Performance by an Actor in a Leading Role in a Play for his performance in Betrayal.
Tom Hiddleston and Zawe Ashton's Engagement Reports 
Seeing that Tom Hiddleston and Zawe Ashton have been an item since 2019 but only revealed so in 2021, they could well have gotten engaged without the world knowing about it. However, Zawe was not spotted wearing a ring until 2022. Tom eventually admitted that they are engaged a few months later.
Are Tom Hiddleston and Zawe Ashton still Together?
Tom Hiddleston and Zawe Ashton are still together. The couple, who welcomed their first child together in 2022, got engaged a few months before the birth of the child. They were spotted attending Wimbledon together in July 2023 in color-coordinated Ralph Lauren outfits. Even more recently, she revealed in an interview that Hiddleston gave her great advice on her Marvel debut. This suggests that the couple is still together and going strong.
Tom Hiddleston and Zawe Ashton's Relationship Timeline
| | |
| --- | --- |
| Date | Relationship Timeline |
| March 2019 | Tom Hiddleston and Zawe Ashton co-star in Betrayal. |
| April 2019 | Tom is all smiles as he makes an appearance to support Zawe Ashton at the launch of her book "Character Breakdown". |
| August 2019 | The couple sparked dating rumors after they were spotted attending the US Open together. |
| September 2021 | The couple vacationed together and were spotted sharing a kiss at a beach in Ibiza, Spain. |
| September 2021 | Hiddleston and Ashton make their red carpet debut as a couple at the Tony Awards. |
| March 2022 | The couple sparked engagement rumors at the BAFTA Awards where Ashton was spotted wearing an engagement ring. |
| June 2022 | Tom Hiddleston confirms the rumors and admits that they are engaged. |
| June 2022 | Zawe Ashton reveals she is expecting the couple's first child together. |
| October 2022 | Zawe Ashton and Tom Hiddleston became parents with the birth of their first child. |
| July 2023 | The couple attended Wimbledon together in color-coordinated Ralph Lauren outfits. |
Other Women Tom Hiddleston Has Reportedly Ever Dated
Susannah Fielding (2008-2011)
Birth Name: Susannah Glanville-Hearson
Date of Birth: 10 June 1985
Age: 38 Years Old
Place of Birth: Poole, Dorset, England
Nationality: British
Height: 5 feet 6 inches (1.68 m)
Weight: 65 kg
Net Worth: $1.5 million
Occupation: Actress
Susannah Fielding was the first person of note that Tom Hiddleston was in a relationship with for a long time. Fielding is an actress who trained at the Guildhall School of Music and Drama in London. After graduating in 2006, she began her career in theatre, appearing in productions of The Rose Tattoo (2007), Philistines (2007), Much Ado About Nothing (2007), and The Hour We Knew Nothing of Each Other (2008) at the National Theatre in London. In 2010, she and another actor received an Ian Charleson Award Commendation. Susannah was honored for her role as Pietra in Ibsen's An Enemy of the People at the Sheffield Crucible. Years later, in 2014, she won the Ian Charleson Award for her performance in the role of Portia in The Merchant of Venice at the Almeida Theatre.
For the silver and small screen, Susannah Fielding is known for appearing in Wallander (2008), Pete versus Life (2010), KIll Keith (2011), I Want My Wife Back (2016), The Great Indoors (2016-2017), This Time with Alan Partridge (2019-present), etc.
Tom and Susannah Dated For Three Years
Tom Hiddleston was not an internationally recognized actor when he began dating the English actress. The pair met in 2008 on the set for BBC's Wallander and immediately started dating. Their relationship would last for about three years before they went their separate ways in November 2011.
When news broke that the couple had decided to go their separate ways, Tom was quizzed about it, and he said the relationship ended because he did not "have time" for it. He added that he was focusing on building his career. It is important to note that this was around the time he made his first appearance in an MCU movie. On her part, Susannah never got to speak about the relationship or why it ended until many years later when she mentioned that she was "young and very naive" at the time. She further added that it gave her "a little snapshot of what fame could be like."
Kat Dennings (2010)
Birth Name: Katherine Victoria Litwack
Date of Birth: 13 June 1986
Age: 37 Years Old
Place of Birth: Bryn Mawr, Pennsylvania, U.S.
Nationality: American
Height: 

5 feet 3 inches (1.61 m)

Weight: 58 kg (128 lbs)
Net Worth: $15 million
Occupation: Actress
Fans of the CBS sitcom 2 Broke Girls will know Kat Dennings for her role as Max George Black. The American actress, who began her career at age 9 when she started featuring in commercials, has come a long way in the movie business. She noted that her family could not afford to get her formal acting training, so she had to do commercials and work as an extra for many years before earning her Screen Actors Guild card.
Other than her work on 2 Broke Girls, Kat is known for playing the role of Darcy Lewis in the MCU superhero films Thor (2011), Thor: The Dark World (2013), and Disney+'s WandaVision (2021) miniseries. She further appeared in The 40-Year-Old Virgin (2005), Big Momma's House 2 (2006), The House Bunny (2008), Nick and Norah's Infinite Playlist (2008), and Suburban Gothic (2014), among others.
Tom and Kat's Supposed Relationship Ended As Soon As It Started
There are conflicting reports as to whether the relationship between the pair actually happened. If it did, it ranks among one of the actor's shortest relationships. According to reports, the two who evidently worked together on the MCU movies met while filming and were cozy with each other.
Later on, while promoting their movie at Comic-con, they were photographed holding hands and appeared to be very cozy. Unfortunately, this was the last time they were pictured together, and they never confirmed their relationship.
Jessica Chastain (2013)
Birth Name: Katherine Victoria Litwack
Date of Birth: 24 March 1977
Age: 46 Years Old
Place of Birth: Sacramento, California, United States
Nationality: American
Height: 5 feet 4 inches (163 cm)
Weight: 56 kg
Net Worth: $50 million
Occupation: Actress, Film Producer
One of the more established actresses that Tom Hiddleston has been in a relationship with, Jessica Chastain, is a multiple award-winner. The Sacramento native, who learned her trade at the world-renowned Julliard School, has a Golden Globe and a Screen Actors Guild Award to her name, among various other accolades. She won her Golden Globe Award in 2012 for her role as a CIA analyst in Zero Dark Thirty. Her performance in the movie also earned her a nomination for the Academy Award for Best Actress. Other notable films of hers include Interstellar (2014), A Most Violent Year (2014), The Martian (2015), Molly's Game (2017), It Chapter Two (2019), and The Eyes of Tammy Faye (2021).
Tom Hiddleston and Jessica Chastin's Relationship Didn't Last Because He Was An Actor
In 2013, when Tom had begun rubbing shoulders with the Hollywood elite, he and Jessica reportedly began seeing each other. Tom was excited over the relationship, and Jessica certainly felt the same way as she reportedly visited Britain to spend some time with her boyfriend and to also meet his family.
Things eventually didn't work out as Jessica later spoke about her rule of not dating other actors. In 2017, she married fashion executive Gian Luca Passi de Preposulo.
Elizabeth Olsen (2015)
Birth Name: Elizabeth Chase Olsen
Date of Birth: 16 February 1989
Age: 34 Years Old
Place of Birth: Sherman Oaks, Los Angeles, California, United States
Nationality: American
Height: 5 feet 7 inches (170 cm)
Weight: 58 kg (128 lbs)
Net Worth: $11 million
Occupation: Actress
Another MCU alumni Tom Hiddleston has been linked to is actress Elizabeth Olsen who received a BAFTA Rising Star Award nomination at the 66th British Academy Film Awards. The younger sister of famous child actresses/twins, Mary-Kate and Ashley Olsen, Elizabeth played Wanda Maximoff / Scarlet Witch in the following MCU movies: Avengers: Age of Ultron (2015), Captain America: Civil War (2016), Avengers: Infinity War (2018), Avengers: Endgame (2019), and WandaVision (2021). Her performance in the Disney+ miniseries garnered her a Primetime Emmy Award nomination.
Other notable projects that the New York University graduate has appeared in include Martha Marcy May Marlene (2011), Godzilla (2014), Wind River (2017), Ingrid Goes West (2017), and Sorry for Your Loss (2018–2019).
Tom and Elizabeth's Dalliance Came After She Called Off Her Engagement To Actor Boyd Holbrook
Tom Hiddleston appears to always fall for people he appears opposite of on-screen as his relationship with Olsen came after they met on the set of the 2015 biographical film, I Saw the Light. In the film, the actress portrayed Audrey Williams, the wife of Tom's character, singer Hank Williams.
After the project, Tom and Elizabeth were linked by the media for a couple of months. While some noted that it was casual, a rebound following her called-off engagement, others pointed out that they went out on several dates and were always texting when apart. Olsen later put things to bed when she pointed out their relationship was a deep friendship, and nothing more would come out of it.
Taylor Swift (2016)
Birth Name: Taylor Alison Swift
Date of Birth: 13 December 1989
Age: 33 Years Old
Place of Birth: West Reading, Pennsylvania, United States
Nationality: American
Height: 5 feet 11 inches (180 cm)
Weight: 58 kg (128 lbs)
Net Worth: $15 million
Occupation: Singer-songwriter, Record Producer, Actress, Director, Businesswoman
If you are one to compare the individual success of couples in their careers, then you would not be wrong to say that Tom Hiddleston was punching above his weight with his relationship with Taylor Swift. Having sold more than 200 million records worldwide, the singer is one of the best-selling musicians of all time. Taylor has received many accolades for her music, including 11 Grammy Awards, 12 Country Music Association Awards, 25 Billboard Music Awards, and 34 American Music Awards (AMA). Her number of Billboard wins makes her the female artist with the most awards, while her AMA wins are the highest for any artist ever. She further has 52 Guinness World Records to her name.
Among the many chart-topping records she has released, those that would be easily identified by those that do not know her are "Teardrops on My Guitar," "Love Story," "You Belong with Me," "We Are Never Ever Getting Back Together," "I Knew You Were Trouble," "Shake It Off," "Bad Blood," etc.
Tom and Taylor Began Seeing Each other After She Ended Things With DJ and Record Producer, Calvin Harris
Unlike Tom Hiddleston's other relationships after he broke up with actress Susannah Fielding, Tom was happy to tell the world that he was seeing Taylor Swift. In an interview with Hollywood Reporter, he said: "Well, umm… the truth is that Taylor Swift and I are together and we're very happy. Thanks for asking. That's the truth. It's not a publicity stunt."
According to reports, he met the pop star at the Met Gala in May of 2016, after she broke up with Calvin Harris, her boyfriend of about two years. The duo was said to have had the hots for each other as the actor met Swift's parents, Andrea and Scott, at their home in Nashville. That same night, pictures surfaced of them dancing together at one of Selena Gomez's gigs in Nashville.
However, in typical Hollywood style, after about three months of intense romance, meeting the parents, and spending a lot of time together, the couple separated. Like the rest of his relationships after Fielding, it was also short-lived.
What Led To Their Break Up?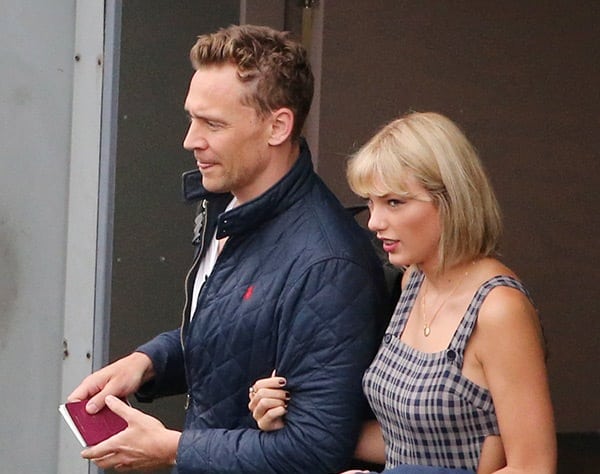 The three-month relationship between Tom Hiddleston and Taylor Swift was one of the most talked-about celebrity relationships of the Summer of 2016. The widely talked about "Hiddeswift phenomenon" was coined from the short-lived love between the two. But just as their relationship was a shock to their fans, so it was with their separation. Although no serious reasons have been given as to why they separated, sources claim that the decision to go their separate ways was amicably agreed upon by the two stars.
Concerning what led to the sudden breakup, Tom revealed that it was Swift who called off the relationship, apparently because they disagreed on whether or not their relationship should go public. Taylor reportedly wanted a relationship away from the public eye because she understood the risks involved in it. Tom, on the other hand, felt that it was okay if the world knew every piece of detail about what they had for each other.
Another reason that could have led to their separation was the "I ♥ T.S." tank top he was photographed wearing. During an interview with GQ, Tom admitted that it was one of the reasons behind their breakup but also added that the tank top was a joke between friends. There were claims also that the Tom Hiddleston and Taylor Swift relationship ended because the relationship was way too fast and that Taylor decided to leave Tom because she realized he was trying to gain fame for the benefit of his career in Hollywood. If the latter was true, then he sure has gotten the media attention he needed as he is today a bonafide star in every sense.
FAQs About Tom Hiddleston's Love Life
Is Tom Hiddleston Married?
Tom Hiddleston is not married, however, he is engaged to his current girlfriend Zawe Ashton and they have a child together.
Who is Tom Hiddleston's Wife-to-be?
Tom Hiddleston's wife-to-be is Zawe Ashton. She is a British actress, playwright, and narrator born in Hackney to her Ugandan mother, Victoria, and English father, Paul.
How Old is Zawe Ashton?
Zawe Ashton is 39 years old. She was born on July 25, 1984, in Hackney, London. She is three years younger than Tom Hiddleston who was born in February 9, 1981, and is 42 years old.
How Tall is Zawe Ashton?
Zawe Ashton is 5 feet 10 inches tall. She is a few inches shorter than Tom Hiddleston who is 6 feet 2 inches tall.
How Long Have Zawe Ashton and Tom Hiddleston Been Together?
Zawe Ashton and Tom Hiddleston have been together for around three years. Their fans first suspected they were together in March 2021, they confirmed it with their red carpet debut in September and they have been together since.