If you are a bride-to-be that is blessed with voluminous hair, you can check out our selection of the most incredible wedding hairstyles for long hair. Are you looking for something simple or sophisticated? We have got something for you? Wondering what to do with your unruly curls? We have got you covered. Even if you are a guest looking for a style for the next wedding on your calendar, then we have something for you as well.
Wedding Hairstyles for Long Hair
Classic Topknot
Side Ponytail with Flower
African Braids
Braided Ponytail Elevated with Gold Wire
Twisted Chignon
Sleek Braided Ponytail with Interwoven Flowers
Side Swept Curls
Soft Waves
Long Curls
Voluminous Curls
Sumptuous Spiral
Big Barrel Curls
Pulled-Back Style
Ponytail Mix
Vertical Natural Hair
Twisted Half Up with Waves
Fringed Half Up
Woven Half Up
Cascading Ponytail with Curls
High Up Ponytail
Adele Beehive
Bangs with Pinned Curls
Side Parted Curls with a Crown of Flowers
Pinned Up Curls
Braided Bun
Loose Wedding Braids
Sleek Ponytail
Curls and Twists
Crown Braid
Twisted Bun
Updo with Curtain Bangs
Half Updo with Curls
Voluminous Low Ponytail
Half Updo with Waves
Thick Braid
Simple Wedding Hairstyles for Long Hair
Classic Topknot
One of the simplest wedding hairstyles that can work for a bride with long hair is the classic topknot. Simply apply a styling mousse to your hair and pack it into a knot atop your head. The topknot works well for people with triangle, square, oval, and diamond-shaped faces. Even if you don't fall into this category, you can still make the topknot work for you by letting some tendrils fall down and softly frame your face.
Side Ponytail with Flower 
Ponytails may be pretty common but there's a lot that you can do to make yours stand out for your big day. Make sure to shampoo and condition well. Then, use a curling wand and mousse to turn the ends of your hair into wonderful curls. The next step will be to divide your hair into a side part and pack low with the curls cascading down. Then, tuck a beautiful flower, be it Gardenias, Freesias, or daisies, into your side part and you are ready to walk down the aisle.
African Braids
The fact that you have voluminous afro hair doesn't mean that you can't keep it simple for your wedding day. Awesomely knitted braids will do the magic; a perfect way to go about this is making various small-sized linear braids and then tying them together into a ponytail or a bun at the back. You can also choose to have medium or large-sized braids. Whichever you pick, all you need do is to pair this style with gorgeous accessories and stunning makeup and you will be the cynosure of all eyes on your big day.
Braided Ponytail Elevated with Gold Wire
This is another simple look that brides with curly natural hair can utilize on their wedding day. Slick your curls into a ponytail, letting the flyaway curls roam free. Braid your ponytail halfway and leave the rest undone to show off your natural curls. Use a gold wire or other similar items to beautify as desired.
Twisted Chignon
The chignon is both simple and classy, making it an obvious choice for a bride who wants to wear a simple hairstyle for her day. Simply divide your hair into a side or center part as desired and then twist both sides from front to back. At the back, you can now secure into a classic chignon. You can then go ahead and use various accessories to adorn your hair or simply pin-up your veil. Either way will work out.
Sleek Braided Ponytail with Interwoven Flowers
Another way to incorporate flowers into your hair while still keeping it simple for your wedding day is this particular style. All you require is to park your hair into a sleek pony and then braid the ponytail. While braiding you can then incorporate flowers and other accessories as you desire. The sleek braided ponytail works well for angular and oval faces but should be avoided if you have a square-shaped face.
Curly Wedding Hairstyles for Long Hair
Side Swept Curls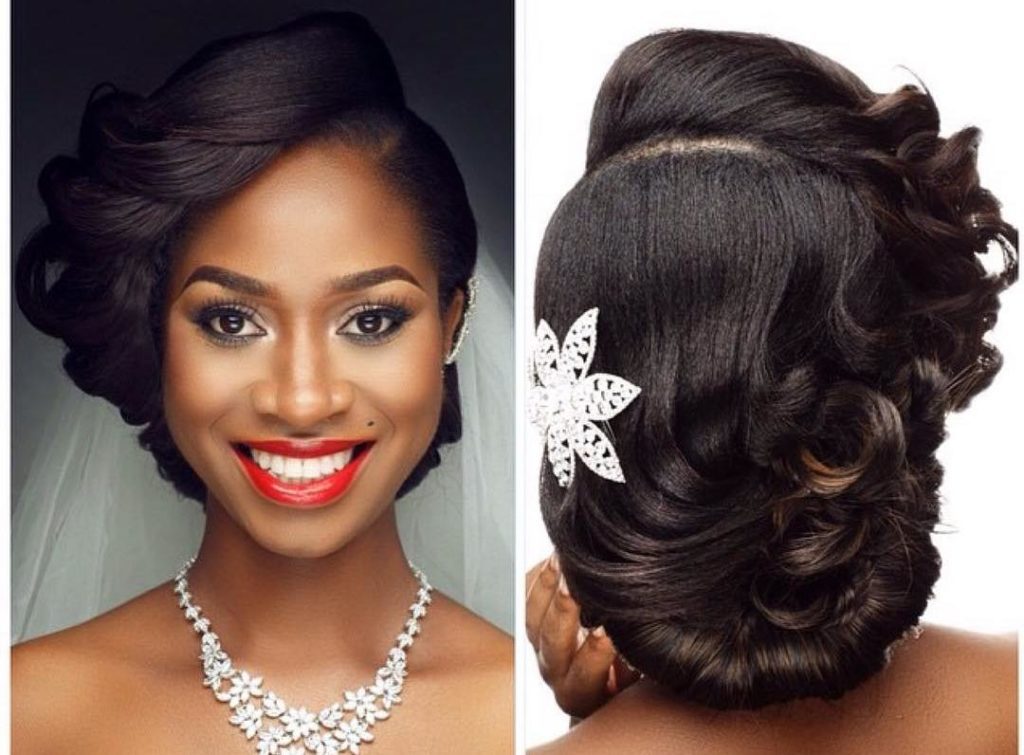 Curls may be a hardship to deal with on a daily basis but it does come in handy on important occasions such as one's wedding day. You can utilize your curls, whether natural or artificial, to look stunning for your big day. You can style this hair in several ways but whatever you do ensure that your curls can be captured by the photographer. For this purpose, the side-swept curls will serve greatly. You can also switch things up by horizontally dividing your hair into two before packing the curls at the side.
Soft Waves
Soft Waves are a go-to if you're looking for a wedding hairstyle that will complete your natural look. To make them, curl your hair from the temples to the ends and then divide it into a side part or a center part. A side part is usually good for weddings but if the center works best for you, you can go with it as well. You can then add an accessory such as flowers or beautiful pins to make the overall look even softer. If you also plan to wear a tiara, you can add that as well.
Long Curls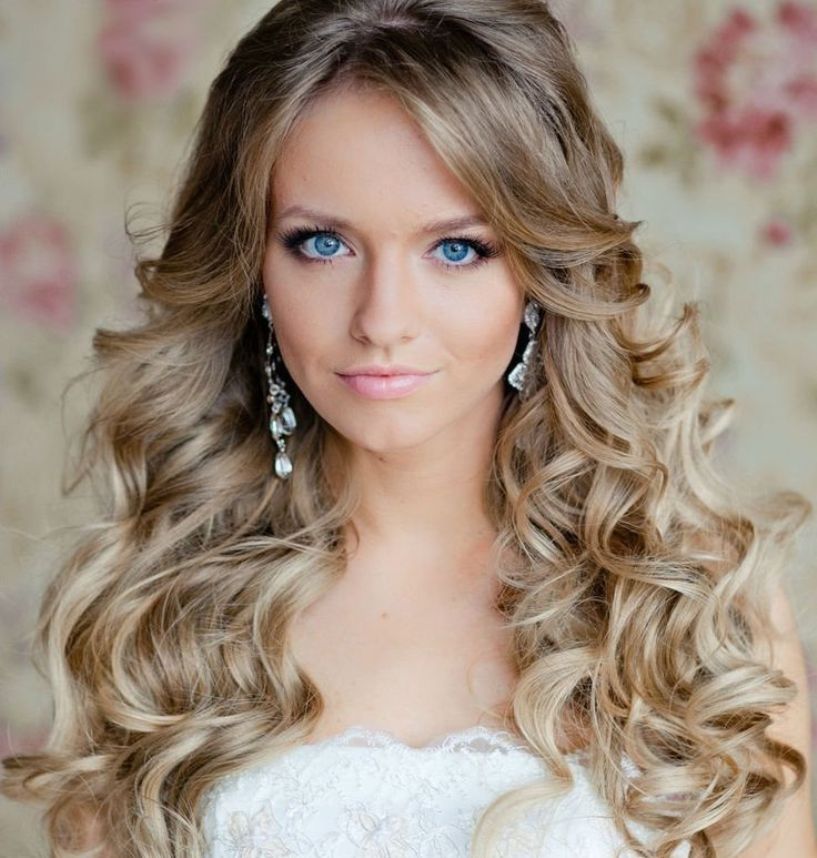 The good thing about classic hairstyles is that they never go out of fashion. Any bride would look hands-down gorgeous with these long curls. Just make them fall and spread down your shoulders freely, and the amazing look will come out naturally. To make your curls last all throughout the ceremony, you should invest in good products such as high-end texturizing spray, shampoos, etc. This may be a bit pricey but it is worth doing given that your wedding is a once in a lifetime event
Voluminous Curls
If you are blessed with the kind of voluminous curls that is reminiscent of legendary singer, Diane Ross, you can also wear them to your wedding as well. Just make sure to apply enough anti-frizz products such as shampoos, leave-in conditioners, and detangling conditioners and you are good to go. The voluminous curls look will work best for a bride that has decided to rock a strapless gown or an off-shoulder gown as the curls already provide cover for your shoulders.
Sumptuous Spirals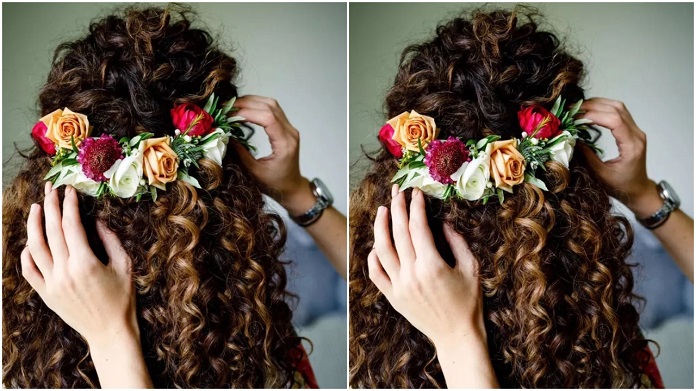 If you have a head that is full of thick, luscious, spiral curls and want to naturally wear it for your wedding day, you can do just that. All you need to do is to apply nice hair products to keep the frizz at bay. You can then style as desired. One of the ways to do this is to pack your curls in a half up and half down style and secure the top section with a crown of beautiful colorful flowers.
Big Barrel Curls
Even if you have naturally straight hair and still want curls for your wedding day, then these big barrel curls will do. Simply use a curling wand and turn your hair into waves and curls. Divide into a side part but rather than packing it up, just use a hair accessory to clip the smaller side to keep it out of your face. You can then let the larger side free.
Half Up Wedding Hairstyles for Long Hair
Pulled-Back Style
This style will work well for a bride who has naturally straight long hair. But even if you don't, you can use a flat iron to straighten your hair. You can then go ahead to comb it all back. Select the front section and pin it up, creating a fantastic puffed-up look in front. The back section will then fall back freely finishing things off.
Ponytail Mix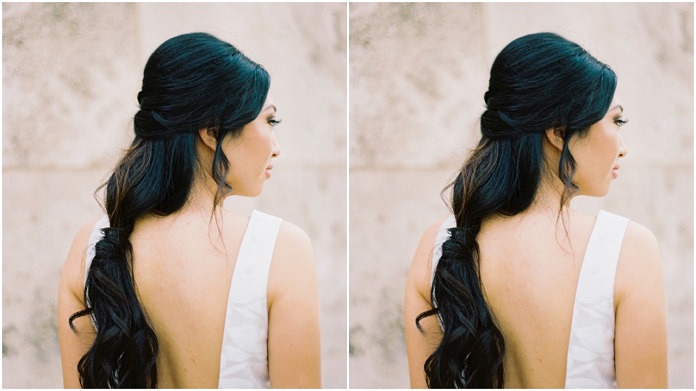 This is a fresh take on the half-up style and involves blending it with an elegant ponytail. Simply gather the front section of your hair into the normal half-up style. Then pack the remainder into a stylish loose ponytail. The ponytail mix will draw a lot of attention to your back. Therefore, if you are wearing a backless wedding dress, it will be a perfect match.
Vertical Natural Hair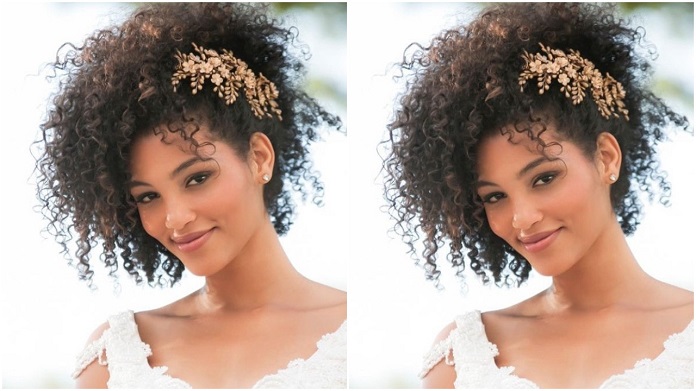 This is another fresh take on the half-up, half-down style and especially suits brides with naturally curly hair. Rather than dividing your hair horizontally into two sections, you divide it into two vertical sections. You then accordingly pack sideways as your natural hair can resist the force of gravity. Go ahead and beautify with hair accessories and you will look stunning.
Twisted Half Up with Waves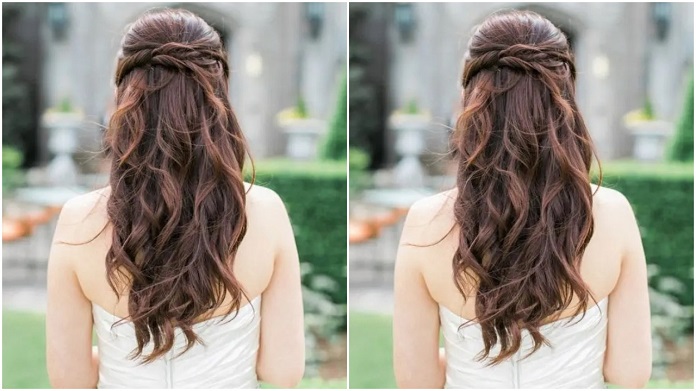 For a more traditional look, you can go with the twisted half up with waves. First, use your curling wand to achieve your waves and then pack in a half up half down style. For the upper section, twist before securing at the middle. You can then finish things off with flowery or jeweled hair accessories. The Twisted Half Up with Waves is another style that draws attention to your back and is good for a backless wedding dress.
Fringed Half Up
This style is so beautiful that you don't need many accessories. Your hair does all the work thanks to the half-up, half-down style as well as the fringe in front. To make things even more beautiful for your big day, you can add some color highlights to your hair. This will make your whole look even more beautiful than it would have been had you stuck to one color.
Woven Half Up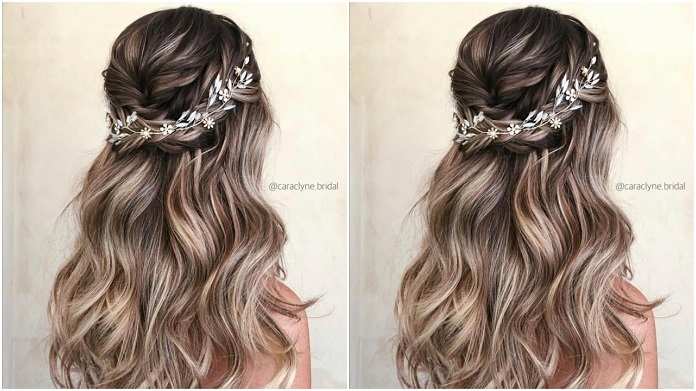 This is similar to the twisted half up with waves but with braids incorporated. Simply divide your hair into the normal half up and half down style. Make sure that the lower section is filled with beautiful waves. Return to the front section and braid it into a crown. You can then secure and further beautify your crown with strategically-placed flowers or jeweled accessories at the back.
Chubby Face Wedding Hairstyles for Long Hair
Cascading Ponytail with Curls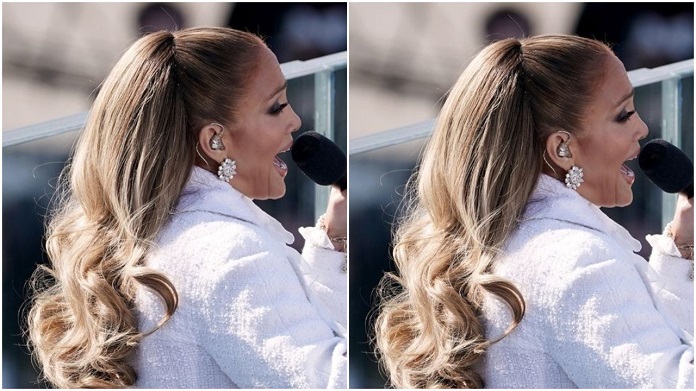 The fact that your face is chubby doesn't mean that you can look stunning on your wedding day. There are several hairstyles that you can use to pull this off and one of them is the cascading ponytail with curls. Just style your hair into medium/large-sized Hollywood curls. Pull back the entire hair from your face and secure with some pins at the front side. Then, let the rest cascade down to in all its curly glory.
High Up Ponytail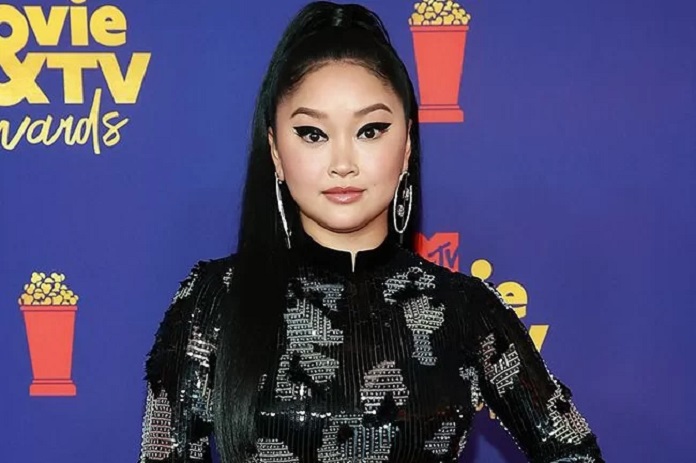 A sleek ponytail is not the exclusive preserve of brides with angular faces and pronounced cheekbones. Even if your face is round and chubby, it can still work for you. Just make your hair sleek and pack it into a high ponytail. Rather than letting the pony fall straight down your back, part it into two sections so that it falls down the left and left. Finish up with exquisite accessories and make-up.
Adele Beehive Hairstyle
Superstar singer, Adele, has recently undergone an incredible weight transformation but back in the day, she was on the chubby side of life. As such, brides with chubby faces can take a cue from her famous beehive hairstyle. Rather than piling your long hair into a comical shape atop your head, you can section it into two horizontal halves. Leave the back part hanging down and pile the front part into a beehive. You can also bring out some hair in the front so that they can frame both sides of your face.
Bangs with Pinned Curls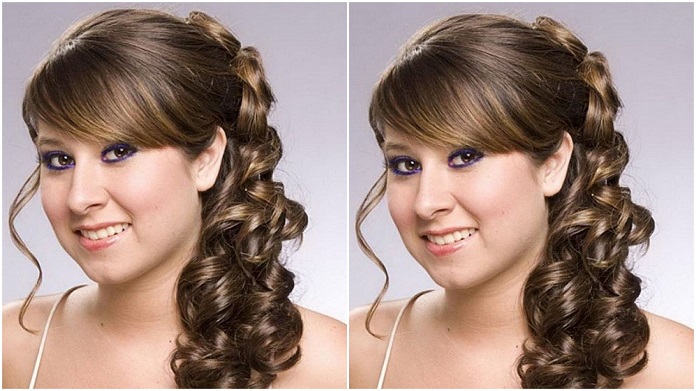 Another hairstyle that is suitable for brides with long hair and chubby faces is the bangs with pinned curls. This will have you looking simply stunning on your wedding day and the wonderful thing about it is that you do not need to go heavy on the makeup or accessories. You can keep everything simple as your exquisite curls have already done most of the job for you.
Side Parted Curls with a Crown of Flowers
To make this style come alive, you need to curl your hair a bit before securing it into a side part. You can now go ahead to add a delicate crown of jeweled flowers to your head. Be sure not to overdo it with the accessory but keep it simple and elegant. You can then go heavy on the make-up and transform yourself for the ceremony and party afterward.
Pinned Up Curls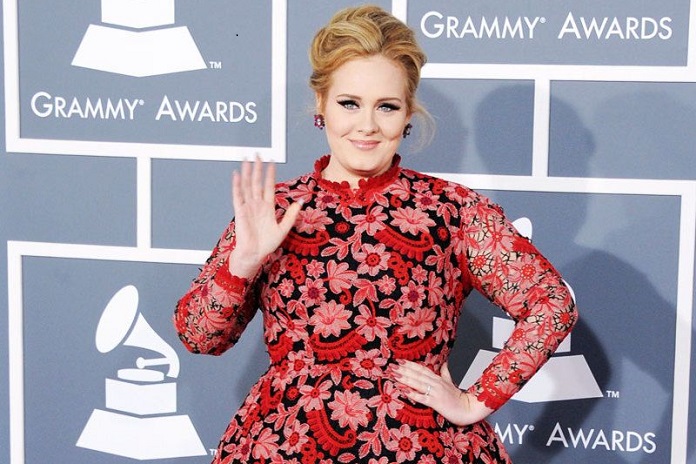 If you don't want your hair flowing down your back and causing all manner of discomfort, you can also choose to pull up your hair into an updo. However, before you do this, use appropriate products to make your hair sleek, and then use a curling wand to get in some curls. You can now go ahead and pin-up and then secure your veil to the backend.
Down Wedding Hairstyles for Long Hair
Braided Bun
Updo hairstyles are highly selective of face structure. Therefore, if you want something that is guaranteed to suit your face, you are better off going for a down hairstyle for your wedding. One of the classiest and simplest options in this category is the braided bun. Pack your hair into a low pony and Dutch braid. You can then roll it into a bun and use beautiful pins and other hair accessories to beautify it. You can also stick a large flower into the bun if you so desire.
Loose Wedding Braids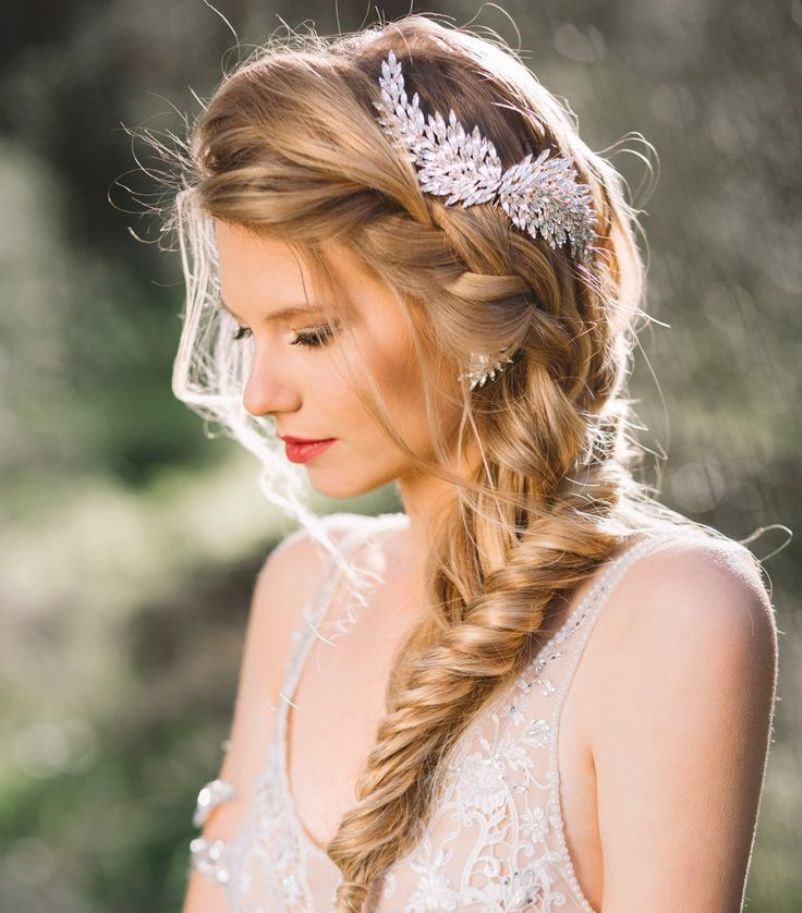 This is another wonderful option for brides who want to wear a down hairstyle for their big day. Make sure that your hair is all smooth and sleek and Dutch braid both sides down. At the nape, fresh braid until you get to the very tip. You can then use hair accessories to make your hair look even more beautiful. Remember not to braid too tightly but rather let tendrils escape to create a wispy look around you.
Sleek Ponytail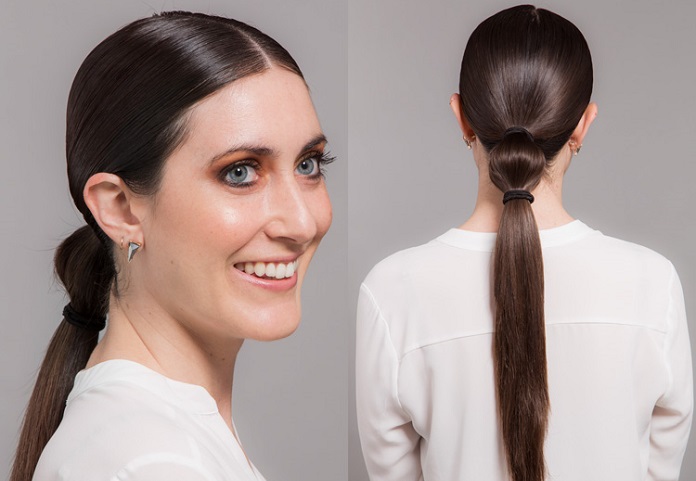 Whether you have sleek straight hair or even curly natural hair, this style will work for you. Just slick back your hair with styling products and pack it in a low ponytail. If your hair is naturally straight, it will then fall down in a sleek ponytail. If it is naturally curly, you can then braid it into one single large braid which will fall down your back. Whether your dress is off-shoulder, tube, strapless, or with short/long sleeves, this look will work for you.
Curls and Twists
This is another style that will sync with whatever is your dress choice for your wedding day. Once you have turned your hair into sleek curls, you can loosely twist the whole curls together and push them to one side of your shoulder. You can then complement it with your preferred necklaces and earrings. Also, make that your make-up game is top-notch.
Crown Braid
Want to look like royalty on your wedding day, then the crown braid will do the trick. Simply divide your hair into a center part. Go to one side and start Dutch braiding from the back. Braid all over your head and when you get to the juncture where you started, you can now artfully tuck in the tip. The crown braid is so beautiful that you do not need much hair accessories. Nothing stops you from using them though if you so wish.
Wedding Guest Hairstyles for Long Hair
Twisted Bun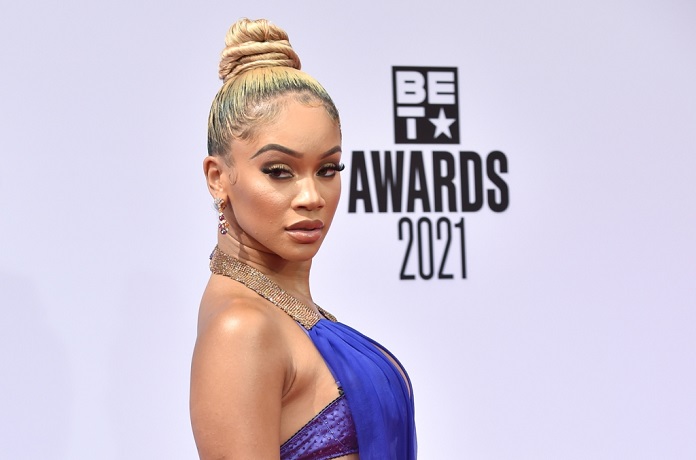 One primary rule for wedding guests is not to attempt to upstage the bride. One hair that can certainly help you do this is the twisted bun. Just pack your hair into a tight updo and then twist the pony. You can then snake it around into a tight bun. You can use come edge control to make your front hair stunning and you are good to go.
Updo with Curtain Bangs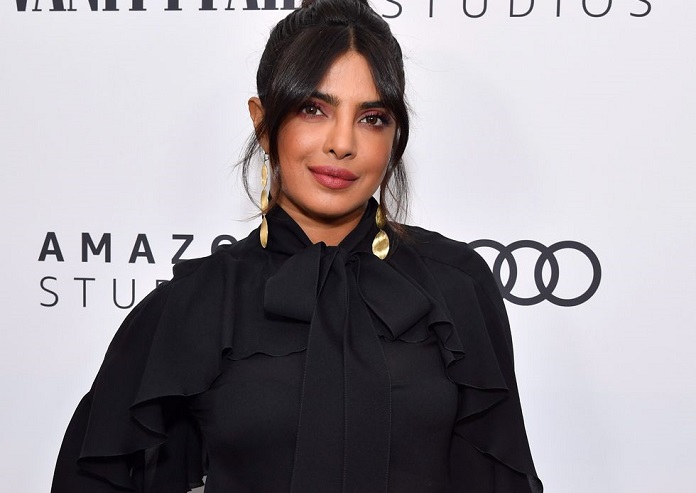 This is an effortlessly beautiful look that any person can rock while attending a wedding. The curtain bangs frame your face while the larger portion of your hair is packed into a tight updo. This is quite ideal for showing off killer moves on the dance floor. Another wonderful thing about this style is that it works for most types of face structures out there.
Half Updo with Curls
Another effortlessly beautiful look that one can rock to a wedding is the half updo with curls. Whether you got your curls naturally or through a curling wand, all you need to do is pack the front section of your hair up and then let the back section cascade down in beautiful curls. Make sure to accessorize with beautiful earrings and necklaces.
Voluminous Low Ponytail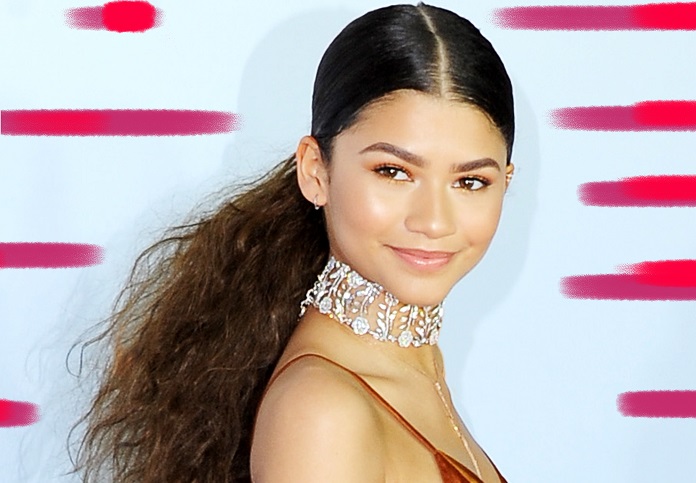 For all the ladies out there that are blessed with natural hair, the voluminous low ponytail will work for you. Simply pack your hair into a sleek low ponytail and allow the curls to fall down from there. This look draws a lot of attention to your face so make sure to have some stunning makeup plans for that day.
Half Updo with Waves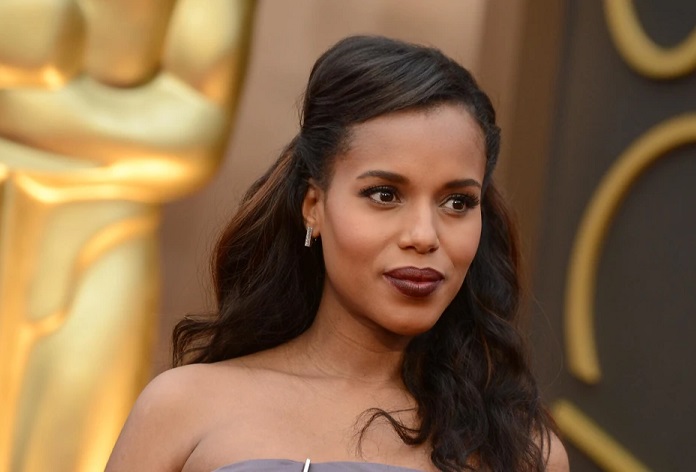 Running late for the wedding and want a simple but classy style? Then the half updo with waves will work just fine and you additionally get the option of styling the front section as you like. Want a side part? You can have it. Prefer a center part? Then, you go for it as well. Be assured that whichever you pick, you will look glam at the end of it all.
Thick Braid
The thick braid can come in a variety of options so you get to choose what works for you. One option is to part your hair into a side part and then loosely braid until you get to the very tip of your hair and close it out. Another option is to slick back your hair into a high ponytail. Then braid the ponytail into one thick braid. Even if your hair is not naturally long, you can use extensions to get this style. You can also switch things up by using another color.