Lakeisha Graham (born in 1979) is a 44-year-old American entrepreneur and nurse's assistant who has an estimated net worth of around $1-2 million. She is best known as the wife of tennis coach Richard Williams. 
The beautiful lady came into the limelight following her marriage to the father of America's female tennis stars, Serena and Venus Williams. For obvious reasons, their relationship came as a shock to the public, but that notwithstanding, the couple went ahead and tied the knot in 2010. Unfortunately, their union came to an end about seven years later.
Even though Lakeisha is no longer together with Richard, getting involved with him has already earned her a lot of popularity. As a result, many people are eager to know all about her, and in this article, we'll share details about her that'll surely interest you.
Summary of Lakeisha Graham's Biography
Full name: Lakeshia Juanita Graham
Gender: Female
Date of birth: 1979
Place of Birth: The United States
Lakeisha Graham's Age: 44 Years Old
Ethnicity: African American
Nationality: American
Sexual Orientation: Straight
Religion: Christianity
Marital Status: Divorced
Lakeisha Graham's Ex-Husband: Richard Williams (2010 to 2017)
Lakeisha Graham's Children: Dylann Star Williams
Lakeisha Graham's Height in Inches: 66
Lakeisha Graham's Height in Centimetres: 167
Lakeisha Graham's Weight: 60-65 Kg
Body measurements in inches: 34-26-35
Hair Color: Black
Eye Color: Dark Brown
Lakeisha Graham's Net worth: $1-2 million
Famous for: Being the ex-wife of Richard Williams
Lakeisha Graham's Instagram: keisha_iam_her
How Old is Lakeisha Graham Now?
Lakeshia is currently 44 years old. She was born Lakeshia Juanita Graham in 1979, but the exact date on which she was born is unknown. While it is known that she was born in the United States, information about the particular place she was born is also not available. However, we are certain that she is an American citizen and of African American ethnicity.
Just as details about her birth are not in the public domain, there is also nothing known about Lakeshia's childhood, parents, siblings (if any), and education. Still, several reports show she is well-educated.
Lakeisha Got Married to Richard Williams in 2010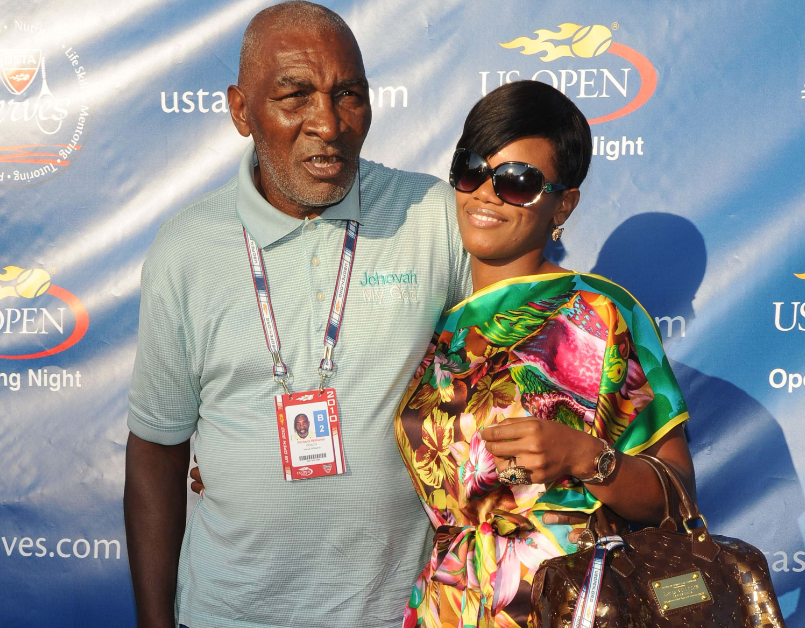 After Richard Williams' first two marriages to Betty Johnson and Oracene "Brandy" Price crashed, he decided to try again in 2010 when he tied the knot with Lakeisha Juanita Graham in the presence of their family and friends.
At the time they got married, Richard, who was born on February 14, 1942, was 68 years old while Lakeisha was 31, making her 37 years his junior and only one year older than Richard's daughter, Venus Williams.
By 2017 They Were Headed for Divorce
Everything seemed to be going on well with the couple until 2017, when their marriage came crashing. In the said year, Richard filed for divorce from Lakeisha, making several shocking claims about her. In his petition, according to the Daily Mail, the tennis coach claimed that his then 38-year-old wife was an alcoholic.
He also alleged that Lakeisha was stealing his social security checks and passed ownership of their cars and his West Palm Beach house to herself by forging his signature. According to him, she went on to take out a $152,000-mortgage on the house afterward, imitating his signature again. Richard Williams further claimed that his estranged wife left their matrimonial home in August 2016, abandoning their only child in his care.
Amid their messy divorce, Lakeisha, on her part, also made several claims against her husband. She alleged in divorce papers that Richard "acted hostile" while they were married, and she was afraid he would hurt their little son. She also claimed that he used to drive through poor neighborhoods to look at women.
Surprisingly, just when people thought the couple's marriage was on the verge of becoming officially over, Lakeisha Graham petitioned the court through her attorney in March 2022 to halt their divorce. Taking the fact that Richard suffered a series of strokes in recent times and is suffering from dementia into account, some people may have thought that the reason for this was because Lakeisha was taking care of her husband, but that was not it.
As claimed in the court papers filed by Sara Lawrence, Lakeisha's attorney, she and Richard resumed living together in 2019, and they were now raising their son together. Additionally, it was also claimed in the paperwork that the divorce proceedings should be stayed because Lakeisha and Richard now share a very healthy sexual life.
"The wife believes that the parties have reconciled and have engaged in an active marital life including having regular weekly sexual relations including but not limited to on January 9, 2022, the night before filing this motion," said Sara Lawrence in the court documents.
Just two months after Lakeisha dramatically pumped the breaks on proceedings following their sizzling sex life, the bitter divorce came back on as Richard sued her for $1 million with regards to their home in Palm Beach Gardens, Florida, which Richard claimed in court documents that Lakeisha remortgaged for only 10 bucks!
Lakeisha Graham's Net Worth Might Increase After Her Divorce From Richard Williams
As of July 2022, the divorce battle between Lakeisha Graham and Richard Williams has not yet ended. As a result, she has not received any form of settlement from her soon-to-be ex-husband, Richard. However, judging by how similar cases turned out in the past, there are reasons to believe that Lakeisha might become richer at the end of their divorce proceedings.
Meanwhile, even before her involvement with the older man, Lakeisha has always had her own money. According to various online sources, she is an entrepreneur. She reportedly owns a small grocery shop where fruits and vegetables are sold. The shop's location is in Fort Lauderdale, Florida, USA. Additionally, Lakeisha Graham is also said to be a nurse's assistant.
Although the details of her income are not known, she is said to have an estimated net worth of about $1-2 million as of June 2022.
How Old Is Lakeisha Graham's Son with Richard Williams?
The union between the estranged couple produced one child, a son named Dylann Star Williams. He was born sometime in August 2012 in the United States of America, and this means he is currently 10 years old. Considering his parents' ethnic backgrounds, the little boy is of Africa American ethnicity.
Even though Dylann is the only child his parents share, he has half-siblings from his father's side, and they include world-class tennis players Serena and Venus Williams. Others are Chavoita, Sabrina, Richard II, Ronner, Reluss, and Renuka.