American basketball player, Brittney Griner, popularly called BG, was arrested on February 17, 2022, at the Sheremetyevo International Airport after the Russian Federal Security Service found vaporizer cartridges that contained cannabis oil in her luggage.
Brittney Griner is on the roster of the Russian Women's Basketball Premier League team named BC UMMC Ekaterinburg and had returned to the country to join the team when she was arrested.
Like many other women who play basketball professionally, Brittney augments her income and keeps her skills sharpened by playing abroad during the Women's National Basketball Association off-season. Thus, she signed to BC UMMC Ekaterinburg in 2015 and has remained with them to date.
Brittney Griner Was Arrested in Russia in February 2022
The star basketball player was arrested on February 17, 2022, at the Sheremetyevo International Airport close to Moscow. This was after officials of Russia's Federal Security Service found vaporizer cartridges that contained cannabis oil in her luggage following her arrival from New York.
The Houston native has been held since then, and on June 27, 2022, her lawyer told CNN that her detention had been extended by half a year until the outcome of her trial, which started on Friday, July 1, is known.
Since the substance Brittney was caught with is considered illegal in Russia, a criminal case was opened against her, and it can carry a sentence of as much as 10 years in jail in Russia," according to legal experts who spoke to The New York Times.
Meanwhile, following her arrest, the customs service shared a video of someone at the airport, which is obviously Brittney going through a security check (the video above). The Russian State television also showed Brittney Griner's picture (which, according to reports, was taken at a police station in the country) in the course of a segment that was broadcast on March 5, 2022.
The Athlete is Facing Drug Charges
Having been arrested for being in possession of an illegal substance, the WNBA professional basketball player was charged with illegal drug possession and with smuggling a "significant amount.". For her first court appearance on Friday, July 1, which was held in a court located in the Moscow suburb of Khimki.
Brittney Griner arrived at the courtroom with her hands cuffed and dressed in a Jimi Hendrix T-shirt. During the trial, a Russian prosecutor accused her of moving a "significant amount" of cannabis oil, as reported by Russian media. According to the prosecutor, the specific quantity was 0.000702 kilogram ( 0.702 grams).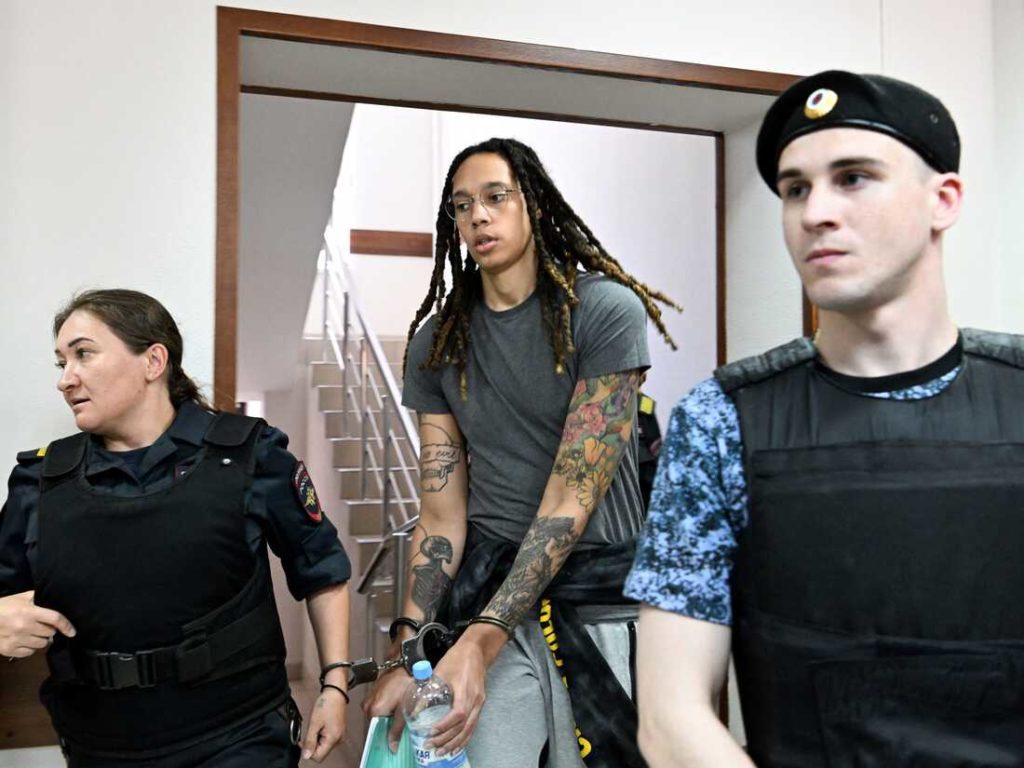 Seated in a cage in the courtroom, the athlete said she understood the charges against her. However, she didn't enter a plea, reserving the right to do so later. The court adjourned until July 7. On the adjourned date, Griner pleaded guilty to the charges against her. She, however, explained to the court that it was never her intention to commit a crime.
According to CNN, which cited a report by the Russian state-owned domestic news agency, RIA Novosti, the two-time US Olympic basketball gold medalist said she had packed her luggage hurriedly. Speaking through an interpreter, Brittney said, "I'd like to plead guilty, your honor. But there was no intent. I didn't want to break the law," per Reuters.
Griner's lawyers, Alexander Boykov and Maria Blagovolina, who spoke to journalists after the trial, said they expect the court to consider the fact that Brittney pleaded guilty and hope for leniency. Boykov also added that samples taken from Griner showed that she was clean as they showed no traces of the drug.
In a statement released by the athlete's Russian legal team, it was revealed that the decision to plead guilty was entirely hers, adding that she set an example of bravery by taking full responsibility for her actions as she knows that many people look up to her as their role model.
BG's legal team further stated that they hope her plea will be put into consideration by the court as a mitigating factor because of the nature of her case, the very little quantity of cannabis oil found in her possession, and her personality and track record of contributing positively to the sports industry in Russia and globally.
Her lawyers also said that they expect the trial to end around the beginning of August. Meanwhile, Brittney Griner left the courtroom without addressing reporters. Her next hearing is slated for July 14, 2022.
Is Brittney Griner Still Being Held in Russia?
The WNBA player is still being held in Russia as her trial continues. However, by pleading guilty to the charges against her, it is believed that she has potentially accelerated the conclusion of her case, paving the way for either a prisoner swap deal between Russia and the United States government, or maybe, a request for clemency.
Being that the Russian legal system heavily favors the prosecution, it is certain that Brittney will be found guilty. In that case, experts say, her best hope will be that the Biden-led administration secures her release by freeing a Russian held in the U.S. The name of a prisoner named Viktor Bout (a notorious Russian arms dealer serving a 25-year prison sentence) has already come up.
But, as Russia's deputy foreign minister, Sergei A. Ryabkov, told Russian news agencies, a negotiation of that sort can only happen after all the formal procedures of Brittney Griner's trial. He said this while responding to a question about a possible exchange. According to him, "Until this happens, there are no nominal, formal or procedural grounds for any further steps."
Without a deal, the super-talented basketball player could face years in prison.