The festive season is just around the corner, and it is the perfect time to proudly grab your brand new women's ugly Christmas sweater, put it on when at work or holiday parties. So if you are an ardent fan of ugly Xmas sweaters, then you are probably in the right place.
For those individuals who love Do-It-Yourself projects, then the DIY ugly Christmas sweaters kits are an excellent choice for you to create and design your own custom, unique, stylish ugly Christmas sweater. One benefit of developing your own ugly Christmas sweater is that you'll probably be the only person wearing an entirely different and unique sweater. What's more, you don't even need to be the crafty type to create an ugly sweater! In this case, the more obnoxious, the better. You'll only have to spend some little cash to purchase all the necessary accessories, including a cute reindeer, felt, the sweater, snowflakes, bells, beads and perhaps a sewing kit.
However, bearing in mind that you'll have to invest lots of time making your own ugly Christmas sweater, it would be an excellent idea to purchase one online since they are available at relatively lower prices than what you would spend making yours. Whether you are looking for something super tacky and ugly, or you want a Christmas sweater that is equally ugly but still cute and super sexy, you are apt to find it here!
Best Women's Ugly Christmas Sweater
We are giving you an extensive review of some of the most eye-catching women's ugly Christmas sweaters, so choose wisely and make your holiday a memorable one.
Women's Light Up Ugly Christmas Sweater with Cat Face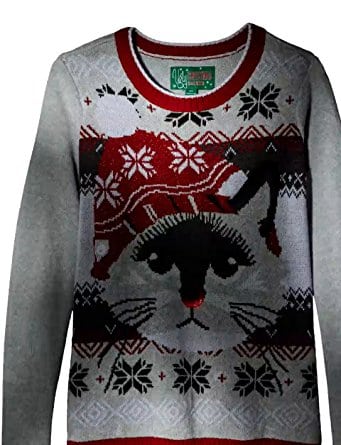 This particular ugly Christmas sweater is just plain adorable. If you have a cat fan on your shopping list or you are a pet lover yourself, then this is the ultimate ugly women's Christmas sweater for you.
The sweater is not only colorful but, it is equally durable bearing in mind that it features sixty percent cotton and forty percent Acrylic. And just, in any case, the prospect of putting on a sweater with lights is not obnoxious enough for your holiday events, the Light-up women's ugly sweater gives you the option to make the lights blink, ensuring that you'll always be at the center stage. It has three flashing lights that come with movement. With this at your disposal, you'll be the hit of the Christmas party!
Button-Front Women's Ugly Christmas Cardigan Sweater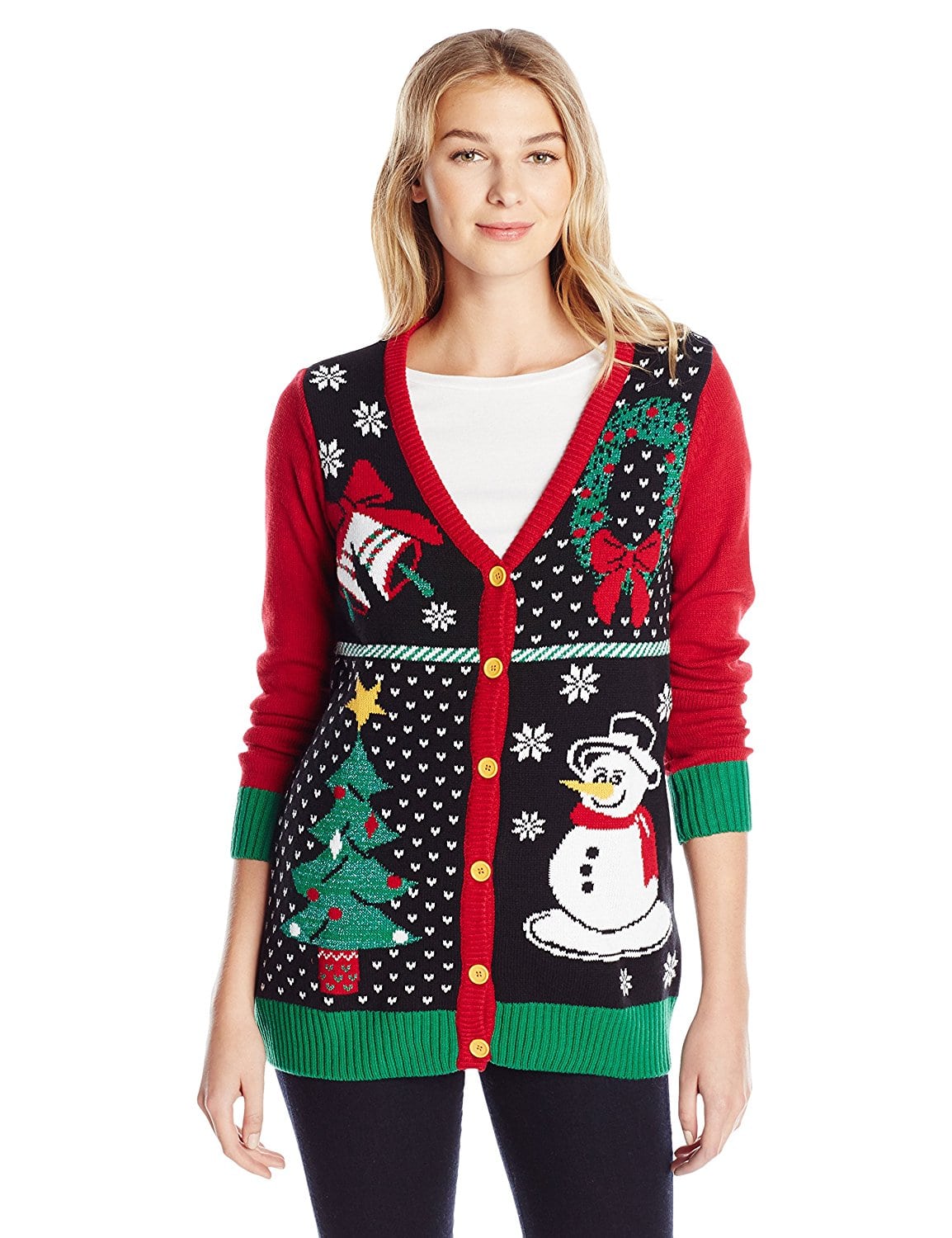 For vintage fashion aficionados, this particular ugly sweater is a typical throwback to the 1950s-style cardigan women's sweaters. Typically, it is a button-front cardigan with a four-panel bodice that features a Christmas tree, bells, wreath as well as snowman. Other notable incredible features included are cuffs, hem and ribbed trim at V-neckline. It is machine washable and imported. If you are concerned about durability, you are equally covered. The women's Cardigan ugly Christmas sweater features highly durable materials such as Acrylic and cotton.
Women's Light-up Ugly Christmas Sweater with Santa on Polar Bear Rug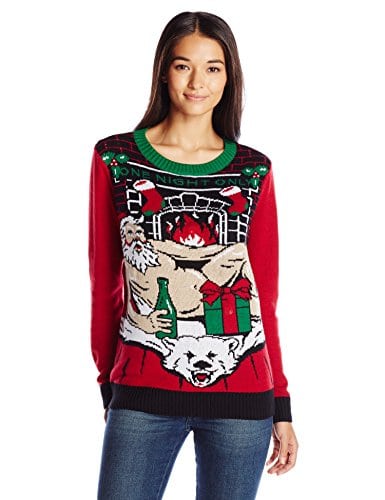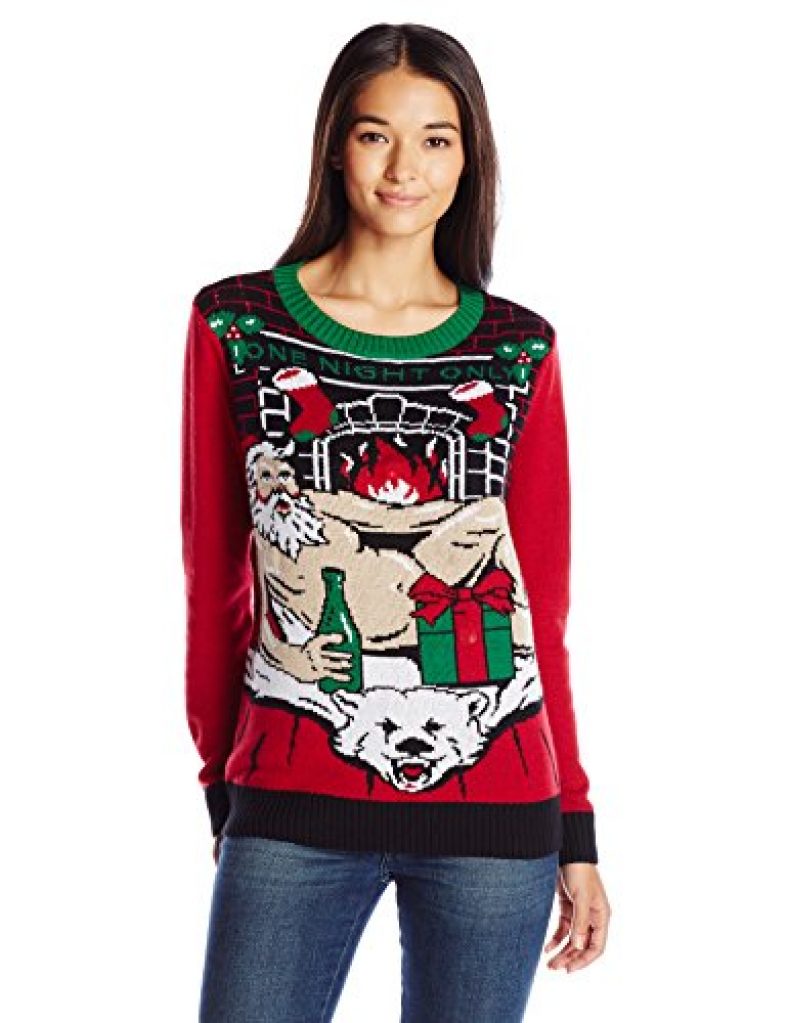 Want to kick-start your ugly sweater Christmas season with a sweater with blinking lights? If yes then this one, in particular, should be your ultimate choice. Forty percent of the sweater is made of highly durable Acrylic while the remaining part is made of cotton.
Read: Best Pore Minimizers: Look Flawless This Season
It is machine washable and boasts of a number of appealing colors, including black, white, red and green. It is equipped with four incredible flashing LED lights that come on with natural movement. No batteries needed for its operation. It is an excellent choice for those willing to become the hit of the Christmas party.
Adult Allntrends Crewneck Dabbing Santa Women's Ugly Christmas Sweater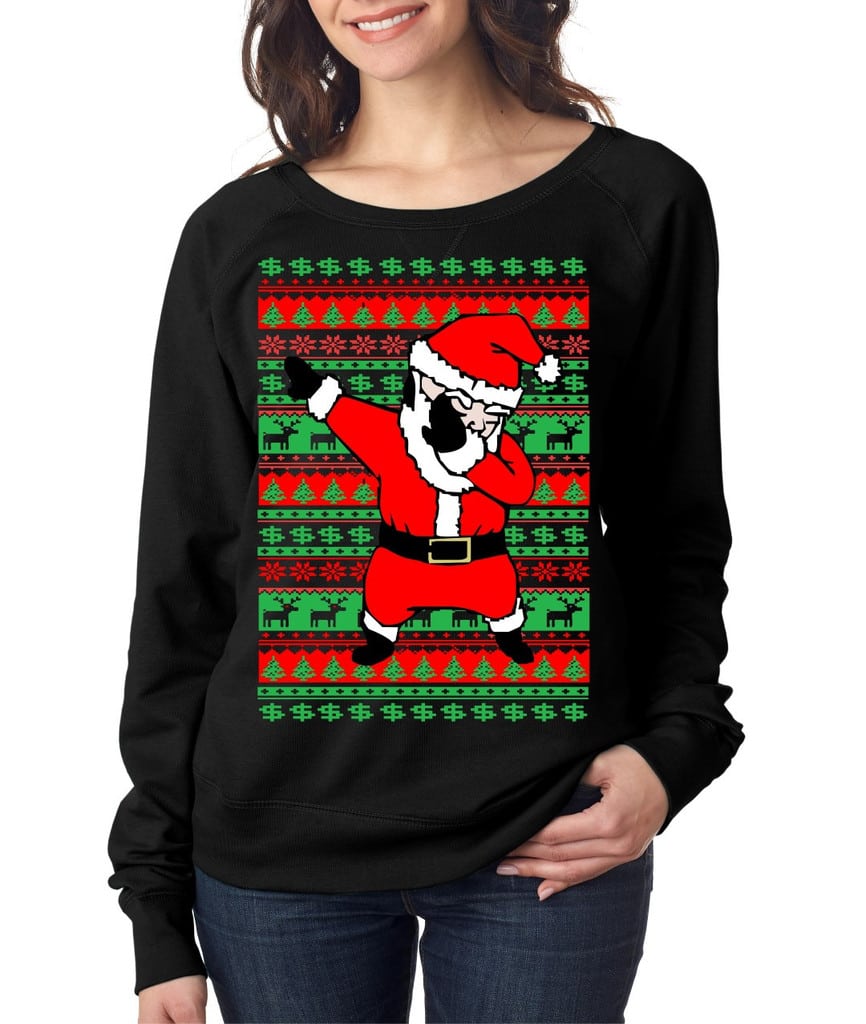 Here is another awesome ugly Christmas sweater that features a relatively soft fabric and crisp print. It is equally durable and features fifty percent cotton and fifty percent polyester. It can be worn by both sexes, and its wrist and the waistband is double stitched to offer additional durability and comfort.
Read: Best Makeup Brushes that Work All the Time
At the front of the sweater, there is a huge print of dabbing Santa, and it has cool colors that make its overall design fantastic as well. This is not only one of the ugliest Christmas sweaters out there, but also the best regarding beauty, featuring beautiful graphics and highly breathable material.
Cute Deer Vintage Women's Ugly Knit Christmas Sweater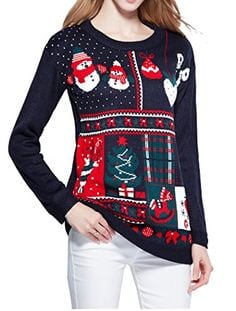 What makes an ugly Xmas sweater fashionable and eye-catching? The women's Cute Deer Vintage ugly Christmas sweater boasts of vibrant colors, and lovable colorful reindeers and perhaps these are some of the features that make it fashionable and perfect for this holiday season.
Rather than spending lots of hours fighting crowds inside shopping malls and designer boutiques searching for the ultimate ugly Christmas sweater, just order this obnoxious, ugly Cute Deer Vintage ugly sweater! The material is extremely durable since it is made from a hundred percent Acrylic. It is also highly versatile and can be worn by ladies, girls as well as women of all ages. It is machine washable, and you'll only need to put it in some cold water with mild soap and hang dry afterward. It is a perfect choice for those seeking to light up the party!
Neck Cowl Cute Reindeer Ugly Christmas Sweater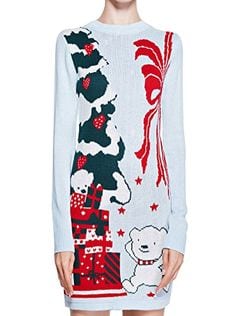 Even though the aesthetics of this cute Reindeer embroidered women's ugly Christmas sweater hardly meets the current standards of the so-called prototypical ugly Xmas pullover, it still fits the bill. It is imperative to note that V28 is a registered USA trademark and is apparent that the firm is always passionate about knitwear and fashion. This is its typical product, boasting of a fantastic design featuring colorfully crafted cute deer. It is made of purely soft Acrylic, and this implies that it feels comfortable as well.
What's more, the soft Acrylic material helps prevent itching, and the sweater is machine washable and specially designed to withstand all sorts of abuse. Regarding the washing instruction, you'll have to immerse it in cold water with mild soap, rinse and flat dry. Simply put, it as an ideal ugly Christmas sweater with all the features you would expect from a high-end product.
Read: Best Perfumes For Women
The Bottom Line
These sweaters are perfect for any holiday party that you may be planning to attend during this festive season. What's more, they are incredibly unique and will offer you the opportunity to enter in a contest for the ugliest women's Christmas sweater.