William Bumpus is the ex-husband of Gayle King, the American TV personality, author, and broadcast journalist. They met in 1981 and got married the following year. Their union would last for more than a decade before they officially divorced in 1993. They share two children – Kirby and William Bumpus Jr.
Gayle King's 69-year-old ex-husband is an accomplished British-American lawyer, professor, and philanthropist who has impacted his community in various ways. Learn more about him.
Profile Summary of William Bumpus
Full Name: William Bumpus
Gender: Male
Date of Birth: 1954
William Bumpus' Age: 69 years old
Zodiac Sign: Taurus
Place of Birth: Greenwich, London, England
Ethnicity: Mixed
Nationality: British-American
Religion: Christian
Education: Central Connecticut State University and Yale Law School
Sexual Orientation: Straight
Marital Status: Divorced
William Bumpus' Ex-wife: Gayle King (m. 1982 -1993)
William Bumpus' Children: Kirby Bumpus & William Bumpus Jr.
William Bumpus' Height in Inches: 6 feet 1 inch
William Bumpus' Height in Centimeters: 185 cm
William Bumpus' Weight: 85 kg
Body Measurements in Inches: 42-32-37 inches
William Bumpus' Net Worth: $3 Million
Famous For: Being the ex-husband of Gayle King
Where Is William Bumpus Originally From?
William Bumpus has made a name for himself in the United States, but he is originally from the United Kingdom. He was born in Greenwich, a small town in South East London, sometime in 1954. The identity of his parents and whether or not he has siblings are not known, and it is not clear what schools he attended for his early education.
We, however, know that after he relocated to the U.S., he attended Connecticut State University to study for a degree in marketing. Afterward, he enrolled at the prestigious Yale Law School, where he acquired a J.D.
He Became Gayle King's Husband in 1982
William Bumpus and Gayle King tied the knot sometime in 1982. After graduating from law school and launching his career as a lawyer in the early 1980s, William met Gayle, who at the time worked as a news anchor for WFSB in Hartford, Connecticut. The duo kickstarted a relationship that eventually lead them down the aisle.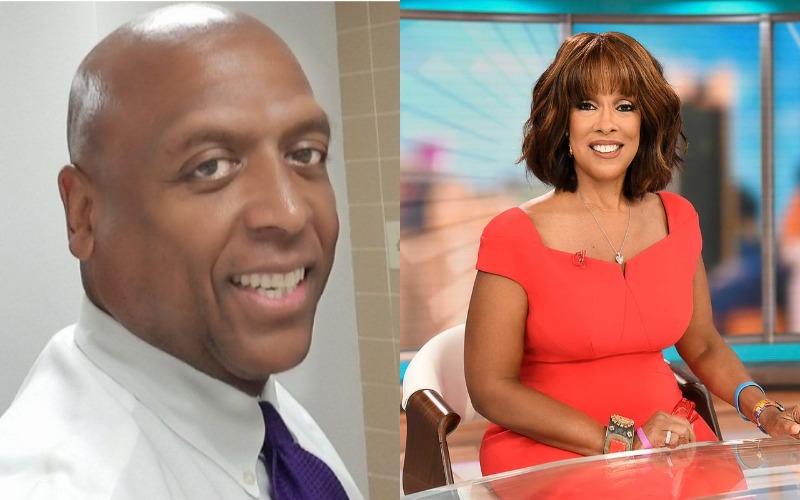 In the years that followed after their marriage, Bumpus and King made their home in Hartford, Connecticut, and progressed in their respective careers. Their family would grow even further with the birth of two kids; first was a daughter named Kirby, who was born in 1986, and then a son named William Jr., who was born a year later in 1987.
Bumpus and King Divorced in 1993
Things appeared to be very well in the marriage between William Bumpus and Gayle King until Bumpus cheated on his wife, resulting in a divorce. Gayle revealed that on the 24th of June 1990, at about 9:16 pm, she walked in on her husband in bed with another woman. The incident broke her heart but left her with no option but to file for a divorce. It took a while, but the divorce was eventually finalized in 1993.
Bumpus has since apologized to his wife both in public and in private. He revealed this in a 2016 interview with Vanity Fair, saying that he has been haunted by the life-altering choice he made. Bumpus described Gayle as a great wife, excellent mother, and a fantastic co-parent and praised her for making their children, as well as his continued relationship with them, a clear priority at all times. He stated that he was striving to be a better man and applauded King for her phenomenal success and friendship.
Meet William Bumpus and Gayle King's Children
William Bumpus and Gayle King had two children named Kirby and William Jr. while they were married. Following their divorce, Gayle was awarded custody of the kids, but William Sr. was allowed to play a significant role in their lives. Below is more about them
Kirby Bumpus
Date of Birth: May 12, 1986
Age: 37 years old
Gender: Female
Marital Status: Married
Spouse: Virgil Miller
Children: One son (Luca Miller)
William Bumpus's first child with Gayle King is their daughter Kirby. She was born on May 12, 1986, making her 37 years old. Not much is known about Kirby besides that she works with the American food chain company Sweet Garden as the Head of Social Impact and Inclusion.
Kirby has since started a family of her own. She is married to Virgil Miller and they have a son named Luca Miller. The family currently resides in Washington, DC.
William Bumpus Jr.
Date of Birth: 28th April 1987
Age: 36 years old
Gender: Male
Marital Status: Single
William Bumpus named his son after himself. William Jr. was born in 1987, barely a year after his sister's birth. Like Kirby, not much is also known about him. However, it is reported in some quarters that the 36-year-old is an entertainer and social media personality.
Who is William Bumpus Married To Now?
It is unclear if William Bumpus has married again since his divorce from Gayle King was finalized in 1993. However, it is reported that he has been in a relationship with a woman identified only as Jane Neu. Nothing is known about Ms. Neu or her relationship with Bumpus as the latter lives his life out of the spotlight.
Gayle King, on the other hand, has not remarried. While she may have dated a few people since her divorce, details about them are unknown to the public.
What Does William Bumpus Do?
William Bumpus is an accomplished lawyer, professor, and philanthropist. A few reports also say he was once a police officer. He notably served as the Assistant Attorney General of the state of Connecticut for many years. Along the line, he became a professor in the law department of Central Connecticut State University, joining the faculty in 2000.
In addition to these, Bumpus also does a lot of philanthropic work. He has donated to several worthy causes, including the Covenant Soup Kitchen. He has also set up an annual book drive in Connecticut that has attracted wide support and benefitted book banks like the New Haven Reads.
William Bumpus' Net Worth?
William Bumpus has a net worth estimated to be in the region of $1 million. The trained lawyer made his wealth majorly from his time as an assistant attorney general and educator. While the exact figures of what he earned are not known, the reported salary of an AG in the United States is about $142,000 per year.
FAQs
How Old is William Bumpus?
William Bumpus is 69 years old as of 20["20000101"]. The British-American lawyer was born in 1954 in London, UK.
How Much Did William Bumpus Pay or Receive in Settlement?
Details of William Bumpus and Gayle King's divorce settlement are not public knowledge. As a result, details about the agreement, including who gets what and what amount is paid to the other for either alimony or child support, are not known.