Being able to compose great wedding congratulations messages is something everyone needs to master. The reason is very simple; some of our friends and family members will definitely get married during our lifetimes and we need to celebrate and congratulate them during these wonderful periods of their lives. So, the ability to pen down mind-blowing wedding congratulations messages tailor-made for friends, family, or others will come in handy at some point in our lives.
Wedding days are considered to be among the most important days of anyone's life. They signify the beginning of something truly exhilarating, a new chapter in life's journey for the couple. Newly married couples need all the help, well wishes, and attention they can get during and after their wedding, and one of the ways we can show them love is by letting them know we are there for them by sending them awesome wedding congratulations messages. This is an undoubtedly important gesture.
Do You Say Congratulations For A Wedding?
Some people have asked if it is right to say the word 'congratulations to someone on their wedding day or if there is another expression that is better to use. The answer is quite straightforward; Yes! It is right to tell someone congratulations on their wedding day. Let us explain why.
According to the Cambridge dictionary, congratulations means "an expression communicating to someone how pleased you are about his or her success or happiness". Being able to get married is considered a success to some people. Finding someone you love enough to want to settle down with them is generally seen by society as a significant move or even an achievement.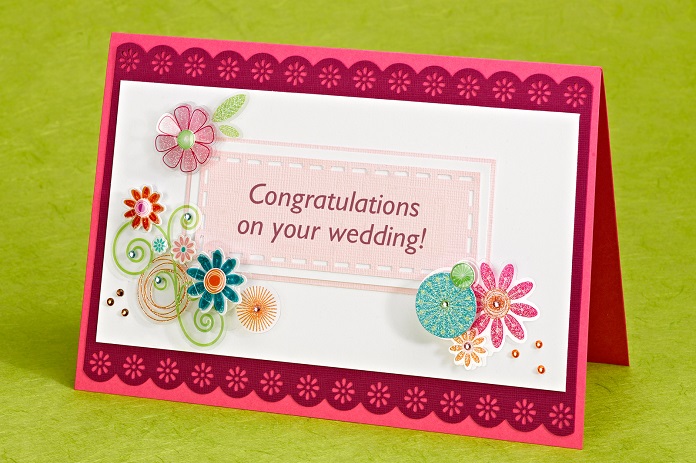 Marriage is also something that brings great happiness to the couples involved. Most newly married couples go out of their ways to celebrate their weddings in different ways. Many throw parties and invite friends and family to witness them tie the knot because of how insanely important that day is for them. It is the greatest moment of romantic their relationship. It is therefore right to tell them congratulations on their wedding day.
What To Write When Sending Wedding Congratulations Messages To Family Members
Our family members are people we have known all our lives. People we watched grow up and developed strong connections with. So, it is sometimes very emotional to see them get married and start their own families. But during this time, it becomes really important to make sure we show them support by just being there for them.
Apart from sending them gifts and physically attending their weddings, we can also send them wedding congratulations messages to warm up their hearts. Whether it is your brother or sister, make sure the content conveys your strongest emotions and best wishes.
Wedding Congratulations Messages on Your Sister's Wedding
Watching your sister get married is both very joyous and emotional, especially if you've lived together for the most part of your lives. However, that day is the best day of her life so you must show her you respect the importance of the ceremony and wish her well.
When sending her your messages, you can start by letting her know just how good she has been to you and how you hope she finds goodness in her marriage too.
1. My dear sister, it is actually quite easy for me to predict how your marriage will turn out in the coming years. I know it will be very happy and fruitful for the simple reason that you have been the best sister to me and I know your kind heart will make you the best wife to your husband too. Happy married life.
2. Watching today, I must confess I have never seen you this happy before. The radiance on your face is just incredible. You, dear sister, are the happiest bride I have seen in decades and I pray that the happiness you feel now never fades away. God bless you both.
3. I am overjoyed today that you have finally met the man of your dreams and have taken the step to grow old with him. I know this has always been a big deal for you and now you're blessed to see it come to fruition. I pray for blessings to follow you all your lives. Congratulations on your marriage.
4. I have always been worried about you, dear sister. But, today I have no worries at all and that is because you have chosen the best life partner who will be right there to shield you from all the incredibly nagging problems and negativity of this world. God bless you. Happy married life.
5. Dear (your sister's name), I have always treasured you as a precious sister, and today, I'm just overjoyed for you. I want to thank you for being my support system all these years and today I pray that divine happiness from God overwhelms your life and your husband. Happy married life.
Wedding Congratulations Messages For Your Brother
Just like your sisters, your brother is also someone you most likely grew up with and learned to love and become fond of. Watching him get married is usually a very proud moment for you and the family and it is incredibly important to share in his joy by being there for him.
Sending him congratulatory messages is one of the things you have to do for him to put a smile on his face on his big day. Be sure to remind him of the bond you share and ask him to develop an even stronger bond with his partner.
1. My dear brother, I am so proud of this new chapter you've opened in your life. You always did your duties by being the best brother ever to me. And now, the time has come to do your duty as the best husband in the world to your beautiful wife. God bless your home, brother. I'm praying for you. Congratulations!
2. Growing up, I always knew I was very lucky. I knew I was born lucky because I had a brother like you who has always been the best person in my life. As you start this new journey, I know you'll make a really great husband too! I pray for awesome blessings in your marriage. Happy Married Life.
3. You made the best choice by picking (his wife's name) to be your wife. She's an amazing woman. Please, never let the smile on her face fade away ever. Be there for her like you've been there for me and much more. Congratulations, bro. Happy married life.
4. I only have prayers for you today, dear brother. I pray that the love between you and your partner grows strong enough to conquer all the ups and downs of your marriage. I love you and I wish you a blissful married life. God bless you, bro.
5. I know how much this moment means to you and how much you had hoped to end up with the right person. I know your prayers have been answered because (his partner's name) is such a God-sent. I pray your journey of marriage will be filled with love and success. Happy married life.
How to Say Congratulations On Your Daughter's Wedding
As a mother or father, the day of your daughter's wedding is one day you never take for granted. It is a privilege to see her get married and start her own family and it is such a proud moment for any parent.
Of course, you will be there for her and join in making sure things go well that day. But you will also do well to send her wedding congratulations messages. Your message will include prayers for her wellbeing and success in her marriage as well as advice on how to handle her marriage.
1. My darling Princess, I am the happiest person in the world today. Seeing my little dove turn into a married woman makes me PROUD. This is wishing you immense happiness, joy, and laughter in your marriage. I love you, my baby. Happy married life.
2. My dear (your daughter's name), I felt on top of the world watching you get married today. You've always made me proud and I'm confident you'll do the same for your husband. You will face lots of ups and downs in your marriage but I've prayed to God to grant you the strength to face them all. Happy married life my darling.
3. My beautiful (your daughter's name). How time flies! It seemed like it was yesterday I held you as a newborn and now you're a married woman. Nothing makes me happier than this. Now that you've found your special one, I want you to be to him the great daughter you've been to me and more. God bless you. Happy married life my dear.
4. My little princess, what a day it has been. Your wedding is the event I have anticipated and dreamed of the most in my life and I am so happy it came to pass today. May you and your husband have a wonderful marriage and always be together in life! God bless you.
5. On this wonderful day, I give you the precious blessings of a (mother or father). I pray that your home will be blessed and that the love between you and your partner be undying. Happy married life my dear daughter.
How To Say Congratulations On Your Son's Wedding
As a father or mother, absolutely nothing beats the happiness of seeing your son becoming a man, getting a partner, and starting his own family. His wedding day becomes one of your proudest moments.
One of the things expected of you as a parent is your blessings to your son as he gets married. And, apart from saying those blessings physically, you can also send them in text messages as wedding congratulations messages. The content of these messages should include your prayers and advice as a parent and well wishes for him and his partner.
1. Dear Son, congratulations on your big day. I am so proud of you. You're now a man! I want you to know that your wedding day will come and go but that's where the real work starts. Consistently strive to love your wife no matter what and be the best husband in the world to her. I pray for blessings for your marriage. God bless you, son.
2. Son, this has been my dream for a long time; to see get married and now I'm the happiest person on earth to see it happen. I am very proud of the step you have taken and I trust you will be a great husband like you've been a great son. Happy married life.
3. Happy married life my son. I want you to know you may face some ups and downs in your marriage, but never let each other go. I want you to keep holding on to the bond of love you share together and make your marriage a heaven on earth. God bless you.
4. My dear (your son's name). Congratulations on your big day. You've made me very proud. I want you to love your wife and make sure you embrace each other's imperfections. Strive to be the best husband to her. God bless you. Happy married life.
5. Congratulations, son. Remember that you are now promised to share your life together with your partner and I pray that you keep doing this lovingly forever. May you always find great peace and happiness in your marriage. Happy married life.
How to Congratulate a Friend On Her Wedding
We all have friends whom we cherish and open up to, friends whom we go to for advice, friends who go the extra mile to help us live out tough days. Friends are among the most important people in our lives and it is extremely important to be there for them when they celebrate milestones like marriages.
Of course, you may be required to help arrange your friend's wedding, but apart from physically showing support, you should also send messages to wish your friend well on their wedding day. Your message should contain your appreciation of the friendship and how much you want to see their marriage succeed.
Below are some wedding congratulations messages you can send to them.
1. Hey (your friend's name), I know today is your happiest but what if I told you I'm happier than you are? I know you've always wanted this day to happen and I'm so glad it has finally happened for you. Congratulations, bud. Happy married life.
2. I feel so happy that you and (their spouse's name) found each other. You look so happy together and that means a lot to me. I pray your marriage lasts forever and be filled with great happiness. Happy married life.
3. Congratulations on your very big day today, (your friend's name). I feel so proud that you've grown into such an amazing person and making such a big decision in your life. I pray that love never eludes your family. Happy married life.
4. Happy married life, (your friend's name). You and (their spouse's name) are about to write the next chapters of your life stories together and I cannot wait to read it. I love you both and I wish you all the best together. Congratulations.
5. Today marks a new, exhilarating, and sweet chapter in your life my friend. I am happy you've found the perfect partner for you and I hope you two always stay together in love. Happy married life.
6. I just have to admit that watching you and your partner today made me realize you're the happiest couple I've ever seen. You are perfect for each other and I wish you two never stop radiating joy for one another. Happy married life.
7. Being able to find true love is a heavenly blessing and I am so glad that you found yours. I pray that love and happiness remain permanently in your marriage. Congratulations!
8. Here's to one of my all-time favorite couples! Congratulations on your marriage my friend. I really hope that every single day you and your spouse spend together is filled with bliss and love.
9. Happy married life, my friend. I have to say I don't know two people who are more well-deserving of the kind of love I've witnessed today. I'm rooting for you guys.
10. I am wishing you and your spouse a lifetime of love, adventure, and great happiness! Congratulations on your marriage my friend. God bless your new home.
There Are Various Methods of Congratulating Someone On Their Wedding
There are many ways to congratulate people on their wedding day. As we have explained already, one of such ways is by sending them text messages and expressing your heartfelt emotions about the wedding as well as wishing the best for the couple.
Apart from sending text messages, you can also physically attend the wedding and speak with the couple in person, wishing them well. You can also reach the couple on social media. In all cases, what is important is the effort to be seen to wish them well.
You can buy wedding cards in stores and send to a couple, or you can also create homemade cards, tailored for the couple.
What To Say On A Wedding Card
What to write on a wedding card is left to you. The content should contain your perfect wedding wish for the couple. Usually, your wedding congratulations messages will be sentimental but sweet and tailor-made for the couple. The lists above should help you out.
If you're a parent, just say a motherly or fatherly prayer for them and then follow up with some words of advice for them as they start their marriage. If you're a sibling, wish them well and remind them how they have been good to you, and pray for them to find the same goodness or more in their marriage.
If you're a friend, wish them well as well and pray for love to reign in their union. It's all left to you and the kind of relationship you share with the couple. All that matters is that you wish them well and pay for their well-being.
When Sending A Congratulatory Message, Whose Name Goes First – Husband's Or Wife's?
If you're about to send a wedding card and you're wondering whose name should come first or whom you should address it to, we have the answer for you. It's simple; just address the card to the couple as a pair. For example; Mr. & Mrs. Elijah Moses.
If you want to go the informal route by writing their names individually, you can put the bride's name first. For instance, Victoria and Elijah Moses.