Carolyn Chambers is the ex-wife of Deion Sanders, an American football coach and former football player who played in the National Football League (NFL) for 14 seasons. Born on 17th April 1971, the 52 year-old Carolyn is an American author, real estate broker, notary signing agent, and social media influencer.
Carolyn and Deion wedded in 1989 and divorced in 1998. They were married for nine years and had two children before parting ways. Here's more about her and what she has been up to ever since.
Summary of Carolyn Chambers' Bio
Full Name: Carolyn Chambers
Gender: Female
Date of birth: 17 April 1971
Carolyn Chambers' Age: 52 years old
Zodiac Sign: Aries
Ethnicity: African-American
Nationality: American
Sexual Orientation: Straight
Religion: Christianity
Marital Status: Married
Carolyn Chambers' ex-Husband: Deion Sanders
Carolyn Chambers' Current Husband: Erick Strickland
Carolyn Chambers' Children: Deiondra Sanders and Deion Sanders Jr.
Siblings: Sherri Nichelson
Carolyn Chambers' Height in Inches: 5 feet 8 inches
Carolyn Chambers'Height in Centimetres: 173 cm
Carolyn Chambers' Weight: 68 kg
Carolyn Chambers' Net worth: $2 million
Famous for: Being Deion Sanders' Ex-wife
Carolyn Chambers' Instagram: @carolynecsandersrealtor
How Old Is Carolyn Chambers and Where Is She From?
Carolyn Chambers is currently 52 years old and was born on the 17th of April 1971. She is American by virtue of her birth and a native of Texas, United States. Deion Sanders' ex-wife's ethnicity is African American.
Details about the identity of her parents are not known. However, it is said that they raised her alongside her sister Sherri Nichelson. Carolyn received her early education in her home state before going to college. The name of the exact institution she attended is not known, but it is said to have been a Historically Black College and University (HBCU).
Not satisfied with just one degree, she has since reportedly acquired a Master's Degree in Business Administration in Tax and Specialization. Carolyn Chambers is evidently a very smart woman, as the knowledge she acquired over the years has helped her have a successful career.
Carolyn Chambers Became Deion Sanders's Wife in 1989
It is not exactly clear how Carolyn met Deion, but it is reported that they started dating in 1988. The couple wasted no time in getting things to the next level as they got married the following year, in September 1989. Despite Deion's star status, their wedding was a low-key event attended by only family and close friends.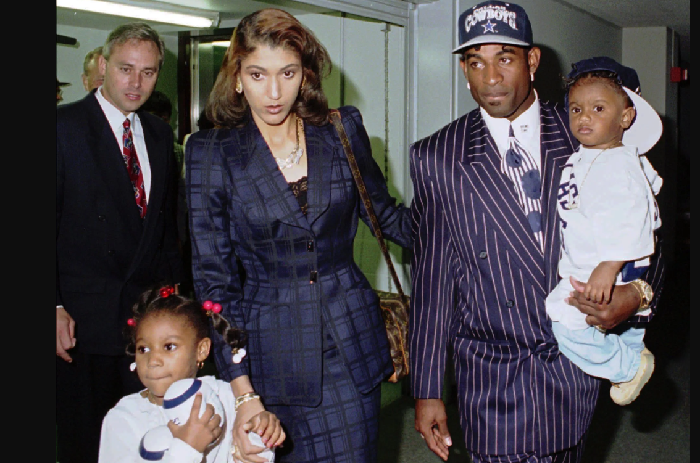 Who Are Carolyn Chambers and Deion Sanders's Children?
Carolyn Chambers and Deion Sanders' marriage produced two children; Deiondra Sanders and Deion Sanders Jr.
Deiondra Sanders
Date of Birth: 17th April 1992
Age: 31 years old
Place of Birth: Texas
Occupation: Reality TV Star, Entrepreneur
Deiondra was born on 17th April 1992 in Texas. The 31 year old has since grown to become a reality TV star and model, known for her appearance in the reality TV show Deion's Family Playbook and Deion & Pilar Sanders: Prime Time Love.
Carolyn Chambers's daughter is also an entrepreneur. She is the founder of the hair extension line, Loves Me Extensions, and co-owns the online shoe store House of Sole.
Deion Sanders Jr.
Date of Birth: 1st December 1993
Age: 30 years old
Place of Birth: Texas
Occupation: Reality TV Star, Entrepreneur, Singer, and Former Athlete
Deion Sanders Jr was born on 1st December 1993, making him 30 years old. He is the only son and second child produced from the marriage of Carolyn Chambers and Deion Sanders.
Like his father, Deion Jr played football in his school days. He attended Atlanta Sports Academy, where he was a 3-star collegiate recruit. In addition to playing football, the young lad also ran track. He would go on to play as a wide receiver and cornerback at Southern Methodist University, where he was named kick returner to the 2nd team All-American Conference in 2014. The following year, he set a record with 203 kick return yards in a game.
Deion Jr was not able to have a professional career as an athlete, so he turned to other things after leaving school. He first tried his hands in music, releasing a couple of songs, including one titled "Money and Girls." Like his sister, he entered into the fashion business to run a clothing brand called "Well Off."
Carolyn Chambers and Deion Sanders Divorced in 1998
After about a decade of what many must have thought was marital bliss, Carolyn Chambers and her star athlete husband parted ways. They filed for divorce in 1998, and it was granted in the same year. The divorce appears to have been an amicable one, as there were no reports of squabbles between the couple that shared two kids.
Sanders, who was having a thriving career with the Atlanta Falcons at the time, kept his silence on what transpired between him and his wife that led to the dissolution of their union. As a result, all that has been said in the media about them divorcing are speculations.
Carolyn Chambers is Married to Erick Strickland
Following the end of her union with Deion Sanders, Carolyn Chambers was able to find love again. She found herself falling in love with another sportsman in the person of Erick Strickland, an American former professional basketball player.
After going undrafted in the 1996 NBA draft, Strickland signed as a free agent with the Dallas Mavericks, where he spent four seasons before playing for other teams like the New York Knicks, Vancouver Grizzlies, Boston Celtics, Indiana Pacers, and Milwaukee Bucks,
Much about Chambers and Strickland's marriage is not public knowledge as the duo prefers to maintain a low profile. Details of when and how they met and the kind of wedding ceremony they had are not disclosed. We, however, know that they have not had any children together.
What Does Deion Sanders's Ex-wife Do for a Living?
Carolyn Chambers gained the public's attention as the wife of star athlete Deion Sanders. Unlike many other WAGs, she had a lot going for her in her life and was not satisfied with living off her athlete partner.
At the time of their wedding, she was said to have been a real estate broker. She later became a notary signing agent, putting pen to paper on client loan documents and taking Affidavits, Declarations & Depositions.
The former Mrs. Sanders is also reported to be a tax specialist and published author. She wrote a book titled "Sins, Secrets, and Success," which tells the story of three friends – Amber, Candice, and Toi, who journey through life's temptations and uncertainties.
What is Carolyn Chambers' Net Worth?
Carolyn Chambers's net worth is estimated to be $2 million. She has had quite a success in her career as a real estate broker and notary signing agent. Chambers, who is also a fitness enthusiast, also made some money from the sales of her book.