Joseph Sikora's wife is Tania Ribalow. Joseph Sikora and Tania Ribalow have been married since 2014 after they allegedly tied the knot quietly, following several years of dating.
Tania's marriage to the Hollywood star has been some big secret, which gave rise to confusion about who Joseph Sikora's wife is until the information came to light when Sikora took to Twitter on August 23, 2018, to reveal that he was indeed married.
For some understandable reasons, many people initially believed that the Power star, Joseph Sikora was married to Martina Sykes due to some things she has in common with Tania, including the fact that they are both make-up artists of similar stature.
Joseph Sikora's Wife is a Very Successful Makeup Artist
As mentioned, Joseph Sikora's wife is Tania Ribalow, an experienced makeup artist. Sadly, apart from her career, there is no other information about her available in the public domain at the moment as she appears to be a very private person. As a result, we do not know anything about her parents, early life/childhood, education, siblings (if any), among other things.
Although Tania Ribalow's makeup career has practically existed behind the camera, the fact that she has contributed so much to America's film industry is undeniable. According to her IMDb page, she has worked in the makeup unit in many films and television series, which currently number more than 45.
Her first credit as a makeup artist was in The Montel Williams Show, where she served as Montel Williams' makeup artist in 1991. This was followed by her first movie, Trick, where she was a hair assistant and a makeup assistant in 1999.
Since she kicked off her career in earnest in 1999, Tania has remained unstoppable. She has recorded a steady progress with remarkable contributions to television series and films such as Hamlet (2000), The Secret Lives of Dentists (2002), Strip Search (2004), American Candidate (2004), The Baxter (2005), Trust the Man (2005), What Happens in Vegas (2008), and Every Day (2010). That's not all…
She has also put her skills to use in other on-screen jobs such as Motherhood (2009), Justin Bieber: Never Say Never (2011), Bored to Death (2011), Nurse Jackie (2012-2013),  Hostages (2013-2014), Feed the Beast (2016), The Only Living Boy in New York (2017), The Kitchen (2019), Tommy (2020), and The Many Saints of Newark (2021) among others.
As a proof of how good she is at what she does, Joseph Sikora's wife has been nominated two different times for the Primetime Emmy Award for Outstanding Makeup for a single camera. She was first nominated in 2014 for her amazing work on the Cinemax television series The Knick, while her second nomination came in 2016 for her work on the period drama television series called Vinyl.
In 2019, Tania received her first and only known award following her nomination for best makeup artist and hairstylist at that year's Hollywood Guild Award show. And the award was for her stellar artistry as the key makeup artist on the psychological thriller film Joker.
Joseph Sikora Met His Wife on the Set of Boardwalk
Just like several other Hollywood couples, Joseph Sikora and Tania Ribalow met in the course of work.
They met on the set of the period crime drama TV series Boardwalk Empire. As disclosed by Joseph, he and Tania went about their business completely unaware of each other, however, everything changed immediately after they noticed each other and locked eyes.
For Joseph, it was love at first sight, but getting the attention of the woman he had fallen helplessly in love with was no smooth sail. First of all, the agency Tania worked for had a very strict rule that forbade their staff from fraternizing with actors and actresses, and secondly, the makeup artist had a personal dislike for actors, who in her opinion, were self-absorbed and driven by their ego.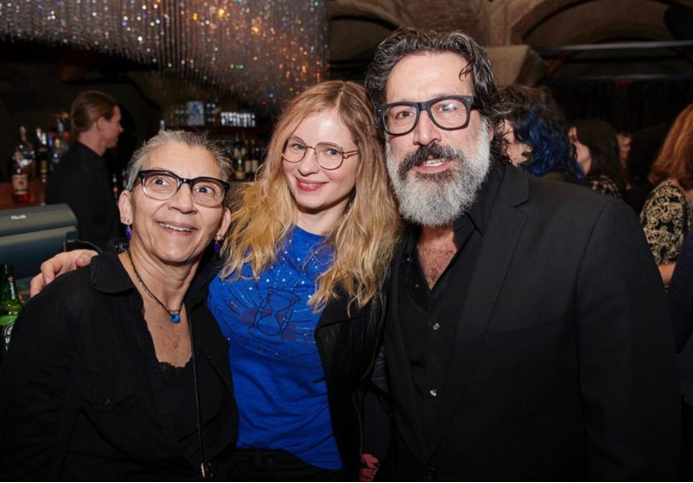 The Power actor was fully aware that he would be faced with a hard task if he was ever going to persuade Tania to give him a try, but he was willing to take the chance. To achieve his goal, Joseph first took his time to find out who Tania's closest associates and friends were. Afterward, he got close to them and was able to change their mindset about all actors being excessively conceited, as Tania believed.
Having successfully won over her friends, they now decided to help Joseph accomplish his mission. They began to speak in his favor in Tania's presence, urging her to call him. After a while, Tania's interest in him was kindled but she was reluctant to call him. At this point, Tania's boss, Nicki Lederman, stepped in and set up a date for the potential couple.
The actor knew that the date was his chance to convince Tania that he was different from some other actors she knew. However, most of the work had already been done for him by Tania's boss and friends, so he didn't have to work too hard.
How Long Has Tania Ribalow Been Joseph Sikora's Wife?
Joseph Sikora and Tania Ribalow have reportedly been married for 9 years. According to several reports, after they dated for a few years, they tied the knot secretly in 2014. Some sources have it that it was within the period he was preparing for his wedding that he auditioned for his most popular role, Tommy Eagan, in Power. Thankfully, he did so well that he landed the role.
Because they kept their marriage under wraps, Joseph's fans did not even know that he was married until about four years later when he gave the information away. He made the revelation through a Twitter post on 23rd August 2018 as seen below:
So, me and the wife took the 7 bus from Florence to Fiesole, just outside the city to the church of San Francesco and this nice fella, @imoles hook me up with some nice grappa and where to go in Firenze(Florence). Thanks man. pic.twitter.com/7ObXGZX8CK

— Joseph Sikora (@JosephSikora4) August 23, 2018
The Tweet was followed by many reactions from Joseph's fans, who were surprised to know that he was married. Meanwhile, the actor has never been seen with his wife all the while they've been married.
That notwithstanding, the couple seems to be having a good marriage as there has not been any reason for us to believe otherwise. As a matter of fact, Joseph has credited his wife with contributing a lot to his growth both as a person and professionally.
He revealed that a lot of career opportunities has come to him because of Tania's presence in his life and as a result, his career has gone from big to bigger. However, the actor has revealed that he does his best to leave the character of Tommy Eagan behind whenever he is not doing the show because Tania does not like him.
Does Joseph Sikora Have a Child With Tania Ribalow?
Considering the fact that Joseph and Tania have been married for a long time, it wouldn't be out of the ordinary to expect that they would have welcomed a child/children. But for some unknown reason, the couple are yet to have any kids.
The reason for this might be that the couple do not want children, or that they decided to put childbearing on hold to focus on their careers, or they are having infertility issues, among other reasons.
Who is Martina Sykes and How is She Linked to Joseph Sikora?
According to an article published by Chicago Tribune, in June 2015, Martina Skyes is the daughter of a Chicago firefighter. She attended Columbia College, from where she graduated with a degree in fine art.
That aside, Martina is the woman some people believe is the wife of Joseph Sikora, and the reason is his actual wife, Tania Ribalow, and Martina are in the same profession. Also, Joseph is friends with Martina.
Joseph met Martina over fifteen years ago when she was working at a North Side tavern known as the Gingerman. But as of 2015, she was a full-time employee of the locally-based TV series Chicago Fire, where she worked as a makeup artist in 65 episodes of the show from 2014 to 2021.
Key Takeaways About Joseph Sikora's Wife, Tania Ribalow
Who is Tania Ribalow? Tania Ribalow is the wife of actor Joseph Sikora. She is also a well-known makeup artist who has significantly contributed to popular films such as "The Irishman" (2019).
How long have Tania Ribalow and Joseph Sikora been married? Tania Ribalow and Joseph Sikora have reportedly been married for 9 years. The couple married in a private ceremony in 2014 after several years of dating.
How did Tania Ribalow meet her husband, Joseph Sikora? Tania Ribalow and Joseph Sikora met at work on the set of the TV series "Boardwalk Empire." Despite some initial challenges due to policies forbidding dating between crew members and actors, Joseph succeeded in winning Tania's interest.
Why was Tania Ribalow's marriage a secret? Tania Ribalow and Joseph Sikora chose to keep their marriage private, leading to confusion among Joseph's fans about his marital status. The news was only revealed four years later in 2018 through a Twitter
Do Tania Ribalow and Joseph Sikora have any children? Currently, no information is available about Joseph Sikora and Tania Ribalow having children.
What is Tania Ribalow's age? The exact birth date of Tania Ribalow is unknown. However, it is estimated that she is in her late 30s or mid-40s based on her appearance.
What is Tania Ribalow's height? Tania Ribalow's exact height is not known, but her husband Joseph Sikora stands at a height of 6 feet 2 inches.
What is Tania Ribalow's net worth? Tania Ribalow's net worth is estimated to be around $13 million, primarily earned from her work as a makeup artist in the film and television industry.
What films and TV series has Tania Ribalow worked on? Tania Ribalow's work spans many award-winning movies and TV series, including "Joker," "The Irishman," "The Greatest Showman," and "Broadwalk Empire," to name just a few.
Has Tania Ribalow received any awards for her work? Yes, Tania Ribalow has been nominated for two Emmy Awards for her work on "The Knick" and "VINYL." She has also won the Annual Makeup Artist and Hair Stylist Guild Awards.