Janet Jackson's ex-husband is Wissam Al Mana, a Qatari business magnate and retail mogul. He was born on January 1, 1975, and is 48 years old.
The famous American singer, who is one of the world's best-selling music artists, began dating Wissam in 2010 and by 2012 they got engaged and married. About five years into their marriage, in January 2017, they welcomed their son Eissa who is now 6 years old.
Janet Jackson's Ex-husband, Wissam Al Mana, Was Born In Qatar In The Mid 1970s
Wissam Al Mana, popularly called Sam, was born in Doha, Qatar on January 1, 1975, to Sara Al Mana (mother) and Saleh Al Hamad Al Mana (father). His family moved to London in 1977, where he spent his developing years.
The retail magnate has two brothers named Hisham Saleh Al Mana and Kamal Saleh Al Mana. Kamal is the Managing Director of S.H. Al Mana Group and Executive Director of Al Sharq Investment LLC while Hisham is the CEO of Saleh Al Hamad Al Mana Co and former president of Al Sharq Investment LLC and the SH Al Mana group.
Their father, who was a famous merchant, passed away when Wissam was still very young. There is no information about their mother and where she is currently. The businessman completed his secondary education in London and later enrolled in George Washington University, in the United States, where he obtained a degree.
He also holds a Master's in Business Administration program from the London School of Economics.
He Is One Of Most The Successful Middle East Investors In The World
Janet Jackson's ex-husband credits his early love of style and fashion to his upbringing in London. He developed a keen interest in fashion even before his teens. He once worked at a multi-brand store in order to learn more about the craft. He was hired at the store after applying to numerous fashion stores at the age of 14.
Today, Wissam Al Mana is a successful businessman and a huge inspiration and role model to many people. He began his business career in his family business, the Al Mana Group. He is currently the executive director of the sprawling conglomerate.
The Al Mana Group, founded by his father, is also owned by Wissam's brothers. The company has 55 companies in 8 countries – including one that owns all the McDonald's outlets in Qatar and another that exclusively operates Renault, Infiniti, National Car Rental, and Nissan in Qatar's auto sector.
Some of the company's retail holdings in the fashion industry include Sephora, Balenciaga, Emporio Armani, Alexander McQueen, Reebok, Giuseppe Zanotti, Stella McCartney, Hermès, Giorgio Armani, Dior Homme, Dolce & Gabbana, Agent Provocateur, Mango, Diesel, Sunglass Hut, Crocs, Chloé, Damas.
Gloria Jean's Coffees, illy, La Maison du Chocolat, Haagen-Dazs, Grom,  Emporio Armani Caffe, and Mcdonald's are some of Al Mana's food and beverage portfolio while the company's real estate holdings include Doha Mall, Al Waha Tower, as well as Al Mana Tower.
Generally, the company which has more than 3500 personnel, covers automotive distribution and services, media and entertainment, retail, real estate, and investments, food & beverage, engineering, technology. They also cover the following retail sectors home interiors, luxury goods, watches, beauty, jewelry, and fashion.
Wissam has found so much success from his family business, which he joined to continue his family's name and legacy. He is responsible for overseeing retail operations in the Middle East for so many fashion luxury brands which include Hermes and Sonia Rykiel.
Janet's ex-husband is a shareholder in the Saks Fifth Avenue stores in Kuwait, Bahrain, Doha, and Dubai. Wissam Al Mana has an estimated net worth of $1 billion as of 2021.
Wissam Al Mana Dated Janet Jackson For 2 Years Before They Eventually Took Things To The Next Level
The business magnate and Janet met at a time when the latter was in desperate need of some light in her life. The Funny How Time Flies crooner and the dashing Qatari billionaire businessman met in 2010 at Dubai's Armani Hotel opening.
The exact year the duo started dating is not known, however, reports have it that they began their relationship shortly after their paths. The pair's 7-year-relationship was quite an enviable one that led to major changes in the singer's life – including relocating to London and dumping her famously sexy style for extremely conservative attire in line with Wissam's Muslim religion.
Janet, according to reports, would buy him lovely jackets with his initials inscribed while Al Mana would order treats from Switzerland, Russia, Italy, and other places for her. The couple also visited several notable places for dining and shopping and sometimes used multimillion-dollar yachts for high sea adventures.
He is said to have dazzled her with his knowledge of architecture and interior decorating in places like London and open houses. Wissam's presence in Jackson's life was a huge relief for her as she had wanted to lead a quiet life (having grown under the spotlight starting from age 7) and considering the fact that she has had two failed marriages in the past.
While the two were dating, they literally looked past each other's past life and were very committed to their friendship. One of the highlights of their relationship was Wissam's Muslim faith rubbing off on Janet as she gradually took to a more conservative lifestyle and also complied with Islamic traditions, including her head covering and outfit.
Besides toning down her image for her third ex-husband, it was rumored that the singer converted to Islam.
Their Marital Relationship Only Lasted For 5 Years Before They Divorced
Wissam Al Mana and Jackson's divorce left many people disappointed and wondering if love exists because the singer's third marriage looked like a fairy tale from the outside. The couple got married in a small ceremony in 2012. Jackson was 46 years old and nine years older than Al Mana.
The pair's marriage came to an end in 2017. Janet is said to have moved out of their posh Mayfair, London mansion shortly after she had their son in January, however, it was kept private until May of that year.
Reports have it that Wissam verbally abused Janet severally, called her nasty names, and that he was overly controlling. The singer, as gathered, felt like a prisoner in her own home. In addition, their inability to have a baby on time was linked to the crack they had in their marriage that resulted in their divorce.
We can't tell if their different religions had anything to do with their divorce and Janet's adoption of the Islamic practices was to keep their marital relationship going. A lot is yet to be revealed about Wissam and Jackson's failed marriage. No one knows if the couple tried to resolve their differences on their own before things escalated between them.
Their Divorce Process Is Ongoing
Janet Jackson disclosed in June 2017 that she had filed a divorce from her husband, Al Mana. The two had met in a London court to begin divorce proceedings. The singer could likely seek Eissa's full custody.
Jackson and Al Mana reportedly had a prenuptial agreement, which means Janet go home with a large portion of her ex-husband's wealth – at least, something close to $500 million or more. The singer's net worth, which currently is pegged at $190 million, comes no close to Wissam's massive fortune.
The Couple Shares Only One Child, Eissa Al Mana, Together
Janet and Al Mana's intimate moments produced a child before their separation. The name of their baby boy is Eissa Al Mana. The pair's son's given name means "Yahweh is salvation."
Eissa is the singer's first biological child, as well as Wissam's first child. The singer maintained a super-low profile at the initial period of her pregnancy. Speculation about her pregnancy first surfaced in April 2016 when she postponed her Unbreakable tour.
Janet Jackson subsequently posted a video at the time on Twitter, telling her fans that was postponing the tour because "there's was a sudden change", adding that she wanted to focus on planning a family with her husband. In reality, she was already pregnant.
The singer was said to have also been spotted in London shopping for baby essentials. After hiding her baby bump for a long, she finally confirmed her pregnancy by sending one of the media outlets a photo of her big baby bump.
Janet Jackson puts her baby bump on display! https://t.co/IXnFfAQc0T pic.twitter.com/pcieEcFXRT

— The Root (@TheRoot) October 12, 2016
Eissa Is Currently 6 Years Old
Eissa was born on the 3rd of January 2017. He is currently 6 years old and fast-growing. Apart from his date of birth, further information about Wissam Al Mana and Jackson's son is not open to public scrutiny. His parents are very protective of him and we understand why.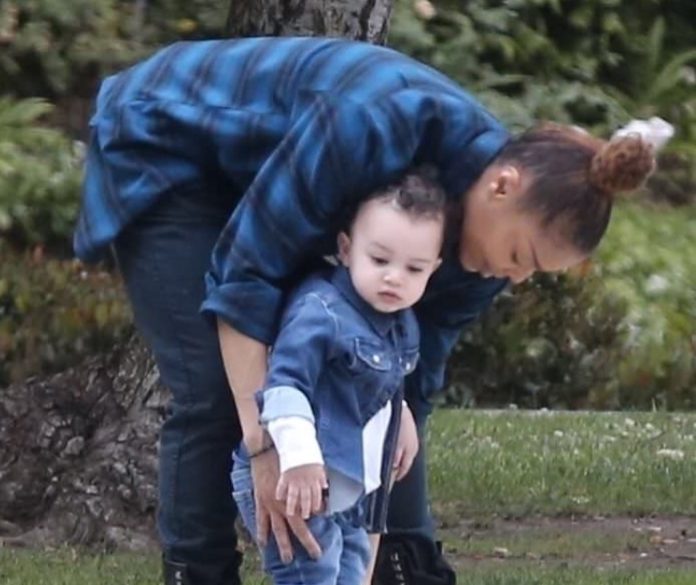 The pair may not be together again but they have been amazing parents to their son. Sometime in April 2017, Al Mana was spotted in a London park taking a walk with his son after posting a heartfelt note about their divorce. He is believed to have been involved in daddy duties at times.
On her part, Janet has been an amazing and super mom since her son arrived. According to her, her son is all that matters to her and the only one that comes first in her life. She is raising him by herself, just as she once mentioned that she doesn't need a nanny to raise her kid for her.
Who Has Janet Been Romantically Involved With In The Past?
Not everyone can find true love on the first try. Some people believe it is better to move on with life than to slide into depression as a result of heartbreak. Janet Jackson, like most celebrities, has had her own fair share of relationship heartbreak over the years. She's been involved with some men and even ended up swapping marital vows with some of them with the hope of finding true love.
Unfortunately, love has not been fair to the celebrity singer as she ends up having failed relationships with the men she got involved with. Here are all the men she both dated and got married to.
1. Janet Jackson and Jermaine Dupri
Janet and American record producer, songwriter, rapper, entrepreneur, record executive, and DJ Jermaine Dupri dated between 2002 and 2008. The duo's paths crossed at one of Jackson's shows that the rapper attended.
The pair's relationship came to the limelight on T.I.'s podcast "expediTIously" in April 2020. From meeting backstage on the show, Jermaine and Jackson struck up a friendship that metamorphosed into a romantic affair.
The two broke up after the rapper realized he was not ready to settle down or relocate to Malibu to live with the singer. Janet, on her part, was also not ready to join Dupri at Atlanta.
2. Janet Jackson and Q-Tip
Q-Tip, originally born Kamaal Ibn John Fareed, is an American rapper, record producer, singer, actor, and DJ. He got connected with Janet while filming the American romantic drama film, Poetic Justice.
They later solidified their relationship after working together once more for her 1997 hit, Got Til It's Gone. No one knows exactly when they broke up and how it happened.
3. Janet Jackson and Matthew McConaughey (Early 2000s)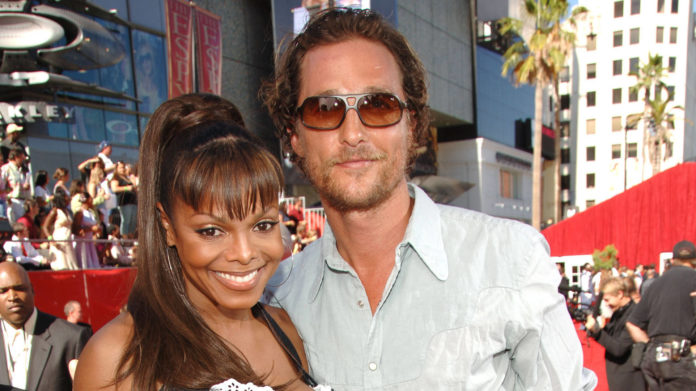 Janet has been linked to actor Matthew McConaughey in the past. Though they were rumored to be an item after the singer presented an award with McConaughey at the 44th Grammy Awards and posed for pictures with him later, their closeness never blossomed into a full relationship. But they had dinner on a couple of occasions.
4. Janet Jackson and James DeBarge (1984-1985)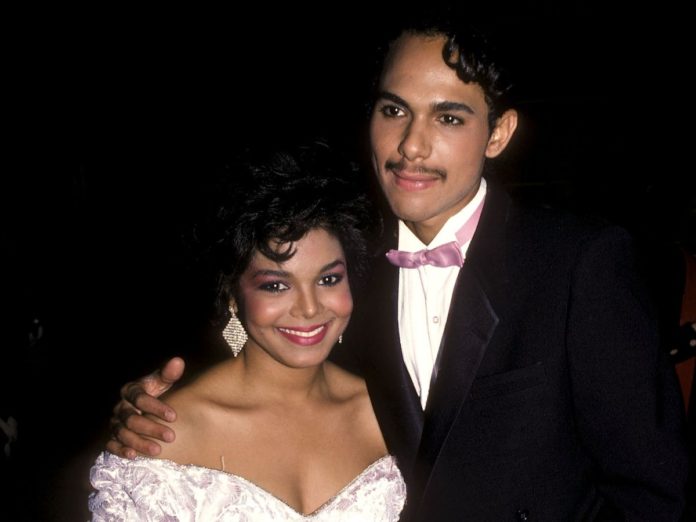 James DeBarge, an American R&B/soul singer, is best known as Janet Jackson's first husband. DeBarge was well-known in the '80s through his role with the family music group, DeBarge.
The Jackson family initially objected to Janet and James' relationship but later consented even though DeBarge and Jackson's families know themselves very well. The lovebirds dated quietly and subsequently eloped on September 7, 1984. James is only three years older than Janet.
Unfortunately, their marital relationship turned sour not long after, leading to annulment in 1985. There have been rumors that Jackson had a secret love child with James while they were still together. Reports on the duo's alleged secret daughter began making the rounds after Tiffany Whyte (the said secret child) revealed that she has DNA proof that shows both Janet and James are her biological parents.
Neither DeBarge nor Jackson has confirmed the claim, even though the former commented on the rumor during a 2016 episode of the show, Growing Up Hip Hop.
Janet Jackson and René Elizondo Jr. (1991- 2000)
Jackson's second attempt at marriage was with Mexican-born dancer and music video director, René Elizondo. The two met when Elizondo was a backup dancer for Janet's sister, La Toya Jackson.
They later connected and became friends. They dated for some time and eventually tied the knot in 1991. During their time together, the music director was a huge part of Janet's life and career, even directing some of her popular music videos and featuring as a songwriter on her sixth album.
The two kept their marriage under wraps until their separation in the year 1999. Their divorce was officially finalized the following year. It was two years later that Janet met Wissam Al Mana and subsequently tied the knot for the third time. Al Mana's marriage to Jackson was the first for him.