Since stepping into the big screen in 1994, Jessica Alba has been American's sweetheart for good reasons. Among those reasons are her talent, body frame, and sexuality. And while some stars lose their fame when they take a break from the limelight, the actress seems to exert some perennial presence that will never fade. Her company which she co-founded that deals in green products catering for babies, is just another reason she keeps etching her name in our hearts. But how has she been able to win both in her career and motherhood? Let's explore her life outside the TV, relationship with her kids, husband, parents and more.
Biography (Age & Ethnicity)
Jessica Alba was born in Pomona Califonia on April 28, 1981, to a Latin American household. She attended Claremont High School and the Atlantic Theatre Company. Her interest in acting started when she was just five but she got a chance to explore this childhood dream when she won an acting competition in Beverly Hills whose grand prize was free acting classes. She was lucky to win the grand prize and consequently took acting classes. The beauty began working under an agent and her first appearance was in Camp Nowhere and then a few more roles followed.
It was later in her teen days that her time at the Theatre Company earned her better acting opportunities and a role in Dark Angel in 2000s – a role that swiftly propelled her to the limelight. In recognition of her outstanding performance in that very show, Jessica was nominated for a Golden Globe nomination and also won an ALMA award for Breakthrough Actress of the Year.
Following this feat, Jessica Alba began landing many other notable roles. Amongst them are Into The Blue, Sin City, Good Luck Chuck, Fantastic Four, etc. She has expanded her impact in the fold, going beyond starring in films and TV shows to winning roles in Video games and music videos. She co-founded a consumer goods company named The Honest Company, that sells various personal, household and baby products. All of these ventures have reflected in her filmography and has increased her influence in the acting circle. None of these is surprising especially considering the fact that her prowess on screen saw her win both Choice Actress Teen Choice Award and Saturn Award for Best Actress on Television.
Jessica Alba's Net Worth
Alba is one of the richest actresses of Hollywood. Since gracing our screens at age 12, she has been a passionate businesswoman and actress which has translated to mindblowing net worth. Currently, her average earning every year is estimated at $16 million while her net worth is estimated at $350 million.
She also co-founded an environmentally friendly company in 2011 which deals in over 100 non-poisonous items including baby products. The company is allegedly worth $1.7 billion. For the whopping income streaming into Jessica's wallet, Forbes has named her one of the richest entrepreneurs under 40.
Read Also: Kerry Washington Husband, Kids, Age, Parents, Family, Divorce
Parents and Family
Alba and her younger brother, Joshua grew up in the care of their parents; Catherine Louisa and Mark David Alba who are conservative Catholics. She and her family lived in several cities due to the nature of David's Air Force job. Their movement started from California to Biloxi, Mississippi and Del Rio before finally setting up a home in Claremont, California. From her mom's side, she is of mixed descent including Danish, German, French, Welsh and English while on her paternal side, she has Mexican ancestry.
Husband & Kids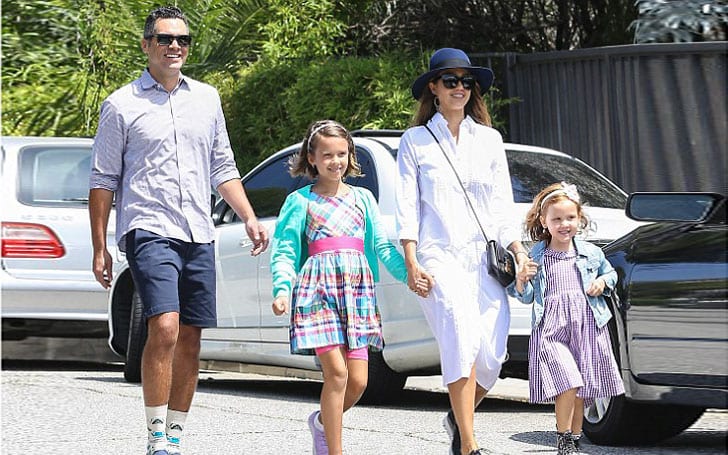 In 2001 Jessica Alba made waves when she and Michael Weatherly, her co-star in Dark Angel announced they were engaged. The two had started dating in 2000 during the filming of Jessica's breakthrough film Dark Angel. While the world waited for their wedding the news of their split came in 2003. Jessica who opened up that she was a virgin at the time she started dating Weatherly hinted her ex-beau though he was 12 years older didn't meet up to her expectation hence the breakup.
She took her time after the breakup and in 2004 found love again while filming Fantastic Four and this time with film producer Cash Warren famously known as the son of actor Michael Warren. They dated for some years, tied the knot in 2008 and currently have three adorable children together; daughters Honor Marie Warren born the same year of their wedding, Haven Garner Warren born in 2011. Their last baby Hayes Alba Warren was born in 2017. The parents may be planning to nudge their children to toe in the same direction as they themselves in the entertainment circle. In 2008, their first baby together was featured in the July issue of OK! magazine for a whopping $ 1.5 million. As time goes, we might be seeing more of the cute family in the spotlight.
Height
At first glance, one would notice that Jessica Alba has got all the star quality when it comes to physical appearance. For her pretty face and curvy body, the Pomona-born beauty was nicknamed "Sky Angel" by her fans. When it comes to weight the actress has always had had a slim frame that weighed 56kg. But since getting married and having three kids, her weight has slightly changed. That notwithstanding, she has worked hard to maintain her stature with her height at 1.69 m.
Other measurements that make her body great include;
Breast Size: 86 cm (34 in)
Waist Size: 61 cm (24 in)
Hips: 86 cm (34 in)
Dress Size: 2 US (32 EU)
Feet Size: 8 US (38 EU)