Jessica Alba's husband is Cash Warren, an American film producer who has also worked as an assistant to director Tim Story. The 44 year-old who was born  on 10 January 1979 is not just popular for being Alba's husband as he is the son of Michael Warren, a retired American TV actor best known for playing Officer Bobby Hill in Hill Street Blues. 
Cash and Jessica have been married for 15 years after having exchanged vows in 2008. They have since had three children – daughters Honor Marie and Haven Garner, and a son named Hayes. Cash is undoubtedly a special human being to have been able to land such a beautiful and smart lady like Jessica Alba. Here's more about him.
Cash Warren's Profile Summary
Full Name: Cash Warren
Gender: Male
Date of Birth: 10 January 1979
Cash Warren's Age: 44 Years Old
Place of Birth: Los Angeles, California, United States
Ethnicity: Mixed
Nationality: American
Zodiac Sign: Capricorn
Sexual Orientation: Straight
Religion: Christianity
Education: Crossroads School; Yale University
Marital Status: Married
Cash Warren's Wife: Jessica Alba
Cash Warren's Children: Honor Marie Warren, Haven Garner Warren, Hayes Alba Warren
Cash Warren's Parents: Michael Warren, Sue Narramore
Siblings: Kekoa Brianna Warren, Makayla Warren, Grayson Warren
Cash Warren's Height in Inches: 6 feet 0 inches
Cash Warren's Height in Centimeters: 183 cm
Cash Warren's Weight: 85 kg (187 lbs)
Body Measurements: 42-32-37 Inches
Cash Warren's Net Worth: $20 million
Famous For (Occupation): Producer, Businessman
Cash Warren's Instagram: @cash_warren
Twitter: @cashwarren
Cash Warren Is The Son Of Actor Michael Warren
Cash Warren is one of four children born to former actor and college basketball player, Michael Warren. The older Warren is best known for his time on the NBC television series, Hill Street Blues, where he played the role of Officer Bobby Hill. On 10 January 1979, Cash's African American father had him with his Caucasian first wife, Sue Narramore.
The couple also had a daughter Kekoa Brianna "Koa" Warren before going their separate ways. Cash would later gain two more half-siblings as his father married again and had daughter Makayla and son Grayson Andres.
Details of Cash's upbringing are few and far between as it is only reported that he was raised partly in Los Angeles and then abroad in France. For his high school education, he attended Crossroads School in Santa Monica where he attempted to follow his father's footsteps by playing basketball.
Cash and his teammates were evidently quite good as they became state champions at one point in time. After high school, he enrolled in Yale University where he acquired a degree in Political Science in 2001.
He Got Into The Movie Business After Graduating From The University
It was in 2004 that Cash Warren was able to launch a career in the movie business when he started working as a production assistant in the 2004 hit action-comedy, Taxi. The Tim Story-directed film is about an incompetent New York City police officer who uses a talented taxi driver to solve a series of bank robberies. The film, which was panned by critics, starred Queen Latifah, Jimmy Fallon, and supermodel Gisele Bundchen.
The following year, Cash teamed up again with director Tim Story to work on Fantastic Four (2005), a superhero film based on a Marvel Comics book. The film stars Ioan Gruffudd, Jessica Alba, Chris Evans, Michael Chiklis, Julian McMahon, and Kerry Washington. Unlike their first effort together, this project received mixed reviews and was commercially successful.
Cash Warren has since then gone ahead to build a career as a producer. He has worked on movies, TV series, and documentaries as well. Notable documentaries on his resume include Crips and Bloods: Made in America (2008) which was nominated for an Image Award and a News & Documentary Emmy Award in 2010, and Rising Son: The Legend of Skateboarder (2016).
Other than his work in Hollywood (movie business), Cash is also a businessman. He co-founded the production outfit Verso Entertainment which specializes in making documentaries.
He is also the founder of the retail site – Pair of Thieves, which sells socks and underwear, and ibeautyou.com, a game website. Another company in his portfolio is Apoko, a company that specializes in digital media and helps celebrities and high-profile athletes connect with their fans.
Cash Warren Met Jessica Alba On The Set Of Fantastic Four
Jessica Alba's interest in acting started when she was just five years of age. Later on, she would get a chance to explore this childhood dream when she won an acting competition in Beverly Hills. The grand prize of this competition was free acting classes, and so after Alba won it, she began taking acting classes. The beauty began working under an agent and her first acting role was in the adventure comedy film Camp Nowhere (1994).
After her performance in the role, a few more high-profile ones came along, including a role in Dark Angel (2000) – one that swiftly propelled her to the limelight. In recognition for her outstanding performance on that very show, Jessica was nominated for a Golden Globe and also won an ALMA Award for Breakthrough Actress of the Year. Following this feat, Jessica Alba began landing many other notable roles. Amongst them are Never Been Kissed, Into The Blue, Sin City, and Fantastic Four.
While working on the set of the latter movie in 2005, her love story with Cash Warren began. In Fantastic Four, the actress portrayed the Marvel Comics character of Invisible Woman while Warren worked behind the scenes as an assistant.
When word got out that the two were dating, it was almost a shocker because no one knew who Cash was and he certainly did not have the resume expected for someone who would be dating one of the finest ladies on the planet. This was after Alba had called off her engagement to actor Michael Weatherly, her co-star on Dark Angel who many believed had the profile of a man to be dating a girl of Alba's caliber.
While the Hollywood media publications ran with different types of stories about Alba and Warren, the two concentrated on their relationship that became the envy of many in Hollywood who wanted their personal lives out of the spotlight.
The Couple's Relationship Was Not Always All Rosy
Cash and Jessica would be lying if they were ever to say that they never encountered any problems while dating. While the pair are known to not have had any issues that saw them make the headlines, they did have one or two squabbles that led to Jessica kicking her partner out of their home.
According to reports, the couple briefly broke up in July 2007. After getting back together, the pair had fights that led to Jessica throwing Cash out of their house on two different occasions. Speaking on the incidents, later on, Jessica blamed pregnancy hormones for her actions as she was pregnant with their first child.
Jessica Alba Was 27 Years Old When She Got Married To A Then 29-Year-Old Cash Warren in 2008
In late 2007, Cash Warren and Jessica Alba announced to the world that they were expecting a child. While the couple failed to mention anything about a wedding, Jessica was later spotted wearing a ring in December of that year. This sparked engagement rumors that were later confirmed by the actress's publicist.
Months later, in May 2008, the pair got married quietly in a small courthouse wedding. The event happened in the Beverly Hills courthouse's ceremony room under an arch of green silk foliage and white flowers. The couple, who opted to have no guests in attendance, kept things very casual as Alba wore a long blue dress with her hair back in a ponytail while Warren wore brown pants and a white shirt. There was nothing celebrity-esque about the occasion as reports have it that they arrived at the courthouse around 11:30 a.m. on the day, applied for a marriage license that took about 40 minutes for the paperwork to be processed before they were married by a staff member from the courthouse.
The Couple Have Three Children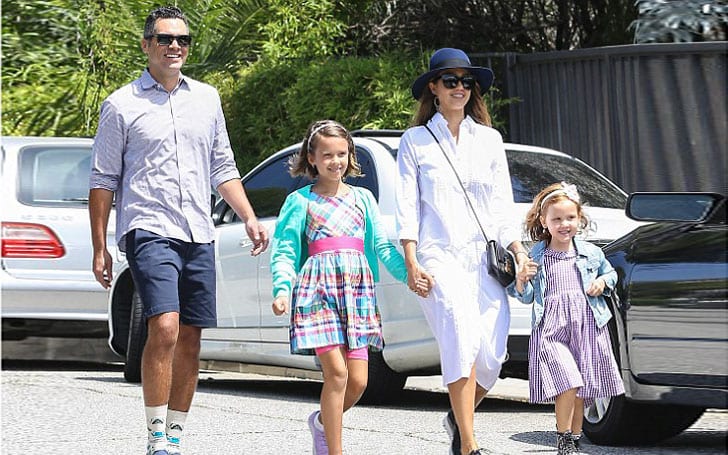 Cash Warren and Jessica Alba have three children together; two girls and a boy. Their first child was born in 2008 while their second came three years later in 2011. It took the couple about six more years before they were able to make another addition to the family by welcoming their third and last child.
Speaking on their parenting style, Cash has said that he and his wife are making an effort to not raise spoilt "Hollywood" children. Whenever they get out of line, they make sure that they are set straight. Cash added that he and Jessica are trying to maintain the values their parents taught them. Boundaries and routines are set and this means that they have to do chores like make their beds, set and clear the table, and generally take care of the home and themselves. Let's meet the couple's kids.
Honor Marie Warren
Date of Birth: June 2008
Age: 15 Years Old
Gender: Female
Jessica Alba was obviously heavily pregnant when she exchanged marital vows with her husband in May 2008 as just the following month they welcomed their first child, a daughter named Honor Marie. There was a scramble among publications in Hollywood for pictures of the baby. The July 2008 issue of OK! Magazine would later acquire the said photos, paying Alba a whopping US$1.5 million for them.
Following the fun fare that surrounded her birth, Jessica and Cash ensured that their first daughter had a normal childhood. Honor did not know anything about her mother's acting career as Jessica had at the time rolled back her acting career and was concentrating on her business. Alongside her business partner, she ran The Honest Company, an outfit that sells a collection of household goods, diapers, and body care products.
During an appearance on The Ellen DeGeneres Show, Jessica Alba revealed that Honor was in first grade when she found out at school that her mother was a screen goddess. Honor's friend had brought a magazine with her on the cover. The young lady was caught off guard and could not believe it. She only knew her mother to be an entrepreneur and not an actor or someone who was "going to be in grocery stores or in Target." The young girl, who has since grown taller than her mom, has embraced it all, possibly hoping to one day emulate her.
Haven Garner
Date of Birth: August 2011
Age: 11 Years Old
Gender: Female
Three years after having their first child, Cash Warren and his wife expanded their family with the birth of Haven in August 2011. There was a little controversy following the young lady's birth as many speculated that she might have been adopted. This was because Haven looked nothing like her mother or her older sister when she was born.
While posing for photographs with People and discussing her second child's arrival weeks after Haven was born, Jessica noted that she was surprised to see that her baby had red hair and a fair complexion. She added that she and her husband made such a different-looking kid than the one they had earlier.
Regardless of this statement, there continues to be speculation about Haven being adopted. It must be pointed out that a lot of things could have contributed to her looking quite different. The main reason is that both Jessica and her husband have mixed ancestries that include Latin, African-American, Danish, Welsh, German, French, etc. This certainly could have played a role in making her look quite different from her parents.
Hayes Alba Warren
Date of Birth: 31 December 2017
Age: 5 Years Old
Gender: Male
About six years after Cash Warren and his wife had their second daughter, they announced that they were expecting another child. As expected, there was a media frenzy surrounding the birth of the child that happened on the 31st of December 2017. This time, the couple had a son they named Hayes.
Alba frequently writes about how the little boy makes her and his father very happy. In a New Year post in 2021 where she was wishing him a happy birthday, she wrote that Hayes, whom she calls her New Year's Eve baby, taught them how to enjoy each moment to the fullest. They were able to find joy as a family even with all that was happening in the world with the coronavirus pandemic.