Mila Kunis (born August 14, 1983) is a 39 year-old American actress best known for her appearance in projects like That '70s Show (1998–2006), Forgetting Sarah Marshall (2008), Black Swan (2010), The Book of Eli (2010), Friends with Benefits (2011), etc.
Kunis is married to Ashton Kutcher, an award-winning American actor, producer, entrepreneur, and former model. The couple got married in July 2015 in Oak Glen, California, and have two children – Wyatt Isabelle and Dimitri Portwood.
Mila Kunis Belongs to Ashkenazi Jewish Ancestry 
Mila Kunis was born on August 14, 1983. She was born in Chernivtsi, Ukrainian SSR in the Soviet Union, and was raised a Jewish. A little while after her birth, her family relocated to the United States due to antisemitism in the former Soviet Union. A few days after arrival, her parents enrolled her at Rosewood Elementary School. At that time, her family spoke basically Russian, so she started school without knowing a word in English. She later attended Hubert Howe Bancroft Middle School while also taking acting classes after school activities.
Before she clocked 15, she was discovered by an agent, which opened opportunities for her. Her presence in the film circle was first felt when she landed her first role as Jackie Burkhart on the TV show, That 70s Show.
Kunis primarily used an on-set tutor to be part of the filming of the show. She later joined Los Angeles Center for Enriched Studies (LACES). However, she transferred to Fairfax High School as LACES was not flexible enough to accommodate her acting career. In 2001, she was done with her studies at the school, so she joined Los Angeles' UCLA and Loyola Marymount University.
Without giving up on acting while acquiring all these qualifications and skills, she got her breakthrough in 2008 when she filmed Forgetting Sarah Marshell. This helped her career to reach a greater level with many amazing gigs to her name. She has also earned several recognition and awards for her works. Among them are nominations for the Golden Globe award for Best Supporting Actress and the Premio Marcello Mastroianni for Best Young Actor or Actress.
She is married to Ashton Kutcher, A Showbiz Star and Venture Capitalist
Christopher Ashton Kutcher, popularly known as Ashton Kutcher, is a famous American actor, model, producer, and entrepreneur belonging to Czech, German, and Irish ancestry. He is best known for starring in romance/comedy films, such as Just Married, What Happens In Vegas, and Dude, Where's My Car? Kutcher is also famous for producing and hosting MTV's "Punk'd," a practical joke reality show that spanned 11 seasons. He was Forbe's highest-paid TV actor in 2012, following his role on "Two and a Half Men," where he reportedly earned $20 million per season.
In addition to his various successful career in the entertainment industry, Ashton Kutcher is also a very successful businessman, making huge income from investments. He co-founded two venture capital firms: Sound Ventures and A-Grade Ventures. Through his ventures, Kutcher has invested in 61 companies, including $1 million in Skype, $500,000 in Uber, $300,000 in Warby Parker, $2.5 million in Airbnb, $1.5 million in Houzz, $3 million in Spotify, and Bitcoin. No wonder why he is being referred to as the most active Silicon Valley investor in Hollywood. He claimed research to be the most important part of investing, which led him to make smart investments in companies worth billions of dollars today.
Ashton Kutcher was born on February 7, 1978, along with his fraternal twin Michael. He also has an older sister whose name is Tausha. Raised in the Catholic faith, Kutcher's family was not financially buoyant as his mother, Diane, worked at Proctor & Gamble, whilst his father, Larry, was a factory worker.
Ashton Kutcher and Mila Kunis First  Met on "That '70s Show" But Didn't Start Dating Until Years Later
It is almost common to have lead actors in movies with romantic storylines fall in love on set. It is so often that chances are that the acting looks so good because the actors are being real to themselves even while playing their roles. And while these unions generally seem to last about as long as a high school relationship, there are some cases where the connection found on set turned out to be real. Aston was only 20 years old when he first met Mila, who, at the time, was merely 15 years of age. Both playing on-again and off-again couple Kelso and Jackie in Fox's "That '70s Show."
While it was Kutcher's debut film role, Kunis was already familiar with movie roles, with her first TV role being in a 1994 film, Days of Our Lives. On his own part, Kutcher was first famous as a model before venturing into acting.  The casting director had requested the lead actors to be 18 years old, but Kunis lied about her age to get the part in "That '70s Show". That lie eventually led her to be cast as Jackie, Kelso's girlfriend. She also had her first kiss while playing that role, and eventually, it was with Kutcher. Although they were still strangers to each other, Mila Kunis revealed that she had the "biggest" crush on Kutcher at that time.
After seven seasons, Ashton left That 70's Show in 2005, choosing not to renew his contract for season eight. The same year, he married famous actress Demi Moore whom he met in 2003 through mutual friends. While Kutcher leaving the show ended his in-person contact with Kunis, they still kept in touch even though they were not thinking about each other romantically. At that time, she was already in a relationship with American actor Macaulay Culkin. She started dating in 2002, but by 2011, they called it quits.
They had their first (off-screen) kiss at Kutcher's housewarming Party
Kutcher was 25 and Moore 41 when they married secretly. The pair eventually separated after reports that Kutcher was unfaithful, and they finalized their divorce in November 2013. Amid his heartbreaks, the Two and a Half Men alum Kutcher reconnected with former That '70s Show costar Mila Kunis, at the 69th Golen Globe Awards, after which he invited her to his Hollywood Hills housewarming party.
They began a casual relationship in 2012, but sparks soon flew. The same year, Kunis moved into Kutcher's house, and by November 2013, the divorce between Kutcher and Moore was finalized. By February 2014, Mila and Ashton were engaged as Mila was spotted with a diamond ring on her finger. In May of the same year, they confirmed they were expecting their first child together during Mila's appearance on The Ellen Show. The baby finally arrived in October 2014, and on July 4th, 2015, Ashton Kutcher and Mila Kunis decided to walk the aisle. They got married in a very private ceremony in Oak Glen, California.
7 Years Into Their Marriage, The Couple Now Has Two Children
Ashton Kutcher and Mila Kunis started their family one year before walking down the aisle. The couple who first met as teenagers on the Nineties sitcom That '70s Show now has two children: a 8-year-old daughter named Wyatt and a 6-year-old son named Dimitri.
Kutcher and his wife are not fond of flaunting their little ones in the limelight, but in some cases, they take turns to express their feelings and experiences as parents. The couple also revealed the kids even know how and where their parents first met.
While there is not much information about the children's education and future career choices as they are still very young, there are some fun facts you would love to know about Kutcher and Kunis kids. Let's meet them.
Wyatt Isabelle Kutcher is the Couple's Daughter and First Child
Wyatt is Mila and Ashton's eldest child. She was born on October 1, 2014, and raised by both parents despite their hectic work schedules. Although she's young, Wyatt appears to be a brilliant kid. While appearing on The Tonight Show, Starring Jimmy Fallon in 2017, her father Ashton revealed that his daughter speaks Russian, Spanish, and English. He said she started speaking the languages when she was 2-and-a-half years old.
One other notable fact about Wyatt is that she thinks of her little brother as her baby. In the podcast, Kutcher said Wyatt loves her brother so much because she thinks he is her own baby. He said he would someday explain to his daughter that her brother isn't her baby but her younger one, although he is not aware of how he would do so. "She loves the baby so much … maybe more than me," he said.
Meet Mila Kunis and Ashton Kutcher's Son Dimitri Portwood Kutcher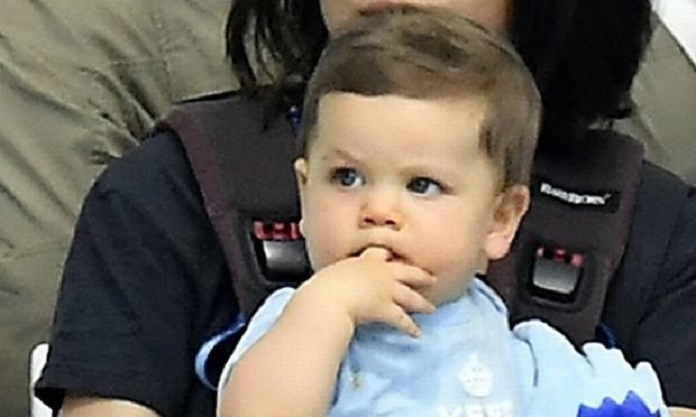 Dimitri is Ashton and Mila's second child and first son, born on November 30, 2016, two years after Wyatt. As the only son of the actor, Dimitri appears to be very close to his father.  Ashton is fond of carrying the young kid in his arms whenever they go out. Even Ellen DeGeneres referred to Dimitri as the "young boy who never walks" during one of Kutcher's visits to her show in December 2018. Dimitri is also close to his mother, Mila Kunis. He's been spotted on a few outings around town with her.
What Mila Kunis Has to Say About Parenting and Motherhood
Going from their lives as Hollywood stars to doting parents of two children hasn't been an easy transition for the pair, especially for Mila, who had to place her life as a mother over her career. In all, she admits to struggling with the idea of being the perfect mum and despairs when she doesn't live up to her own expectations.
Despite being workaholics Ashton and Mila have found the perfect balance when it comes to juggling their many responsibilities. During the pandemic on the Teach Me Something New podcast, Mila opened up about parenting, describing herself and her husband as "goofy parents" when it comes to their children. She also revealed that while her acting job has been a hobby that turned into a great profession, she never wanted to be the person who only has business on her mind. "I'm excited about being a full-time mum," she said.
Mila also admits that starring alongside Kristen Bell and Kathryn Hahn in the 2016 comedy film Bad Moms gave her the chance to bond with the other women who all have kids and have gone through the same things she was and is still experiencing as a mother.
When asked if she deems herself a good mother, Kunis nods emphatically. "I think I'm pretty good," she says, admitting that she sometimes makes mistakes. According to her, mothers need to admit that they can't be perfect all the time. They must accept that making mistakes does not mean they are bad mothers.
Meanwhile, Mila has, in some cases, expressed gratitude to her husband, who she said has been very supportive in their journey as parents. She called Kutcher"brilliant" and "an incredibly hands-on" parent who wanted to bond well with his kids as she does. The No Strings Attached actor Ashton also feels grateful to have actress Mila as the mother of his children.
Controversies Involving Mila Kunis and Ashton Kutcher 
Kutcher and Kunis maybe be named among the greatest couples in Hollywood. Still, despite the exposure their fame has given them, the couple tends to be very protective of their private life, especially with regards to topics or issues that could jeopardize their relationship. This is why you would rarely find them involved in damaging rumors. However, the pair has been involved in several controversies, most of which relate to their family and love life. Let's take a look at them.
The Bathing Controversy
In 2021, Kunis and her husband were involved in a controversy over whether or not kids should be bathed regularly. During a session on Dax Shepard's Armchair Expert podcast, the young couple revealed that they rarely bathe their children regularly, as has been the tradition with so many parents with infants. Kunis said when she had her two children, she never washed them every day, "I wasn't that parent that bathed my newborns — ever," She added.
Kunis's comment sparked off a debate about whether it's necessary for parents to bathe themselves and their kids every day. Celebrities like Jake Gyllenhaal, Kristen Bell, and Cardi B were involved in the discussion. While trying to put the issue to rest as it has been dragged for a long, the couple finally addressed the issue with a hilarious video on Instagram captioned, "This bathing thing is out of hand." The video, dated August 11th, has Kunis bathing their children while Kutcher questions her in utmost surprise mood. While their comment on the issue was quite hilarious, many praised them for how they handled the issue.
Their Separation Rumor 
Mila and Kutcher were recently rumored to have issues with their marriage leading to a possible separation. It is said that the Hollywood couple might be splitting up because of the relationship crisis that arose after being negatively affected by the quarantine protocol due to COVID-19.
An online publication had it that due to the lockdown that was strictly adhered to following the widespread of  COVID-19, couples like Mila and Kutcher suffered from the pressure of being together every single and hour of the Day and not being able to go out of the house. The publication said that the couple argued on issues that include their parenting tasks and why their relationship has gone downhill was Demi Moore's memoir. Ashton's ex-wife published a tell-all book that revealed some unpleasant truths about her relationship with her younger husband, and this allegedly bothered Mila.
Shocked by the divorce news, the star couples slammed the news with their usual joke on an Instagram post they captioned, "I guess it's over." Mila and Ashton were indeed quarantining together with their children, but this is just like the other ordinary households.
Between Mila and Ashton, Who is More Famous?
Mila and Ashton are two great stars who have worked hard to get to where they are today in the entertainment industry. Although they both started at different time paces, it is amazing how they have both gone on together in the world of fame.  Mila joined the entertainment industry much earlier than her husband, having started her professional career at the age of 15. Aside from being famous in the movie industry, Kunis has also appeared in various TV programs like the 2008  Gap's "Shine Your Own Star" Christmas campaign. She has severally been listed among the hottest women in various top-notch magazines like Men's Health, FHM magazine, Maxim, and Esquire magazine. 
On the other hand, Kutcher has garnered much fame first from his career as a Calvin Klein model, then as an actor and entrepreneur. He has appeared in over a hundred films and TV series and has even produced more. Currently, with a massive following of over 4 million on Instagram, Kutcher is apparently more famous on social media than his wife, with over 49.7k followers.