Everyone's favorite American actress, Mila Kunis has been a powerhouse since she stormed the limelight. In fact, everything about her keeps getting better, especially her career. Even though her personal life got challenging at some point in the past, the actress has found her foot again and is apparently more in love than ever. But who is the man that was able to win her heart again? The following are the things you should know about the star.
Mila Kunis' Age and Ethnicity
Mila Kunis was born on August 14, 1983. She was born in Chernivtsi, Ukrainian SSR in the Soviet Union and was raised a Jewish. A little while after her birth, her family relocated to the United States due to antisemitism in the former Soviet Union. A few days after arrival, her parents enrolled her at Rosewood Elementary School. At that time, her family spoke basically Russian, so she started school without knowing a word in English. She later attended Hubert Howe Bancroft Middle School while also taking acting classes after-school activity.
Before she clocked 15, she was discovered by an agent and this opened opportunities for her. Her presence in the film circle was first felt when she landed her first role as Jackie Burkhart on the TV show, That 70s Show.
Kunis primarily used an on-set tutor in order to be able to be part of the filming of the show. She later joined Los Angeles Center for Enriched Studies (LACES). However, she transferred to Fairfax High School as LACES was not flexible enough to accommodate her acting career. In 2001, she was done with her studies at the school, so she joined Los Angeles' UCLA and Loyola Marymount University.
Without giving up on acting while acquiring all these qualifications and skills, she got her breakthrough in 2008 when she filmed Forgetting Sarah Marshell. This helped her career to reach a greater level with many amazing gigs to her name. She has also earned several recognition and awards for her works. Among them are nominations for Golden Globe award for Best Supporting Actress and the Premio Marcello Mastroianni for Best Young Actor or Actress.
Her Parents and Brother
Mila Kunis family wasn't so rich but they weren't very poor either. Her mother Elvira had a good job, she worked as a physics teacher and also ran a pharmacy while her dad Mark Kunis, a mechanical engineer, also worked as a cab driver. She has an older brother named Michael.
Her parents earned enough money for the family upkeep but at some point, they gave up their careers to relocate the family to the United States. Their reason was that the Soviet Union held no future for their children, Kunis Mila and Michael. Having sacrificed their means of income, they first arrived in New York City before settling in Los Angeles with just $250. Of course, that move has favored the family since their daughter is now one of the most famous faces of Hollywood.
Mila Kunis Kids and Husband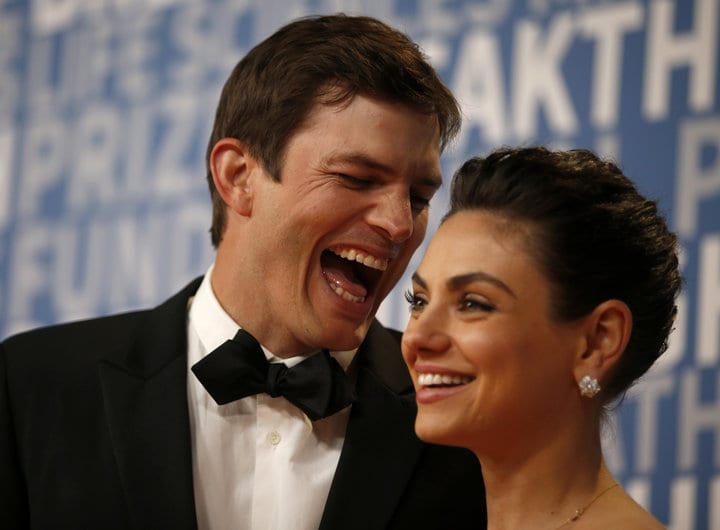 Mila Kunis doesn't like discussing her private life. She tries her possible best to keep anything concerning her love life very private. Nonetheless, the secrecy doesn't stop us from knowing the special someone in her life. She is married to her That 70s Show co-star, Ashton Kutcher.
The two started dating in 2012, many years after working together. In 2014, Ashton went on his knee to ask her hand in marriage. The following year, they sealed their love legally in Oak Glen, Califonia. They have two children together, a daughter (Wyatt Isabelle Kutcher) who was born in 2014 and her brother, Dimitri Portwood Kutcher. He was born in 2016.
Ashton was born on February 7, 1978, and was raised in the Catholic faith. He is of Czech, German and Irish descent. The famous actor is also a popular investor. Just like Mila Kunis, he started his acting career with That 70s Show.
Prior to their marriage, Kunis was in a relationship with Macaulay Culkin. There were rumors of them tying the knot during their relationship but Kunis has made it clear that they never got married. Their relationship which started in 2002, ended in 2011.
See Also: Kate Spade Daughter, Husband, Brother, Family, Suicidal Death
Height and Body Measurements
Mila Kunis is among the cute, petite, and powerful women who are not letting their sizes rob them the chance of reaching a fine height in their careers. As a matter of fact, her average height of 5 feet 4 inches has not only won her numerous leading roles but has gained her the admiration of many.
To top it all, she is strikingly beautiful and weighs 52 kg. So, while her small body frame is easily noticeable, we equally can't deny that her petite body is well proportioned. Her breasts measure 32 inches, her waist is 25 inches, and her hips are 32 inches. From this, you could tell that she has a banana-shaped bod.