Tyra Banks is not married and has never been. The 49 year-old American model has been in a long-time romantic relationship with Louis Bélanger-Martin, a pioneer of the inflight entertainment industry.
The couple started dating in 2018, about a year after she ended her relationship with Norwegian photographer Erik Asla, the father of her only son.
Tyra Banks Is Not Married But She's Dating Louis Bélanger-Martin
Tyra Banks has never been married legally unlike celebrities such as Lauren Holly who has been married several times. Notwithstanding, the supermodel has had some past romantic affairs. Most notably, she dated the hunky Norwegian photographer, Erik Asla. Currently, the supermodel is dating the businessman Louis Bélanger-Martin and there are reports that they are living together and are engaged to be married. Here's a list of the men she has dated and the current man in her life.
The music video director Hype Williams
The actor Will Smith – 1993-1994
The late movie director Singleton – 1994-1996
The singer Seal – 1996 for just 9 months
Chris Webber – 2002-2004
John Utendahl – 2007-2011
Erik Asla – 2013-2017
Louis Bélanger-Martin the current boyfriend – 2019 to date. Rumors have it that they are engaged but they are yet to admit it publicly.
Among all these men and relationships, it was her relationship with Erik that produced her son. Here's more about her relationship with Erik Asla and how they gave birth to their son.
Tyra Banks' Relationship with Erik Asla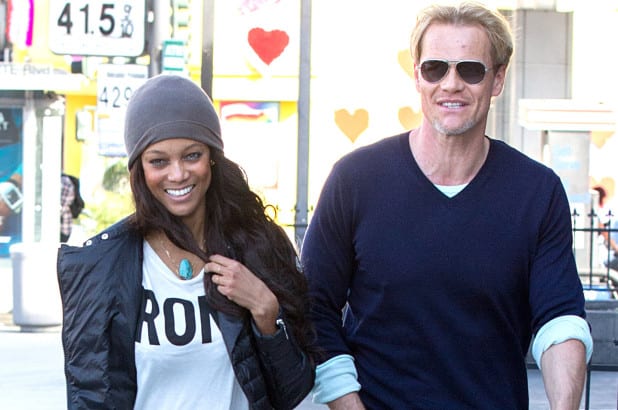 Tyra Banks started dating Erik Asla in 2013 and enjoyed an idyllic relationship until 2017. Erik is a Norwegian photographer. While they were together, Banks achieved her dream of becoming a mother through surrogacy. Just a year after the arrival of the baby, they split. Unlike most Hollywood couples, their split which went public in October 2017 was drama-free.
In the course of their relationship, Tyra and Erik felt at some point that it was time to share their then seemingly inseparable bond with another human being, but it was not easy for Tyra to conceive. She tried for many years to conceive but had no success. She also had to endure distressing rounds of fertility treatment in the past years. Unfortunately, none of the procedures worked out. Disappointed, the lovers decided to consider other options.
In 2016, their prayers got answered when their biological son, York Banks Asla arrived through surrogacy. Now that Tyra has her blessing, she has been ecstatic about it. According to her, York is very clever and started speaking three languages (Spanish, Norwegian, and English) at the age of two. Even though Tyra and Erik are no longer lovers, they are still good friends and equally share the duties of raising their son.
What Caused the Four-Year-Old Relationship with Erik to Shatter?
The reason for their split was not revealed to the public. However, it didn't come with a fight because they are still good friends. While they were still together, they tried to keep their relationship away from the camera and courted no public controversy. They were such a great couple and as we have mentioned earlier, the split was free of any drama. This may be because of the son they share, so they resolved to remain good friends.
How Tyra Banks Had Her Son
Tyra has only one biological child and that is the child she shares with Erik. While they were still together, the couple tried to conceive but it didn't work for them. They also tried seven cycles of IVF but they all failed. It was a very tough time for Tyra as she admits that those were traumatic moments and it's more difficult trying to conceive when one gets older.
She also admitted that she had always wanted to have kids but kept on postponing it by three years until she was ready for it. At that time, age was no longer on her side and it was difficult for her to conceive.
Fate smiled at her in 2016 when she decided to try surrogacy. This process eventually worked out for her and she welcomed her only child. Her son York was birthed to them in 2016 and this made her the happiest woman on earth. She is so fond of her son and never misses a moment to gush over him.
How Tyra Banks Achieved the Feats She Enjoys Today
Born on 4th December 1973 in Inglewood, California, Tyra Banks had her early education in John Burroughs Middle School and later joined Los Angeles' Immaculate Heart High School. When she was just 15 years old, she started her modeling career but wasn't immediately lucky with gaining a contract due to her skin color and somewhat robust stature.
Fortunately for her, at the age of 17 when she dropped some pounds and had grown a little taller, she succeeded in signing her first modeling contract with one of the biggest agencies at that time known as Elite Model Management.
After high school, she joined Loyola Marymount University in Los Angeles. Her initial plan was to obtain a degree from a highly regarded university but she had to drop out to build her modeling career in Europe. To achieve this, Tyra first relocated to Milan and then Paris where she became a force, booking 25 runway shows in the 1991 Paris Fashion Week.
Tyra's acting career kicked off in 1993 with the American sitcom The Fresh Prince of Bel-Air. She starred in her first movie in 1995 and by 2000, she started starring as a major character in movies. As a producer, she produced her first reality television show called America's Next Top Level.
Later on, in 2010, Banks ventured into writing and has authored several books like ModelLand. She also owns a production company called Bankable Productions, which has seen the production of her Tyra Banks Show, America's Next Top Model among others.
It's been quite a journey for Tyra Banks since then. She has had ties with big brands such as Yves Saint Laurent, Chanel, Calvin Klein, Givenchy, Fendi, among others. She has also done ad campaigns for big brands like Nike and appeared on the covers of magazines.
Now, she is known as a successful author, producer, singer, and TV host. Despite her accomplishments, the model continued her education at Harvard University and has completed some special courses for CEOs and top executives at the institution.