One of the things that's most dazzling about Tyra Banks is her beauty which sort of define this era. But beyond beauty, the entertainment mogul has utter determination to succeed and that force has made it possible for her to spread her endeavors to include modeling, acting, writing, and singing. The TV personality is also now a renowned businesswoman and so many other things.
Age, Early Life, and Rise to Fame
The supermodel was born on December 4, 1973, in Inglewood, California. She had her early education in John Burroughs Middle School and later joined Los Angeles' Immaculate Heart High School. At age 15, the star started modeling but wasn't immediately lucky with gaining a contract due to her skin color and somewhat robust stature. Fortunately, by age 17 when she dropped some pounds and had grown a little taller, she succeeded in picking up her first modeling contract with one of the biggest agency at that time known as Elite Model management.
After high school, she joined Loyola Marymount University in Los Angeles. Her initial plan was to obtain a degree from the highly regarded university but she had to drop out to build her modeling career in Europe. To achieve this, she first relocated to Milan and then Paris where she became a force, booking 25 runway shows in the 1991 Paris Fashion Week.
It's been a journey for Tyra since then. She has had ties with big brands such as Yves Saint Laurent, Chanel, Calvin Klein, Givenchy, Fendi, among others. She has also done ad campaigns for big brands like Nike and appeared on covers of magazines. Now, she is known as a successful author, producer, singer, and TV host. In spite of her accomplishments, the model continued her education at Harvard University and has completed some special courses for CEOs and top executives at the school.
Her Parents
Tyra Banks' parents, Carolyn London (now goes by the name London Johnson) and Donald Banks (her dad) separated when she was just six years old. She and her brother (Devin) who is five years older than her suffered the brunt of the divorce as it robbed them the chance of enjoying a home headed by two loving parents.
But then, owing to the fact that her parents were successful with her mom working as a medical photographer and her father as a computer consultant, she didn't have to carter for herself.
Tyra Banks Son and Husband; Is She Married?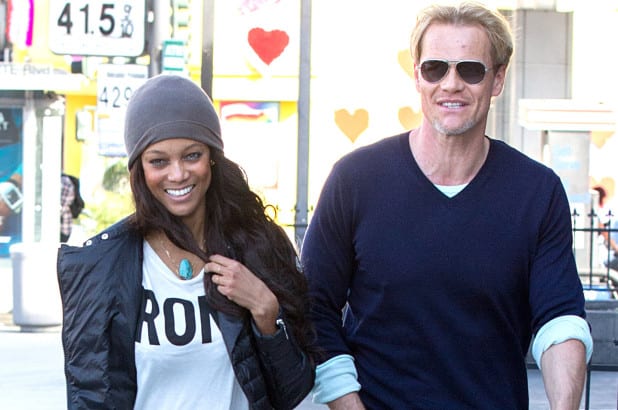 Tyra Banks has never been married legally. Notwithstanding, the beauty has had some past affairs. Most notably, she dated the hunky Norwegian photographer, Erik Asla. The two started dating in 2010 and enjoyed an idyllic relationship until 2017. Unlike most Hollywood couples, their split which went public in October 2017 was totally drama-free.
In the course of their relationship, Tyra and Erik felt at some point that it was time to share their then seemingly inseparable bond with another human being, but conceiving didn't prove easy for the model. She tried for wearying many years to conceive but no success. She also had to endure distressing rounds of fertility treatment in the past years. Unfortunately, none of the procedures worked out. Disappointed, the lovers decided to consider other options.
In 2016, their prayers got answered when their biological son, York Banks Asla arrived through surrogacy. Now that Tyra has her blessing, she has been ecstatic about it. According to her, York is very clever and started speaking three languages (Spanish, Norwegian, and English) at the age of two. Even though Tyra and Erik are no longer lovers, they are still good friends and equally share the duties of raising their son.
Read Also: Kate Spade Daughter, Husband, Brother, Family, Suicidal Death
Tyra's Weight and Height
Tyra Banks is a superstar for a reason. She is beautiful, elegant and noticeably tall. This hostess of America's Got Talent is way taller than the average African American female, she stands at 5 feet 10 inches. As a former model, she has kept a good body shape over the years since resigning from modeling. She weighs 64 kg and, the rest of her body measurements are as listed below:
Bra Size: 34 C
Breast Size: 37 inches
Waist Size: 24 inches
Hip Size: 36 inches
Dress Size: 6 US
Shoe Size: 9 US, 39-40 EU, 7 UK