Wendy Williams is a popular TV personality, actress, and fashion designer born on the 18th of July, 1964. She was born and raised in a town in Monmouth County, New Jersey, a suburb of Ashbury Park to Thomas and Shirley Williams. Wendy is the second of her parent's three children; yeah, she has two siblings.
Lady Wendy attended Ocean Township High School and graduated from the Northeastern University in Boston where she obtained a B.A in Communications, this was way back in 1986. She began her career as a radio operative and later secured another job with Washington based station WOL. From there, she moved on to Hot 97 but was fired when the channel was reformatted into an adult contemporary outlet. This hardly distressed Wendy as she was quickly hired by Philadelphia station WUSL (power 99 FM).
Wendy is known to be very open about her life, she has talked about her miscarriages and breast enhancement surgery. She is best known for The Wendy Williams Show which kicked off in 2008 when Debmar-Mercury gave her a six-week television trial. The show debuted on July 14th, 2008 and soon became permanent when both Fox and BET picked up cable rights to broadcast the show in 2009 and 2010 respectively.
Net Worth – How Rich Is She?
Apart from the wealth she has accumulated from her endeavors in showbiz, Wendy owns various businesses which included HSN clothing, she sells most of the line exclusively at HSN. Also, she owns a jewelry collection and a wig line.
Wendy Williams has also written a New York Times bestselling autobiography alongside 6 other books. She made high profile appearances in movies, none bigger than the adaptation of Steve Harvey's book Think Like a Man in 2012. It should be noted that in the same year, she entered into a production alliance with renowned producers Suzanne de Passé and Madison Jones to create movies and TV shows. It was later announced that these shows will all come up with the caption Wendy Williams Presents. Meanwhile, she generated huge revenue from the more than 1,400 episodes of the Wendy Williams Show which aired for 9 seasons.
In view of the foregoing, it is not surprising that Wendy is regarded as one of the most successful figures in showbiz. It is believed that her various businesses have consistently expanded her wealth which is currently estimated at a staggering sum of $60 million. Beyond the riches that she has acquired, Wendy has received many awards for her works. She was thrilled when members of the council of Ashbury Park renamed the street where she grew up as the Wendy Williams Way.
Is She A Man Or Transgender?
The sexuality of the TV personality has been an ongoing debate in the media. Over the years, there have been claims about Wendy once being a man. Hip-hop Morning Exclusive has also suggested that Wendy Williams real name was actually Wendell Williams. Additionally, it has been rumored that she was born with both parts, this is according to a source close to her plastic surgeon.
That's not all, people went as far as suggesting that her son was adopted. When asked by a journalist about her opinion on Laverne Cox as the first transgender person to be nominated for an Emmy Award, Wendy seized the opportunity to address rumors about her own sexuality. With a quirky smile, she said she perfectly understands why people would think she is a transgender. According to her, it's because of her height, her long face and the wigs she wears. However, Wendy Williams specified she's a woman while noting that there is no insult worse than telling a woman she looks like a man.
Also Read: Goldie Hawn Daughter, Sons (Children), Husband, Age, Is She Dead?
Wendy Williams' Husband and Son
Wendy Williams has just one child, Kevin Hunter Jr. who was named after his father Kevin Hunter Sr. Wendy in her book Wendy got the Heat referred to her first husband as a salesperson. She went on to detail that she divorced the man on the 30th of November and in the year 1997.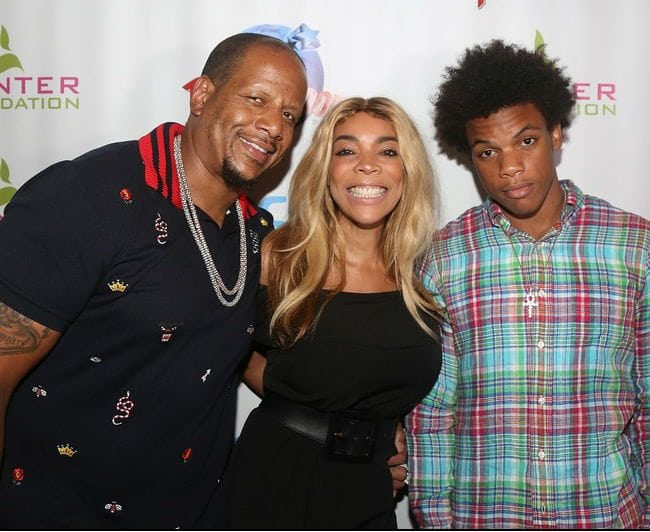 Following the end of her first marriage, she found love again and it led to her second marriage with Kevin Hunter. The couple welcomed their son on the 18th of August, 2000. There have been rife rumors about her husband cheating but Wendy has maintained that the claims aren't truthful.