Ryan Kattner (born August 3, 1978) is a 44 year-old American musician and actor who is best known as Constance Wu's Boyfriend. Ryan Kattner is also known for his work on Off Route (2009), Woe (2020), and others. The frontman of the experimental rock band Man Man is a multi-talented individual who commands an enormous following on social media. 
Regardless of his achievements, Ryan has become more famous and has attracted a lot more media attention since he started dating popular actress Constance Wu. Here's more about him.
Profile Summary of Ryan Kattner
Full Name: Ryan Kattner
Nickname: Honus Honus
Gender: Male
Date of Birth: August 3, 1978
Ryan's Age: 44 years old
Ethnicity: White Caucasian
Nationality: United States
Zodiac Sign: Leo
Sexual Orientation: Straight
Religion: Christian
Marital Status: In a Relationship
Ryan's Parents: Maria Kattner (mother)
Siblings: Patrick Kattner, Cyrus Ghaheremani
Ryan's Height in Inches: 5 feet 6 inches
Ryan's Weight: 75kg (165.43 lbs)
Ryan's Net Worth: $2-3 million
Famous for: Bandleader "Man Man" and Boyfriend of Constance Wu
Ryan's Instagram: @honushonus
Twitter: @Honushonus
Ryan Kattner Was Born in Abilene, Texas
Ryan Kattner was born on the 3rd of August 1979 in Abilene, Texas. His mother's name is Maria Kattner while the name of his father is not known. All that is known is the fact that his father worked in the Air Force and also worked at Corpus Christi. His mother, on the other hand, was medical personnel and resided in Massachusetts. Ryan has two brothers; Cyrus Ghaheremani and Patrick Kattner. The former previously worked as head of Content Development at Twitch and presently works with Netflix as the Manager, Creative Development and Production.
Ryan has shown he is one that loves family. He has on multiple occasions shared pictures of his mother and father on his Instagram page wishing them happy Mother's and Father's Day with a caption that described how they have been there for him through his good and worst days.
The multi-talented singer got his education at the Montgomery Catholic Preparatory school. Ryan was groomed in Philadelphia, Pennsylvania where he experienced his childhood and went about figuring out how to make music.
He Is The Leader Of The "Man Man" Band
Ryan Kattner is the founding member of "Man Man" and the boyfriend of the popular Japanese-American actress, Constance Wu. He is a musician and songwriter. He goes by the stage name "Honus Honus" and describes his music style as "dystopian pop". Besides music and writing, Ryan also works as a screenwriter and film/theater score composer.
The musician is a very private person and does not share much about his life nor does he care what people think or say about him. The 43 year old artist is all about focusing on his music and keeping his family life to himself. His girlfriend, Constance Wu, is 41 years old making the age difference between them 3 years.
Meet Ryan Kattner's Girlfriend, Constance Wu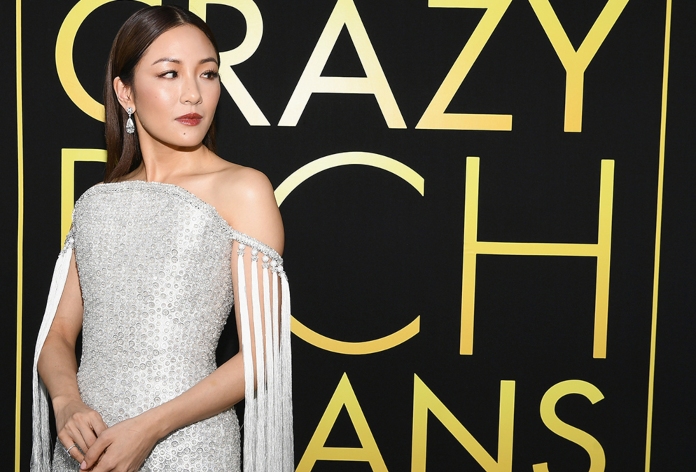 Ryan Kattner is involved in a romantic relationship with American actress Constance Wu, who is well known in the movie industry for her movies such as Hustlers, Crazy Rich Asians, etc. She is an award-winning actress that was born on 22nd March 1982 in Richmond, Virginia, United States. She has won some awards, including the Golden Globe Award for best actress in a comedy or musical. Constance Wu is a very private person and one who likes to keep a low profile. Although she is active on social media, she hardly makes any posts about herself.
Ryan Kattner and Constance Wu Are Not Open About Their Relationship
The relationship between Ryan and Constance has been a very private one such that there is no precise information about when the couple started dating or how long they have been together. However, the love birds have a daughter together. The baby was born in August 2020. So far, their relationship has no hitches and is going smooth with no drama surrounding them. The couple is yet to be married and there has been no hint as to when or if there will be a wedding anytime soon.
How Ryan Kattner Became Famous
The path to fame is not always so easy; it takes a lot of hard work and consistency. Ryan Kattner did not have it all easy as there were periods in his life when he faced a lot of challenges like when he lost two of his dear friends in 2008 and the period when he was homeless. Thanks to hard work, things turned around for the better for him in the end. Before becoming a known musician, as a young man still trying to find his place in life, Ryan did some odd jobs, including working as a cocktail waiter, painting houses, etc.
He later gave up on the jobs so he could focus more on his music. He formed the music band "Man Man" in Philadelphia. The group is made up of vocalists and musicians. Some familiar instruments played by the band include the clarinet, flute, xylophone, jazz bass, melodic, Danelectro baritone guitar, drum set, marimba, French horn, saxophone, sousaphone, euphonium, etc. While in Philadelphia, he explored different avenues regarding the growth of his band which turned out well for him.
Ryan is currently based in Los Angeles but has lived in several locations – Germany, Alabama, South Carolina, Illinois, and Missouri.
His Music Band, Man Man, Has Released Several Hit Albums:
The Man in a Blue Turban with a face – 2004
Six Demon Bag – 2006
Rabbit Habits – 2008
Life Fantastic – 2011
Head On – 2013
Dream Hunting in the Valley of the In-Between – 2020
Ryan also had a solo album titled "Use Your Delusion" which was released in 2016. In 2010, he formed another band with Nicholas Thorburn and Joe Plummer. The name of the band is Mister Heavenly indie rock band. Ryan has also featured in movies like "Woe" which was released in 2021.
Ryan Kattner's Net Worth From Music Has Earned Him Millionaire Status – But His First Love Was Writing
Obviously, Ryan Kattner's hard work has helped in creating wealth for him. Given his accomplishments as an entertainer, the singer and songwriter is estimated to have a net worth of around $2-3 million approximately. The multi-skilled artist is as yet filled with a lot of potentials which will aid in helping him attain greater heights.
In the early stages of his life, the performer wanted to become a writer and even went to college to study a course that will help him in that path. Well, what can we say, he may not have turned out to be a writer of books and articles like he wanted but at least he is writing his own music which is quite satisfying and also fulfilling.
Key Facts About Ryan Kattner
Who is Constance Wu's boyfriend?
Constance Wu's longtime boyfriend is Ryan Kattner.
What is Ryan Kattner known for?
Ryan Kattner is known for his work as a screenwriter, actor, graphic novelist, and frontman of the experimental rock band Man Man.
When was Ryan Kattner born?
Ryan Kattner was born in 1978 in Texas.
What is Ryan Kattner's stage name?
Ryan Kattner's stage name is Honus Honus.
What movies has Ryan Kattner acted in?
He has acted in movies that includes Dig Two Graves, So It Goes, Oh Joy, and Dames.
When did Constance Wu become a mom for the first time?
Constance Wu became a mom for the first time in August 2020.
How old is Constance Wu's first child?
Constance Wu's first child is about 2 years old.