Brian Peppers rose to prominence in 1998 after he was convicted of gross sexual imposition in Lucas County, Ohio. He later passed away in 2012 due to excessive alcohol consumption and probably depression. 
What many might not know is that Brian, a convicted sexual offender, is also known for his peculiar facial structure, which was caused by a health condition that he was born with called Crouzon Syndrome. This health condition caused him to live a miserable life as he had to deal with lots of challenges and rejection from close ones and also the society at large. Read on to find out about the life and tragic death of Brian Peppers. 
Brian Peppers was Born in Ohio, United States
Brian Peppers was born on 1 November 1968 in Ohio, United States. The names of his parents were Bert Mahlon Peppers and Joyce C. Eggert. He was an American by nationality and of Caucasian ethnicity, while his zodiac sign was Scorpio. Brian reportedly was not an only child, as he had a brother called Allen Peppers.
From his early days and childhood, information gathered shows that Brian was not raised by his parents. In fact, the only contribution his parents made in his life was to give birth to him. His parents, probably due to shame, left Brian at an unidentified woman's doorstep shortly after his birth. This was his very first rejection, and sadly, it came from his biological father and mother.
The unidentified woman must have been someone with a heart of gold as she took him in despite his birth defects and raised him as her own. She even went as far as making efforts to arrange for his formal education.
Speaking of his educational background, it is not known if Brian completed his education as school was not exciting for him like other children. Rather, attending school was a miserable experience because he had to endure constant bullying from virtually all of his classmates, who teased and made fun of him for having a physical defect.
Some were scared and often kept away from him due to his facial structure. The treatments he received in school were enough to make him want to quit his education.
Brian Peppers was Born With a Disorder Called Crouzon Syndrome
Brian Peppers' life was not an interesting one. It was full of misery and lots of mental torture, which was basically not his fault as he was born with a disorder called Crouzon Syndrome, also known as Apert Syndrome.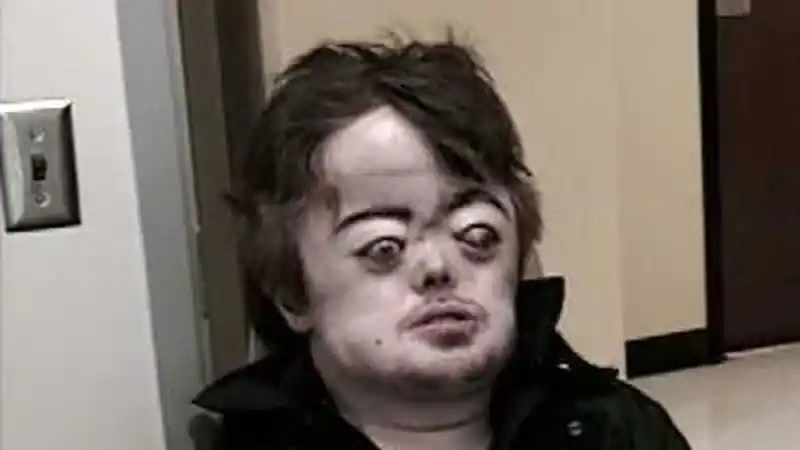 This health condition, according to research, usually causes certain skull bones to fuse prematurely, thereby preventing the skull bones from developing normally. It appears in a person's physical and facial features when it is in full bloom, like bulging eyes, stunted growth, and distorted facial features. Brian Peppers' appearance clearly displayed all of these symptoms.
Beyond his facial anomaly, this illness also had an impact on Brian's skin as he was plagued by a number of skin conditions that caused people to stay far from him, and they often ridiculed him for it. As he faced difficulties and challenges with blending in society, Brian began to have a mental breakdown and slowly resorted to violence as that was the only way he could express what he was going through.
In addition, he developed terrible habits like masturbating in public spaces, teasing women, and molesting barnyard animals just to satisfy his sexual urges, as no one was willing to let him get close to them let alone have a romantic relationship with him.
Brian Peppers Was Convicted of Sexual Assault
In 1998, Brian's bad habits reached a breaking point and cost him lots of trouble as he was accused and convicted of gross sexual imposition on one of the nurses assigned to take care of him.
The nurse who claimed that he molested her and forcibly tore her clothes has remained anonymous to the media and the general public, but Brian paid for his actions as he was found guilty and served a 30-day jail term and an additional five years of probation.
Even after the controversy his actions caused had subsided, his situation only worsened, particularly in 2005 when the notorious internet meme website YMTD began connecting his images to articles about inappropriate sexual behavior.  It resulted in a number of individuals making even more fun of Brian as they photoshopped his face onto apparel meant to deter people from committing any sexual misconduct.
This went on to the extent that some fact-checking websites like Snopes set out on a fact-finding mission to confirm his existence, which involved getting school photos of Brian from his classmate as well as getting in touch with the Ohio Attorney General's office. The site finally confirmed the existence of Brian.
Brian Peppers Died At The Age of 43 From Complications Caused By Excessive Drinking
Brian Peppers' passed away on 7 February 2012 at the age of 43. Reports have it that he died from complications caused by excessive drinking, which he resorted to as a means of escaping his miserable life.
Brian later stopped drinking for a short period while he was in prison and spent his final days at a nursing home in his native home of Ohio in a wheelchair. He was later buried in Ottawa Hills Memorial Park, Toledo, Lucas County, Ohio, United States.
His death, no doubt, was a tragic one and did not fail to expose the vileness of human nature, given the level of mockery and contempt he was subjected to. One cannot help but wonder if things would have turned out differently if Brian had shown some compassion and care. Just maybe, instead of being the nuisance that he turned to, he would have contributed positively to society and would probably still be alive.