Cheryl Scott is not married and has also called off her engagement to her fiancée, Dante Deiana. The acclaimed meteorologist who works for ABC7 in Chicago is currently focused on advancing her career. There are, however, indications that love may be on the horizon again for her as she shared several sweet snaps with a mystery man in July 2023.
Cheryl Scott was Previously in a Relationship With Dante Deiana
Cheryl Scott is not yet married, but she has been involved in a couple of romantic relationships in the past. Her most high-profile romance to date was with Dante Deiana, an accomplished DJ, music programmer, and nightlife industry guru.
Dante has organized parties for famous musicians such as Luke Bryan. He has also opened for Miley Cyrus at a concert. Deiana has worked with brands such as McDonalds, Playboy, Groupon, Red Bull, The NBA, Nike, and Vita Coco. He is the Director of Marketing and Entertainment for Forward Hospitality Group.
Cheryl Scott met Dante Deiana at a charity event in Chicago in 2016. They bonded over certain common interests and later started dating. Their romance flourished from the get-go, and they didn't shy away from announcing it to the whole world. They posted about each other on social media. They also attended several public events jointly. The fact that Cheryl Scott was also a well-known TV personality in Chicago also shone an extra spotlight on them.
They Dated For Two Years Before Getting Engaged In 2018 
Cheryl Scott and Dante Deiana dated for two years before deciding to take their relationship to the next level by getting engaged. In July 2018, the couple vacationed in Hawaii, where they embarked on various activities. On one particular day, they hiked the Haleakala volcano.
On getting to the summit, Dante Deiana got down on one knee and brought out an exquisite ring. Scott was stunned by the whole thing and totally blacked out. She, however, managed to give her yes, and Dante slipped the ring on her finger. It was a very emotional moment, and it was captured by a videographer and a photographer that Dante had hired.
The couple's engagement made the news in Chicago, and several publications carried the story. The love birds also shared their thoughts on what the day meant for them.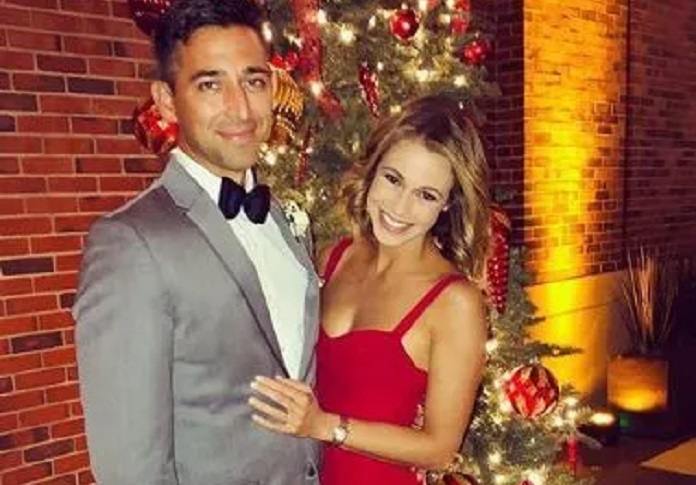 Cheryl Scott Sadly Broke Off Her Engagement To Dante Deiana in 2022
Some couples that get engaged waste no time in tying the knot, while others take months and even years to do so. For Cheryl Scott and Dante Deiana, it was the latter. Following their engagement, Cheryl made it known that she was in no hurry to rush down the aisle and that she and Dante had not made any wedding plans.
According to her, they were going to bask in the euphoria of their engagement for a while. The meteorologist, however, made it known that the long-term was definitely on their mind. As she said, they were excited to start their lives together in Chicago. They both also saw a long future in Chicago together which would eventually include raising kids one day.
Such beautiful sentiments made many believe that Cheryl Scott and Dante Deiana getting married was already a done deal, and for a while, it seemed so. The couple continued to share sweet posts about their lives together on social media. They also embarked on some joint charitable ventures with their beloved dogs, Dante's Boston terrier, and Cheryl's beagle, in tow.
Uh, last I heard Cheryl was married. https://t.co/BZ4Y5URlyO

— Bruce Wolf (@BruceWolfChi) May 27, 2022
There was no inkling of trouble in the couple's paradise; however, by 2022, fans noticed that Cheryl Scott had stopped posting about her fiancé over time on social media. They also noticed that she wasn't wearing her engagement ring anymore. All this made it obvious that they were no longer together, and it inspired diverse reactions from people. While some were sad to see that the engagement had obviously ended, others were happy as they felt that Cheryl deserved a much better man than Dante.
The couple themselves has never come out to confirm that they split or even give the reason behind such a shocking course of action. It could be that they fell out of love or realized that they both wanted different things out of life. It could also be due to infidelity, but of course, these are all speculations. Ending the engagement must have hurt both parties involved, but it is better that it happened now rather than they getting divorced after marriage.
Cheryl Scott Now Has A New Boyfriend In Her Life
Cheryl Scott has been focused on her career since her breakup with Dante Deiana, but there are indications that she may have found love again. A look at her Instagram and Facebook page will reveal some lovey-dovey pictures of her with a mystery man. She has yet to share his name, but the evidence from her posts shows that they are in a serious relationship.
For instance, in July 2023, Cheryl Scott and her mystery new man embarked on a vacation to Ibiza. That same month, they also attended Chicago's Windy City Smoke Out, a top BBQ and Country Music Festival. Cheryl shared photos of her and her man from both times. She captioned one of her posts My #1 leaving nobody in doubt that something seriously romantic was brewing between her and the fellow.
With time, the name and identity of Cheryl Scott's new boyfriend will be unveiled. Members of the public will definitely be watching to see how things progress between them and whether their relationship will last long enough to lead to marriage.