Megan Thee Stallion's parents are Joseph Pete Jr. (father) and Holly Thomas (mother), both of who are late. Megan Thee Stallion's dad passed on in 2011, while her mother died in 2019. 
Megan Thee Stallion's father was in prison for the first 8 years of her life while her mother, who was a rapper, raised her. Unfortunately, neither of her parents lived long enough to see their daughter become the successful musician she is today. That notwithstanding, their memory lives on as the story of Megan Thee Stallion's journey to becoming the star she now is can never be complete without mentioning the contributions of her parents, especially her mother.
Who was Megan Thee Stallion's Dad?
While we know that the name of Megan Thee Stallion's father was Joseph Pete Jr., there is practically no other information available about him. Thus, nothing is known about his background (including his parents, childhood, siblings, and education, among others) and what he did for a living.
However, speaking in an interview with Marie Claire in 2020, Megan described him as "a full-time hustler."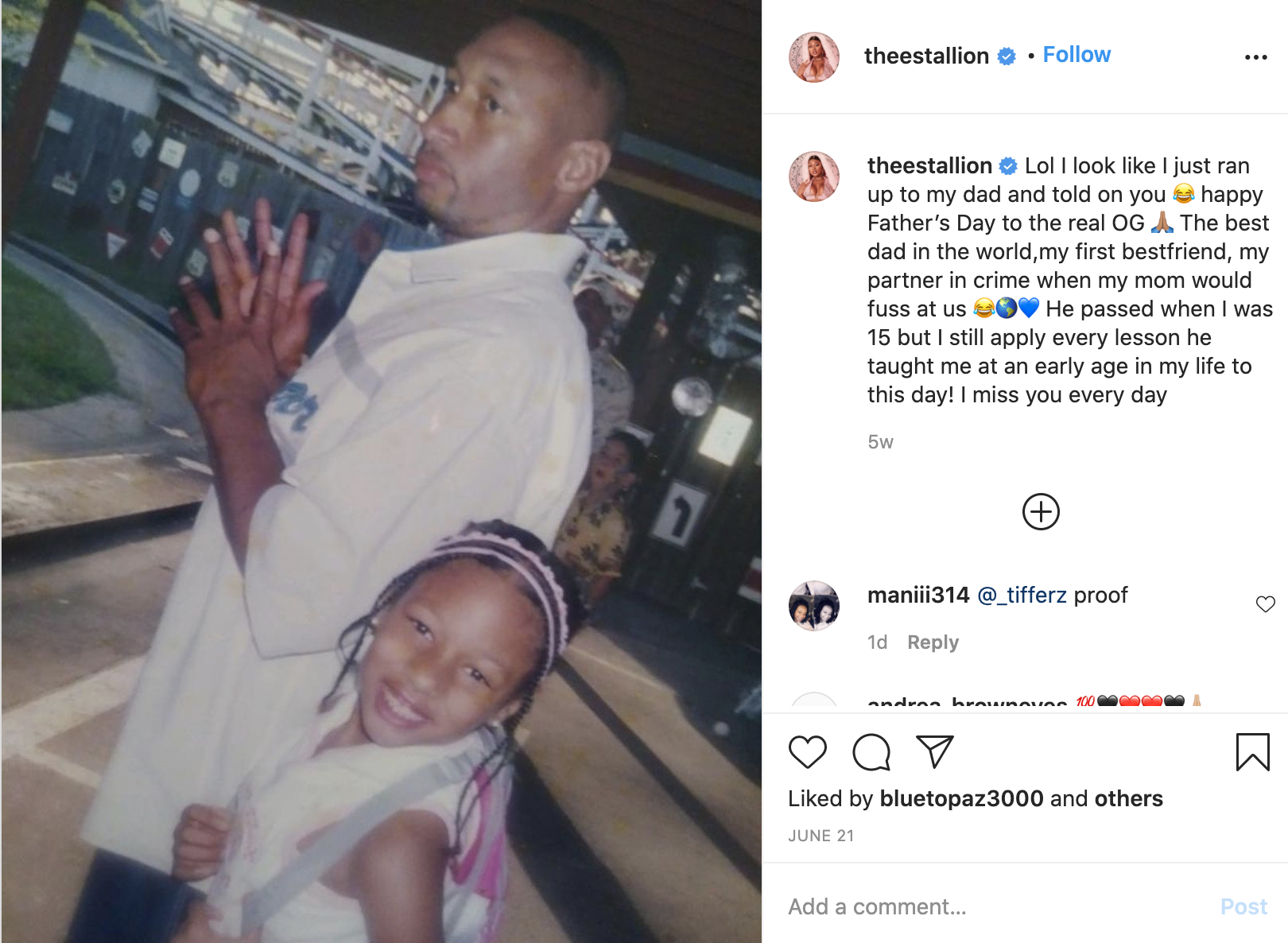 Who was Megan Thee Stallion's Mom?
Just like her father, available information about Megan's mother is very little. However, even though nothing is known about her background, it is common knowledge that she was involved in the entertainment industry.
From the much disclosed by Megan Thee Stallion, she picked an interest in rap because of her mother, Holly Thomas, who pursued a career in that line right from when she (Megan) was little.
At the time, Holly, who was resident in San Antonio, Texas, was known by the stage name "Holly-Wood". She started her career in 2001, and according to Megan, her mom's works were not only gangster in nature, but they were also very much tougher than her own music.
Holly's music career was never as successful as her daughter's as she was unable to break through in the industry. As a result, she was more recognized as an aspiring rapper. Nevertheless, she was able to make money from gigs to take care of herself and her child in addition to her 9-5 bill collector job.
After Holly was done with her music career in 2007, she tried to establish her own record label but whether or not that worked out is unknown.
Megan Thee Stallion's Parents' Ethnicity
The star rapper has never talked about her parents' ethnicity but judging by their pictures, which she has posted on social media at various times, it won't be wrong to say that they come from the black race. This is because they are obviously dark in complexion.
Although Joseph Pete Jr. and Holly Thomas are known to be African Americans, details of their family origin remain a mystery. Also, the American states and towns where they come from are not known. Meanwhile, Megan was born in San Antonio, Texas.
What Happened to Megan Thee Stallion's Parents?
We have already established the identities of Megan Thee Stallion's parents, but the state of their relationship at the time they welcomed their only child, Megan, on the 15th of February 1995 has not been revealed.
The difficulty in understanding the couple's relationship stems from the fact that there was never a mention of divorce while Joseph Pete Jr. was imprisoned and even after he was released.
While pictures of Megan and her father taken between the time he regained his freedom and the time he died are readily available online, it can be observed that her mother appeared in only a few of them. Based on this, some people have opined that they were possibly never married and that their relationship probably crashed either before he was jailed or died a natural death while he was in prison.
If the above opinion is anything to go by, then that goes a long way in explaining why Holly Thomas raised Megan alone with occasional help from her mother. So far, the celebrity rapper has not mentioned anyone else from both her mother's and her father's side who was/is part of her life.
Nevertheless, some other people believe that Megan Thee Stallion's parents were married until her father's death. These set of people hinge their belief on what Megan told Marie Claire in the 2020 interview.
According to her, her father is the reason she is very confident in herself and has an understanding of what to accept from people and what not to accept. "I saw how he treated my mom, and I saw how my dad treated me. I have so many strong positive influences. I'm not going to lower my standards," she explained.
What was the Relationship Between Megan Thee Stallion and Her Father?
Megan was only able to spend seven years with her father, Joseph, but the memories of their time together live on in her heart. For the first eight years of her life, her father was absent because he was arrested and sentenced to prison owing to his involvement with arms. By 2003, he was done serving his time and was released. At this time, Megan was already eight years old.
Having missed out on almost a decade of his daughter's life, Joseph Pete Jr. was willing to do whatever it took to recover the lost time and build a strong relationship with his daughter. Thanks to his dedication to being part of Megan's life, he easily bonded with her. According to the "Hot Girl Summer' crooner, "When he got out, we were together every day."
Celebrating her father on Instagram on Father's Day in 2020, Megan posted an old picture of them together, and in the caption, she described him as the world's best dad, her best friend, and her partner in crime. Sadly, the father and daughter would only be together for seven years as Joseph passed on in 2015.
Megan Thee Stallion was Mostly Raised By Her Mother, Who Inspired Her Rap Career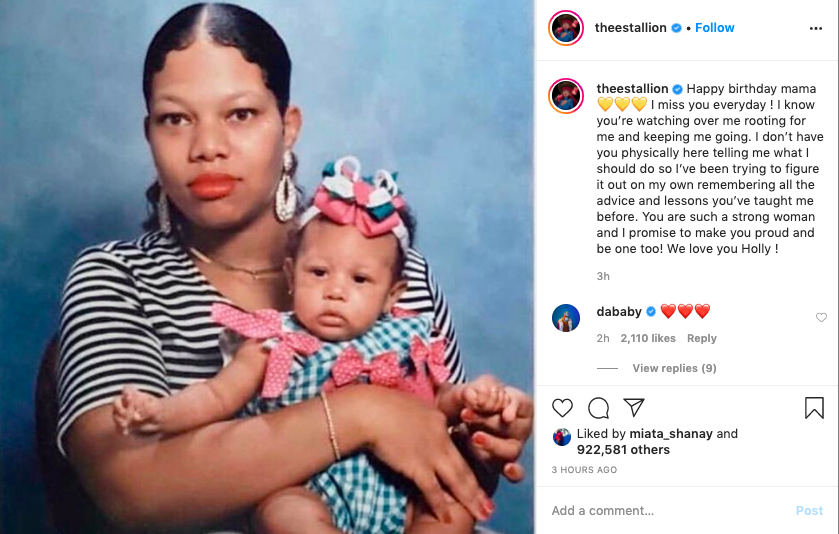 Due to the absence of her father as a result of his imprisonment and eventual death, as earlier mentioned, Megan was raised, for the most part, by her mother. According to the San Antonio-born rapper, her mother, Holly, was the first female rapper she ever knew.
Megan remembers her mom being so into rap when she (Megan) was a child that she listened to different rap songs every day, raping along. At the time, the studio was Megan's daycare center, as her mother usually went there with her during her sessions.
During a 2019 interview with Vulture, Megan revealed that when her mother takes her to the studio, "she would think I'm in the next room doing little kid stuff, coloring, watching TV, and I'm really like ear to the door, thinking, 'Yeah, uh-huh I'ma do that, too.'"
Being exposed to the industry very early made Megan fit into the system so naturally. As a result, by the time she was 7, she was already listening to songs by the American hip hop group named Three 6 Mafia. Additionally, she would also steal her mom's instrumentals and deny doing so when asked. At the age of 14, Megan started rapping and writing her own lyrics.
Four years down the line, Megan was ready to begin a career in music, so she decided it was time to show her mom her rap skills and the songs she had put together. After she listened to her daughter rap, Holly was super-surprised, however, she advised her to postpone her plans of starting her career until she was 21.
Her reason was that the lyrics of Megan's raps were too suggestive, taking into consideration the fact that she was very young then. From thenceforth, Megan helped her daughter write better lyrics with richer vocabulary and style.
Being experienced in the industry, Holly was also there to shield Megan away from labels that wanted to take advantage of her talent and innocence. According to several reports, she served as her daughter's manager in the early days of her career.
By the time Megan turned 21, she started releasing her songs and auditioning for Love & Hip Hop: Houston, and even then, her mother still watched over her, advising and guiding her through the journey of becoming a star. Holly also stopped her regular job in order to have enough time to manage her daughter's career better.
Are Megan Thee Stallion's Parents Alive?
As we mentioned right at the beginning, Megan Thee Stallion's parents are both dead. Her father died in 2015, but the cause of his death has remained unknown to the public to date. At the time he died, Megan was a freshman in high school and only 15 years of age.
Her mother, on the other hand, passed on in March 2019. Megan broke the news of her death via Instagram thus, "The best mom in the whole world. The strongest woman on the planet. I can't even put complete sentences together rn RIP mama."
The news came as a shock to many because, prior to that time, it was never revealed that Megan's mom was sick. Subsequently, the rapper disclosed the cause of her mom's death, saying it was due to a brain tumor.
Because Megan shared the news of her mom's passing the same month she broke out in the music industry, doubters on social media believed it was only a conspiracy. One of them was NFL player Larry Johnson who took to Twitter to say it was a "coincidence" that the rapper's mother had died.
A coincidence :

Her mother, who was her manager died in the month of March 2019, the same month of her "break out."

Music industry filled with the easily corrupt fatherless children looking for Satan to be the "daddy" they never had. https://t.co/4NzmZrTBdg

— Larry Johnson (@2LarryJohnson7) September 14, 2019
Responding to Larry's tweet on the same platform, Megan explained that him finding out about her around the time her mother passed does not make what he said accurate. She went on to tell him that she has been grinding for a long time and would appreciate it if "weirdos on the internet" would quit associating her mother having a brain tumor with "the f***ing devil."
Meanwhile, just two weeks after Holly Thomas died, her mother (Megan's grandmother) also died. Megan revealed that the death of her mother took such a heavy toll on her that she had to resort to therapy. It was this bad because when she lost her father, she was younger, and her mother was there to help her through the period of grief. However, with her mother gone, too, she had no one to lean on.
She made the revelation while speaking of how she had to pay attention to her mental health on Peace of Mind With Taraji P Henson.
Megan Thee Stallion Established a Foundation in Honor of Her Parents
As a way of honoring the memory of her late parents, Megan established a non-profit organization known as the Pete and Thomas Foundation on her 27th birthday on the 15th of February, 2022. The foundation was established to help with activities and campaigns that have to do with housing, education, and wellness.
The rapper stated that establishing the foundation would be the most important venture she would embark on, and it makes her happy to know that she could make an impact in the lives of those who may not be able to access certain resources and support services.
Key Facts About Megan Thee Stallion's Parents
Who are Megan Thee Stallion's parents? Megan Thee Stallion's parents are Holly Aleece Thomas and Joseph Pete Jr. Her mother, Holly, was a bill collector turned rapper known by the stage name "Holly-Wood". Her father, Joseph, was described by Megan as a "full-time hustler" who served time in prison for weapons charges.
How did Megan's parents influence her career? Both of Megan's parents had significant influences on her career. Her mother, Holly, was her first exposure to the world of rap and eventually became her manager. Megan's father instilled in her a strong sense of self-worth and confidence that she carries into her performances and personal life.
When did Megan Thee Stallion's parents pass away? Megan's mother, Holly, passed away in March 2019 after a long battle with a cancerous brain tumor. Her father, Joseph, passed away in 2011 when Megan was 15 years old.
What was Megan's relationship with her father like? Megan had a close relationship with her father, who she described as her "first best friend" and "partner in crime". Despite his absence during her early years due to prison time, Megan credits her father for her confidence and understanding of what to accept from people.
How did Megan's mother influence her music career? Holly, who was also a rapper, was the first female rapper Megan knew. She would take Megan to studio sessions, sparking her interest in rapping. Holly initially wanted Megan to wait until she was 21 to start her own rapping career, but eventually became her manager as Megan's passion for rap grew.
How did Megan Thee Stallion's mother pass away? Megan's mother, Holly Thomas, passed away in 2019 after a long struggle with a brain tumor. The news led to some conspiracy theories on social media, which Megan firmly dismissed.
Did Megan Thee Stallion's parents support her in her rap career? Yes, Megan's mother, Holly, was her manager and a major inspiration in her rap career. Despite her initial hesitation, she supported Megan when she saw her daughter's serious passion for rap. Megan's father, while not directly involved in her music career, instilled in her the confidence and standards she carries with her.
How has Megan Thee Stallion coped with the loss of her parents? Megan has been open about relying on her inner circle, including friends and collaborators like Beyoncé, for support. She continues to honour her parents' memory in her work and in her pursuit of education, fulfilling the promise she made to her mother about finishing school.