Shakira Isabel Mebarak Ripoll, better known on stage as Shakira, is currently 46 years old; she stands at a height of 5 feet 2 inches (157.5 cm) and weighs 53 kg.
Shakira is a singer-songwriter, dancer, and Grammy award winner who has garnered much fame following her sale of over 60 million records worldwide. The pop singer recorded her first album at the age of 13. Today, she has successfully made a name for herself in the music world. Songs like Hips Don't Lie and Whenever Wherever helped her achieve much of the needed fame. Her success in the music world spreads across the English and Spanish-language markets.
She also achieved fame for being the wife of one of the world's most talented football players, Gerard Pique. What's more, Shakira has also gathered public and social media interest and attraction, especially via her dance videos due to her height. Shakira looks short and young for her age. At 46, she stands at 5 feet 2 inches tall and weighs 117 pounds. Learn more facts about the legendary singer, her celebrity partner, and the truth about her height and age.

Shakira's Profile Summary
Full name: Shakira Isabel Mebarak Ripoll
Nickname: Shaki
Gender: Female
Date of birth: 2nd February 1977
Place of birth: Barranquilla, Colombia
Shakira's Age: 46 years old
Ethnicity: White
Nationality: Colombian
Zodiac Sign: Aquarius
Sexual Orientation: Straight
Religion: Christian (Roman Catholicism)
Marital Status: Married
Husband: Gerard Pique
Shakira's Children: Sasha Piqué Mebarak, Milan Piqué Mebarak
Shakira's Parents: William Mebarak Chadid and Nidia Ripoll
Height in Inches: 5 feet 2 inches
Shakira's Height in Centimetres: 157.5 cm
Shakira's Weight: 53 kg
Body measurements in inches: 34-24-37
Body measurements in centimeters: 87-61-94 cm
Shakira's Net worth: $220 million
Famous for: Her hit song Hips Don't Lie and her belly dancing
Occupation: Singer, songwriter, dancer, actress
Years active: 1990 – present
Shakira's Instagram: Shakira
Facebook: Shakira
The Columbian Singer and Actress Shakira is 46 Years Old
Shakira is a Colombian born in Barranquilla on 2nd February 1977. Her name Shakira is Arabic, meaning "grateful," but she was raised a Catholic and attended a Catholic school located in her place of birth. Shakira was born into a large but rich family. Although she is the only child of her mother, she has eight older half-siblings from her father's first marriage. Her siblings include her half-sisters – Patricia Mebarak, Ana Mebarak, Lucy Mebarak, and half-brothers – Tonino Mebarak, Alberto Mebarak, Edward Mebarak, Antonio Mebarak, Moises Mebarak. Shakira is the youngest of them all.
The pop singer's father, William Mebarak Chadid, is Lebanese, while her mother, Nidia Ripoll Torrado, is a native of Colombia with Spanish (Castilian and Catalan) and Italian ancestry. Williams is a wealthy man who owns a jewelry shop, while Nidia, his wife, is a homemaker. The young pop singer and her siblings grew up in a friendly and supportive family. During her early days, Shakira wrote poems, some of which were transformed into songs. She was also known among her schoolmates and teachers as a belly dancer as she frequently performed to their delight.
How Tall is the Hips Don't Lie Queen?
Though Shakira can be described as short, her stature does not deter her from doing exploits in her career. However, she has accepted her height and stature, and her poise and talent make her fans go crazy about her whenever she comes on the stage to perform. According to the Columbian native, being short has its advantages, and she believes it makes people treat her very special as her petite stature makes her look vulnerable sometimes. Her height is 5 feet 2 inches (157.5 cm).
It is also general knowledge that short people usually weigh more than tall people. Regardless, this is not the case with the Columbian singer, even though she was said to be on the heavy side during her teenage years. She currently weighs 53 kg, and this has been in her favor as her flexible body enables her to dance so freely. Having known the advantage of her physique, Shakira does not joke with her daily exercise routines, including high-intensity exercise, cardio, and dancing. She has worked with the celebrity fitness trainer Tracy Anderson.
Between Shakira and Beyonce, Who is Taller?
Like many celebrities and people who have made it to the limelight, almost everything about them makes news for many people, especially their fans who are always on the search for details about them. The Columbian singer and dancer may be small, but her exploits in the entertainment industry are not. Some people believe that Shakira's height is exaggerated at 5 ft 2 inches because she always wears heels, claiming that she is only 4 feet 11 inches. Albeit, her height has never been an issue, but she has grown to become incredibly successful in her singing career.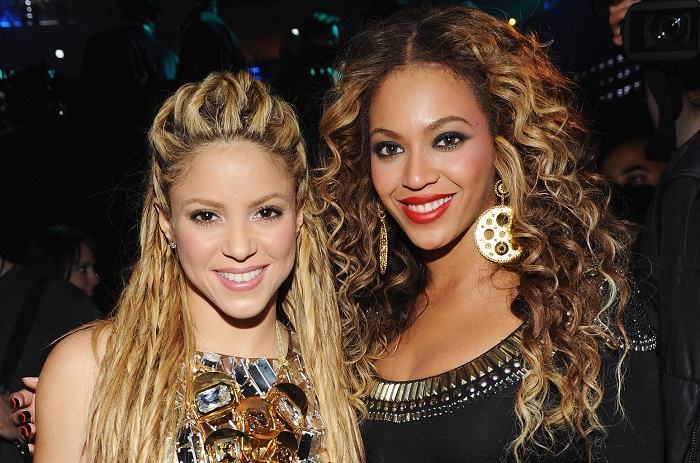 Beyonce Knowles is an American singer, songwriter, and actress. Born on 4th September 1981, she is currently 41 years old. This shows that Shakira is 4 years older than her. Beyonce has simply achieved success in her career as a singer and actress. Shakira and Beyonce have had a few collaborations over the years. One of the collaborations of the two pop stars, Beautiful Liar, turned out a big hit.
The Lemonade superstar stands at 5 feet 7 inches tall which is 5 inches higher than Shakira's height. Like Shakira, Beyonce is often pictured wearing high heels, which makes her appear even taller than her height. Shakira and Beyonce are two of the famous singers in the entertainment industry for their ageless beauty and singing talents.
Comparing Shakira's Age and Height with That of Her Husband and Other Hollywood Female Singers
The Colombian singer and FC Barcelona's center-back became a couple in January 2011, even though they did not officially tie the knot. Interestingly, the actress shares the same birthday date with her partner Gerard though she is older by ten years. While Shakira is 46 years old, her husband is aged 36 years old. The couple shares good times, even with Gerard being ten years younger than his beautiful wife. Standing next to her husband Gerard Pique, Shakira looks more petit to his height of 6 feet 4 inches. Meanwhile, Shakira is not the only celebrity who is petite. Below are the heights of other Hollywood celebrities who are also within her height range.
| | | |
| --- | --- | --- |
| S/N | Name | Height |
| 1. | Jennifer Lopez | 5 feet 5 inches (165 cm) |
| 2. | Christina Aguilera | 5 feet 1 inches (156 cm) |
| 3. | Beyonce | 5 feet 6 inches (167.6 cm) |
| 4. | Mary J. Blige | 5 feet 5 inches (165 cm) |
| 5. | Gerard Pique | 6 feet 4 inches (193 cm) |
| 6. | Nicki Minaj | 5 feet 2 inches (157 cm) |
| 7. | Selena Gomez | 5 feet 5 inches (165 cm) |
| 8. | Alyssa Milano | 5 feet 1 inch (156 cm) |
| 9. | Natalia Lafourcade | 4 feet 10 inches (149 cm) |