Shakira Isabel Mebarak Ripoll, better known on stage as Shakira is a singer-songwriter, businesswoman and Grammy winner who has garnered much fame following her sale of over 60 million records worldwide. The pop singer recorded her first album at the age of 13. Today, she has successfully made a name for herself in the music world. Songs like Hips Don't Lie, and Whenever Wherever helped her achieve much of the needed fame.
Among the awards the pop singer has to herself are 12 Grammy and Latin Grammy Awards. Her success in the music world spreads across the English and Spanish-language markets. Enjoy more facts about the legendary singer.
Shakira Biography, Age, Where Is She From?
Shakira is a Colombian born in Barranquilla, on the 2nd day of February 1977. Her name Shakira is Arabic, meaning "grateful" but she was raised a Catholic and attended a Catholic school located in her place of birth. During her early days, Shakira wrote poems some of which were transformed into songs. She was also known among her schoolmates and teachers as a belly dancer as she frequently performed to their delight.
Shakira wrote her first song when she was eight years old and signed her first record deal at the age of 13. She released her first album in 1991 and it featured three of her songs, including Magia. The album gave the young artist the fame and exposure she needed across Colombia but it did not do well internationally as only 1200 copies were sold. Her second album, titled Peligro, was released in 1993 and it fared better than her first although it did not earn her the required international fame. The same year, she featured in a popular Colombian TV series The Oasis which further exposed her to the media. Her other film and TV appearances include Popstars, Ugly Betty, Pies Descalzos Foundation, A Day with Shakira. 
With the success of her third and fourth albums titled Pies Descalzos, and Dónde Están Los Ladrones? respectively, Shakira became a top ranking music icon in the Spanish-language markets. She became popular not only for her strong vocal abilities but also for her incredible hip-shaking belly dance moves. Her album Laundry Service, which had songs like Whenever Wherever and Underneath Your Clothes was her first English album. The album rode on the successes of her previous albums and went beyond the Colombian shores to rank No 1 in most English-speaking countries with over 200,000 copies sold just in the first week of its release. It also ranked number 6 in the US Hot 100 and the rest about her success is history.
Shakira is not just the highest-selling Colombian artist of all time, she is second to Gloria Estefan on the list of most successful female Latin singers. The multitalented artist speaks four languages including Spanish, Portuguese, English and Italian.
Family, Parents
Shakira was born into a large but rich family. Although she is the only child of her mother, she has eight older half-siblings from her father's first marriage. Her siblings include her half-sisters – Patricia Mebarak, Ana Mebarak, Lucy Mebarak and half-brothers – Tonino Mebarak, Alberto Mebarak, Edward Mebarak, Antonio Mebarak, Moises Mebarak. Shakira is the youngest of them all.
The Pop singer's father, William Mebarak Chadid is a Lebanese while her mother, Nidia Ripoll Torrado, is a native of Colombia with a Spanish (Castilian and Catalan) and Italian ancestry. Williams is a wealthy man who owned a jewellery shop while Nidia, his wife is a homemaker. The young pop singer and her siblings grew up in a friendly and supportive family.
See Also: Sarah Huckabee Sanders Husband, Family, Kids, What Happened to Her Eyes?
Husband, Kids
There is no doubt that the Colombian singer is extremely beautiful and coming from a family where everyone loved and supported each other, Shakira longed to have a home of her own with a husband who will love and care as much, if not better. She eventually found her soulmate, Gerard Piqué, a Spanish football player. They met in South Africa while she was performing her song, Waka-Waka, during the 2010 FIFA World Cup.
Prior to meeting the Spanish footballer, the beautiful pop singer was in a relationship with Argentine lawyer Antonio de la Rúa. They started dating in 2000 but after about a decade-long relationship, they separated in August 2010.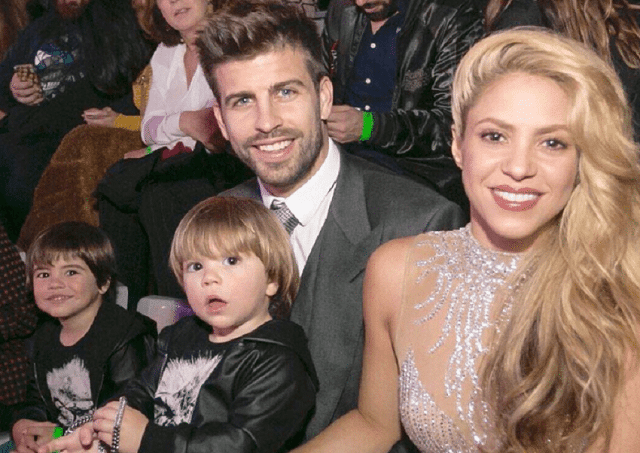 The Colombian singer and FC Barcelona's centre-back became a couple in January 2011 even though they did not officially tie the knot. They share such good times together even with Gerard being ten years younger than his beautiful wife. Shakira gave birth to their first child, Milan Piqué Mebarak, on 22 January 2013. Their second son, Sasha Piqué Mebarak, was birthed on 29 January 2015. Her now family of four reside in Barcelona, Spain.