It's quite a difficult task to write the perfect thank you note to your boss. Those moments usually come with a lot of tension as you want to be sure that the words you are writing are appropriate and convey your appreciation in the best way possible. A good number of people might ponder on the idea but never come around to write anything down. However, saying 'thank you' to your boss is a thoughtful gesture, especially when he/she has done something for which they deserved to be appreciated either in words or gifts.
To help you write the perfect thank you note, we've covered several tips with regards to writing such a piece, as well as samples of thank you messages you can send to your boss on different occasions.
The Perfect Thank You Note Is All About Showing Appreciation
Showing gratitude is the sole aim of sending a thank you note to your boss but beyond that, it also makes your boss know that the opportunity they have given you or the investments they make in you is not taken for granted. A simple thank you is all it takes to get this done. However, to get the desired or optimum effect on the recipient of the thank you note, it is important to make the message in your card very clear and precise.
How Should You Approach Your Writing?
Here are the steps to follow while writing a thank you note:
1. Name The Object Of Appreciation
Make mention of the particular thing(s) you are thanking your boss for. This will make them realize you appreciate their kindness with regards to a specific gesture.
Phrases you can use to state what you are thanking your boss for include:
Thank you for the…
I am grateful for…
I am thankful for…
I appreciate the…
2. Point Out How Value Was Added By Their Gesture
Mention how you benefited from their gesture towards you. This will help your boss or manager to know that whatever they did had a positive effect which will eventually work out for the good of the organization.
3. End The Letter or Note With Gratitude
Always close the letter with a statement that shows gratitude. 'Thank you' or Thanks again' are good options to use before signing your name.
Things To Avoid When Sending A Thank You Note To Your Boss
There are no strict formats when writing a thank you note. Depending on your relationship with your boss, the language you use can either be formal or informal. However, irrespective of the style or language you are using, there are some key things you should avoid.
Avoid sending a thank you note filled with spelling errors even if it's an informal one. Make sure you proofread the note and spell the recipient's name correctly.
Don't use a thank you note to express dislike for what you received. Even if you were not pleased with your manager's actions, a thank you note is not meant to vent your anger. Rather as the name implies, it should thank the person for his/her kind gesture.
Don't exaggerate when saying thanks by adding that you owe the person something in return. Rather, keep your appreciation simple and genuine to pass on the message of gratitude without the recipient misinterpreting your message.
Avoid attaching inappropriate gifts to your thank you notes. Send gifts that the receiver would use and not just anything just because it's a gift. If your boss is an elderly man/woman pass the childbearing age there is no need to buy them baby related items as they would have no use for such. Rather, you can simply stick to more neutral gifts like baked goods, or flowers.
Don't write very long epistles in your thank you cards. Make sure you are brief and as concise as possible.
Avoid jokes and sarcasm, they might trigger a negative response from the receiver even though you might have good intentions. Use very positive language to communicate your appreciation.
Don't make reference to other workplace projects, issues with co-workers, your career goals, e.t.c that you would like your boss to address.
Avoid delays when sending out thank you notes. Being timely in showing gratitude is a key factor to obtain a good response from the receiver. If you prolong the time you send in your thank you note, it might not have the desired impact on the recipient. In a work environment, it is advised that a thank you note should be sent in 2 or 3 days.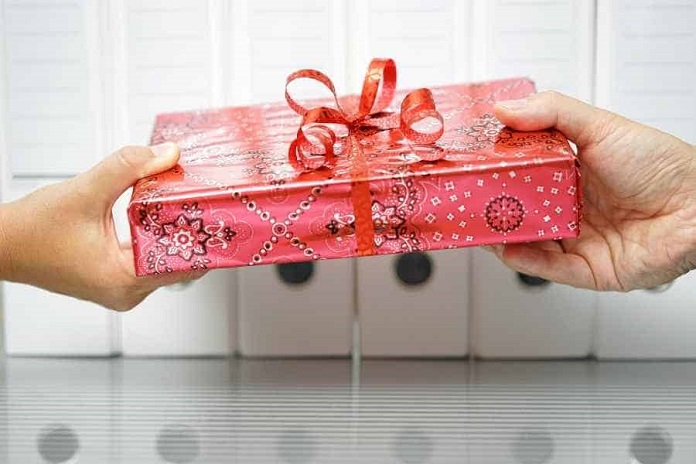 When Is The Right Time To Thank Your Boss?
Many people have imbibed the culture of sending thank you notes or letters to interviewers after a job interview, and it is believed that this gesture shows the candidates' earnest desire to get the job. In some cases, these thank you notes have even made a way for such a person to get the job. Some people even go ahead to thank the hiring manager when they eventually get the job which is also a step in the right direction towards growth in their career pursuit. However, beyond thanking a hiring manager for a job interview or for getting the job. It is also needful to show appreciation to your boss in the workplace at strategic times which include the following:
Yeah, even though you might have worked hard to get a promotion in your company, saying thank you to your boss for the opportunity to advance to higher heights on your career path is a thoughtful gesture.
A good time to show appreciation to your boss is when he/she gives you an assignment or task which can boost your career and experience.
Whenever your leave is approved by your boss, don't hesitate to send him/her a thank you note to show appreciation for the privilege.
When you get a bonus or raise in salary, it is thoughtful to thank your boss for the kind gesture.
Sometimes, you get to switch jobs for reasons beyond your control or maybe you want to explore other areas. In either case, it is important to say thank you to your boss before leaving officially.
For an all-expense-paid training
If you are privileged to attend a training which the company paid for, it is needful to send in a thank you note to your boss to acknowledge his support.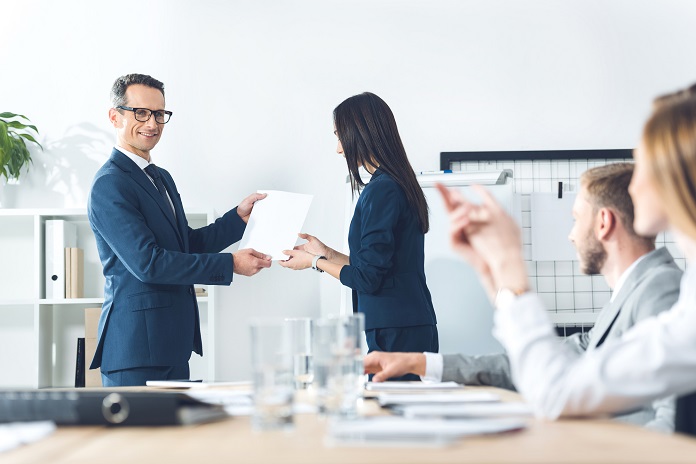 Thoughtful Thank You Notes To Send To Your Boss For Different Occasions
The workplace is a very dynamic one and in the course of these changes, there will be times when thank you notes should be sent to your boss for one reason or the other. A list of thank you notes appropriate for each occasion are given below:
1. Thank You Notes On Getting A Job
I'm sending this note to thank you for offering me a position in your company. It will be an honor to work on your management team.
Thanks a lot for recognizing my abilities by giving me this job offer. I will definitely work hard and contribute my best skills.
I offer my sincere gratitude to you for considering me for the position among several other potential candidates.
Your job offer shows your trust in my potentials and I appreciate the fact that I got the job out of hundreds of other eligible candidates. Thanks for choosing me.
I am overwhelmed to see your job offer. Thanks for this incredible opportunity and I will work hard to perform beyond any expectations you may have now.
It has always been my dream to work with a firm like yours and I definitely do not take this opportunity for granted. I am super excited! Thanks.
My heartfelt gratitude goes to you for giving me an opportunity of a lifetime! I look forward to brighter days ahead as we work together.
2. What To Say When You Get A Promotion
Thank you boss for giving me such an honorable promotion. I appreciate it and will continue to render excellent services to this noble establishment.
Thank you so much for having faith in my abilities and skills. I value that you deemed me fit for promotion and I will strive for better working days ahead.
Thanks for all the things you have taught me, I would not have excelled at my duties without your continual guidance and this promotion means a whole lot. Thanks again!
This promotion does not only uplift my rank in the company but it is also a platform for me to do greater works. Thanks for the opportunity.
Getting the role of a manager means a lot to me. Thanks for having confidence in my abilities and as I take on this role, your guidance is very much valuable. Thanks again!
Thank you boss for giving me the opportunity to serve the company at a new level. I am excited by the offer and can't wait to start my duties. I look forward to greater victories!
Since the day I commenced working here, you have been pivotal to my growth process. Thanks for all you have taught me and for the promotion to the level of Assistant Operations Manager.
This promotion is mind-blowing! I am grateful that your trust in my talents and skills showed me how to leverage them.
The great strides I have made in this notable firm is largely credited to your teachings and encouragement. I deeply value all I have been taught and with this promotion, I plan to implement them. Thanks a lot.
My heart is bursting with joy about this promotion. Thank you for helping me to hone my skills to get to this level.
3. Thoughtful Thank You Notes To Show Appreciation For Training/New Opportunity
Thank you boss for giving me the opportunity to work on the marketing project. Though it was challenging, it was equally rewarding. I learned a lot from the project and I look forward to the outcome of our findings from the project.
I am very grateful to you for the opportunity you gave me to attend different forms of training that will shape my mind and career. This past training was even more exceptional than I had imagined. Thanks, Boss!
You've been a great boss! Thanks a lot for informing me about the new position of the team leader in the ongoing project committee that is being created.
The recently concluded personnel conference was very educative. Thank you for giving me the privilege to attend, I learned a lot from the meeting.
I am very excited to be part of the ongoing special project. Thanks for giving me the opportunity and I look forward to the successful completion of the project.
Thank you for the opportunity to be among the team handling the Schools Development Projects. My time on the team was very fruitful and the lessons I learned were extensive.
I enjoyed the training session for Network Development and learned a lot of things. I really appreciate that you gave me the opportunity to attend. Thanks, Boss.
Thank you for pairing me with the Head of Operations in the last community project. She was an incredible person to work with and our working experience together was hitch-free.
I appreciate your encouragement and support to attend the training for Human Resource Officer. It was truly an amazing experience and it added a lot to my knowledge. Thanks for the privilege.
4. Thank You Notes To A Manager Who Is Leaving
I would love to express how grateful I am to you for being both my manager and mentor. Your guidance has helped my career to progress smoothly as you have shown me incredible ways to always turn my mistakes into skills. Thanks a lot and I wish you the very best in your next endeavors.
Your leadership skills made it easy for me to handle any task assigned to me and over the years, I have learned a whole lot from your business tactics. Thanks for empowering me both personally and professionally.
Words may not clearly express how helpful you have been to my career growth over the years. I am greatly indebted to your numerous training for my career progress.
Thanks for being an incredible boss! Your advice, training, and guidance are credited for growing my skills since I started working in this company.
Thanks for being not just a manager but also a role model. We truly appreciate the knowledge you have imparted to us. You are a great leader!
Your leadership and guidance were pivotal in shaping my career over the past years. I appreciate the opportunities you gave me to grow on the job. Thanks for believing and investing in me.
I would like to show my deepest gratitude for the experience that I've gained under your tutelage. You have been a great boss and manager. Thank you!
Thanks a million for being an exemplary leader who always sets the pace. My potentials were harnessed due to your guidance and encouragement.
I would like to thank you for being a constant source of encouragement. Your teachings are invaluable and will always be cherished by me. Thanks a lot.
A true leader like you is hard to come by but I was privileged to be under your tutelage. Thank you for everything you taught me.