Crossfit workouts are famous for their high intensity and efficiency in weight loss and muscle building. The workouts are dynamic, and so not just any workout shoes are a good fit for Crossfit exercises because the wrong shoes could be the cause of any bad news ranging from sub-par training to accidents and resultant injuries. Trainers abound in the market, but the very best Crossfit shoes for women should have certain non-negotiable properties.
Created by Greg Glassman and described as a "constantly varied functional movements performed at high intensity," the Crossfit is a branded fitness regimen which integrates high-intensity interval training, gymnastics, Olympic weightlifting, powerlifting, girevoy sports, and several other kinds of exercises. To complete your daily Workouts of the Day (WODs), you want a pair of shoes that combine fexibility, support and durability into a light bundle, so you're nimble on your feet, and record peak performance.
It is easy to mistake basketball shoes as Crossfit shoes, but basketball doesn't involve the same movements as Crossfit. Basketball players need shoes that have great traction as well as fit the feet with no gaps. However, with Crossfit, what you need is a pair of shoes with a solid sole which can spread your weight evenly across. Flexibility is also something that differentiates the Crossfit shoe from other sport shoes, as it involves a lot of bending the toes.
In this article, after searching through all the products there are on the market, we've found the very best Crossfit shoes for women.
Check these out.
Best Crossfit Shoes For Women
Reebok Women's Crossfit Nano 5.0 Training Shoe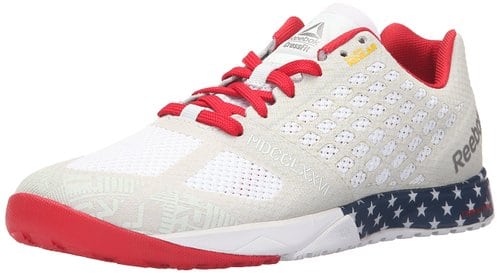 An old name in the industry, Reebok have always maintained a certain degree of excellence in their products, and the same thing can be said about their Women's Crossfit Nano 5.0. This shoe comes with a synthetic sole, and infused on the entire upper for support and protection is Kevlar material, which is known to be extremely durable.
The midsole of the Nano 5.0 is a hard Thermoplastic polyurethane shell, good for support on the foot, as well as in providing soft contact for the foot. This also makes the Nano 5.0 the lightest and strongest Reebok product so far. For this reason, it is a great Crossfit shoe, and actually aids you in the completion of your WODs.
This shoe is good value for money, and comes in over 25 different colour combinations and designs, from Americana, through Collegiate Navy to Polar Blue – its got it all.
ASICS Women's Met-Conviction Cross-Trainer Shoe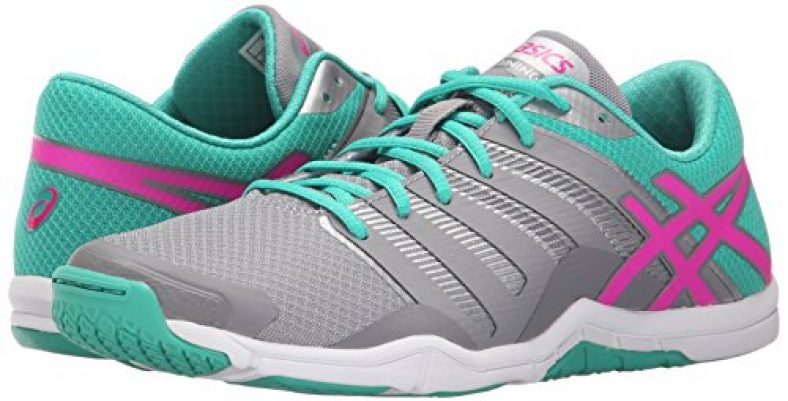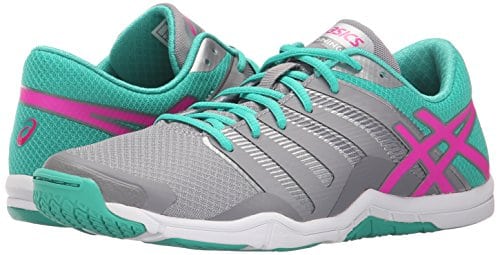 The ASICS Women's Met-Conviction Cross-Trainer Shoe is a rubber-soled Crossfit shoe, designed and created for high intensity training, and is great for various workout combinations. It was crafted with SpEVA material, characterized by decreased midsole breakdown and its high bounce-back on soles. Its vamp is reinforced, and it comes equipped with High Abrasion rubber placed at critical parts of the outsole, to enhance durability.
Its outsole is non-scuffing and rubberized, as well as abrasion resistant. Its ComforDry Sock liner comes packed with antimicrobial properties for a drier and healthier foot and environment.
On the aesthetic side, this Crossfit shoe comes with a pocket enabling laces to be tucked in and unexposed. It comes in only two colour combinations – black/black/iris and Taupe/Pink Glow/Peacock Green.
Adidas Performance Women's Powerlift.3 W Cross – Trainer Shoe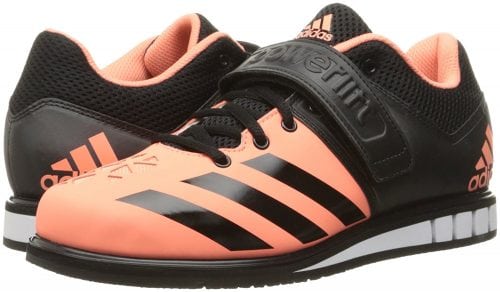 Extra wide and powerful, the Adidas Powerlift.3 W is one of the best Crossfit shoes in the market because it not only allows your foot to spread, thereby evenly distributing your weight, but also brings together extra support in the form of a snug-fitting upper, combined with a wide midsole.
Whether you're running, climbing, or just lifting, this shoe keeps you close to the ground, and with its anti-slip rubber outsole, ensure good traction and strong footing. Also, the name speaks for itself. Having been in the industry for so long a time, Adidas delivers its promise of quality over and over again.
The Powerlift.3 W is also beautiful to look at, as it comes with a hook-and-loop strap overlay which features air-meshing collar, tongue and lining.
Inov-8 Women's F-Lite 235 Fitness Shoe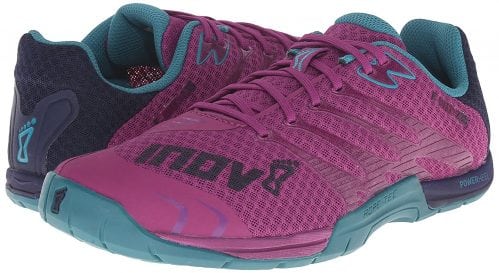 These are incredible comfortable and breathable. The only major downside is that they're pricier.
They are zero-drop heels, and have very dense heels, which make them perfect for a lot of high-intensity training. For this same reason though, they might not be your favourites for squats.
They have tremendous lock-down, and feel so natural, like an extension of your foot. It is super comfortable, extremely durable, and are really lightweight.
PUMA Women's Tazon 6 Cross – Training Shoe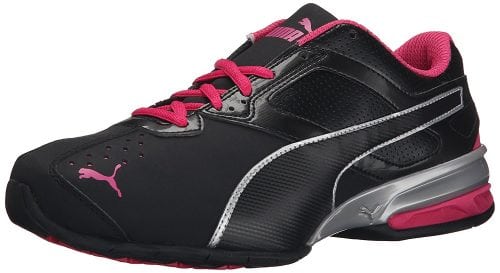 If you need something with which you can workout, take a stroll round the neighbourhood, and still go out in, then the Tazon 6 is for you.
Known for its toughness, the Tazon 6 is extremely durable, as well as flexible. It provides good support, has strong traction and is very well comfortable on the foot.
Although it is not waterproof, it also performs well in the rain, and does not get destroyed by the water.
If you have wide feet, be careful though. This might not be a good fit for you, as it has a narrower width than most other Crossfit shoes.
Nike Women's Free 5.0 Tr Fit 5 Prt Training Shoe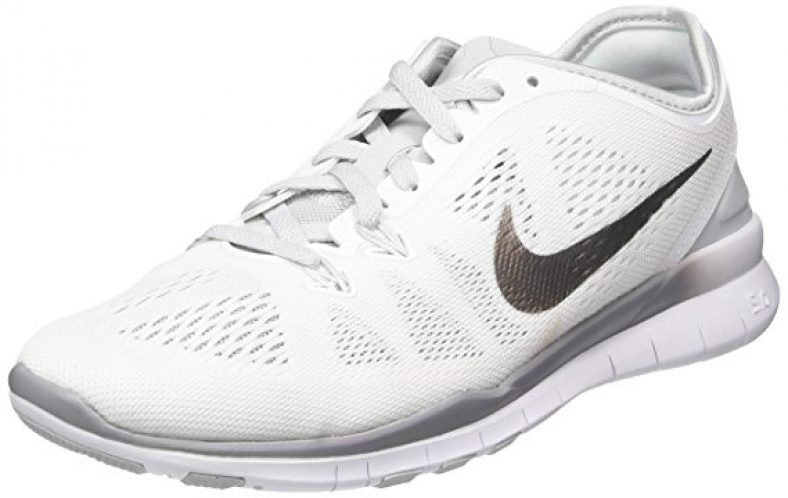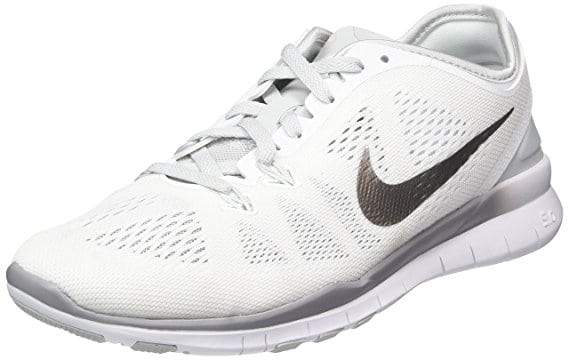 If Nike aimed to take over the Crossfit shoe market with the Free 5.0, then they just might have realized a big part of that goal. A bestseller, the Free 5.0 is an off-court trainer from Nike. It is great for the gym, the track, and the grass.
The upper features are very nice, durable, lightweight material that will be really comfortable on the feet. This shoe comes with a fly-wire, so you can make a customizable fit right there. The shoe is slightly narrower in the width, but that's okay for lateral movements. This shoe is windproof, and water resistant. It is breathable, and machine washable.
The midsole has been designed to help in lateral movements, which is great for your jump workouts and your quick movements. The outsole has strategically placed rubber for good traction and overall grip whether on grass or on the track. This shoe is extra-padded for comfort, which it delivers completely.
Reebok Women's R Crossfit Transitio Cross-Trainer Shoe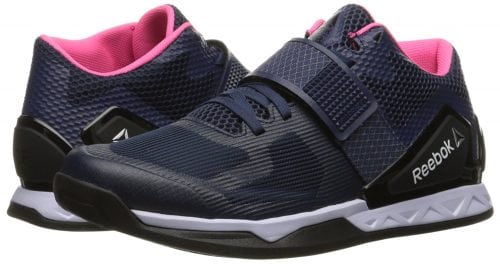 The Reebok Women's R Crossfit Transitio has breathable mesh and a structurally supportive synthetic upper to really keep your foot locked into place once you lace up. It has the lace on top, as well as a secure strap closure to ensure it is fastened to your feet as you like it.
It comes with a multi-surface outsole that has some rubber logs on it to help keep you steady, and to keep your feet comfortable during your WODs.
It comes with an extra-padded sole with impact protection, as well as super-flexible reinforced toebox for climbing.
You Might Also Like: 7 Most Comfortable Women's Dress Shoes Where Style Meets Comfort
Conclusion
The Crossfit workout is known to be high-intensity and strenuous. Without good shoes with great comfort and flexibility, it becomes an exercise in suffering. However, with these shoes on this list, the Crossfit becomes something to look forward to. Your feet will be grateful.