If you are really being sincere, you would agree that finding the best comfortable women's dress shoes that complement either your business or work outfit is a little difficult especially if you are looking for something really comfortable that you can walk around freely in without pains.
You either have to sacrifice your style or your feet.  For women who want to match comfort with trend, the shoes don't necessarily have to be tightly fitted with pointed toe high heels to be counted as trendy, as there are comfortable dress shoes you can select from that will still be suitable for formal and office dressing style.
Here is a list of some of the most comfortable pair of shoes for women chosen from a wide variety of women's dress shoes you can choose from.
Most Comfortable Women's Dress Shoes
Earth Wanderlust Dress Pump Shoes for Women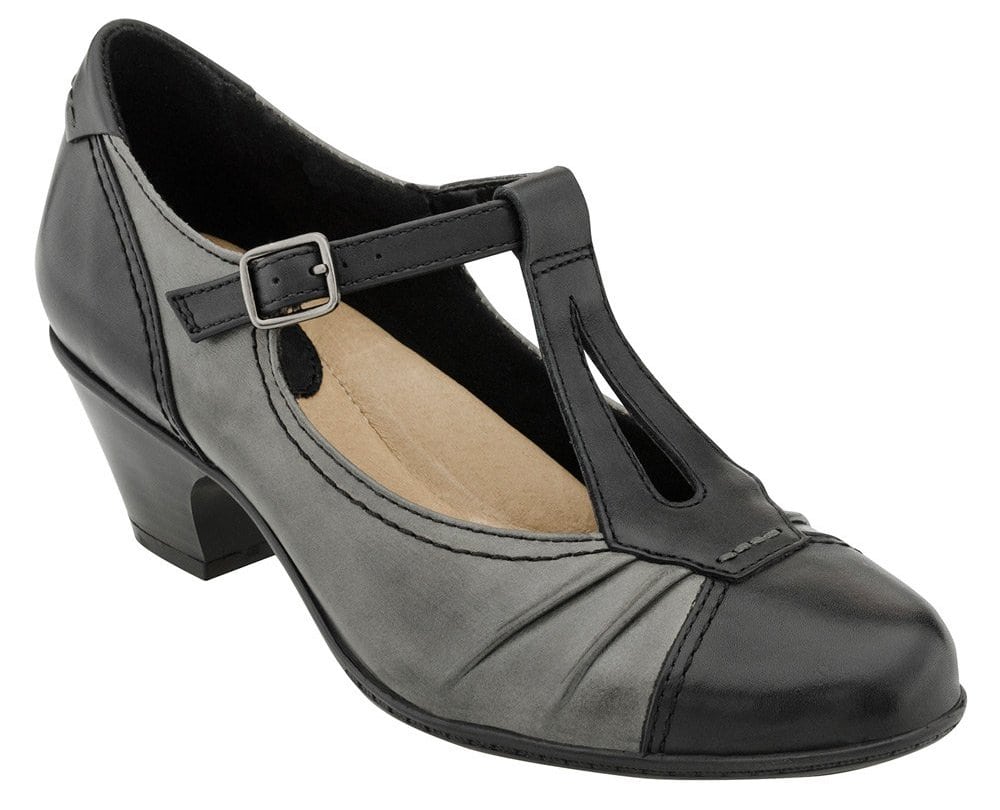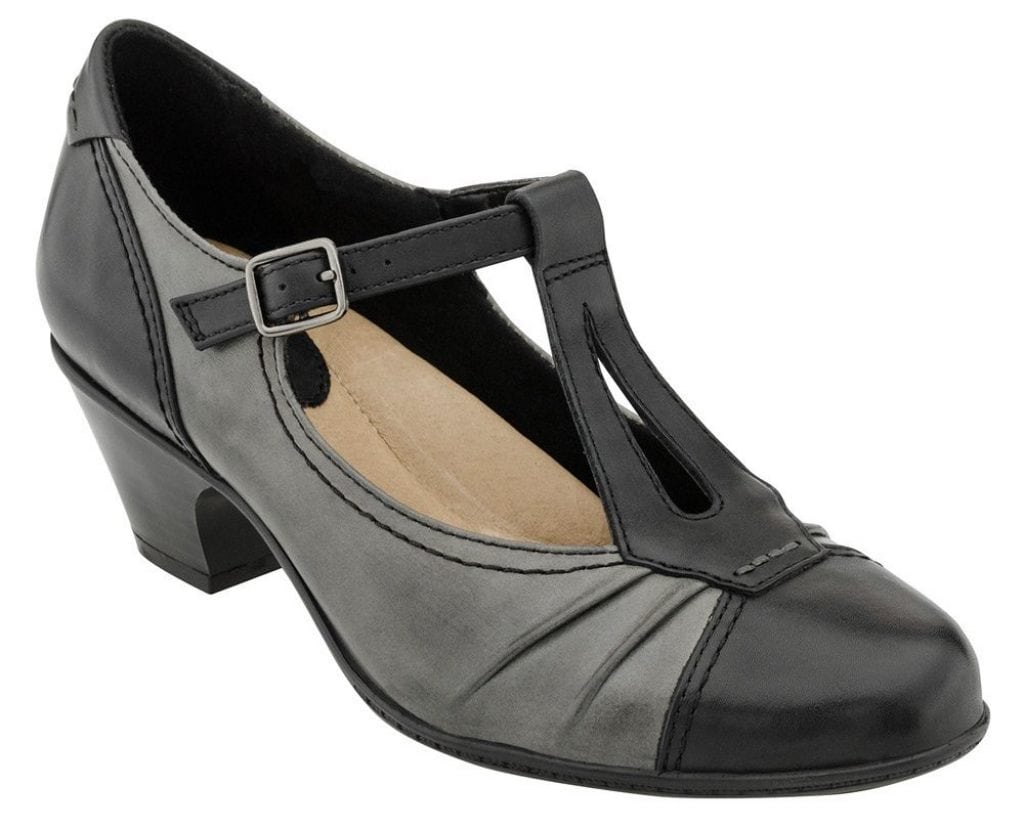 Whether for standing, walking around all day in an office environment, traveling, or for special occasions, Earth Women's Wanderlust Dress Pump is just the shoe to go for.
Made in a sophisticated style with a Wanderlust Mary Jane features, Earth Women's Wanderlust Dress Pump shoes are one of the most comfortable dress shoes for women you can get.
The buckle closure is easy to manage and the t-strap leather gives the whole appearance a stylish look.
The multi-density cushioning, together with the heel which measures approximately 1.75 make the shoes most suitable to be worn the whole day, feeling you are barefooted.
The rubber outsole, adjustable buckle, and arch support make the shoes most durable.
Looking at the fit, this may not be the best you can get. As such, it will only be wise to get an inch higher than your regular size. This has worked for many people.
Pros
They come in different colors
Very, classy and attractive,
They are so comfortable and supportive, that they can be worn for long hours.
Most of them come with the removable footbed so that you can replace them with your orthotics
Cons
Not very true to size
The shoes are slightly expensive
Verdict
You can always count on Earth Women's Wanderlust Dress Pump if you are a lover of classy and comfort. The shoes provide fantastic arch support, cushioning and appropriate heel height that helps to alleviate all of your back and leg pain, although you will have to spare a little more money to own it.
Clarks Everlay Coda Flat Women's Comfortable Shoe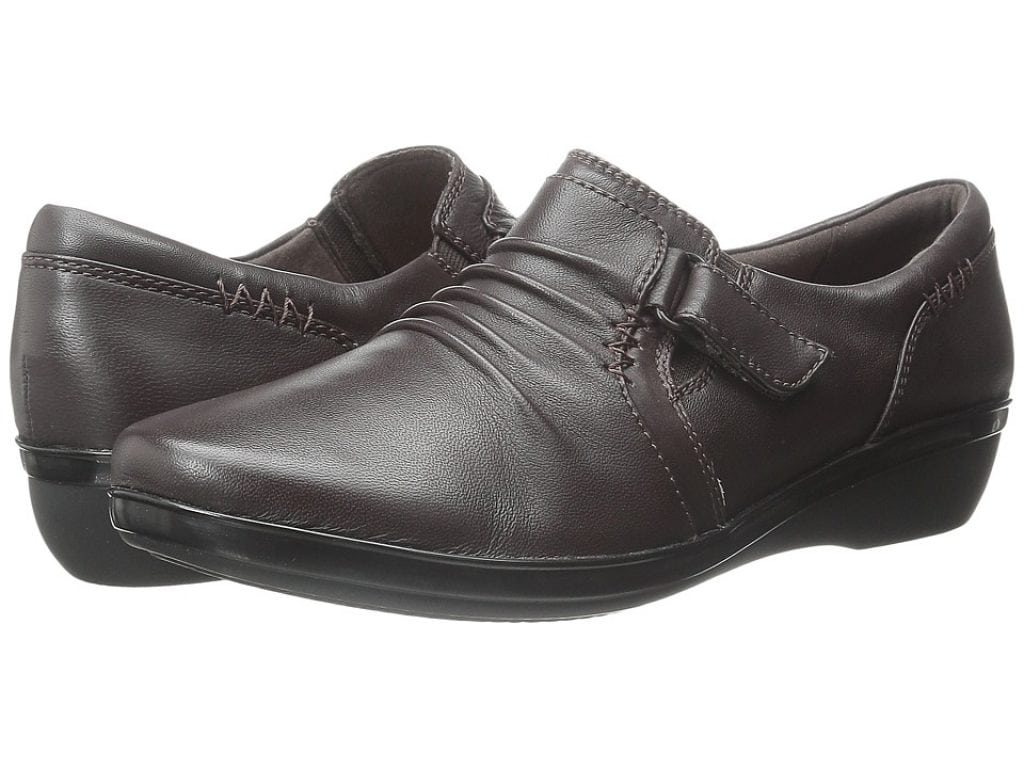 Low heeled dress shoes are clearly a more practical choice for most women, this is because the higher the heel, the more unstable or uncomfortable you will feel at times, especially if you have to work all day standing or moving around.
Bearing this in mind, Clarks Women's Everlay Coda Flat is the right shoes to go for if you are looking for something that will pamper your feet all day long.
With the heel measurement at approximately 1inch, and a combination of rubber sole, soft cushion, and ortholite, you can be sure of balance and stability.
They are leather and come in different sizes and colors, so you have varieties to choose from.
The fit is not the perfect you may get around, but getting heel liners makes all the difference.
Pros
They are very comfortable to wear
They run true to size
Classy and durable
Very Flexible
Easy to maintain and clean
Cons
Not the most perfect when it comes to fitting
Not the cheapest you can get.
Verdict:
This shoe is a nice middle ground as it will give you comfort and style at the same time.
Also See: Best Running Shoes For Women
Cobb Hill Marilyn-Ch Comfortable Women's Dress Shoes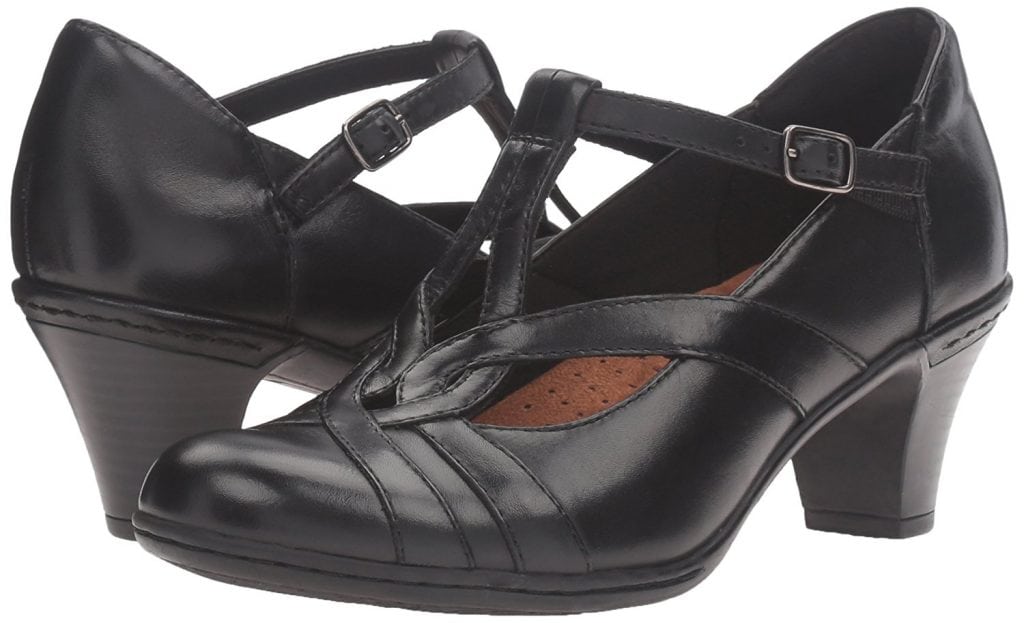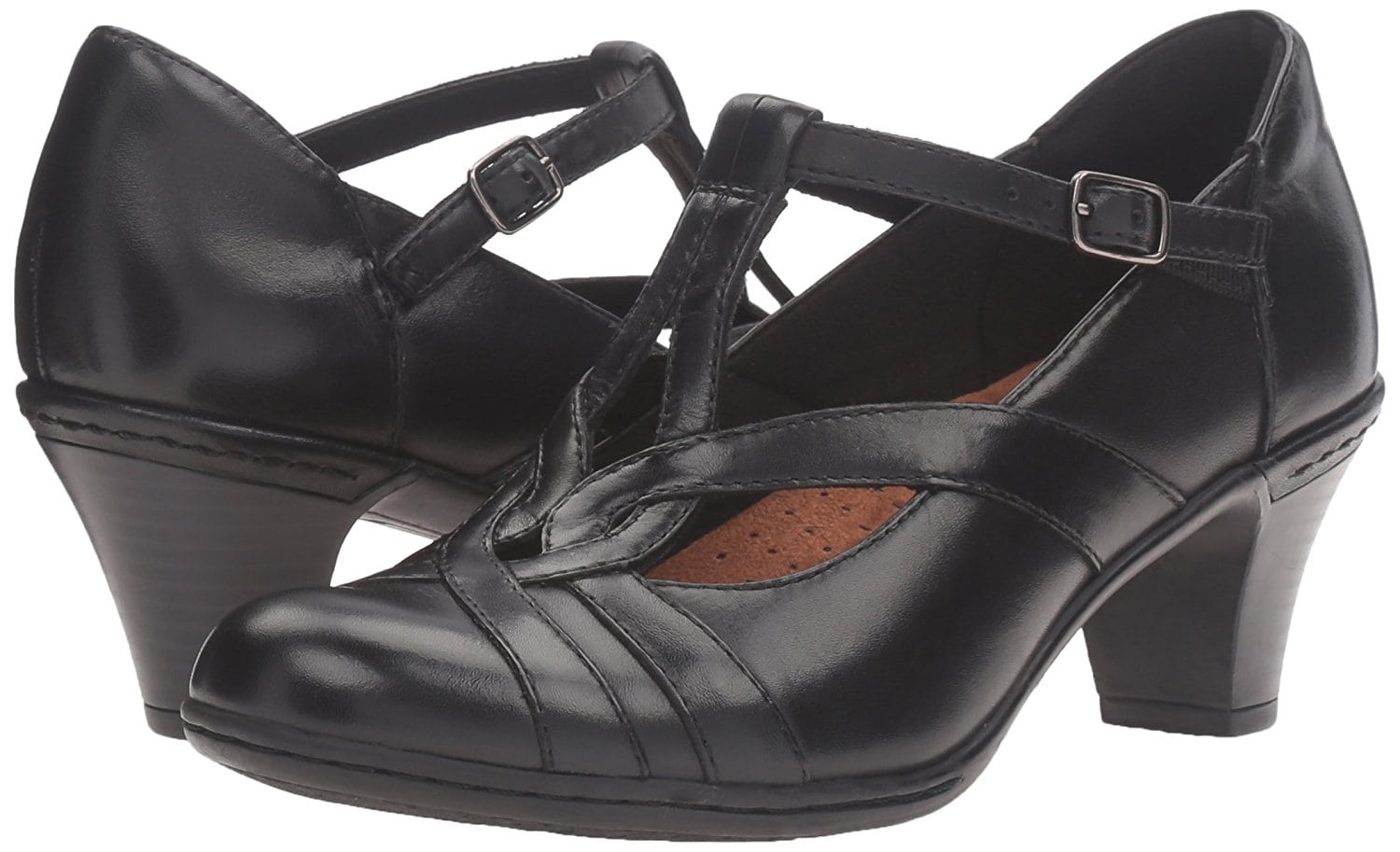 The padding in these shoes makes it so comfortable that you can wear them for a full day of work and still have your feet feeling great.
The heel is high enough to wear with dresses and even skirts but low enough to walk around with adequate balance – making it perfect for comfort.
The shoes have soft and breathable, foam-backed textile linings, with cushioned EVA footbed, conforms to the shape of the foot for added comfort and support.
Recommended: Best Running Shoes For Women
The lightly padded collar and adjustable buckle at ankle strap make for easy maintenance.
Unlike Clarks Women's Everlay Coda Flat which comes in about 6-7 different colors to choose from, Cobb Hill Women's Marilyn-Ch Dress Pump comes in two colors – black and wine red.
Pros
Support and stability
Spot cemented footbed for easy removal
Cons
The price may be a bit on the high side for some people.
Verdict
Want a shoe with awesome quality, style, and comfort? Cobb Hill Women's Marilyn-Ch Dress Pump is just the right shoe designed not to torture your feet. Describing it in three words, we would say- modern, stylish and made for comfort.
Read: Best Smartwatches For Women With All The Features You Need
Anne Klein Women's Sport Tamarow Fabric Wedge Pump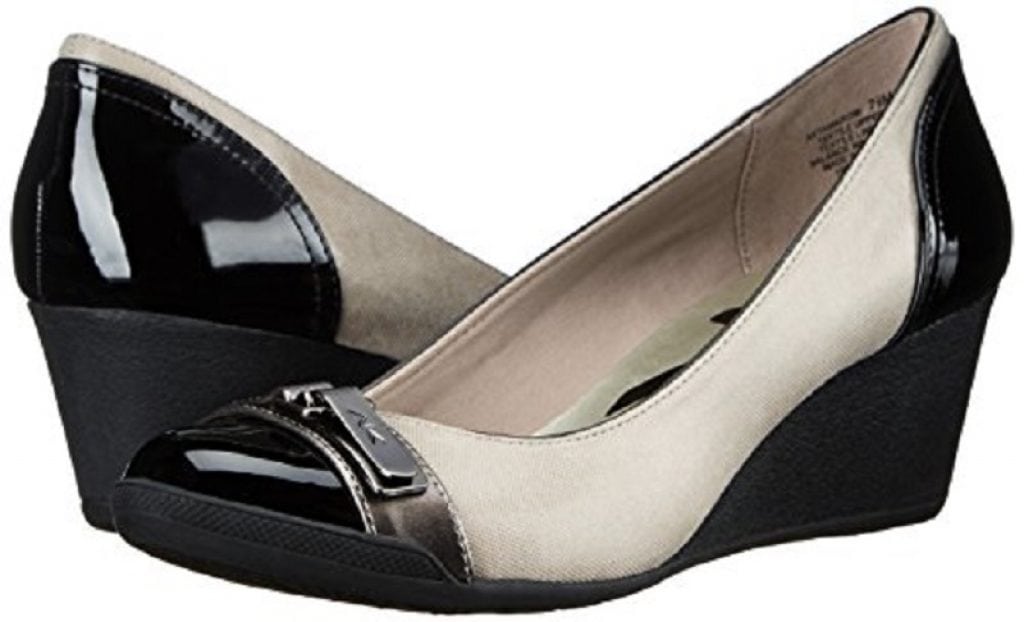 Let this comfortable, perfect fitting and professionally looking sporty-chic shoes from Anne Klein carry you through the day in comfort and style.
With a round-toe sport wedges with buckle detail, 90 degrees flexibility, lightweight foam layers which provide cushioned walking and shock absorption in every step, Synthetic sole and 2″ wedge heel, this shoe is a perfect choice for comfort, class, and stability.
Looking at the design, the front of the shoes is quite narrow so if you have broad feet you may need to get a size up.
One amazing thing about this shoe and majorly all of Anne Klein shoes is that you don't need to break the banks to own it, they are very affordable.
Pros
You can be sure of grip
Durable
Optimized support and stability
Manmade sole
Very affordable
Fantastic colors
Cons
May not properly fit those with broad/wide feet
Verdict
These shoes are more flexible than the stiff leather you normally find in conventional dress shoes, so if you are looking for a combination of class, quality, fashionability, and affordability, Anne Klein Sport Women's Tamarow Fabric Wedge Pump is a perfect deal.
Also See: Best Hiking Shoes For Women – Women's Hiking Shoes
Clarks Heavenly Heart Comfortable Women's Dress Shoes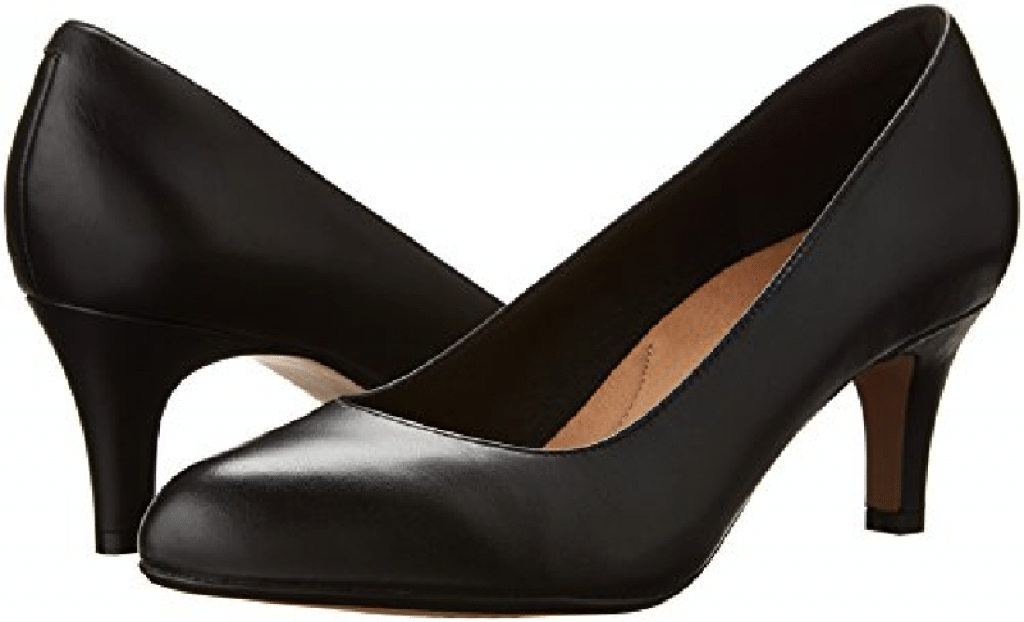 The Clarks Heavenly Heart Dress Pump for women is another amazing women dress shoe of the season from Clarks'  collection.
The soft almond shaped is a 2.4-inch high heel shoe made from premium leathers with a unique water-shedding tread pattern underneath to ensure each step is secure.
The shoes also come with a durable outsole and an ortholite footbed that provides superior cushioning.
The heel is not so high making it perfect and comfortable for every occasion.
Pros
Easy slip-on style
Harmony heels
Amazingly comfortable
The shoe is versatile, can also be worn with clothing aside dresses
Comes in different amazing colors
Cons
Not true to size
Not the cheapest you would find on the list but still affordable
Verdict
For an amazingly comfortable pair that will just suit your dress as well as your tailored pants and even cuffed jeans – look no further, Clarks Women's Heavenly Heart Dress Pump is just it.
Dansko Lulu Mary Jane Women's Comfortable Flat Shoes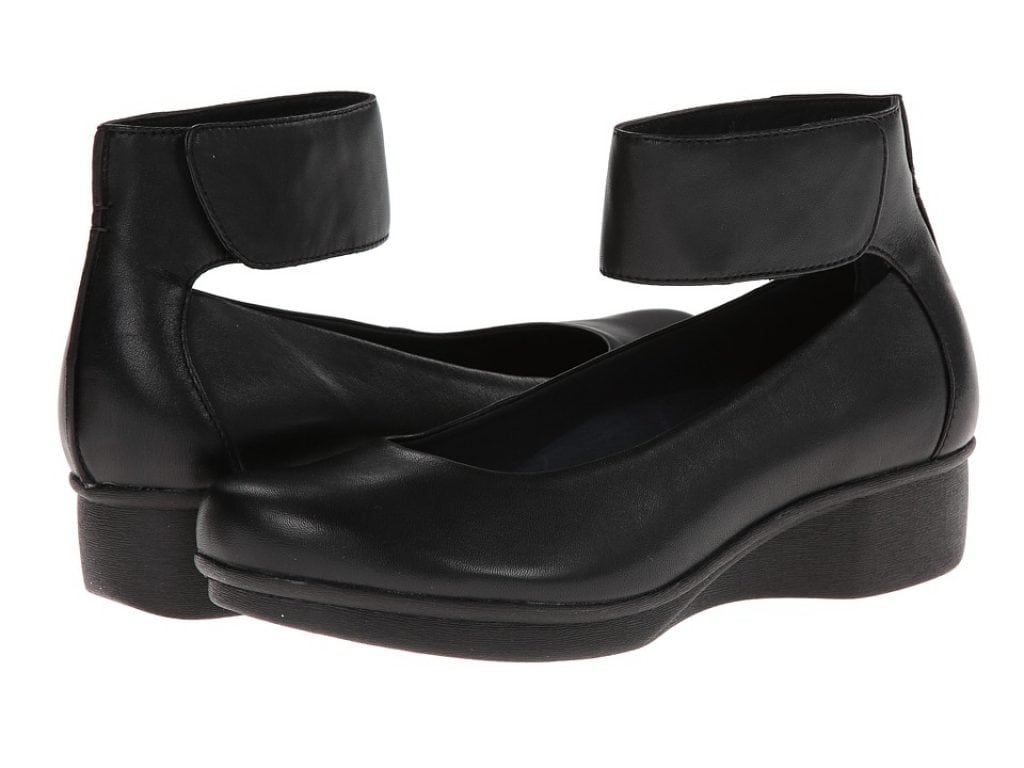 Dansko's Lulu is a Mary Jane approved Dress shoe for women with an adjustable ankle strap, which makes it a perfect option.
The Lulu exterior is composed of fantastically stylish antique full-grain leather that offers a beautiful, luxurious look. With the special cushioned leather removable insoles for shock absorption, your feet will find themselves in a paradise of comfort and support.
The heel is 1.75 inches high and 0.75 in platform.  The wide ankle strap with hook-and-loop closure makes the shoe easy to maintain. The shoe is available in three amazing colors – Nubuck Khaki Leather. Nubuck black  Leather and Black Nappa.
This is a fantastic choice for teachers and other professionals who stand or walk around a lot and require a bit of stylish footwear that is not lacking in the comfort department.
Pros
So comfortable that you will think you are walking barefooted.
Easy to clean – You can wipe off the dirt with the damp cloth.
Removable polyurethane footbed
Valuable choice
Cons
Verdict
Try Lulu Dansko dress shoes for Women and you will always go back. You're going to love your new shoes and enjoy the versatility that you now have with your required footwear on your job.
Earth Capri Earthies Women's Comfortable Dress Shoes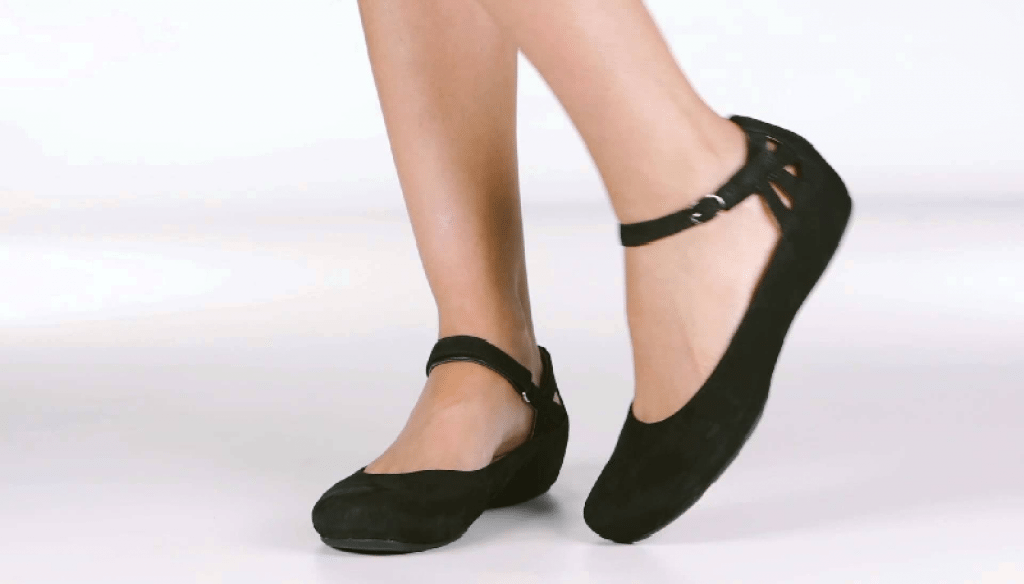 A very strong shoe,  Earth Capri brand is another excellent pair of comfortable shoes that can fit any outfit. The ankle buckle is adjustable so you can adjust them according to your needs and fit.
The leather lining gives a soft feeling on the feet while the footbed is elastic. The rubber outsole provides the durability, so you will know that you have shoes of excellent quality. The height of the heel is 1 ¼ in while the weight is 9 oz. The measurements are taken by the size 9 and the medium width but can vary depending on the size.
These shoes are very comfortable,  elastic and can be used for any occasion, keeping the pressure off your toes
Pros
Classy and comfortable
Versatile – can be worn with slacks and dresses
Come in amazing fun colors
True to size
Cons
Verdict
Looking for women's dress shoes, Earth Capri is a perfect option for a combination of  comfort, class, and style
Read: Best Fitness Tracker For Women
Conclusion
Looking at some of the options available for the most comfortable women's dress shoes, it is important to note that fit is crucial while selecting women's dress shoes.
Women want to be classy yet comfortable in their shoes especially if they will be spending the day in them, so having the right shoes on your feet is important.
The Shoe should be snug all around with roomy forefront for your toes to move around. The fit of the shoe depends on your type of your foot arch. So you can do a simple home test to find your foot type, before ordering for a shoe.
A heel, not more than 2.5 inches is ideal for optimizing comfort without sacrificing the appealing look of a real heel therefore, having a reasonably sized heel helps to prevent strain on the foot.