The best socks for women will not be anything short of durability, soft, trendy and comfortable. You may have concluded that women have little or no business with shoes. That may not necessarily be true.
Though the number may not be as much as those of men, more women are now investing in good quality socks- from the typical shoe socks, to knee socks, gym socks or perhaps something to keep the feet warm. Socks are generally good for protecting the feet from diseases like Psoriasis. So irrespective of gender, we all do need one or more pairs of socks from time to time.
For women, the use of socks makes the most sense for low cut foot wears, converse and boots. Interestingly fashion seems to be warming into the socks and stilettos trend.
So for the typical feminine and suitable socks you need for work and other daily activities, feel free to check out these cool products:
Best Socks For Women
PEDS Ultra Low Microfiber Liner with Gel Tab – 6 Pairs of Socks For Women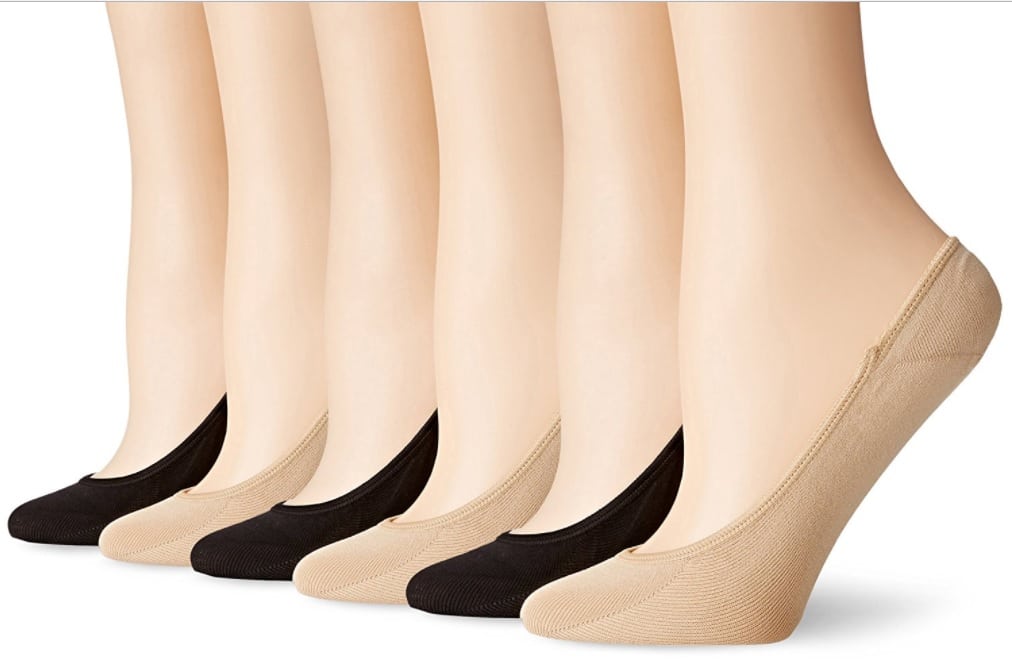 This could be the all-purpose product you need for various activities. Peds designed the socks with gel tabs which ensures that the sock does not slip off your heel. Thanks to the gel pad they stay in place for as long as you wear them. Non one can actually tell you're wear a pair of socks with these ultra low microfiber liner.
It is the kind of socks that is not easily seen when low cut shoes are worn.
Pros
Stretchy- this is actually good for swollen feet or diabetic patients
They are soft and comfortable
Works with any kind of shoe
Gives you the desired 

bare leg look
Cons
Slippery for wooden shoe sole
Socks shows for some shoe sizes
Verdict
For the soft and comfy feel, these pairs of socks from Ped will be worth the try. The socks materials are also of a high quality.
HUE Women's Soft Opaque Knee High Socks (Pack of 3)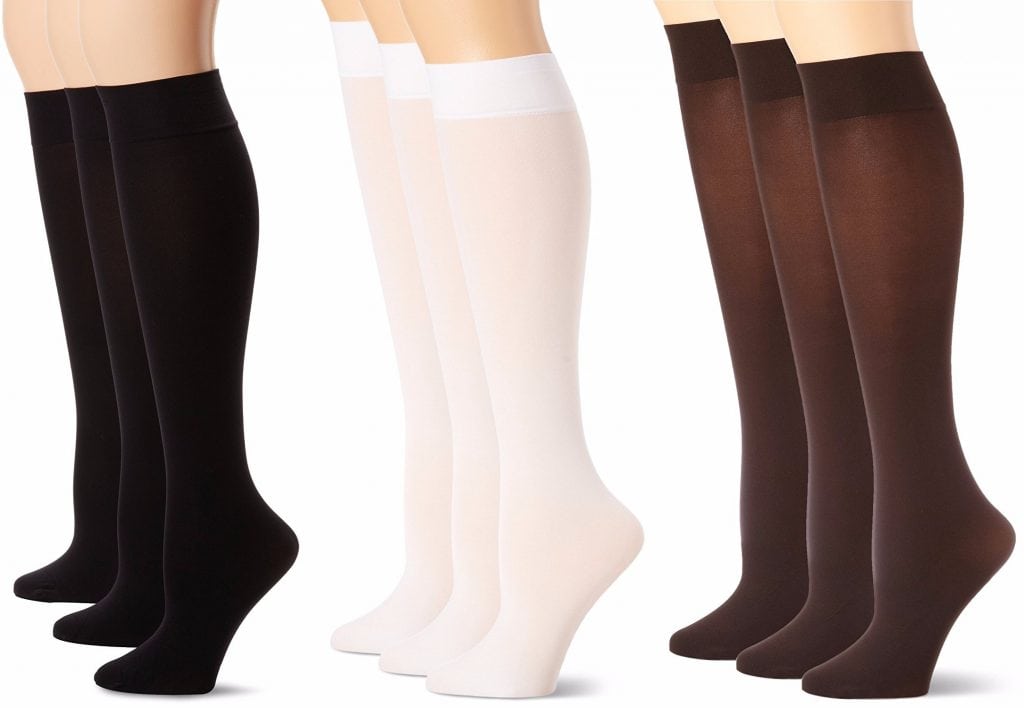 Hue presents you with a super soft opaque knee high socks with a comfort band of 10 inches from heel to top. For your trousers, boots and underpants, this may just be the lightweight liner you've been looking for. The Hue Opaque stretchy nylon socks fits shoe sizes 6-10.
Whether for business or a casual wear, this product has got you covered. It hits below the knee and does not show any kind of bulkiness in your outfit. The toe area is seamed for durability.
Pros
Soft and comfortable
Of great quality
Handwashed
Fits well
Cons
Doesn't stay in place. Slides down after a while.
Verdict
The lightweight is perfect for your trousers and boots.
PUMA Women's 6 Pack Low Cut Socks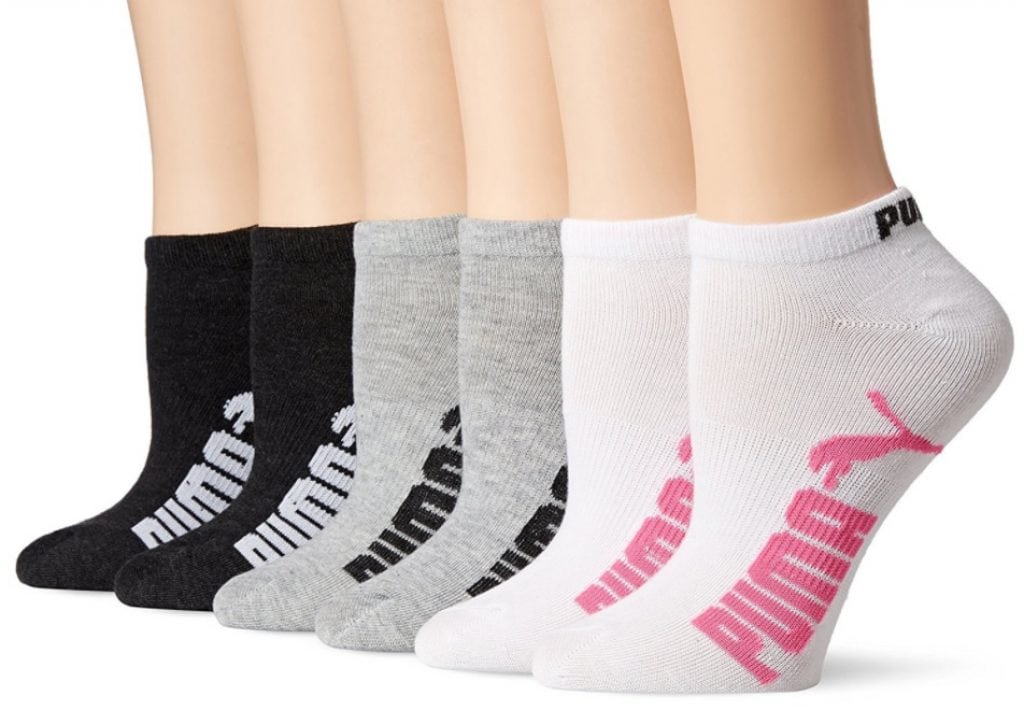 PUMA offers a super-comfy sock that will be suitable for physical fitness routines. Whether you're taking a walk, running or generally exercising, these pair of socks are the right fit for your sneakers. The ankle high cushy socks was designed with a moisture-control technology. They also come in bright and beautiful colors.
Pros
Hand or machine washed
Thick but not tight
Cons
Verdict
Puma's high quality socks is just what you need to keep the feet warm and gives an appropriate firmness and cushioning to your sneakers.
ASICS Unisex Cushion Low Cut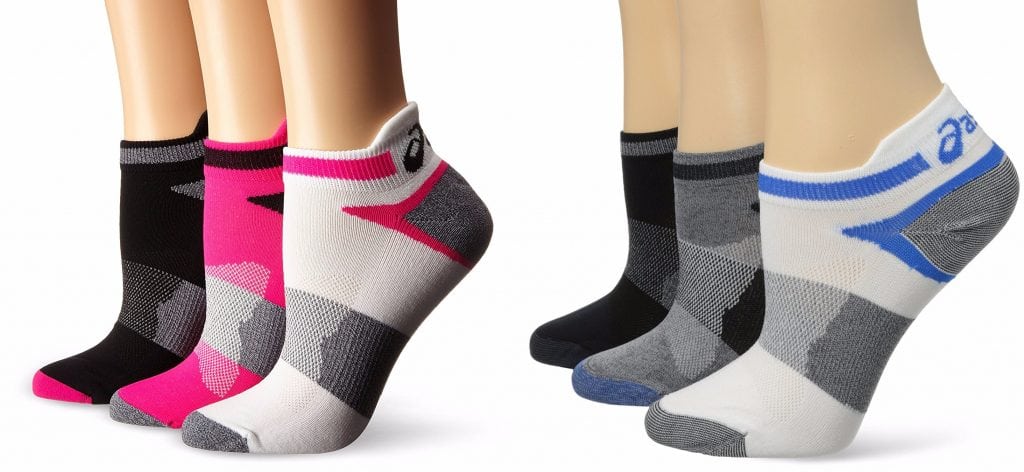 This product as the name implies goes for men and the women. It has a soft sole cushioning and a knit-in mesh for ventilation. With a moisture management system, the lightweight 2 X 2 Rib in a 6 pair value pack guarantees a reduced irritation and a long term comfort by transporting moisture away from the feet. 
Pros
Thin and breathable

Seamless toe part makes it more c

omfortable
Quality material
Launders well
Cons
Less cushioned in the heel area
Verdict
Active athletes will love this.
Gold Toe Women's Turn Cuff Socks (Pack of 6)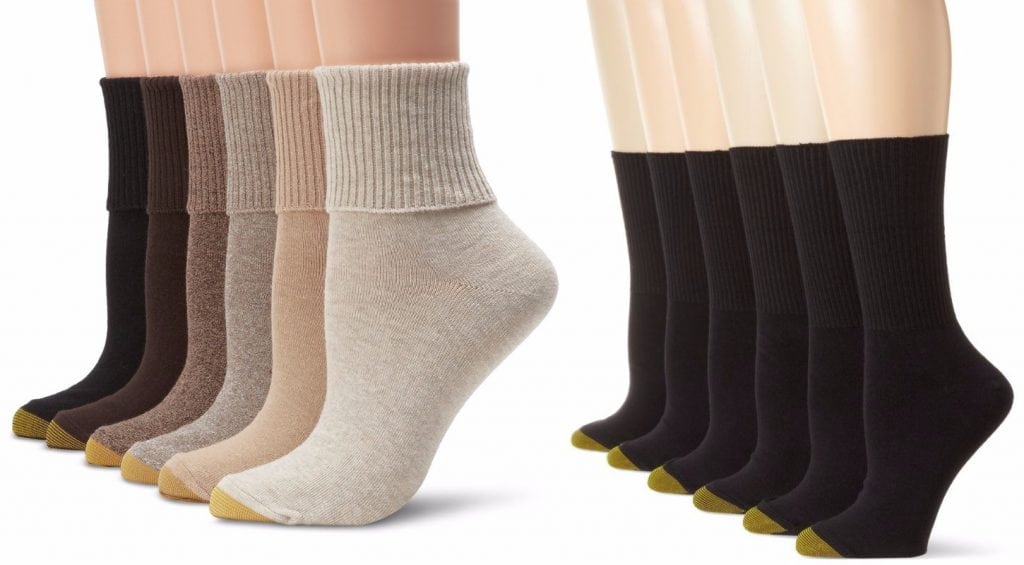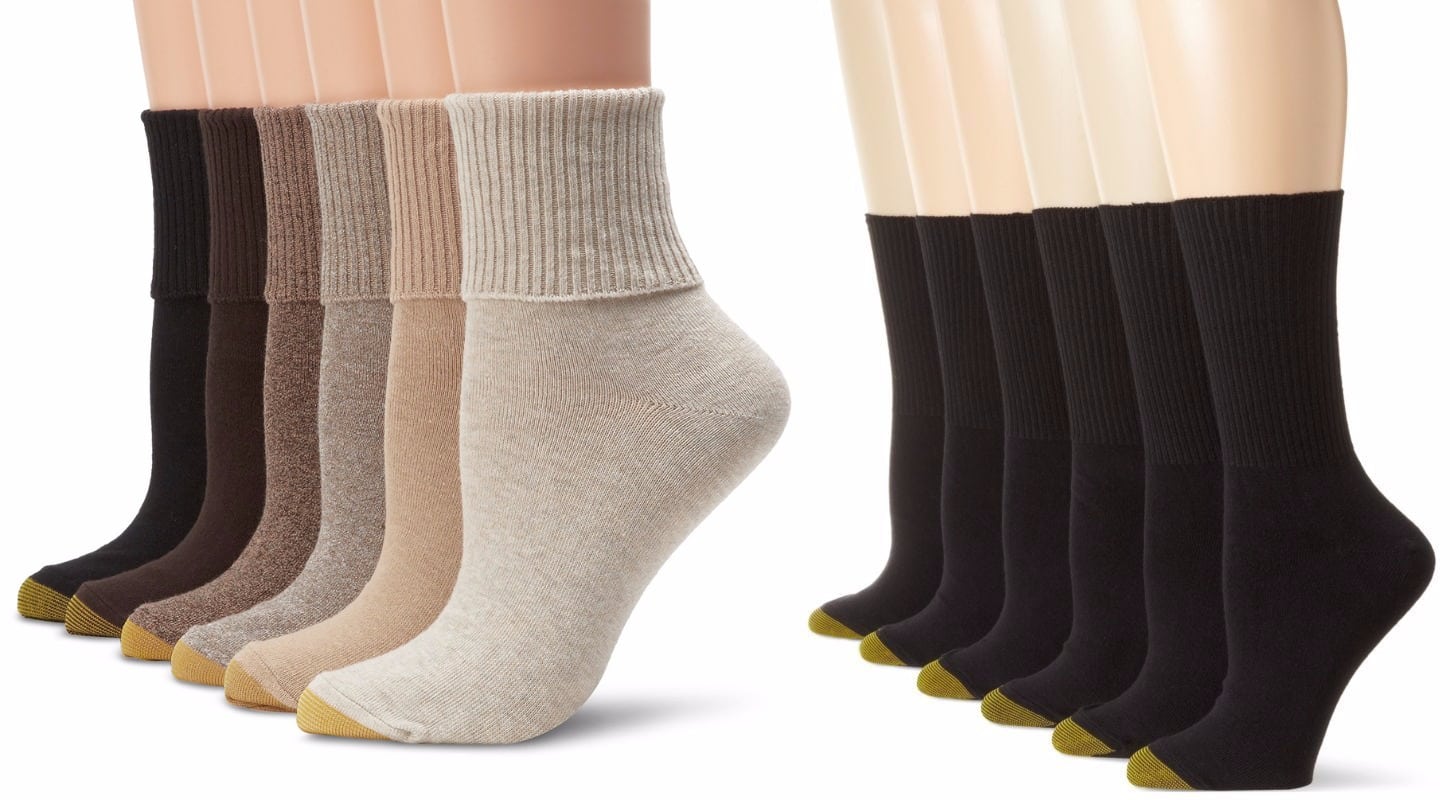 These Golf toe socks is made of 60% Combed Cotton/35% Polyester/4% Spandex/1% Nylon. It is a 2 X 2 Rib in a 6 pair value pack. What is good about this product is that same thickness and comfort spreads through every part of the socks. You can fold it or pull it up.
Pros
Moisture control system
Lightweight
Fits nicely
Colors suit for either work or leisure
Cons
Verdict
You could get this breathable pair of socks for summer.
Hanes Women's Crew Sock (Pack of 10)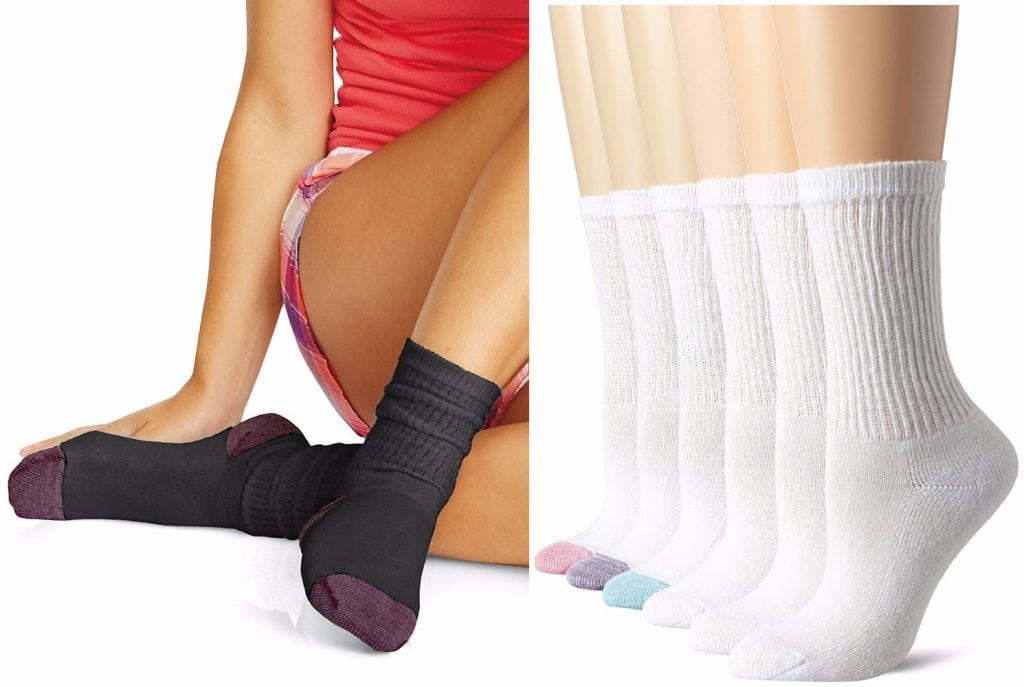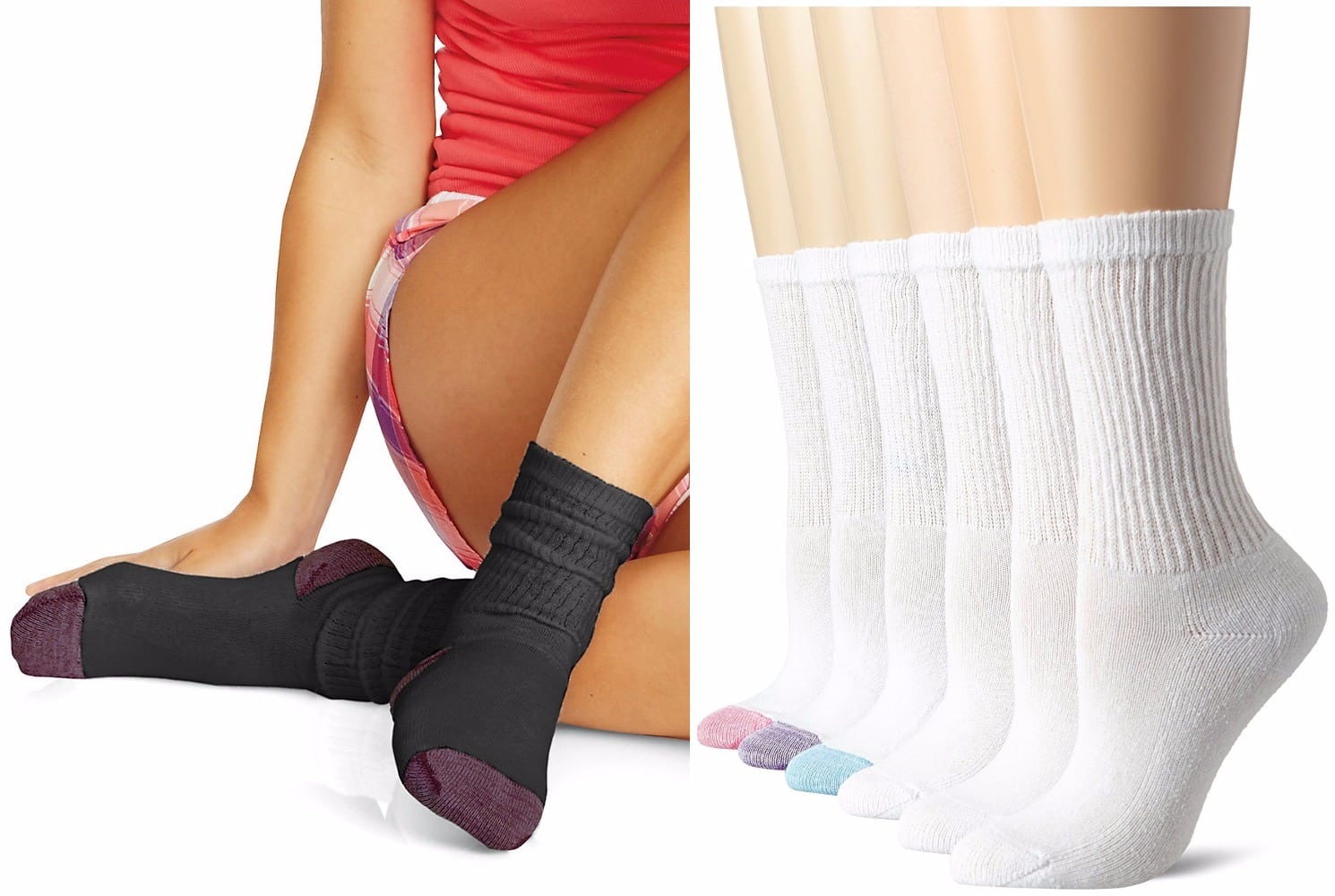 The over 70% cotton crew socks is available in plain colors and multi-colored patterns. It has a cushioned foot bottom and comfort-toe seaming. It is soft and stretchy and hits the mid calf. The thin seam across the toe area reduces the bulkiness felt when the shoe is worn.
For best results, they are warm washed and air dried
Pros
Machine washed
Strikes a balance between tightness and thickness
Warms and protects the feet
Cons
Verdict
Hanes Women's Crew Socks is a soft and comfortable product you don't want to miss this winter and even for work. 
Vero Monte 4 Pairs Women's Lace Fishnet Ankle Socks – Stylish Black + Hollow Out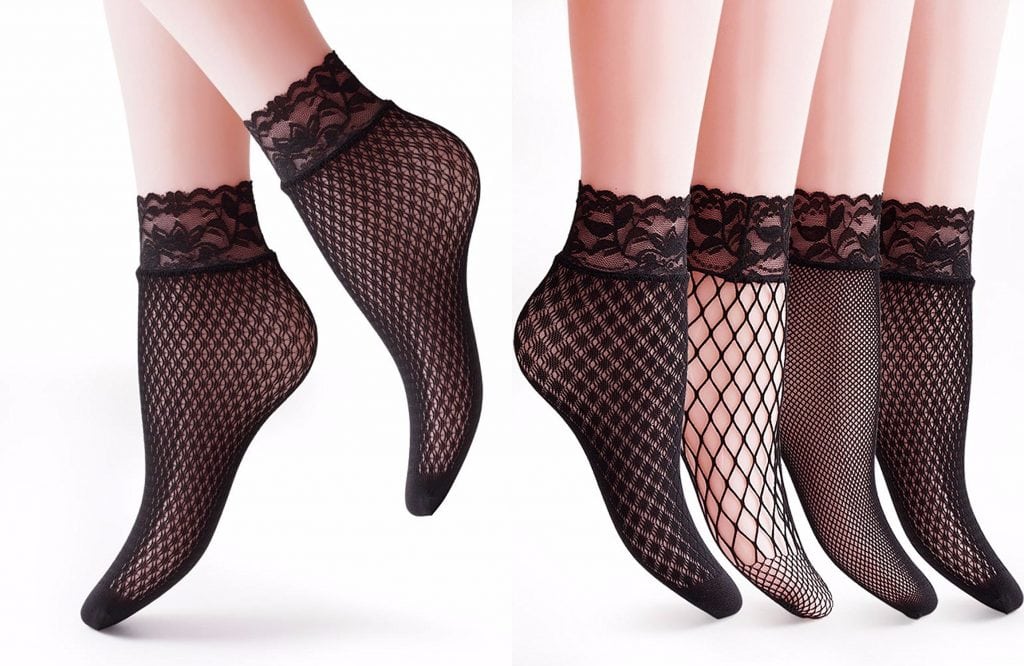 This is definitely the chic feminine fashion-friendly pair of socks. Vero Monte's trendy fishnet ankle socks keeps the feet dry and comfortable because of the hollow out knitting. Interestingly they are made of a stretchy Lace with a lovely ruffle edge trimming.
It is advisable to go for a slightly small size because of it high elasticity. The product is made of 92% nylon and 8% spandex. The material relaxes and becomes more comfortable a couple of minutes after wearing them. 
Pros
Smooth and firm on the feet
Makes a classy fashion statement ; giving you a sense of style
Keeps the feet warm.
Works for all types of outfits- dresses, skirts, high heels, you name it.
Good for summer
Cons
May not totally fit for sizes above 7 or 8
Verdict
Vero Monte 4 Pairs Women's Lace Fishnet Ankle Socks is the stylish piece you should try for that classy and stylish  look.
Conclusion
From the very first to the last on this list you are sure to find the very best of what you need. These products are highly rated for their quality, comfortability, fit and versatility. From fashion to work outs and your everyday use, these pairs of socks will serve you.