It's not every time that you shuffle the house bare-footed, sometimes you will need to keep your feet cosy, warm and comfy around the house no matter the season. Plus your walking slipper may predict how long you can stand while doing chores since standing for too long on barefoot or getting a wobbly slipper can get your feet feeling worn out and painful. That is why every woman won't have excuses for not making effort to get a nice slipper. We've reviewed about six highly supportive slippers including ACORN Women's Dara Slipper, Glurep Women's Model B Slipper and Sorel Nakiska Women Slipper that offers comfort, warmth and cosiness. This was done considering that many women are suffering from foot pain and some wobbly slippers can aggravate it or cause more damage to the foot.
Most Comfortable Women's Slippers
Preview
Popular Choice
Editor's Choice
Best Value
Title
Glerups Wool Open Heel Unisex Grey - EU 39 - Women's 8.5-9 / Men's 7 US Medium
Sorel Women's Nakiska Slipper
Material
Wool-blend slipper, synthetic sole
Wool slipper, leather sole
Leather slipper, rubber sole
Key Feature
Very comfortable, cozy and warm
Popular Choice
Preview
Material
Wool-blend slipper, synthetic sole
Key Feature
Very comfortable, cozy and warm
Editor's Choice
Preview
Title
Glerups Wool Open Heel Unisex Grey - EU 39 - Women's 8.5-9 / Men's 7 US Medium
Material
Wool slipper, leather sole
Best Value
Preview
Title
Sorel Women's Nakiska Slipper
Material
Leather slipper, rubber sole
ACORN Women's Dara Slippers For Women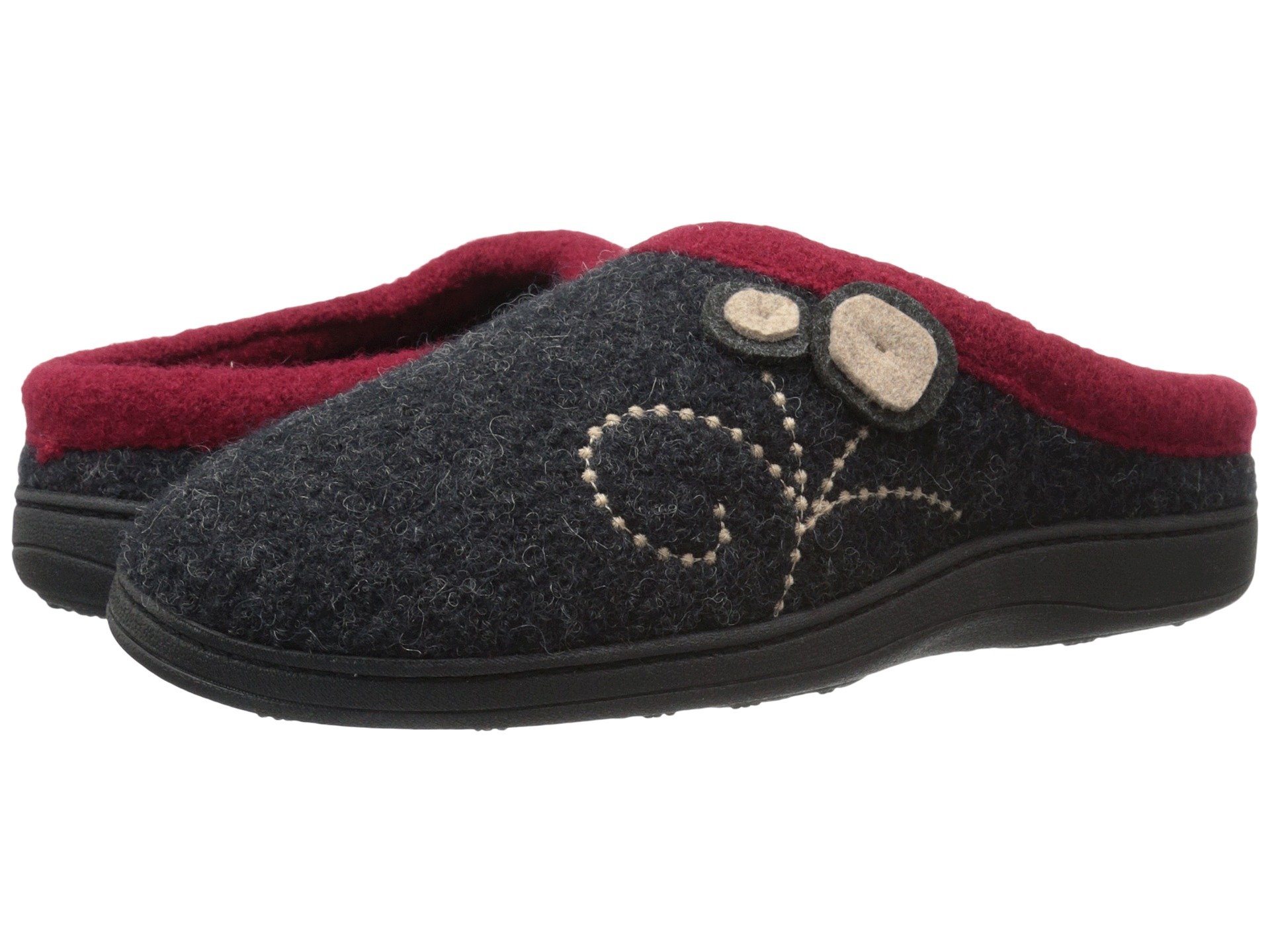 Whether you need a casual slipper or just need something to alternate your tight shoes when you want to walk your dog, this ACORN Dara slipper will serve you. Specially made to give women the comfort they need in a slipper, ACORN slipper has gained popularity for its lightweight quality which is what matters as long as comfort goes. Its ample cushioning that creates ridges at the back once your feet get into it adds more comfort. More interestingly, Dara Slipper has a synthetic padded sole that may seem a little heavy but is extremely helpful and balance even when walking on uneven terrain. The footbed also cushions the feet while walking in it which is extremely comfortable.
In terms of material, Dara Slipper relies on wool and polyester for ultra comfort and warmth. This means it a good choice for winter to keep feet snug and warm. We love that it can easily be worn but the only hurdle we noticed with this slipper is the ease it can slip off your feet while you are on the move. This can be minimized by getting your perfect size. You may go a little down on your normal size to get the size right. It also comes in different vibrant colours that are everybody's favourite.
Pros:
It is very comfortable
It will last long due to its materials
It has a big toe box that can accommodate even the biggest toe.
It fits well and allows your toes  full flexibility
Has a nice design
Feels true to size
Cons:
It is quite loose-fitting, thus can easily slip off your feet.
For its sole, it is not the lightest shoe on the list
Verdict:
This is a beautiful casual slipper that will be very comfortable on any feet especially for those with big toes. The pricing makes it all the more attractive.
Read Also: Best Hair Dryer For Curly Hair – Top Blow Dryers with Diffuser for Women
Canterbury Sheepskin 'Mel Slippers For Women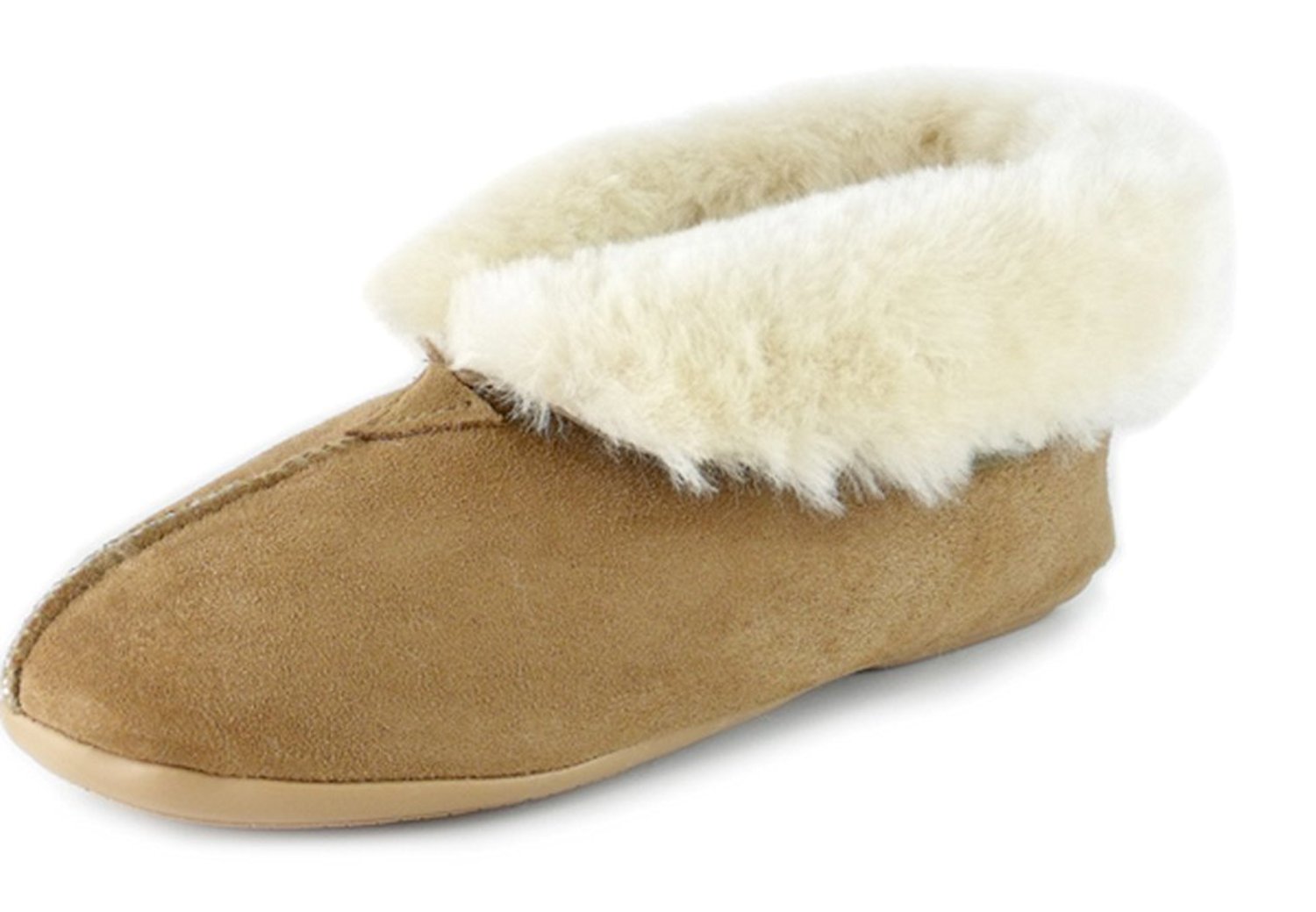 Canterbury Mel Slipper slipper is a chic option that looks good on everything you wear with it. Far apart from Acorn Dara slipper that has a cut around the arch, this comes completely covered with enough fur and space for more warmth and cosiness. The well-packed fur also insulates your feet in cool temperature. Good enough, the cushioned sheepskin insole can be detached which makes it breathable in warmer climates to keep your feet at an optimum temperature. The slipper doesn't slip off easily when on the move and with a synthetic sole, the slipper won't hurt your feet. As for size, the wool pile has a way of pampering your feet with soft warm feel even if they are tight on you. The best part is how it fits once your feet sink in thanks to its toe bar. Despite its sleek design, the slipper gives maximum support to the feet while absorbing shocks. Not often do we see a shearling slipper that feels soft and yet doesn't get stretched but this changed that for us. The slipper feels very soft yet doesn't get easily stretched. Also, the outer part is well-sewn for longevity but the only snag with this slipper is the amount you stand to get it. Once you can afford it, Canterbury Mel Slipper is handcrafted to deliver comfort, quality and classy design you need to walk around in your house and outside your house.
Pros:
Gives efficient support to the feet
Has a spacious toe bar to accommodate those with massive toes
Comes in different colours
Comfortable to wear
Easy to use
Perfect fit and durable
Lightweight and stylish
Cons:
The fur may get dirty easily
It is somewhat expensive
Verdict:
This is one of those shoes that physically gives you a relief when on the go. It is chic, durable and comfortable. We like the way its toe bar is expanded to take in bigger feet. It is an ideal option for women who have wide feet. The fur may easily get dirty and seems a little tasking to wash but the cool thing about this slipper is that the fur is why most people like it, so you will just have to deal with the steady need to get it cleaned.
Read Also: Best Deodorant For Women to Help You Stay Fresh and Cool All Day Long
UGG Women's Cluggette Slipper For Women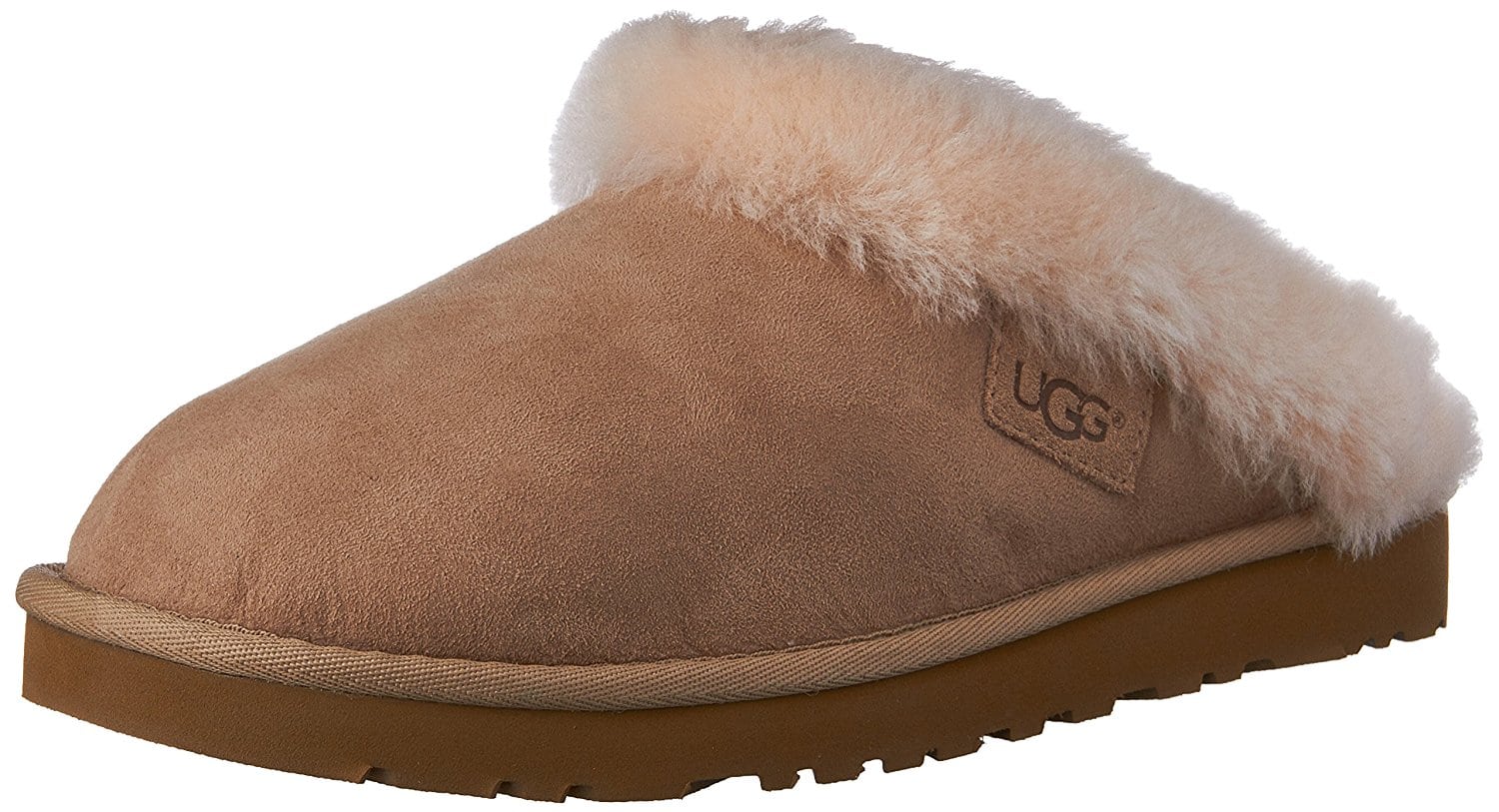 This UGG  Cluggette slipper scored high in providing the feet with the warmth and comfort they need. It is the best type of slipper to choose for comfiness, great quality and warmth. Once you sink your feet into it, they get a fluffy or soft feel that is utterly fun.Besides, the Claudette slipper is a versatile option that can be worn when you are either indoors or outdoors thanks to its traction sole. As for the design, we didn't think anybody will be ashamed to be spotted in this slipper while getting the paper from outside thanks to its fine sand suede design.
Durability is also a thing for the slipper as the upper part is made to discourage degradation and splitting after repeated wears. In addition, it absorbs sweat and odours from the skin effectively due to the sheepskin decoration in the insole. They also make the slipper fit perfectly and comfortably. The slipper may be somewhat heavy when compared to some in its class, but not enough to burden your feet. Apart from that, this is a top-quality slipper and the best slippers for women when it comes to comfiness and warmth during winter. Fortunately, there are different sizes and colours to select from, which means there is something for everybody.
Pros:
Better arch support
It is stylish and can be worn at the beach, casual wear, travel and even for going ou.
It is not overly casual for its fluffy design
Soft and cosy to wear
It is  easy to slip on
Cons:
You may a different size than your regular size
It may be a little heavy for some with small feet.
Verdict:
This is the warmest of the shoes we came in contact with during our testing. It is so comfortable that it can be worn in any weather condition be it cold or warm.  Plus it is top quality, so will stand the test of time. Just bear in mind that it is going to be a wise idea to get a size next to your original size if you have a wide foot. You can rest assured you will wear your usual size if your foot is just so big.
ACORN Women's Thong Summerweight Flip Flop For Women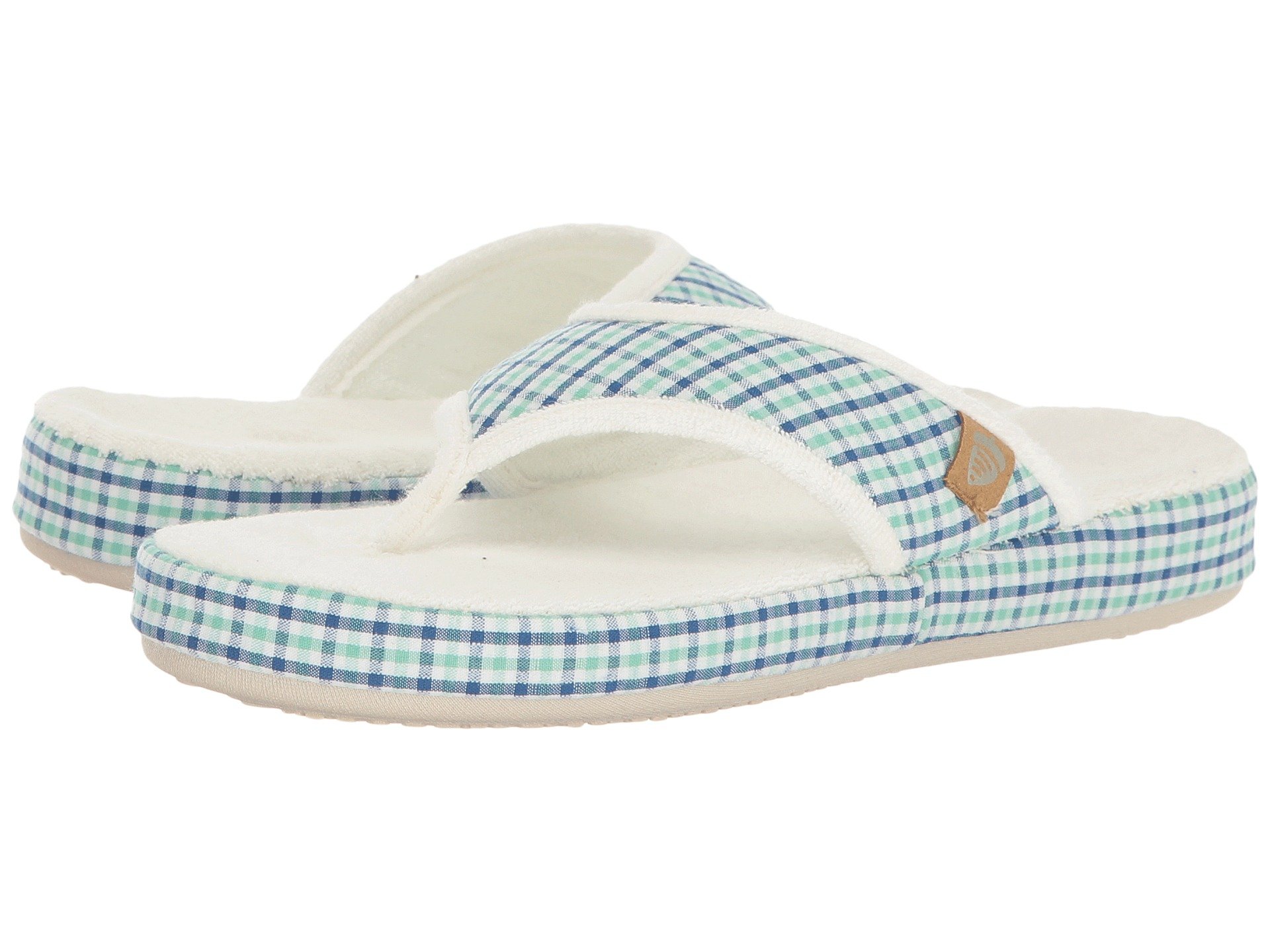 This ACORN Thong Summerweight Flip Flop For Women is a unique way of enjoying a delicious morning outside your house. Made from cotton and polyester the slipper feels more durable than some materials on similar pairs. It comes in a cool design with a breathable cotton and stripe print details that keep your feet cool during summer. The flip-flop also has a soft lining so you can wear all day without a pain. We love how painless slipping on is although the sole has several layers of cloud cushion which can be a little heavy for some. Nonetheless, the footbed which is kind of moulded to perfect to give a cloud-like comfort will make the weight less of a stress with every step. In addition to that, ACORN offers an out-sole that is resistant to skid for safe gliding indoor and outdoor. It is affordable but we think it is made to last longer than some more expensive options out there.
Pros:
They feel super soft and durable
It reduces the chances of falling for its skid-resistant sole
It is easy to slip on and off without having to make use of your hands
Stands out for its cloud-like design
It carefully shaped for optimum comfort
Machine wash and dry
Cons:
Some may prefer something that offers more coverage
May seem weighty
May need constant cleaning
Verdict:
For a breathable cotton slipper, consider this may be a better option particularly if you don't need something that grants all-around coverage. It is comfortable to walk in although some may consider it weighty. We easily fell for its design which is classy and chic. The slipper may need constant washing, but the fact that it can safely go into the machine counteracts the shortcoming.
Sorel Women's Nakiska Slipper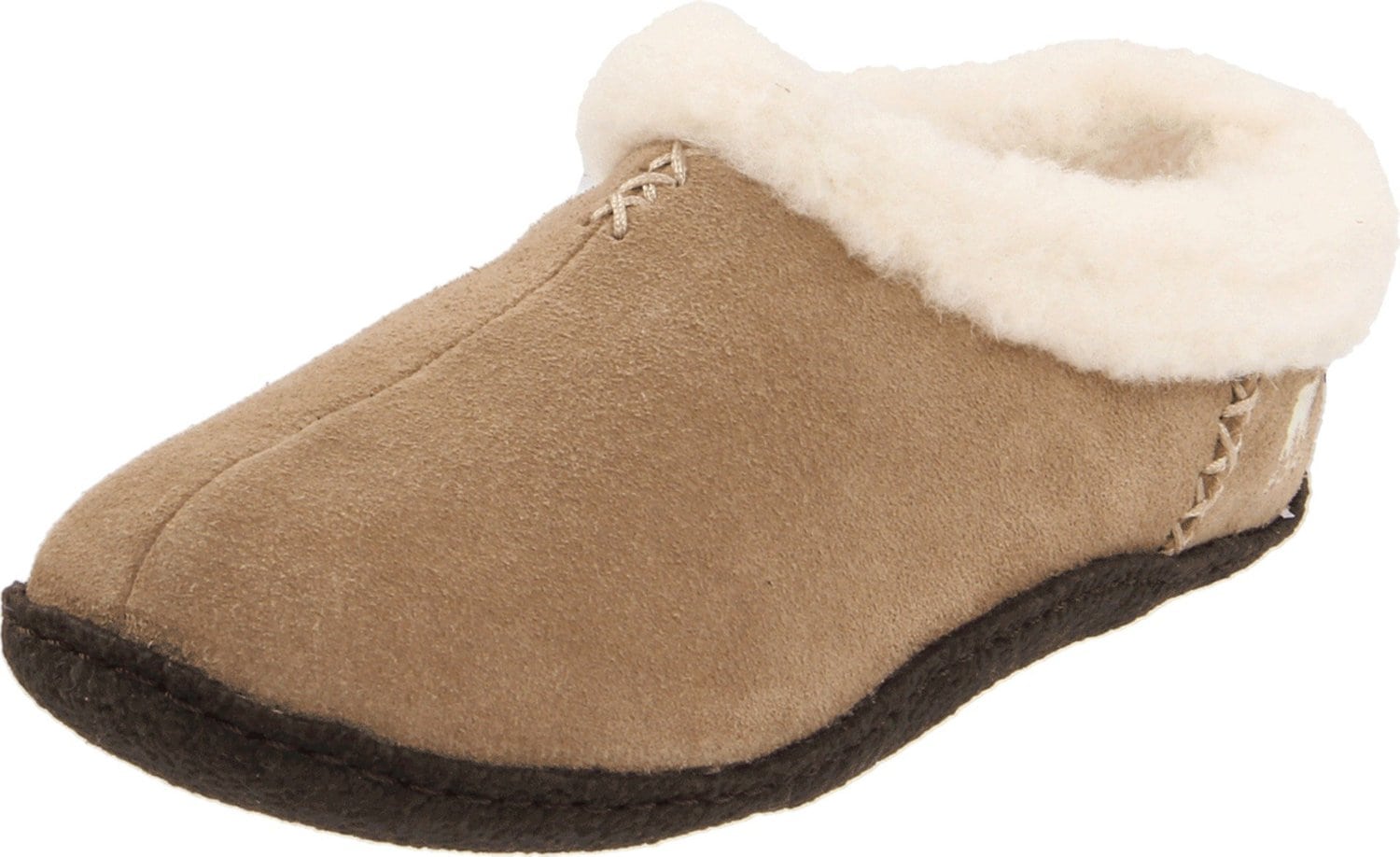 Sorel Nakiska is a leather slipper with a rubber sole that keeps the feet comfortable. The slipper is constructed with a traction rubber outsole for firm grip on the floor to protect you from slipping or tripping when you on the go. The part that got us the most was the silence of the rubber outsole when you are on the move. Not even a tiny noise was produced or heard so you don't have to disturb others still asleep with the foot noise. There are some ridges at the heel which offer additional support to your feet. We love the wool faux fur and acrylic lining that makes wearing it feel warm and comfortable. The lining however in our observation does not absorb moisture as much as fabric or leather lining. But good enough, it is durable and is easily cleaned. We also love that it comes with detachable moulded Eva footbed which not only supports your feet but also protects them when wearing them. The design is another win for this slipper, offering a cross-stitch detail and a suede leather upper which we found very stylish and cool. What is more is the flexibility it offers since you can wear it to wherever for its indoor and outdoor traction. In terms of size, Sorel Nakiska Slipper comes in different sizes and shades but as with most shoes, picking the right size may be a little tricky. When picking a size, it is better to bear in mind that Nakiska Slipper does not get stretched. For that reason, we recommend getting either your size or something slightly bigger for ultra-comfort in this shoe.
Pros:
It is lightweight and very comfortable to shuffle around in
You won't have to deal with so much noise
It fits perfectly and can fit different sizes
No overstretching
Gives sufficient support to your feet
It grips the floor excellently, thus no slipping
It is durable and doesn't break down easily
It will serve you different purposes.
Cons:
The lining is not the best moisture absorbent on the list
Sells at a slightly higher price
Verdict:
This is a very comfortable and versatile slipper that is surely bound to do nothing but impress its user. They are sturdy and saves you from dealing with a bulky slipper. We love its overall design and details which we think is stylish. However, it may not be the best to recommend for women who sweat a lot at the feet since cotton and leather seem better.
Glerups Unisex Model B Slipper For Women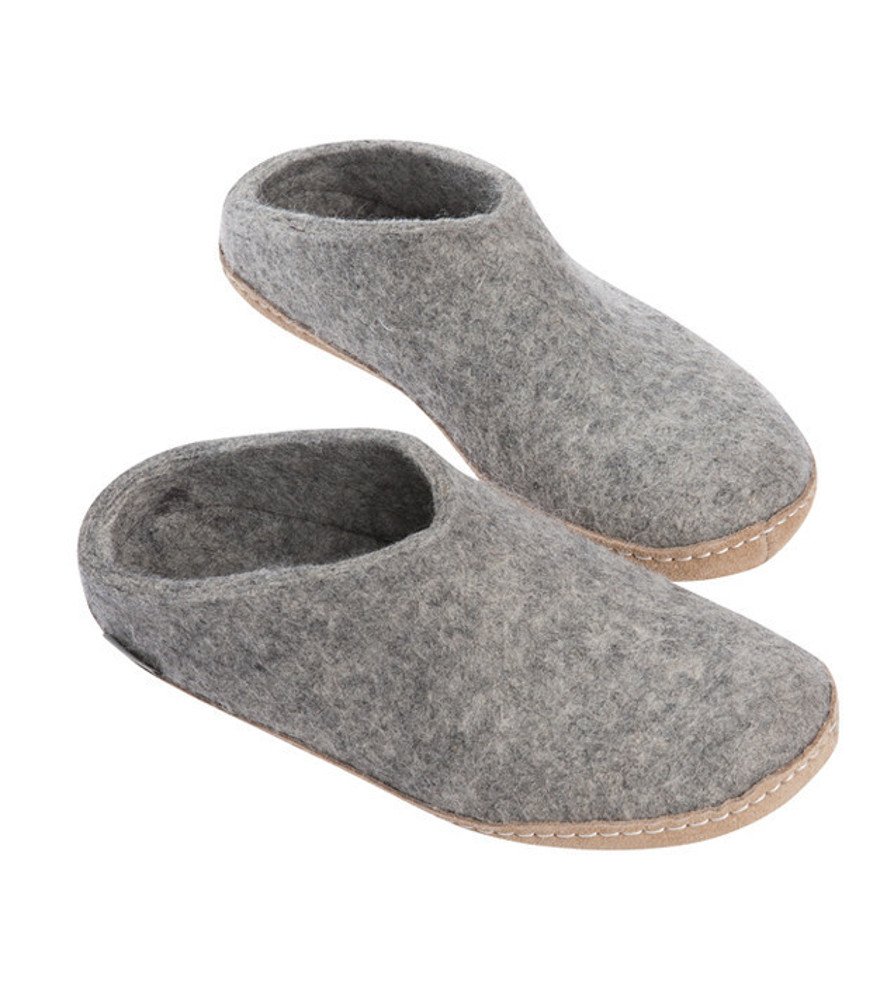 Made of strong materials including pure calfskin, this Slipper by Glerups scores high in versatility, durability, appearance and comfort. It features a pure wool upper and a synthetic lining for easy slip on and off. Another perk we noticed about this boiled-wool slipper is its edge that is elegantly and neatly cut for additional comfort. Its fitted sole which supports feet ideally offers great traction at the sole so you can easily run out to get the paper from the driveway without tripping. It comes in various colours and sizes. One downside to this Glerups Model B slipper is having to deal with its shedding during the first use. At this stage, it may appear stiff as well. The reason for the shedding is that the coarsest fibres simply need to work their way out of felt or knots. In our understanding, it doesn't make the slipper less durable. All you need do is just to pluck them off by mild washing with a lime-free water. And as time passes, it becomes more and more comfortable.
Pros:
Excels at keeping your feet warm
Features 100 percent  natural wool
Does not fade or shrink easily
Has a nice design
Warm and comfortable interior makes it fun to wear
Easy slip on and off the feet
It is breathable  so your feet don't get overly sweaty
Beautiful aesthetics with a cool surface
Easily cleaned
Cons:
The slipper seems to be stiff at first wearing so may require slight break-in-periods
It is a high-end slipper
Verdict:
This is our best as long good moulding features go. We love how getting in and out of it seem painless. It does a great job at insulating the feet with its full coverage characteristics. The slipper also does wonderfully at keeping you comfortable all year round, making it the best of the bunch.
Conclusion
These beautiful slippers are listed here for their performance rating, with high marks for comfort, fit, and warmth. They supply good support and have a sturdy indoor and outdoor sole. You can take everywhere you go since we found that most of them can be easily packed in your travel by folding them.  They are also a nice choice if you like to wear socks with slippers. Another great thing is that nearly all of them offer you variety of colours and sizes.