We all have different fitness concepts and goals. But we need to keep track of what we do and how the body reacts to those challenges. The gamut of fitness tracking devices out there in the market today will make a sci-fi movie look outdated. Where the challenge comes, nonetheless, is how to choose the one that best suits your activity. This is why we have drawn up this list of best fitness trackers for women to help you do your daily activities, tracking every bit of the effort you put in.
Before drawing the list up, we carried out in-depth research trying out some of the products while comparing about 27 fitness trackers in the market. Using facts from the study, we concluded that Fitbit Alta HR tracker, Bellabeat Leaf Urban Tracker For women and Lumo Lift Coaching and Activity trackers, alongside others on the list, are great for multiple tracking.
Best Fitness Trackers For Women
Fitbit Alta HR Tracker for Women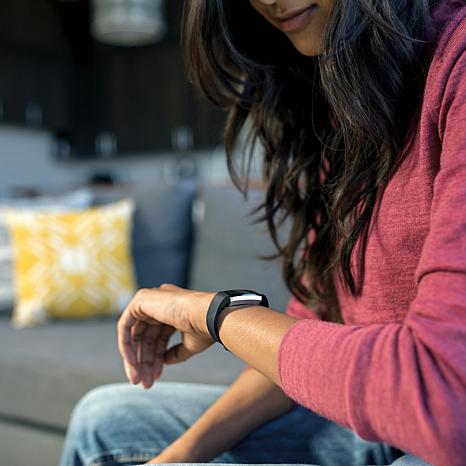 Fitbit Alta HR is a fitness tracking tool you can use for monitoring the heart rate, number of daily steps and more. The major attraction is its sleek design. The latest Fitbit Alta HR is quite slim yet has the manufacturer's PurePulse heart rate technology to a slimmer build. The company ushered a new chip for the Alta HR which minimized the size and a number of components required, allowing for a 25 percent slimmer design than regular wrist trackers. There are also two new sleeping features; Sleep stages and Sleep Insights. The sleep stages use the heart rate sensor to calculate the amount of time you spend in light, deep, REM sleep and also the time you spend awake each night. Sleep Insights, however, makes use of the data collected by Fitbit to supply personalized guidance on how to better improve your sleep.
More so, the battery is superb as it has a 7-day lifespan on a single charge. With an internal heart rate sensor, you will have a better experience monitoring your calories burned, non-step exercises such as spinning, yoga, and more. Heart rate zones also allow you to know how hard you are working during exercises daily. Again, it automatically recognizes or detects exercise such as running, biking, etc. However, you can't manually start workouts. Automatic exercise tracking and no buttons means no on-band controls.
Pros:
It has a stylish and fashionable design
It has a superior battery life
All-day fitness and hate rating tracking
It is comfortable to wear
The activity monitoring wristband has a secure closure.
Although quite small, it delivers accurate results every single time
Cons:
It is not resistant to water
Notifications may be hard to read
It has no button to circulate through different stats it tracks
Verdict:
If you need a really thin fitness tracker that does all the job of monitoring your all-day activity as well as your sleep, here is a nice option. Fitbit Alta HR offers cool automatic features that you will ever need from a tracker. It is ideal for fashion-conscious buyers in general.
Read Also: Comfortable Walking Shoes For Women
Bellabeat Leaf Urban Health Fitness Tracker for Women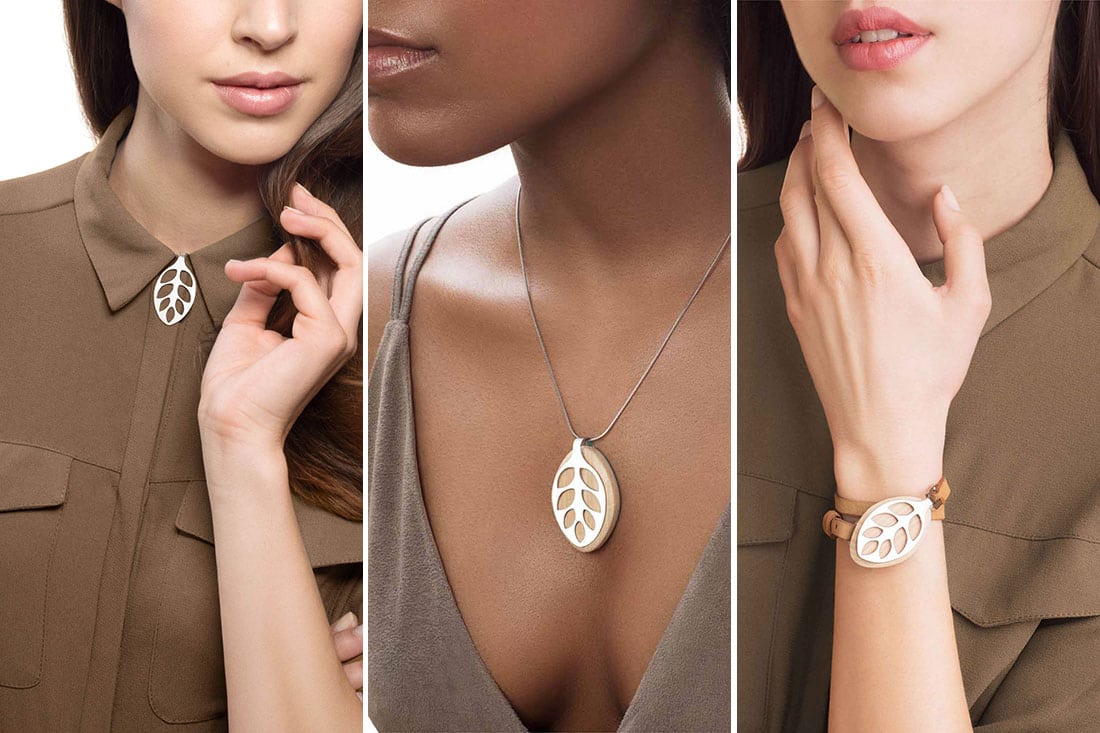 Bellabeat Leaf Urban Health Tracker is one of the most beautiful and popular fitness trackers in the market now. But its popularity is not just based on the different ways it can be worn or pleasant-looking design but also for its ability to provide women with a simplified, informed report on their overall health including activity, sleep, pregnancy and period or monthly cycle.
The tracker syncs quickly and reliably although it relies mostly on the app for its functionality. The app includes breathing and meditation-style exercises. Another plus is its aptness at predicting stress and tracking your sleep. As for looks, Bellabeat Leaf Tracker has a cool design that is attractive at face value. The small piece, in fact, looks like a piece of jewelry and can be worn as a clip, a jewelry pendant, or a bracelet. This means you can incorporate it into your day.
For everyday use, you could use it as a bracelet or use the clip replacement to simply clip it on for a more intense exercise. Note that the tracker can unhook from the bracelet when it is jiggled with a high stakes sprint – something we found pesky before opting for the necklace or the clip. Appearance isn't the only big drawback to this tracker, the variables included and the presentation of data also sets it apart technologically. However, it is just a tracker and thus does no automatic pushy reminders or suggestions. In simpler terms, the tracker can only tell you that your stress level is high but can't suggest what you can do to reduce stress.
Also, it tells you the number of calories burned only during your activity since it can't differentiate between different activities, as in running or bicycling. In essence, it only allows you to input and label calories burned during those times, but won't calculate the calories it had for you during the time you say this other activity was happening. But this is to ensure that you don't cheat your score mistakenly. It also gives an accurate measurement of well-being.
Pros:
It has a very stunning and sleek design
Features a comprehensive technology that does the job
It comes with a strap and an adjustable chain so you can explore the different ways it can be worn
It is user-friendly
It delivers important women's health variables
Calculates a score that looks more accurate for you.
It is comfortable to wear
Projects into your sensitivity to stress.
It is convenient to use
Cons:
You have to manually add some data since it doesn't automatically sync.
No traditional face or display for notifications pop-ups
No smartphone notifications or heart rate monitoring; requires app
It is easy to miss vibrating alerts
Verdict:
If you want a fitness tracker that also lets you know your fertile days when you are trying to get pregnant, choose Bellabeat leaf tracker. We love that it is more of a wellness measure than a fitness tracker, telling when you are stressed although not what to do to stop being stressed out. Again it doesn't automatically sync or pop up notifications on the face but the app makes it a lot easier.
Read Also: RECOMMENDED CURLING WANDS
Withings Activité Pop Activity Tracking Watch for Women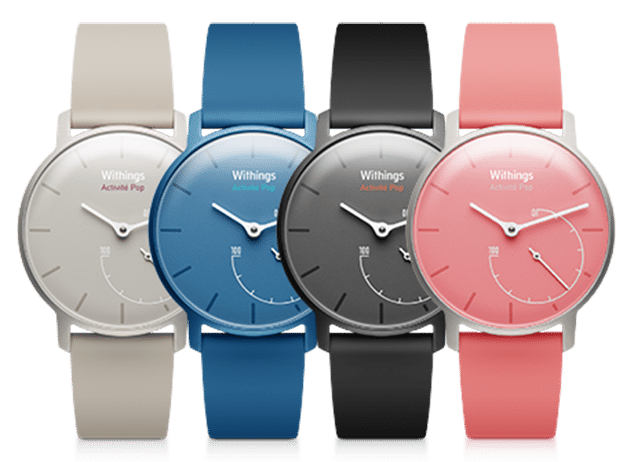 Withings tracker is a wristwatch that tracks activity, step, and sleep automatically. It has a replaceable battery coin that is quite reliable not just because you can use it straight out of the box but it can go for 8 months without charging. We love that you can go swimming or showering as it is up to 50 meters water-resistant. The wristwatch automatically syncs with iOS and Android.
In terms of design, the watch dumped the calf leather polished steel and a sapphire dome on Withings' fancier Activite watch for a silicone strap, PVD-coated steel and a mineral glass dome, although they both have nearly the same features. It is capable of step-counting and sleep-tracking. It can also track the calories burned. Beyond that, it is a Bluetooth-connected fitness tracker.
Withings Activite Pop is also a solid construction, fixing the old issue of having to deal with its crystals that easily get shattered. But it is still not perfect. There is still a glitch in storing and syncing data over periods of longer than a day and a half. This may not be a problem if you are syncing daily, but if you are traveling it could be a problem. Apart from that, it doesn't measure heart rate. But well, it is the closest to a Fitbit-style device in a standard wristwatch.
Pros:
It can suit both men and women
It is water-resistant, so it can go to the shower and swimming pool
Has a reliable battery life that needs no charging for up to 8 months.
It is easy to use and wear
It is user-friendly
Cons
It doesn't retain data after a day and a half without sync
Just like Bellabeat, it doesn't track heart rate
It doesn't display other stats apart from daily goal progress
Setting the watch needs the use of an app which makes it a little less convenient
Verdict:
This is a go-to watch if you want a regular watch that does some semi-smart things like tracking your health activities. We think that if Fitbit is united in marriage with Swatch it would be Activite' Pop.
Read Also: Best Women's Hiking Shoes
Lumo Lift Posture Coach and Activity Tracker for Women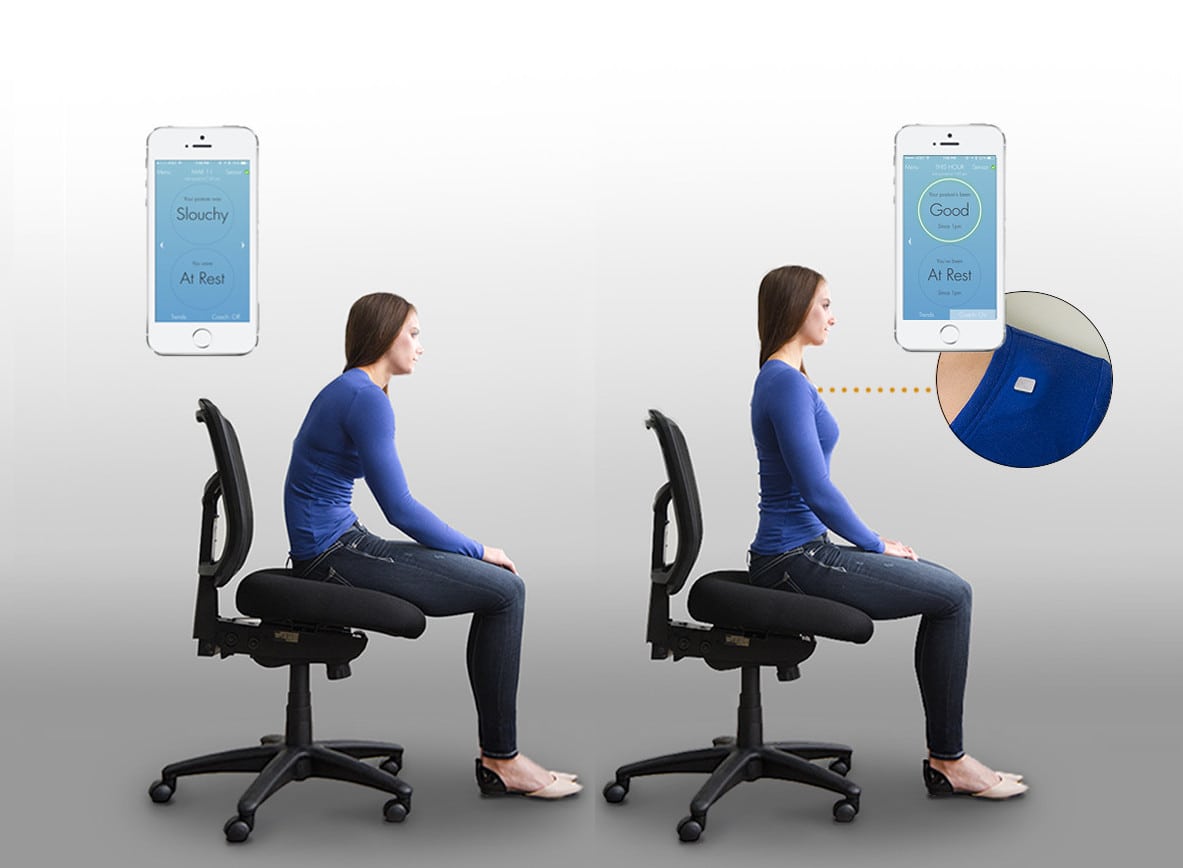 Lumo Lift Posture Coach and Activity Tracker is iOS or Android app compatible tracker that delivers a new alternative to average fitness trackers we know. The tracker keeps abreast of your daily progress, measuring your activity, step, distance and even your posture. As for posture, the tracker uses hardware sensors and algorithms to measure your body's alignment. Then it keeps track of how often you stay in that posture and when you deviate from it. The tracker does this by reminding you gently via vibration to sit or stand up when you sit or stand in a lazy, drooping way. This means you will be able to get the best posture. Keep in mind however that it is up to you to tell the tracker the posture you want. Also, the Lift doesn't offer sleep or elevation tracking.
It has a unique design, featuring a polished aluminum magnetic clasp and matte black magnetic clasp that help keep it in place during exercise. You won't have to strap it or clip on your cloth or wrist. The polycarbonate tracker houses the components, while the plate holds the Lift on your clothes. You can either leave it under the clothes or make it a little more noticeable as a fashion accessory as long as it rests close to your body.
Speaking of battery, it is rechargeable and has a USB charging dock. When fully charged, the battery lasts 1 to 2 days on a single charge. It also takes two to four hours to get fully charged when it drains to a zero level. There is no button, but rather the entire tracker acts as a button that you can press to program and use it.
Pros:
It is comfortable to wear
It helps correct bad postures so you look better
Saves you from body pain that could result from bad posture
It helps you sit and stand straight
It is well-priced for the value it gives
Cons:
The app has too much design but without sufficient data
Does not track sleep
Verdict:
This is a perfect choice if you have some bad posture you want to correct. It works just fine and sells at a cheap rate although it has limited features that may not impress someone who needs a tracker with different metrics.
Don't Miss: Smartwatches For Women Who Love Tech
Garmin vívofit 2 Activity Tracker for Women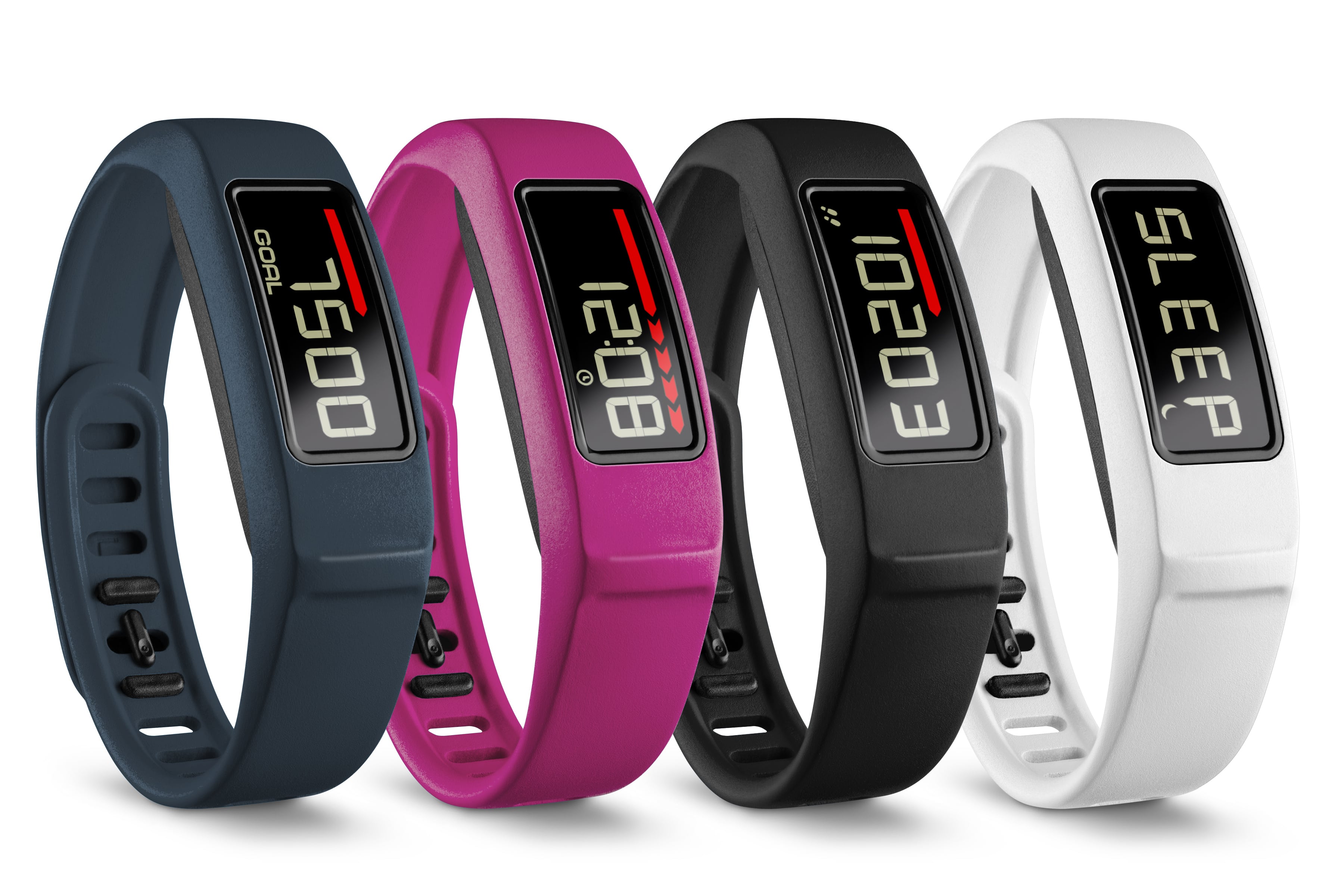 Garmin Vivofit is where functionality and aesthetics meet best. The watch has the features of a high-end tracking unit yet sells at an affordable price, tracking all your sports activities and adventures in a lot simpler way. It has a design that is similar to Fitbit but seems to be a better option for always-on display and a locking mechanism that holds up.
Additionally, it can be worn in the shower and the pool. Again, it has a one-year battery life which is longer than most on the list. This means you won't have to pack your charger when you are traveling or going on vacation. The tracker also delivers a stopwatch mode, useful audible alerts, inactivity alerts and a backlight, so what more can you ask for? However, it doesn't have vibrations. But that's no problem since you easily get your activity measured accurately. It measures steps taken, distance traveled, calories burned and sleep at night. More so, when you are inactive for a long period of time, the tracker will remind you to get active.
It comes in different vibrant shades, giving you to pick your favorite color. It is a solid build but doesn't have a clunky design many wearables look like.
Pros:
It is easy to check the face for notifications
Reduces the need to remove your smartphone every time to check the number of steps you've taken.
It has a button on the strap for easy navigation
Reminds you to stay active
It shows your steps, calories and time of the day
Prolong Battery life is great for day to day routine
It is water-resistant and can be submerged
It is comfortable to wear
Cons:
Syncing isn't automatic
It does not vibrate
It is bulkier than some trackers with nearly the same design
No auto sleep recognition so you need to enter it manually
Verdict:
This is an all-rounder tracker that has nearly everything you need to keep your activity accurately calculated. It helps you stay healthier with its features. Although it is not without any flaw, it is a great choice for a better experience with trackers.
TomTom Spark 3 Fitness Tracker for Women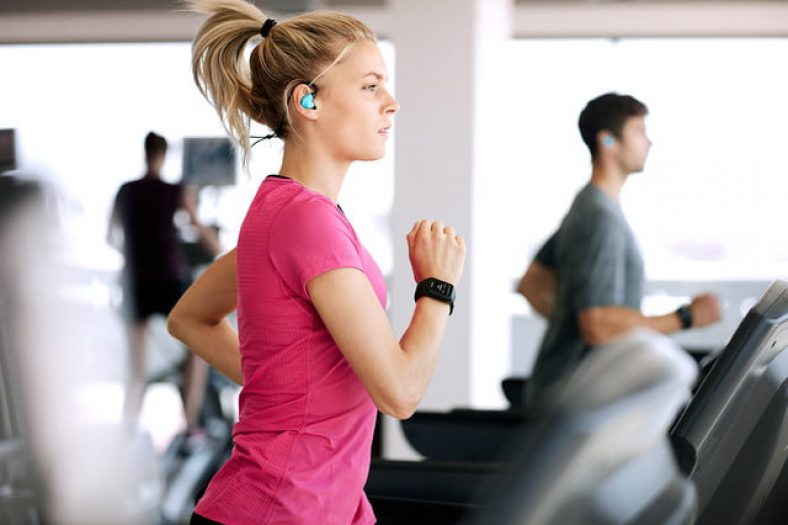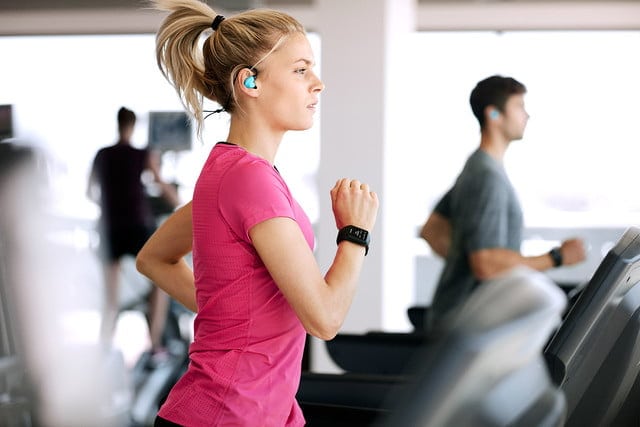 TomTom Spark 3 Tracker is one of our favourite fitness trackers, not just for its almost unlimited features but also for its design. The tracker detects the motion of a person and counts each step you take. It also measures the distance you cover and, yes, it monitors heart rate. In addition to that, it has five heart rate zones and gives you an audio feedback of the progress of your health. Apart from that, TomTom Spark 3 tracks speed, pace, calories burned, and duration. We also fell for its design which is wrist-based and kind of a bolder design than Fitbit. There is also a 3GB storage for MP3 and AAC (iTunes files). It is a multi-sport GPS tracking device that does an automatic job.
Pros:
Long battery life that allows all day tracking
Built GPS and heart rate monitor
It resistant to water
It is lightweight and slim
It tracks different sports including running, swimming,  bicycling and more
It lets you know when you having a sound sleep and when you're not.
Has an easy-to-read screen
It stays in place with a super-secure three-point fastening
Cons:
Some find the design chunky
PC is required for music and route uploads
Verdict:
If you want something super equipped with all the necessary features incorporated in it, then choose this TomTom Spark 3. While it has a chunky design, it fits perfectly and is suitable for both men and women. Plus its convenience can hardly be debated as you will almost do nothing with its automatic quality.
See Also: Best Hiking Boots For Women
Conclusion
All of the trackers are amazing and worth trying. We picked the best that anyone can find around. Fortunately, you won't break the bank to have any of them, although some of them may cost a bit more than others, the value they offer compensates for whatever you will spend to get them.