Not many women can do without makeup brushes. The reason being that they are great tools for applying makeup products and a simple stroke of the brush can completely change your appearance. In most cases, getting a good brush means getting a flawless finish. To help you choose the right brush, we've chosen the best makeup brushes for both daily routine and professional endeavours. As people who are passionate about makeups, our selection was based on personal experience,  in-depth research, speaking with professional makeup artists, as well as other user's experience. That being said, we have concluded that Real Techniques makeup brushes, It cosmetics makeup brushes, Bare Escentuals brush and more are the best makeup brushes that can give you an idea of what you really need for your daily salon-grade look. Check the complete list below.
Real Techniques Makeup Brush Set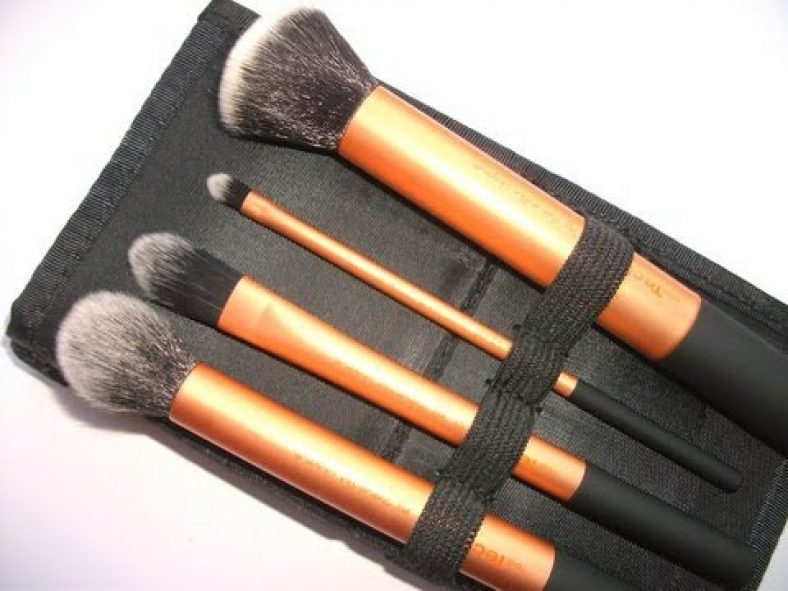 Real Techniques Brushes are good makeup brushes and they hold up well. Made with ultra plush synthetic taklon bristles, the brushes won't break quite easily, thus durable. They also hardly shed off and are super soft. The major attraction is that each brush is hand-cut to precision to expertly smoothen out makeup application for an even and streak-free finish. In addition, they come in a variety of sizes and shapes for different application need you might have, supplying detailer brush, buffing brush, pointed foundation brush, contour brush, and panoramic 2-in-1 brush cash/ stand.
Pros:
It is great for blending your makeup
Delivers mark-free or even finish
Nice design
It is easy to maintain
Won't break easily
Cons:
Offers fewer brushes than some on the list.
Verdict:
These coverage essentials you can create amazing effects. They are cut to precision to create the best result.  We love that the brushes come in a case that helps keep them organized.
Morphe Makeup Brushes Set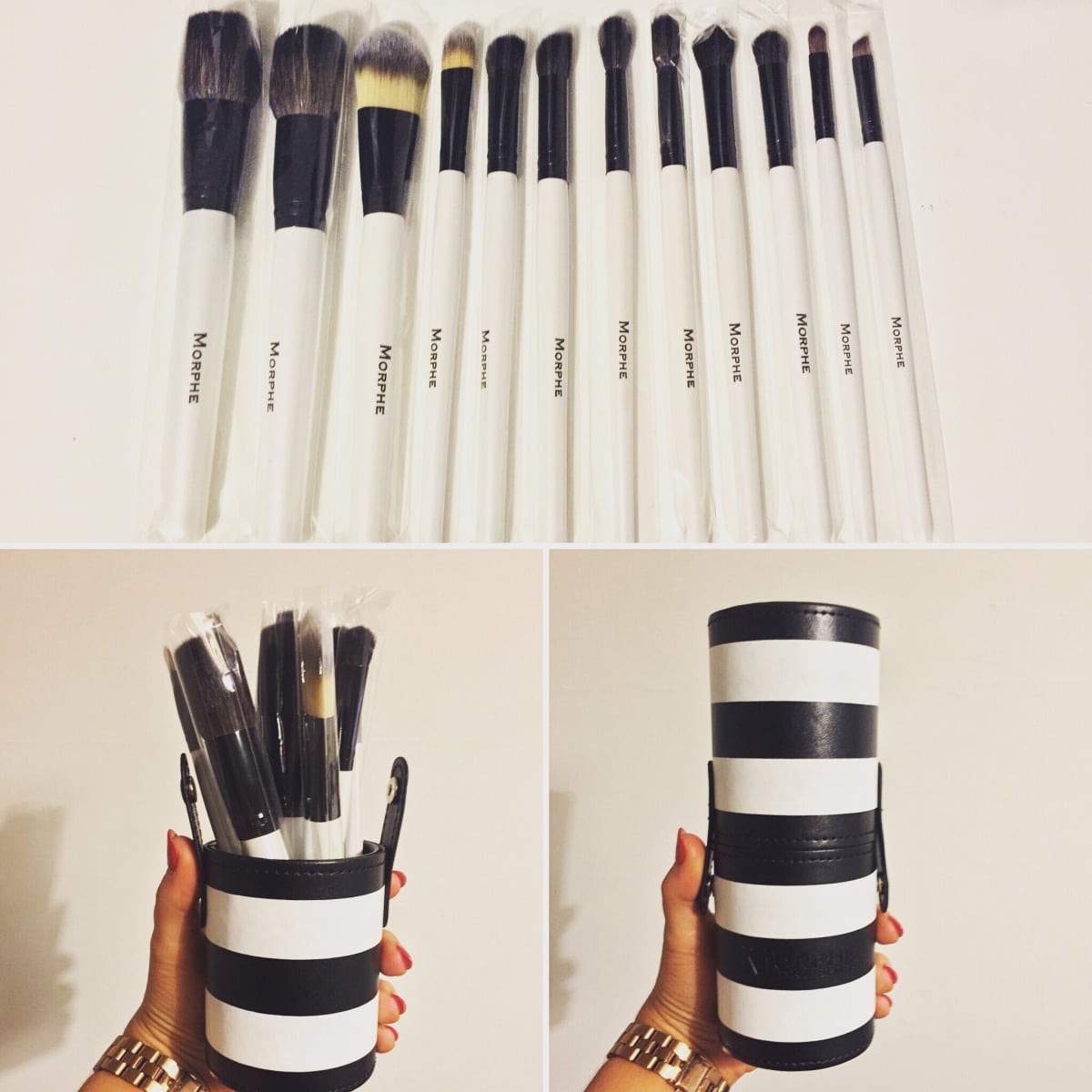 Morphe brushes are life-changing brushes that are marvelously effective and soft on your face. They are designed to deliver optimum precision and non-patchy results. Morphe Set 706 – 12 Piece Travel Set comes with a variety of brushes ranging from everyday essentials to smart tools created for specific reasons. Includes powder brush, blush brush, flat foundation brush to create custom coverage with liquid foundation, angled shadow brush, falt shadow fluff brush, blender brush, chubby shadow brush, blender fluff, detail shadow fluff to conceal problem areas, lip brush, and angle liner. More wonderfully, the set comes in a fashionable container that will not only keep the brushes organized but also make them look good on your table. Although some users find it a little coarser than alternative brands, the mitigating factor is that its density allows you have total control of them for even blending, so they wouldn't leave marks on your face.
Pros:
Makes make up application easy
No sporadic finish
Offers nearly everything you need for a glowy finish
The set is quite affordable
Cleaning is a lot easy
Perfect for travel
Beautiful and solid packaging that looks fascinating.
Cons:
The bristles may shed a tiny bit if you wash it too often.
Verdict: 
For us, this set of brushes is an ideal product choice for makeup lovers who are always on the go but can't afford to miss creating a pixel-perfect look easier than ever. We also rate it high for being a combination of high-tech materials with an innovative design yet quite affordable. Plus maintenance is easy. Although it may shed slightly, it is usually as a result of washing them too often.
Read Also: Best Facial Cleansing Brush for Women
USpicy Professional 10 Piece Oval Makeup Brushes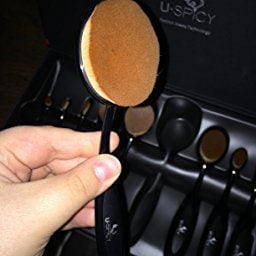 This is another set of brushes we found quite reliable, soft, dense and compact for daily need. It comes in a unique toothbrush design that has oval spoon shape. The design may look lame but each of the brushes features high-class bristles and synthetic fibre which absolutely feels nice on the skin and it is easy to blend in your products with them. Good enough, you can use the foundation brush for all foundation types. It allows you get more coverage with less product. We found that it is a lot easier to work with these brushes than some others out there. We were utterly amazed by the quality as the price is nothing compared to their quality.
Pros:
The set of brushes spreads out makeup evenly
It is a really soft brush set.
It is very well made and durable
The hair doesn't fall out
It gives a nice flawless finish
Offer a more comfortable feel when holding due to its bristles
Cleaning is a breeze
Cons:
Not everybody would love their make up brushes in a toothbrush style
The brushes are relatively fragile, thus need extra care when handling
Verdict:
We think this is the best gift idea if you are looking for something you can present to any woman that won't leave her memory in a hurry. Each of the ten brushes is multipurpose and delivers professional-grade results. Fortunately, it isn't a hassle to get them all cleaned up. For a more hassle-free cleaning, you could get this cleansing shampoo that also does the work. Moreover, we love that despite the versatility it supplies, it comes at a fair price range.
Recommended: Best Gift Sets For Her
IT Cosmetics Heavenly Luxe Buffing Airbrush Foundation Brush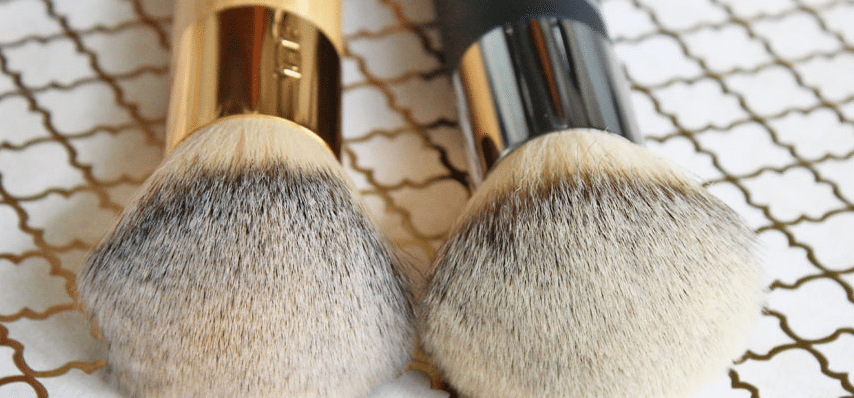 It Cosmetics has not really failed in its products and this Foundation brush doesn't come short of our idea of the manufacturer. The brush is a high-quality one that doesn't shed. What we easily fell for was the fact that it is absolutely cruelty-free.  With soft fibers that are perfectly cut, you will create high definition finish. Moreso, its ultra-softness gives a plush feel that pampers your skin. In terms of design, the brush has a big-sized rubberized handle that makes usage labour-free. The brush is quite full and suits even brushing up your face with powder or bronzer. For more definition and result, you can use alongside IT Cosmetics Jumbo sized powder brush as well as IT  Heavenly Luxe Complexion Perfection Brush.
Pros:
It is suitable for a wide range of foundation products including liquid and sticks ones.
Its nice precision cut allows you to effortlessly give your face a full coverage.
Gives you an airbrush finish.
Good quality which means no shedding
Smoothens out the face evenly and perfectly
Creates space in your bag
Produces a massaging effect against the skin
Cons:
Can only be used for airbrush application.
Some may find it a little pricier than other alternatives
Verdict:
This brush gives you the face you want on the go without taking up storage space in your bag or table. It gives you perfect airbrushed-finish without any tingles. And cleaning? That's without a hassle.
Read: Best Curling Wands for a Lux Hairstyle
Bare Escentuals Maximum Coverage Concealer Brush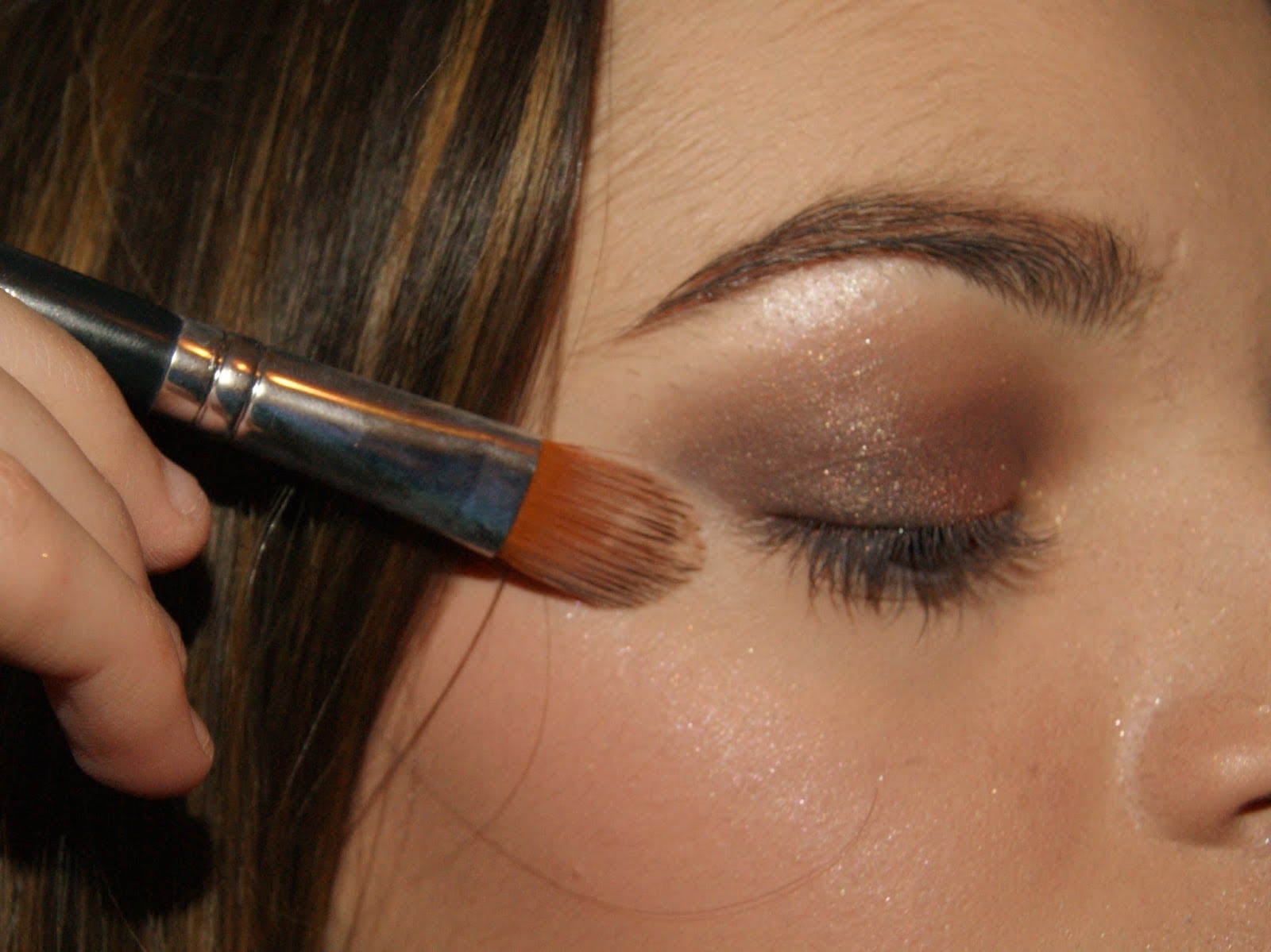 Bare Escentuals brushes are made to expertly blend in makeup so it's no wonder that this concealer brush provides maximum coverage for scars, blemishes and more.  Made with synthetic fibers, the concealer brush holds more concealer for fast and easy cover-ups. What we think is major is its durability since no splitting or shedding. Yet is soft and tender against the skin.The fibers are also stretched to really thin, flexible lengths to reach tight corners of your nose and eyes. This means absolute victory over any imperfection. In addition, it has a wide base to enable you effortlessly smooth out flaws without stress. Meanwhile, the brush can blend not just concealers but also foundations, moisturizers among other things.
Pros:
Provides invisible coverage
It is a super durable build.
Creates instant and lasting result.
It is versatile and can be used to create different effects.
It is very comfortable to work with especially around the eye.
It is easy to maneuver around the under-eye circles, blemishes, fine lines and other no-so-pretty spots.
Gives smooth application
It is affordable
Cons:
Not the longest brush on the list
Verdict:
This Bare Escentuals concealer brush is excellent for blending. With enough bristles,  guarantees a precise, firm, even stroke that is ideal for a flawless line and is easy to use. If you need a change of concealer brush and result matters more to you than length, then you might want to consider this brush. It has enough bristles and gives a smooth application.
Too Faced Kabuki Women's Makeup Brush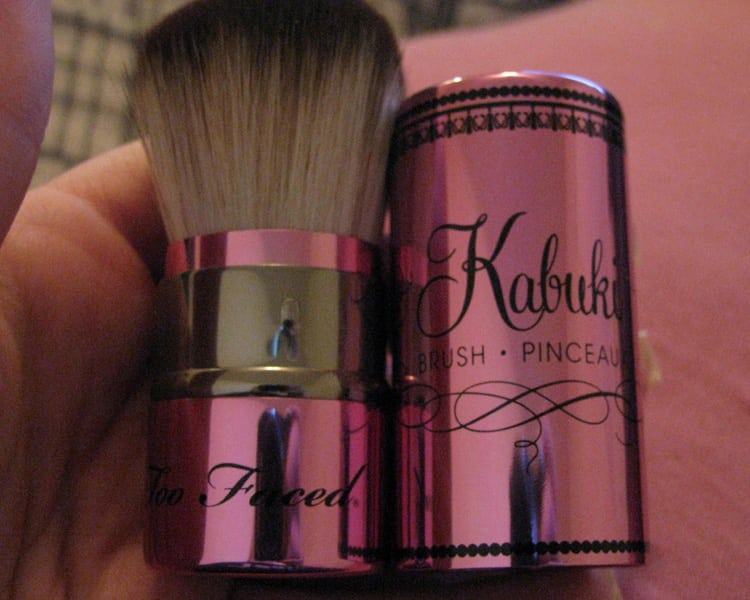 All of the Too Faced Kabuki Brushes are frankly excellent, and this portable one is among them thanks to its ultra-soft bristles and round head for perfect powder application. The brush is small enough for travel and the teddy bear hair bristles are exceptionally fine quality. The bristles grab and blend color like a pro without putting you through hygienic concerns. This is mostly because they clean up easily and don't frail like some. We fell in love with the brush's colorful design. Most of us have gotten used to plain designs, so having this bright design creates all the magic. Overall, it gets the work done and brush delivers precise and complete creative control.
Pros:
It is travel-friendly
Offers creative flawless finish
It allows for easy controlled application
It is light and fluffy
It is ultra-soft and effective
No bristles shedding or splitting
Cons:
It costs a little higher than some.
Verdict:
This is a great brush as long as powder application, materials, durability, and portability go. More on the wins, it gives you results that exceed one you'd expect from popular professional brands. Its reputation for quality has quickly made it a common choice among passionate makeup artists. even though it is not the cheapest we found, we were intrigued by the value it presents.
Don't Miss: Best Deodorant For Women Who Want to Stay Fresh All Day
Guerlain Meteorites Powder Brush Pinceau Poudre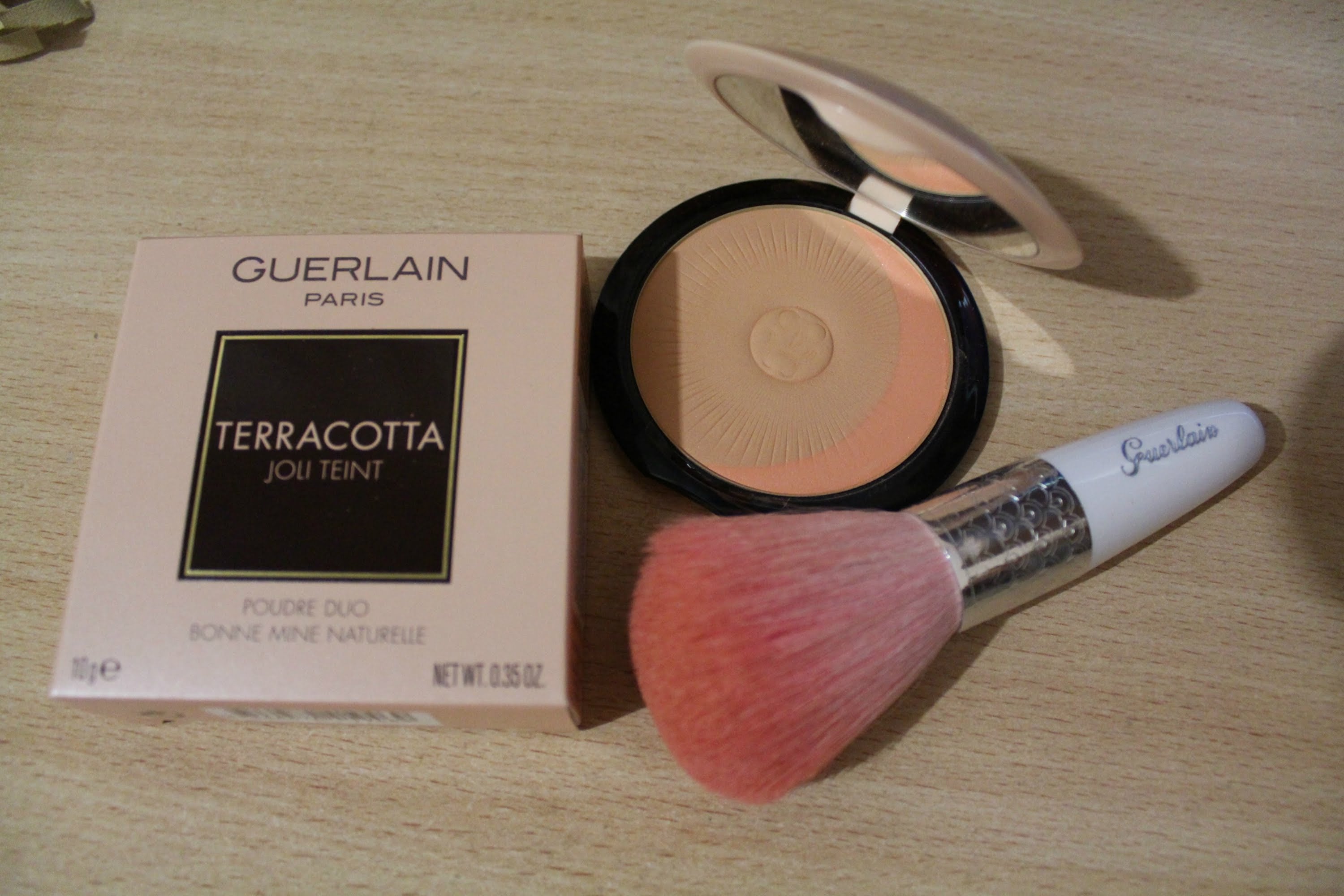 As well as being the nicest-looking brush on the list in terms of design, this Guerlain powder brush is cruelty-free and gives a precise result. Using it means using less product and getting a more even, natural-looking finish than you would with some other product. The brush is designed to make using quality tools accessible to everyone. It can be used for the application of blush, bronzer, and other powders. The bristles are long and soft which is easy to use and comfortable.
Additionally, the fine fibers ensure you get a more natural result. Apart from that, the brush gives you precision when you apply your powder. It is designed to blend different shades of meteorites powders like Guerlain Meteorites Light Revealing Pearls of Powder and Guerlain Meteorites Compact Revealing Powder into different color harmonies, which creates a genuine veil of protection. Overall, this is a brush you can trust for a flawless finish.
Pros:
Gives you even natural result not a blob of colour
Picks just enough product at a time
Easy to use
It is comfortable to hold
Perfect for all users including beginners
It has a fascinating design
The pearl, white handle is a bliss to hold.
Cons:
Verdict:
This fanciful Guerlain brush is ideal for buffing If you are tired with makeup finish that looks horribly awry.Consider getting Guerlain Meteorites Light Revealing Pearls of Powder and Guerlain Meteorites Compact Revealing Powder for a completely flawless finish.