Long pixie cuts are ageless, classy hairstyles that are longer than the normal pixie cut; being traditionally shorter at the back and long in front, and have been worn by women of all ages. These long pixie haircuts, depending on their style are further categorized into thin hair long pixie cut, chubby face long pixie cut, thick hair long pixie cut, long layered long pixie cut, low maintenance long pixie haircut, long pixie bob, long pixie with bangs and long pixie undercut.
The long pixie hairstyle is easy to make, wear and maintain and it is perfect for women who want to cut their hair and still look effortlessly feminine. The haircut is also popular because it has a range of versatility that can be adapted to suit any face or body. There are several long pixie cuts that you can choose from and if you're having a bit of confusion on which style to choose, we have suggested 45 long pixie cuts from which you can make a choice.
Thin Hair Long Pixie Cut
Thin hair long pixie cut is a trendy and classy pixie hairstyle for women who have thin hair. The hairstyle is unique because it can be versatile and will fit into the modern-day woman's look. The hairstyle is further categorized into the following styles below.
1. Low Maintenance Long Pixie Bob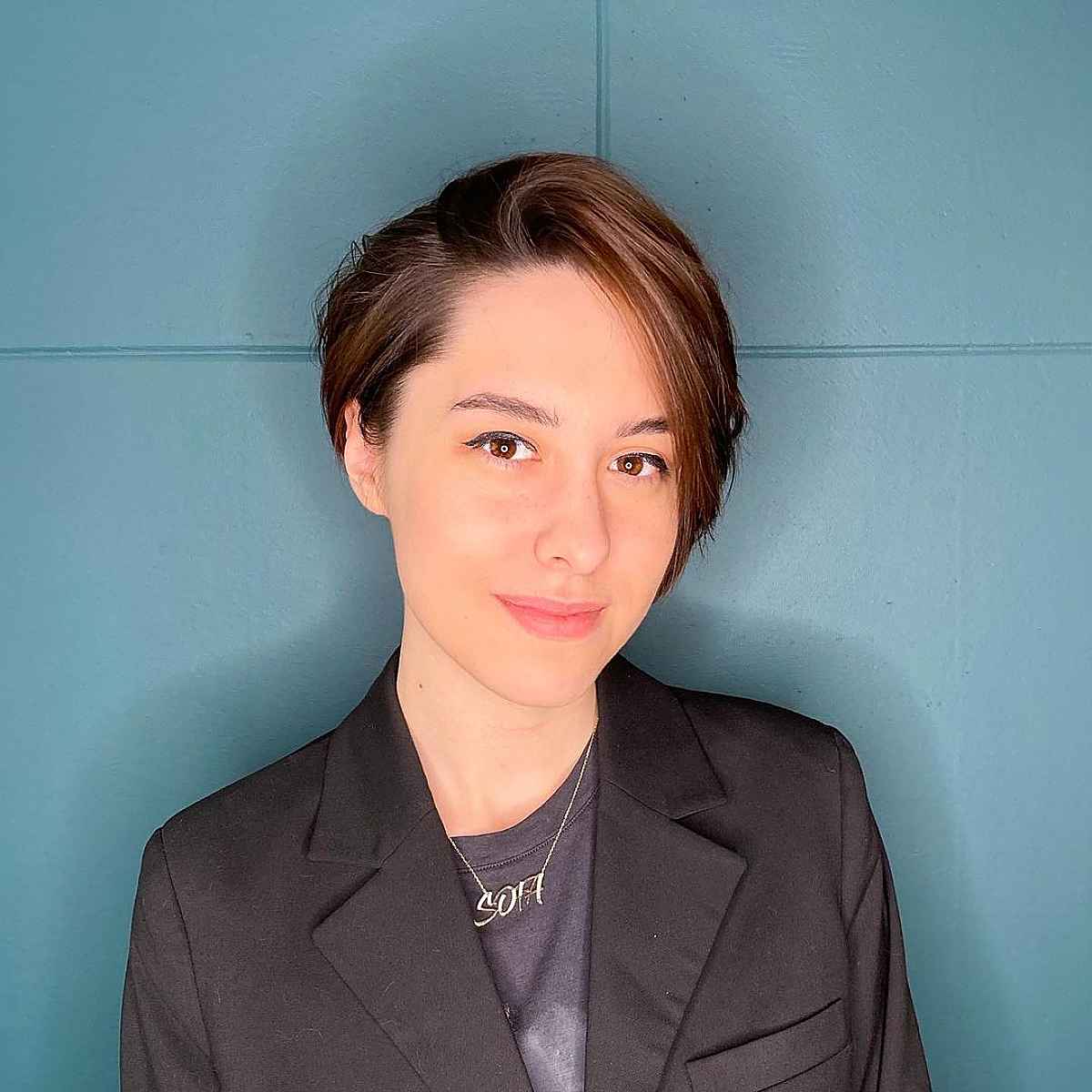 A low-maintenance long pixie bob is the perfect choice to make when you wish to display that natural hair. It is the choice pixie haircut for people that have long natural hair but want a haircut that will be low maintenance. It brings out the features of your face while you will still appear as feminine as ever. You can apply hair spray from time to time but this haircut can never ever go out of fashion. It is a good fit for ladies with round faces.
2. Asymmetrical Silver Pixie Bob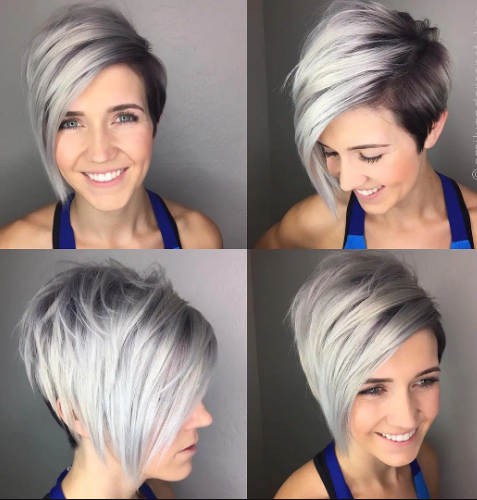 The Asymmetrical Silver Pixie-Bob is a gray pixie bob that is designed with a side-swept fringe. This gives you a smooth asymmetrical look and the combinations make for great viewing. The unique thing about this style is that you will look completely ageless when you opt for this fine pixie bob haircut. The silver highlights can be made even better if you're naturally blonde.
3. Tapered Pixie Bob with Ash Blonde Highlights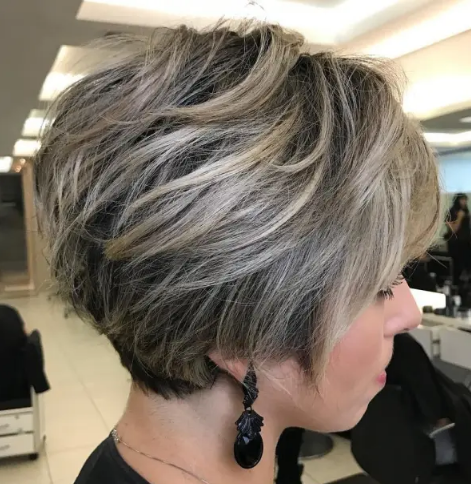 The tapered pixie bob haircut will give you an awesome pixie haircut that has been tapered to one side and then complimented with an ash blond-colored highlight. The soft feathering makes it an interesting impression that will please the sight of any observer. Ladies that want to hide the shape of their head can choose this and look trendy without much effort.
4. Long Sleek Undercut Pixie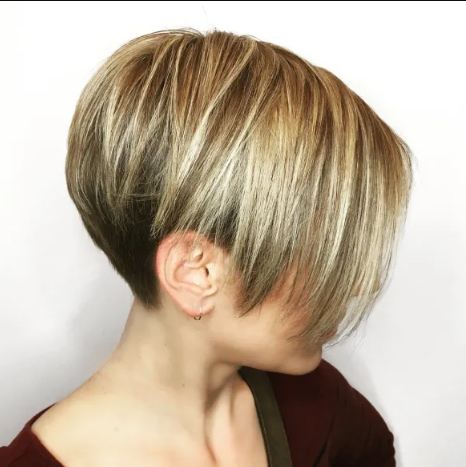 The long sleek undercut pixie is a show stopper and a show-off haircut for ladies that are fashionistas. This pixie cut will be great for people who want to draw attention to their cheekbones. The cut is done to have shiny honey blond layers that are perfect for people that love showing off their fine hair. Never underestimate the effect that a good hair spray can do on this hairstyle.
5. Two-Tone Long Blonde Pixie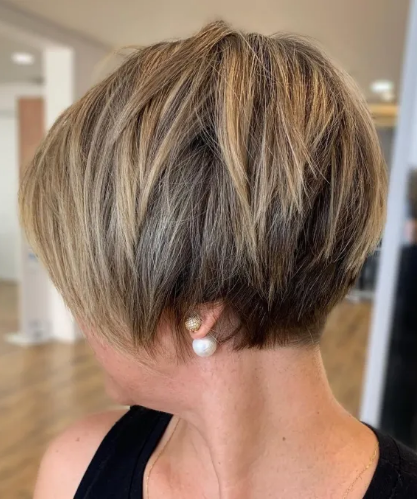 The two-tone long blonde pixie haircut does not really discriminate against any type of hair. This pixie cut is perfect for people that have short hair and gives you that modern look like a lady. You can finish the look with display bangs and highlights to personalize it and make you look like the boss lady you are despite coming short in the hair department. Age is not a limitation for this wonderful hairstyle.
Chubby Face Long Pixie Cut
These are hairstyles for ladies with chubby faces. This haircut style is all about bringing massive attention to that face with a hairstyle that makes a fashion statement. The hairstyle will make the seemingly big features of your face seem smaller just by the way the style is arranged. The hair is categorized into the following styles as listed below.
6. Long Inverted Pixie Bob Haircut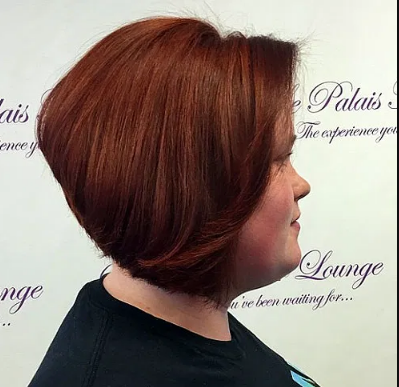 If you have a chubby face, getting along inverted pixie bob hairstyle can make you look stylish, trendy, and in sync with the latest fashion trend in town. The hair is inverted and given a proper highlight, most preferably brown. This style is relatively high maintenance but it's a good one due to its texture and pattern. This is the perfect hair for ladies with long natural hair and is not restricted to any age and chubby-faced ladies
7. The Beautiful Extended Pixie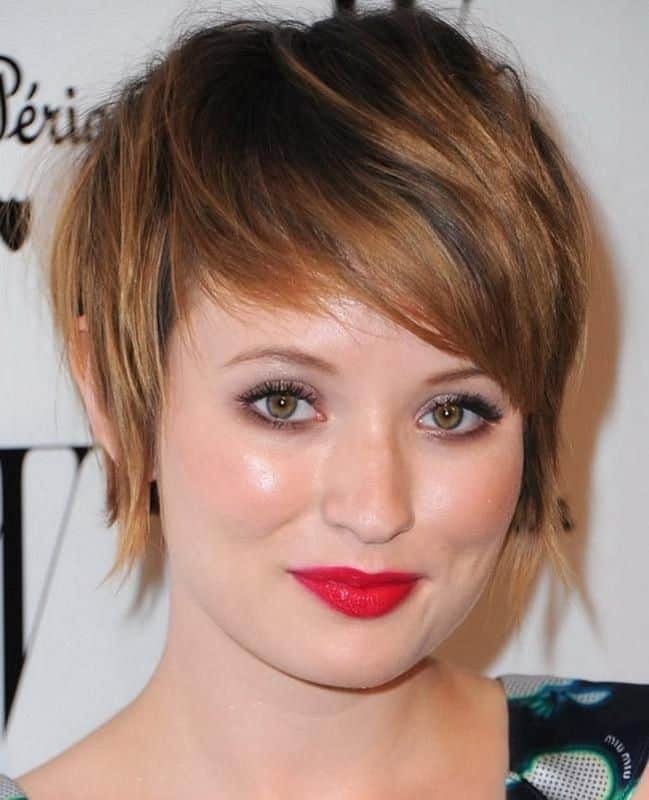 The extended pixie is a cheeky hairstyle and is a trendy one for ladies in recent times. The cut resembles a bob that can be styled to fall over the face in such a way that points attention to your face. The hairstyle is perfect for ladies with round chubby faces and can look astonishing in brown highlights.
8. Ear Length Long Pixie Bob Cut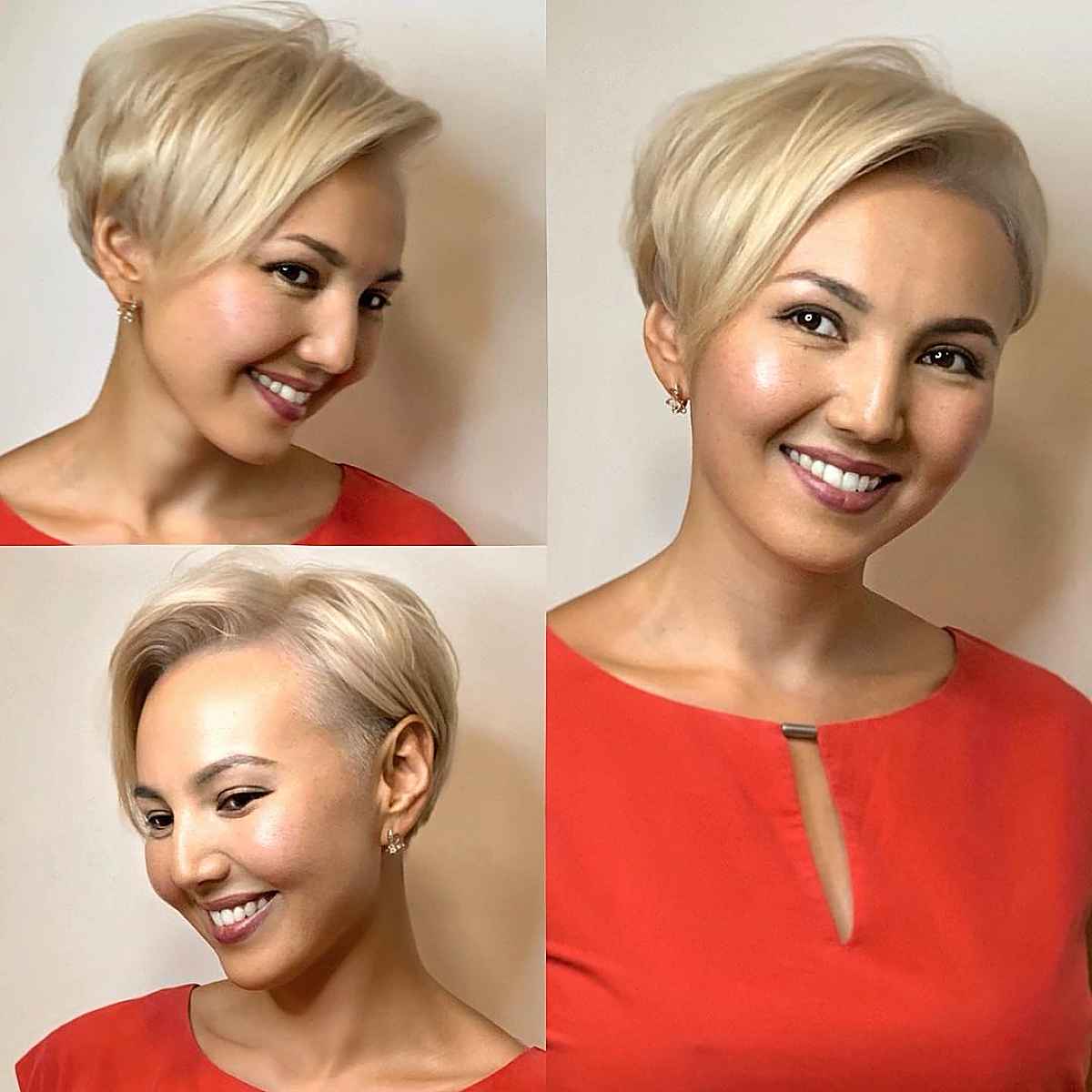 The ear-length long pixie bob is a perfect pixie haircut for women who want to keep their ears fairly concealed. The hair is structured softly around the ear and gives out a feminine look that makes you bold. Choosing this hairstyle means that you won't let that little imperfection ruin your opportunity to look good and classy. This is good for ladies with heart-shaped faces.
9. Rock'n'Roll Long Pixie Haircut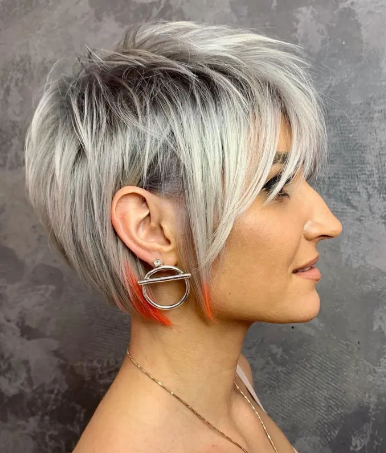 This is a haircut that gets you in that party mood. The rock 'n' roll pixie haircut is cut to be edgy with short and long layers to produce the desired effect. You can then add the silver highlights to make it dramatic and attractive. The hair is beautiful and will be a perfect fit for fashion-conscious ladies of all ages.
Pixie haircuts are an ageless style that most people have started embracing in tune with the latest fashion. You can select a perfect haircut that suits you and rock that pixie haircut with pride and elegance.
10. Textured Pixie Cut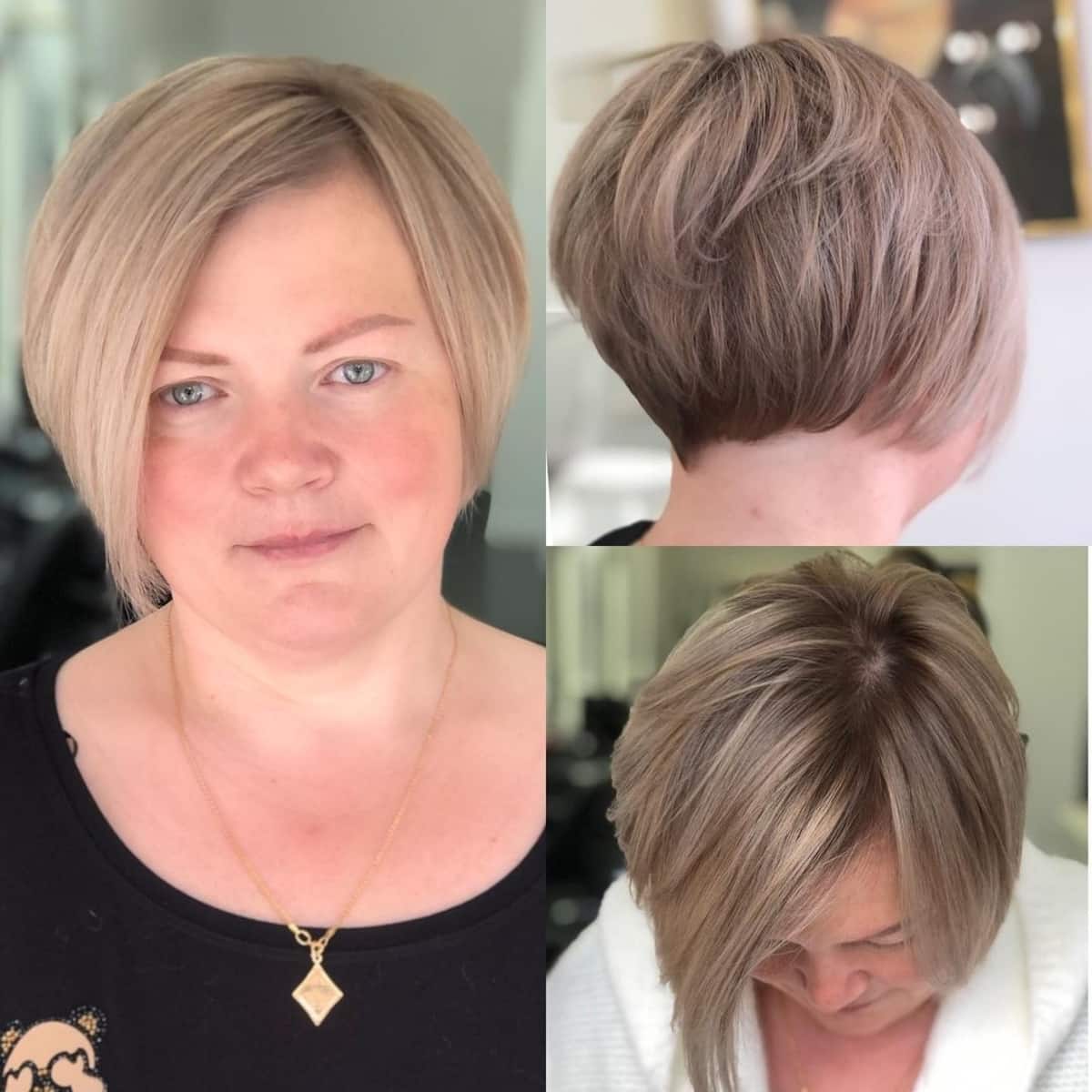 A textured pixie cut is achieved in several ways by varying the texture of several choppy layers. It can be used to add more volume and make your hair look thicker even when they're soft. This will be a great fit for ladies that have fine hair. The hair looks relatively undone from a distance and this makes it perfect for a casual look. The hair is good for round-faced ladies and gives them the advantage to play the face card.
11. Wavy Balayage Pixie Cuts
Not every pixie cut is about strict symmetry and crisp edges. Try a more feminine approach by leaving the hair longer than usual. Play with some asymmetry by making the front longer than the back. Stylish balayage can be a nice way to give the hairstyle a uniquely radiant touch.
There is a perfect hairstyle for every lady and you can choose the one that suits you favorably. Make a decision and rock that beautiful hairstyle with grace and we hope to have aided your journey to infinite class.
Thick Hair Long Pixie Cut
Opting for a thick long pixie cut is an indication that you want to be bold with showing off your long thick hair. Thick hair often provides more layers that you can use to style it to your satisfaction. The hair can be made to be spiky or feathery as long as you're good with the style. The hairstyle is characterized into the following hairstyles:
12. Crisp Long Feathered Pixie Cut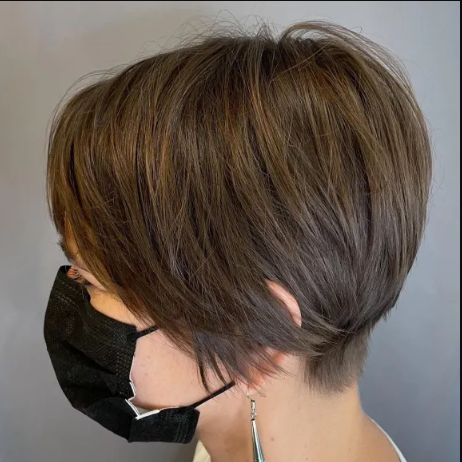 The Crisp Long Feathered Pixie cut is another show-off scheme for ladies with long hair. This is sure to give you a more feminine look with that long feathered pixie cut that can suit any type of hair length that you have. You can then proceed to make the hair in whichever style you wish it to look like. This hairstyle can be suitable for ladies of all ages and can even roll back the years as well. So, older ladies can leverage the style to look younger.
13. Black Women Pixie Haircut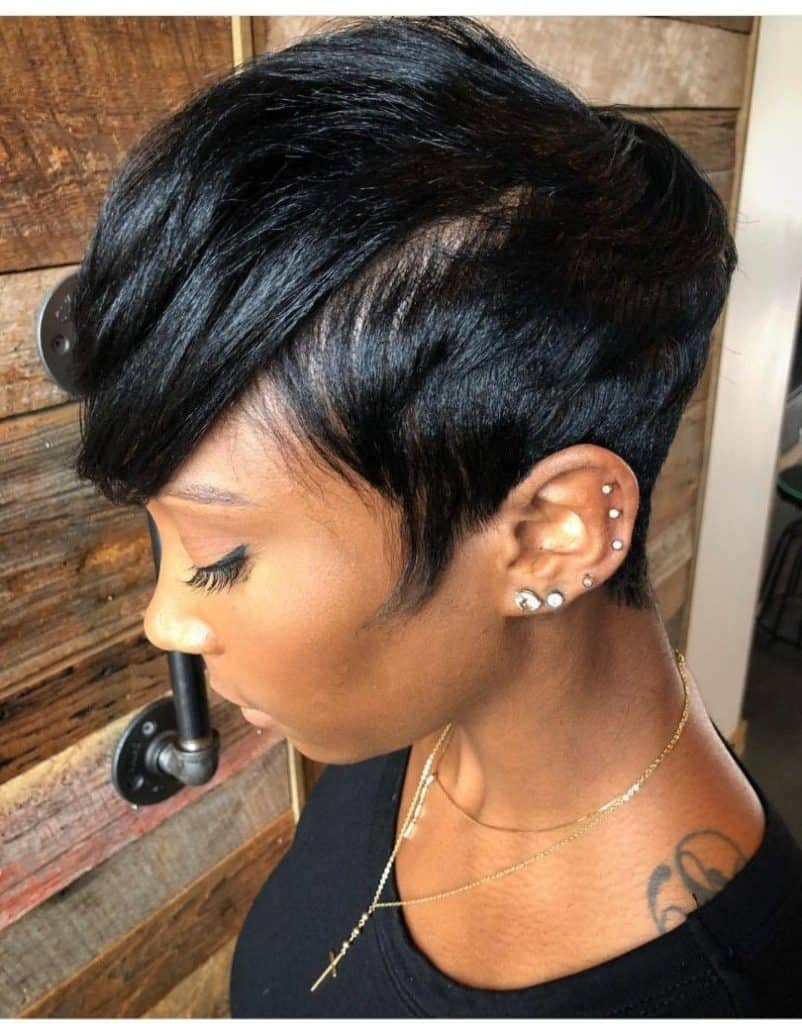 Black women can choose from a good number of options such as the big chop with a small pixie if you want to show off your thick natural hair. You can also go for a pixie look with a wig after braiding your natural hair. The pixie haircut for black women can complement the various face types and make them beautiful. The hair is suitable for all black women with natural hair. You can ask your hairdresser for styles that suit you more.
14. Mowhawk Pixie Haircut for Fine Hair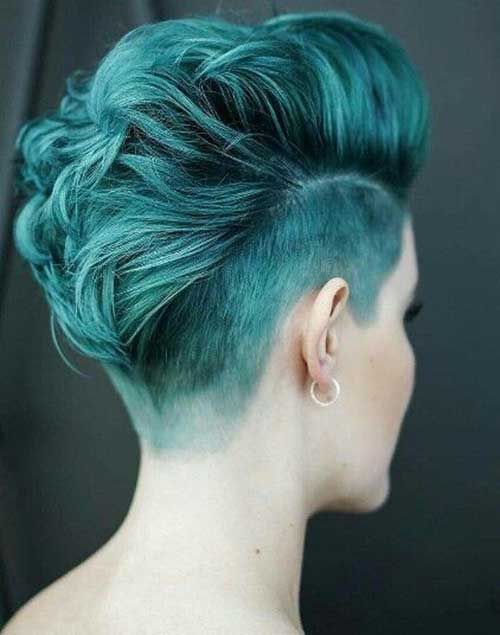 Mowhawk pixie cuts are in a different class of uniqueness entirely. It is often not too hard to pull off this hairstyle, the only challenge is for you to give the hair more texture plus a lift in the middle so that it stands out significantly. There are options for you to show off your pretty mohawk pixie hair and it can be as simple as shaving the sides of the head, carving them intricately, coloring them differently from the mohawk itself, or coloring the entire hair in a bright color as shown above. Your options are totally unlimited.
15. Shaggy Pixie Haircut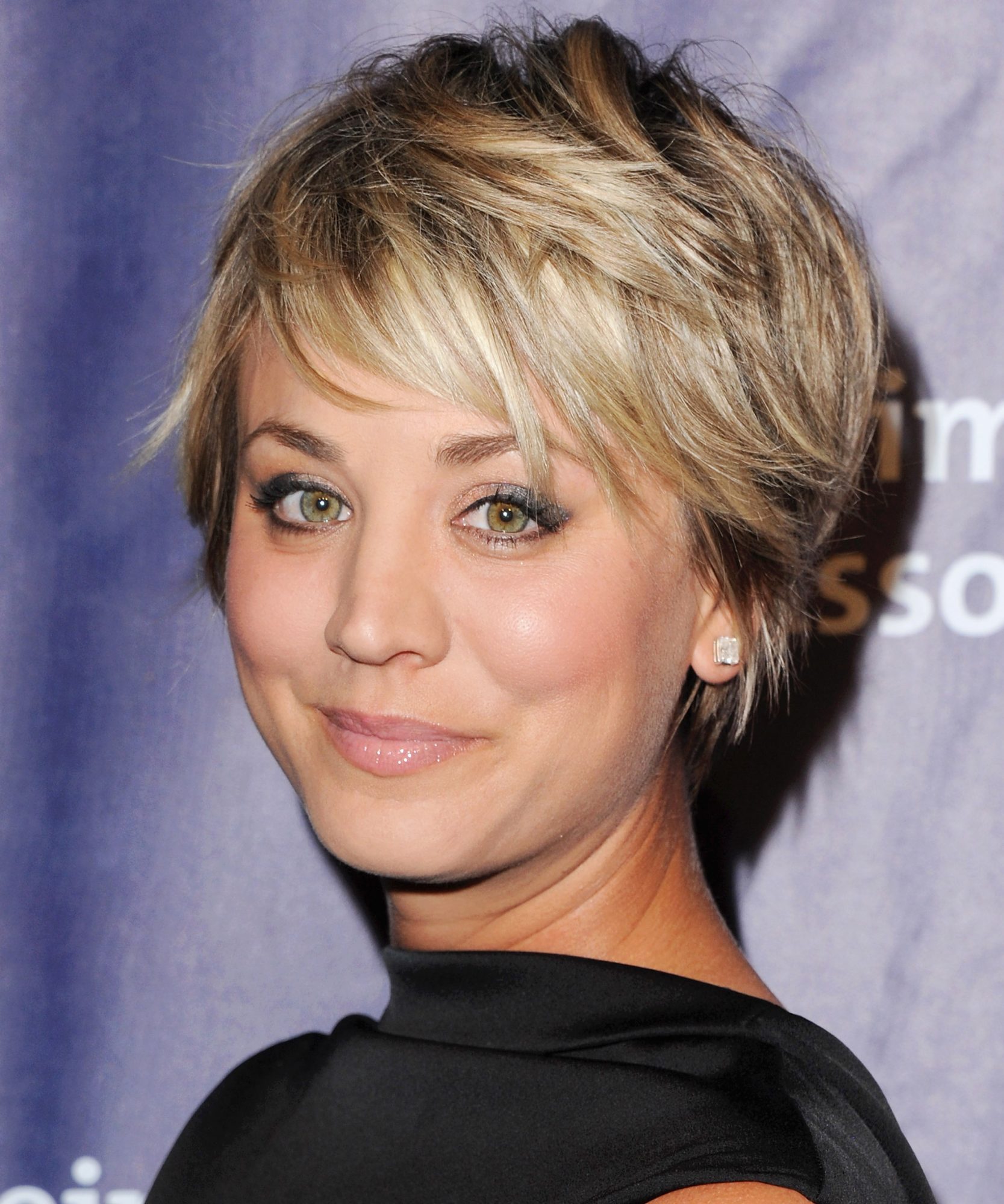 This pixie cut brings choppy ends with layers and volumes and layers standing at the crown. This is an old-school hairstyle and will roll down the years. The hairstyle is perfect for ladies that have long and thick natural hair preferably with a round face. There are options for you to choose highlights in case your hair is not naturally blonde.
16. Silver Pixie Cut
For tan or slightly olive skin tones, a dash of bright silver color can do wonders in terms of flattering your natural complexion. Deeply side-swept bangs help to give the hair more height and create a more voluminous body. Parting one side is optional, although it helps to give your hair some flattering contrasts.
Long Layered Long Pixie Cut
The long layered long pixie haircut is characterized by its long layers that align the side of the face. This is a trendy pixie hair fashion that is used to make things interesting, highlighting the face of the person wearing it. The hair is distinctly layered and in some cases given highlights to make it interesting. The hair has the following varieties of hairstyles as listed below.
17. Thick Pixie with Long Layered Bangs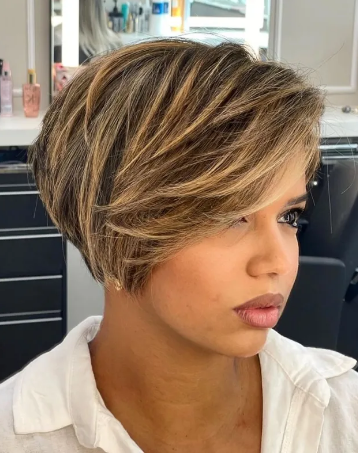 One thing that is good about the thick pixie with long layered bangs is that it flatters your full hair and then brings out that feminine look as well. The sides are thick and layered yet bring out your face despite having much more hair than is required. Young ladies will rock this one more although it's suitable for all ages.
18. Pixie with Long Highlighted Layers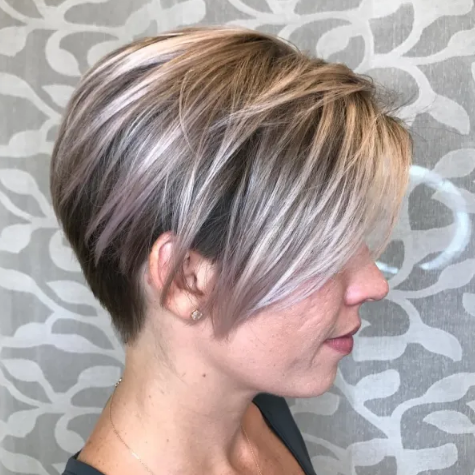 The pixie with highlighted layers is not meant for ladies that are not bold with their looks. This pixie cut consists of long layers that cover a neat undercut with silver and light pinkish highlights to make it a beauty. This makes it suitable for those that want to display their beautiful natural hair. You can tell your hairstylist to add a bit of hair on the scalp for an improved effect on the look.
19. Layered Pixie Cut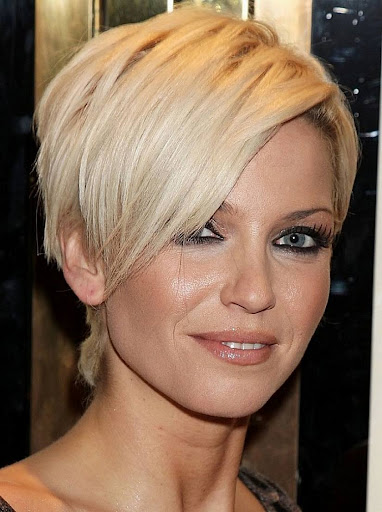 This airy and fun hairdo features lots of texture and dimensions that can be achieved by layering the hair and tousling the strands to give it a naturally windswept look. Layering it through the ends and giving it a bit of radiance by adding golden highlights results in a look that can be both classy and fun.
20. Long Layered Rounded Pixie Cut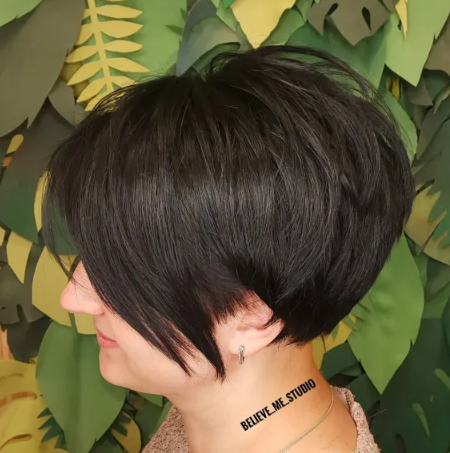 This long layered rounded pixie haircut is for those that have more natural hair and is rounded to complement the scalp. The look flatters the face and is feminine, fresh, yet trendy, and gives you that classy bold look. This pixie haircut is perfect for ladies of all ages and can be made perfect by adding more hair to the layers.
Low Maintenance Long Pixie Haircut
Low maintenance long pixie bob is a good cut for ladies with long tresses that want it to be low maintenance. This brings out your face and cheekbone in a manner that fits the hair volume. Just like the name, the hair is easier and cheaper to maintain than most pixie haircuts. This is a perfect hairstyle for people with round faces but not for those with chubby cheeks. The hairstyles under this category include the following:
21. Platinum Blonde Pixie and Bob Combo
The difference between a pixie cut and a bob could be the length of the hair. Pairing the two can result in a wonderful combination that will bring out the best of both hairstyles. This platinum pixie cut and short bob combination feature an uneven cut that leaves longer bangs at the temples and a shorter cut towards the back. The layered locks feature wonderful dimensions, thanks to a dark under shave.
22. Neat Long Pixie Cuts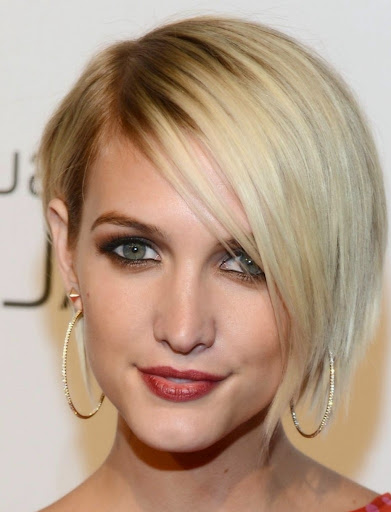 If you love to wear it neat then this is the look for you. This stylish pixie cut looks girly but can be just as classy as any hairdo. It features an angled, slightly-swept fringe that adds asymmetry to the look and keeps it fresh and versatile. You can choose to keep it glossy or simply use a styling product for a unique finish.
23. Effortless Long Pixie Cut
Cute, simple, and easy to pull off, this neat pixie haircut is perfect for framing your feminine facial features. The cut is simple but cute and neat enough to pass off this look as classy with a touch of fun. Radiant coloring leaves the lengthy pixie cut with a beautiful gradient with darker roots and a lustrous golden body.
24. Low-Profile Long Pixie Cuts
Keep it simple with this easy-to-pull-off pixie cut. The volume of the hair takes off the androgynous edge of the hairstyle and gives the face a flattering frame. The textured appearance of the locks can be achieved using a number of styling products. It makes the hair appear thicker and more adventurous.
25. Fiery Red Pixie Cut
One of the perks of rocking a long pixie cut is that you get a wonderful frame that beautifully accentuates your feminine features. Keep the hair full of layers so as to get more natural textures and a stylish finish. The auburn locks also feature a subtle asymmetrical appeal brought on by one side being worn longer than the other.
26. Messy Pixie Cut with Long Bangs
If you are looking to give your hair more natural angles and textures, try giving your pixie cut some character by combining stylish curling with a touch of tousling to give the locks a unique texture. Sweeping the fringe to one side of the face is a sexy touch that can make your pixie hairdo unique and stylish.
27. Lush Curly Pixie Cuts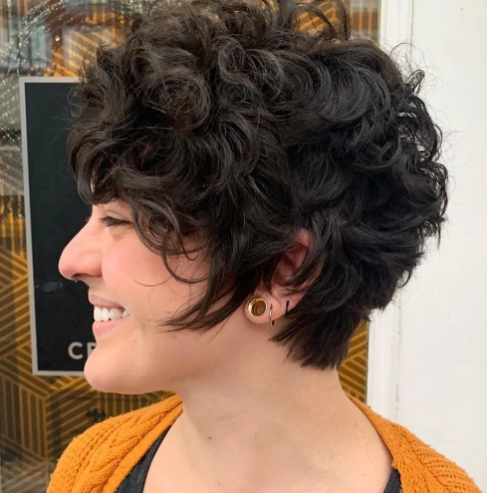 Versatile, chic and very unique, this pixie cut is all about curls, textures, and contrast. Cropping the sides short helps to accentuate the bold curls on top. To make it even more creative, lustrous gold highlights have been thrown into the mix.
Long Pixie Bob
A pixie bob haircut gives you that sassy look that presents the elegant appearance of your beautiful hair. It's a go-to look for classy ladies that wish to show off. Choosing to make Long pixie haircuts means that you have enough hair to display and pixie is the perfect fit to make that happen.
28. Layered Long Pixie Bob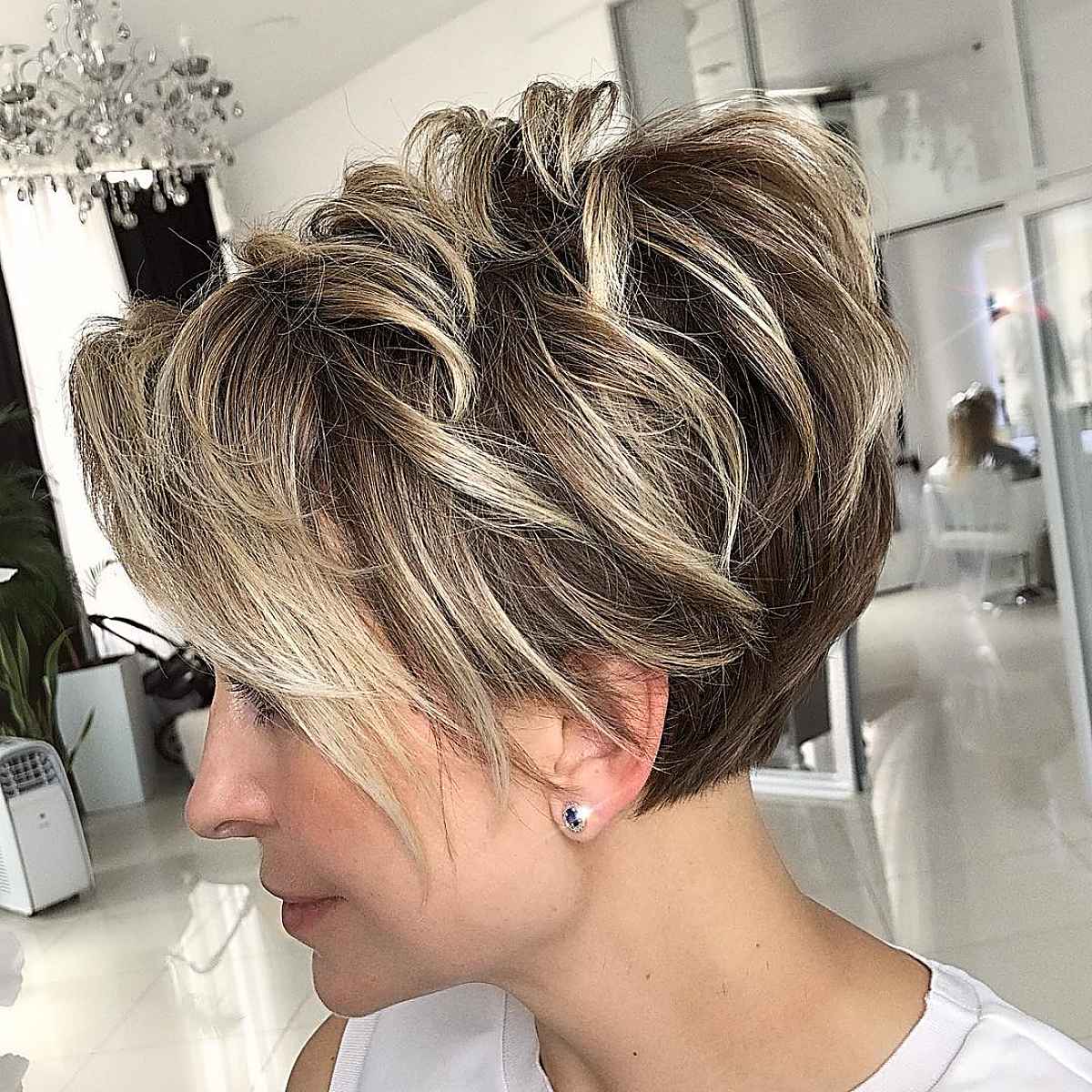 Getting layered long pixie bob as a hairstyle is majorly for people with full hair seeking that elegant and timeless look. This will be perfect for women that have thick tresses and need to add space and movement to their hair. Long layers should be long enough for you to create a natural bounce that will have you being the cynosure of all eyes. You can ask your hairdresser to add some more hair if you need extra layers. This hairstyle is a good fit for ladies with long faces.
29. Long Pixie Bob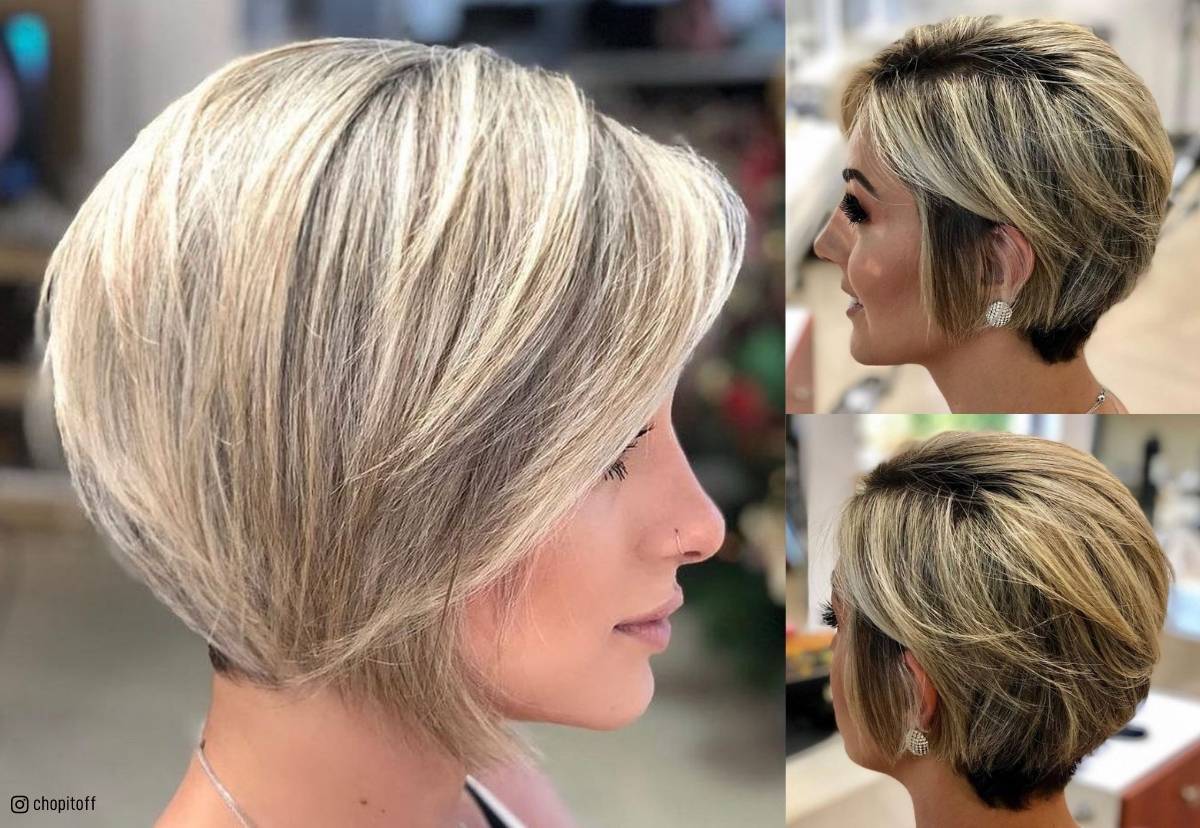 The long pixie bob haircut is the hair to choose when you want to add more hair volume with your haircut. This hair is the perfect hairstyle that you can rock when you have long natural hair to show off. This cut permits lots of hair movement and texture on the tresses. You can do some styling to top it off and then add a little spray to make the hair fresh.
30. Lixie Bob Hairstyle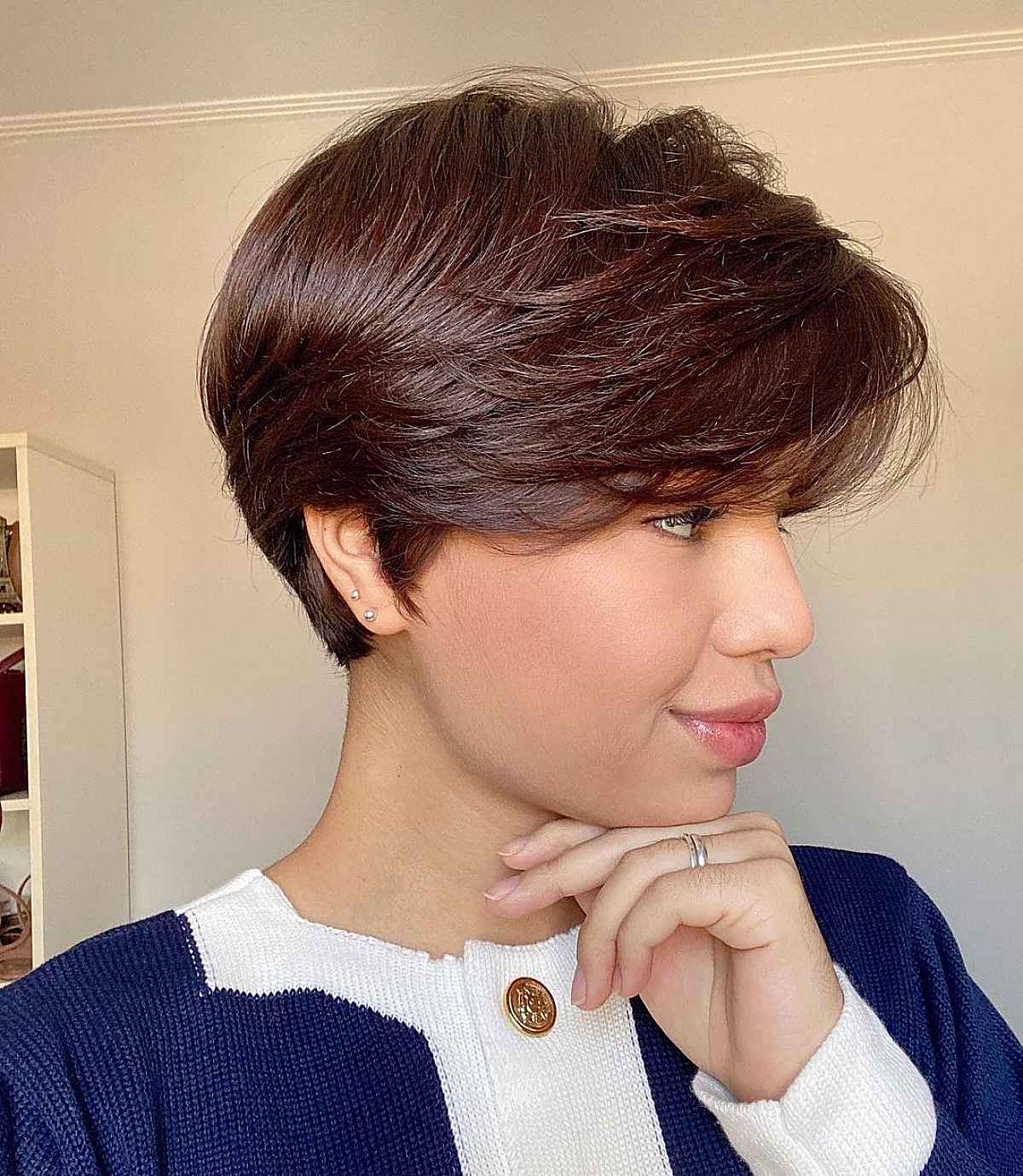 The Lixie Bob hairstyle is a trendy and modern look for ladies that like to be updated with the latest fashion. This haircut can be suitable for all types of hair while the product will make your hair appear thicker. The beauty of the hairstyle is that it can suit anyone as long as there's enough hair to create the lixie for the front and the sides.
31. Long Wavy Pixie Bob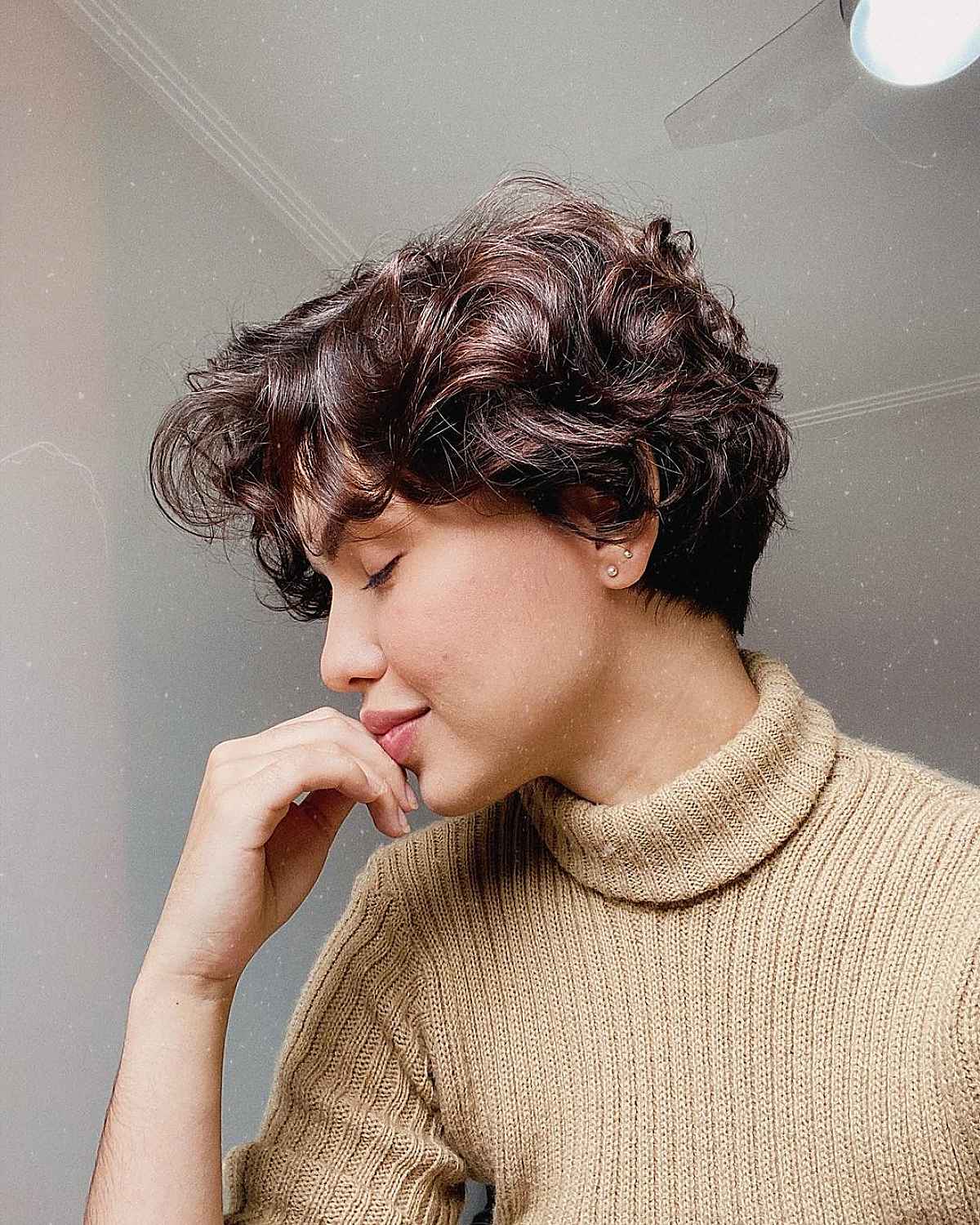 This is a fresh wavy haircut that is suitable for all styles. It is a great fit for women with fine wavy hair. You may have to blow-dry the hair to accentuate the waves. This long pixie cut will look best when there is a moderate amount of hair oil applied to it to bring out its shine. Aside from that, the style is low maintenace.
32. Long Pixie Undercut Bob for Thick Hair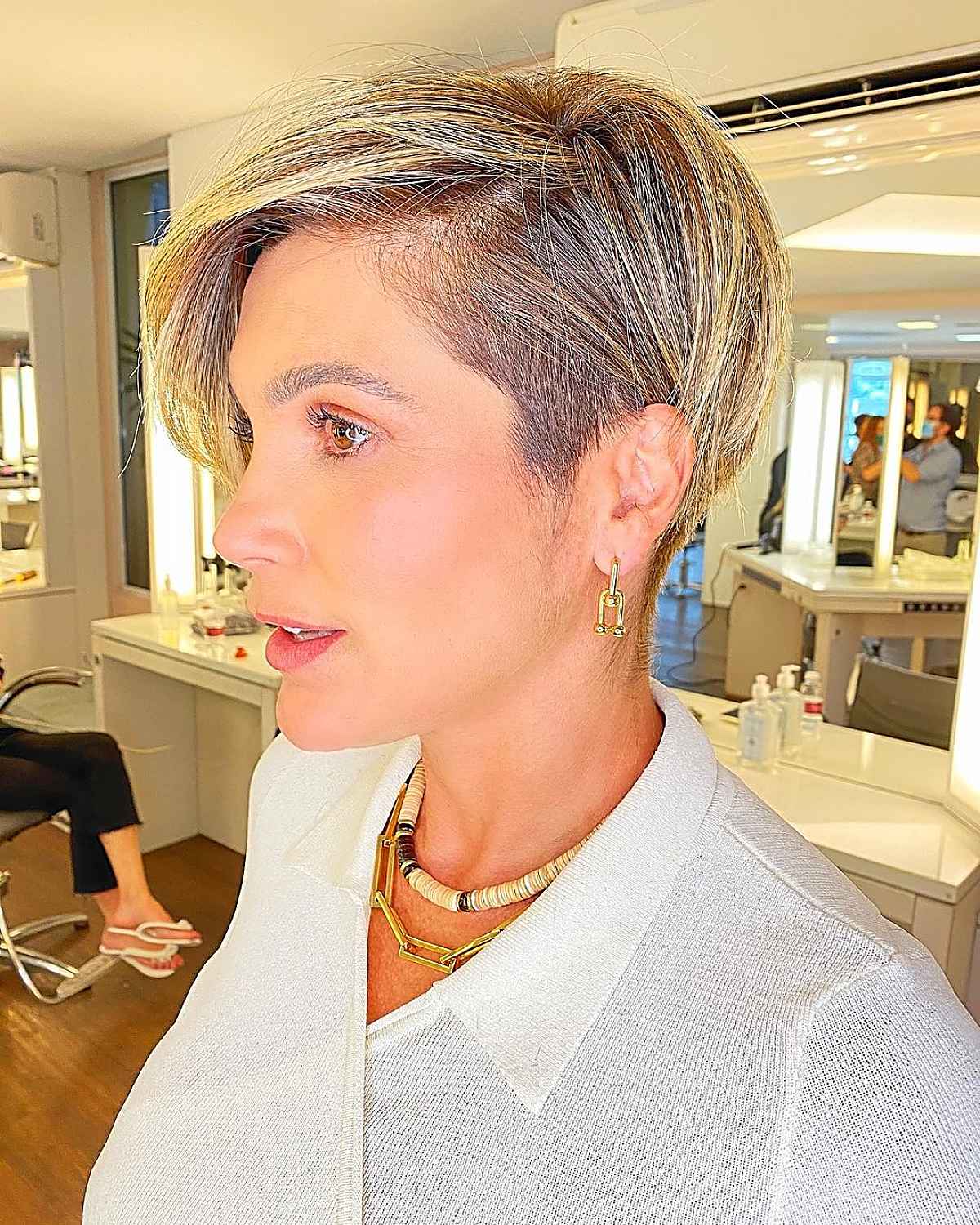 The long pixie undercut bob is that ageless hairstyle that you need if you are thrilled by modern fashion and want to follow the trends. Ladies with thick hair will appreciate this hairstyle because the cut is bold and edgy and can help you reduce your hair weight. The cut will leave lesser hair but a good surface that will promote steady growth. It's also easy to style and looks really good in blonde. This would be perfect for older ladies.
33. Long Choppy Pixie Bob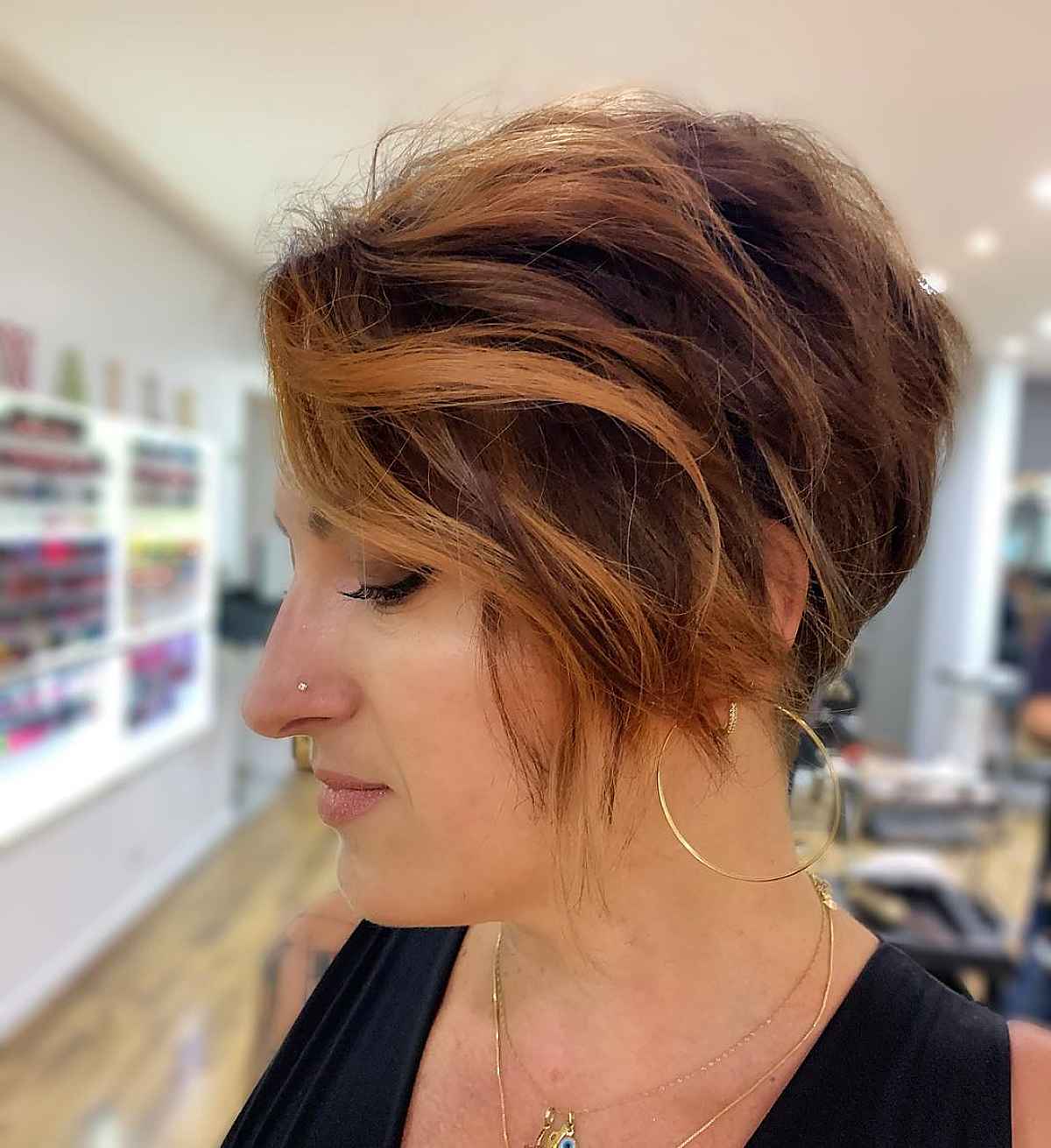 The long choppy pixie bob is a bold and edgy yet feminine finish for a haircut. The choppy ends of the hair will provide the necessary texture and volume for hairs that are susceptible to being flat. The choppy finish is good for ladies that want to bring out their faces and complement their long natural hair. The hairstyle can be a great fit for ladies of all ages.
34. Messy Pixie Bob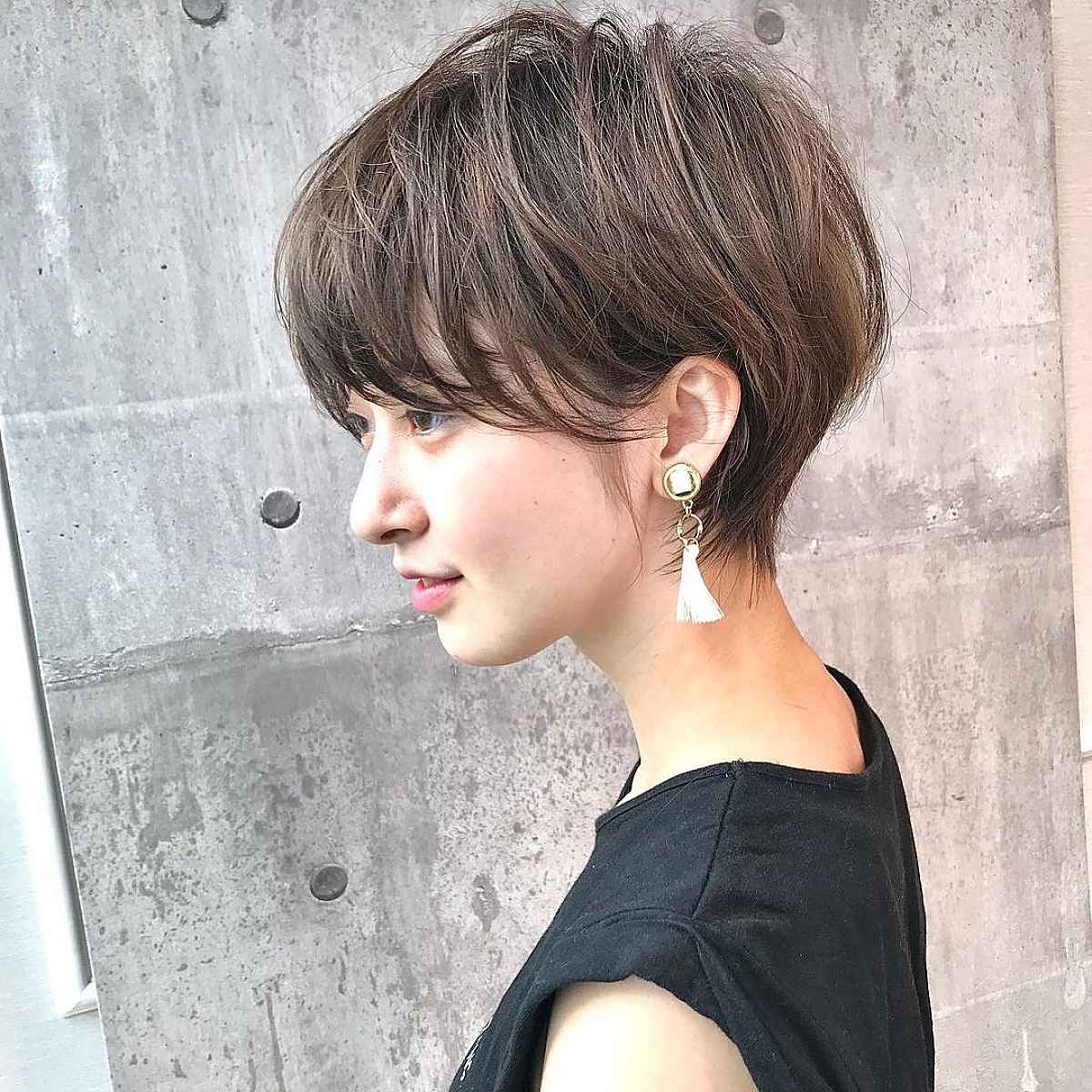 The messy pixie bob haircut is the type of hair that looks beautiful even when prepared to be messy. This is a haircut that can be styled in so many ways. Just like the name, the arrangement of the hair is made to be messy and forward to create a balanced finish. It's suitable for ladies of all ages.
Long Pixie with Bangs
Long pixie haircuts with bangs are becoming the trendy fashion for ladies that love pixie hairstyles. The hairstyle is all about elegance in a way that most hairstyles would not bring to you. The long pixie has a variety of haircuts as listed below:
35. Dark Brown Pixie with Long Bangs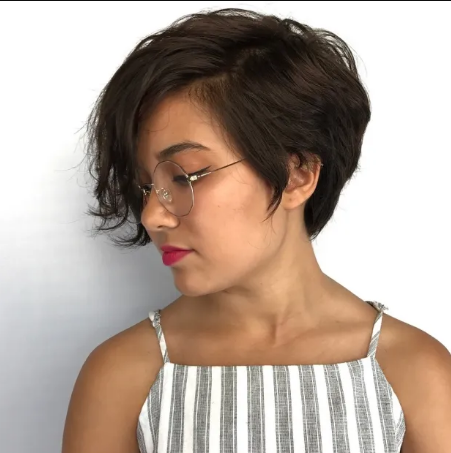 The dark brown pixie with long bangs is a variety hairstyle for ladies that love making the best out of their natural hair. This pixie cut is a perfect hairstyle if you have that face card that you want people to see. There's a short side and a long front that brings attention to your face and you play it however you wish. You can create diagonal lines with the hair to elongate your face.
36. Edgy Pixie Bob with Long Bangs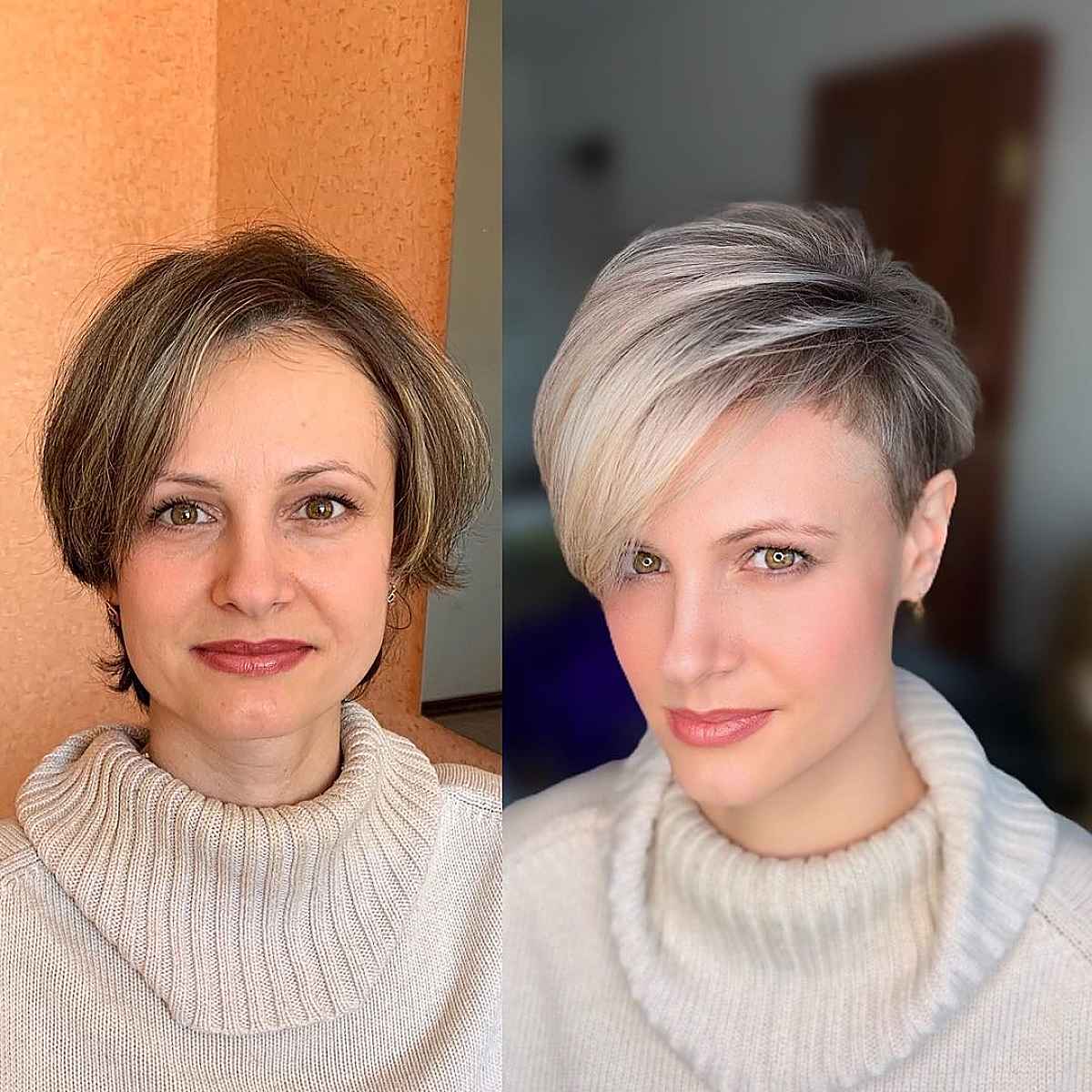 The edgy pixie haircut is a flexible hairstyle for people that are open-minded about their fashion and their looks. This is a perfect hairstyle for ladies with wavy hair. The style can fit almost any face and will give you a facelift that will draw attention to you. You can choose the hair color that will give you that satisfactory look with this hairstyle.
37.  Long Pixie Bob with Bangs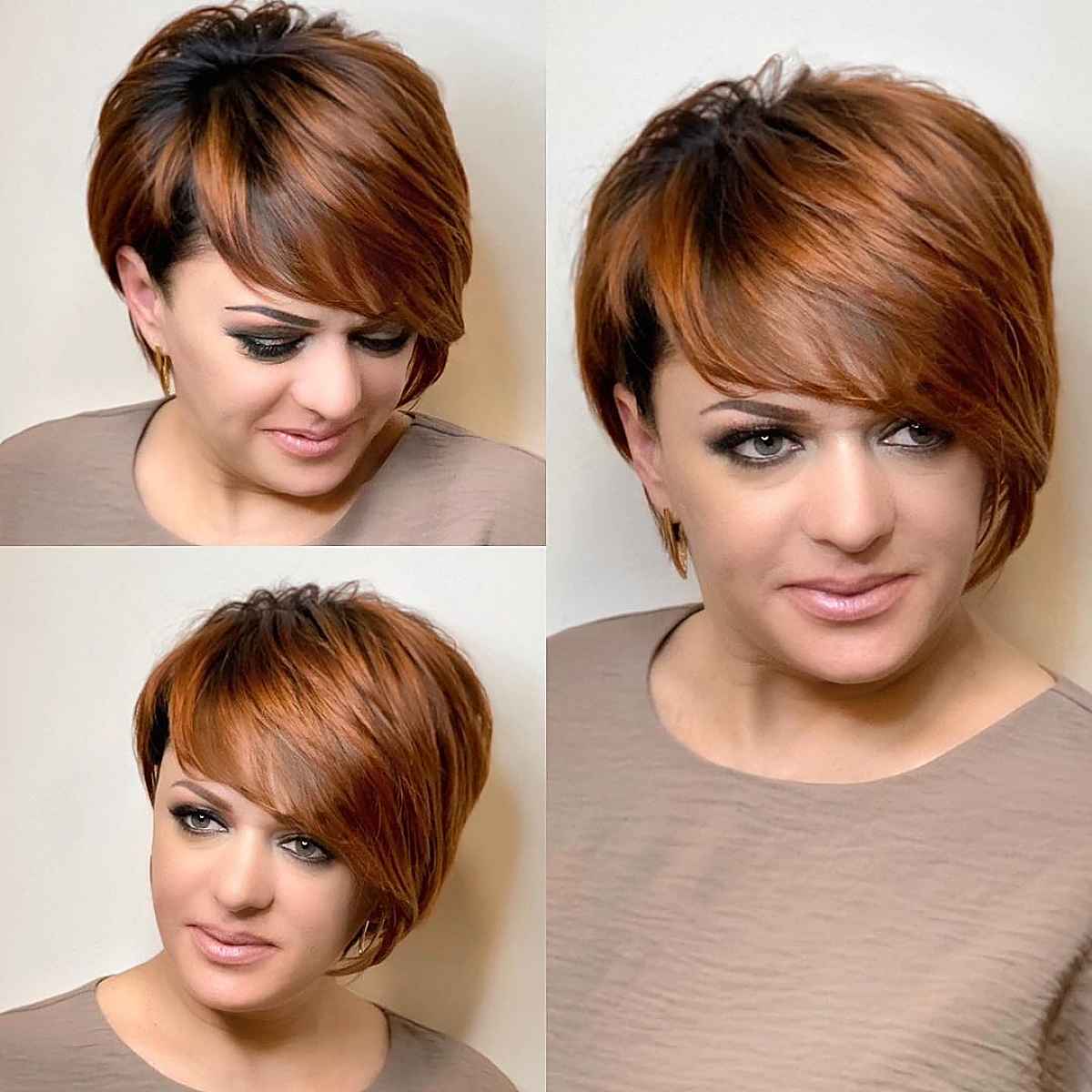 This long pixie bob with bangs gives the wearer attention to her eyes concealing the shape of her forehead while accentuating her face. This is suitable for women who have marks or wrinkles to conceal and it cuts on any hair texture. The manner in which the haircut is used means that it's not restricted to ladies of any age bracket.
38. Tapered Pixie with Long Bangs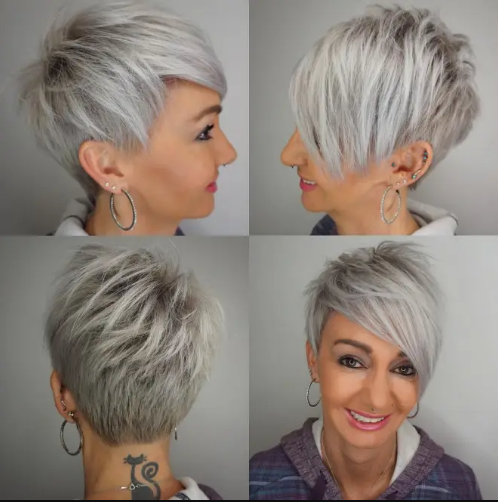 The tapered pixie with long bangs is one of the most unique pixie cuts that enables you in a perfect way to rock that blonde hair this fashion season. This awesome pixie cut can be side swept with wispy bangs to make it more pronounced and attractive when being looked at. This can be suitable for women with thin hair and naturally blonde in color and for any age so far as you have the hair type.
39. Silver Choppy Pixie with Long Bangs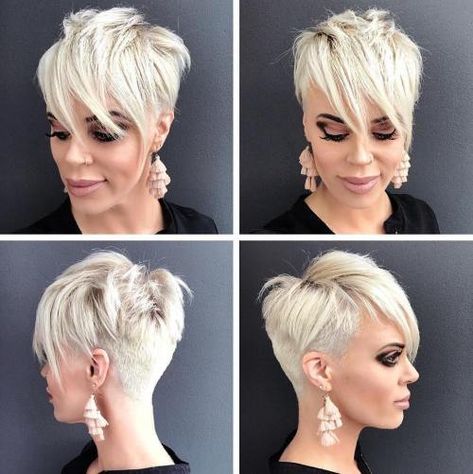 The silver choppy pixie with long bangs is another timeless pixie hairstyle for modern-day ladies. This style looks so modern and appears cute considering the silver choppy color of the hanging pixie cut. Older ladies are likely to love the look and how it makes them look trendy. You can ask your hairstylist for options to use for coloring but silver seems to be the best that makes the hairstyle look catchy and attractive.
40. Platinum Pixie Cut with Long Bangs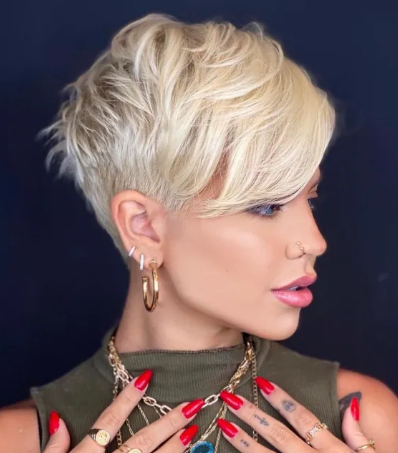 The platinum pixie cut is an asymmetrical pixie cut that is designed in a pure sparkling platinum blonde hair color. The long bangs are made to showcase the texture of the hair and the perfect asymmetrical layers that come with it. The hair is fine and soft and has cropped sides making it suitable for ladies of all ages.
Long Pixie Undercut
Long Pixie undercut is another stylish haircut where the back or the sides are shaved with a disconnection from the short hair that remains on top. This is great for fashionistas that want to turn up the style. The great thing about this haircut is that you can rock it for any occasion. The long pixie undercut is perfect for all occasions and it's a trendy hairstyle. The hairstyles under this hairstyle include:
41. Undercut Pixie Hair With Cute Bangs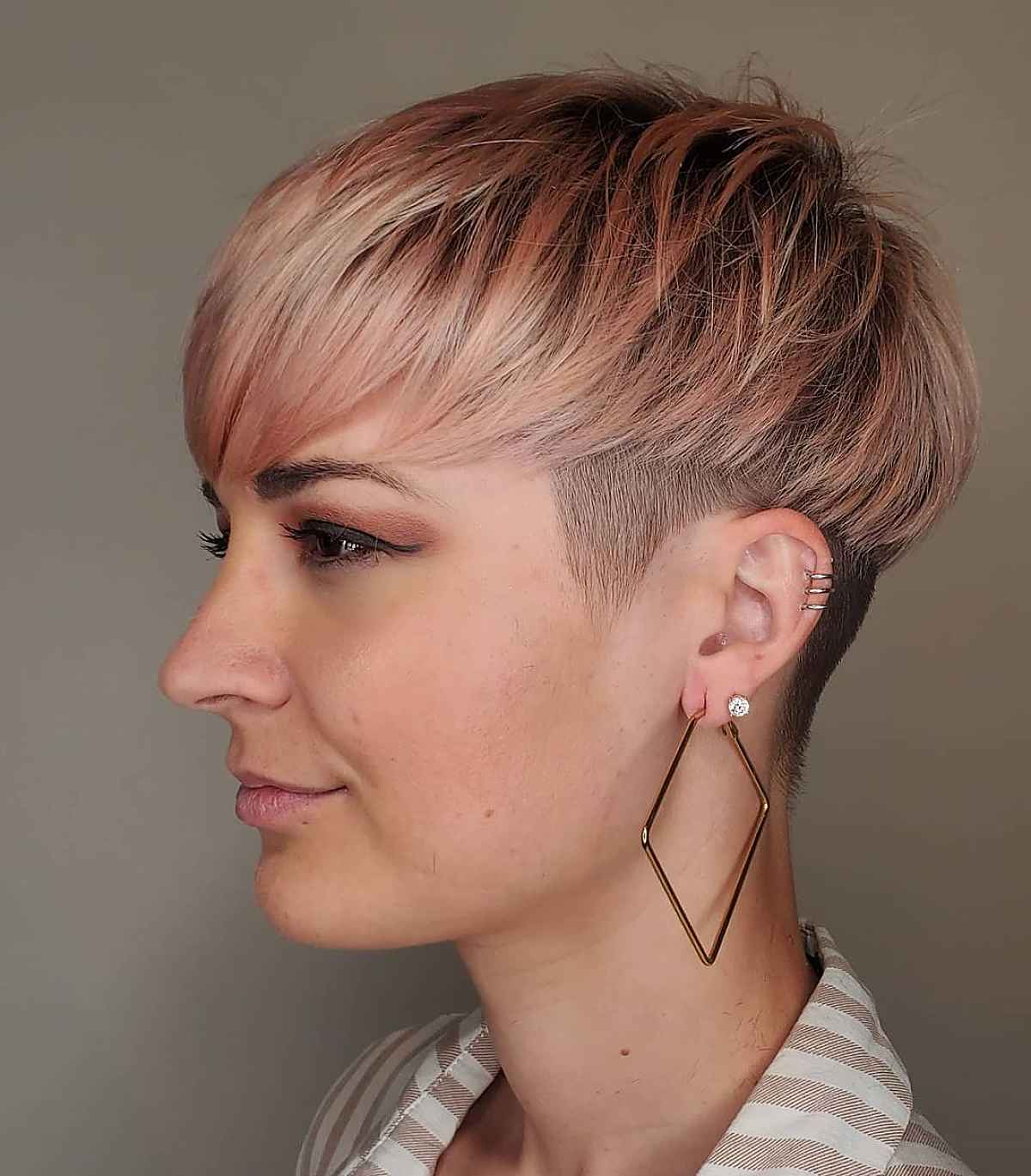 The undercut pixie hair gives your hair more style, giving you that ageless look that ladies love. You can make this happen by giving the hair an undercut with a bold and rebellious vibe that will bang. You can make the pixie hair longer on top so that you can style it to taste. The undercut pixie hair is suitable for ladies of all ages.
42. Pixie Cut Faux Hawk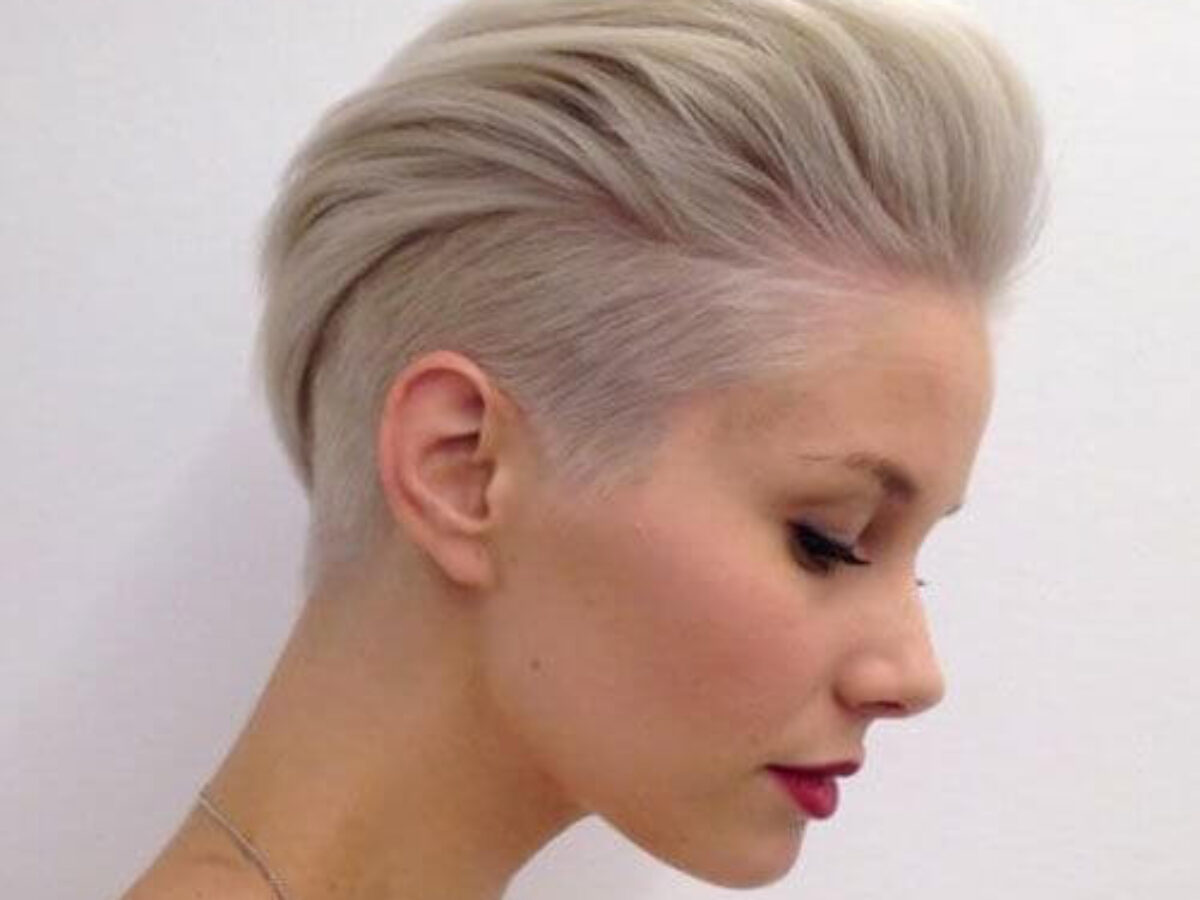 The pixie faux hawk is a bold pixie cut for anyone and is a good style for ladies that have a long pixie cut. The style will only mean that you're not ready to cut down the hair but style it instead. The hair can be perfect for ladies that want to groom their hair with a style that is trendy and fashionable.
43. Asymmetrical Pixie Undercut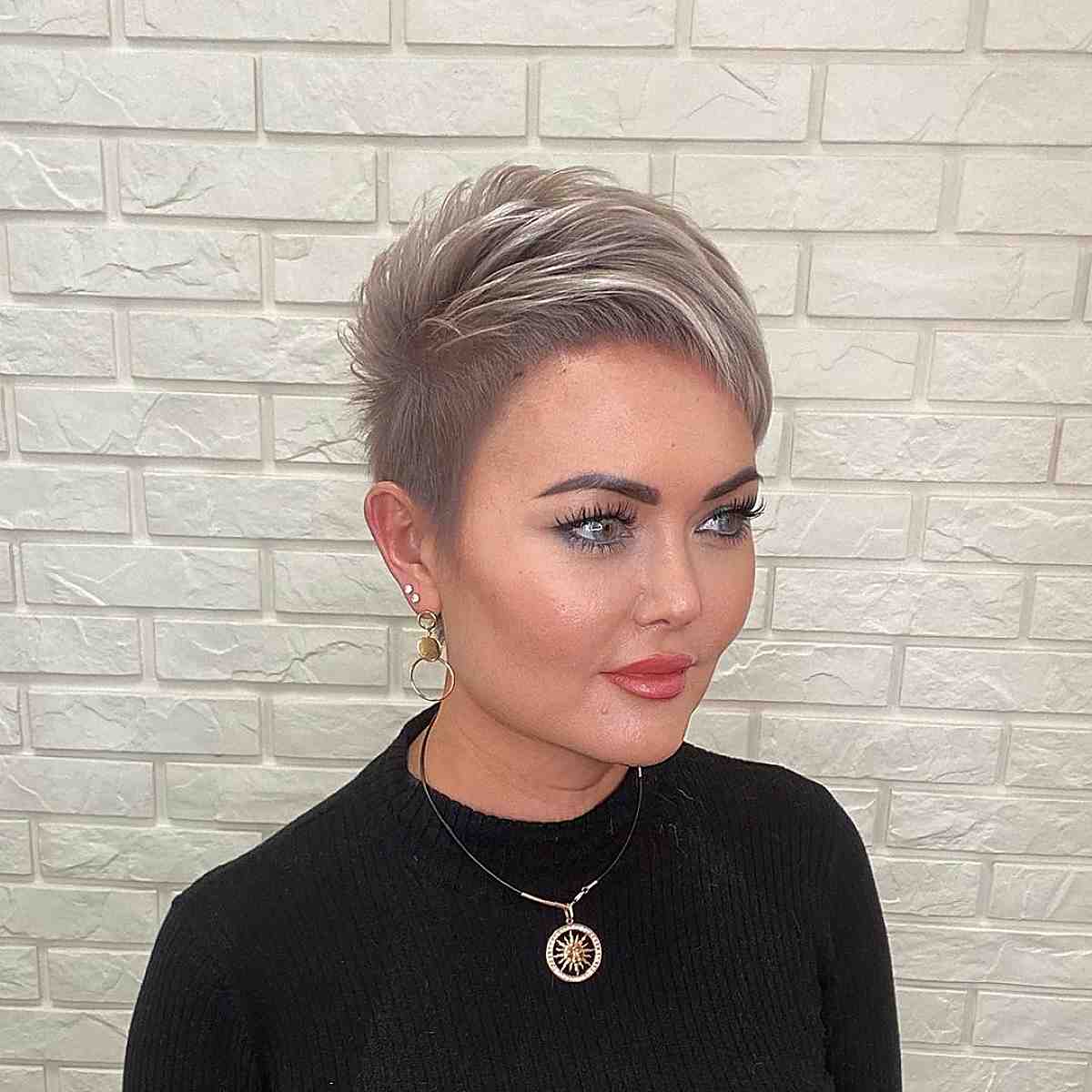 The Asymmetrical pixie undercut is a stylish haircut that sharpens the surfaces of your face. It reveals your features and aids to sell that face card so well. This can be a fashion statement for any lady in 2022 and can be suitable for all occasions. The haircut can be best applied to round-faced ladies of all ages. You can even decide to add silver highlights rather than the traditional all-blonde hair color.
44. Undercut Pixie Bob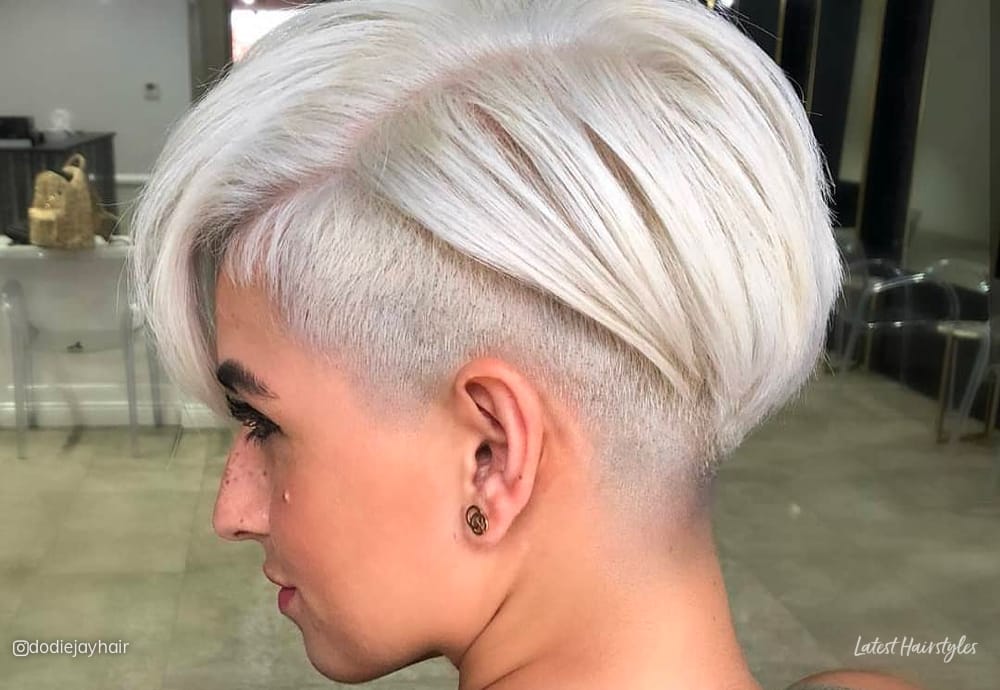 The undercut pixie bob is another massive way for you to rock that long hair as much as you want. The haircut is finished with a short pixie bob that will put emphasis on your face. Additional layers can be added to ensure that the bob is enough to produce the perfect bounce you need.
The hairstyle is a good fit for long-faced ladies with natural hair but not long enough for the varieties that you need.
45. Pixie-Bob for Older Women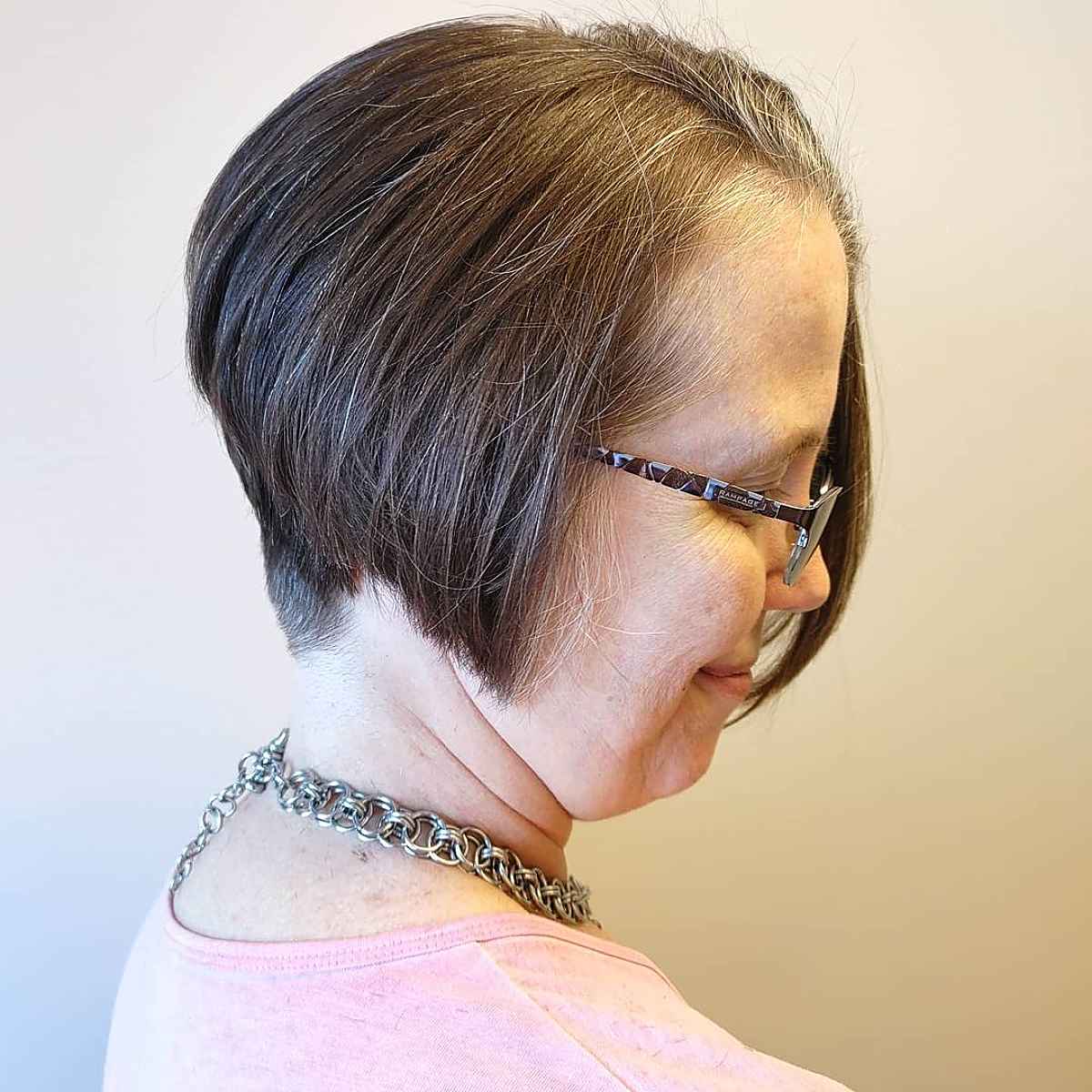 Older ladies with fine hair can get the chance to rock pixie haircuts and this particular pixie bob can make that happen. If the ladies have thin hair, this can work perfectly and can add volume to the texture, forming a fine finish. There is also a need to ask your hairstylist to give you more patterns that you can potentially choose from.