Updo hairstyles never go out of fashion and they enable ladies to show off exquisite accessories and make-up. Also, if you are blessed with a stunning facial and neck structure, you can flaunt a twist, natural, or braided updo.
Beyond the aesthetics, updo hairstyles are also very convenient. They keep hair out of the way, allowing you to get a great supply of air and carry out your daily tasks without any hindrance. There are a million and one reasons to love updos and whether you fancy braids or twists, there is an updo hairstyle for you. Are you grooming your natural hair? There are also updo hairstyles for you as well.
Twist Updo Hairstyles
No matter the texture of your hair, there is a twist updo hairstyle for you. This ranges from the curly chignon updo with a twist to the French twist for people with silky hair. There are also the flat-out twists and Senegalese twists for those that have natural African hair.
1. Curly Chignon Updo with Twist
The curly chignon updo will hang lower than your regular updo but you can be sure that any small discomfort will be well worth it. This is one hairstyle that you can use to transform yourself into a proper-looking lady at short notice. When you want to get your groove on at the end of the day, you can also have your hair tumbling out with just a small flick of your finger.
2. French Twist Updo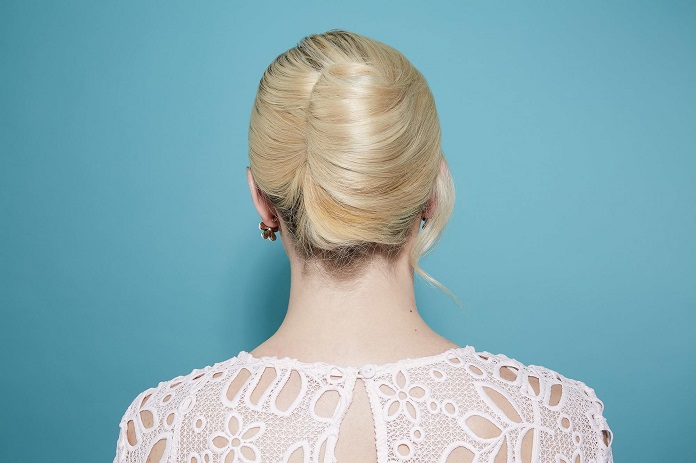 If your aim is to look chic and classy, then the French twist updo is for you. This style does not require a trip to the salon but is one that you can do by yourself in just a couple of minutes. Once you are through, you can use any beautiful hair accessory of your choice to finish things off.
3. Flat Twist Updo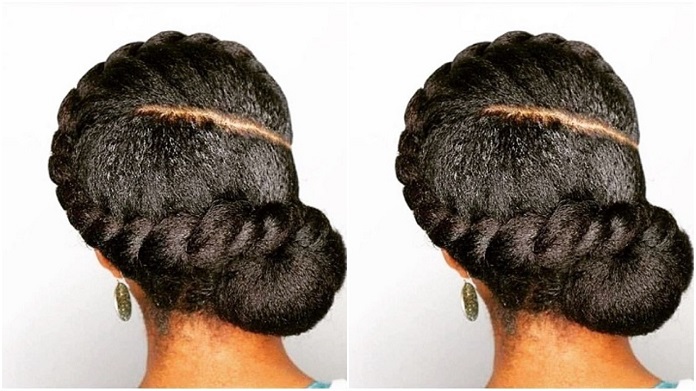 The flat twist updo is quite suitable for those that have really long hair. Just be sure to shampoo and condition properly and this gorgeous style can be yours. Be it a wedding or a dinner date, the flat twist updo will serve nicely. It is also suitable for formal occasions. You can throw in red lipstick to add a pop of color to your look.
4. Two Strand Twist Up
The two-strand twist-up does not last long but the beautiful thing about it is that you can easily recreate it as many times as you need. This particular style will expose your scalp so make sure to take care of any unsightly issues such as dandruff.
5. Flat Twist Updo with Extension
Hair extensions are one fun way to switch up your look and if your preferred hairstyle is the flat twist updo, it is very much possible. To get the flat twist updo with extensions, you need Marley hair extensions, as well as edge control cream to make sure your natural hair blends into the extension. The beautiful thing about extensions is that you can ditch your black hair for other fun colors such as burgundy and maroon.
6. Flat Twist Updo Natural Hair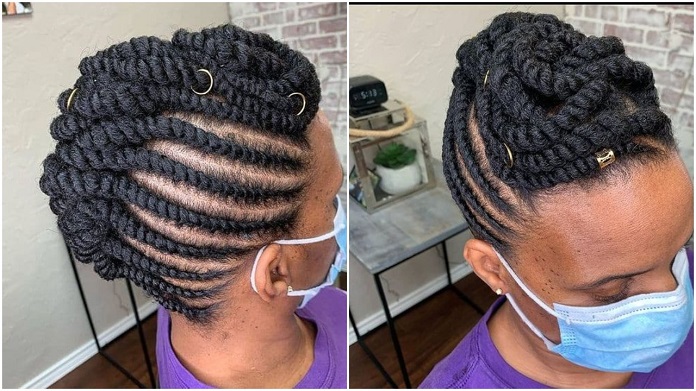 The flat twist updo natural hair is quite convenient for the summer months when the weather becomes unbearable. This leaves your neck free for proper circulation of air. The intricate braids also ensure that your scalp gets the amount of air it needs. This style is not all about convenience though as it is also quite pretty, so you get comfort and class all in one style.
7. High Pony Twists
This is one style that you can use to spice up your medium-length dreadlocks. Just take out some locks in front and braid to the back, then gather up your whole hair and pack into a high ponytail. You can use a hair accessory to secure the ponytail as desired and then watch the lower portion of your hair stand up tall and straight.
8. Twist Updo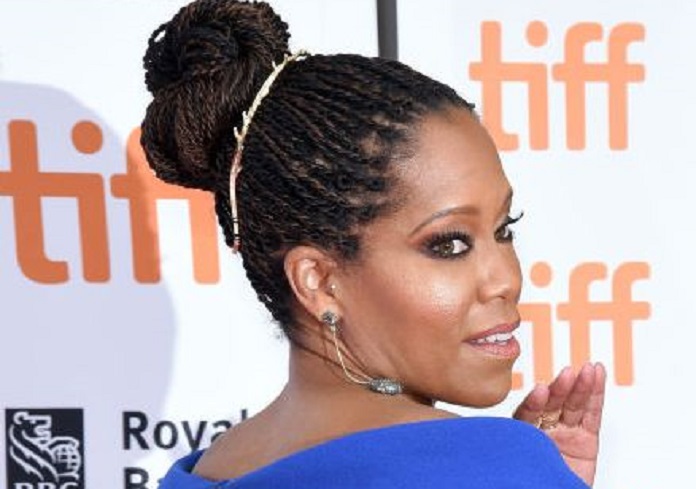 Making long and tiny Senegalese twist braids can be beautiful but at some point, they may cause inconvenience with their weight, as well as the fact that they prevent one from getting enough air. In such a situation, all you need to do is to pack up your braids into a high ponytail and then twist the pony into a bun. You can use a band to secure it and then add a hair accessory for the finishing touch.
9. Twist for Relaxed or Straight Hair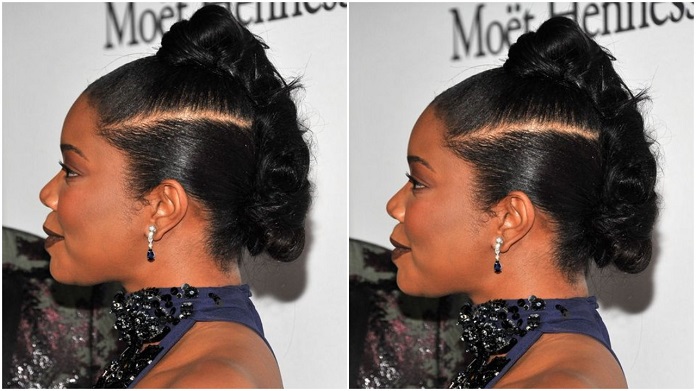 While natural hair is all the rave these days, there are still ladies who choose to relax or straighten their hair. If you fall into that category and are looking for a twisted updo hairstyle, then you can borrow a leaf from Gabrielle Union. Just like her, also make sure to wear a wonderful outfit; put on some nice makeup, and accessorize properly.
10. Twisted Top Knot
This is also another twisted updo hairstyle that best works for people with silky hair or relaxed natural hair. Just slick your hair back into a high ponytail. Twist the pony section and then wrap around the base for a top knot. You can now go ahead and define the front section of your with some edge control look. This style is quite simple but it is nevertheless elegant.
11. Twist Crown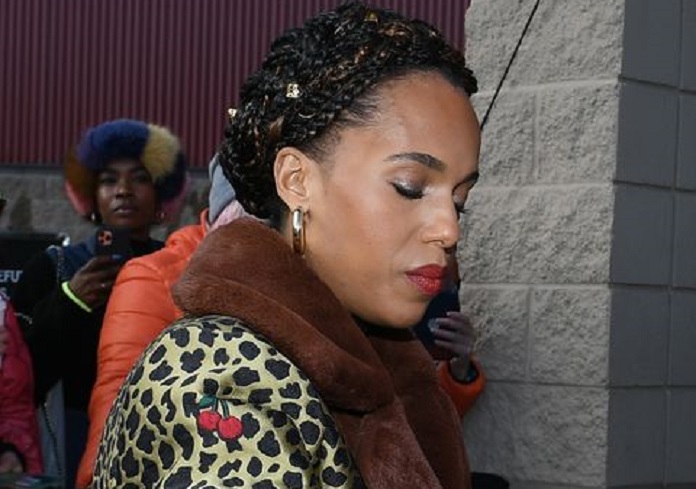 This is another twisted updo hairstyle for those that have Senegalese braids on. If your Senegalese braids are not so large in number, you can transform them into a twisted updo by gathering some and braiding them into a crown around your hair. In the end, you can now join everything together and secure it tightly just like Scandal star, Kerry Washington has done here. The aim is to keep your braids out of the way and away from your neck if you are not feeling like enjoying long hair.
Natural Updo Hairstyles
Natural hair can be gorgeous but it can also prove challenging to figure out how to style it. Luckily for us, there are several hairstyles out there that you can utilize for your natural hair. Whether you are going for a chic, classic, or bohemian look, there is a natural updo hairstyle that will take care of your needs.
12. Natural Curly Hair Updos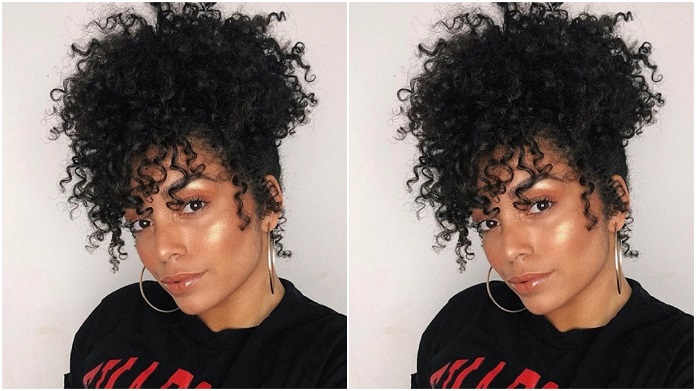 If your natural hair is curly, you have a range of naturally curly hair updos that you can utilize. First, there are the coiled twists that you can switch up by dying your hair blonde. You can also braid your hair into a Mohawk with the curly part spewing out in front of your hair. If your hair is filled with bohemian curls, you can also pack it upwards and use a scarf to secure it.
13. Quick Natural Updo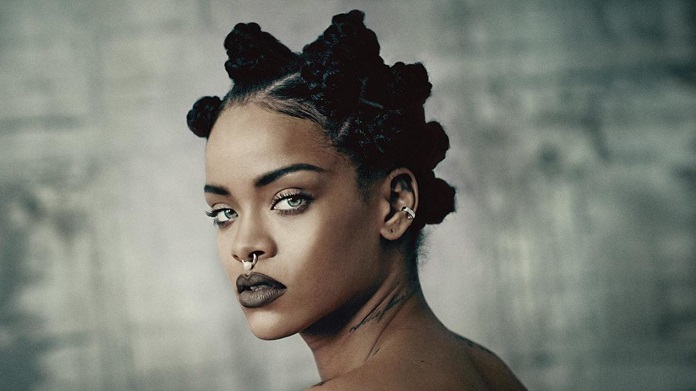 If you do not have the luxury of time to create an intricate hairstyle, then there are a range of quick natural updos that will suit your natural hair. You can pack it into a bun and use edge control cream to have your roots looking smooth. You can also do Bantu knots. If your natural hair is relaxed, you can put them into large rollers before taking your bath. By the time you are through with your outfit and makeup, you can remove the rollers and watch the curls tumble down.
14. Natural Curly Updo
From Bantu knots to buns, there are several natural curly updo hairstyles that one can utilize. However, to get the best out of your natural hair, you must be willing to invest in proper hair care. Wash as often as possible. Also, make sure to utilize quality conditioners and sulfate-free shampoos. You should also pencil in a regular visit to your stylist.
15. Double Bun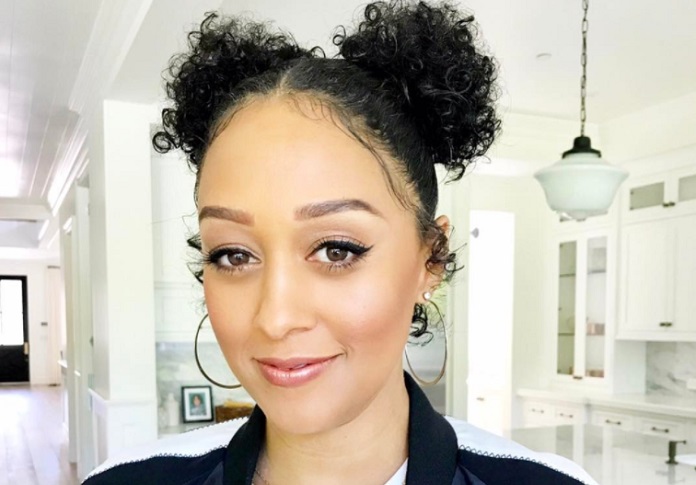 This is one style that ladies with thick, coarse, natural hair can use to get things under control. One good thing about this style is that you can still utilize it even if your hair is not properly conditioned and shampooed. Just divide your hair into two vertical sections and pack each section into a bun and you are ready to go. You can also spice things up by having one single braid in the front part of each section.
16. Thick Braided Crown with Slicked Sides
Want to look like an African queen? The thick braided crown with slicked sides will do nicely. Secure your hair with some pins and make it into an elaborate braided crown to keep it classy and easy to maintain. Make the look bolder by pulling up the sides to put more emphasis on the thick-curling braid at the top. This radiant updo is a great formal look but can also be worn as a chic casual hairdo.
17. Cornrow with Funky Afro Bun Updo
This style will do if your natural hair is all grown and relaxed a bit. Although it looks quite intricate, all you need is some bobby pins and dexterous fingers. The stylishly-braided cornrows are artistically arranged to create a fresh look. The more voluminous your afro bun is, the bolder the look gets.
18. Curly Center Roll
Show off your curls with this superb hairstyle that turns all focus onto the bold center roll at the front. You can pin it up to give the curls more volume. You can also put in colored highlights to help give the look the radiance it deserves. Another way to switch up this style is to use a beautiful scarf to secure it. The curly center roll is quite easy to put together and is a favorite of many ladies to date.
19. Braided Faux Mohawk Updo
A Mohawk can serve as a great Updo for natural short or medium-length hair. Our featured model has a curly top with lots of natural texture bordered by a braided crown. Cornrows enhance the look by flattening the sides to emphasize the voluminous top. The voluminous top itself has several curls which further enhances the pizzazz and the beauty of the whole hairstyle, making for quite a sophisticated look.
20. Voluminous Vintage Curl
If you are a fan of vintage looks and will like to recreate the yesteryears, you can borrow a leaf from Janelle Monae above. Just make sure that your hair is quite long and relaxed and this voluminous curl can be yours. This simple look can be spiced up by using some flashy touches of color to make the curl more radiant. Also, ensure that your accessories and makeup are top-notch just like Monae.
21. Short Curly Updo Hairstyles
Growing your hair can be quite tiring but it does not need to be a dull affair. You can rock this chic look by turning your short natural hair into springy curls with loads of natural textures. Copper highlights give this look the burst of color it needs to come alive. You can also use a stylish floral headscarf to make things further beautiful. This style is quite convenient as it can be thrown together in minutes.
22. Voluminous Updo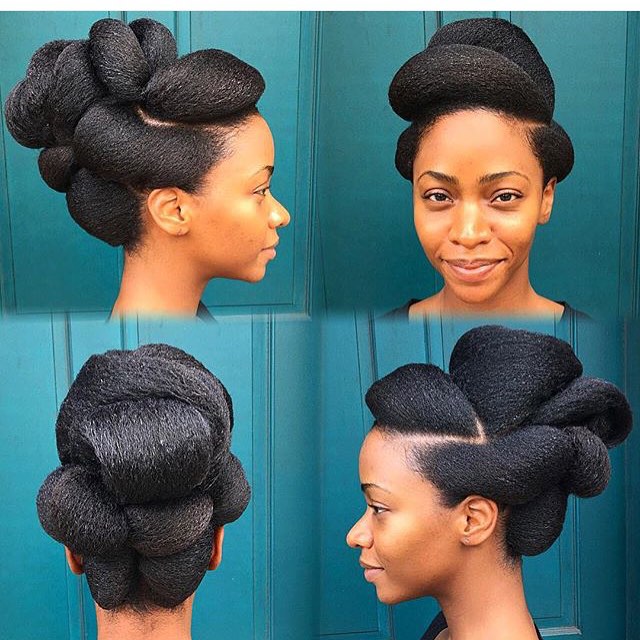 If you really want to announce your entrance at an event in a big way, then this voluminous updo will do quite nicely. It is easily a gorgeous eye-catching style. The combination of twists and loops results in an oversize afro updo that is far from normal but at the same time oozing sophistication. To get this style, you need to have long hair which you can now support with kinky-textured hair extensions for added volume.
23. Double Crown Braid
This double crown braid is perfect for people that love being simple yet elegant. Just shampoo and condition your hair properly. When it is dry, divide the front section into a center part and do a double crown braid. To spice things up, you can make the front braids quite tiny and then make the second braid to be large in size. Simplicity is the watchword here but a nice makeup and outfit will glam things up.
Braided Updo Hairstyles
Braids will never go out of style. From time immemorial to date, it has helped women coral their unruly hair into control. Beyond the convenience that comes with it, there is an assortment of beautiful braided updos that have you looking like a Grecian goddess, a hot video vixen, a Hollywood star, etc.
24. Goddess Braided Updo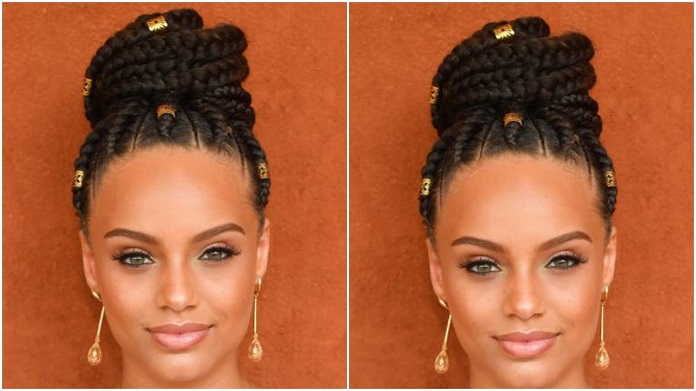 Goddess braids are essentially cornrows but they are thicker and more elevated. It can be worn up, down, and half-up. However, if you are looking for a goddess braided updo, just have your stylist braid your whole hair towards the middle of your head. In the end, you can now pack them atop your head. To accessorize this style, you can thread gold-colored strings through your braids. You can also clip on small gold charms as well.
25. Updo Mohawk Braids
Updo Mohawk braids are one good example of an updo hairstyle that does not discriminate. It is suitable both for people with silky hair and those with coarse hair. Just shampoo and condition properly. When your hair is dry you can braid from the back into a Mohawk that will pour out front. This style will do for anybody seeking to achieve an edgier and funkier look for their outing.
26. Braided Mohawk Updo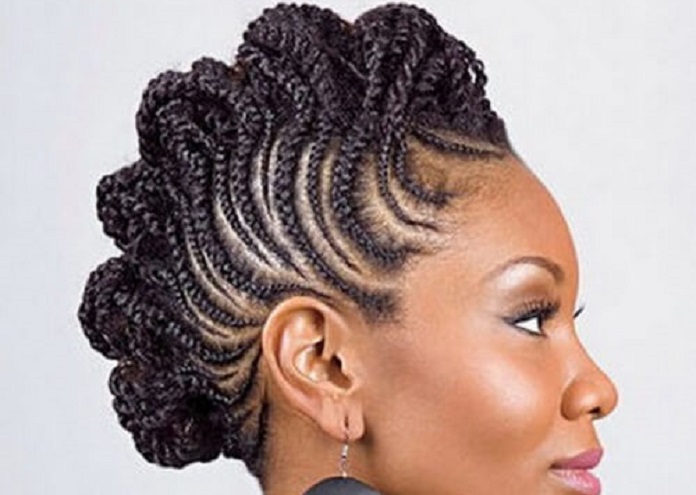 This particular style best works with hair that is straightened or relaxed. It will require a lot of patience to put together but you can be sure that the result will be worth it in the end. This versatile style can be used for both formal and informal occasions. Whether you are going for a high-powered meeting or a night out with your girls, the braided Mohawk updo has got you covered.
27. Box Braids Updo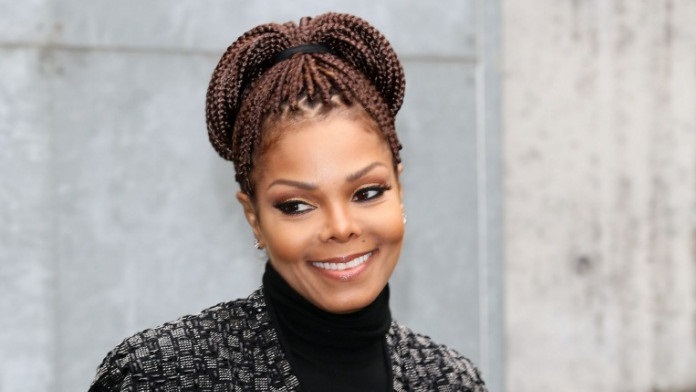 Box braids never go out of fashion. From way back in the day to the present time, it has been the favorite staple of a great number of women, from college students to Hollywood celebrities strutting the red carpet. An additional wonderful feature about it is that it doesn't pick face structures and will suit you no matter the type of face you have. It is also long-lasting which is another good reason to try it out.
28. French Braid Updo
It might take you some time to figure out how to put together a French braid updo but the time and the effort will be worth it. This style is so exquisite that it is a favorite staple of brides on their wedding day. Several of our favorite female stars also resort to it. It is simply a timeless classic and you can head on over to YouTube for tutorials on how to throw it together.
29. Updo Braids with a Bun
Buns are often simple and understated hairstyles but there are some species that can be downright gorgeous. One of them is the updo braids with a bun. Get your stylist to do your regular long braids and then pack into a high bun atop your hair. To keep things looking youthful and fresh, you can let some curly pieces sneak out. Also, remember to use edge control to make your front hair look wonderful.
30. Easy Braided Updo
Most of the braided updos that we have looked at will take you some hours at the saloon to put together. However, if you don't have much time on your hands, you can utilize the easy braided updo. Just make sure to shampoo, condition, and properly dry your hair. Pack into a ponytail and then braid the pony part all the way down. You can now wrap the braided pony around the middle of your hair.
31. Messy Braided Updo
Want to look like a million bucks without it looking like you put in too much effort? Then, the messy braided updo will serve quite nicely. Simply Dutch braid or French braid the front part of your hair into two sections. Gather it together with the lower part of your hair and pack it into a bun. Then loop a band through to secure it. To complete the look, put on wonderful makeup and accessorize well.
32. Braided Half Updo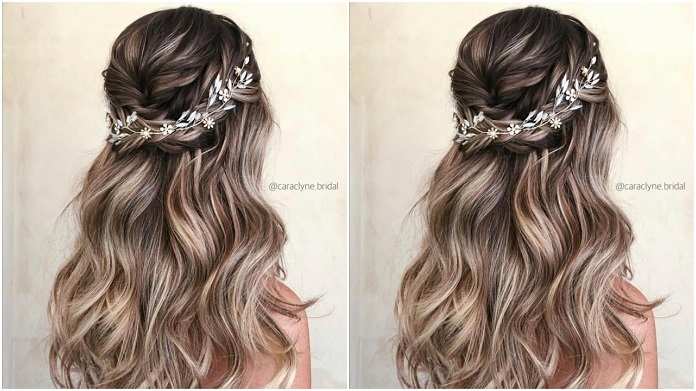 Simple and yet sophisticated, these are the two words that capture the very essence of the braided half updo. Therefore, if you are a bride getting ready for your big day, then this style is quite appropriate. Are you a young lady preparing for prom night? Then the braided half updo will also serve nicely. You can switch things up by putting in some waves in the lower portion of your hair. The wonderful thing about this style is that it never goes out of fashion and it suits basically every facial structure out there.
33. Curly Chignon Updo with Braids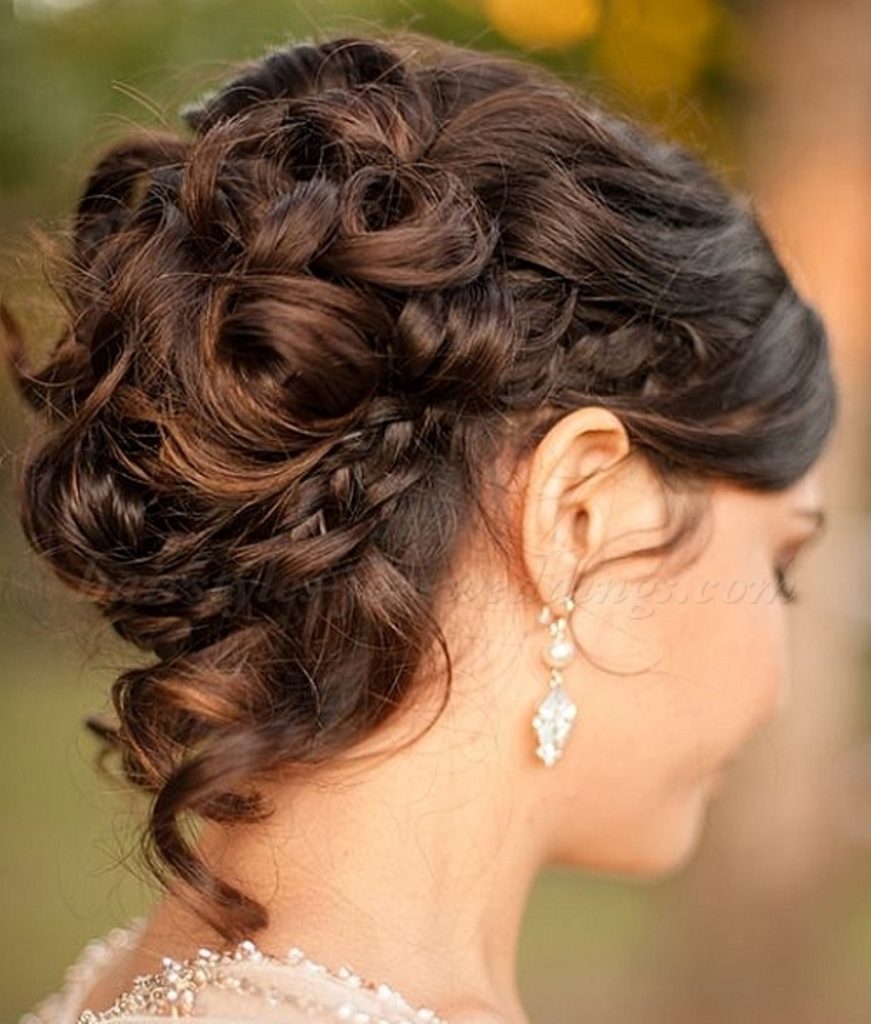 Long and thick hair can be beautiful but it can also be a handful to pack and style. One of the hairstyles that can help you get your tresses under control is the curly chignon with braids. The spectacular volume of this hairdo makes it the perfect statement hairstyle to grace formal events with. The curly chignon updo is further accentuated by small-sized braids which helps to give it more definition. Finish off your look with a matching pair of beautiful earrings and a necklace.
34. Crown Braids
If your outfit for an event is a Grecian-inspired dress, then you can go all out and complete the theme by getting crown braids. You can leave it at a single braid around your hair or two braids. Whichever you choose, you can be sure that you will look stunning at the end of the day. This style can also compensate for a lack of accessories as all attention will be on your hair.
35. Sculpted Diagonal French Braid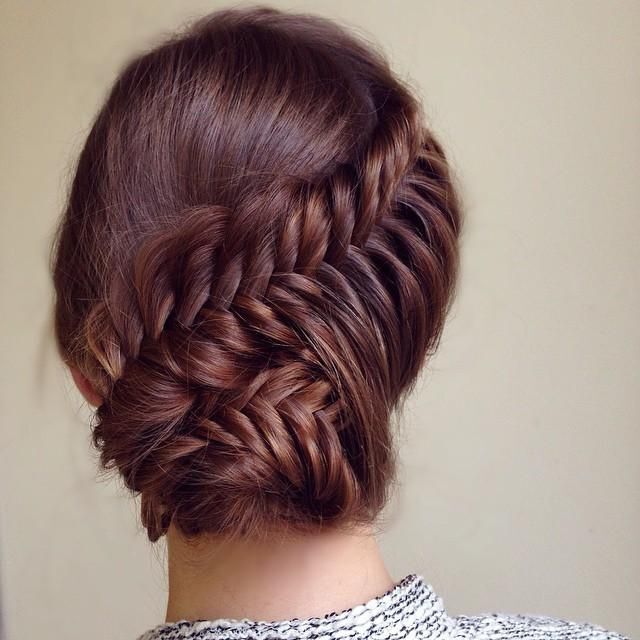 To get the best out of this style, you must properly shampoo and condition your hair first. You can also use a curling iron to have your hair shinier and silkier before you now go ahead and pack. This elegant hairstyle stands out thanks to three main features: the thickness of the braid, its diagonal and slightly slanting positioning, and the sculpted appearance of the glamorous updo hairstyle.