We have gone to the trouble of rounding up the cutest prom hairstyles for girls with long hair that are simple to style whether you are black or white, a vintage lover, or a modern-day chic, we have got something that will suit you for the simple reason that having long hair is quite awesome but it can also be problematic figuring how to wear it for big occasions such as prom.
Beyond the music and dancing, prom night represents a significant milestone in the life of every American youth. It is the culmination of learning, friendship, and school spirit for the senior class. It also symbolizes the end of their high school studies and the beginning of their adult years.
It is for these reasons that most young people want to get things right for that special night. They stress over what clothes to wear, what shoes to rock, make-up, and even hair-do. For those with long luxuriant hair, it can be quite stressful figuring out the best way to style it so here are the best prom hairstyles for long hair styled to impress.
Braid Prom Hairstyles
1. High Bun with Braid
This is one timeless style that will never go out of fashion. No matter what type of face structure you have, the high bun with braid will suffice. Additionally, if you live in a humid or hot area, then it will also come in handy. To achieve this braid is quite simple and can be done at home. Just sweep up the hair into a high ponytail and place it in the middle. Spread out the hair, divide it into two halves and braid each half. Wrap each half around the bun from opposite directions and secure it with a pin. You are good to go.
2. Twist and Braids
This particular style has so many attractive points. It is easy to make so you don't have to spend extra bucks on a stylist. It is also a hairstyle that you can use to make a bold statement for your special prom night. Twist and braids is a combination of two styles and you start by selecting a small portion in the middle of your head and twisting it. Then you gather up both the left and right sides of your hair and pack together with the twist into a ponytail style. Finally, you loosely braid the ponytail and secure it with bands where appropriate.
3. Topknot with Mini Braid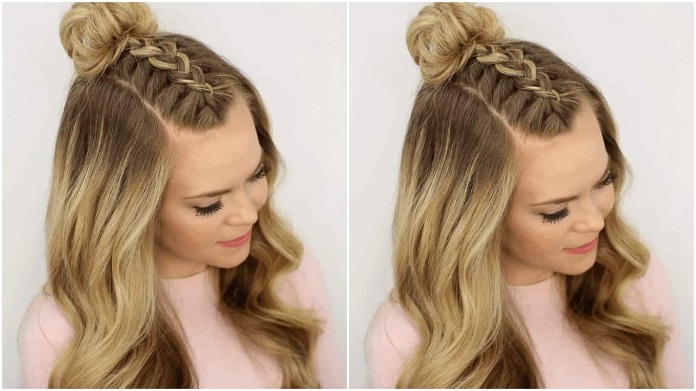 If you are tired of your long hair hanging down your back and causing you all manner of discomfort, then this style will serve as a breath of fresh air for your prom night. Just secure your hair into a top knot in the usual fashion but leave out some small strands. Braid the strands into one single medium size braid and then pull it to the back and secure it into the topknot as well. To successfully pull off this look, ensure that your makeup is sleek and sharp.
4. Messy French Braid
If you are in contention for prom queen, then the messy French braid is for you. This style is a bit hard to get and so, it may be best to head to the stylist. However, if you want to DIY, then you will have to brush back your whole hair first. Take some hair at the top of your head and divide it into three sections. Take the right section and cross it over the middle section. It will become the new middle and you cross the left section over this new middle. Repeat this process until you get to the end and ensure to loosely braid so as to achieve the messy look.
5. Dutch Braid
The Dutch braid is suitable for those with thick long hair as well as those that have oblong, heart, or round-shaped faces. It also works best for formal occasions meaning that if you meet the first two criteria, then you can certainly wear it to prom. All you need do is to brush your hair back and divide it into three sections. Braid the three together with the left and right sections coming under the middle rather than above. At the nape, stop braiding and then pack it in a tight bun.
6. Crown Braid
Planning to channel your inner Greek goddess for prom? This will be a fitting addition to that wonderful gown that you picked out. All you need to do is to first divide your hair into two sections with a center part. Brush out tangles from each section. Select one section and start Dutch braiding from the back. Dutch braid over the ear, across the forehead, all around, and down to the tip of the other section. Secure the tip with plastic and then wrap it around to overlap with the original.
Ponytail Prom Hairstyles
7. Side Ponytail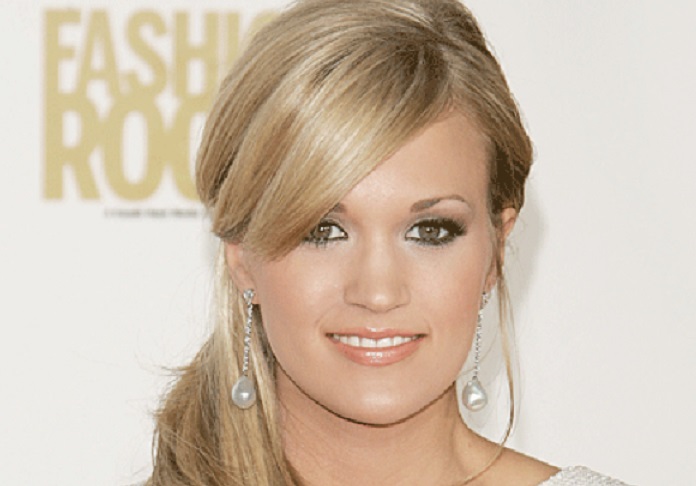 This particular style takes just minutes meaning that you can devote more time to your make-up, dressing up, etc. First, brush your hair free of tangles and then divide it into two unequal sections to achieve a side part. Gather the hair from the larger section and sweep it into a low ponytail on the other side. Secure with a portion of your hair or hairband as desired. You can also straighten out the ends for a sharper look.
8. Low Ponytail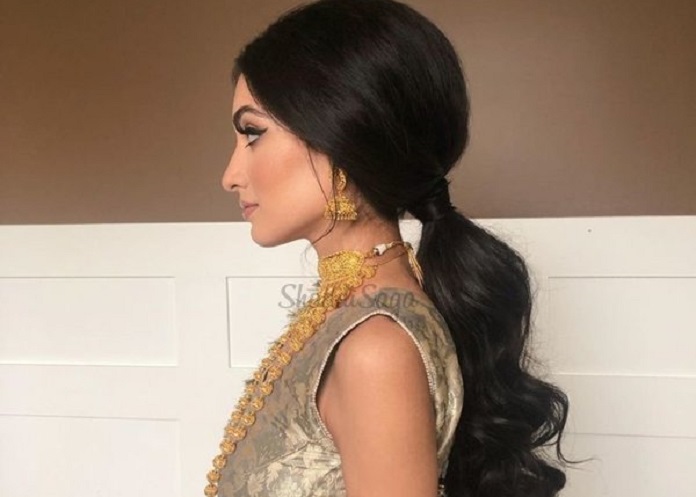 The low ponytail is quite similar to the side ponytail but with a marked difference. Rather than creating a side parting, you create a center parting by dividing the hair into two equal sections. Then, comb back and secure at the nape with a band. To have yourself looking out of the ordinary, curl the ponytail into waves. This type of ponytail is amenable to virtually all types of face structures.
9. Ponytail with Face-Framing Layers
If you have a face like Keira Knightley, then this particular style is for you. All you need do is create a center parting, pull back your hair, and pack it a bit higher. Make sure to leave some front hair out on both sides. This hair will be shorter than the rest and will frame your face in such a manner as to provide balance and soften the angular jawline.
10. Sleek High Ponytail
From Ariana Grande to Kim Kardashian, some of the biggest celebs out there favor sleek high ponytails. It is therefore a good prom hairstyle for people with really long hair. It is also one that can be easily done at home. Just comb out your hair and make it smooth. Then pack in a ponytail at the very top of your head and let the rest cascade down. You can use gel to make the front part of your hair look smooth. Some edge control gel will also come in handy if you have unruly hair. A sleek high ponytail is suitable for people with diamond and round-shaped faces but not square-shaped ones.
11. Double Braided Ponytail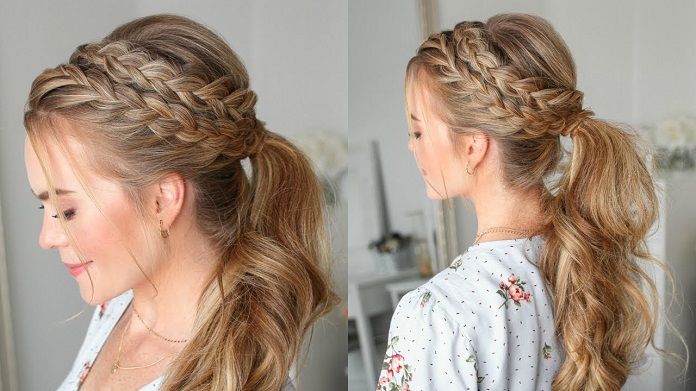 If you love ponytails but prefer some form of taming, then you can utilize the double braided ponytail. Divide your hair into two sections in a center parting. Then for each section, select the top hair and braid to the nape. Once you are through, pack everything together and you are ready to go.
12. Rolled Ponytail
This is also another simple and inexpensive ponytail style for prom. All you need money for is a beautiful barrette that you can choose to secure the hair once you are through. To get started, comb your hair all back. Starting from the nape, roll the upper portion of it and then secure it with your barrette. As is usual with most pulled-back hairstyles, the rolled ponytail is especially good for ladies with round and diamond-shaped faces.
Prom Hairstyles for Black Girls
13. Cornrow Braid with Ponytail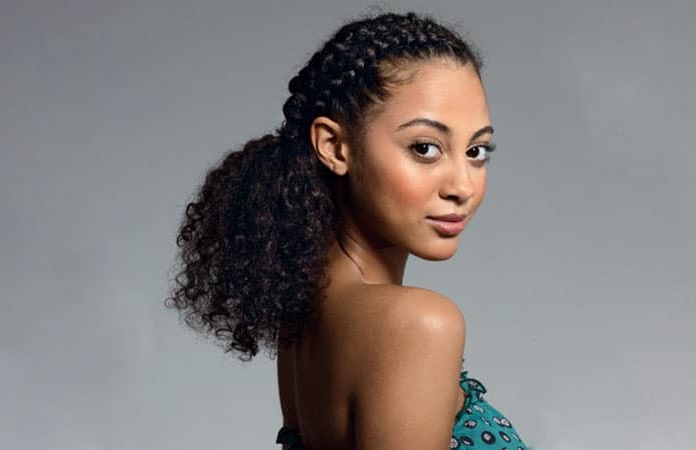 Cornrows are not only culturally significant for black women but also aesthetically pleasing. There is no reason why you can't carry one for prom. To twice things up, you can divide your hair into a side part and French braid both sides. Stop just immediately after your ears and then pack everything together. Your thick natural hair will then spill out at the back.
14. High Rope Braid
The high rope braid is ideal for people with really long and thick hair. However, if you do not meet these requirements but still want the look, then you can always supplement by attaching hair extensions to your hair. To get this style, you need to pack your hair into a high ponytail and braid the pony into one giant magnificent braid. To look sleek, you can use gel to smoothen the front part of your hair. If using hair extensions, you can choose a bold color that contrasts with your natural hair color.
15. Scarf Updo
Tying scarves is one of the dependable ways black women use to tame their hair and there is no reason why you cannot wear one to prom. Just pack your hair into an updo, tease the tips, and then use a beautiful scarf to tie it all up in a stylish manner. You can choose silk or satin scarves for your prom. You can also select a scarf that either matches the color of your dress or complements it.
16. Sleeked Back Style
The sleeked-back style is not only easy to pull off but also cheap. It also doesn't take a lot of time. However, it does come with a caveat. Your hair should either be permed or naturally tame before it can work. Once you satisfy this condition, then the first thing to do is comb your hair all back. Then use a styling gel to sleek it back as well and off you go. This style is most suitable for ladies with oval and diamond-shaped faces but should be avoided by people with square faces.
17. Curly Half-Up
If you are blessed with naturally curly black hair, I daresay that there is no need to spend extra bucks on a stylist. All you need is a beautiful hair clip and you can achieve a prom-worthy style. Arrange your hair in an all-back direction, select the top half from both sides and use your hair clip to secure at the middle. Leave the down part flowing to provide that dramatic and interesting finish to your looks.
18. Braids and Buns
Are you planning to heat up the dance floor in the course of prom night or just don't want your hair making you hot, then this braid and buns will be perfect for you. Divide your hair into two equal halves. On each side of the hair closest to the center, take out small portions and braid. Pack everything together into a firm bun and accessorize as desired. You can also use the edge control gel to do some magnificent styling in front of your hair.
Half Up Prom Hairstyles for Long Hair
19. Simple Half Bun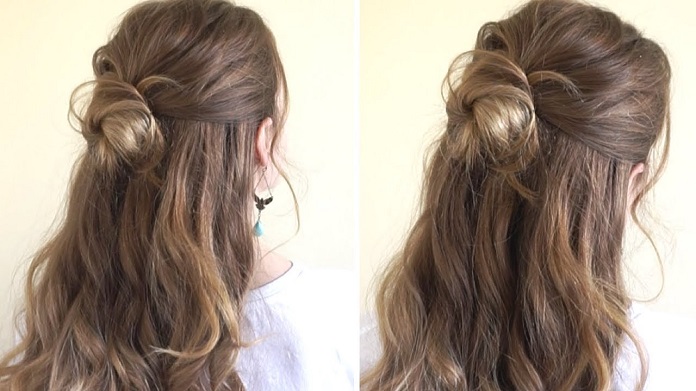 This style is quite easy to pull off but you do need to take care of your hair, live-in conditioning for a glossy look. When you have done this, loosely gather the top part of your hair and roll it into a secured bun. Then leave the lower part of your hair flowing out for all to appreciate its full glory. Ensure that your dress and make-up game are top-notch.
20. Curled Half-Up Style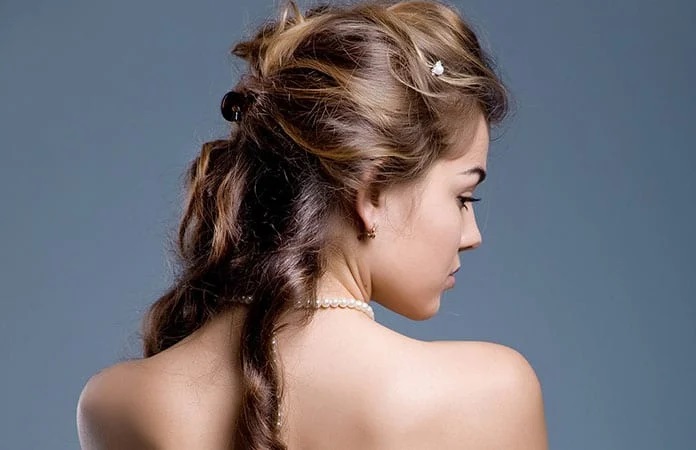 The fact that you have curly long hair doesn't mean that you can't enjoy the half-up style. You can also join the trend by securing the top half of your curls with a nice barrette while you leave the remaining buzzing around. Even if you have chosen a simple outfit for your prom night, you can be sure that this style will dial up your looks by more than a notch.
21. Stacked Mini Buns
Just like the sleeked hair and the high ponytail, this hair shape is best suited for people with either diamond, oval, or round-shaped faces. To get this look, horizontally divide your hair into two equal parts. The lower part will be combed out or straightened out and left alone. Then for the top part, divide the hair horizontally into three parts with the first slightly larger. Pack each part into a tight bun and secure it properly.
22. Braided Half-Up Style
Want to look like a pop star for prom night, then this style will come in handy. First, carve out a square or rectangle-shaped portion at the very center of the front of your hair. Leave the sides and back cascading down. Tightly braid the carved-out portion and then secure it in a bun at the middle.
23. Half-Up Ladder Braid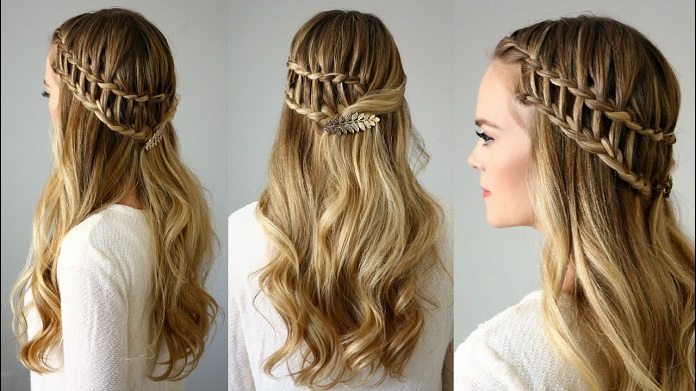 The half-up ladder braid combines elements of the French and waterfall braids. It is simply exquisite and will have you looking stunning for prom night. The only snag is that it is quite intricate and may require you to visit a stylist to get the look. However, if you are a fast learner, there are many YouTube video tutorials that you can watch. Do make sure that you have mastered it before the big night so that you don't get stuck.
24. Boho Half-Up Twisted Edge Fishtail Braid
Just like the half-up ladder braid, this particular style is exquisite and stunning. It is also intricate, meaning that a trip to the stylist, which can be quite pricy, may be on the cards for you. However, there is nothing wrong with spending a bit on your special prom night. You may also seek out older friends or siblings who may know how to do it for you free of charge.
Prom Updos for Long Hair
25. High Bun With Braids
This is simply a perfect prom hairstyle for people with long hair. It is also one that can be readily done at home with no visit to stylists. All you need to do is divide your hair horizontally into two portions. French braid or Dutch braid the lower half. Then pack the upper part and any remaining hair from the lower part into a bun. The final step is to use the braid from the lower part to secure the bun tightly.
26. Low Classy Chignon
The chignon tends to hang a bit lower than a regular updo but it will still perform the task of keeping your hair out of your face. To get this classic French look, first comb and smoothen your hair with a hair spray. Pull your hair into a low ponytail and secure with an elastic band. Use the ponytail and create a loop. Then secure the loop with some bobby pins. Given the simplicity of this hairstyle, your make-up and dress need to be top-notch as well.
27. Twisted Updo
If you have curly and long hair, then the twisted updo will suffice. You will however need to patiently go through the process. Horizontally divide the hair into two sections, making the upper part much smaller than the lower. Divide the upper part into a side part and leave hanging. Return to the lower part, divide into two sections, and twist both. Wrap the twisted hair around the back of your hair. Go to the front, twist the two sections. Draw it towards the back and wrap it around your twisted bun.
28. Fishtail Braided Updo
Just like the twisted updo, this style is for people with long curly hair. It is also good for those trying to create a mermaid theme for their appearance. This style requires a single fish braid from front to back. The whole hair will then be secured into a classic chignon at the base of the neck with the fishtail wrapped around the chignon.
29. Messy Bun
One of the greatest ironies of life may be that it takes quite some time to achieve a messy hair look. It is however one that is worth it and will serve quite well for your prom. Simply, pull your hair into a ponytail and use a crunchy to make a bun. Secure the bun but let some tendrils of hair escape to soften your face and add that wispy look.
30. Classic French Twist with a Bun on Top
To get this look, you will need to pull your hair back at the nape of your neck, twist to the right, and lay it against your head with the ends facing up. Then, smooth the hair by spreading it from the bottom of the twist to the top to cover it and make it look polished. Finally, wrap the ends into a bun and pin them into place.
Curly Prom Hairstyles for Long Hair
31. Sideswept Curls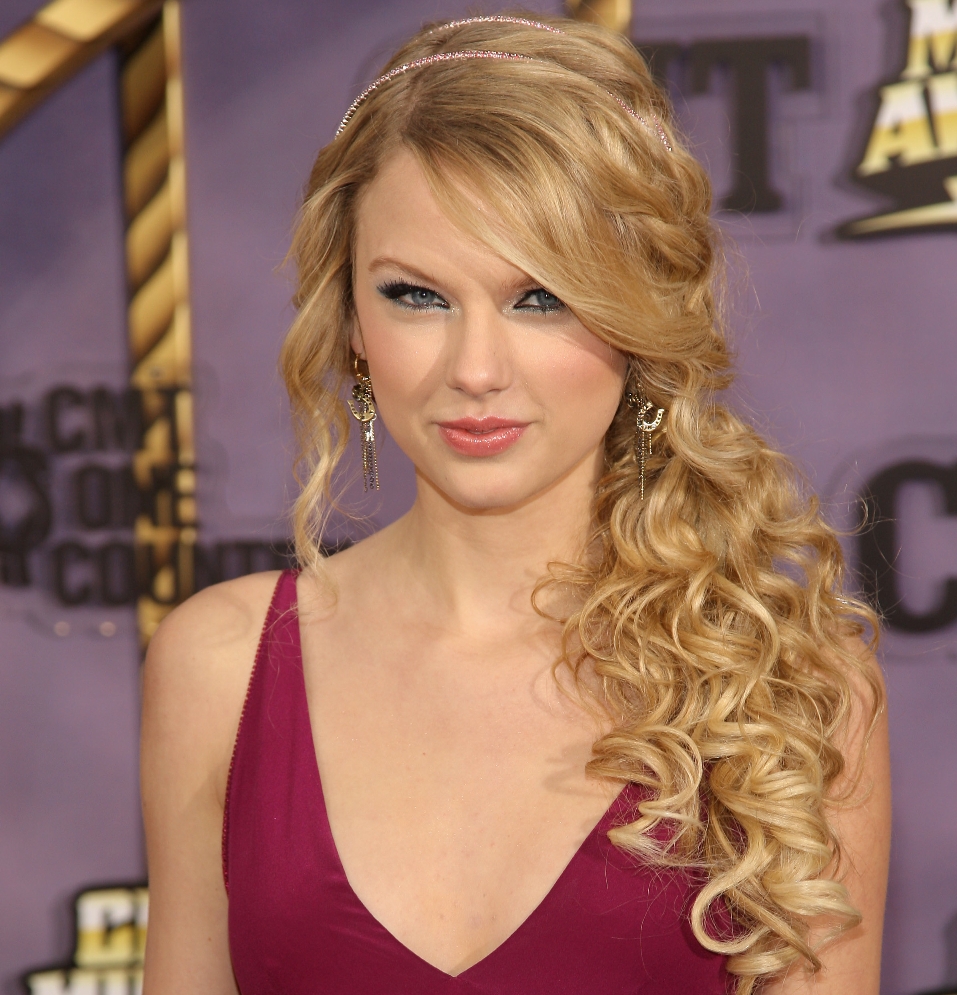 This particular style is simple but will have you looking like some glamourous star from Hollywood. It is also easy to achieve and the only extra thing you need is some hair accessories like a hairband. Divvy up your hair into a side parting. Sweep the whole hair to one side and loosely secure it with an elastic band. You can also loosely braid for an inch or two. Then accessorize with your hairband
32. Tousled Curls
For a more contemporary prom hairdo, forget the neatness and elegance and try on something daring. This unique hairstyle utilizes either natural or artificial curls. Run your fingers through the curls to loosen them and gently shake your hair to have it bounce. Pack as desired and use setting spray and similar products to maintain the volume of the hair.
33. Half-Up Twist
If you don't have the money to spend on fancy shampoos and setting sprays, then the half-up twist will do for your curly hair. Divide hair horizontally into two sections with the lower larger. At the front section, twist each side and secure in the middle. Leave the lower section free.
34. Mohawk Braid Top Knot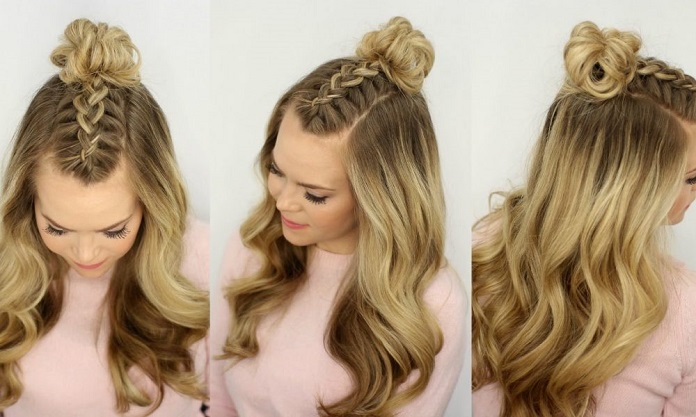 This hairstyle can add some edginess to the normally curly princessy look. Divide your hair into three vertical sections with the middle slightly larger than the two sides. Dutch braid the middle section and end it in a bun atop your head. Leave the two sides and the back falling down. You can also use a curling wand to give the curls more definition.
35. Updo with Ringlets
If you have curly hair, then there is no need for your updo to ever be bland. Style the lengthy top into bouncy ringlets to create a tasteful finish. Give the curls a bit of bold color using ombre and you will have yourself a show-stopping hairdo for prom night.
80s Prom Hairstyles
36. Feathered Bangs
This look was popularized by popular 80s actresses such as Farrah Fawcett. It featured center-parted bangs with layers curled back and made rock steady with hair spray. If looking vintage for prom is your theme, then this particular style will suffice. It also helps that it is suitable for all types of face structures.
37. Perm and Tease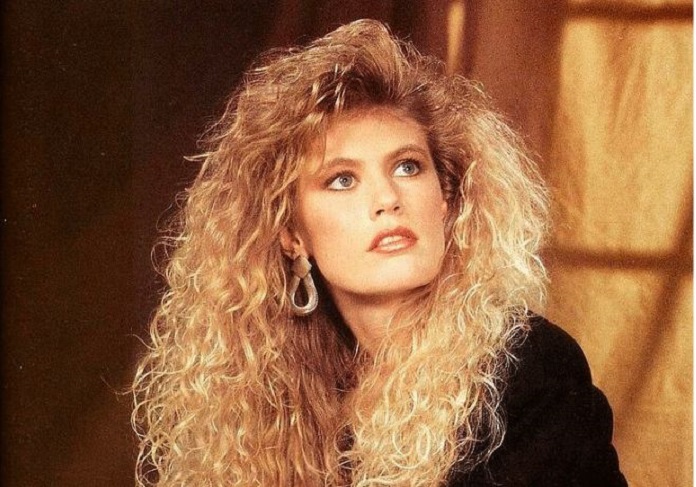 This look cannot be achieved at home but will require you to spend some hours at the salon getting the perm and curls. Copious amounts of products such as hair gel and hair spray are also needed to achieve that high, wild and curly look. There is, therefore, a need to factor in some time for doing this style before your big prom night.
38. Side High Ponytail with Fringe
This style is suitable for those that have long hair as well as bangs. Comb out the bangs and then pack the rest of your hair backward in a high ponytail. Just as the name suggests, the ponytail should not be placed at the center of the head but to the side, whichever best flatters your looks.
39. Whale Sprout Ponytail
Another ponytail style that you can use to evoke the 80s for prom night is the whale sprout. You let out your bangs in front and comb the rest of the hair backward. Carve out the topmost part of this backward section and use a scrunchie to secure it on top. Leave the rest of your hair flowing down and you are good to go.
40. Curly Fauxhawk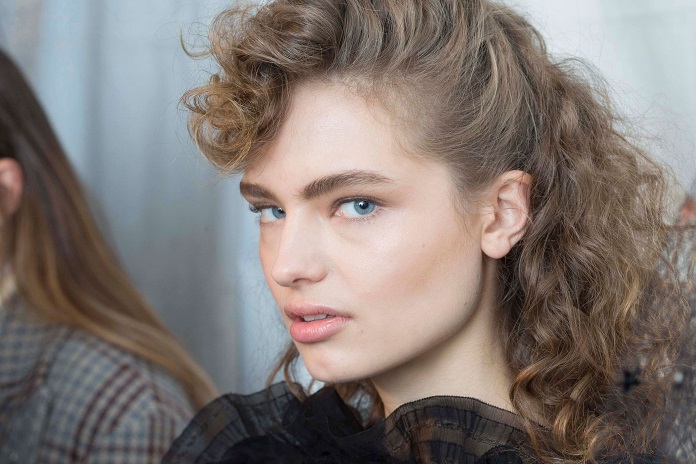 Be you a Caucasian girl with luxuriant blonde hair or a black girl with naturally curly hair, the curly faux hawk can be fantastic for your prom night. It can also be done at home. Carve out a triangular portion of hair at the front of your head and leave it dripping down your face. Pin the sides of the remainder of your hair backward but stop at the nape and allow the rest of your hair to flow down.
41. Hot Rollered Hair
Want to look like a good old-fashioned socialite or sorority girl during prom, then you need to hunt down hot rollers. When you get the big rollers, use them to roll back every inch of your hair. Remove the rollers after some time and tease out the hair. Apply hair spray as well.
90s Prom Hairstyles
42. The Crimp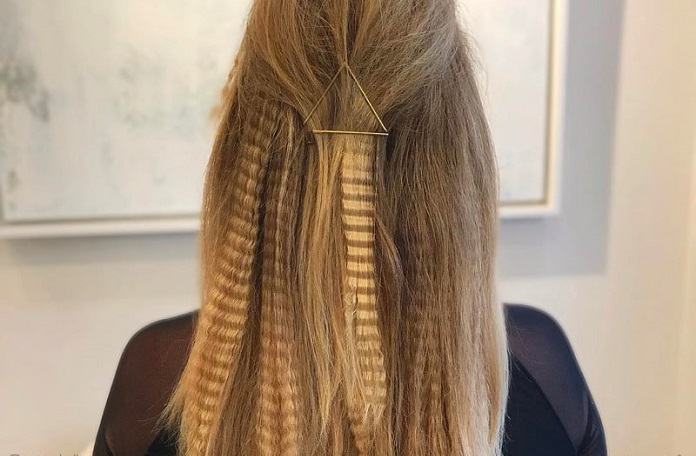 The crimp is quite advisable as you will not only be recreating a 90s style but doing something that has been seen on the red carpet in recent times. It is apparently making a comeback and you need a crimper to get the style. While crimping, be strategic and decide which parts to crimp and which not to. You can now pack as desired.
43. Side Flip
Determined to uphold your reputation as a cool chick during prom, then the side flip will do. Best suited for angular faces, all you need is natural or artificial waves. Create a side part and comb back the front of the larger section a bit before letting it naturally hang down in waves.
44. Twists
Twists may have achieved their highest level of fame in the 90s but it never goes out of fashion, especially for black ladies. They still find it reliable for a variety of occasions and there is no reason why that can't be prom. To make it easier to style, be sure to use a quality leave-in conditioner and detangler.
45. The Outward Flip
Celebrities such as Mary Kate and Ashley Olsen have all rocked this look at one point or the other. There is therefore no reason why you can't rock it to prom if the vision is to look vintage. This style requires sleek hair that is parted at the side. It is combed down and at the end given an outward flip. The style is normally reserved for oval and diamond faces but given that this is side parting, it can also suffice even for square faces
46. Afro with Halo of Butterfly Clips
Just like the twist, this is another retro style that a black girl can wear to prom. You do not need to tame your afro but let it all out in its full glory. You can then affix several colorful butterfly clips all around the front, creating a halo effect that will have you looking like an angel.
47. Sleek Half Up Half Down Ponytail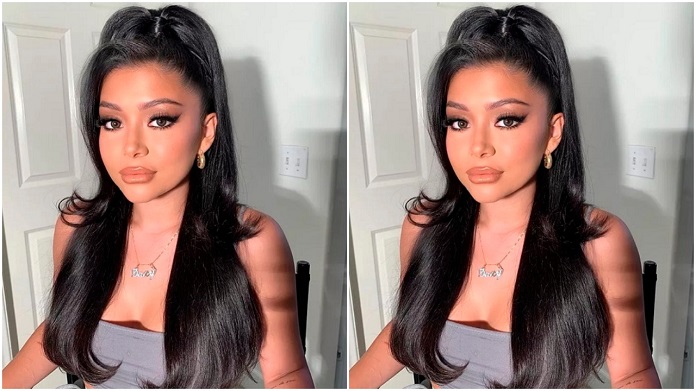 This is quite a simple style but it will have you looking like some social media or reality TV star. Simply divide your hair into two horizontal sections and leave the lower section flowing down. At the upper section, carve out a small part at the side and leave it free. Then pack the rest of the upper section into a high ponytail and tease out the pony. For this style to look good, the hair must be glossy and a hair spray can help in this regard.
FAQs
How Do You Put Your Hair Up For Prom?
As shown above, there are several updo hairstyles that you can utilize for prom night. Some of them are high bun with braids, the classy low chignon, the twisted updo, the fishtail braided updo, the messy bun, and the classic French twist with a bun on top. You can also utilize a scarf to put up your hair for prom. These styles are not only beautiful but convenient as your hair won't get in your face or make you sweat. Updos can also come in handy if you will like to show off your long neck or even beautiful accessories such as necklaces and earrings.
How Do I Know What Hair Style To Get For Prom?
The type of hairstyle that one should wear to prom will depend on a variety of factors, including face structure and style of dress. As pointed out above, sleeked back hair works best for oval and diamond-shaped faces but does not really flatter square-shaped faces. Therefore, if you have a square-shaped face, then you should choose a hairstyle that will frame your face. Other things that should be factored in when choosing your prom hairstyle include expenses, accessories, outfits, and even convenience. If you intend to dance all night, then you are better off with an updo rather than something that will spill down your back.
How Do You Get Curls To Stay In For Prom?
Whether your curls come naturally or through a curling wand, it is usually challenging getting them to last more than a few hours. Thankfully, there are several products out there that you can use to make those curls stay put for prom night. If your curls are natural, you can utilize a curl-enhancing mousse. If they are artificially gotten, then you need something stronger like an extra firm setting lotion. Asides from the products, other helpful tips to make your curls hold include reducing the volume of conditioning, leaving your rollers in for as long as possible, and clipping the curls until they are cool before you let them tumble down.