When you get one of the best non slip shoes for women, the safety of your feet is guaranteed, especially if you work as a nurse, doctor, waitress, chef, or as any of the other on-the-move professionals who walk and stand all day, reducing slips, trips, and falls.
Non-slip shoes come with slip-resistant grip (usually at the tread of the shoes) which helps the wearer stay on their feet when walking on wet and greasy surfaces
These slip-resistant shoes also come with orthopedic features, offering superior support and comfort to prevent foot pain and protect your feet from a strain during a long work day.
Also See: Best Slippers For Women: Move Around In Comfort And Warmth
When shopping for non-slip shoes, you must look out for the best. This is because not all slip-resistant shoes are well made.  So if you're going to invest in non-slip shoes, make sure they provide you with the best quality,  healthy features such as breathable leather or synthetic uppers, removable insoles to accommodate custom inserts, arch support for pronation control, heel stabilization for added stability and durable outsoles for long-lasting wear.
Putting these features into consideration, we have come up with the best non-slip shoes for women to select from. Here they are
Best Non Slip Shoes For Women
MOZO Women's Forza Slip Resistant Work Clog 

Non Slip Shoes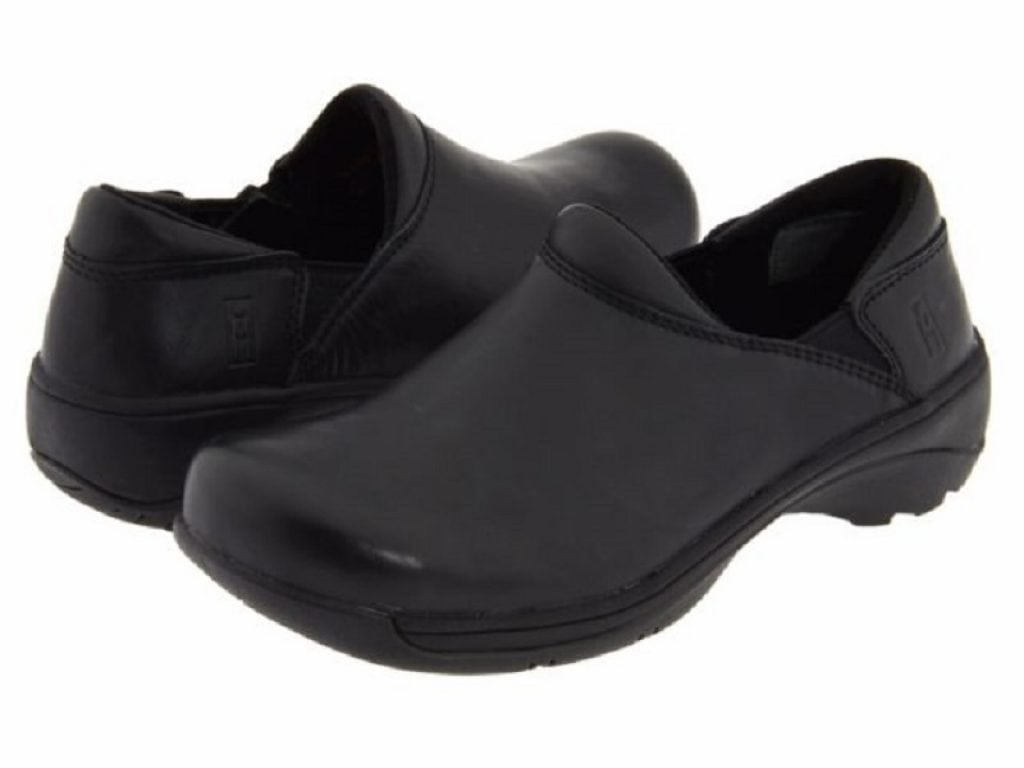 This amazing surefooted shoe from MOZO is one of the best non slip shoes you can count on. These clogs are made of high-quality materials that give the comfort and cushioning nurses need.
It provides go-anywhere traction that keeps it from rolling on slippery surfaces. The midsoles offer great comfort for better agility while the cushioned heel offers stability and comfort.
It also has a nice and incredibly built supportive of daylong loads, these clogs are just the kind of shoes you'll never want to retire.
Pros
Fit and comfort
Easy to clean
Water-resistant synthetic upper
Removable gel insoles for fit and cushioning
Slip-resistant outsoles for agility and traction
Orthotic friendly
Built with protective toe cap for protection on upper toe area
Comes with customizable MOZOFitTM System technology which allows you adjust the fit
Perfect for restaurant/kitchen workers
Cons
Slightly expensive
If you have a wide foot, you may need to get a size up
Verdict
If you wouldn't tread on a wet and greasy road with a bald tire, you shouldn't also go on a wet floor with a slippery shoe as well. Lace up a pair of these best non slip shoes from Mozo which provides you with all the comfort and performance features culinary professionals need and enjoy that sure-footed feeling.
if you are concern about your comfort and slip resistance at the workplace, then the Forza Clogs from Mozo are made for you.
KEEN Utility Women's PTC Oxford Work Non Slip Shoes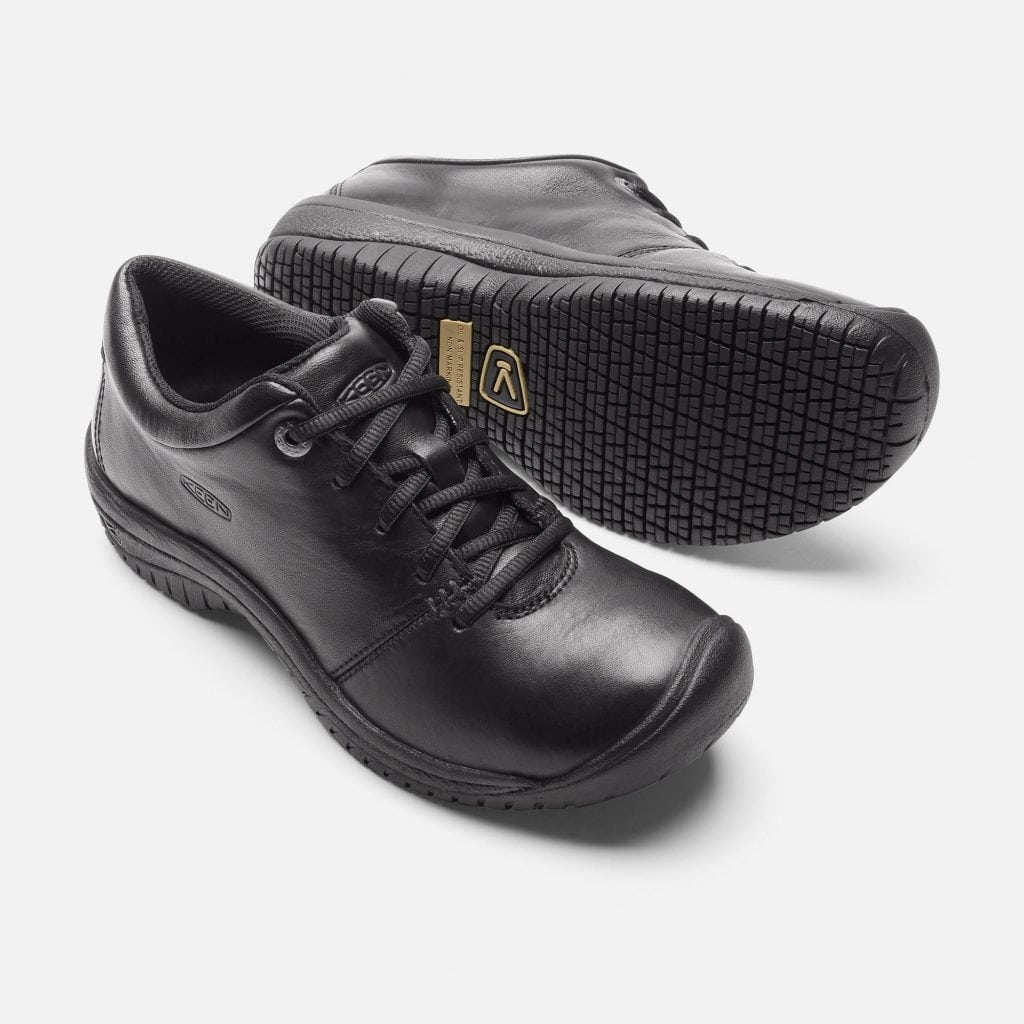 Whether you work in a hospital, restaurant, school, grocery store, or just spend all day on your feet, KEEN Utility PTC Oxford is for you. This amazing pair is lined with breathable leather, padded tongue, and collar for added comfort.
The water- and stain-resistant leather upper has a five-eye lace closure for easy adjustability.  while the removable KEEN.CUSH polyurethane, memory foam insole and EVA midsole support and cradle the foot during long hours of standing or walking.
The non-marking rubber sole of this shoe performs to ASTM F1677-96 Mark II standards for slip-resistance, keeping you safe both on the job and off.
Pros
Meets American Society For Testing and Materials Mark II Non-Slip Testing Standards
Oil and slip resistant
Water-resistant and stain-resistant
Non-marking rubber outsole for protection
Very comfortable
Cons
You will be paying a little more for this comfort
Verdict
The PTC Oxford from KEEN  with a slip-resistant outsole, a water-resistant leather upper for comfort, wipe-clean convenience. a plush KEEN.CUSH footbed made from PU and memory foam will definitely pamper your foot in all-day comfort.
Also See: 7 Most Comfortable Women's Dress Shoes Where Style Meets Comfort
Crocs Unisex Bistro Clog 
Non Slip Shoes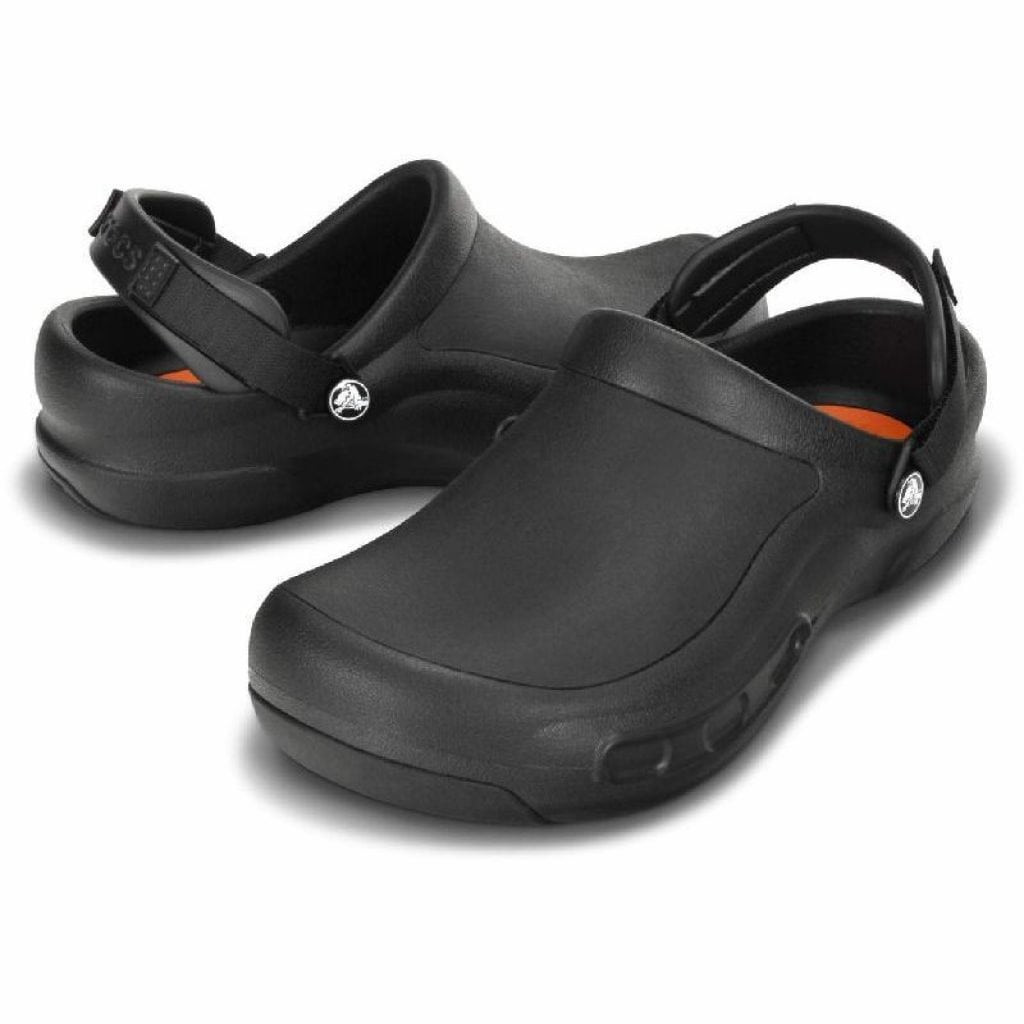 Asides meeting industry slip-resistant standards,  Crocs Unisex Bistro Clog provides increased traction. Its enclosed design and thicker metatarsal area help protect foot from kitchen spills.
Made with Croslite material to conforms to foot creating a custom fit, this shoe is designed with foodservice, hospitality, and healthcare workers in mind as they're light and supportive enough to get you through even the longest shifts.
You should, however, bear in mind that the shoe does not air venting holes.
Pros
Easy to clean: Simply use soap and water
Contoured footbed
Lightweight
Flexible
Durable
Easy to slip on and off
Comfortable
Cons
No ventilation holes
Not so true to size so you may need to size up or down as the case may be
Verdict
You'll also appreciate the extra-dense vamp for added protection, as well as the brand's famous footbed which massages every busy step.
Skechers for Work Women's Sure Track Slip Resistant 
Non Slip Shoe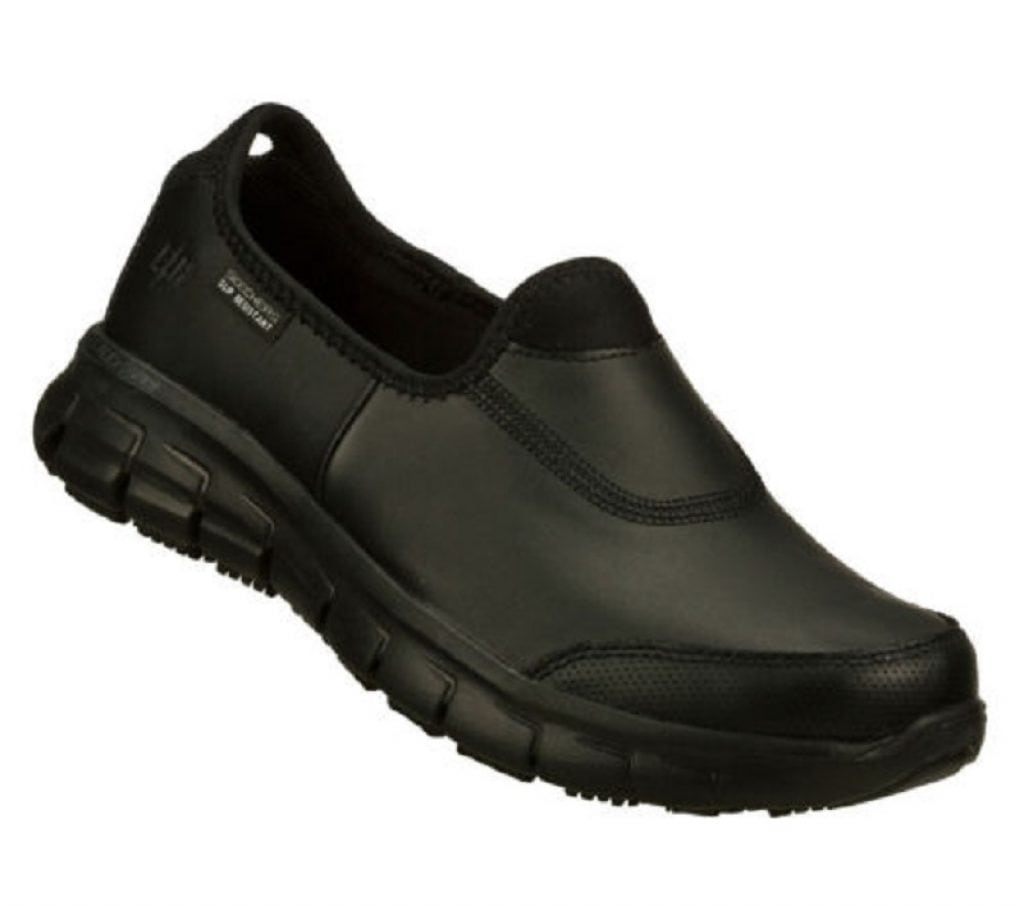 Women's Sure Track shoes from Skechers is another best non slip shoes for women available in the market today. These shoes are made of smooth solid leather and feature a slip-resistant work shoe design.
It also comes with protective leather toe and heel overlays, Memory Foam topped cushioned removable comfort insoles, and Supportive shock absorbing FlexSole midsoles for top-notch comfort and durability. You can work with confidence in these Skechers shoes.
Pros
Perfect on wet floors
Roomy
Comfortable fit
Slip-resistant rubber
Oil resistant outsole
Cons
Verdict
Be sure that these shoes will not only give you the safety you need while working but will also help you look as good as you feel even after several hours of working on your feet.
Dansko Women's Pro XP Mule 
Non Slip Shoes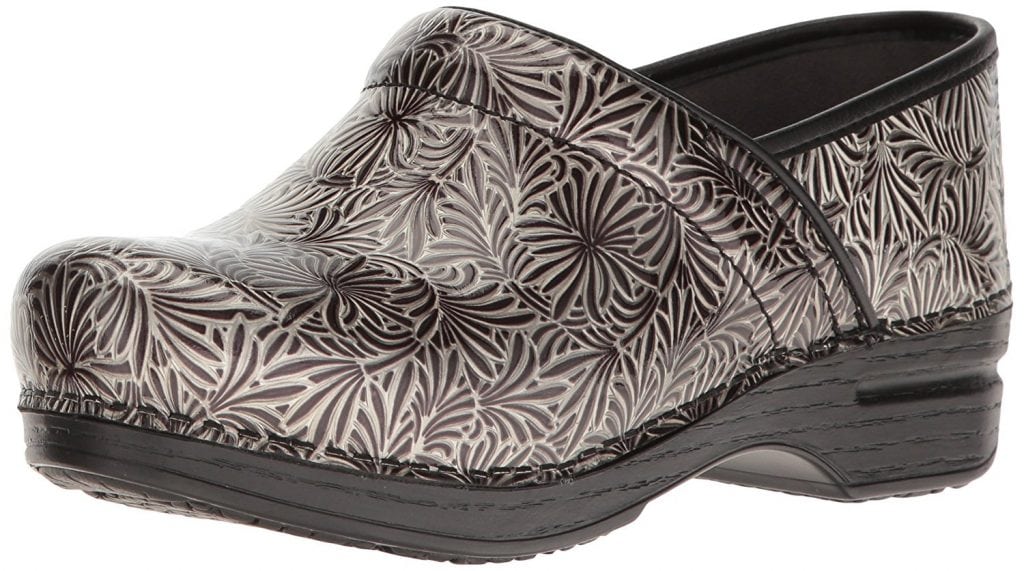 The Dansko Pro XP Mule comes equipped with a leather-lined memory foam foundation to provide your foot with the support and comfort needed to survive a long day at work.
With the reinforced toe box, you can also be well assured that your toes will have plenty of room to wiggle and breath, while still being protected. The slip-resistant sole will even protect you from losing your footing should you step in anything wet or sticky.
Pros
Leather-lined memory footbed
Slip-resistant soles
Quite roomy
Available in a variety of colors
Cons
 As with most Dansko clogs, this also comes with a little heel
Pricey but worth every penny you spend on them
Verdict
With the support provided by this clogs offered by Dansko, you are assured of freedom from ankle, knee, foot, and back pain if your work requires you to stay on your feet for eight to twelve hours.
New Balance Women's WID626V2 Work 
Non Slip Shoes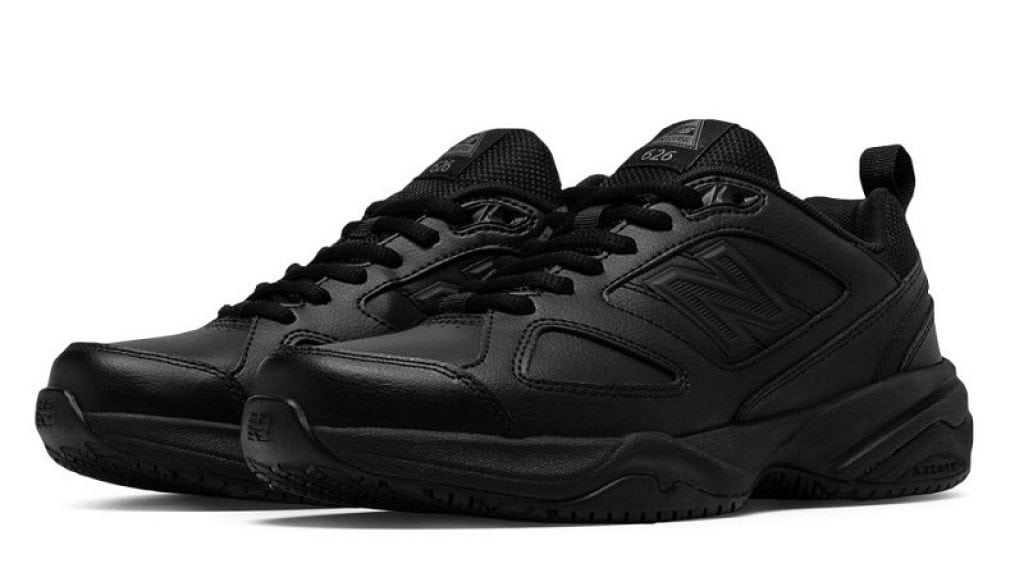 This pair of shoes from New Balance is just perfect for those who spend most of their time walking around especially on wet and slippery surfaces.
The shoe is uniquely designed to provide you with a sense of 'sure footing', with solid non-slip outsoles made of rubber, comfortable leather uppers, and an injection molded EVA midsole that adds extra spring to your step and offers great cushioning.
Pros
Slip-resistant outsole

Non-marking outsole

Lug pattern for superior traction on hazardous surfaces
Flexible
Cons
Not so true to size
A bit pricey
Verdict
This shoe is ideal if you are working in kitchens and warehouses, it will offer you a long-term support and cushioning. This thick leather shoe would easily go by unnoticed in the workplace as the only detail is the small 626 at the top.
The black has a clean look for many environments, but there is also a white one that is perfect for hospital workers.
Fila Women's Memory Workshift Slip Resistant Work Shoe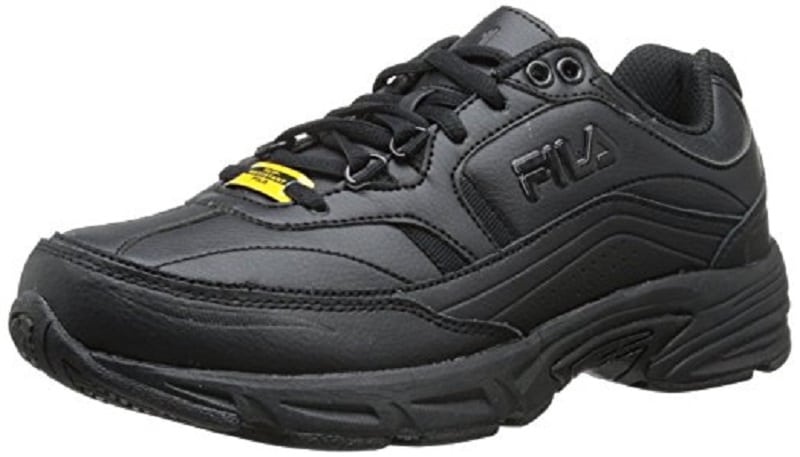 Women's Memory Workshift work shoes from FILA offer comfort and cushion throughout a busy workday.
This genuine and synthetic leather uppers lace-up shoes are equipped with padded collar and tongue and memory foam insoles which work with the thick rubber midsoles to support your heel and arch.
The slip-resistant rubber outsoles ensure you can move nimbly from morning to evening. The slip resistant outsole not only ensures easy movement but also beats gravity and the pattern cuts in all directions keep you in place no matter where the pressure is coming from.
Pros
Slip-resistant rubber outsole
Easy to clean
Padded collar
valuable choice
Cons
Verdict
The Fila Memory Workshift gives you balance, solid performance and classic styling you can count on
Birkenstock Professional Unisex Profi Birki Slip Resistant 
Non Slip Shoes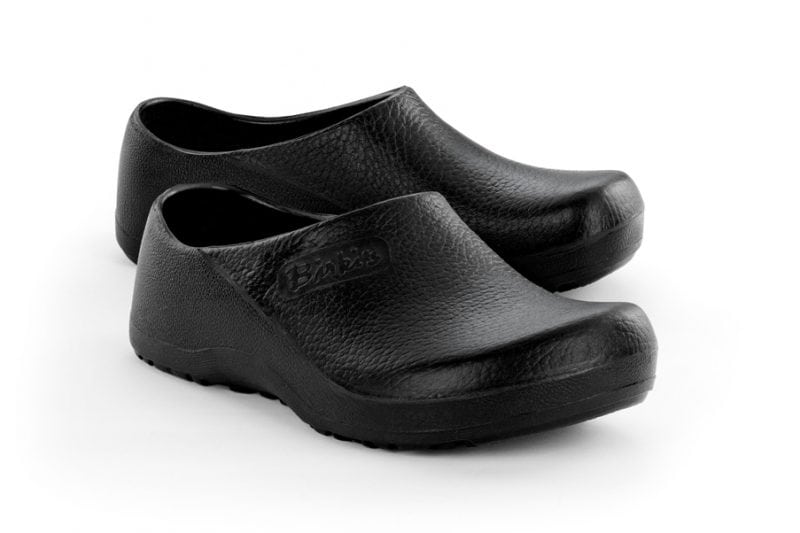 The last on our list is the Birkenstock Professional Unisex Profi Birki Slip Resistant Work Shoe.
This amazing unisex shoe is built to mold to both masculine and feminine feet all while giving you more wiggle room for your toes.
In addition to this, users also get more optimal support thanks to a footbed that evenly distributes weight all across the surface – this is a lifesaving feature if you're usually on your feet for most of the work day.
What is really so interesting about this shoe is that it is dishwasher friendly – simply slip that clog off and pop it in the dishwasher for an easy clean.
This versatile shoe comes with a rubber outsole that has been certified as fully slip resistant. No more careless and embarrassing falls with these babies on your feet.
Pros
Perfect on wet, dry, oily, and wet ceramic tiles
Waterproof
Dishwasher friendly
Perfect for both male and female
Cons
Verdict
With these shoes, you just walk and the shoe molds to your foot. The shape of the Original Birkenstock Footbed enables body weight to be distributed evenly over the whole foot, providing it with optimal support. This is the real deal.
Also See: Top 6 Women's Ugly Christmas Sweater Recommendations for this Season
Conclusion
If you're going to invest in slip resistant work shoes, make sure to choose the right type of slip resistant shoe for the job. If you're on the go a lot, you might consider a slip resistant work shoe with a closed heel and secure closure design. If your job requires you to stand most of the time, a slip resistant clog styled shoe with an open back may be preferable.