Crochet braids, also known as latch hook braids are hair braiding styles made by looping synthetic hair extensions, usually braids or twists, through braided cornrows on natural hair.
Crochet braiding is the method of making crochet braids which typically consists of adding pre-braided/twisted extensions to natural cornrows. There are several crochet braid styles such as straight crochet braids, curly, twisted, wavy, and afro crochet braids.
Crochet hairstyles have long been popular, but thanks to some inventive stylists, they've been given a new lease on life! You've come to the right place to find your next protective style if you're a black lady on the path to natural hair. These braids are a great way to add some protection to your hair and they come in a variety of pre-styled alternatives, as well as different thicknesses and textures, so you have a long list of designs to choose from at all times!
Long Crochet Braids Hairstyles
Long braids are a must-have for any lady who enjoys style versatility and wants hair that stands out. Long braids are appealing because they are eye-catching and may be arranged to fit your face shape and showcase your best features. You can also wear them in a variety of styles, such as elegant updos or high ponytails, without restriction.
However, the downside of long crochet braids is that they are more difficult to maintain, more expensive to make because they require more extension, and take longer to install. Longer braids are likely to be heavier, so this is a choice to avoid if you have thin or fine hair but if not, some great styles of long crochet braids you can try out include:
1. Crochet Goddess Braids
Goddess braids are a terrific choice if you desire beautiful, feminine hair. The braids are made up of thicker cornrows and are braided near to the scalp, yet they are quite versatile, since they may be worn long or short, in a variety of colors, and with variable thicknesses. This protective style is great for preventing breakage and friction, and it can also help with natural hair development while reducing styling time.
2. Crochet Box Braids
Look no farther than box braids for a terrific method to wear crochet braids and a protective style that is both versatile and elegant. Box braids are a celebrity and style icon favorite because they feature individual plaits that are sectioned off into small squares, giving them a box-like appearance. They may be dressed in a variety of lengths and thicknesses, and often look great with a variety of colors and accessories. You can also choose to wear them up or down, depending on your personal preference. Crochet box braids are appealing and can be constructed ahead of time, saving you time and money.
3. Crochet Braids Curly Hair
This is a good option to give yourself more length than your natural hair if you like the look of curly hair. Curly braids are really attractive and can help to soften the contours of your face. Depending on the length and thickness of your braids, as well as your personal inclination, you can style them in a variety of ways. This includes wearing your hair in a fashionable updo and letting it fall long and free around your face for a face-framing effect.
4. Crochet Braids Twist Hairstyle
Twists are beautiful and can be made in a variety of lengths and thicknesses; if you want a plain look, stick to medium-length twists, which allow you to style freely but aren't too dramatic or bold. You can choose from a variety of braid thicknesses, with larger braids being more obvious. Your crochet twist braids are a low-maintenance style that will avoid natural hair breakage and cut down on daily styling time. It's also a fantastic approach to promote hair growth naturally.
5. Knotless Crochet Braids
Knotless braids are braids that are made without the use of knots. This appeals to me since it relieves scalp stress and is a great protective style that is less harmful. They're made by progressively weaving braiding hair into your natural hair, and they're just as versatile as they come. They may be made in a variety of lengths and thicknesses. You can style your hair as you want and play with different colors to achieve the look you want. To brighten your appearance, you could use an ombré coloring process. Alternatively, add a splash of color with a few pink or blue accents.
6. Senegalese Twist Crochet Braids
Senegalese Twists are one of the most popular protective hairstyles due to their beauty, versatility, and appealing appearance. They're also one of the longest-lasting braids, making them great for the woman who wants a low-maintenance hairstyle that will give her a respite from heat styling and encourage natural growth; however, don't leave your braids in for too long or they'll break.
The Senegalese Twists can be made into little, bold, or lose braids; choose the appearance that best suits you and style it to suit your face shape and features. There are different types of synthetic hair to pick from, however, some people swear by Kanekalon hair. This is a favorite look of popular Nollywood star, Genevieve.
7. Deep Twist Crochet Braids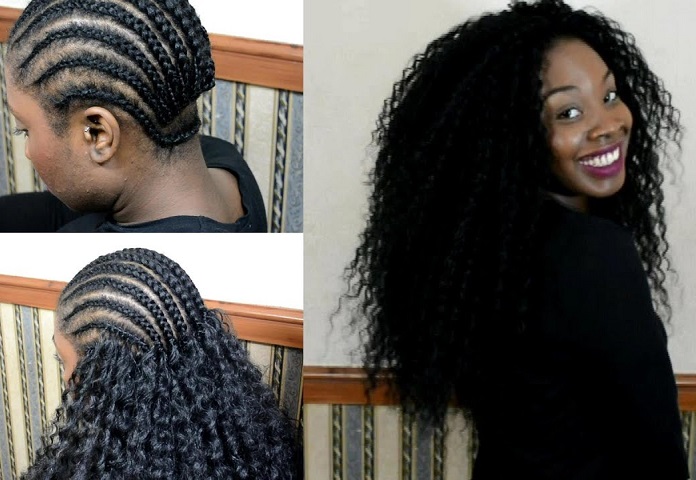 Deep twists come with defined curls which are ideal if you want an organized curly hairdo. These twists also make your face appear thinner and showcase your face in the best possible way. Wearing this hairdo long is preferable as it exudes a fine blend of beauty and elegance.
8. Havana Twist Crochet Braids
The Havana Twist braids are great for women who want hair that makes a statement. They are thicker in diameter than Marley and Senegalese styles but can be lighter and feel less bulky. This is because the hair used has a more coarse texture. These twists are gorgeous and long-lasting, and depending on how you care for them and the style you choose, they can last up to eight weeks. In addition, they are quick to install and a fantastic protective style for those who want to take a break from heat styling and aid natural hair growth.
9. Faux Locs Crochet Braids
Faux Locs, which are not to be mistaken with dreadlocks, is a short-term hairdo that will offer you a unique look. If you want the look of locs but don't have the patience to grow your hair into them, this is a perfect option.
However, Crocheting Locs involves a faster technique of installation, which is one of the reasons they're so tempting. Make sure your faux locs aren't too heavy, as this can generate stress on the scalp, which can lead to breakage, especially frontals. This is not an option if you have thin or fine hair.
10. Marley Crochet Braids
Marley hair, a high-quality product that looks like actual human hair, is one of the best options. A full head of hair should not require more than six packets. It will give you a beautiful finish for twists, box braids, and tree braids, among other forms. Beverly Naya the Nollywood actress is well known for sporting this hairstyle.
11. Wavy Crochet Braids
Wavy hair is a great alternative for individuals who desire textured hair, and it looks well on most women, adding softness to their features. Wear your hair down with a parting to show off your waves; side partings are flattering on most facial shapes. You can also try a bob or lob haircut or an unusual updo with this hair.
12. Passion Twist Crochet Braids
Passion twists are one of the braided world's most gorgeous and modern offerings! They were created in 2018 and are a fantastic option for women who want hair with a more boho and relaxed aesthetic. Passion twists can be made in various lengths and thicknesses, and you can style them the way you wish. They can also be installed via the crochet method, which is faster as the braids are already pre-twisted. In addition, this is also a protective style, aiding natural hair growth and preventing breakage.
13. Single or Individual Crochet Braids
This look can be achieved with multiple micro braids, or it could be with single crochet braids. Single crochet braids are also a protective style that can give your hair a break from styling and aid natural hair growth. You can create your look with human hair or synthetic; most women choose the latter option as it is cheaper and delivers excellent results.
14. Bohemian Crochet Braids
Bohemian braids are for those who want a gorgeous, carefree aesthetic. This hair has a curly texture and can frame your face and soften your features. They are often braided at the top with the ends left curly and undone. The contrast between these two looks makes for an interesting and textured appearance.
Although there are multiple ways to wear these braids, leaving them long and loose is advisable to show off the texture. Long hair is also the best as it gives you more versatility with styling and has femininity.
15. Human Hair Crochet Braids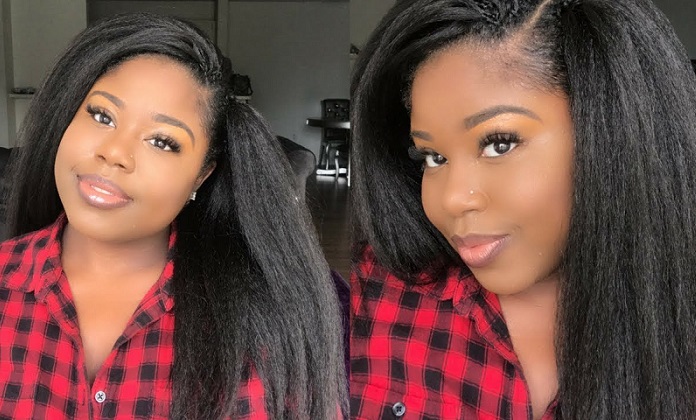 Crochet braids can also be done with straight human hair texture, which can look sleek and sophisticated. This is perfect for when you want to keep the hair out of your face, brushed back, or even placed into a stylish high ponytail with brushed baby hairs. Straight hair can appear glossy and healthy, and a great way to show off the precision of specific cuts, like blunt or asymmetrical. You can also use heat styling to give the braids a slight texture, such as crimping, an 80s favorite that is all about volume and flattering on most women.
16. Criss-cross Crochet Braids With Bangs
Bangs are an attractive way to transform your appearance and give you a youthful glow. The appeal of bangs is that they can be adapted to suit multiple face shapes and can be created in the length and texture of your choosing. Tousled bangs can create a soft and romantic look, whereas blunt bangs are fantastic for those who want a more fashion-forward approach. Bangs are also helpful for disguising problematic skin or covering forehead wrinkles, making them ideal for women of all ages.
17. Red Crochet Braids
Red braids are a guaranteed way to get your hair noticed. The color is so bold that it can draw attention to your texture and style. Crochet hair is a fun opportunity to try out a color without causing any damage to your natural hair, as you can purchase it pre-colored. Depending on your preference, there is a wide range of shades to choose from, and your red hair color can brighten your appearance. This is an excellent choice for a woman who wants to stand out from the crowd and express herself with her hair.
18. Long Dreadlocks Crochet Braids
Dreadlocks are rope-like strands of hair that take time and commitment to achieve. If you are like many who do not have the patience to grow dreads, adding them using crochet braids would be a good option. This will give you an edgy and cool appearance without any effort. Dreadlocks can be versatile with how you style them, and you can choose multiple lengths and thicknesses and wear them in an updo or long and loose. This may be a smart choice also to test if you would look good with dreadlocks before trying them for real.
19. Crochet Micro Braids
Individual braids can be crocheted in a variety of designs. Your protective style can also be made in whatever size you want, ranging from very bold braids to micro braids, letting you select the look that best suits your personality and features. Synthetic hair will offer you the best results; brands like Freetress are great for curly hair, while Kanekalon can help you get the straight braids of your dreams.
20. Crochet Braids Ponytail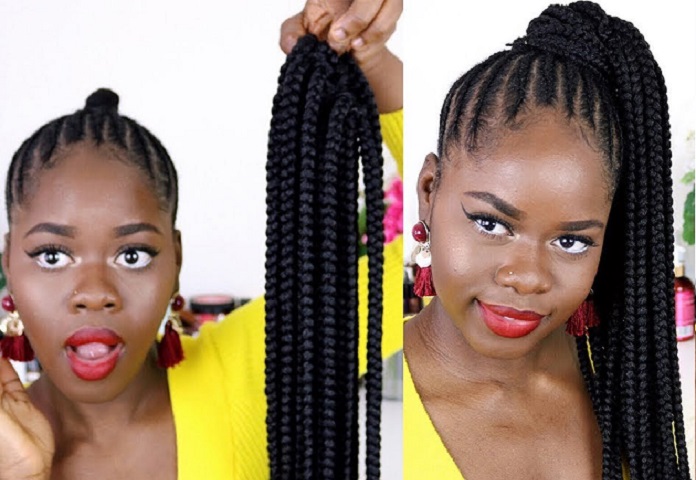 The ponytail is one of the most simple updos you can create, and it takes very little time or effort. With crochet braids ponytail, you can add length and volume to your hair, allowing you to make ponytails that are long and make a statement. Ponytails look good on women of all ages and complement most face shapes; they are also practical, keeping the hair off your neck and away from your face. This is great for formal occasions or for working out at the gym.
21. Blonde Crochet Braids
If you want hair that will turn heads, one of the easiest ways to achieve this is with blonde crochet braids. Blonde hair will lighten and brighten your appearance and give you a youthful glow. The light color can also highlight the texture of your hair and give it lift and dimension.
While blonde can usually show damage, pre-colored synthetic hair is a great way to ensure it doesn't. In addition, there is no damage or dryness to your natural hair as you do not have to endure the bleaching process, making this an excellent way to have fun with color without any of the hassles.
22. Stringy Aqua Crochet Braids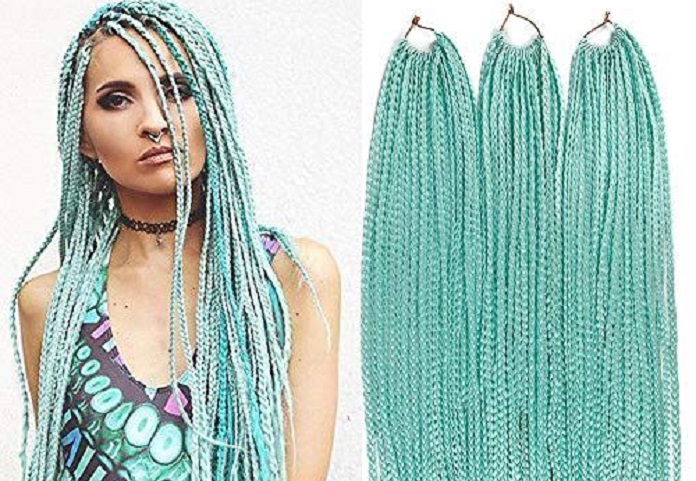 Going for big thicker braids is a great way of creating a deeper, fuller body while going for longer locks lets you get the fullness without the excessive volume. This fabulous look features a tasteful aqua green with hints of purple accenting the edges.
23. Crochet Tree Braids
Tree braids were one of the hottest trends in the 90s and early 2000s, but they are still a fantastic option for braided hair for those who want an expressive and fun look. The style is created with mini cornrows, which are braided around an inch away from the hairline, and the rest of the hair is left loose, making a voluminous and super-flattering finish. There is an interesting contrast between the hairline and the rest of the hair, and you can have fun by adding different colors to give your hair even more depth and dimension. Tree braids are versatile and can be worn in various ways, including updos or a statement ponytail.
24. Vixen Bohemian Crochet Braids
Vixen crochet braids involve a complicated braiding pattern created in four cornrowed sections. It gives you the leave-out option in the middle and is fantastic for creating a seamless, natural finish. The approach also gives you versatility, allowing you to style your hair in various ways, including a half-up, half-down look, or a ponytail.
25. Crochet Mohawk Braids
The mohawk is an edgy haircut in which the hair on the sides is shaved down and the middle strip of hair is the focal point. This produces an interesting contrast between the top and back, as well as the sides. Add a bright color to the mohawk for a more daring look, and enjoy the attention you'll get. So if you're the type of lady who prefers to stand out rather than blend in, a crochet mohawk-inspired style is the way to go!
26. Voluminous Side Swept Crochet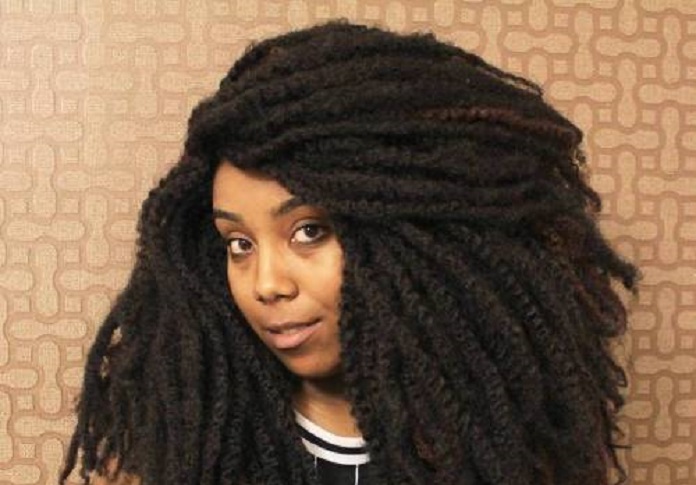 Boasting some magnificent volume, this stunning crochet braids hairstyle is all about giving your hair the right amount of fullness and depth. The thick black crochet locks can also be swept towards one side of the face for a more spectacular finish.
Short Crochet Braids
Braids don't have to be very long or large to draw attention to your hair. Short crochet braids are an excellent choice for a woman with thin or fine hair who does not want to stress her scalp. Shorter braids are less heavy and cumbersome, making them ideal for everyday wear. They're also simpler to style and keep up with. Crochet braids can last up to eight weeks, depending on the hairdo you choose and how well you take care of it. It can also be made with a variety of hair kinds, with synthetic hair being the ideal option for crochet braids.
27. Butterfly Locs
A stunning hairdo that can be rocked short is the butterfly locks. You can opt to go with bold crochet butterfly locks to pull off any look of your choice. This style is easy to maintain and can be styled in any way you want without a lot of hassle. Going for the bold locks will also prevent breakage of hair, especially for people with thin frontal hair.
28. Sculpted Beach Blonde Curls
Blonde is an excellent hue to complement darker skin tones. If you want to enhance your appearance with soft, fluffy golden locks, go for crochet braids hairstyles with thick, voluminous locks.
29. Crochet Bob Braids
For ladies of all ages, the bob haircut is a timeless and traditional design. It's adaptable and may be tailored to your hair texture and cut to suit your facial shape. Crochet bob braids are generally a protective style that can help to promote natural hair development while also preventing breakage. More so, maintaining your hair in a bob style is low-maintenance and suited for people with thin or fine hair because they are not heavy or thick at this length.
30. Short Curly Crochet Braids
Curly crochet braids may be styled in a variety of ways to fit your taste and to complement your face shape and characteristics. Freetress is a well-known synthetic hair brand that's perfect for making curly or textured braids. This hair product, combined with proper hair care, can extend the life of your crochet hairdo up to eight weeks.
31. Jumbo Crochet Box Braids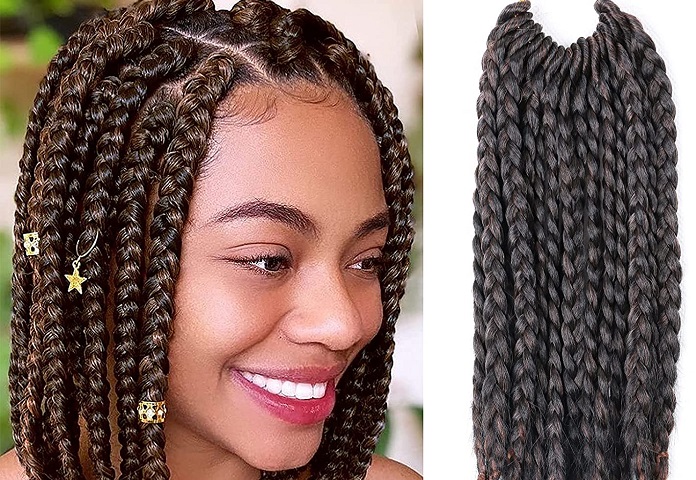 Crochet braids can be worn in a variety of styles, including enormous box braids. Box braids are fashionable and one can wear them in a variety of lengths and thicknesses, however, jumbo box braids are perfect for a bold style – the larger size can draw attention to the shape of the braids. They're also easier to install and can be paired with your favorite accessories, such as beads or colorful thread.
32. Lightweight Short Crochet Braids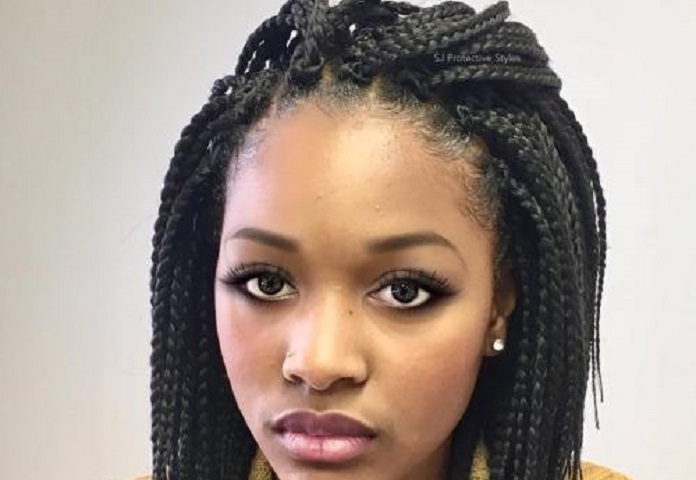 If you prefer a lightweight approach to reduce tension on the scalp and ensure you are more comfortable, consider keeping your braids small and short. Also, ensure that your braids are not too tight, as this can cause tension on the scalp, damage the roots, and even lead to breakage.
33. Short Crochet With Tapered Sides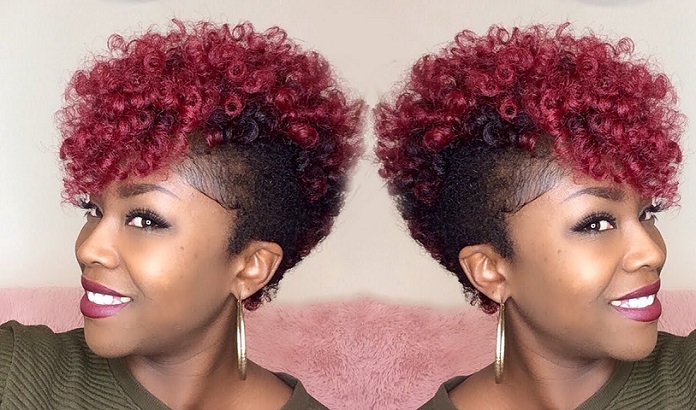 Tapered sides have become a popular haircut for women in recent years. So, if you prefer tapered sides, you can do so with synthetic hair as well. All you have to do is choose the appropriate hair size for crocheting into your hair.
34. Crochet Braids Updo
The beauty of crochet braids is that there is so much choice. This allows you to find the look that best suits your style, and it can be in various hair textures, lengths, and sizes. You can also style your hair in an updo of your choosing. This could be a messy and textured look that creates a gorgeous, carefree aesthetic or more sleek and structured, perfect for formal occasions. A good idea is to leave a few strands of hair out of your updo so that they can fall across your face – this will soften your features and give you a romantic finish.
35. Faux Pixie Cut Crochet Braids
If you love the idea of short hair and want to achieve it with crochet braids, this is possible. The appeal of the pixie cut is that it is flattering on women of all ages and is versatile and adaptable; you can experiment with different textures and finishes. It can also give you a youthful appearance, and the fringe will disguise any fine lines or wrinkles on the forehead. To give your hair depth and dimension, add a few highlights throughout.
36. Water Wave Crochet Braids
When installing crochet braids, you have a wide choice, including synthetic or human hair however, a great option is water wave, a type of artificial hair that you can use for crochet braids. It is a high-quality product and will help you achieve your protective style. The number of packs you will use will depend on the desired fullness and the size of your head, but 6 packs should be enough for most women. More so, synthetic hair is often cheaper and will deliver better results for various styles as it holds better.
37. Ombre Crochet Braids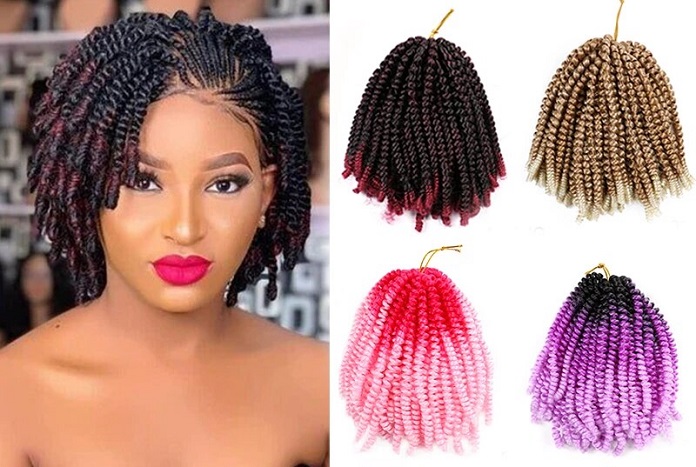 Ombre crochet braids are a fantastic way to experiment with colors without causing any damage to your natural hair. You can opt for pre-colored hair or work with your hairstylist to find the options that best suit you. Ombre is a coloring technique that seamlessly blends light and darker shades. For a natural look, you can combine the color of your roots with a lighter shade like honey or blonde, which will lighten and brighten your appearance. This will give you a sun-kissed glow. Ombre can also be done with bright and bold colors, like pink and blue, for those who want a look that demands attention. Color is an opportunity to express yourself and let your playful side shine.
38. Invisible Crochet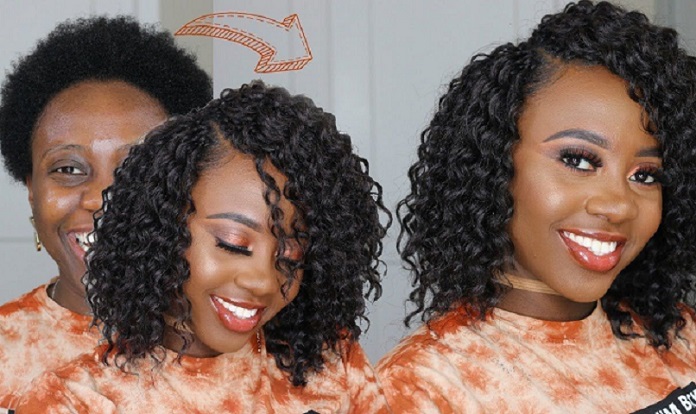 The invisible method of fastening crochet braids is done with the hair parted in the middle or by the side with cornrows. The rest of the hair features cornrows that run from the front to the back. The result is a seamless installation that gives you a very natural appearance. This look can be achieved with synthetic hair or natural locks and done in a wide variety of styles, textures, and lengths. Opt for curls that fall gently around the face for a soft and romantic feel.
39. Afro Crotchet Braids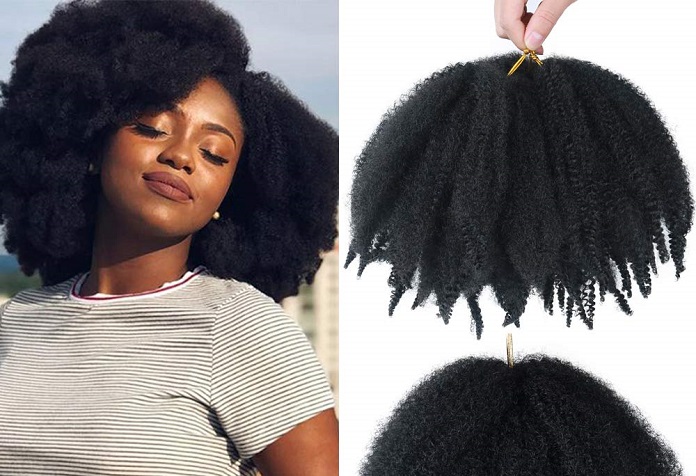 This look is playful and fun and it brings out your girlie side no matter what you wear. The thick, fluffy curls are styled in such a way that they appear natural, soft, and textured. Going for more volume on an oval-shaped face would be a good choice because it makes it look softer and more delicate.
40. Knotless Blond Curly Crochet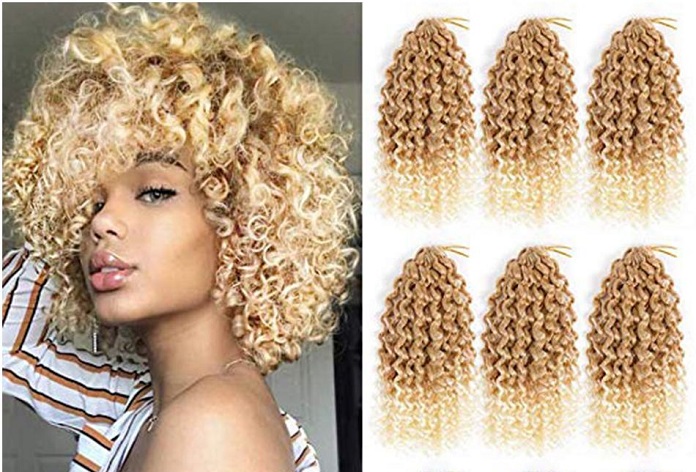 To create an immaculate and natural look, get some knotless crochet braids. Crochets like these allow you to part your hair wherever on your head without displaying knots. This style is great for short and medium-length hair since it adds versatility to the style. The curly style also frames the face beautifully.
What Are The Different Types of Crochet Braids?
Crochet braids come in various designs which might need some unique techniques to fasten them. Some of the notable types of crochet braids include:
Straight Crochet Braids
Curly Crochet Braids
Twisted Crochet Braids
Wavy Crochet Braids
Afro Crochet Braids
Crochet braids have indeed topped the charts when it comes to trending hairdos of recent times. No one is left out as there is something for every person and they come in various packages whether it is synthetic or high-quality human hair. Its limitless option of diverse colors has also made it possible and easy for every woman to make a statement with her most preferred color and style of crochet braids.
How To Do Crochet Braids
Crochet braids are frequently faster to apply because the foundation is formed by braiding cornrows onto the scalp or braiding the hair into tiny parts before fastening the crochet braids. A crochet hook is then used to thread the hair extensions – however, a bobby pin or hair beader can also be used to fasten the crochet braids.
Once the extensions have been firmly attached to your hair, you may wear them in a variety of ways – up hairdos or just free-flowing ones. You can also experiment with various hair colors without harming your natural hair. This is because crochet braids can be obtained in diverse shades.
How Long Do Crochet Braids Last?
Crochet braid hairstyles are typically meant to last between 4 to 8 weeks, but if the work and hair extensions are of good quality, you can leave them in for longer. More so, Crochet braids that are done by a professional stylist last longer than braids done by a novice. Complex braiding designs are created by skilled stylists, and some patterns stay longer than others.
Another consideration is the hair quality. Hair that is of lower quality does not last nearly as long as hair that is of a higher quality. Although a lot of synthetic hair extensions do not last long, there are some variations that have features like original human hair extensions which can last longer than the usual synthetic extension. It is sometimes wiser to spend extra money on either high-quality synthetic hair or original human hair extensions and employ a professional stylist in order to get the most out of your hairdo.