These easy kids' hairstyles are guaranteed to bring out the outer beauty of your child, complementing the inner beauty of their hearts. There are thousands of lovely hairstyles that you can do for kids. Mothers and caregivers always struggle to look for the perfect hairstyle for their little girls even though there are thousands of options out there. As a result, they end up repeating the same style of hair all the time. Others end up spending a fortune on their kids' hair but all these can be avoided.
For this reason, we have put together a collection of different easy and quick kids hairstyles which can be done by anyone, even dads. Take a look at the list below to find the one that would best suit your little girl.
Hairstyles For Little Kids
If you have ever raised a child (girl or boy), you would know that getting them to sit at one place to get their hair done is one of the most challenging things ever. Because it feels like downright torture to them, it is best to avoid doing anything complicated. Try your best to keep things simple in order to not "torture" them more than that is required. Below are a few examples of hairstyles that can be done for little kids, both those with long and short hair.
1. Twisted Pigtails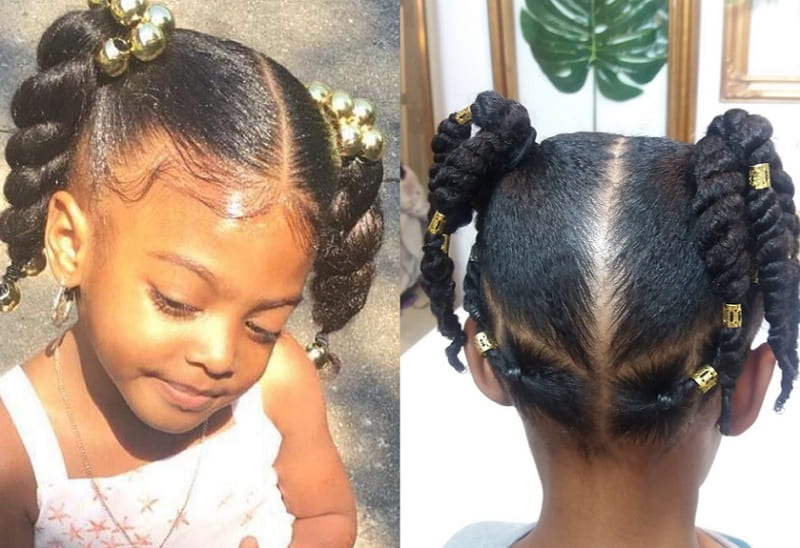 Both the old and the young can rock twisted pigtails. Picture your little girl with them while wearing a heart-melting smile on her face. It is a stylish hairstyle to do that would leave the young one looking super cute and adorable. It is also quite easy to do without so many complications. It just requires three to four twists on a finely packed pigtail. You can also choose to have one big twist if you desire.
2. Afro Puff with a Headband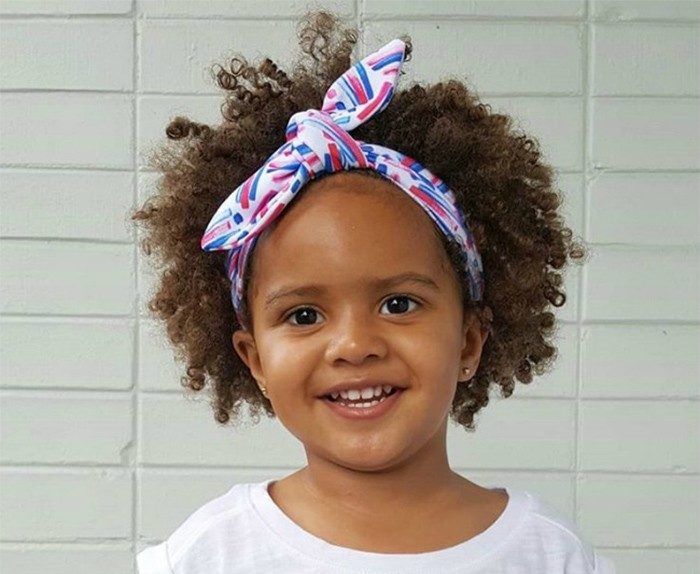 If you are trying to make sure that your little girl wears her hair in a natural way, then you can't go wrong with the Afro Puff hairstyle. It does not matter if your little one has short hair, very long hair that gets to her tail bone, or curly hair, getting this done is easy and will certainly look good.
To make things exciting, you can choose to use gel or edge control to make the front section of the child's hair relax nicely under a headband that would bring more attention to the beauty of what you are trying to achieve. You can also choose to make two puffs instead of one to further spice things up.
3. Dutch Braids Into Big Buns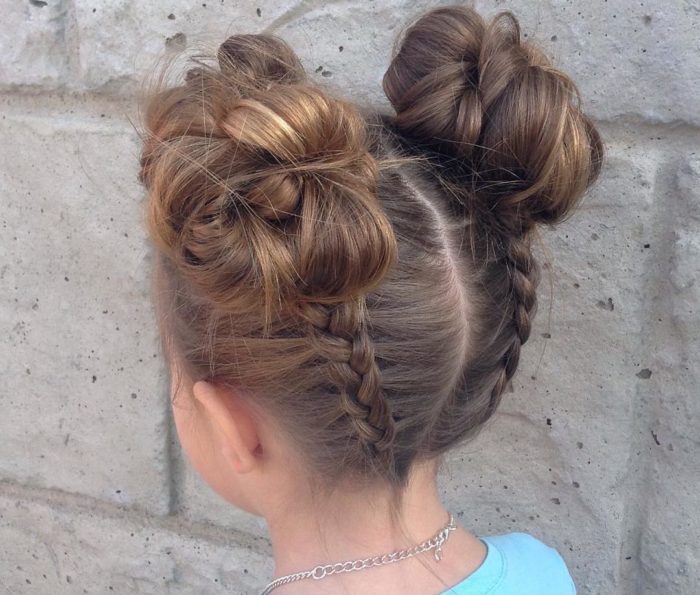 Many people get confused with Dutch and French braids because the former is the reverse of the latter. This is why Dutch braids are also known as reverse French braids. The two are done almost exactly the same way except that the strands in a Dutch braid are crossed under instead of over as it is done in French braids.
To achieve this style, the hair is Dutch braided into big buns. All you need to do is part your little girl's hair down the center starting from the nape to the neck. Proceed to Dutch-braid each section from the neck upwards and twist the braids into buns. It must be pointed out that this hairstyle may be better suited for kids with long hair.
4. Loop Braid Ponytail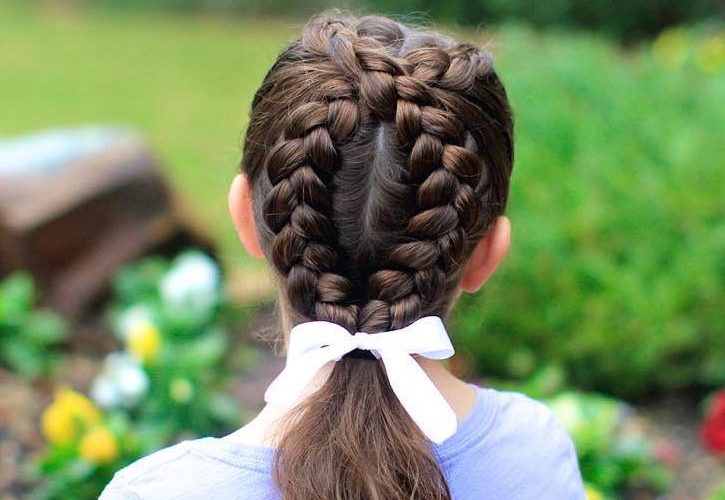 For the loop braid ponytail hairstyle, either Dutch or French braids can work well. It also does not matter if the child has thick, thin, long, or short hair. To get it done, begin at the temples to braid two sections of the hair. When you get to the center of her head, cross one braid over the other. Continue braiding down the opposite sides, curving the braid around to form a loop.
You most certainly have to use accessories when doing the hair of a little kid so any accessories you see fit would make this hairstyle appear a little bit more fabulous.
5. Sleek Hair Into Bun or Knot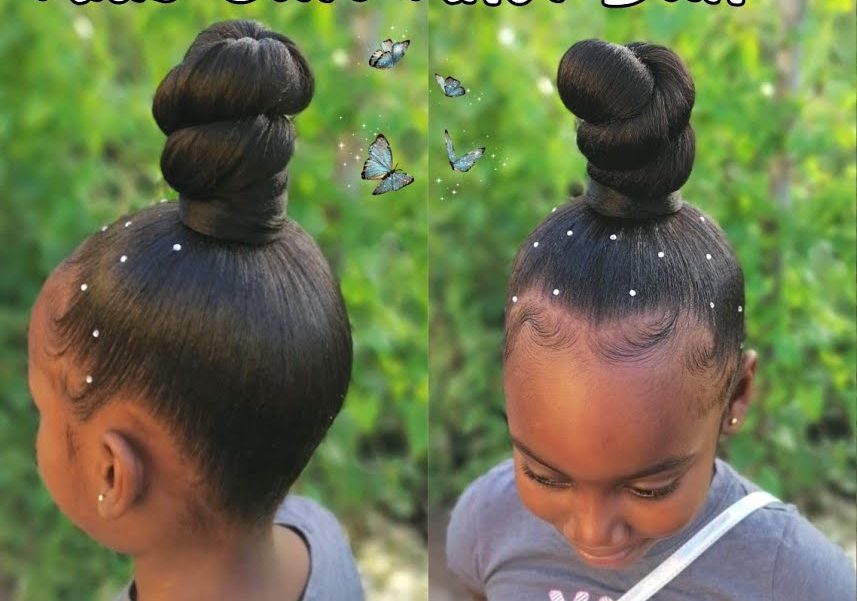 While this hairstyle might be better for a little girl with straight hair, any girl can successfully rock it as long as it is done properly and attention is given to their hair type. The length of hair will determine whether a bun or knot is done at the end. The hairdo can be worn for different occasions, either to school or to an occasion.
Easy Hairstyles For Kids
Every mum would confess that there are times when for one reason or the other they have had to do their child's hair at home by themselves. At moments like this, you need to know a few styles that do not need any form of expertise to get it done. A few might need you to use products while others only need some parting and braiding. What is, however, important for you to have with you are accessories that can make any style more beautiful.
6. Fringed Girly Bun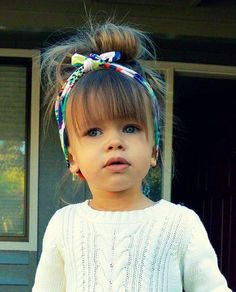 What is easier than letting out a little fringe in front and making a bun of the rest of the hair. Without a doubt, this is one of the quickest and easiest natural hairstyles you can do for a kid without any hassle. With different accessories, like headbands, ties, clips, and so on, you can get away with doing this hairstyle several times in a month without anyone noticing that it is a repeat.
7. Angled French Braid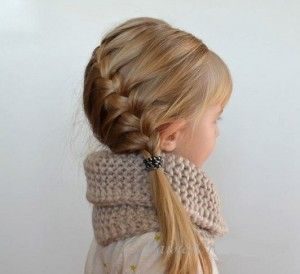 What a cute simple look to give your little girl. While it is obvious that the style involves simply French-braiding hair, add a twist to it by doing it to the side. Start by brushing your little girl's hair all the way to one side. After this, knot a French braid from the middle top. As expected, you would need to add some style to it. In addition to using accessories, you could get out a bit of fringe in front and slant it to the side.
8. Side Braids With Hints Of Colour To The Other Side
It does not matter if your child has long or short hair for you to be able to do this style for her. It is very easy as it only needs you to braid one side of the hair. At your discretion, and depending on how full the child's hair is, you can make anywhere from three to five lines of braids. The other part of this hairstyle is where you will need to be careful as too much or too little of it can ruin everything. You will be required to dye the hair and this can either be very good or can go bad very quickly. An alternative to using dye is clipping in color strands. With either of the methods, the little girl is going to have the big girly look and will certainly be the center of attraction wherever she goes.
9. Minnie Mouse Bow Bun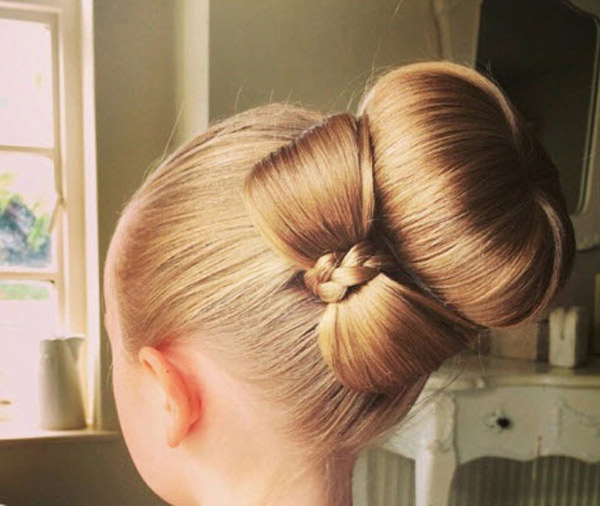 This hairstyle will be certainly appreciated by kids who used to love or still have the Minnie Mouse cartoon as their favorite. You will certainly see the radiant joy and happiness pour out of the child's face when the style is properly done. All you have to do is have a woven strand of hair close to the middle of the head. Next, use a good portion of the hair to create a bow, then use the remaining hair to create a knot. After this, tie the bow in the middle and finally wrap all loose hair into a bun. A little technical ability might be needed but this style is one of the easier and stylish ones to accomplish at home.
10. Half Bun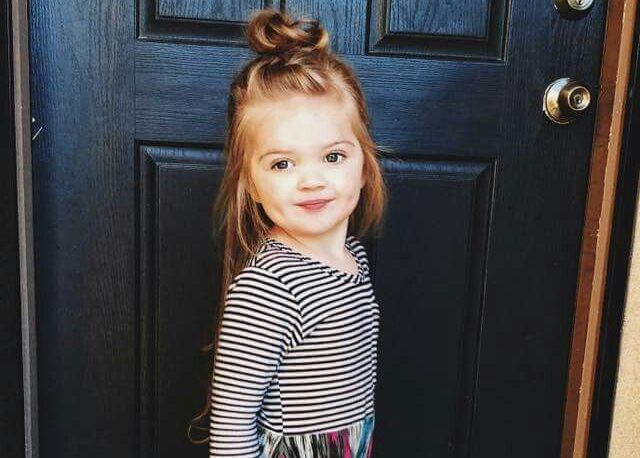 This easy-to-do hairstyle is for children with long hair. Its aim is to try to keep hair off their faces. All you need to do here is make a huge top knot to the back with the top part of her hair and let the other hair flow at the back.
Natural Hairstyles For Kids
There are limitless styling options when it comes to natural hairstyles. It is suggested that these styles be used for kids who still have a tender scalp or even for those that can't seat in one place for long to get their hair done.
11. Mohawk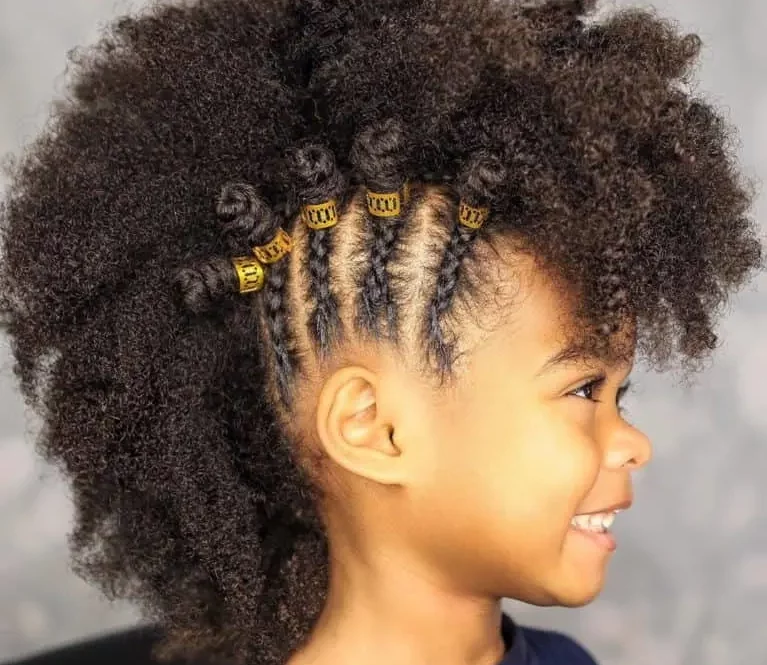 Both men and women have easily turned heads with a mohawk. For a girl, you can choose to either braid the sides of the hair or shave it all off entirely. For the latter option, ensure that the top part is not cut. Whichever option is chosen, allow the top of the hair to flow naturally and the mohawk hairstyle will be ready for the little one to rock.
12. Bantu Knots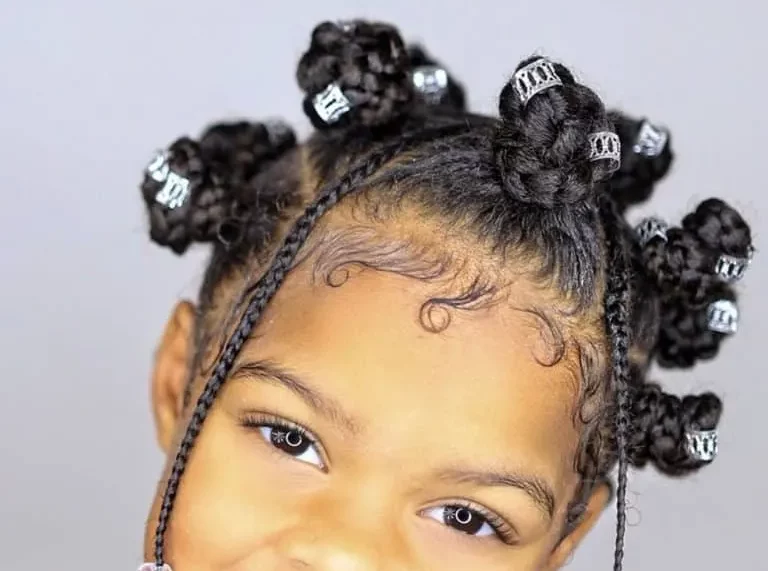 Bantu knots are not just stylish but also considered a protective style that would not cause any damage to the hair. It is, however, essential that the hair is well-moisturized before knots are done. Care should also be taken when twisting the hair, as twisting too tightly could result in damage.
13. Two Strand Twists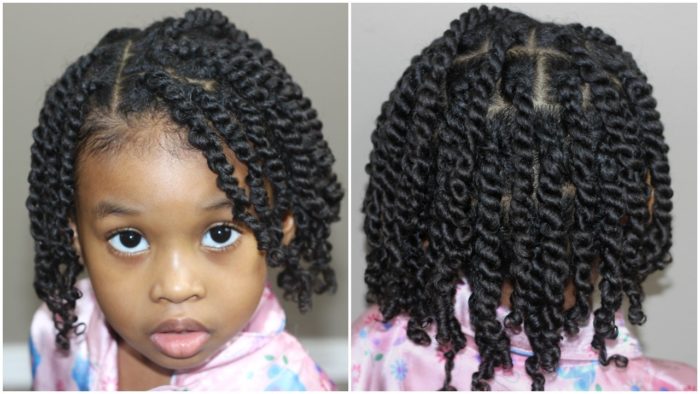 Like the Bantu knot style, this hairstyle is easy and simple to do with natural hair. Just moisturize and make as many twists as you desire on the hair. These twists can at the end of the day be styled in different ways as the child chooses.
14. Mini Braids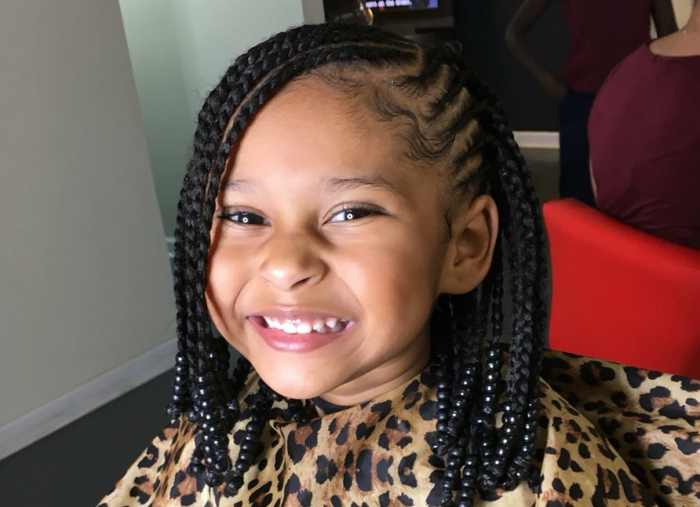 Another natural hairstyle for kids, mini braids are done by braiding or twisting small sections of hair either with or without the addition of attachments/synthetic hair. To beautify, you can add beads to the braids or just curl the ends with rollers. While this style may take longer to accomplish, it can last for more than two months if well maintained.
15. Blown Out Fro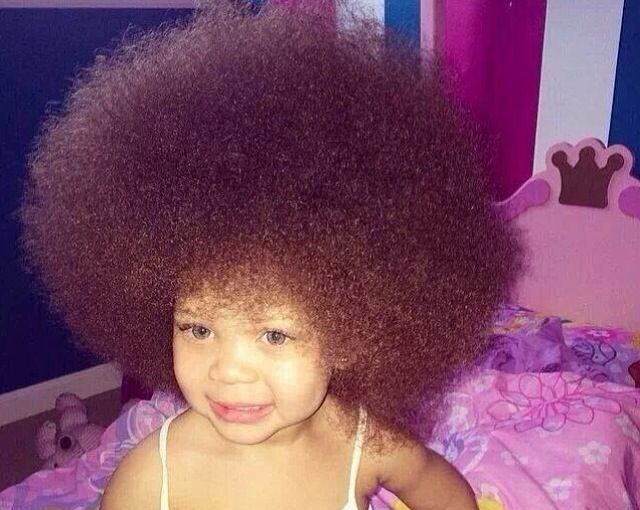 The blown-out afro hairstyle is one of the more popular options for kids. Both parents and kids love it because it requires very little maintenance. All you need to do here is let the kinky hair grow out in all directions to allow the little girl to appear as natural as she can be.
Cornrow Hairstyles For Kids
Cornrows have been around for thousands of years. They originated in Africa where they were predominantly worn by women. It is however now a favorite hairstyle of men around the world but women and little kids still find a way to pull it off exotically. Below are a few styles that you can choose from.
16. Crown Cornrows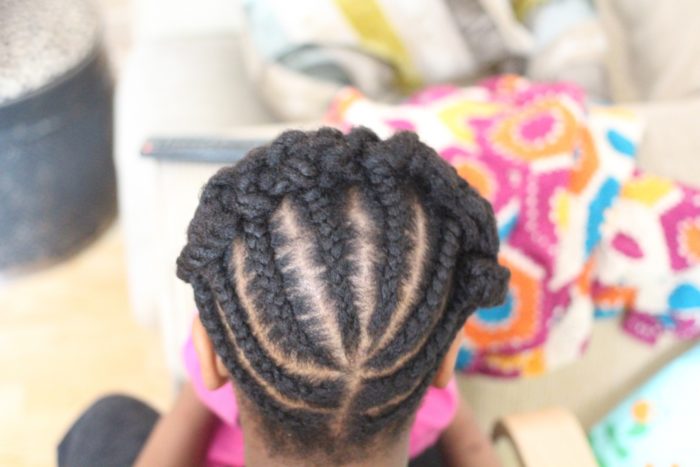 Your child is a princess, so why not put a crown on her head with everyday cornrows. This style is very unique and quite simple to do. Just as the picture shows, what needs to be done first is to get the little girl's hair cornrowed from front to back. Ensure that some hair is left at the top of her head so that a row can be braided from one side of the head to the other (ear to ear). If this method proves to be somewhat complicated, you can choose to add hair attachments to ensure that the hairstyle remains neat and slick. When it is all done, the little kid would appear to be wearing a crown or tiara on her head, allowing her to feel like the princess that she is.
17. Angled Inner Pigtail Cornrow
Don't get discouraged by the cute looks of this braid, trust me it is not as complicated as it looks. There are different ways you can achieve this style. What you need to do first are the two pairs of inner braids that should link up. At the end of the pigtails, weave the other braids as normal to form the complete pigtail, creating a zigzag part when parting the hair. If done neatly, this hairstyle should last for about two weeks.
18. Cornrows With Triple Ponytails and Twisted Ends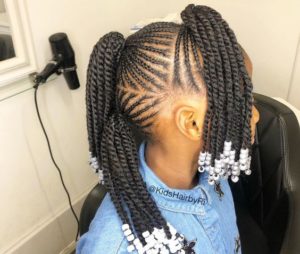 This hairstyle might look a little bit complicated but it is not. The hair is simply parted into three different sections. Each of these sections is then braided towards a particular direction where a ponytail can be made with its twisted ends. When all three sections are done, your little girl would be carrying three ponytails. If you choose, you can add a little twist to the twisted ends by adding beads or even choosing to add attachments of different colors that would ensure that the little girl stands out.
19. Top Knot Cornrow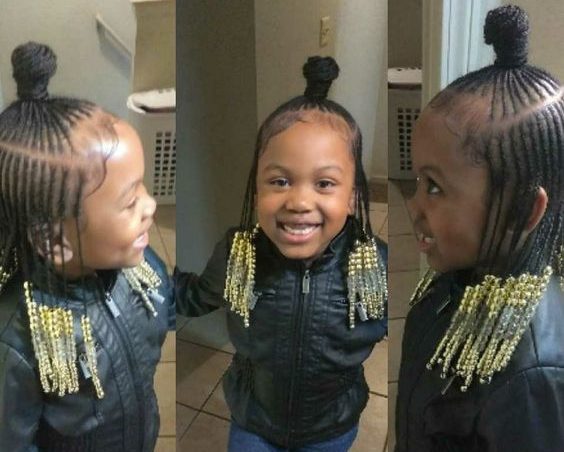 Another exciting way to have your little kid wear their cornrows is by adding a top knot to it. As pictured above, the child would have to get her hair braided in the normal fashion. When all is done, the top section of the hair is tied into a top knot. You can choose to either make this top knot long (high) or short. Whichever way you prefer, it is certainly a distinctive look that would make the little kid appear even more fabulous.
20. Butterfly Cornrows With Beads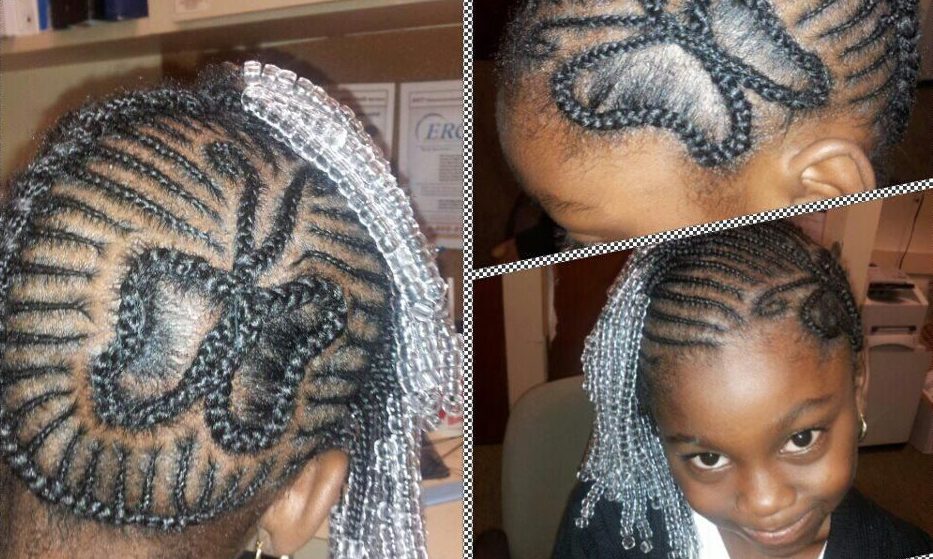 Due to how active kids are and their inability to sit down for long periods of time, this butterfly cornrow style might be quite challenging to achieve. However, if successful and done properly, it will be the best thing you could have done for your little girl. Other than getting normal cornrows done, what this style entails is having the shape of a butterfly braided onto any side of the head. It could be at the back in the middle or by the side of the head close to the ear. The style can further be very stylish, depending on what accessories you choose to add. We recommend that you go with colorful beads. This will definitely make your little girl the envy of her friends.
Black Braided Hairstyles For Kids
21. 'S' Style Braid
Just two different braids, with the front patterned in an 'S' shape. This style best goes with full puffy hair but don't be discouraged if your little girl has light hair. There are other styles specifically meant for her. You can also use attachments/hair extensions to get it done.
22. Twisted Curly Braids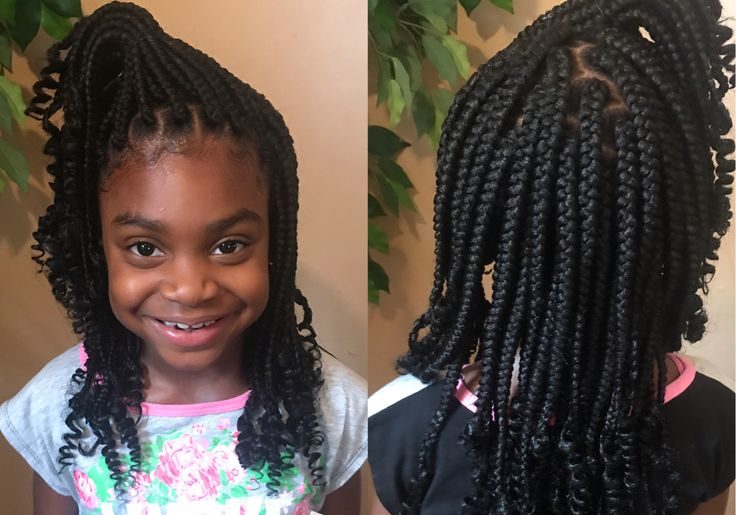 These lovely twisted curly braids might take a lot more couple of hours than a quick hair but I can assure you that it lasts a couple of good weeks more than most quick hairstyles we do to beat time. Just to mention, remember to put on some rollers at the tip of the twisted braids overnight using a setting cream or oil to create the curls.
23. Snake Braids
Snake braids are a twist to the otherwise normal way of braiding hair on the scalp. You can either start in front and make the strands slanty/snake-like as you braid it backward to the neck or on one side of the head and braid it in a slanty/snake-like fashion, ending towards the neck. You can either make the strands chunky or small. Whichever way, it is sure to come out great. You can also add accessories of choice.
24. Criss-Cross Goddess Braids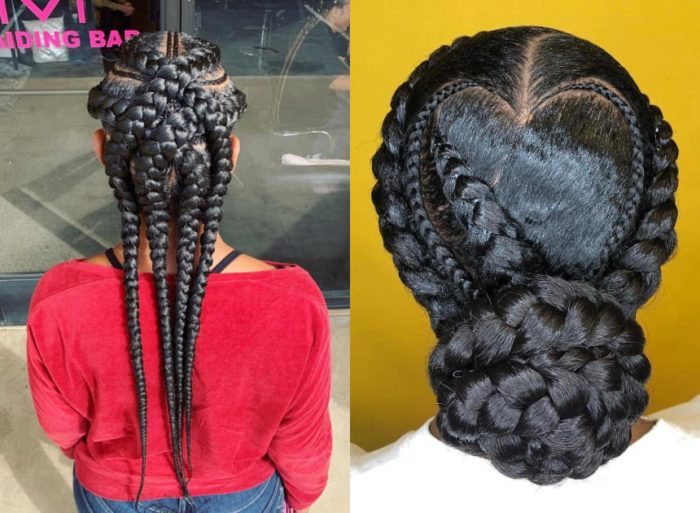 Goddess braids are when the hair strands are weaved big/chunky. It is perfect for when you want your child's hair to take a break from more strenuous styles. It does not take long to do and is quite easy to take out. It is also quite convenient as you would not need to worry about styling the strands every other day.
25. Knotless Box Braids
Box braids are a classic style for many people out there. However, unlike normal box braids, knotless box braids do not cause tension on the scalp due to the immediate addition of hair extensions. To achieve the style, your child's natural hair will be braided from the scalp before hair extensions are added. This way, their hair is protected and they get to be as beautiful as any kid out there.
Hairstyles For Kids On Their Birthdays
Kids are supposed to be the center of attention on their birthdays. As a result, their hairstyles are expected to be amazing for everyone that sees them. We have selected a few styles that are sure to make your little girl the topic of discussion and envy of her friends on her birthday.
26. Knotted Zig-Zag Hairstyle
This is one of the cutest natural hairstyles a kid can wear on their birthday. You will need about ten or more pieces of pink or multi-colored hair rubber bands, depending on the volume of your girl's hair. All you need to do is part the upper half of the hair into two horizontal layers and on each layer, create as many vertical partings as desired without making it too big or too small. As you part the hair, immediately tie it up with the band. On each part, using your fingers, separate the hair into two and affix it into the next layer to create a knot. You could either end up doing a ponytail or pigtails.
27. Twisted Zig Zag Buns
This hairstyle looks complicated but is actually quick and simple to do. It is also best if you are on a budget. To get it done, make about six parted twists upwards on the half back of the hair and two braids in front on a zigzag part, joining them all to two finely made pigtail buns. This is an exclusive hairstyle that lasts and can be done on birthdays.
28. Stylish Dutch Braided Ponytail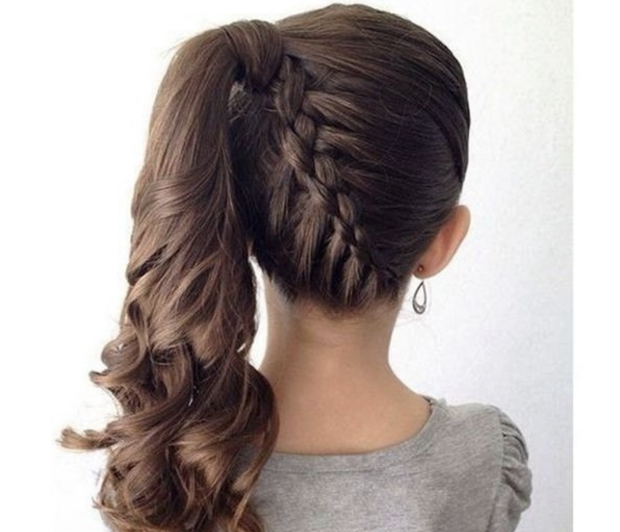 Lovely Dutch braids to make your girl look ladylike and classy. Just make an angled full hair dutch braid and create a knot with part of the hair, holding together the end of the dutch braid to a ponytail. This hairstyle is one of the more simple ones to achieve but it is also eye-catching. The ponytail also allows the little girl to swing her hair as much as she wants on her big day.
29. Stylish Woven Bun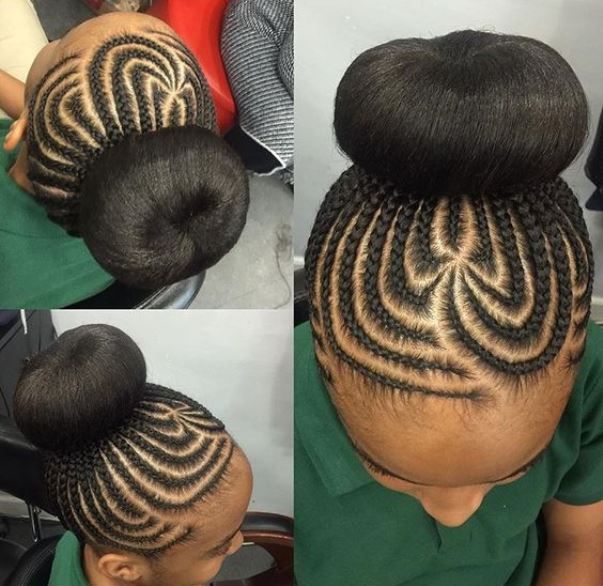 This hairstyle looks great on adults and children alike. There are different variations to it but whichever one you choose, it can be easily actualized. One option is to do two on each side 'pick one after the other braids' to the top, two normal Dutch braids to the front and at the back, and a French braid to the top. All of these are weaved/braided to the top into a bun. You can use a bun holder if that would make it easier for you.
30. Middle Heart Ponytail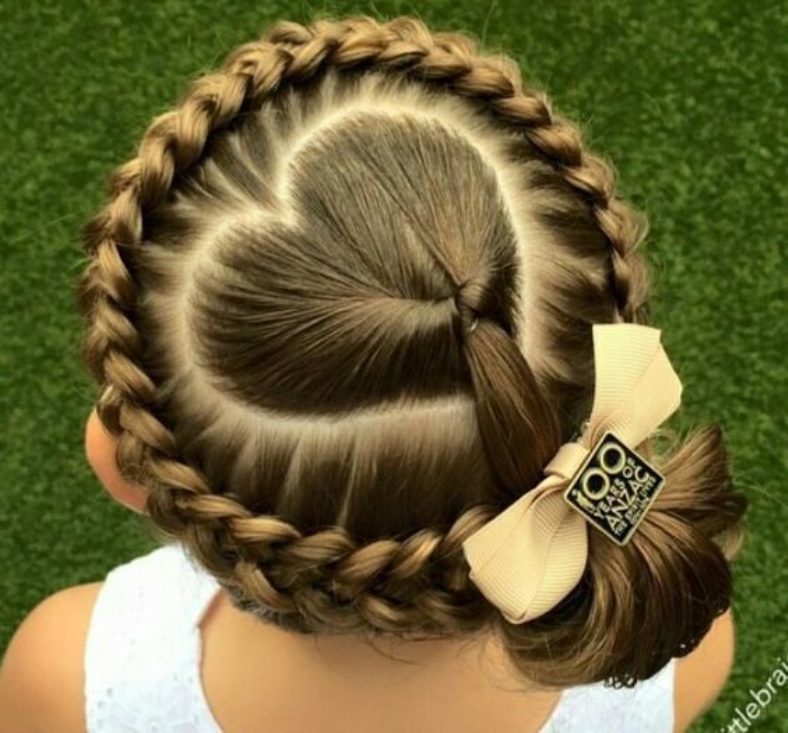 This is the ultimate hairstyle for a kid to wear to her party. She can also wear it to another person's event and steal the show because it's fabulous. It will certainly make your girl stand out among many. All you need to do is weave the hair all around, creating a knotty heart shape ponytail in the middle of her head.