Fohawk fade (also called fohawk) is a haircut in which the top is toned-down, down and the side faded with contrast and definition. Fohawk fade is probably the coolest and trendiest haircut for men due to its stylish appeal that brings in the right balance of suave and edginess in one look.
The versatile fohawk haircut also has a lot of room for creativity and as such, you can tweak and personalize your appearance to no end, it is no wonder why many men prefer the look. Looking for a fresh new cut that is suitable for the modernistic metro man? Herein are the best fohawk fade hairstyles you should try.
Men's Fohawk Fade Haircuts and Hairstyles
1. Skin Fade Fohawk Haircut
Such choppy finishes are great for those who prefer clean and smart hairstyles. Throwing in a short fade at the sides that tapers into the skin helps to shape the look and also create some textural contrast between the long and short hair.
2. Top-Heavy Fohawk Fade Haircut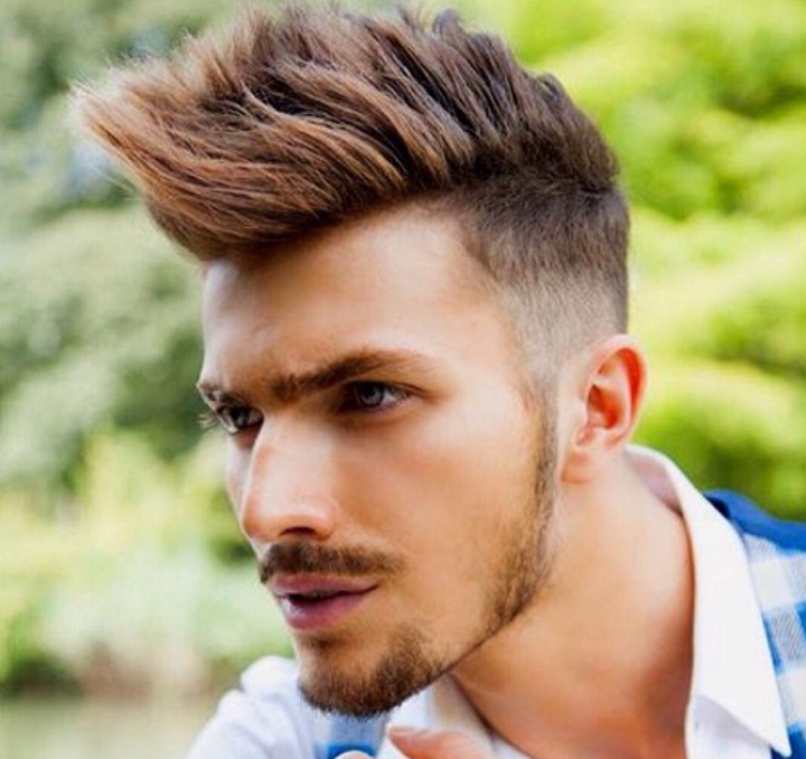 Classic fohawk hairstyles always seem to focus the length towards the front. To give yourself an eye catching haircut, give it a bit more length than usual by spiking it up or using volumizing products. Paired with a sleek taper fade at the sides, this fohawk haircut is very stylish.
3. Low Fade Fohawk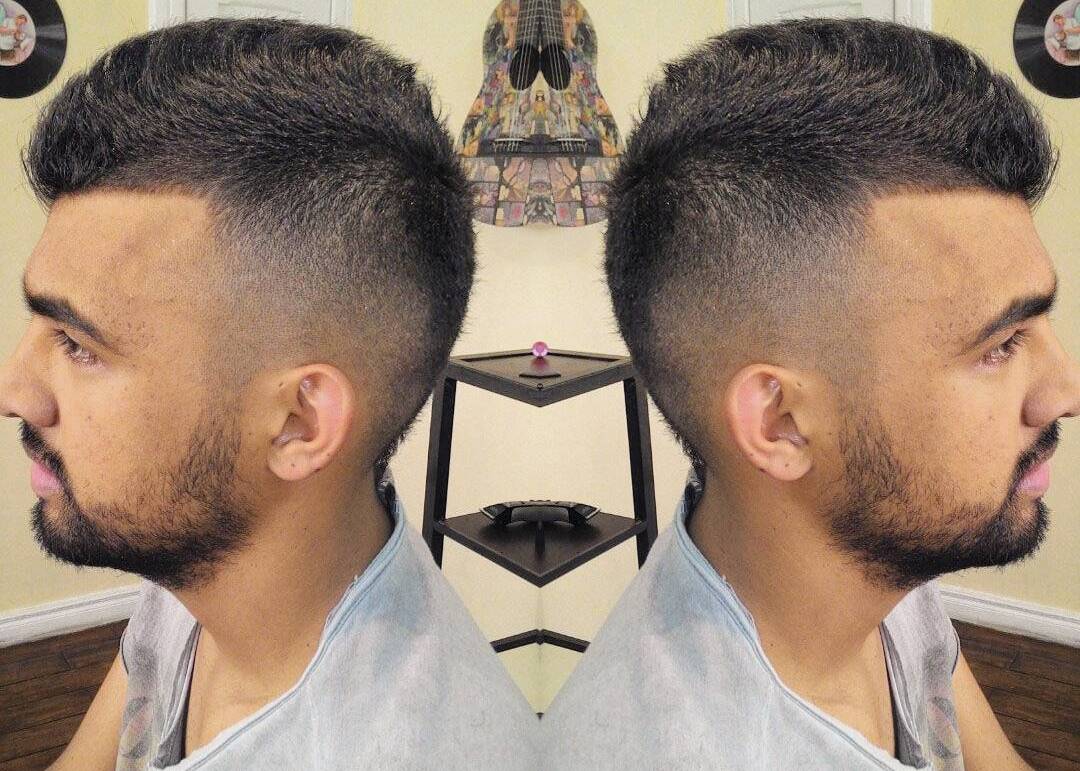 For those of us who prefer something a bit more conservative, this neat low fade fohawk look is perfect for you. The neatly styled top gives it an air of classiness and sophistication while the crisp razor fade at the sides give it the edginess the look needs.
4. Slick Hippie Fohawk Fade Haircut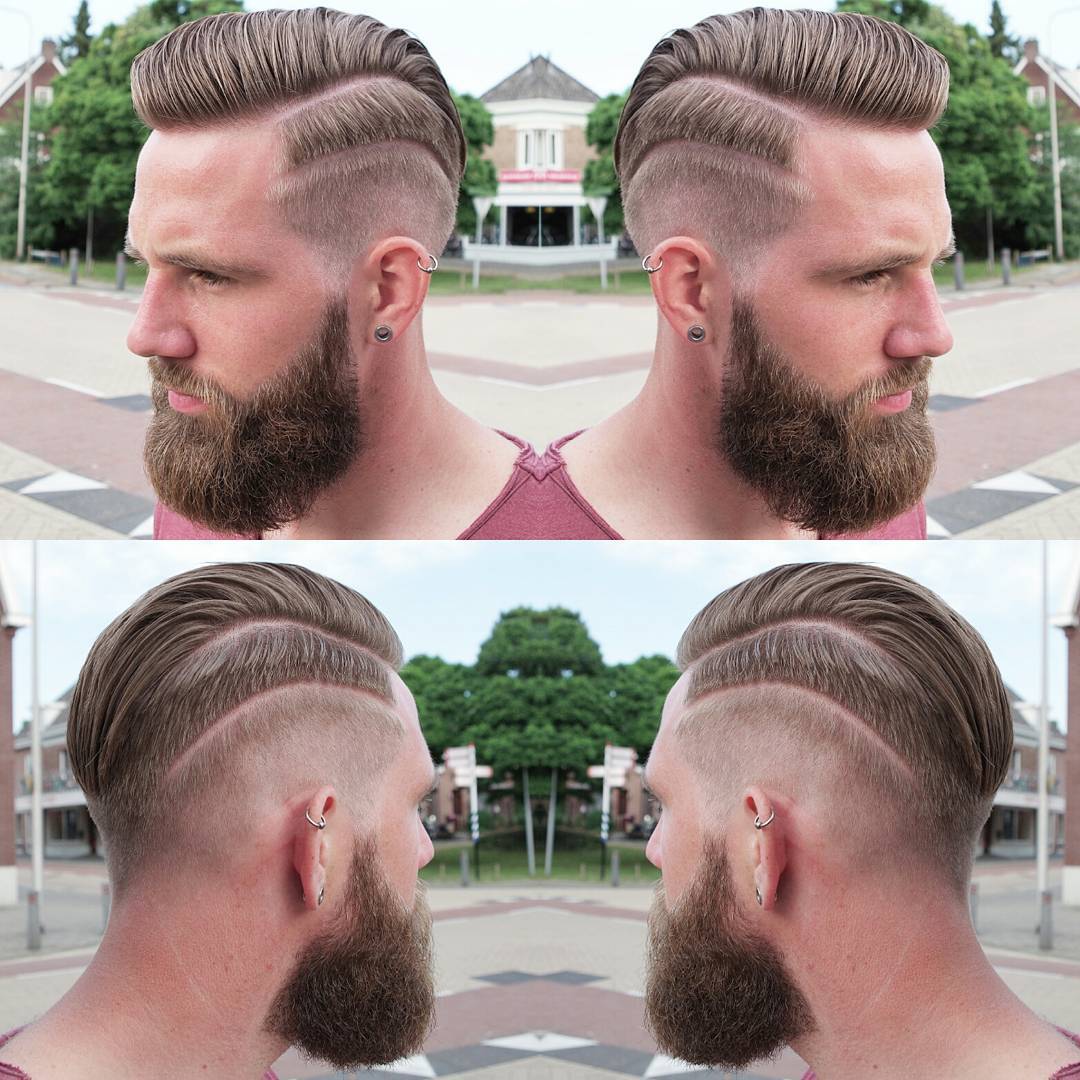 Looking for a stylishly unique hipster haircut? Try combining smooth textures with crisp fades and edgy trims. This haircut combines a classy gentlemanly appeal with its superbly styled hair. Adding the drastic fades and crisp hard parts gives it a distinctly punky finish.
5. Brushed Out Fohawk Skin Fade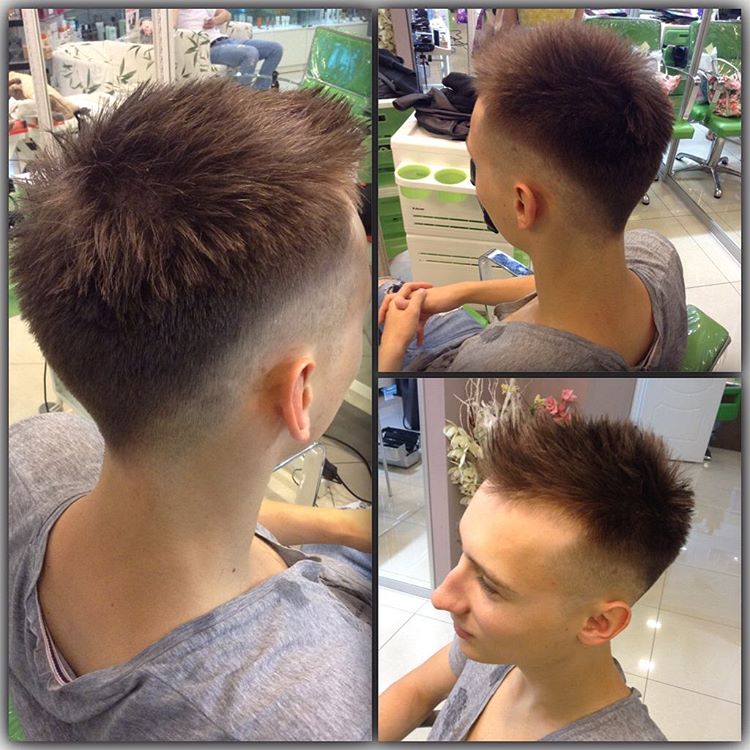 While shaggy and wild or slicked back and classy textures may be all the rave, brushing out your hair is another way to achieve a low-key yet stylish finish. Paired with smoothly faded sides and a pointed edge at the nape of the neck, this simple haircut lacks nothing in terms of flair.
6. Traditional Fohawk Fade Haircut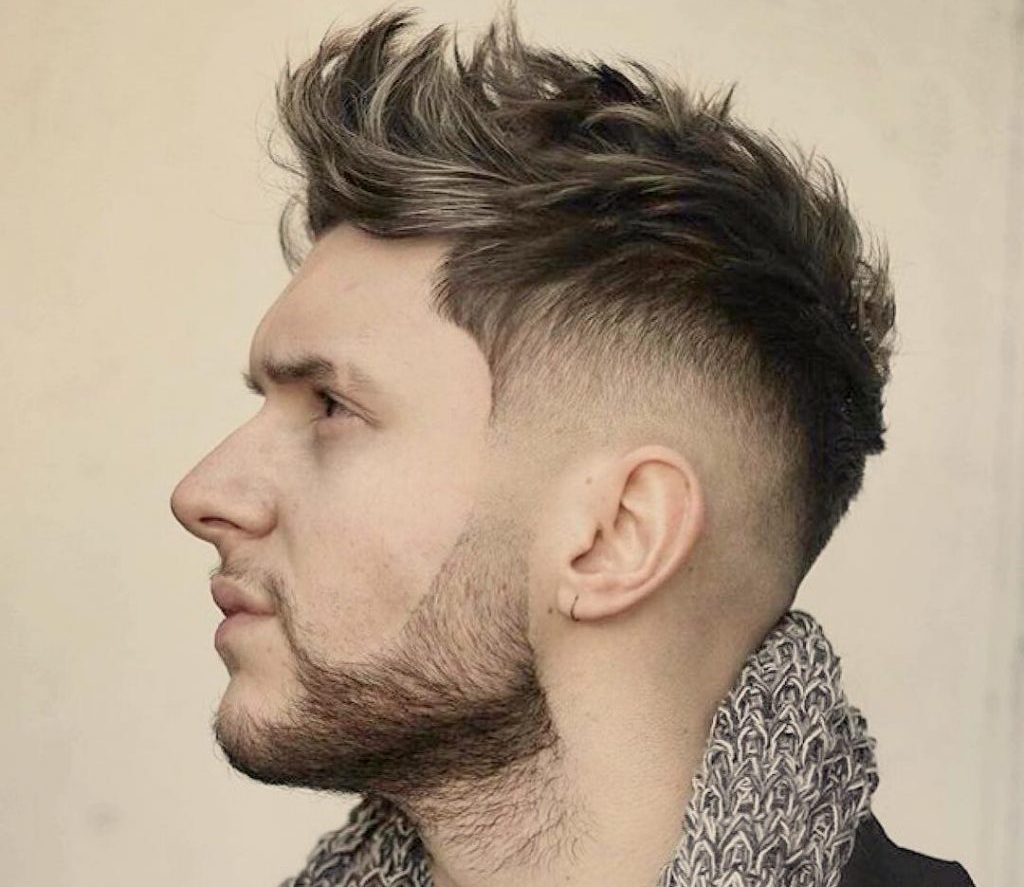 Here we see the original fohawk haircut from which the numerous variations are derived. Its standardized design is evident in the moderately-sized top and the simple yet stylish tapering fade used to fade out the sides and back.
7. Curly Fohawk Fade Hairstyle for Kinky Hair
Kinky African hair might benefit a lot from a bit of curling agents as it helps to soften its texture while enhancing its naturally curly form. Instead of a full-on taper fade, a temple fade has been used to shape the look.
8. Layers and Spiky Fohawk Fade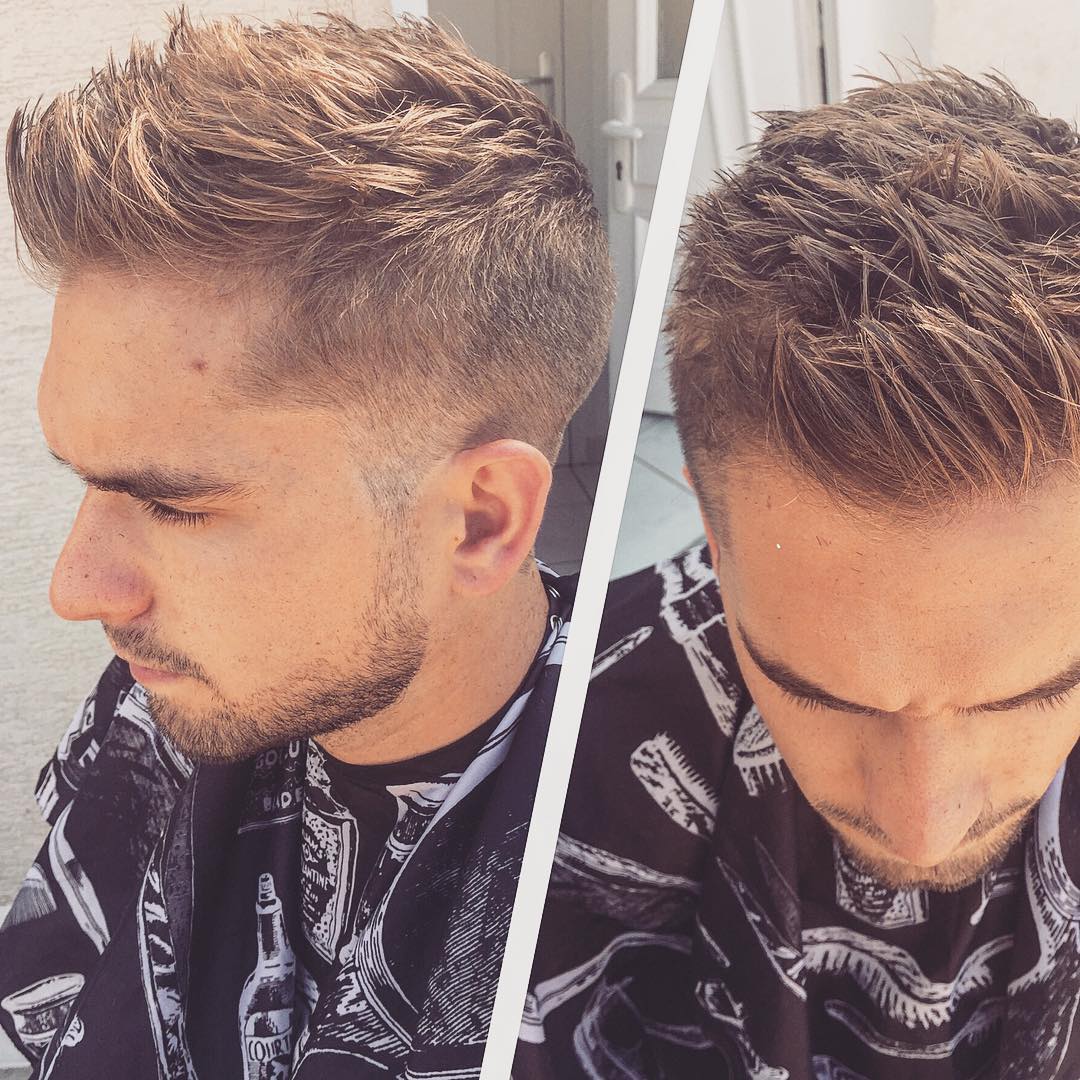 If you've got the right length on top, boost it with a texturizing product to give that stylish bad boy texture. You can also go for layering and spiking up the hair to give it a wilder appearance which looks fantastic when combined with a tapering fade at the sides.
9. Fluffy Curly Fohawk Fade Haircut
On the other end of the spectrum, leaving the top longer will allow you to get a soft, curly finish. Not only is this good for boosting the volume, you will also find it easier to shape your hair, especially if you throw in a nice fade at the sides and back.
10. All-Out Punk Frohawk Fade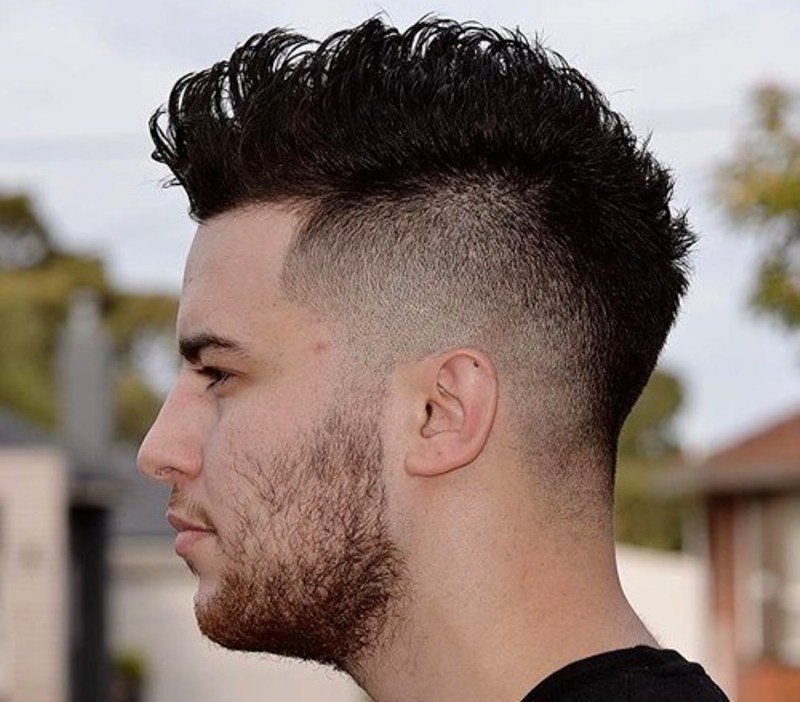 Finally, we arrive at the classic punk/rocker Mohawk hairstyle. Traditionally known for the spiky texture of the thin track of hair left in the middle of the head, this look is reserved for those with a bold taste in fashion. Fading the sides slightly has left a buzz that is dark enough to facilitate enticing line-ups at the edges.
11. Tamed Out Mohawk
For those who prefer a much quieter version of the original Mohawk fade haircut, the key lies in keeping the hair on top short. Finish it with a low fade on the sides to emphasize on the short hair in the middle and to shape the look.
12. Forrest Gump Skin Fade Fohawk
If you're familiar with the standard military crew cut hairstyle, then you should be able to recognize this stylishly altered version of the haircut. Slightly longer hair and a glossy, combed out texture combine superbly well with the crisp bald fade on the back and sides.
13. Short Fohawk Fade Haircut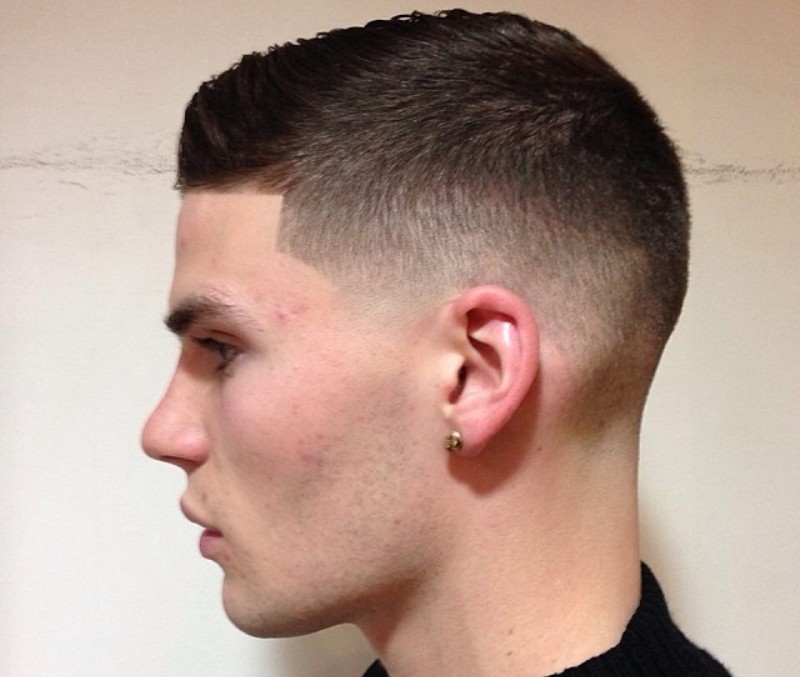 While the original buzz cut might look a bit too conservative or even boring, this variation is nothing but trendy. The top has been kept relatively short as is expected but the sides have been buzzed even shorter to create a notable difference in the lengths of the two portions of hair.
14. Wild and Curly Frohawk Fade Haircut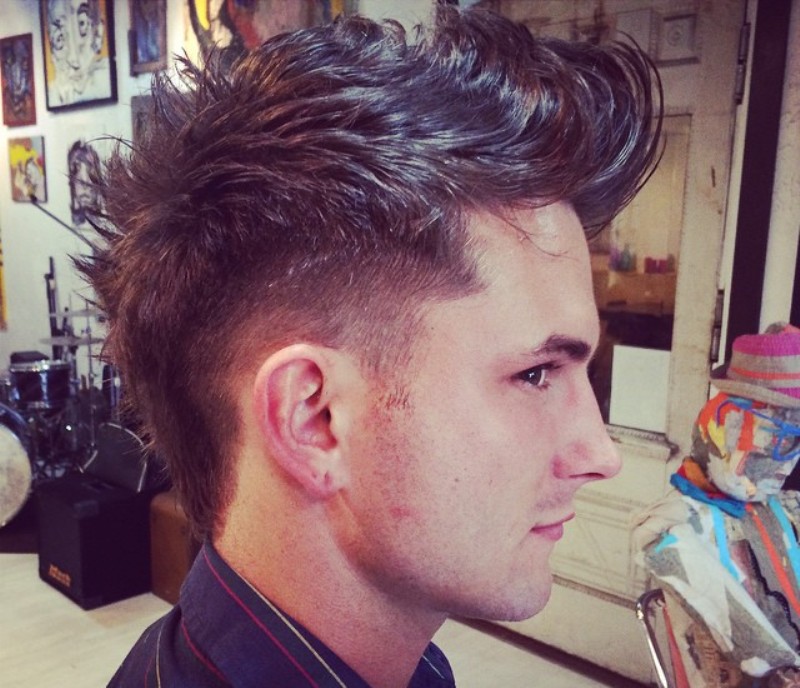 Running your fingers through your hair might seem sort of unconventional as a method of styling. However, if you rock a fohawk fade with thick, wild locks such as this, giving it a good finger-brushing sometimes results in a finish that no barbershop can deliver.
15. Fohawk With Simple Top Knot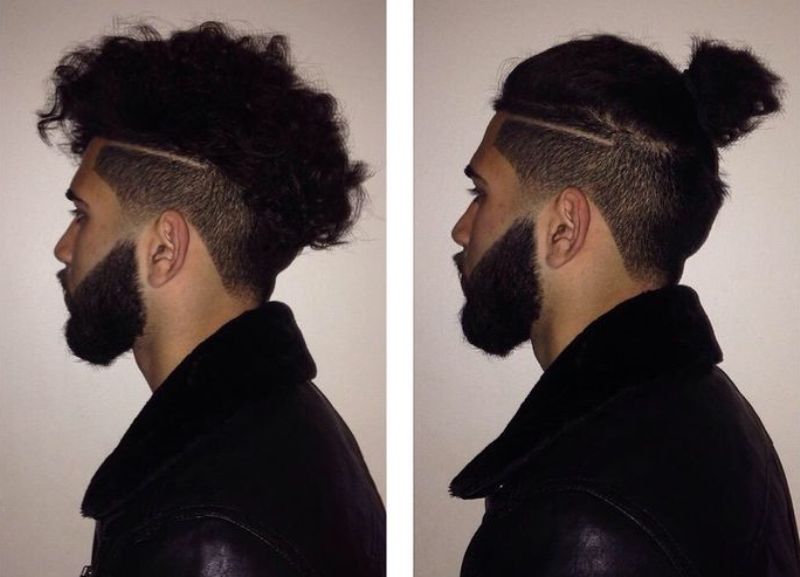 If you go for a simple fohawk, one of the coolest embellishments you can give it is to comb up its top to create an edgy top knot. With a relatively tame texture and a sleek mid fade at the sides, this look strikes the right balance between suave and youthfulness.
How to do a Fohawk Fade – Video Tutorial